This Baked Mississippi Chicken recipe is low on carbs but BIG on flavor with Au Jus and ranch seasoning mix coating the chicken and pepperoncini topping it all off.
Not too long ago I shared our recipe for our Instant Pot Mississippi Roast, which is one of my favorite ways to make a tender pot roast that is packing loads of flavor.
We've also made crockpot Mississippi chicken time and time again – either serving it over mashed cauliflower or as a sandwich on one of our keto hamburger buns.
Well, I had planned to make Mississippi chicken the other day but forget to pop it in the crockpot and the insert to my Instant Pot was in the dishwasher – so I got creative and improvised! Enter this Baked Mississippi Chicken!
Tender, juicy chicken – no special tools needed! And you get all those delicious flavors we're obsessed with from the au jus mix and ranch seasoning. The pepperoncini softens up nicely and the best part is that it's super easy to pick those right off before they even make it to the little ones' plates, if necessary. 😉
This Baked Mississippi Chicken is a definite new favorite in my house and I love how simple it is to prepare with just 5 ingredients.
Ingredient Notes: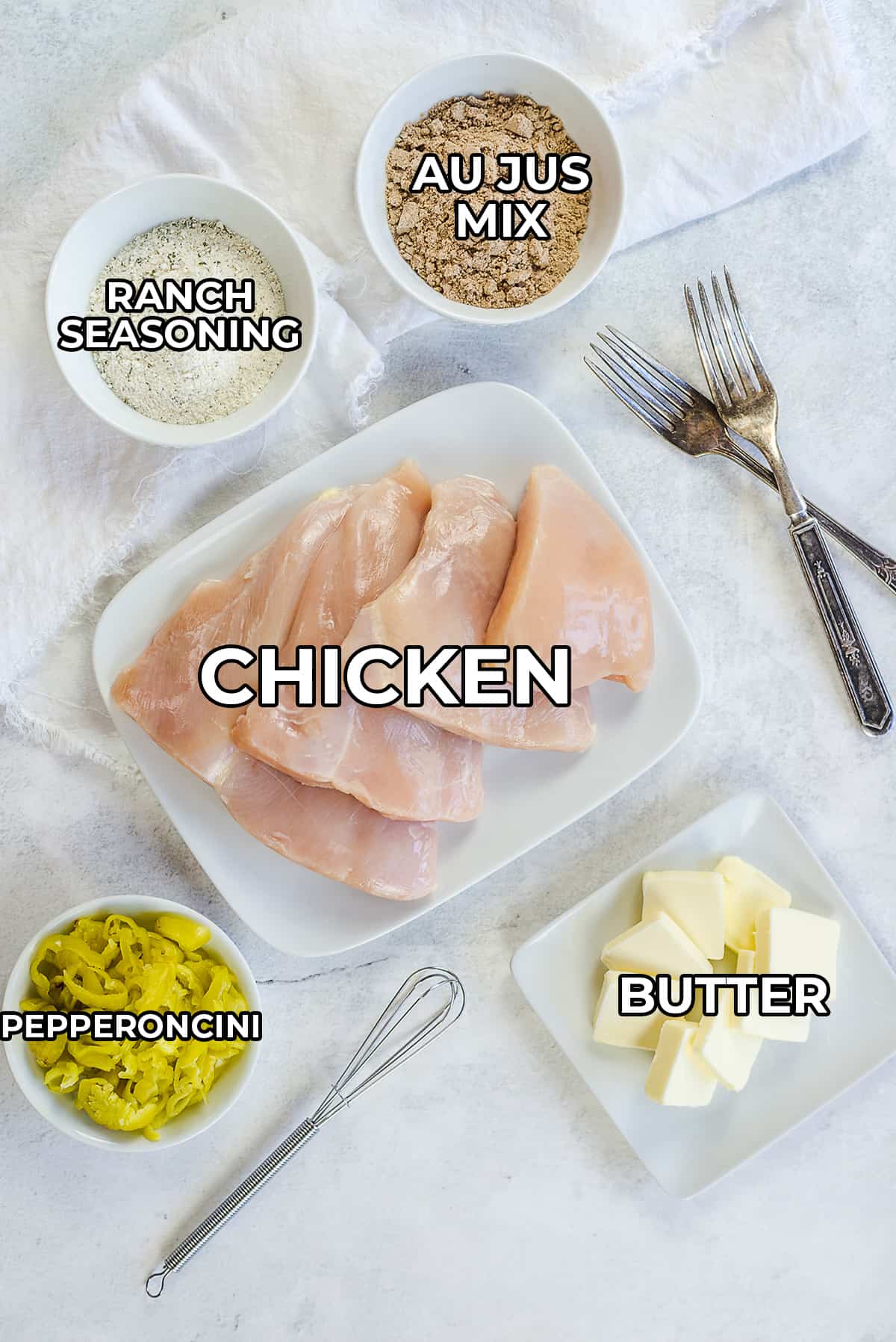 Chicken – I'm using boneless, skinless chicken breasts in this recipe. Thighs should also work well.
Au Jus Gravy Mix – Flavor! That's what this is. It's not something you generally think of to use as seasoning on chicken, but trust me when combined with the ranch and pepperoncini it makes this Mississippi chicken taste like magic!
Ranch Seasoning Mix – Be sure to use ranch seasoning mix and not ranch dip mix, which is much saltier.
Pepperoncini – These add just a little bit of a spicy kick to the chicken, but it's not overpowering at all! The peppers will get a little milder as they bake, and the chicken will take on some of the flavor from the juices. Plus, they're easy to pick off if you decide you don't like them!
Butter – You'll top each piece of chicken with some butter before baking for maximum yum.
Why We Love This Recipe:
This 5 ingredient recipe packs big flavor! Whether you are making Mississippi chicken or pot roast, the au jus gravy mix and ranch seasoning with the pepperoncini is an incredibly tasty combination.
Super quick to prepare and makes a great last minute dinner.
I personally love the pepperoncini and the flavor they add, but I also like that I can just swipe them right off my youngest's portion and she'll still get the flavor without seeing the actual peppers and having a freak out. 😉
How To:
Prepare the Chicken – First up you'll want to season the chicken so we can get all that great flavor in there. Add the packets of au jus and ranch seasoning mix to a small bowl and stir well to combine. Now start seasoning both sides of the chicken, but only use half of the seasoning or it will be too much. See the FAQs section below for more info on what to do with the remaining seasoning.
Arrange – You'll need a 9×13 baking dish prepared with some non-stick spray. Add the seasoned chicken breasts to the dish and then top each piece of chicken with the sliced pepperoncini. Finally, slice the butter into 8 pieces and top each of the chicken breasts with 2 slices of butter. All the seasoning, pepperoncini, and butter will add loads of flavor to this baked Mississippi chicken recipe!
Bake – After you've finished seasoning and arranging the dish, there isn't a whole lot left to do except start baking! It'll take about 40 minutes or until the chicken has reached a safe internal temperature of 165 degrees. You'll want to serve this Mississippi chicken while it is good and hot!
Helpful Tip!
Use ranch seasoning mix and not ranch dip mix or your seasoning will be overly salty.
If you're concerned that it may still be too salty, use a bit less seasoning than called for and use unsalted butter.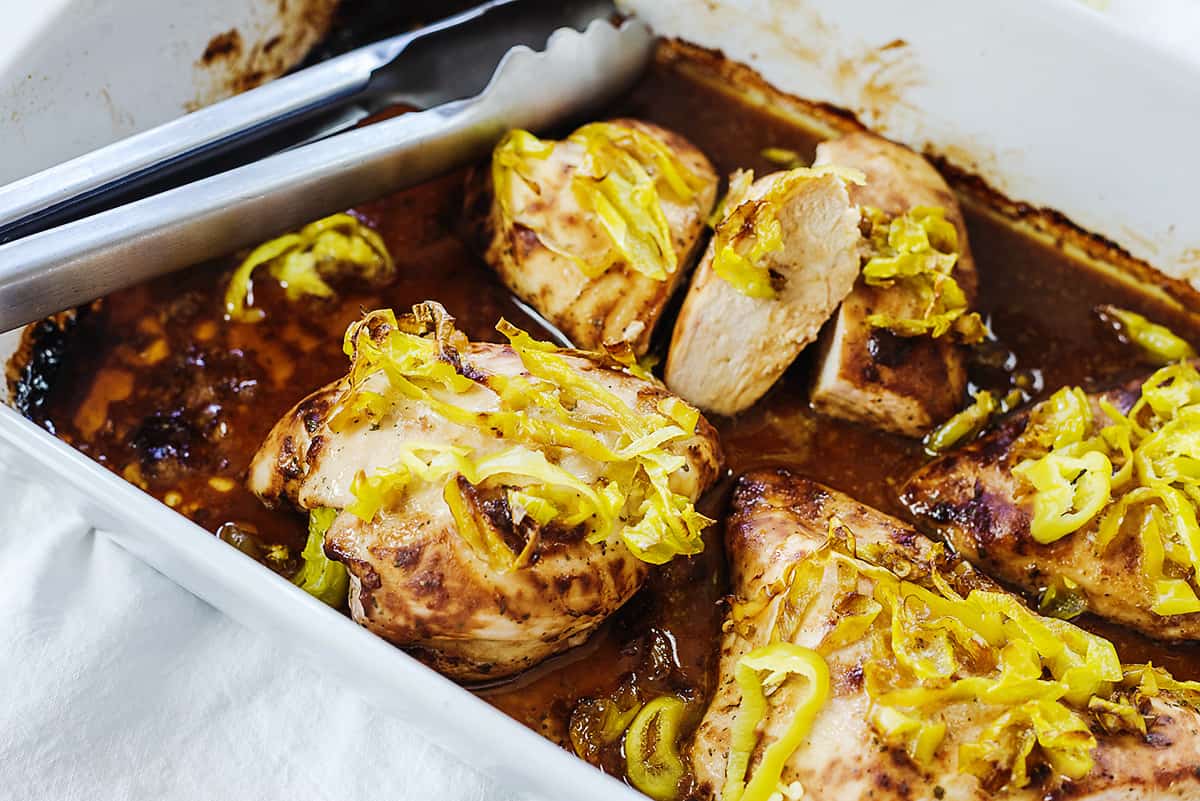 FAQ's:
What to do with leftover seasoning mix?
If you followed the recipe and used the same amount of chicken that I did you only need to use half of the ranch and au jus seasoning packets. That leaves some leftover that you can store for later in an airtight jar. Chances are you'll like this baked Mississippi chicken so much that you'll need that seasoning soon enough! Or you could just double this recipe and use it all now.
Can I store this Mississippi chicken?
Yes, it should last for 3 to 4 days in the refrigerator if you keep it well sealed.
Why is it called Mississippi chicken?
Someone in Mississippi came up with this recipe using a pot roast and it became a huge hit. I just mixed things up and used chicken in place of beef.
More Easy Baked Low Carb Recipes: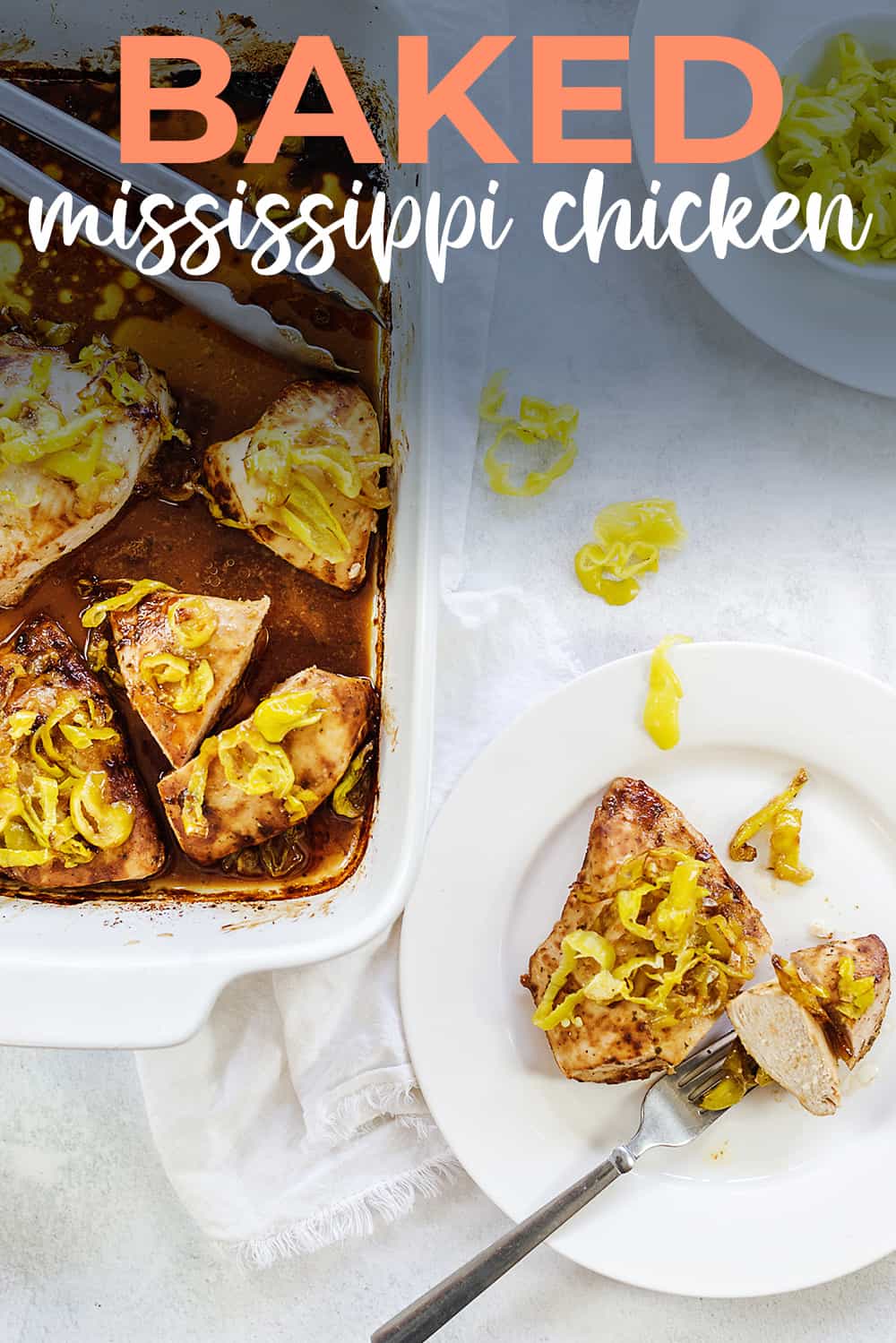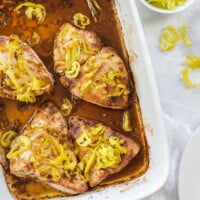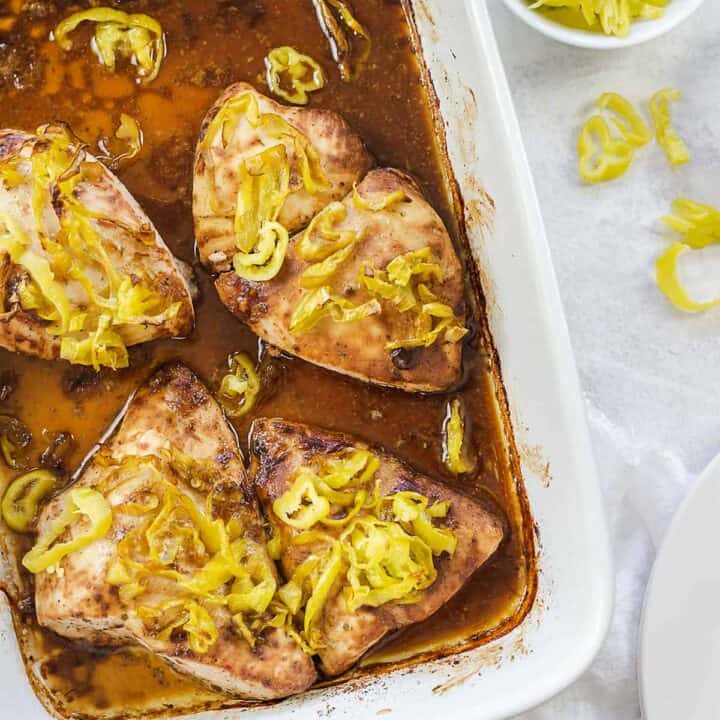 Baked Mississippi Chicken
This tender, juicy chicken is loaded with flavor and so easy to toss together. I love that it's just 5 ingredients and so easy for any night of the week.
Ingredients
4 boneless, skinless chicken breasts
1 packet au jus gravy mix
1 packet ranch seasoning mix, see note
¼ cup pepperoncini, plus more to taste
4 tablespoons butter
Instructions
Preheat oven to 375 degrees. Spray a 9x13 baking dish with nonstick spray.
Add the au jus and ranch seasoning to a small bowl and stir to combine.
Season the chicken on both sides with ½ of the seasoning mixture. Reserve the remaining seasoning mixture for another day. See note.
Place chicken in the prepared baking dish.
Arrange the sliced peppers over the top of each piece of chicken.
Slice the butter into 8 pieces and place 2 slices of butter over each chicken breast.
Bake for 35-40 minutes or until chicken reaches an internal temperature of 165 degrees.
Serve hot.
Notes
Be sure to use the ranch seasoning mix and not the ranch dip mix, as the seasoning is less salty than the dip.
We find it too salty to use the full amount of seasoning on just 4 chicken breasts. You could double the rest of the recipe and use all of the seasoning or store the seasoning in an air tight jar for next time.
Nutrition Information:
Yield: 4
Serving Size: 1
Amount Per Serving:
Calories: 356
Total Fat: 17g
Saturated Fat: 9g
Trans Fat: 0g
Unsaturated Fat: 7g
Cholesterol: 135mg
Sodium: 1203mg
Carbohydrates: 5g
Net Carbohydrates: 4g
Fiber: 1g
Sugar: 2g
Protein: 40g
All information and tools presented and written within this site are intended for informational purposes only. This information is provided as a courtesy and there is no guarantee that the information is accurate.