Garlic mashed cauliflower is a favorite in our house! It's simple to make and I think that my method is the absolute best for creating creamy, flavorful cauliflower mashed 'potatoes.' Low carb, healthy, and a hit with my kids too!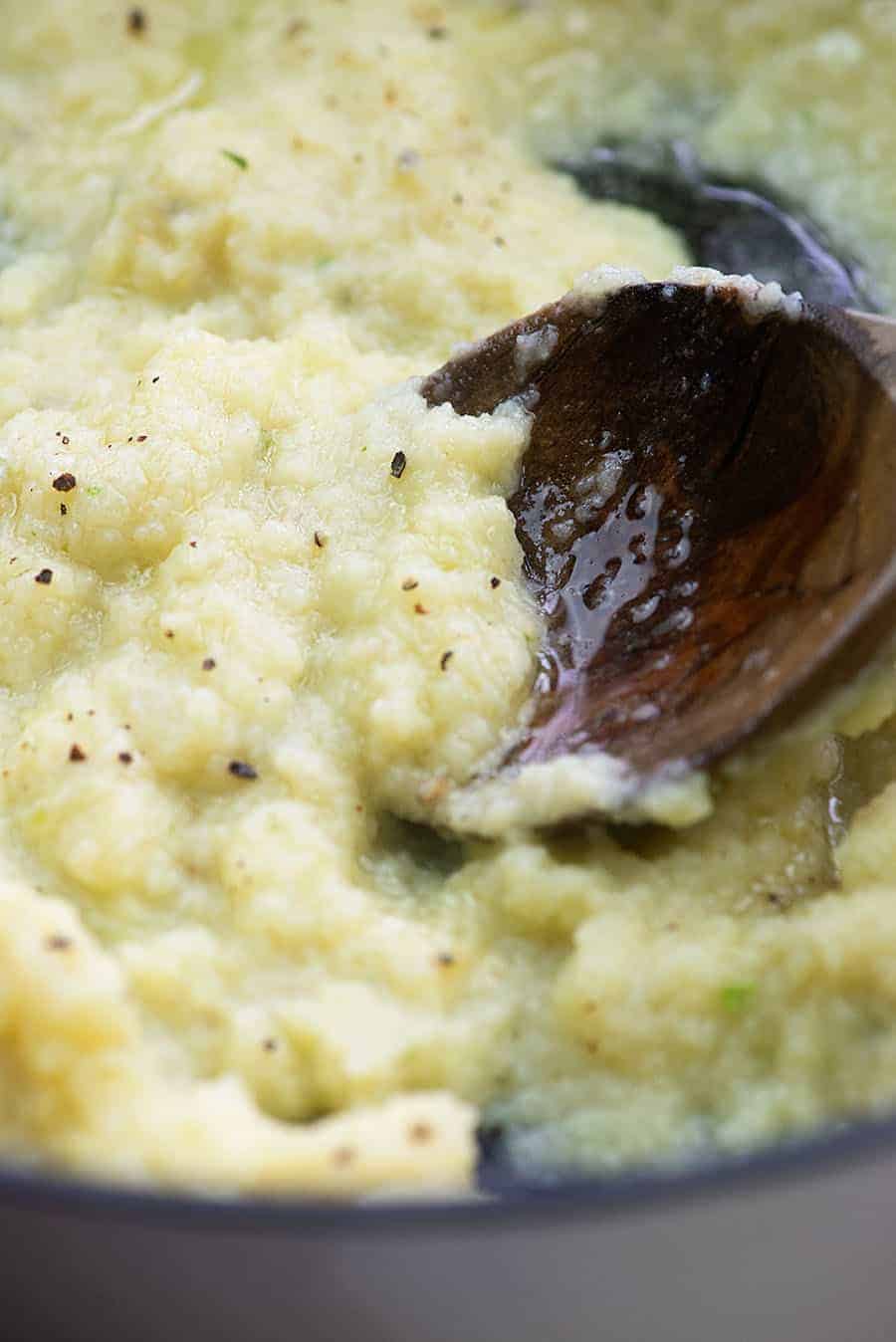 I'm not going to lie. I have resorted to the box of frozen cauliflower mash on many nights.
It's quick, it's convenient, and it generally tastes pretty okay. I usually doctor it up with some grated cheddar to thicken it a bit and add more flavor, but overall, it's something we like and I always have a box on hand for busy days.
That said, this mashed cauliflower recipe makes what we think is the BEST mashed cauliflower.

Flavorful, creamy, and it's honestly quite simple to make! It really satisfies that mashed potato craving, too.
Update: I hate to do this, because while I LOVE this mashed cauliflower recipe, we have actually created another version that I do indeed like even more. I'm leaving this recipe here, because I know there are lots of you who still love it and make it often. But try our Browned Butter Cauliflower Mash for what we truly believe is the ultimate mashed cauliflower!
Ingredient Notes:
This post contains affiliate links. As an Amazon associate and member of other affiliate programs, I earn from qualifying purchases.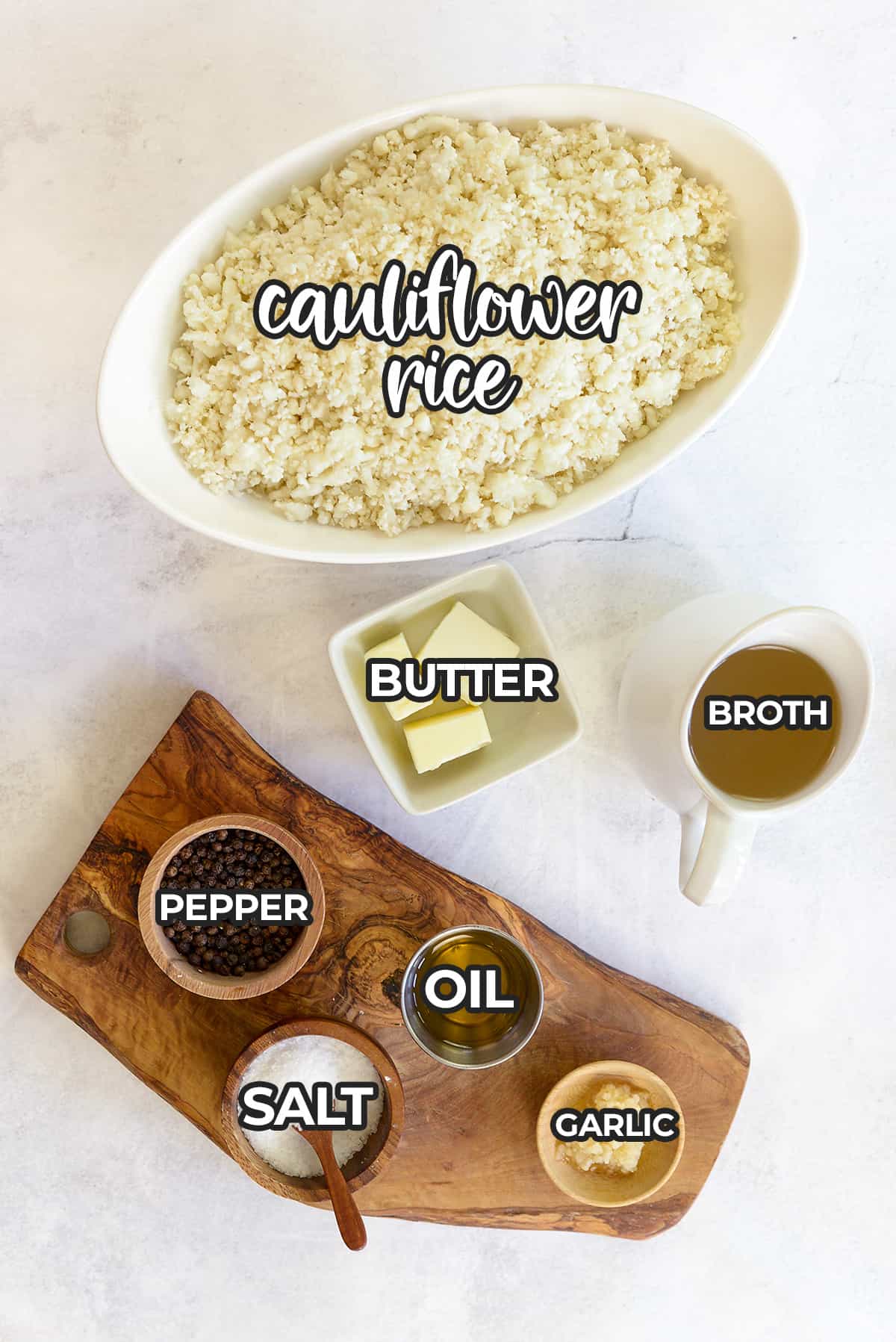 Cauliflower – I start with riced cauliflower, because it tends to cook a bit more evenly and because it's easier to mash. It's also easy for me to find pre-riced cauliflower in the produce section these days. Love not having to chop up a bunch of produce! But if that's your thing, feel free to make your own, or just mash up some steamed cauliflower florets. Use fresh, not frozen!
Avocado Oil – For frying the cauliflower rice. You can use a different type of oil here if you have a preference, but I think avocado oil has great flavor!
Garlic – A couple cloves of minced garlic fried in the avocado oil is going to add a lot of extra flavor to the riced cauliflower when you cook it up in a skillet. Steaming might be easier, but this way adds so much more flavor!
Chicken Broth – This will go in with the riced cauliflower while it cooks. It'll soak up all that extra flavor from the chicken broth and will take this mashed cauliflower recipe to the next level!
Why We Love This Recipe:
Mashed potatoes are a universal favorite and we've made this keto mashed cauliflower just as thick and creamy. Even the kids love this one!
The riced cauliflower gets cooked in some oil with garlic and chicken broth before it all gets pureed. That means lots and lots of flavor!
Nearly as simple as a box of the frozen stuff, but it's freshly made and more flavorful.
Helpful Tools:
Immersion Blender – If you've never used an immersion blender you've been missing out! They are easy to use, easy to store, and make all sorts of recipes like this mashed cauliflower super simple! It'll make short work of pureeing the cauliflower. Follow the link to try out my favorite immersion blender.
Food Processor – No immersion blender? No problem! If you don't have an immersion blender, you can use a food processor or a regular blender. If you have none of these, you can use a potato masher! The potato masher works but it will result in a texture that is not nearly as smooth as it is when blended.
How To Make Mashed Cauliflower:
Cauliflower – This can be as simple as steaming cauliflower and mashing it up, but if you really want the BEST mashed cauliflower, you need to take a few extra steps. You'll heat a little oil in a skillet and then stir in some garlic. Add your riced cauliflower and chicken broth.
Reduce – Bring that to a boil and then cover the pot. Let this cook for about 10 minutes. We want the cauliflower to be nice and soft. The next step is what I believe makes this cauliflower mash OH SO GOOD…you remove the lid from the pan and keep cooking.

Let the liquid boil away. It adds flavor to the cauliflower as it reduces down and makes for a thicker mash.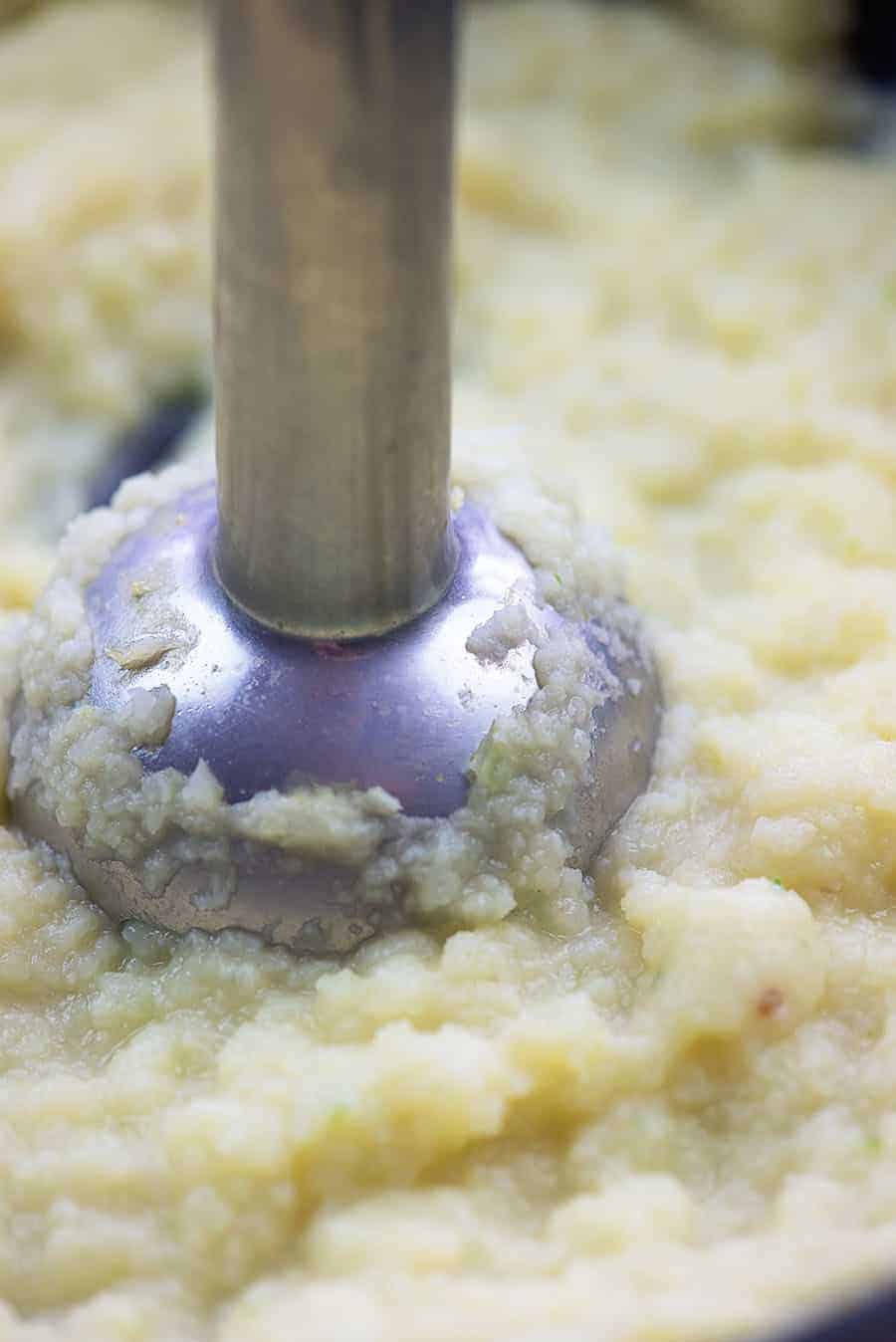 Puree – I start pureeing the cauliflower with an immersion blender when the liquid has mostly boiled away. If you don't have an immersion blender, transfer your cauliflower to a food processor to get the smoothest mash possible. Alternately, use a potato masher.

If you notice your cauliflower mash has too much liquid after pureeing, just keep cooking until it evaporates away. Be sure to stir occasionally so you don't burn the bottom.

Keep in mind that cauliflower mash will always be looser than mashed potatoes – they're just different. 🙂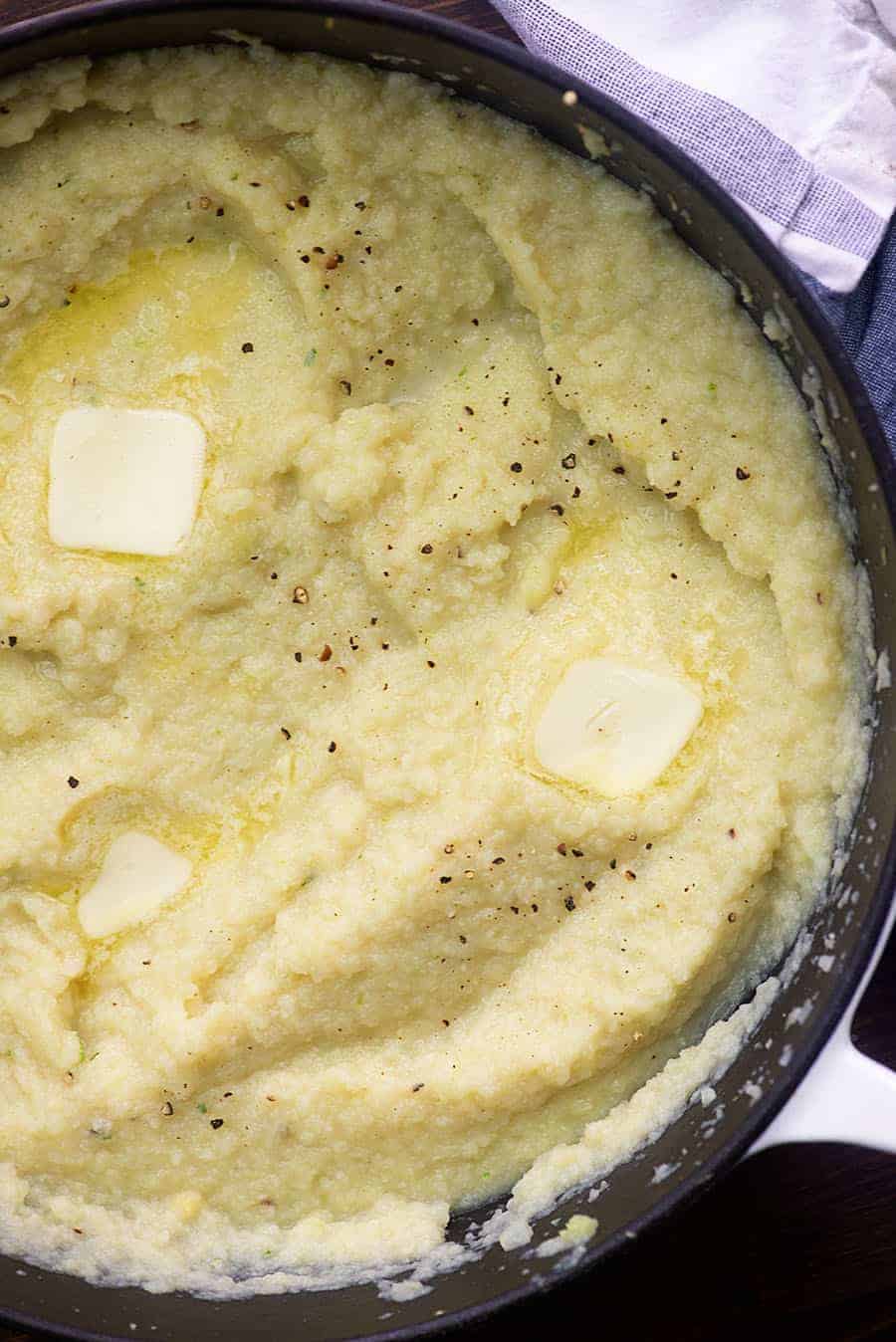 Finish – These cauliflower mashed 'potatoes' are just about perfect on their own, but adding a bit of butter really takes them over the top! No heavy cream or milk needed! I hope you love this garlic mashed cauliflower as much as we do! It's heavenly!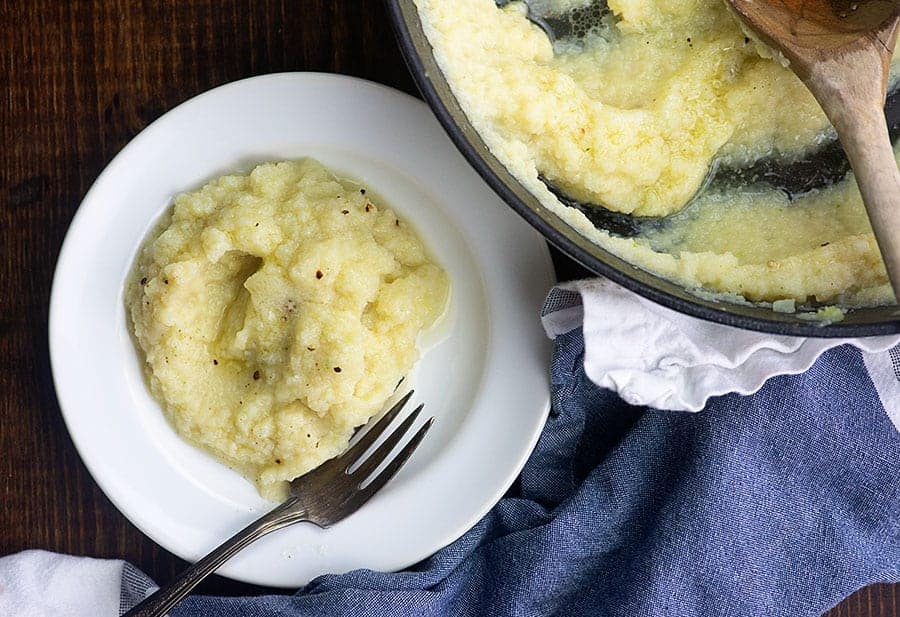 FAQs:
How to store mashed cauliflower?
If you've got leftovers you can keep them in the fridge for about 4 to 5 days in an airtight container. You can also freeze leftovers or just make this recipe to freeze for later. Let the mashed cauliflower cool completely before transferring to freezer safer zip lock bags. It'll last for up to a few months.
How to mash cauliflower?
The easiest method is with an immersion blender. A normal blender or food processor works well too. Otherwise, it's a potato masher. That works, but it won't be as smooth! See the helpful tools section above for links to my favorite blenders.
More Keto Cauliflower Recipes:
The best cauliflower mash recipe: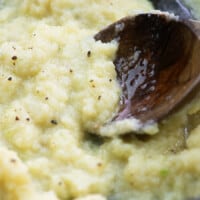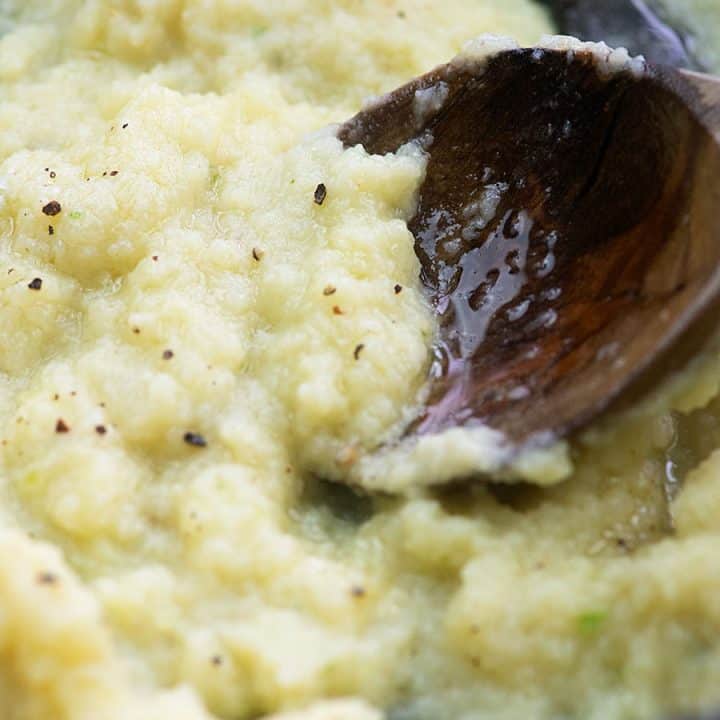 Mashed Cauliflower
This is the BEST mashed cauliflower recipe! So creamy and delicious!
Ingredients
2 teaspoons avocado oil
2 cloves garlic, minced
24 ounces fresh cauliflower, riced
2 cups chicken broth
3 tablespoons butter
1 teaspoon salt
1/2 teaspoon cracked pepper
Instructions
Add the oil to a deep 12 inch skillet and heat over medium heat. Add the garlic and cook 1 minute.
Add the cauliflower rice and stir to combine.
Add the chicken broth and bring to a boil. Reduce to a simmer and cover the pot. Let cook for 10 minutes.
Remove the lid and stir. Continue cooking until nearly all of the liquid has evaporated, about 10 more minutes, stirring as needed.
Use an immersion blender to puree the cauliflower. Alternately, transfer the mixture to a blender or use a potato masher. Using a potato masher will result in a less smooth texture.
Add the butter, salt, and pepper and stir to melt the butter. Serve hot.
Notes
If you notice too much liquid in the pan after pureeing the cauliflower, continue cooking to evaporate the liquid. Be sure to stir often so as not to burn the cauliflower. Also, keep in mind that cauliflower has more liquid than a potato and will always be looser than traditional mashed potatoes.
Recommended Products
As an Amazon Associate and member of other affiliate programs, I earn from qualifying purchases.
Nutrition Information:
Yield: 4
Serving Size: 1
Amount Per Serving:
Calories: 146
Total Fat: 12g
Saturated Fat: 6g
Trans Fat: 0g
Unsaturated Fat: 5g
Cholesterol: 25mg
Sodium: 1085mg
Carbohydrates: 8g
Net Carbohydrates: 4g
Fiber: 4g
Sugar: 4g
Protein: 4g
All information and tools presented and written within this site are intended for informational purposes only. This information is provided as a courtesy and there is no guarantee that the information is accurate.