This BAKED CAULIFLOWER MAC AND CHEESE is a cheesy, creamy casserole that has loads of smoked sausage mixed in. This makes a great main dish or side dish.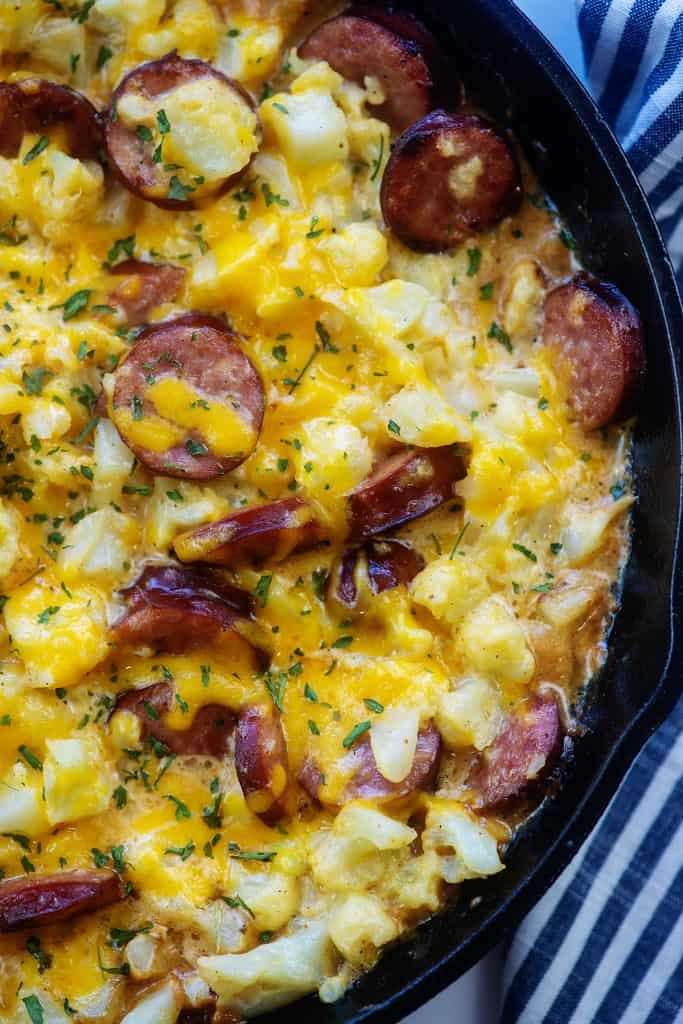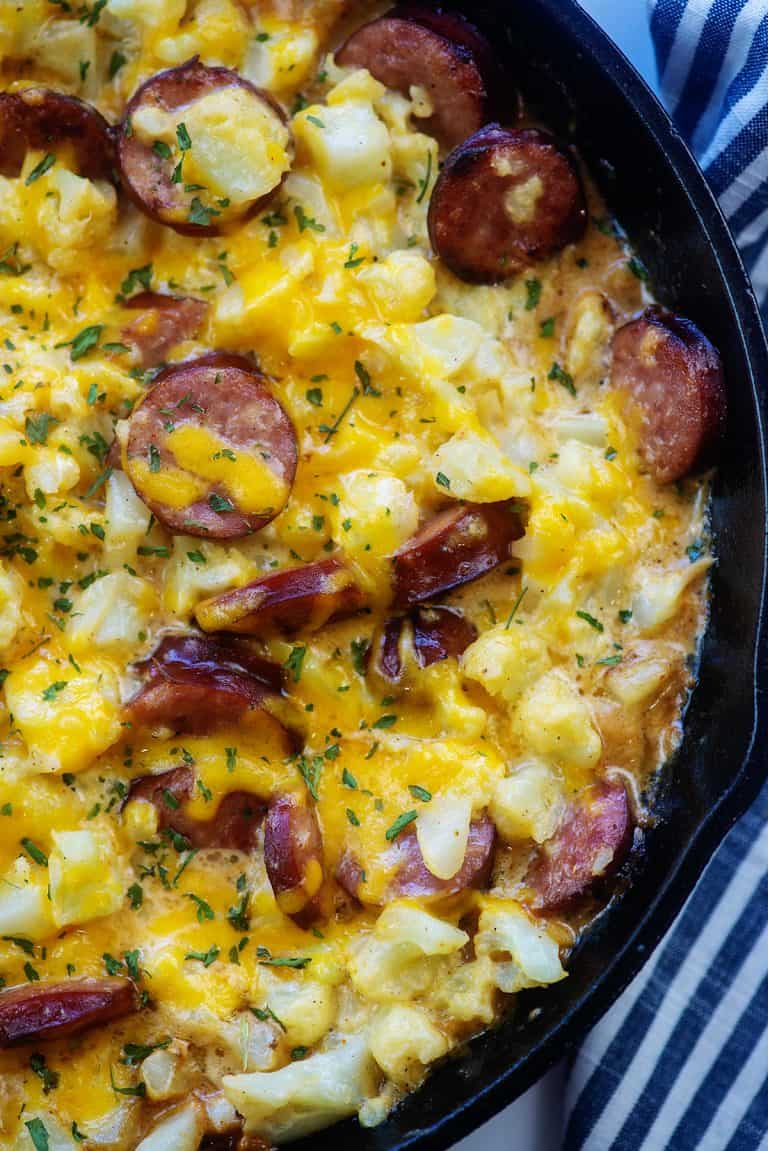 When I was a new mom, my husband's grandma brought us over a homemade mac and cheese casserole and I was so excited to dig in for dinner that night.
I unwrapped the foil and nearly cried on the spot.
There was smoked sausage in the mac and cheese.
WHO DOES SOMETHING LIKE THAT?!
Then I ate it and now I'm a convert. <— Don't you love a happy ending?
Enter this keto version of macaroni and cheese.
I took my cauliflower mac and cheese (it gets rave reviews – have you tried it yet?) and turned it into a gooey baked casserole loaded with pan-seared smoked sausage.
The crispy edges of the smoked sausage are my favorite part! Well, that and all the cheese. 😉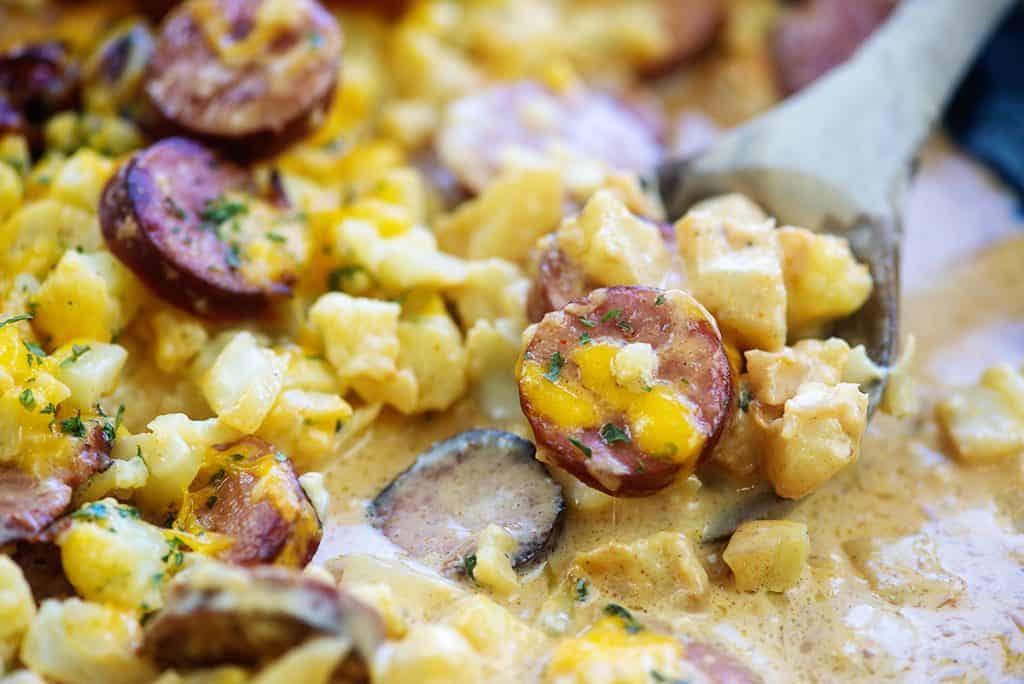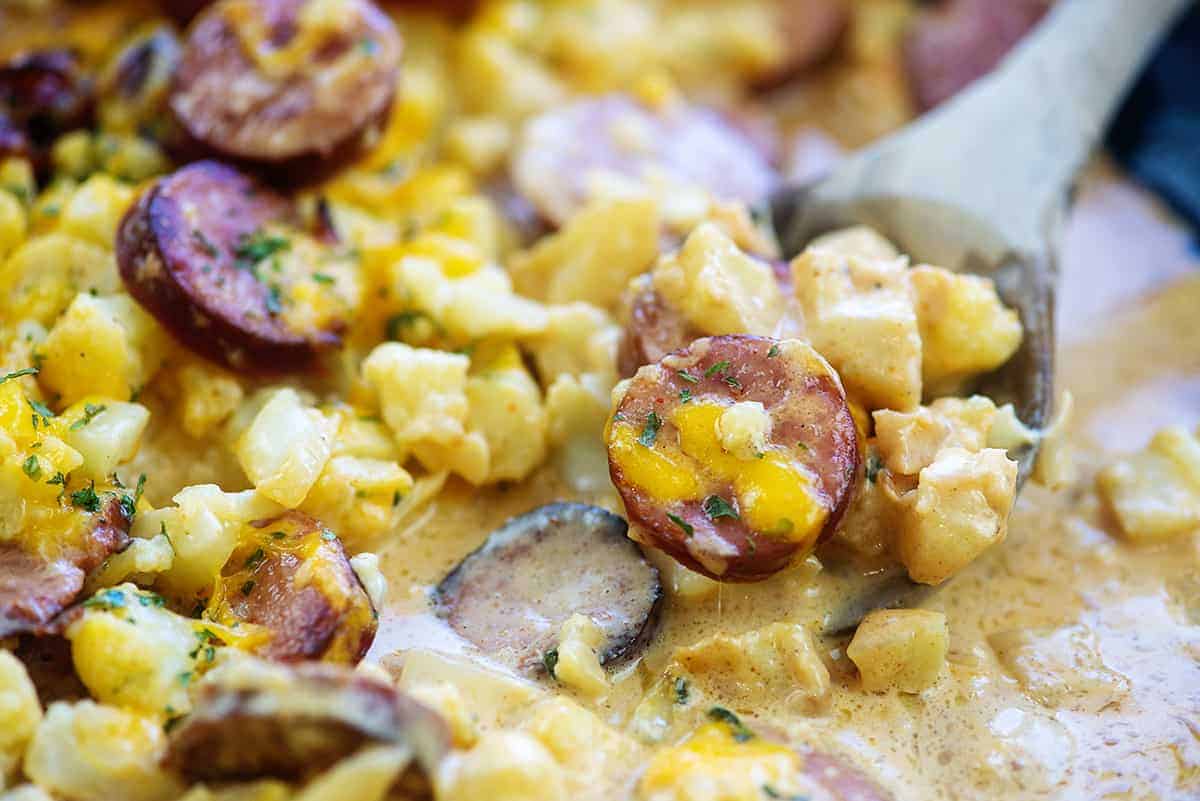 How to:
We're starting this recipe with the cauliflower. I highly recommend you use fresh cauliflower here.
Chop a head of cauliflower into macaroni sized pieces and drop them in some boiling water to cook until softened up a bit.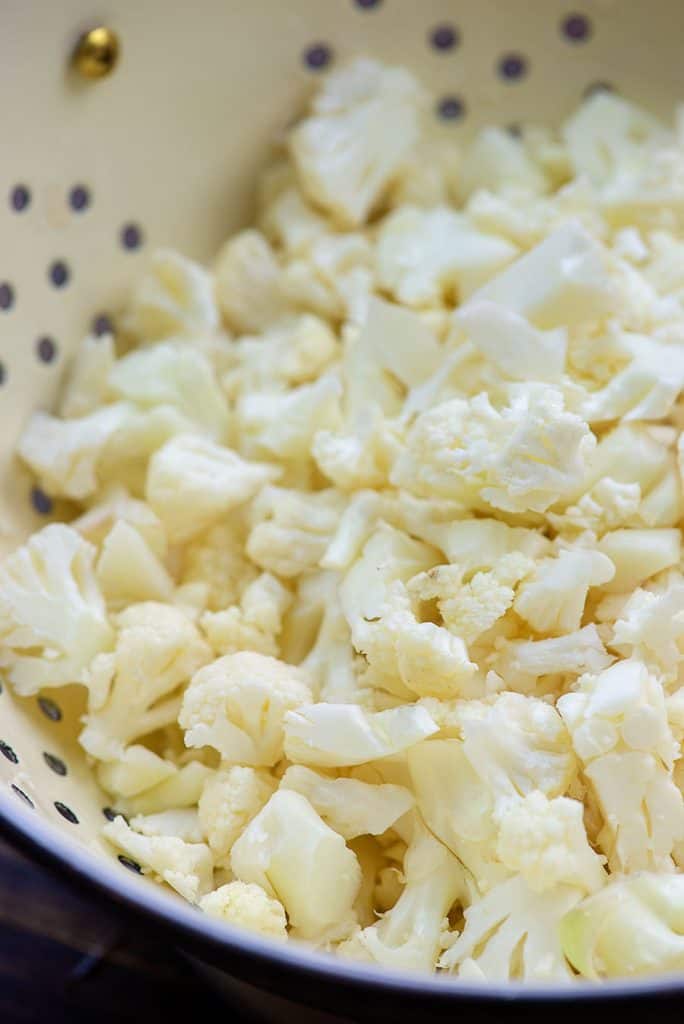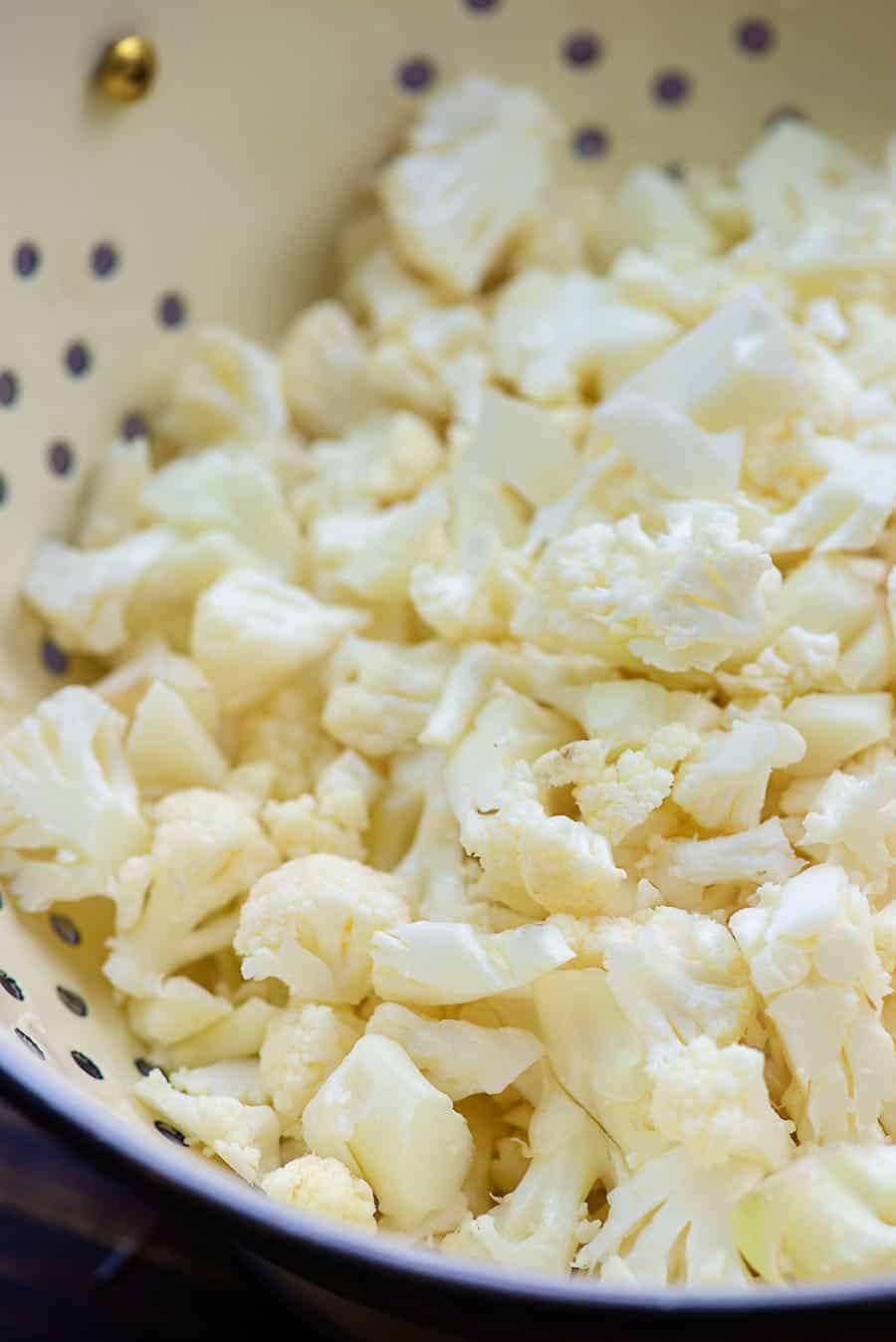 Drain off that water and toss in all the cheesy bits – we're using cream cheese, cheddar, and monterey jack.
You'll also stir in some cream and Cajun spice.
We use, love, and totally recommend Tony Chachere's for the Cajun seasoning. We put that stuff on just about everything.
Seriously – we use it to season meat, sprinkle on cottage cheese, use it in place of salt on boiled eggs, and the list goes on and on. You use it just like you would salt – so good!
Once everything has melted and your cauliflower is ooey, gooey, and coated in cheese, you'll stir in your seared smoked sausage.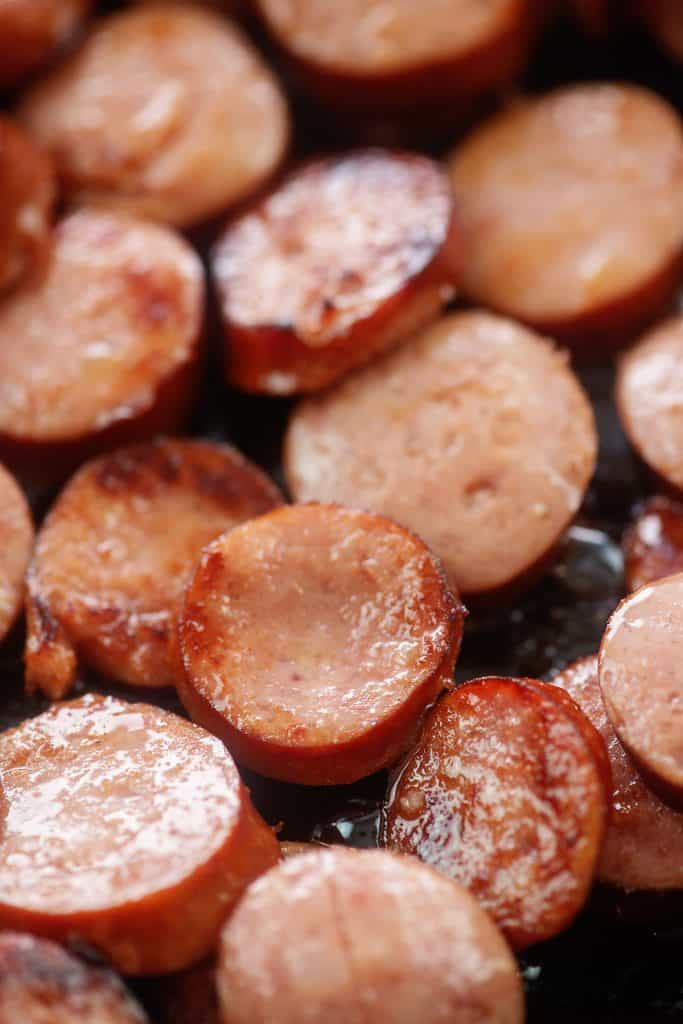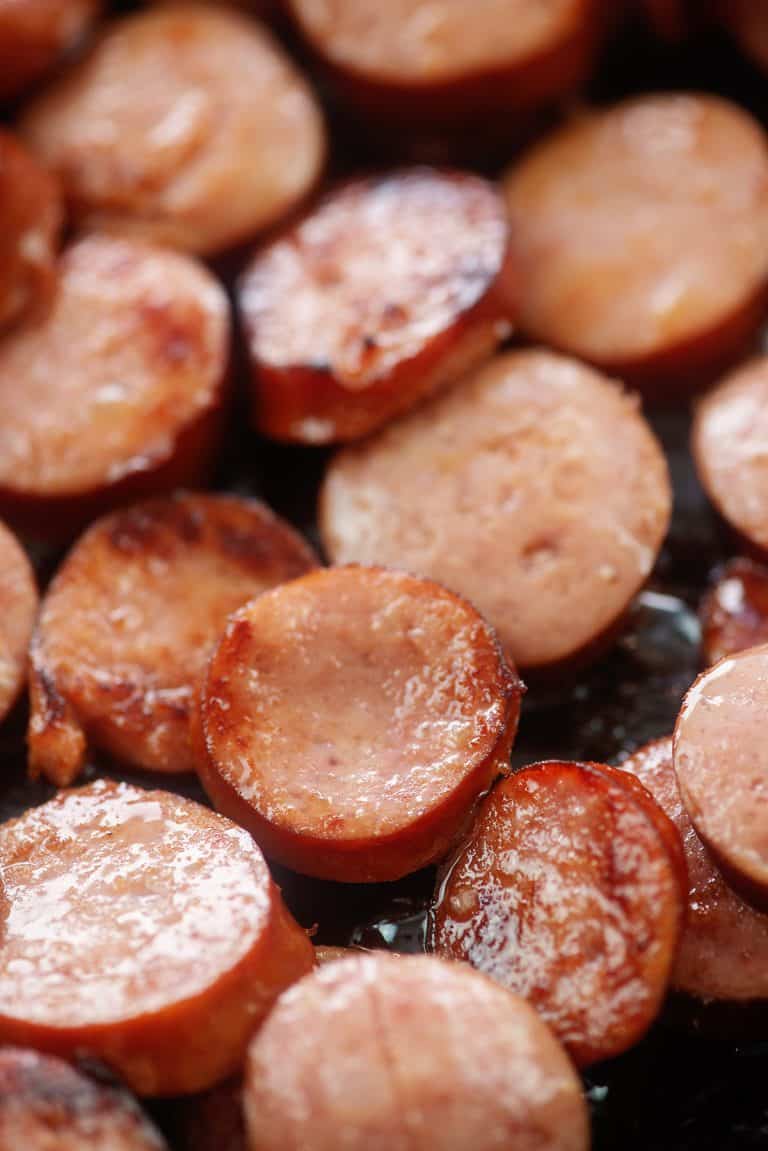 We just slice smoked sausage into thin rounds and sear them in a bit of oil in a smoking hot skillet. We love the browned, crispy edges!
Pour the mixture into a baking dish (we used the cast iron skillet that we seared the sausage in) and top with just a bit more cheddar.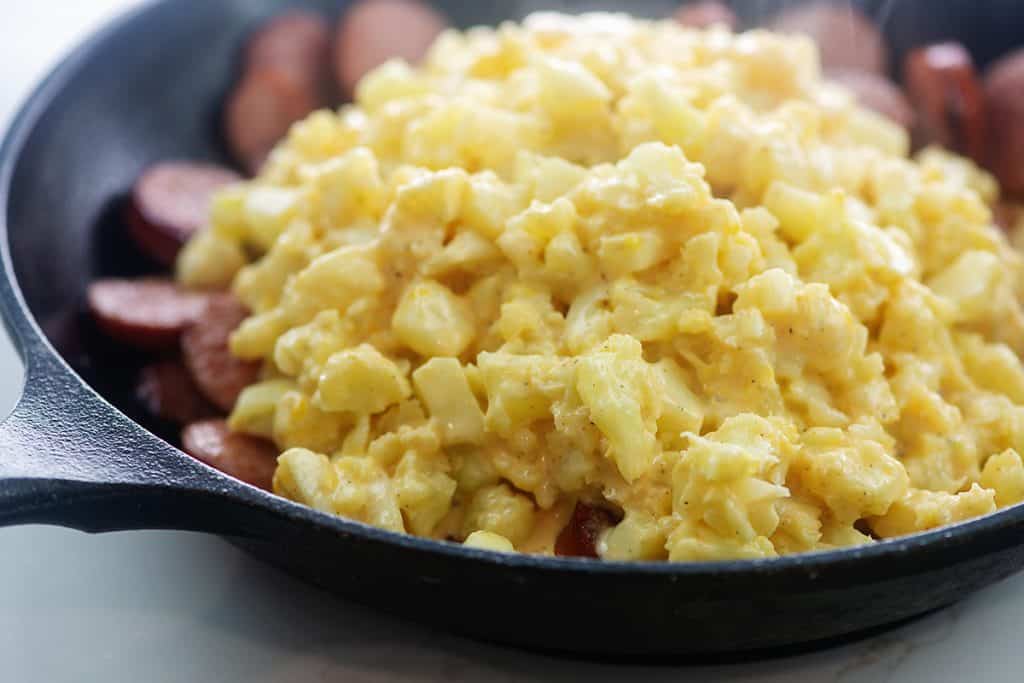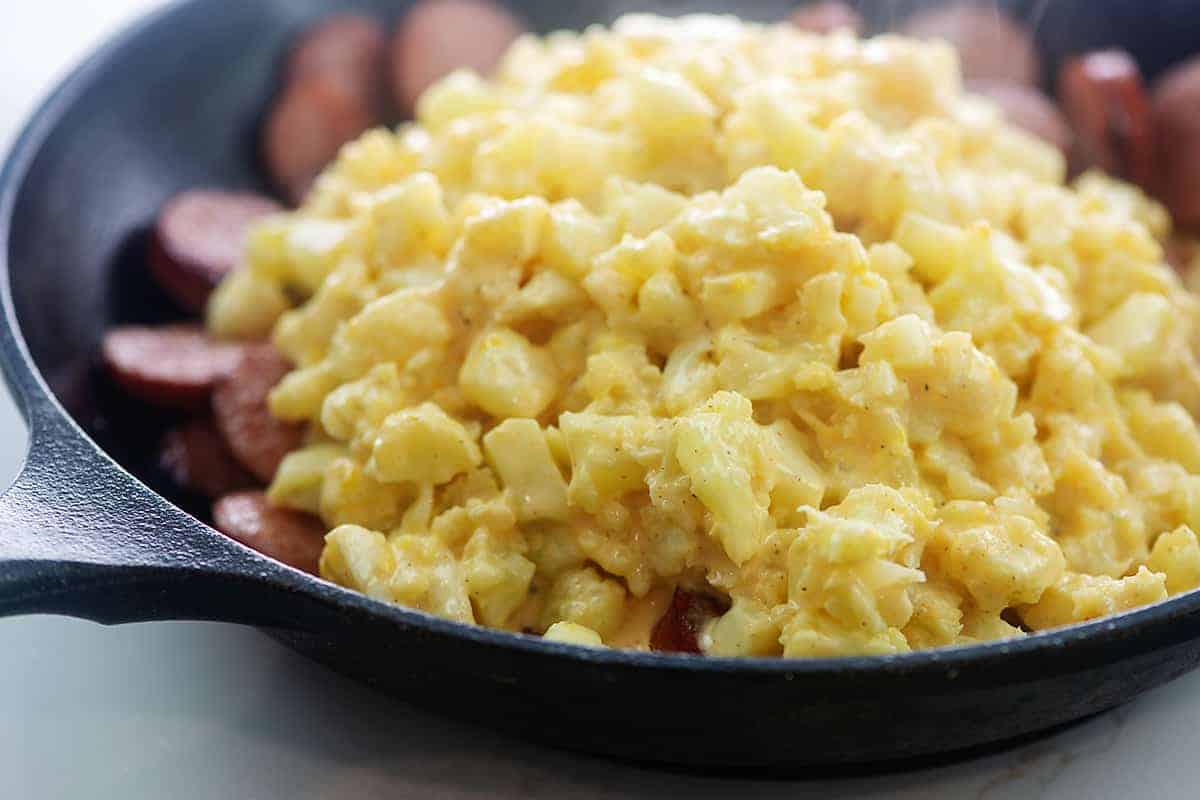 Bake this until it's hot and bubbly and then dig in!
This is total comfort food and yes – even the kids love it!
They'll know it's not 'real' mac and cheese, but it's so cheesy and creamy that they love it anyway. Especially with those bits of sausage throughout.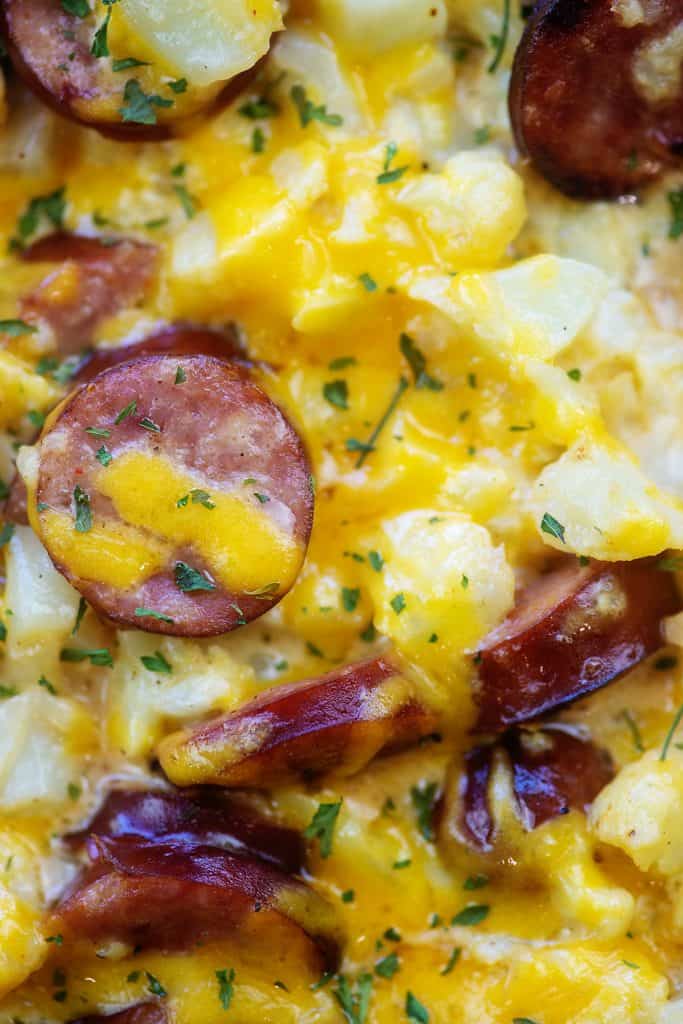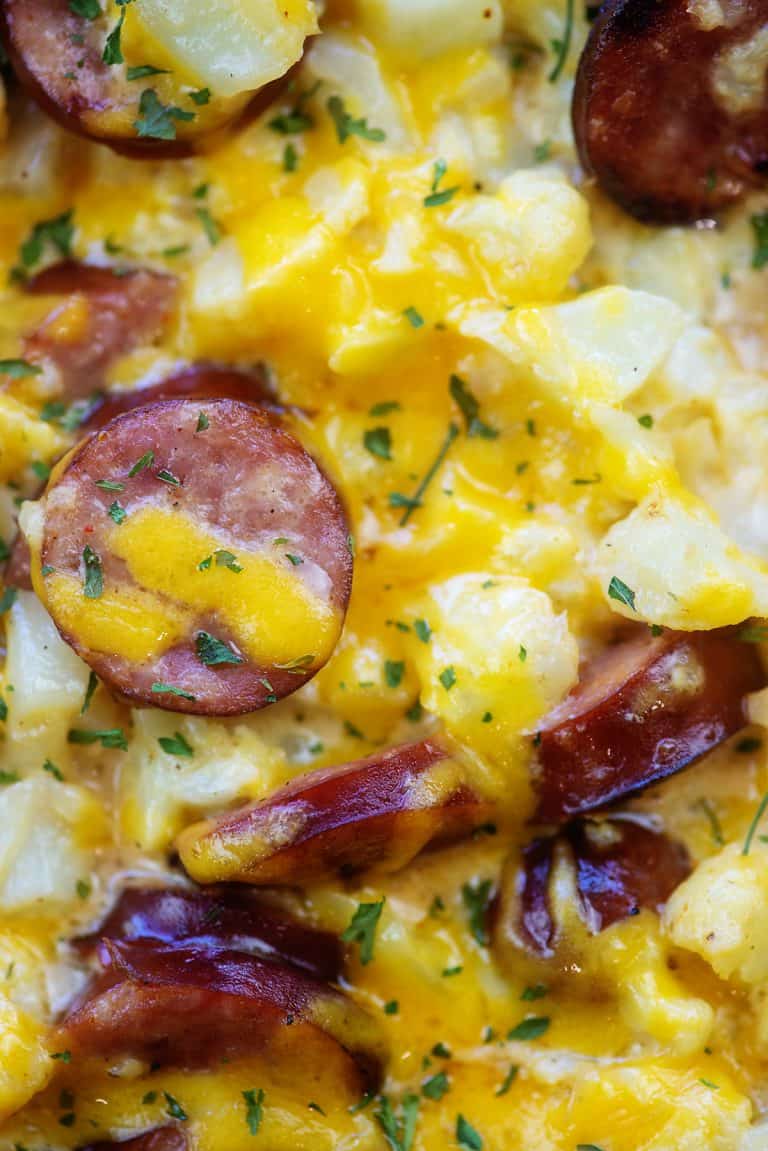 Can you use frozen cauliflower?
I highly recommend using fresh cauliflower for the best flavor and texture.
We've never tested this recipe with frozen cauliflower, but you'll likely have a difficult time chopping the cauliflower into small pieces if you don't thaw it first.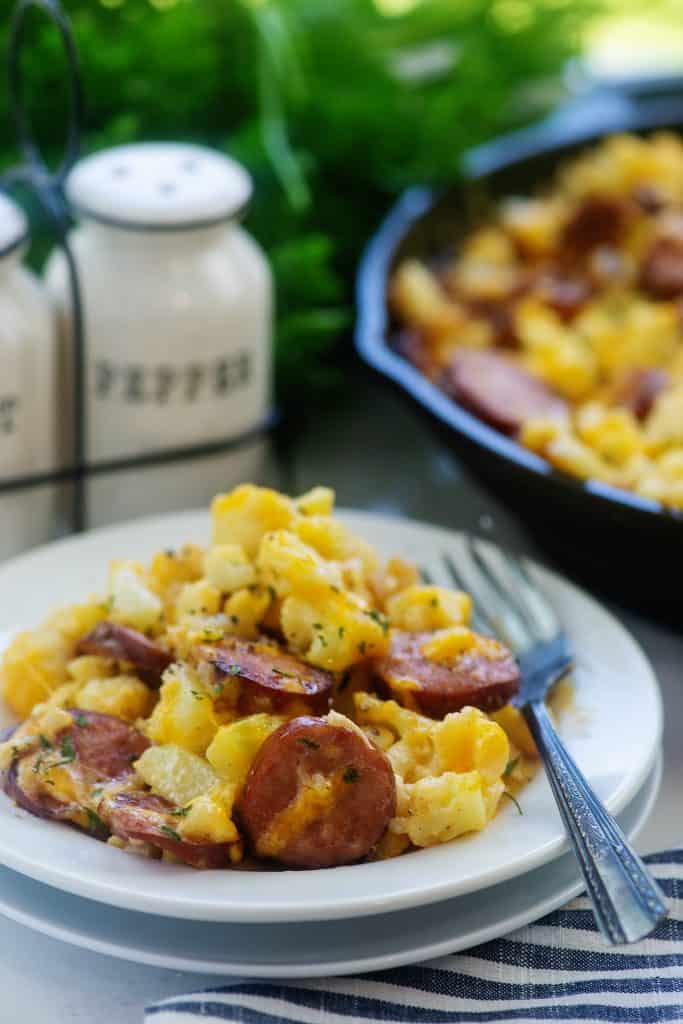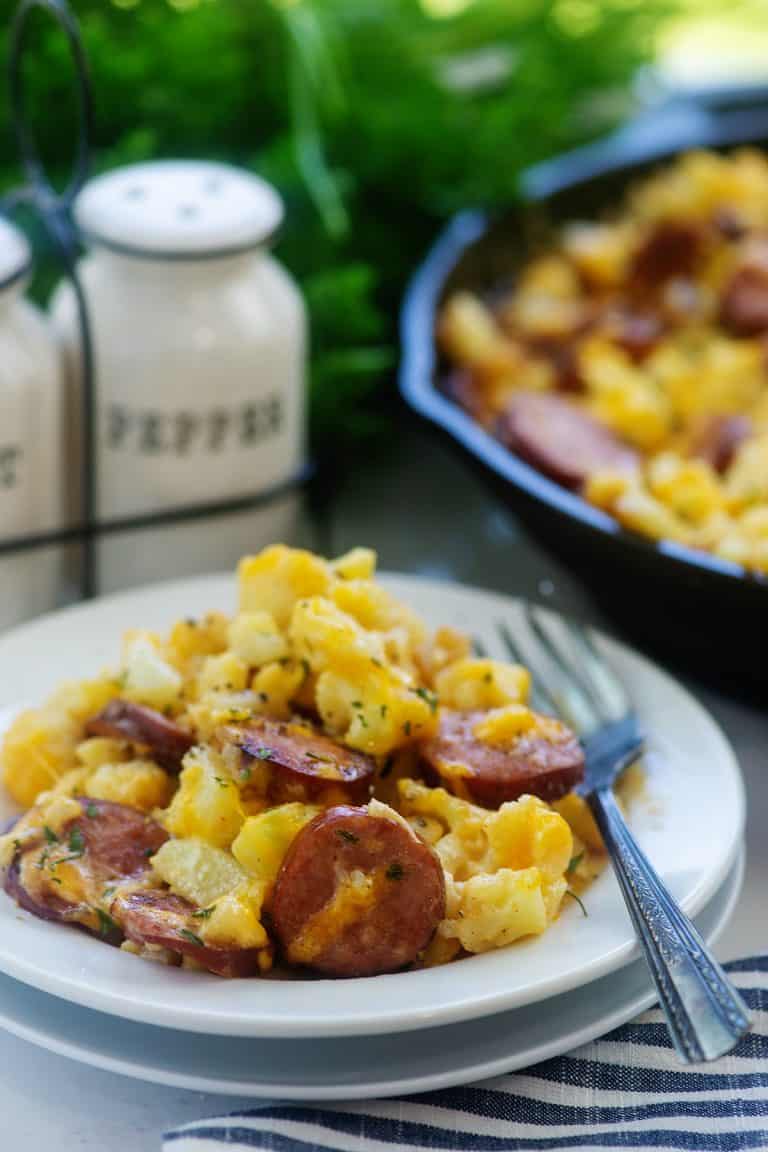 Is there a stovetop version?
Absolutely! You can just make the cauliflower and cheese bit, stir in the smoked sausage, and dig in.
We like baking this with a bit of extra cheese on top, just to give it that extra creamy, bubbly, casserole vibe. But, if you're in a crunch and need dinner on the table quick, just stir together and enjoy.
What brand of smoked sausage?
Be sure to check the nutrition info on the smoked sausage, because some of them can get up in the carb count.
We use and love Johnsonville Andouille Smoked Sausage in this recipe – just 1 net carb.
Hillshire Farm's Cajun-style Andouille smoked sausage has 2 net carbs.
Don't want the extra spice in the sausage? Johnsonville's plain smoked sausage is 2 carbs per serving.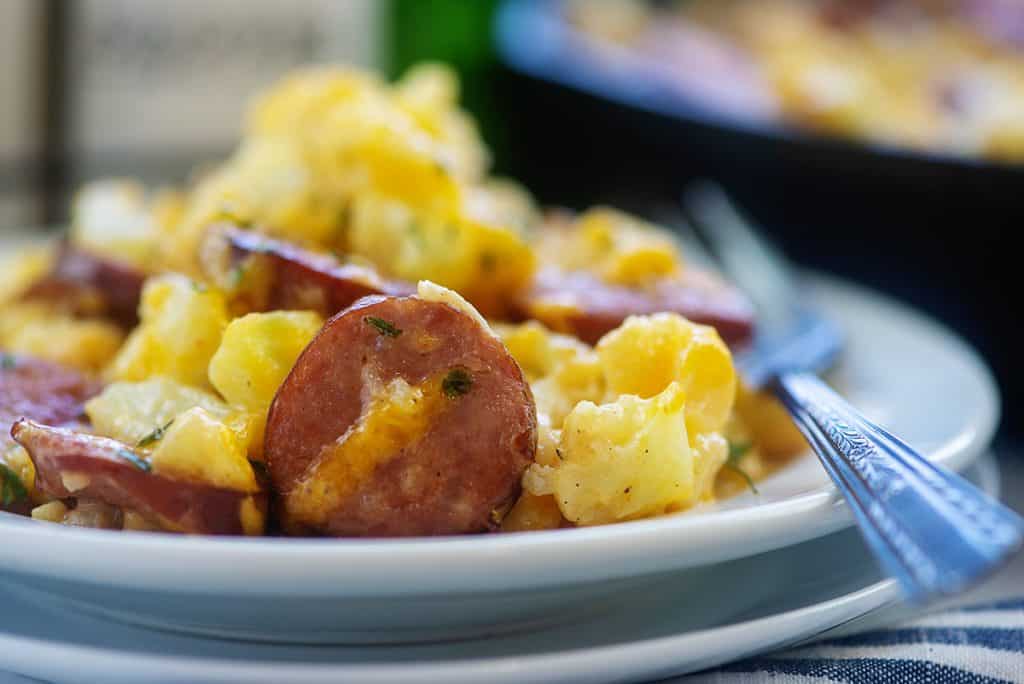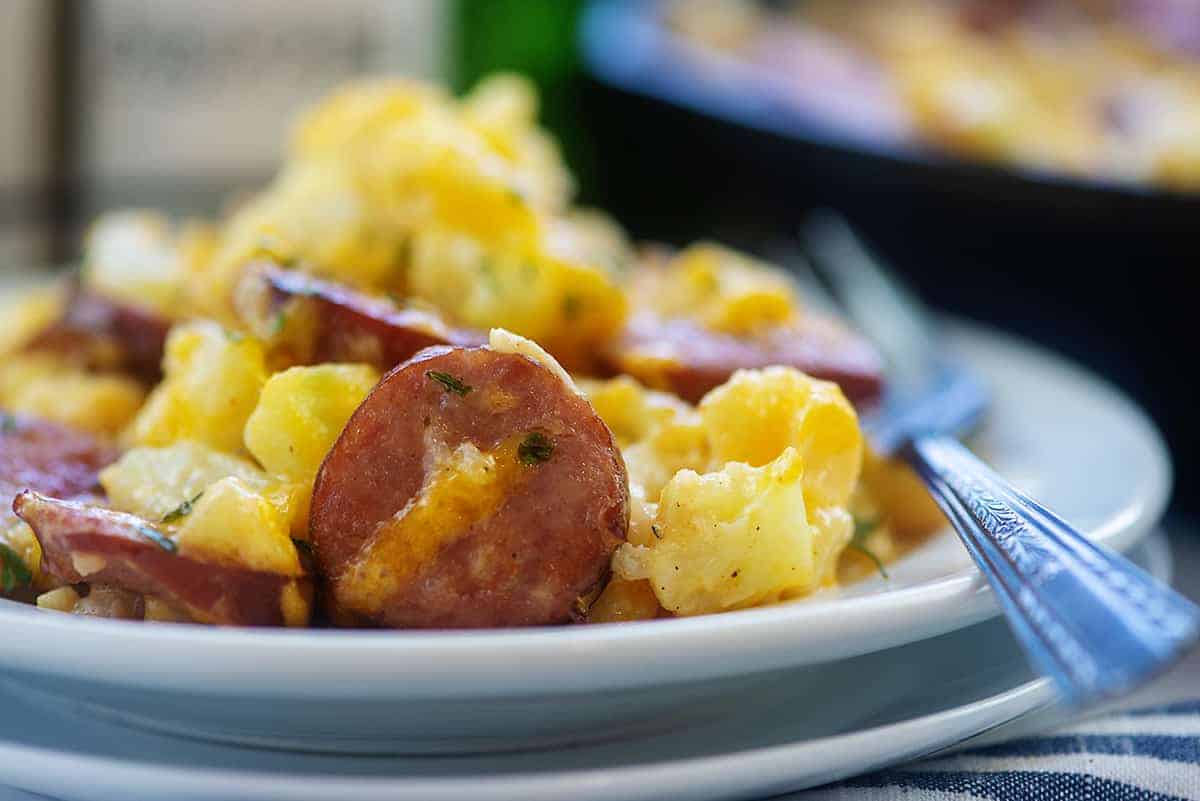 More low carb casseroles: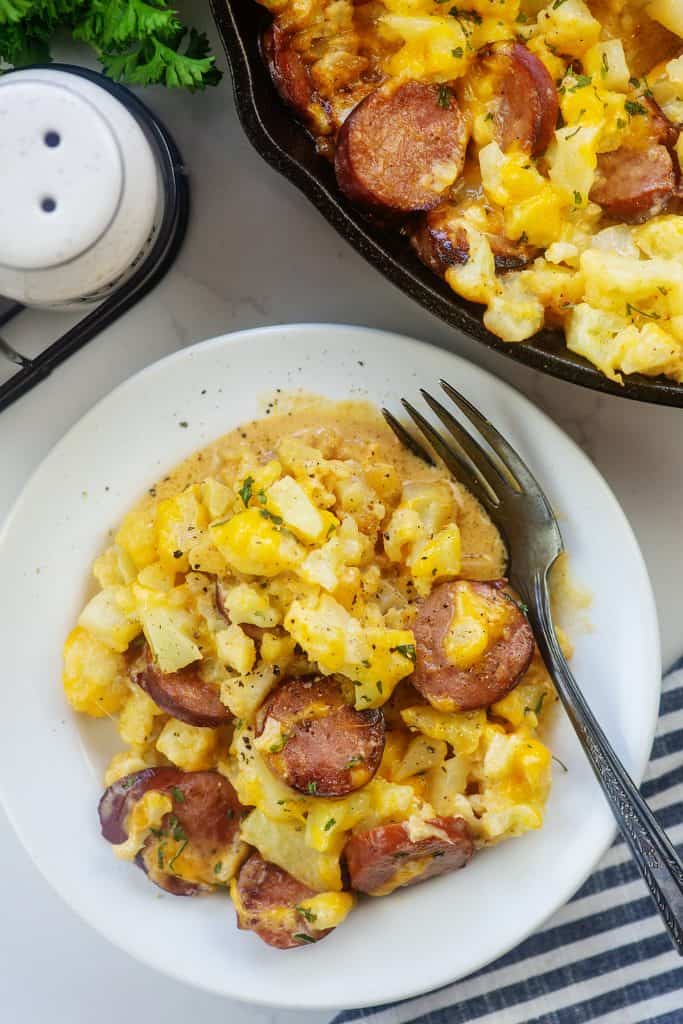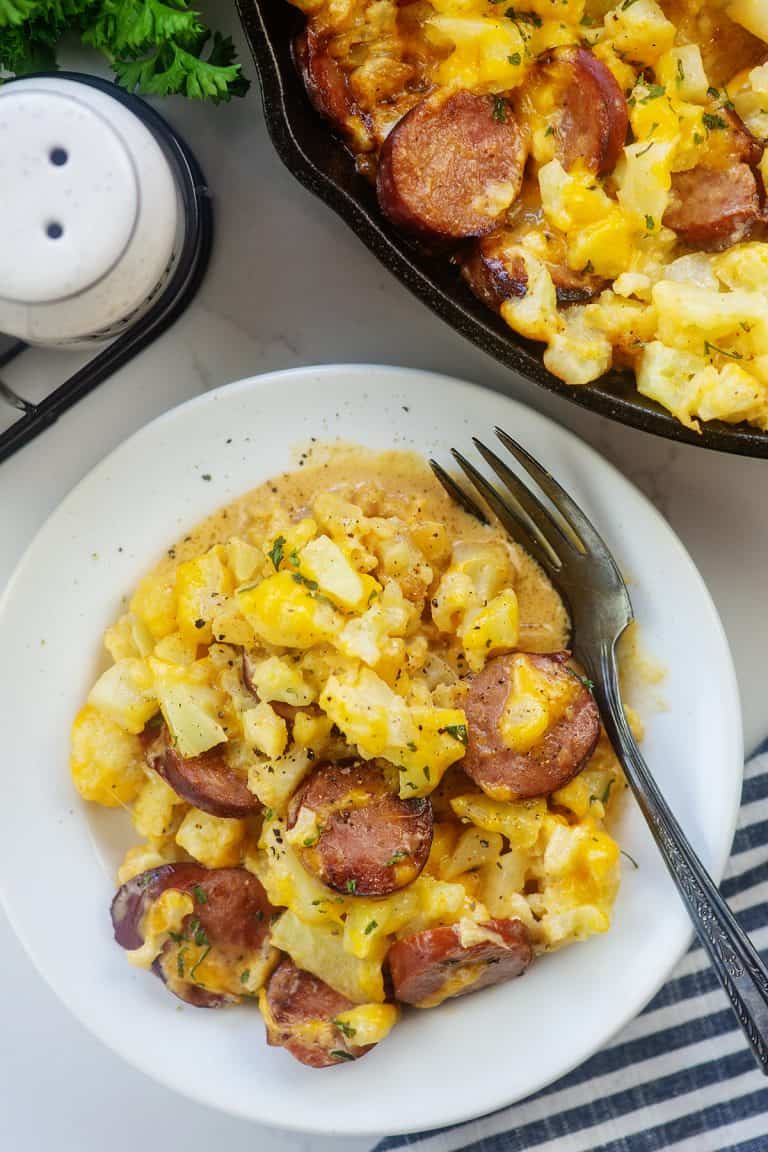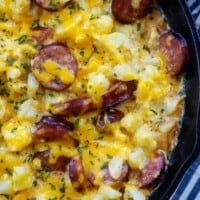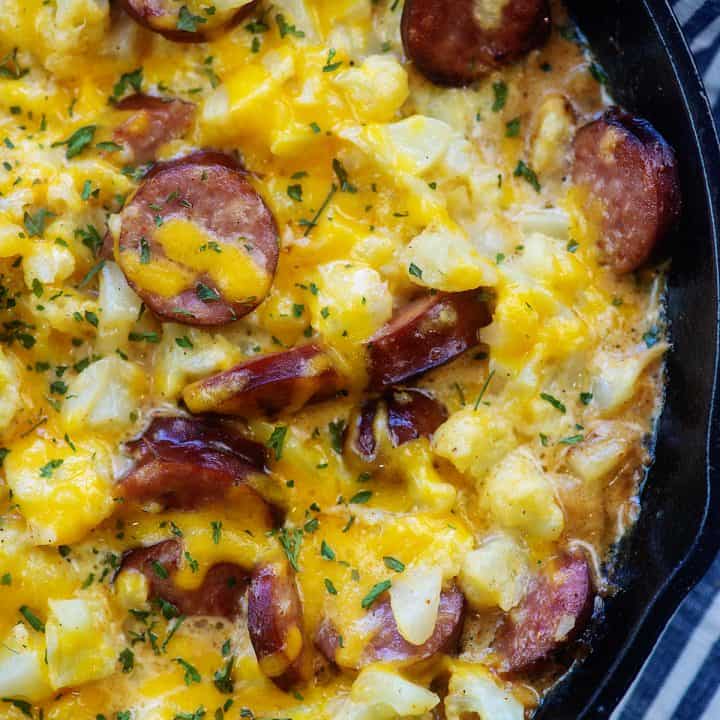 Baked Cauliflower Mac and Cheese with Smoked Sausage
Fresh cauliflower, plenty of cheese, and seared smoked sausage make for a great low carb casserole. So cheesy and comforting. Even the kids love this one. We highly recommend using fresh cauliflower in this recipe, as frozen will have a mushy texture.
Ingredients
16 ounces cauliflower, chopped into macaroni sized pieces
14 ounces smoked sausage
¼ cup heavy cream
2 ounces cream cheese, room temperature
1 1/2 cups grated cheddar cheese, divided
1/3 cup grated Monterey jack cheese
Instructions
Preheat oven to 350 degrees.
Bring a pot of water to a boil. Add the cauliflower pieces and boil for 4 minutes.
While the cauliflower is cooking, chop the smoked sausage into thin rounds and brown in a large oven-safe skillet over high heat. Set aside on a paper towel lined plate to drain.
Drain the water from the cauliflower and return the pot to low heat.
Add the cream, cream cheese, 1 cup of cheddar, monterey jack, and Cajun seasoning to the cauliflower and stir well until the cheese has melted fully, about 3 minutes.
Wipe out the skillet used to cook the sausage and add the cauliflower mixture to the skillet, along with the smoked sausage. Stir to combine.
Sprinkle the top with the remaining 1/2 cup of cheddar.
Bake for 15 minutes or until hot and bubbly.
Serve immediately.
Notes
The nutrition information is calculated on a smoked sausage with 1 net carb per serving, such as the Johnsonville Andouille Smoked Sausage. Be sure to check the label before purchasing as many smoked sausages are higher in carbs.
Recommended Products
As an Amazon Associate and member of other affiliate programs, I earn from qualifying purchases.
Nutrition Information:
Yield: 4
Serving Size: 1
Amount Per Serving:
Calories: 588
Total Fat: 51g
Saturated Fat: 0g
Trans Fat: 0g
Unsaturated Fat: 0g
Cholesterol: 141mg
Sodium: 1495mg
Carbohydrates: 10g
Net Carbohydrates: 8g
Fiber: 2g
Sugar: 3g
Protein: 26g
All information and tools presented and written within this site are intended for informational purposes only. This information is provided as a courtesy and there is no guarantee that the information is accurate.