This cucumber tomato feta salad is bursting with fresh flavor and lots of feta cheese! The dressing is super simple and adds the perfect flavor to this healthy low carb side dish. We serve this all summer alongside our meal.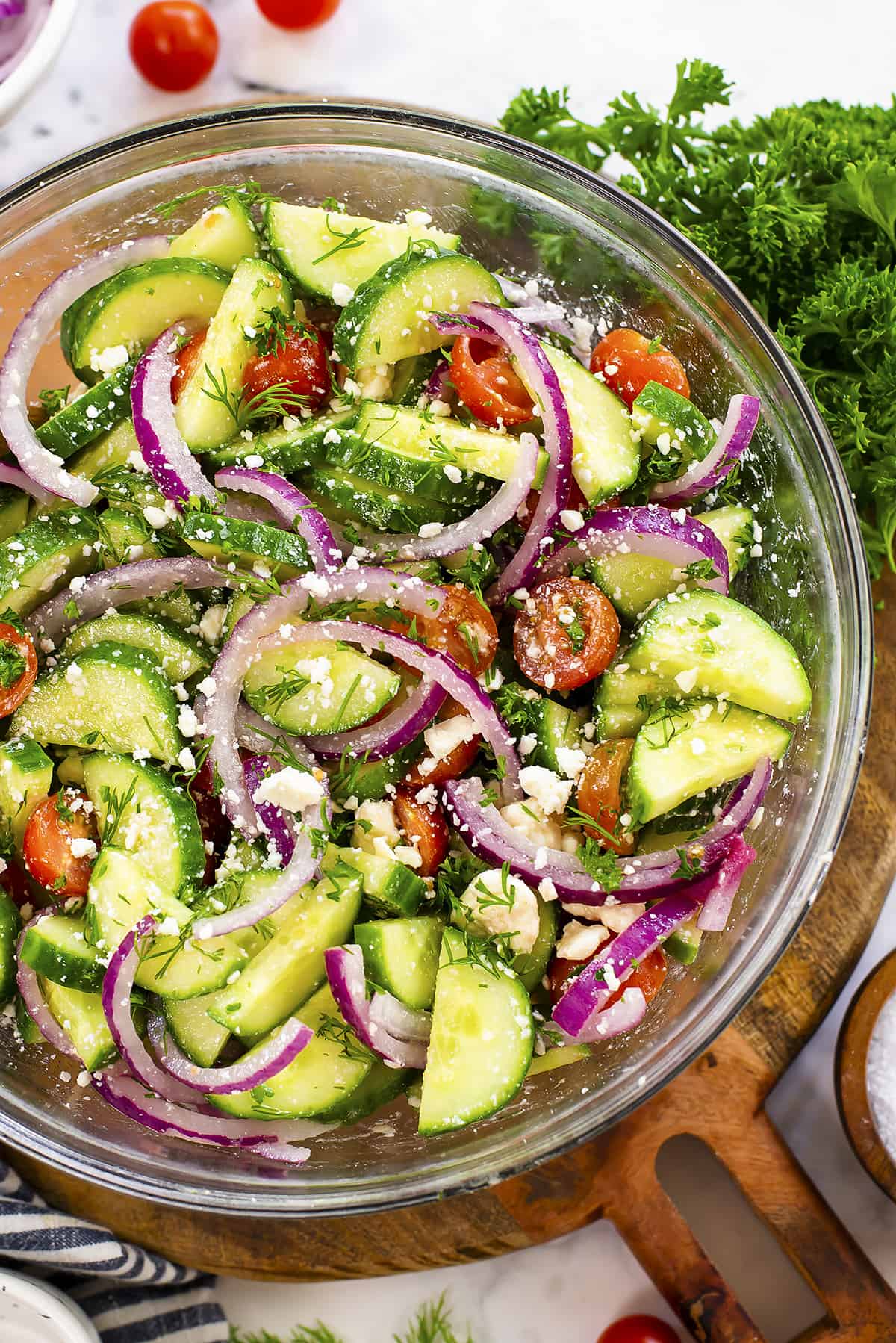 I am the biggest proponent of trying new foods and also re-trying foods you don't really like.
Taste buds change, people!
Keep giving those veggies you think you hate a try, because one day, you might just love it.
That's cucumbers for me – I hated them in any form other than a pickle up until about 2 years ago and now I could just eat a whole cucumber plain. Obsessed.
This cucumber tomato salad is my latest way to scarf as many cucumbers in a day as possible. 😉
The salad itself is fresh and crisp and juicy all in one go and the dressing is totally simple with just olive oil, vinegar, and some fresh herbs.
This cucumber tomato feta salad makes my heart sing.
Plus, it's crisp, cool and refreshing when you serve it up for dinner on a hot night!
If you like this, you'll also like our German Cucumber Salad – it has a rich, creamy dressing that pairs perfectly with the crisp cucumbers.
Ingredient Notes:
This post contains affiliate links. As an Amazon associate and member of other affiliate programs, I earn from qualifying purchases.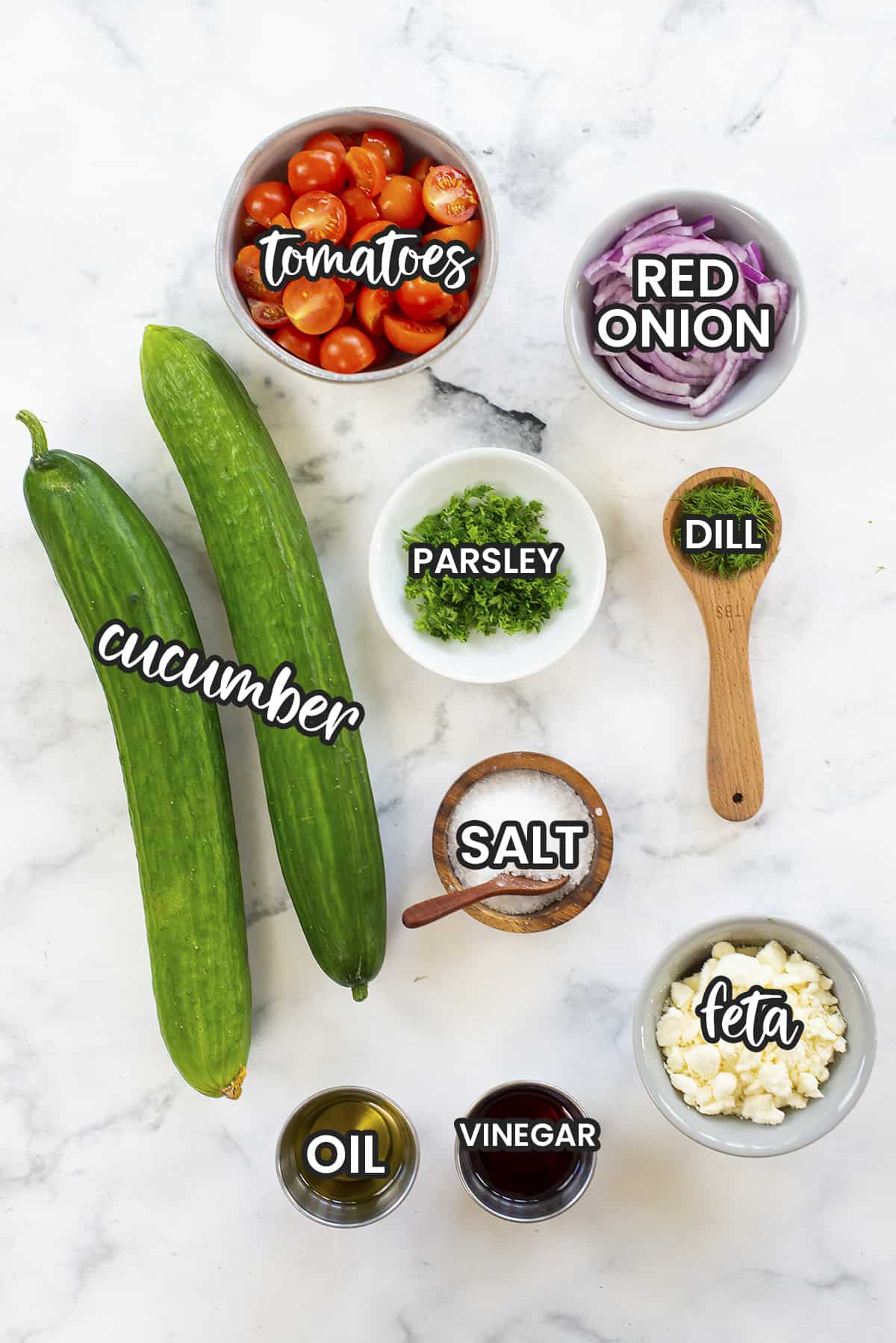 Veggies – This salad starts with a couple of sliced English cucumbers. I'm also adding in halved cherry tomatoes and thinly sliced red onion. Red onion has a strong flavor that pairs well with the other ingredients and dressing.
Feta Cheese – Some crumbled feta cheese is my favorite way to top this cucumber tomato salad! You can use as much or as little as you like.
Dressing – For this simple salad dressing I am using olive oil and red wine vinegar! That's pretty much all you need.
Fresh Dill & Parsley – Some fresh dill and parsley is an easy way to add some extra flavor to the salad.
Salt – As much or as little as you like.
Why We Love This Recipe:
This is a really simple recipe but it's big on fresh flavor! It's a great way to work fresh veggies into your diet.
The dressing couldn't be simpler, just olive oil and red wine vinegar. It enhances the flavor of the fresh veggies without overpowering them!
This salad is great for meal prep. We make a big bowl and eat it for multiple days – it goes great with just about any main course, especially something off the grill during the hot summer months.
How To Make Cucumber And Tomato Salad: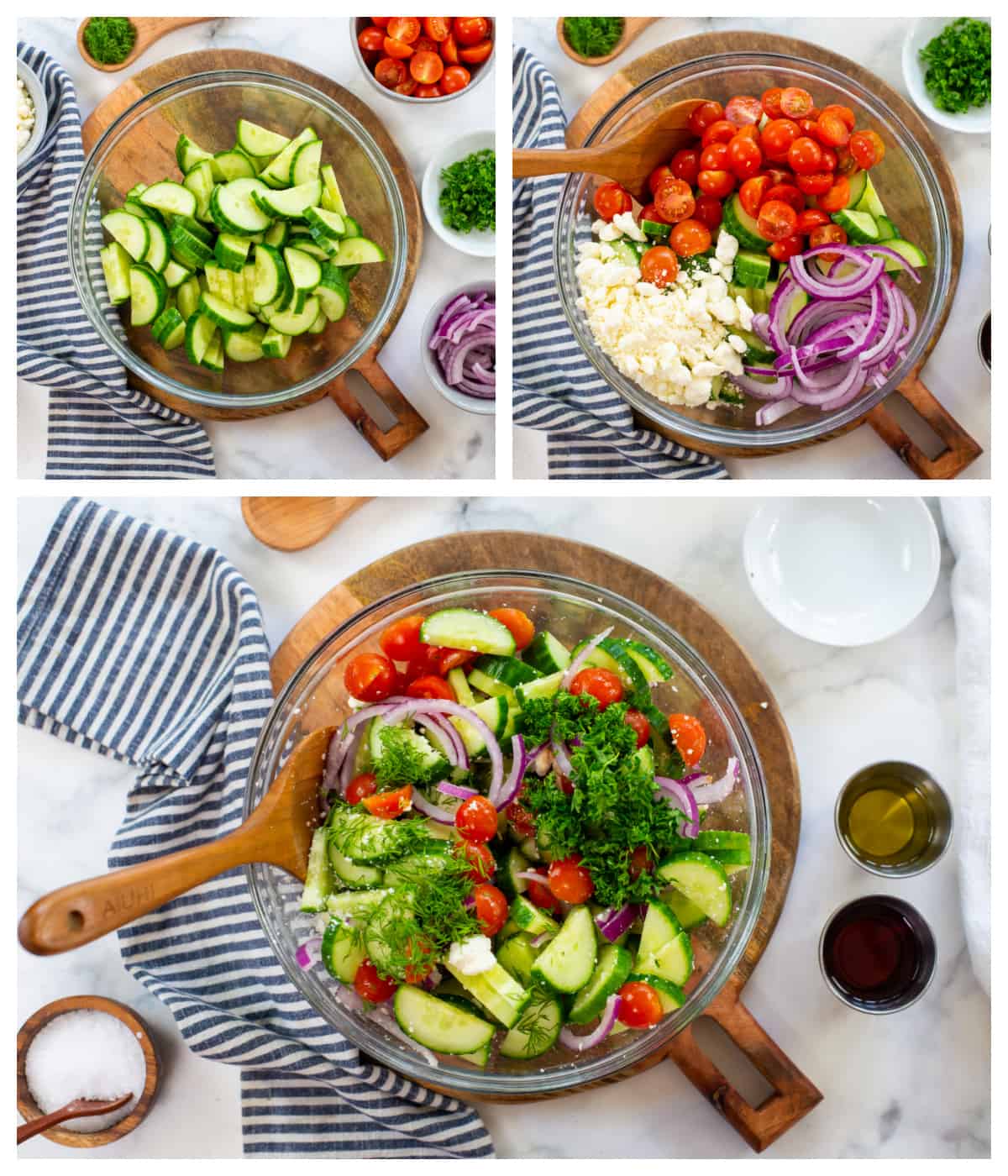 Prepare – You'll start by chopping your cucumbers. I recommend using English cucumbers because they're easier to digest (meaning: they won't make you burp so much, haha) due to their thinner peel. You can peel your cucumbers as well, though I never do for this recipe.You'll also need to slice the onion into thin slices and halve the cherry tomatoes.
Mix – When you've finished preparing the veggies go ahead and add them all to a mixing bowl along with a generous handful or two of crumbled feta cheese!
Dressing – I'm using a simple mix of olive oil and red wine vinegar as dressing for this cucumber and tomato salad. Drizzle them both on, toss the salad, and sprinkle on the parsley and dill with a little salt.
Serve – This recipe is seriously so easy and it's perfect for a hot summer night! Serve this cucumber tomato feta salad with steak bites or breaded baked pork chops.
Helpful Tip!
Mellow Out The Onion!
Love the crunch and flavor of red onion but find them a bit too strong? Slice the onion and soak it in cold water for about 20 minutes. Drain away the water and add the onion to your salad. They'll mellow out quite a bit while staying nice and crisp.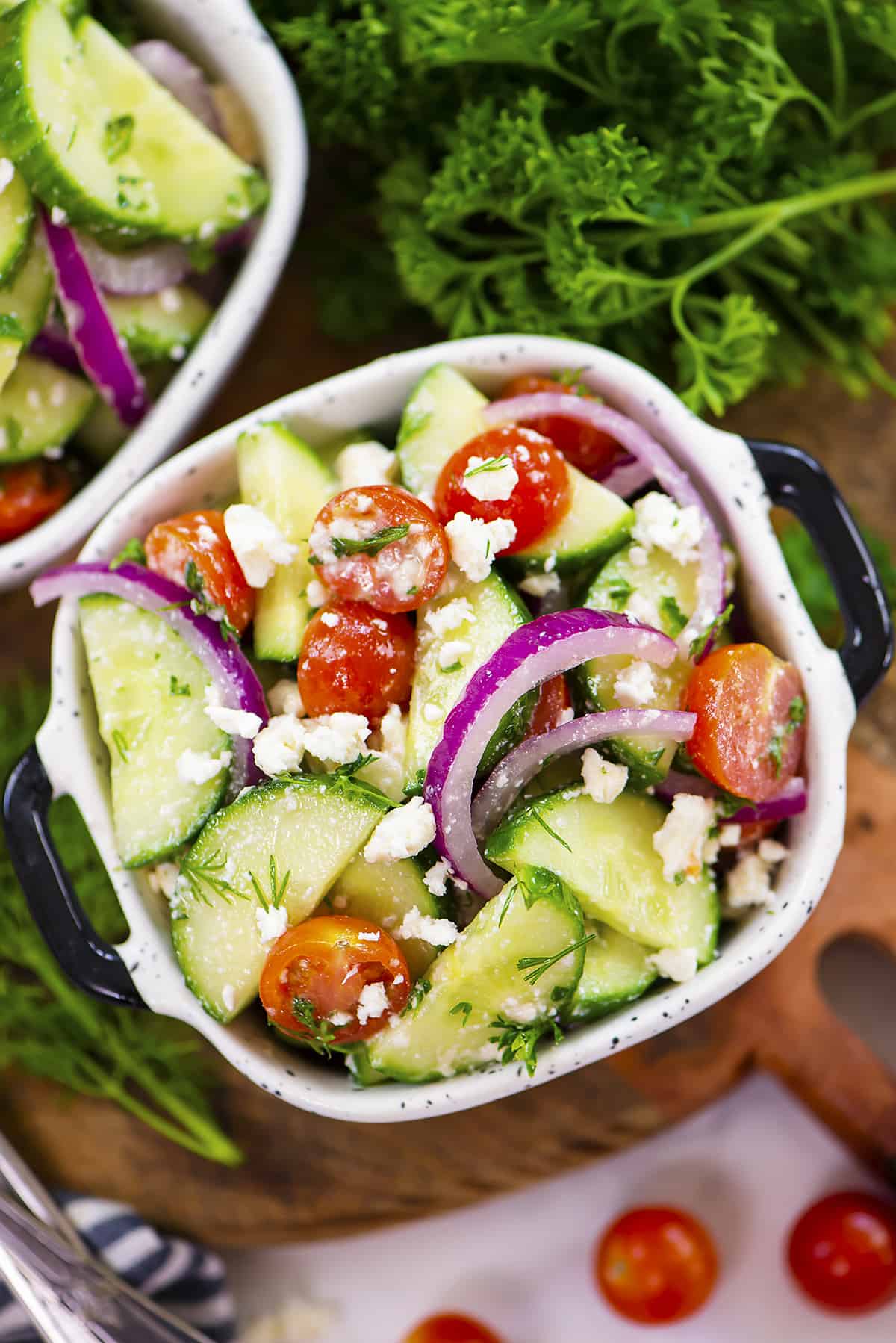 FAQ's:
What does feta cheese taste like?
Feta is a bold and tangy cheese with a salty flavor. It's made from sheep or goat's milk and it's soft and crumbly. I love the pop of salty flavor and soft texture it brings to any salad.

If you don't have or like feta, you can substitute queso fresco. It's a more mild cheese with a similar texture.
How to store cucumber tomato feta salad?
If you've got leftovers you can store them in the fridge for 3-4 days. The vegetables do start to soften up and release a bit of liquid the longer it sets, but we still enjoy this salad for multiple days.
What's the Difference Between an English cucumber and a regular cucumber?
English cucumbers tend to have thinner skin and less seeds than regular cucumbers, which makes them taste sweeter (due to the smaller seeds). The thin skin also contains less cucurbitacin, which is what causes burping after eating cucumbers. There's no need to peel an English cucumber, though you can do so if you choose.
MORE SUMMER RECIPES TO TRY!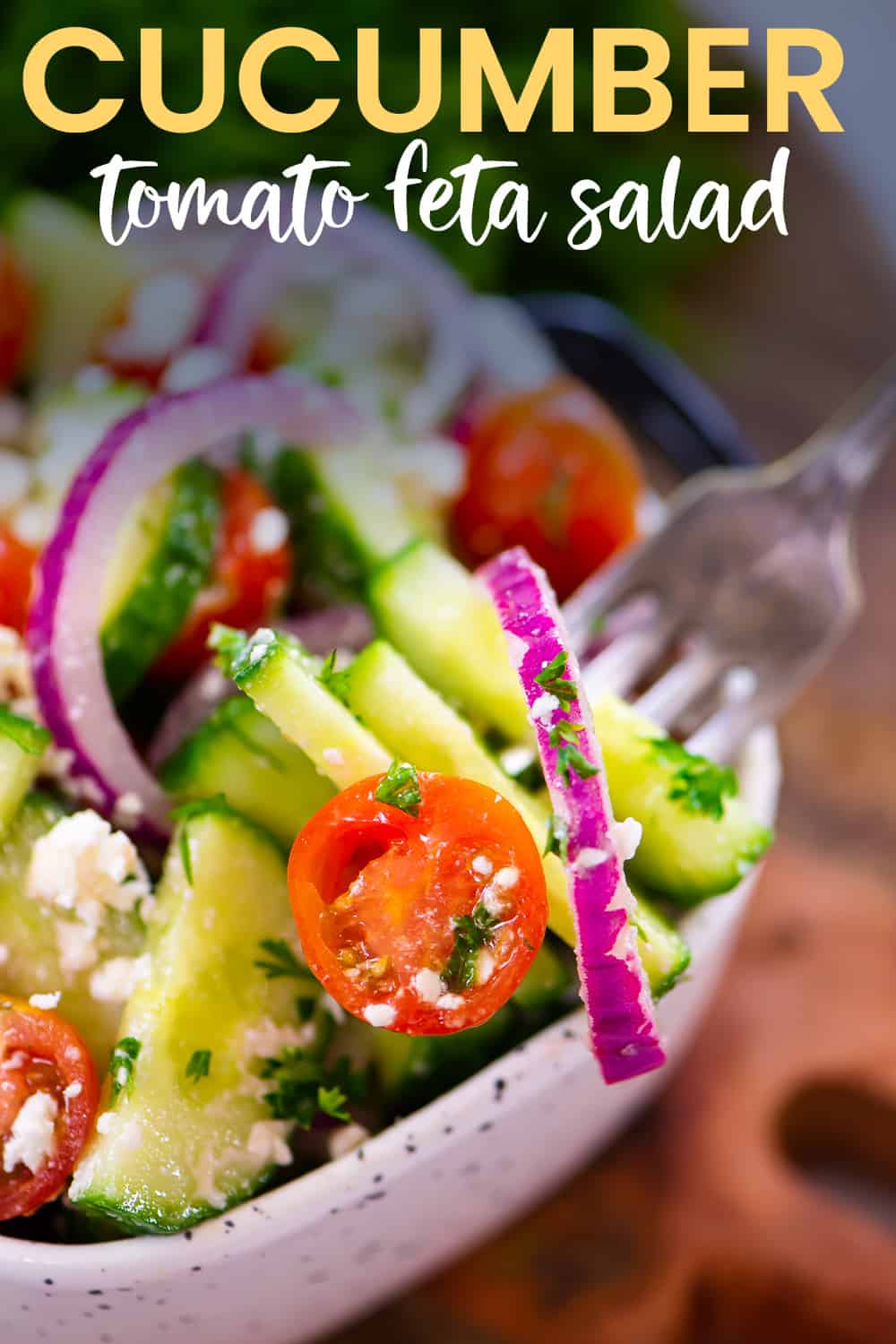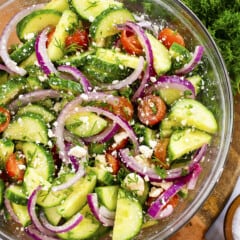 Cucumber Tomato Feta Salad
Loaded with fresh cucumbers, tomatoes, and crumbled feta cheese, this salad is perfect for a hot summer night!
Ingredients
2 English cucumbers
6 ounces cherry tomatoes, halved
¼ cup thinly sliced red onion
2/3 cup crumbled feta cheese
2 tablespoons fresh parsley
1 tablespoon fresh dill
3 tablespoons olive oil
3 tablespoons red wine vinegar
Salt, to taste
Instructions
Slice the cucumbers in half length-wise and then chop into 1/2 in chunks. Add to a large mixing bowl with the tomatoes, red onion, and feta.
Sprinkle with the parsley and dill and drizzle with olive oil and red wine vinegar.
Toss to coat the mixture in the dressing and then salt to taste.
Store tightly covered in the refrigerator for up to 4 days.
Notes
You may use 1 teaspoon dried dill in place of fresh, if needed.
Recommended Products
As an Amazon Associate and member of other affiliate programs, I earn from qualifying purchases.
Nutrition Information:
Yield: 6
Serving Size: 1
Amount Per Serving:
Calories: 125
Total Fat: 10g
Saturated Fat: 3g
Trans Fat: 0g
Unsaturated Fat: 7g
Cholesterol: 15mg
Sodium: 255mg
Carbohydrates: 5g
Net Carbohydrates: 4g
Fiber: 1g
Sugar: 3g
Protein: 3g
All information and tools presented and written within this site are intended for informational purposes only. This information is provided as a courtesy and there is no guarantee that the information is accurate.
This recipe was originally published in May 2021. It was updated with new photos June 2023. Original photos below.