German Cucumber Salad is a low carb, healthy side dish that comes together easily with just a handful of ingredients. Made with fresh cucumbers, red onion, sour cream, vinegar, and dill it's a refreshing side dish for a hot summer night.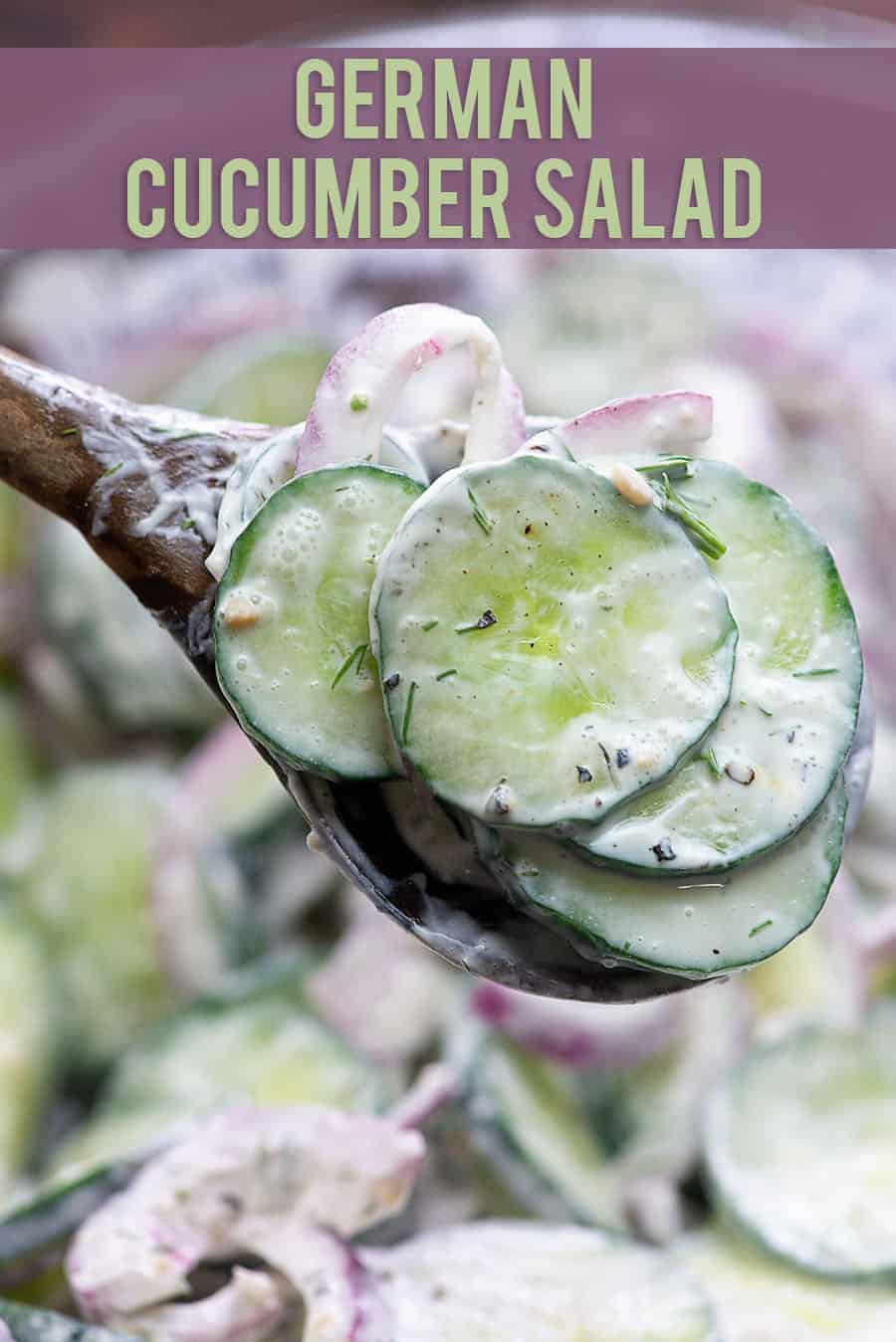 Growing up, my mama would always slice up cucumbers to go along with summer dinners.
I'd turn my nose up at them, because ew, green things. Kids don't eat green things, Mom. Why do you even try? 😉
I was actually in my 30s before I started enjoying cucumbers that were not pickled.
Makes me sad to think of all the time I missed chowing down on these crunchy, refreshing, low carb vegetables! Cucumbers are life, man.
I still peel and slice cucumbers and serve them with a sprinkling of salt for a simple summer side dish, but you'll more often find my cucumbers in this German cucumber salad recipe.
It's creamy, it's refreshing, and it goes great with just about anything. Plus, it's an easy way to actually get my kids to eat something green without complaint! 😉
Our Greek Cucumber Salad and Cucumber Salmon Bites are a couple of other favorites around here.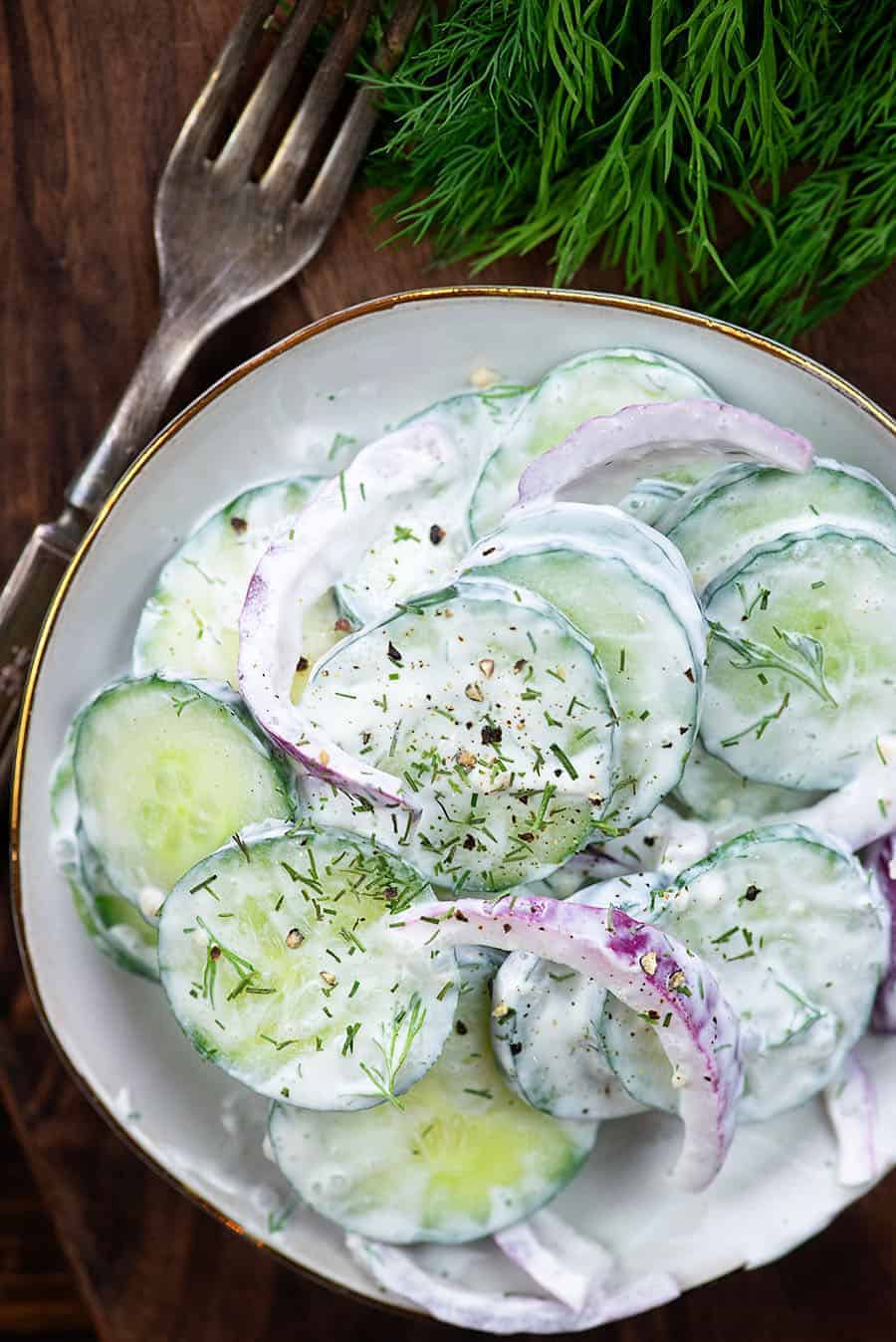 Ingredients:
Cucumbers – We prefer to use English cucumbers for this recipe, due to the sweeter flavor, lack of seeds, and thinner skin. These are also often called burpless cucumbers – that thinner skin makes them a little less gassy.
Sour Cream – While you can use either mayo or sour cream in this cucumber salad, we opted for sour cream. You can also equal parts mayo and sour cream…give both options a try and see what you prefer!
Red Onion – You'll want to slice this thin for the best texture and flavor. If you soak your red onion in water, it will take away some of the bite. We don't do this as we like the flavor, but it's an option if you're sensitive to onion.
Apple Cider Vinegar – Just a touch to help balance the richness of the sour cream.
Sweetener – This ingredient is entirely optional. We like a hint of sweetness and add in just a teaspoon to balance the flavors. Skip this entirely, use real sugar if that's all you have, or use our favorite monkfruit sweetener.
Fresh Dill – An absolute must for adding loads of fresh flavor.
How To Make Keto Cucumber Salad: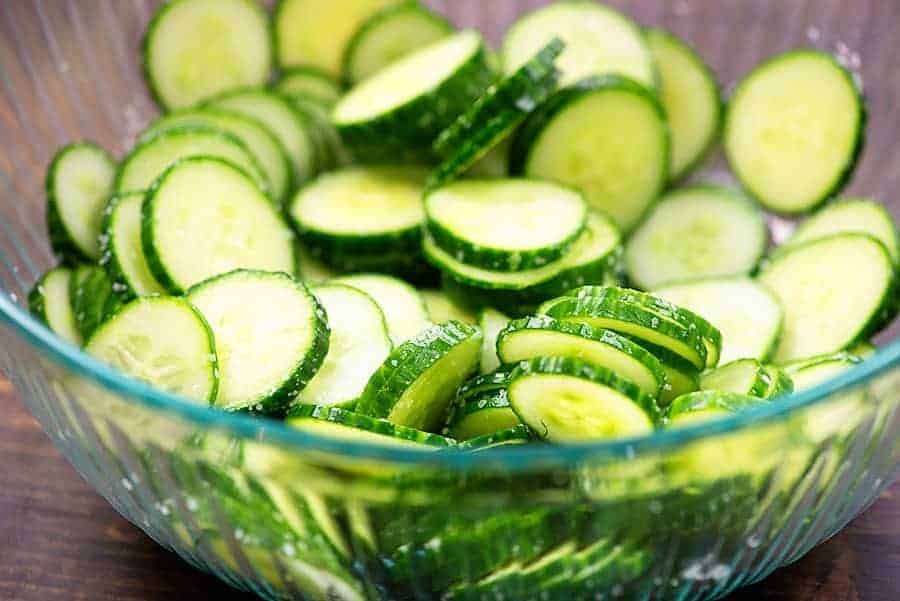 Slice & Salt: Slice two English cucumbers nice and thin using either a sharp knife or a mandoline.
Line a baking sheet with a tea towel and lay the cucumber slices out on the towel. Sprinkle them with salt and let them sit for 30 minutes.
This will help the cucumbers to release some of their water so that your salad doesn't end up too runny.
Pat the cucumbers dry, wiping away any excess salt, and toss them in a big bowl.
Slice up some red onion, mince some garlic, and chop some dill.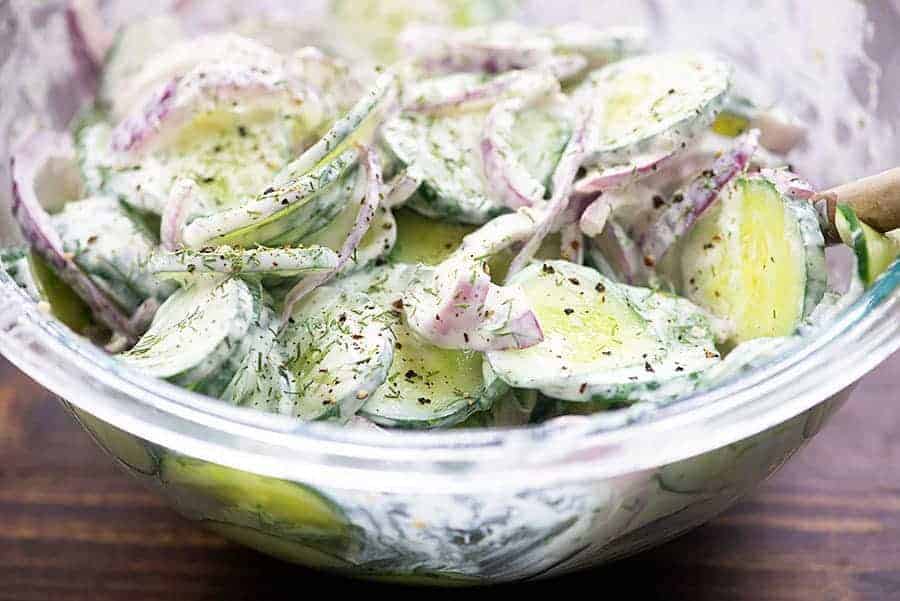 Combine: Add the cucumbers, onion, garlic, and dill to a large bowl along with some sour cream and apple cider vinegar. I put in about a teaspoon of sugar substitute for just a hint of sweetness, but you can skip this entirely if you prefer.
Serve: Stir everything together to get it nice and combined, taste and adjust the seasonings (more dill? more garlic? more pepper?) and serve!
It doesn't get much easier than this German cucumber salad recipe, right?
Serving Suggestions:
This German cucumber salad is the perfect summer side dish, going great with just about any protein you can grill. We like to make a big bowl and pull it out at dinner time all week long.
Here are a few dishes that this goes great with:
Asparagus Stuffed Chicken: Chicken breast stuffed with cheese and asparagus and wrapped in bacon.
Steak Bites: Always a hit in my house!
Lemon Baked Cod: Such a simple dinner, but packed with flavor.
Spinach Stuffed Chicken Breast: The easiest way to get greens in my kiddos! 😉
Crockpot Pork Tenderloin: This turns out so tender and juicy in the slow cooker!
Blackened Mahi Mahi: This fish is ready in about 10 minutes and is packed with flavor from our homemade seasoning.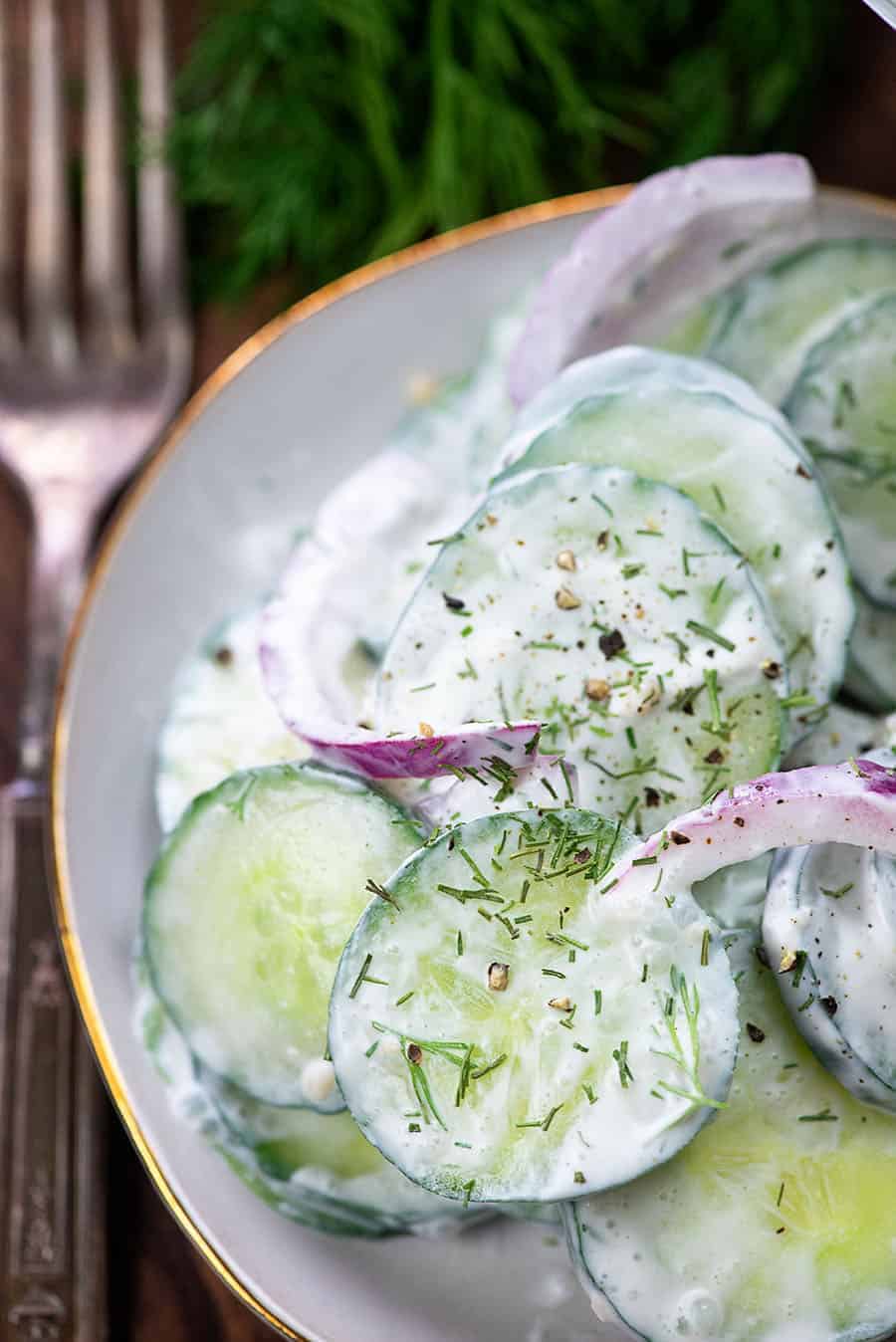 FAQ:
What's the difference between an English cucumber and a regular cucumber?
English cucumbers tend to be much longer and thinner, with a delicate, thin skin, and less seeds than a traditional cucumber. The flavor is a bit more mild and less bitter due to the smaller seeds.
How do you keep cucumbers from getting soggy?
We salt our cucumbers to release extra moisture from them before adding them to this salad. Before serving, pat them dry and wipe up any excess salt. This helps to keep them crisp and flavors them nicely as well.
What is in cucumber salad?
Cucumber salad is generally a mixture of fresh cucumbers, thinly sliced onion, and a creamy dressing. Some cucumber salads use a vinaigrette rather than a creamy dressing.
Give this German cucumber salad recipe a try and let me know what you think! For more recipes, be sure to follow me on Facebook!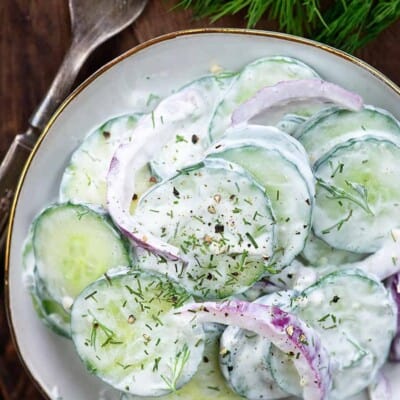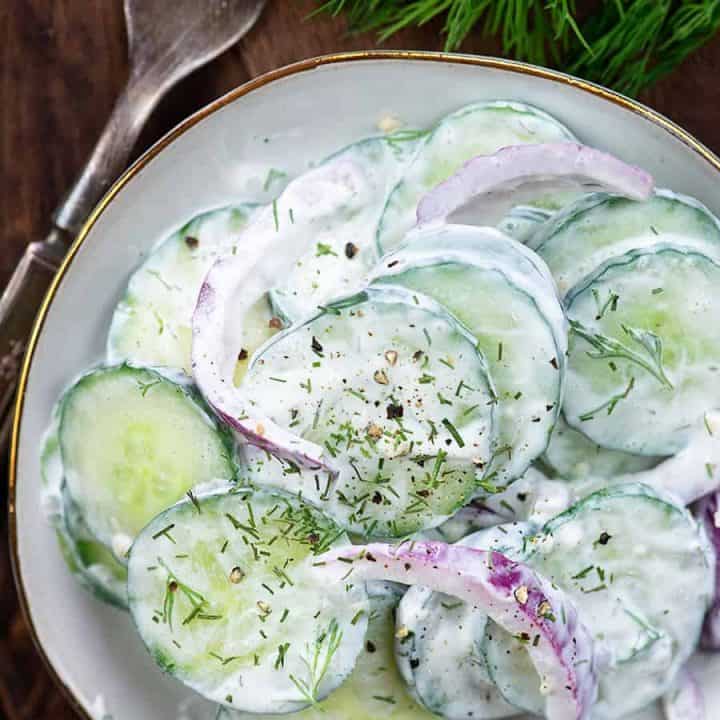 German Cucumber Salad
This cool and creamy cucumber salad recipe is made with fresh cucumbers, red onions, garlic, and sour cream. It's perfect for a hot summer night.
Prep5 minutes
Additional Time30 minutes
Total35 minutes
Ingredients
2 English cucumbers
1 tablespoon kosher salt
1/2 red onion sliced
1 clove garlic minced
3/4 cup sour cream
2 tablespoons apple cider vinegar
2 teaspoons fresh dill
1 teaspoon sugar substitute
1 teaspoon black pepper
Instructions
Line a baking sheet with a tea towel.

Thinly slice the cucumbers and lay on the prepared baking sheet. Sprinkle with the salt.

Let sit for 30 minutes at room temperature to allow the cucumbers to release their water.

Pat cucumbers dry, wiping away an excess salt, and add to a large mixing bowl with the red onion and garlic.

Whisk together the sour cream, vinegar, dill, sugar substitute, and pepper in a small bowl.

Pour the dressing mixture over the cucumbers and toss to coat.

Serve immediately.
Tips & Notes:
Update – lately we've been adding fresh tomatoes to this and it's SO GOOD. Highly recommend, but be sure to count from the in the nutrition. If you're sensitive to salt, you can rinse the cucumbers after salting and then pat dry. We just wipe it off as we pat it dry.
Nutrition Information:
Serving: 1| Calories: 76kcal (4%)| Carbohydrates: 5g (2%)| Protein: 1g (2%)| Fat: 6g (9%)| Saturated Fat: 3g (19%)| Polyunsaturated Fat: 2g| Cholesterol: 17mg (6%)| Sodium: 1068mg (46%)| Fiber: 1g (4%)| Sugar: 2g (2%)| Net Carbs: 4g (8%)