These cucumber salmon bites make the perfect little snack or appetizer! We top sliced cucumber with a zesty lemon dill cream cheese and then place a little piece of smoked salmon right on top. The perfect snack!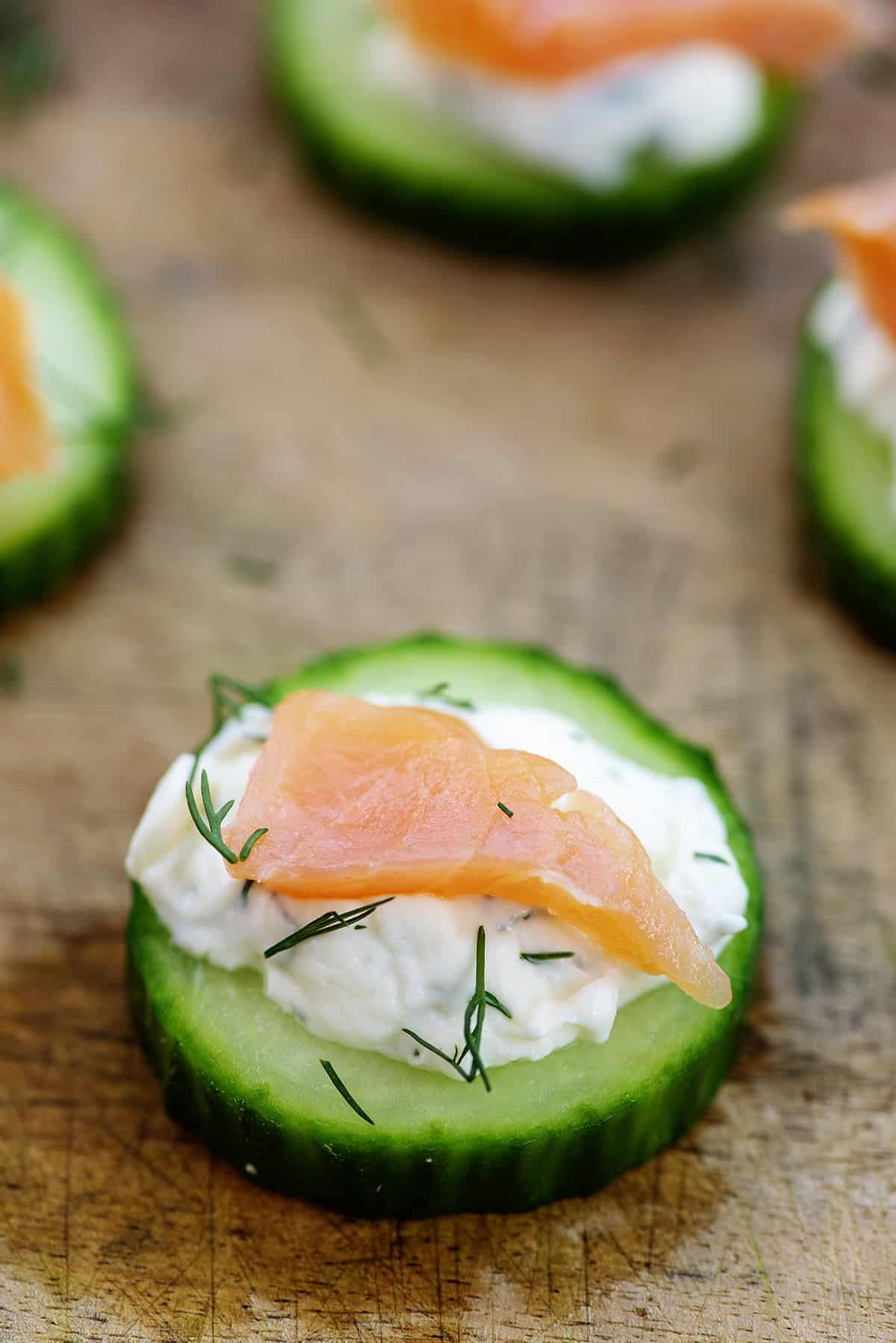 We planted cucumbers in the garden this summer and that means we've had to get a bit creative with our cucumber recipes!
These cucumber salmon bites are the newest obsession in our house, and I think it's easy to see why! Fresh slices of cold cucumber topped with a lemon dill cream cheese and little bits of smoked salmon make for the perfect snack or appetizer.
Our cucumber tomato feta salad and German cucumber salad have both been major favorites this summer too. So fresh and light and tasty. You just feel good after eating all three of these recipes!
We've even been making these little bites without the salmon when we're out! The lemon dill cream cheese is seriously just one of my favorite things in the world and it can definitely hold it's own!
Ingredient Notes:
This post contains affiliate links. As an Amazon associate and member of other affiliate programs, I earn from qualifying purchases.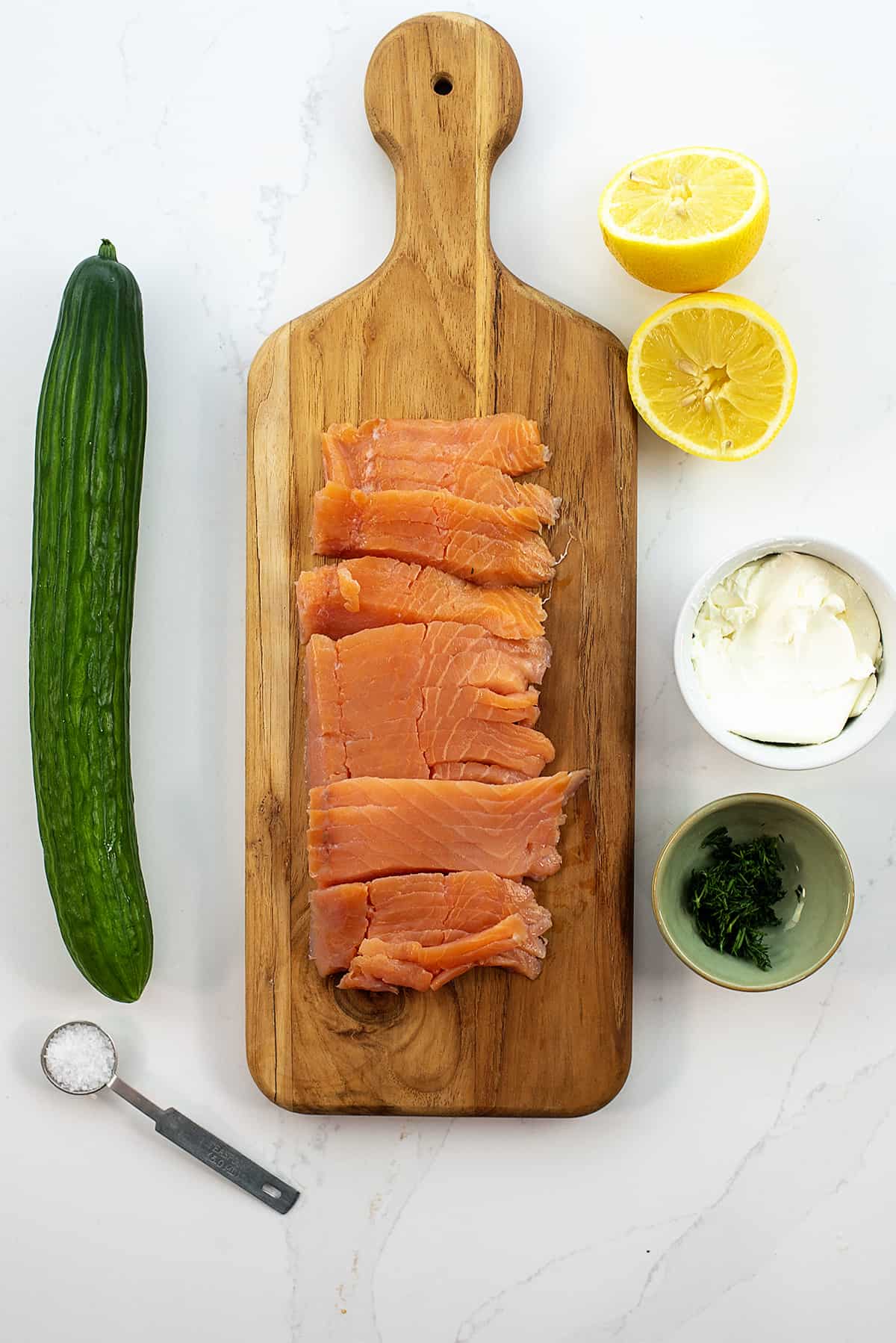 English Cucumber – These are the long, straight cucumbers that are seedless with a thin skin. Any cuke will work, but these are our favorite.
Cold Smoked Salmon – Typically found in the seafood department.
Lemon Dill Cream Cheese – This is a mix of cream cheese, lemon juice, fresh dill, and garlic.
Kosher Salt – We sprinkle flakes of salt over the top before serving.
Why We Love This Recipe:
The rich, smoky flavor of the salmon pair perfectly with the bright, zippy cream cheese.
These only take a few minutes to prep, but guests will be wowed!
Just as delicious as they are gorgeus!
Helpful Tools:
Microplane Grater – The perfect tool for grating the garlic in this recipe! It's also very useful in many other recipes that call for ingredients like freshly grated cheese or lemon zest.
Lemon Squeezer – We love freshly squeezed lemon and lime! This tool makes it easy and mess free, and we use it all the time!
Our Favorite Hand Mixer
It's so easy to whip up dinner, dessert, or even snacks with this cute hand mixer. It'll simplify just about any baking recipe by keeping all that mixing quick and easy. A good electric hand mixer like this one is a must for any kitchen, and they don't take up much space. I've used this hand mixer for years and it's my favorite! Get it on Amazon.
How To Make Salmon Bites: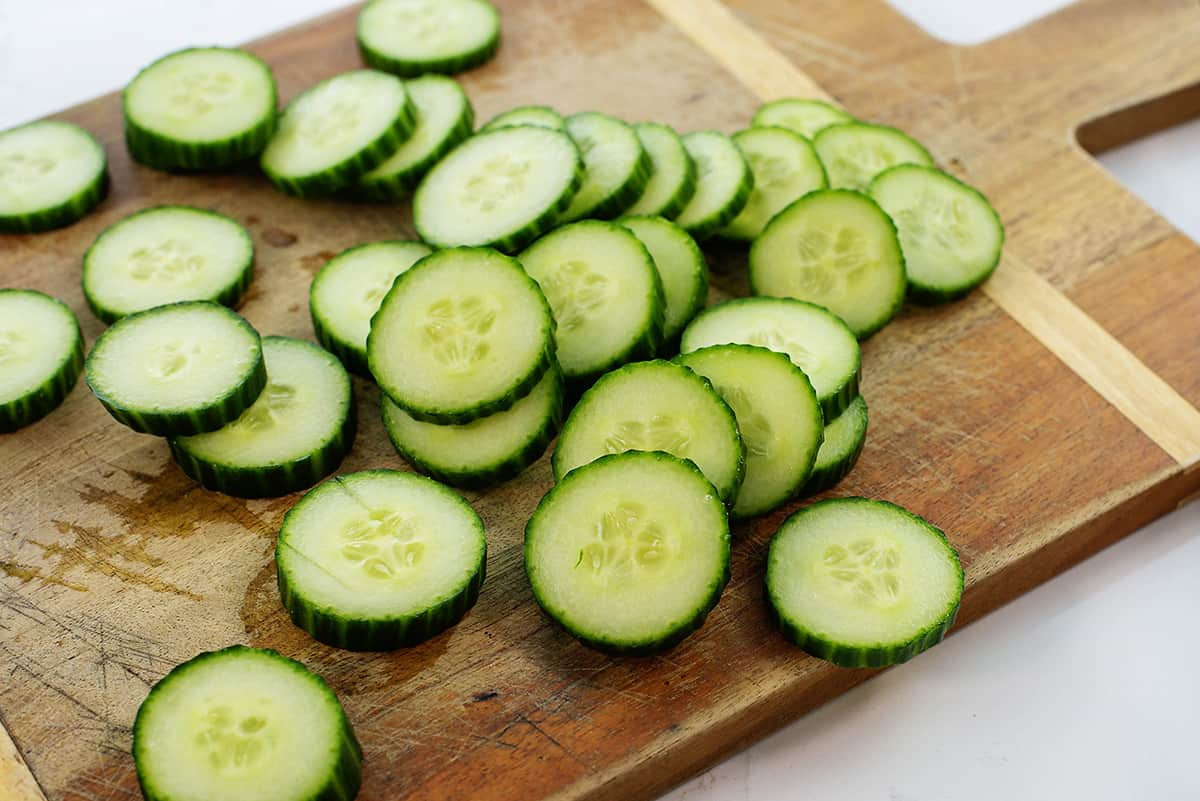 Cucumber – To get started you'll slice the cucumber into rounds. Simple! If you want to get fancy, peel some stripes into the cucumber. It adds a little interest to the finished product.
Cream Cheese – Add the cream cheese, dill, and some freshly squeezed lemon juice to a small bowl. Next use a microplane grater to grate the clove of garlic into the mixture and then use an electric mixer to beat it all together until it is smooth and creamy.
Finish – All that's left to do now is spread or pipe some of the cream cheese mix over the cucumber rounds and then top each one with a small piece of the cold smoked salmon! Finally, sprinkle on some kosher salt and some more dill to taste. You can serve these cucumber salmon bites immediately or cover and chill in the fridge until you're ready!
Helpful Tip!
Spoon the cream cheese mixture into a zip top bag and snip off one of the corners. Squeeze the lemon dill cream cheese right onto the slices of cucumber. Easy peasy!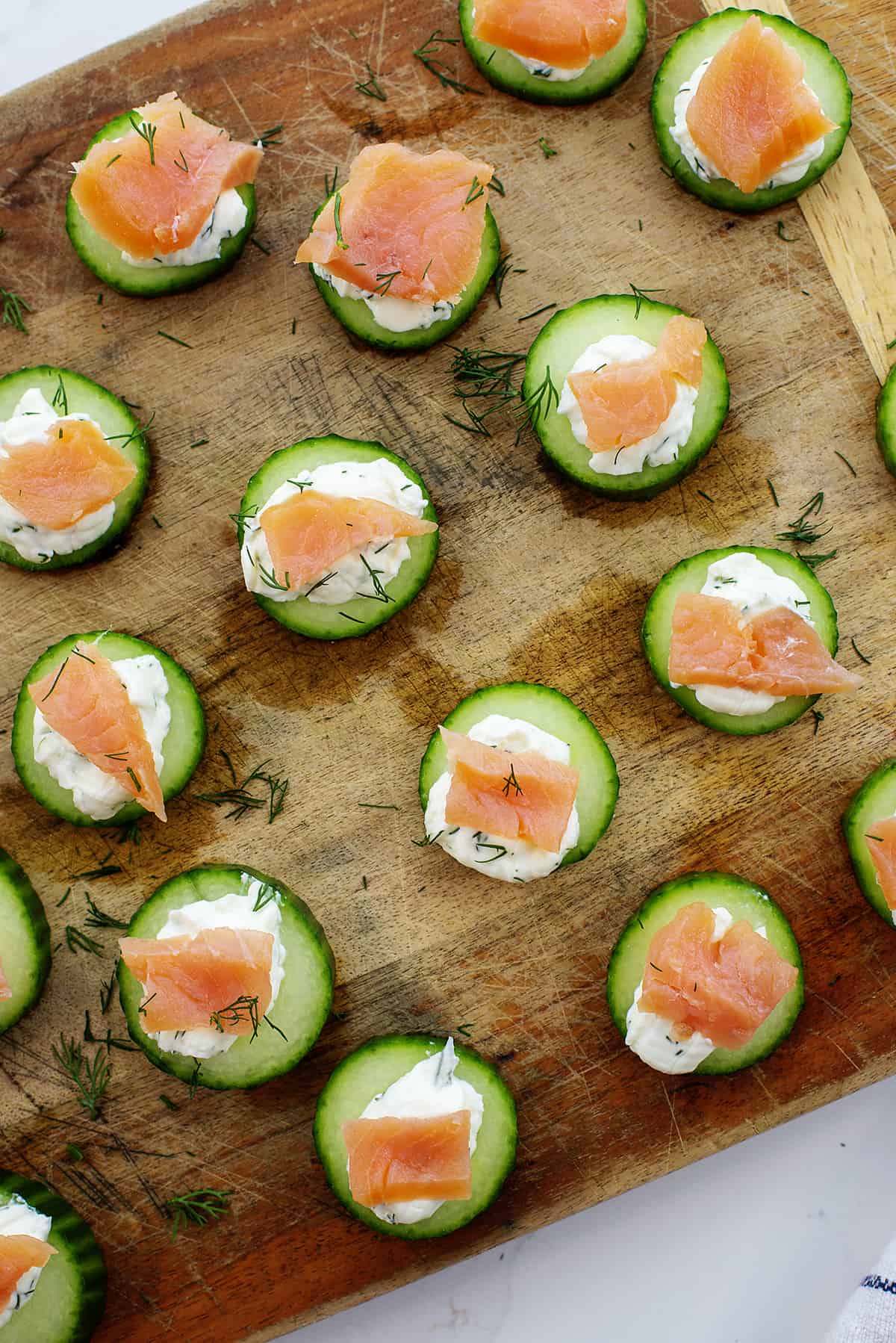 FAQ's:
How to store salmon bites?
These are best served fresh as the cucumber will release liquid as it sets in the fridge. If you must store them, place a layer of paper towels in a dish, top with the cucumber bites, and then cover and store in the fridge for up to 3 days.
More Low Carb Salmon & Seafood Recipes: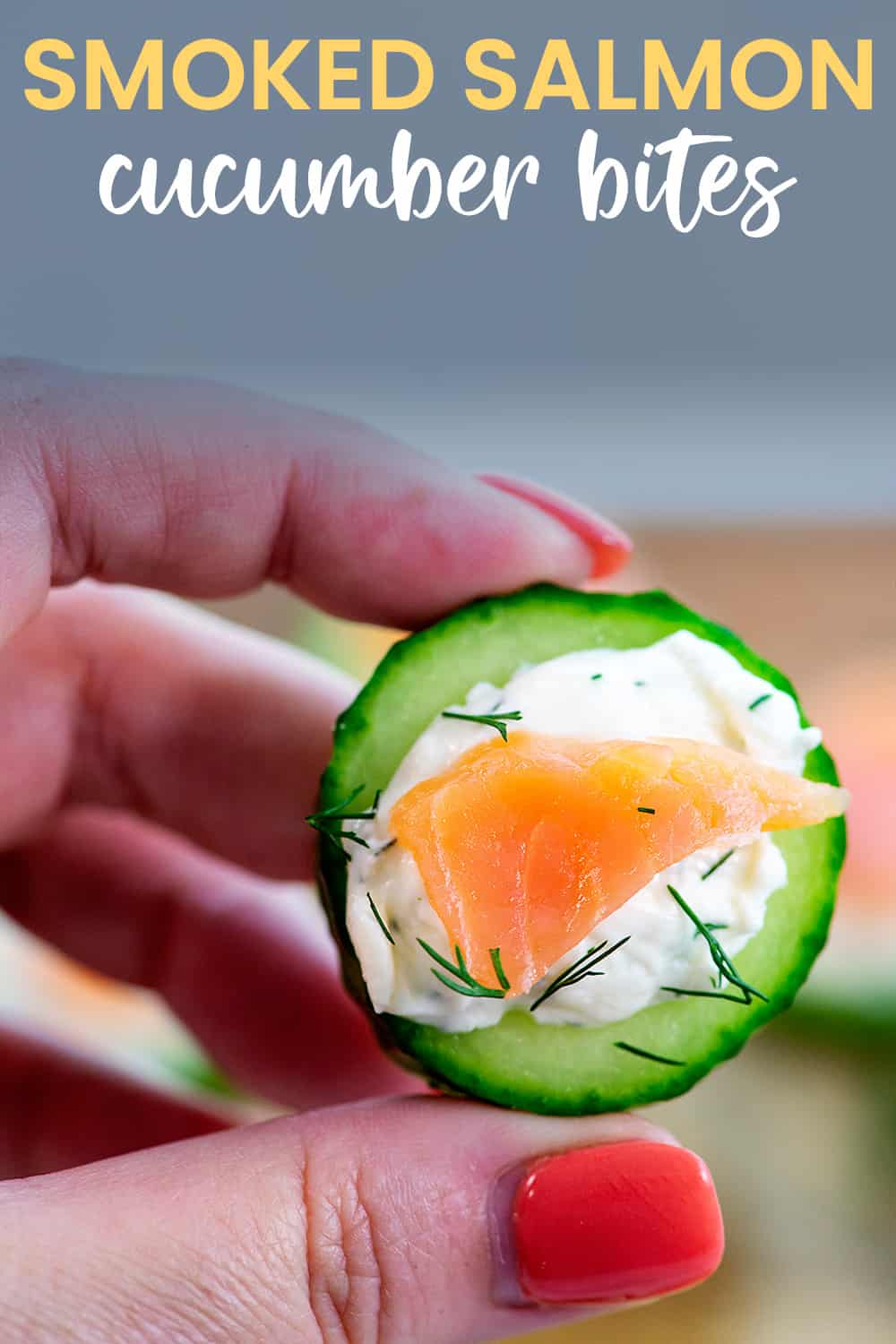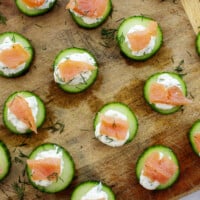 Cucumber Salmon Bites
These smoked salmon cucumber bites are perfect for serving to dinner guests! They're a simple appetizer that is light and tasty and everyone raves about that lemon dill cream cheese!
Ingredients
1 English cucumber
4 ounces cream cheese
1/2 lemon
2 teaspoons fresh dill, plus extra for garnish
1/2 teaspoon kosher salt
1 clove garlic
6 ounces cold smoked salmon
Instructions
Slice the cucumber into rounds.
Add the cream cheese, lemon juice, dill, and salt to a small mixing bowl. Grate the garlic with a microplane grater over the cream cheese mixture. Beat with an electric mixer to combine.
Spread the cream cheese evenly over the cucumber rounds and top with a small piece of salmon.
Sprinkle with extra dill, for garnish.
Serve immediately.
Notes
We prefer these made fresh, but if you must make them ahead, store them in a dish that's lined with paper towels to soak up any liquid the cucumber slices release.
It's really simple to either spread the cucumber with the cream cheese or to spoon the cream cheese into a ziptop bag and squirt it onto the cucumbers.
Nutrition Information:
Yield: 15
Serving Size: 2 cucumber bites
Amount Per Serving:
Calories: 43
Total Fat: 3g
Saturated Fat: 2g
Trans Fat: 0g
Unsaturated Fat: 1g
Cholesterol: 10mg
Sodium: 293mg
Carbohydrates: 1g
Fiber: 0g
Sugar: 1g
Protein: 3g
All information and tools presented and written within this site are intended for informational purposes only. This information is provided as a courtesy and there is no guarantee that the information is accurate.