This salmon piccata features pan seared salmon fillets in a creamy lemon garlic piccata sauce with capers. It's a gourmet low carb meal that the whole family will enjoy.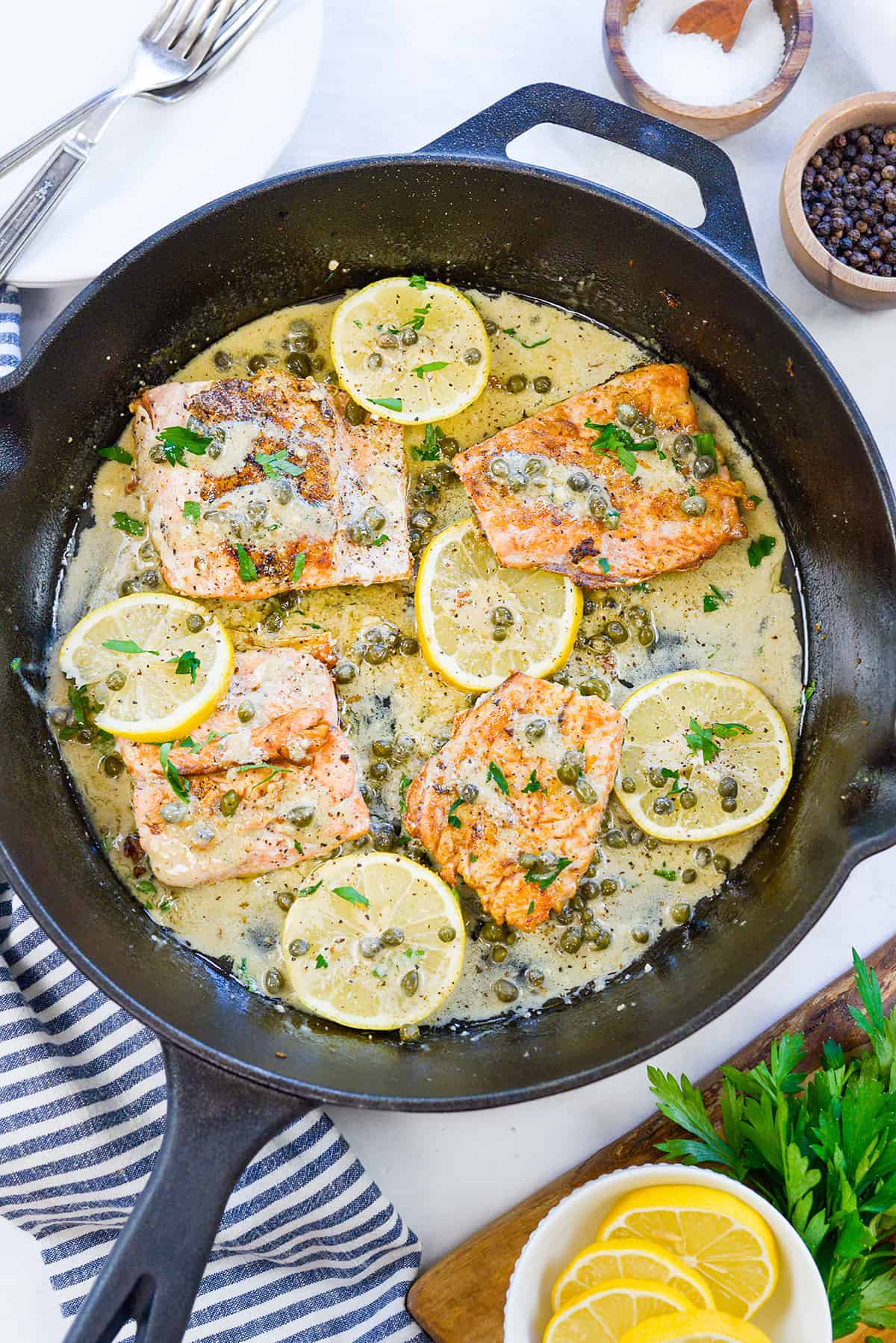 Our low carb salmon picatta is a major weeknight favorite, featuring flavorful salmon cooked in a creamy lemon sauce with capers and garlic. The sauce is so good that we could drink it with a straw!
Traditionally, picatta is a dish made with floured and fried chicken or veal, but we skipped the flour (it's unnecessary, in my opinion!) and swapped in salmon.
You'll often see this dish served with pasta, but we skipped that too and have no regrets! Our salmon picatta is just as delicious served with a side of cauliflower rice, some steamed broccoli, or even zucchini noodles!
Serve with our garlic bread chaffle or cauliflower breadsticks if you're really feeling fancy!
Ingredient Notes:
This post contains affiliate links. As an Amazon associate and member of other affiliate programs, I earn from qualifying purchases.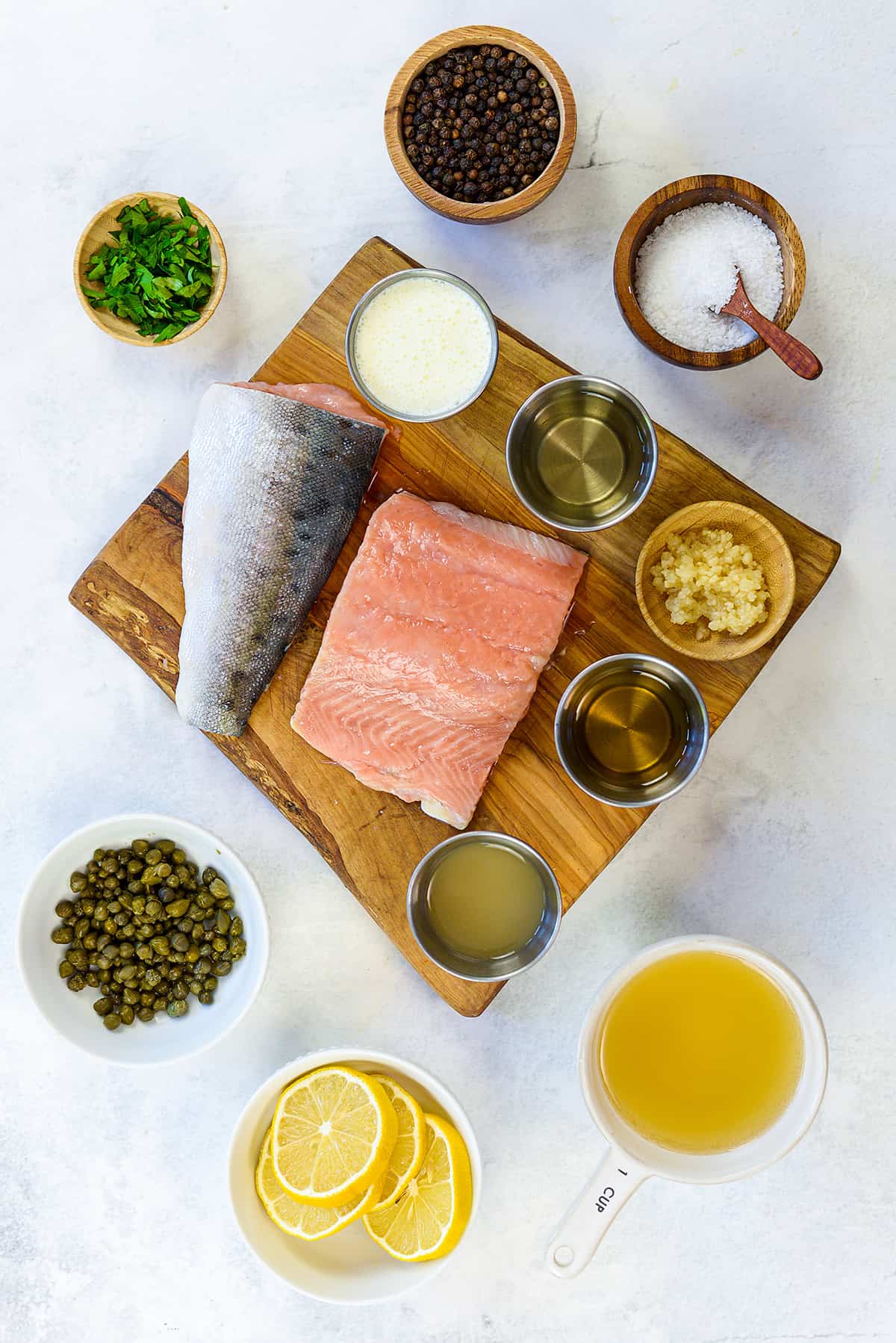 Salmon – We always use wild caught salmon whenever possible. You may use skin on or skinless fillets – we've chosen salmon with the skin on.
Avocado Oil – We love avocado oil and use it often in cooking. Olive oil will also work in this recipe.
Lemon Garlic Sauce – This sauce is creamy and flavorful! You'll start with minced garlic, chicken broth, and dry white wine. Once that has reduced you'll add in the butter, heavy cream and freshly squeezed lemon juice! You'll love how this sauce pairs with the salmon!
Fresh Lemon – You'll need these both for freshly squeezed juice and for sliced lemon to garnish the salmon fillets!
Capers – The salty, savory flavor of capers jarred in brine goes really well with the citrusy lemon, garlic, and creamy flavors in the piccata sauce!
Parsley – For topping before serving the salmon filets!
Why We Love This Recipe:
The piccata sauce is packed full of fresh flavor and it tastes so good on salmon! It helps to balance out some of the stronger flavors in the fish while adding lots of citrusy, buttery and garlicy flavor to the dish.
Everything cooks in one dish, which makes for easy clean up!
This is delicious with a variety of sides – zucchini noodles, cauliflower rice, steamed broccoli, roasted Brussels sprouts, etc.
How To Make Salmon Piccata: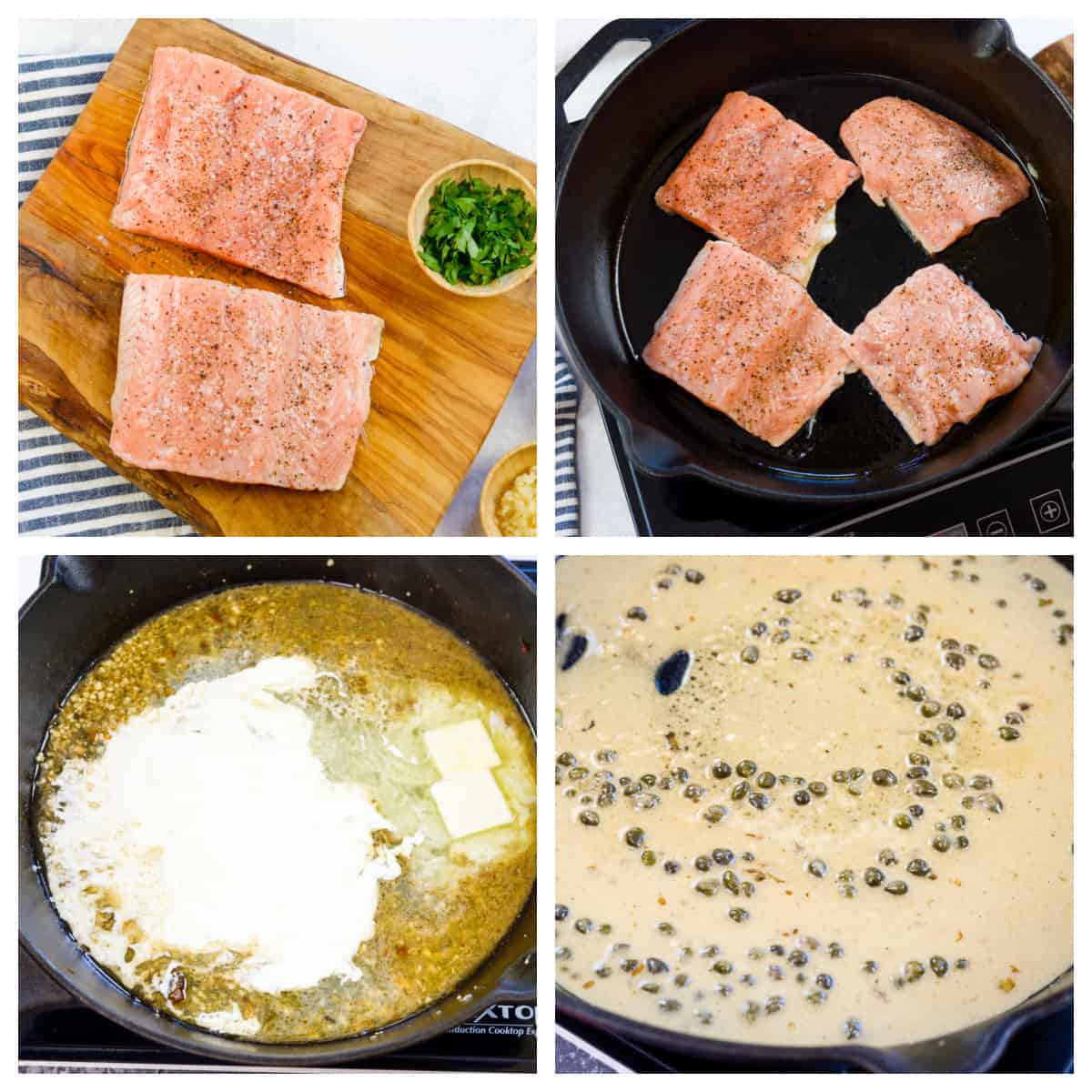 Season – To begin you'll season the salmon filets on both sides with some salt and pepper.
Sauté – Heat some avocado oil in a large heavy bottomed skillet over medium heat and add the salmon skin side down. Cook it for 4 minutes and then flip it over and cook for 4 more minutes or until it has cooked through. It's easy to overcook salmon so keep an eye on it! Remove the salmon to a plate and cover with foil when it is cooked through.
Boil – To start preparing the sauce you'll add some more oil to the skillet and cook the garlic until fragrant. Next pour in the chicken broth and white wine and bring all that to a low boil. Allow the liquid reduce by half which should take about 5 minutes.
Simmer – When the broth and wine have reduced add the butter, lemon juice, and heavy cream. Reduce to a simmer and continue cooking for about 5 minutes, stirring occasionally, until the sauce has thickened. The sauce is ready when it is thick enough to coat the back of a spoon. Stir in the capers.
Finish – Finally, return the salmon filets to the skillet and spoon some of the sauce over the top! Let them cook for another minute to rewarm the salmon if necessary. We serve this salmon piccata topped with parsley and fresh slices of lemon! Serve it with something green for a side, like air fryer asparagus!
Helpful Tip!
You may sub the wine for additional chicken broth, if preferred.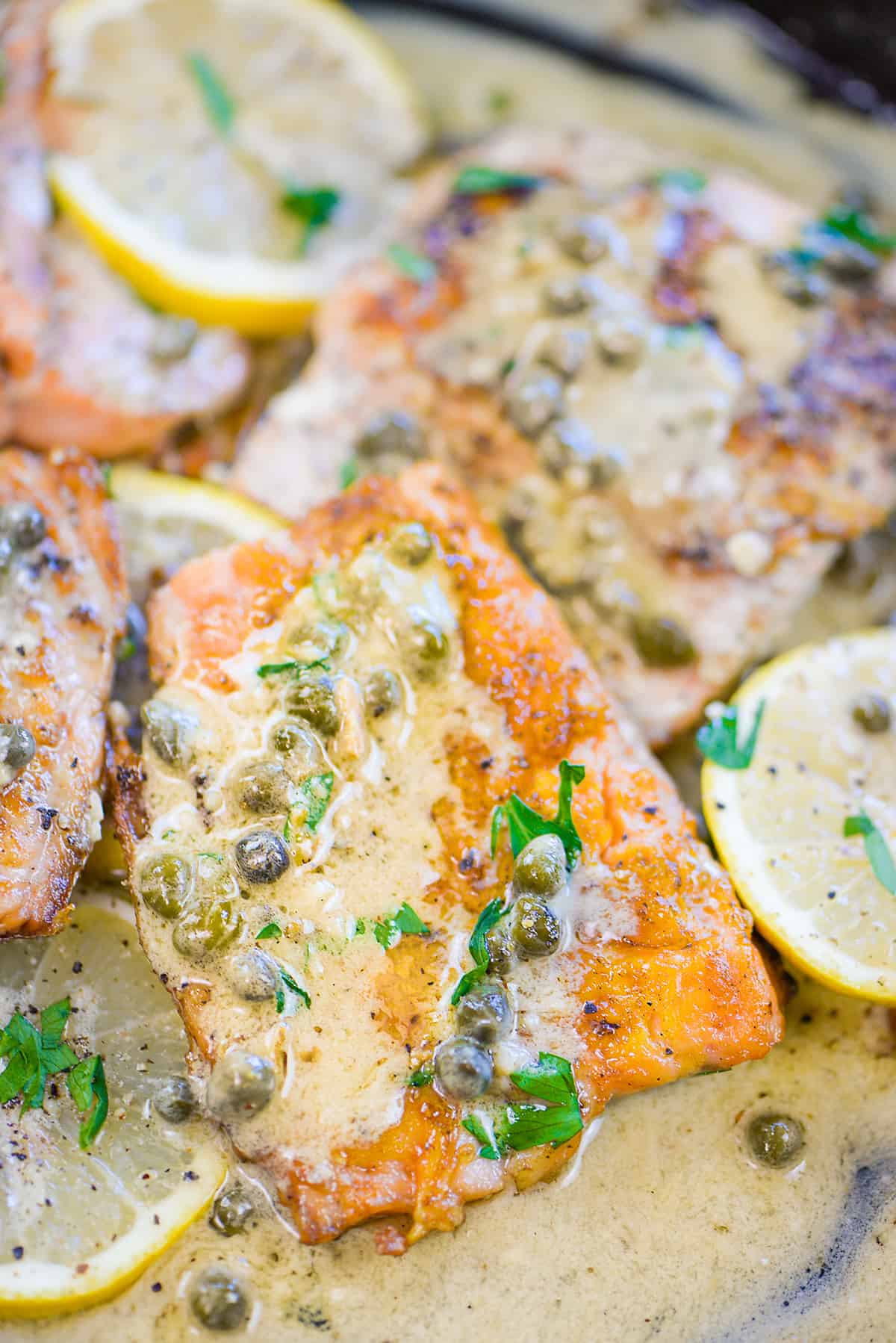 FAQ's:
What is piccata?
A classic piccata sauce is made with lemon, butter, and capers and it's perfect for salmon, chicken, and veal! Piccata recipes usually include meat that is dredged in flour before sautéing. We'll skip that to keep this a keto salmon piccata recipe!
What type of salmon to use?
There are a few different types of salmon such as Atlantic, King, Sockeye, or Coho. They are similar but have somewhat different flavors and fat content. Atlantic salmon tend to be farm raised while the other varieties are often wild caught, which are considered healthier but also more expensive. We prefer wild caught!
Is salmon keto?
Yes, like all fresh meat and seafood it is keto! Some recipes may add ingredients that are not but the ingredients in this recipe are keto friendly, so no worries!
How to store salmon piccata?
I've never personally been a big fan of leftover seafood, but you can keep this salmon recipe stored in an airtight container in the fridge for up to 3 days. The sauce will likely not freeze well, though we haven't tried it.
More Keto Salmon Recipes: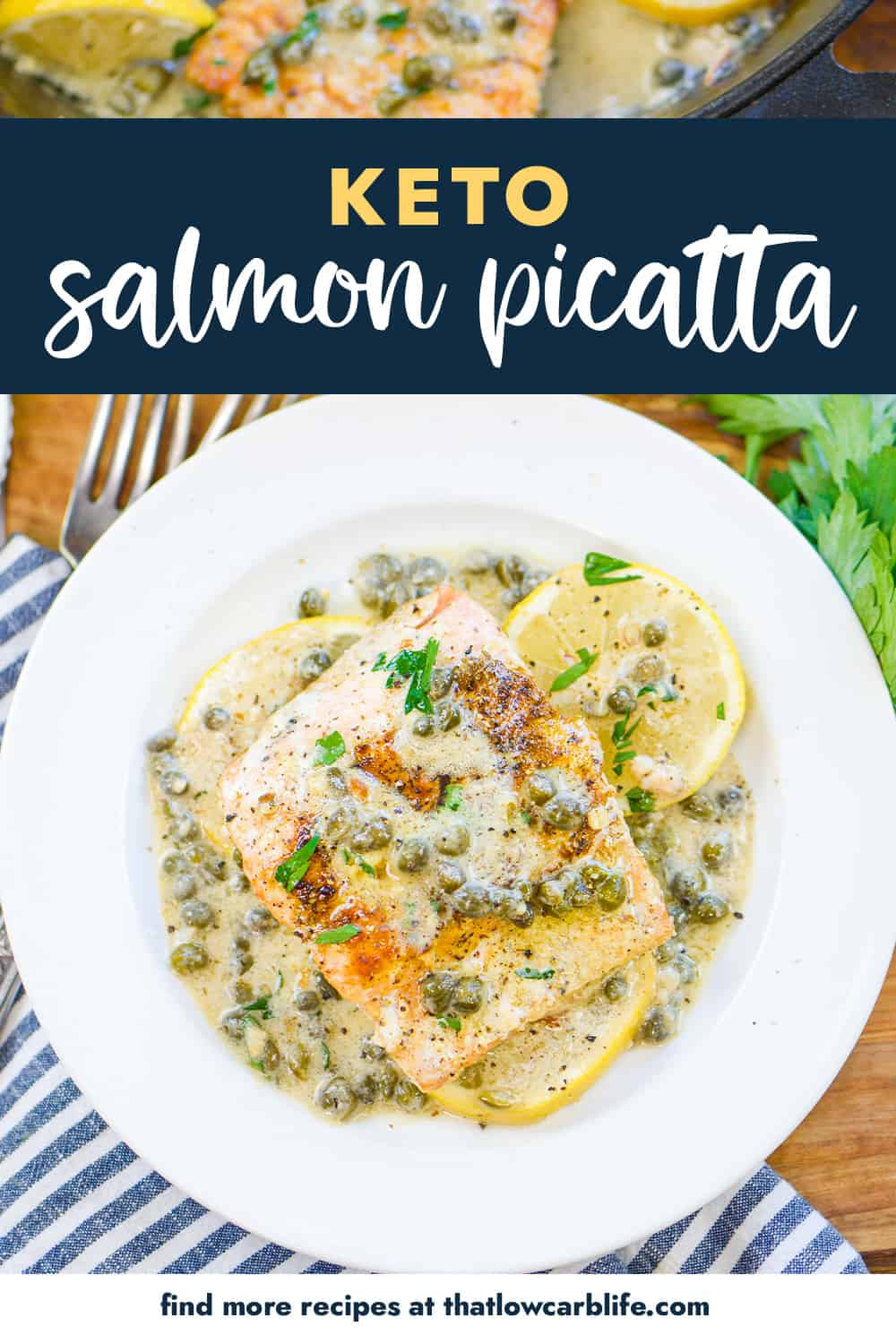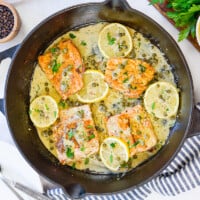 Keto Salmon Picatta
This salmon picatta is a low carb favorite, made with a creamy lemon garlic sauce that's full of capers. Simple, flavorful, and ready in just about 25 minutes.
Ingredients
4 6-ounce salmon filets
1 teaspoon salt
1 teaspoon pepper
2 tablespoons avocado oil, divided
2 cloves garlic, minced
3/4 cup chicken broth
¼ cup dry white wine
2 tablespoons butter
2 tablespoons fresh lemon juice
¼ cup heavy cream
2 tablespoons capers
1 tablespoon fresh minced parsley
Lemon slices, for serving
Instructions
Season the salmon on both sides with salt and pepper.
Heat 1 tablespoon avocado oil in a large, heavy bottomed skillet over medium heat.
Add the salmon, skin side down, and cook for 4 minutes. Flip and cook 4 more minutes or until cooked through. Remove to a plate and cover with foil.
Add the remaining tablespoon of oil to the skillet and warm. Add the garlic and cook for 30 seconds or until fragrant.
Add the chicken broth and wine to the skillet and bring to a low boil. Let the liquid reduce by half, about 5 minutes.
Add the butter, lemon juice, and cream to the skillet and simmer, stirring occasionally, until the sauce is thick enough to coat the back of a spoon, about 5 minutes.
Add the capers to the sauce and stir to combine.
Return the salmon to the skillet and drizzle with the sauce. Cook 1 more minute to rewarm the salmon, if needed.
Serve immediately with parsley and lemon slices over the top of each piece of salmon.
Notes
You can use chicken broth in place of the wine, if preferred.
Serve with steamed broccoli, roasted asparagus, or cauliflower rice.
Nutrition Information:
Yield: 4
Serving Size: 1
Amount Per Serving:
Calories: 534
Total Fat: 39g
Saturated Fat: 12g
Trans Fat: 0g
Unsaturated Fat: 24g
Cholesterol: 140mg
Sodium: 958mg
Carbohydrates: 3g
Net Carbohydrates: 3g
Fiber: 0g
Sugar: 1g
Protein: 39g
All information and tools presented and written within this site are intended for informational purposes only. This information is provided as a courtesy and there is no guarantee that the information is accurate.