This Dijon salmon is juicy and flaky, topped with a lemon Dijon sauce, and ready from start to finish in just 20 minutes! Flavorful, healthy, and such a simple way to get dinner on the table!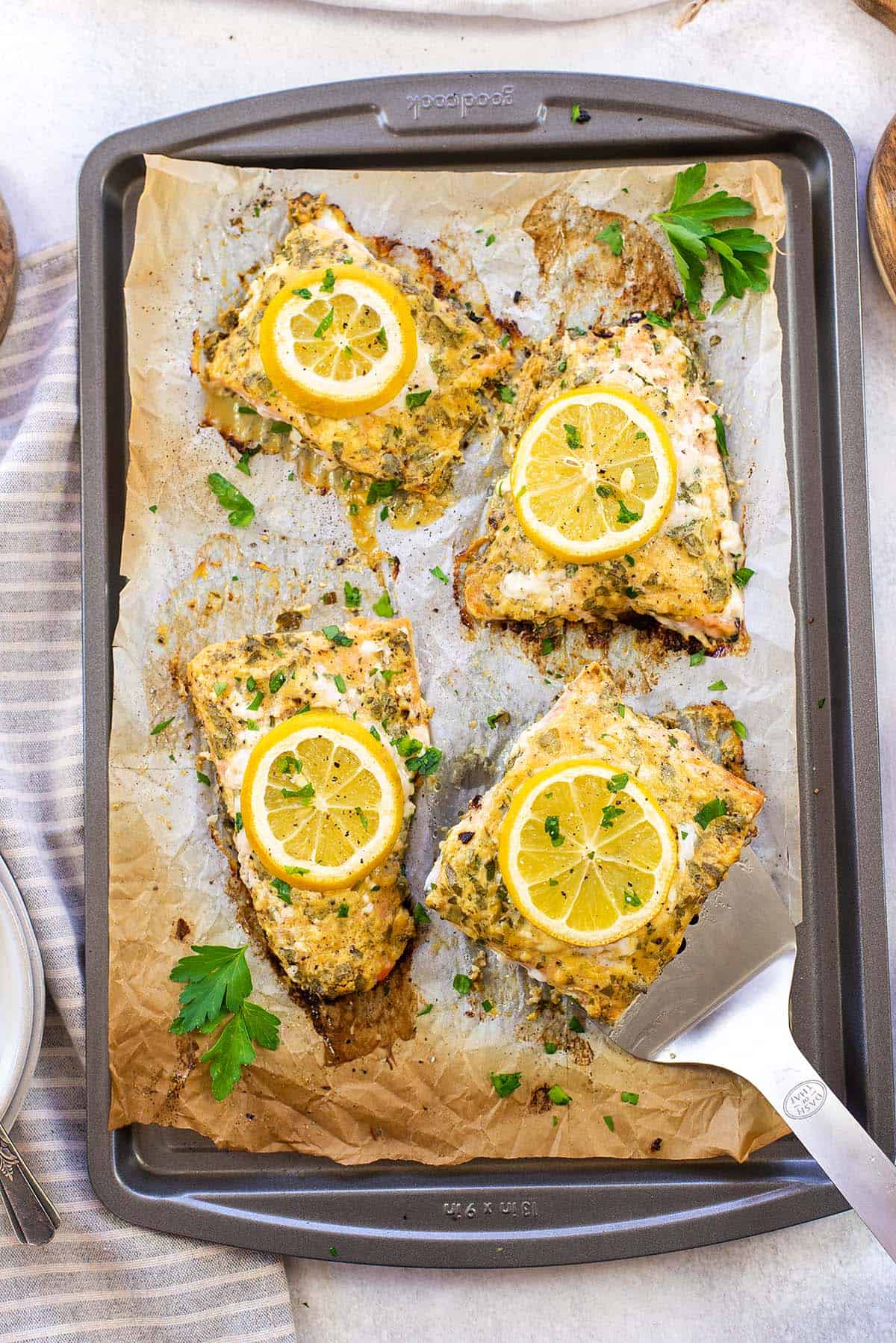 Juicy, flaky dijon salmon is going to quickly become a go-to dinner party recipe for you! It sure has for me.
Not much beats a 20 minute recipe that is as impressive as this baked salmon! The salmon cooks quickly and evenly in a hot oven and it's topped with a tasty mixture of dijon, olive oil, and lemon juice.
I love recipes like this, because it's naturally low carb – no funky ingredients or weird substitutions that make the carb lovers nervous or suspicious. 😉
We're also pretty obsessed with our sheet pan keto salmon recipe that features asparagus!
Ingredient Notes: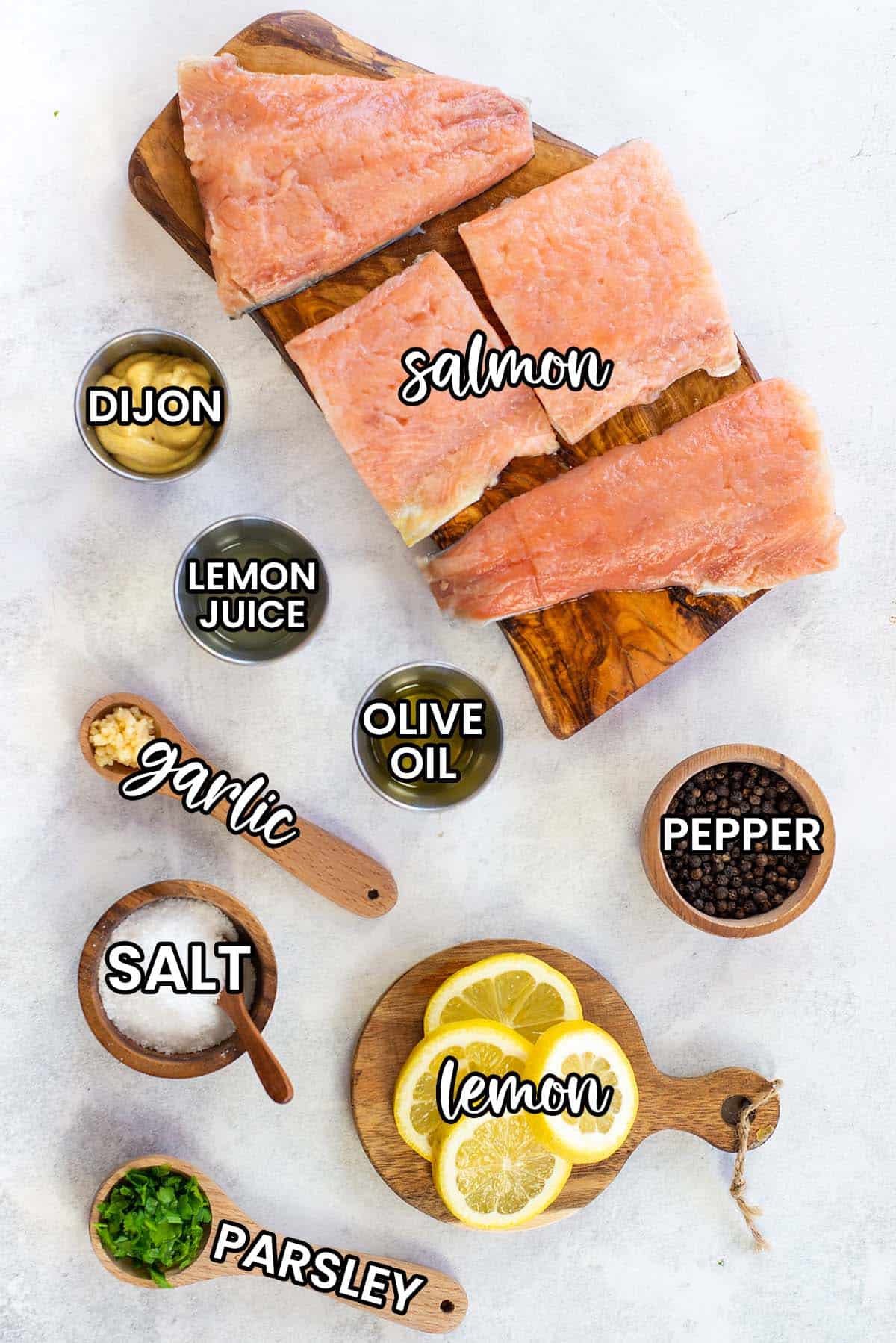 Salmon – We always prefer wild caught salmon. There are a few different types of salmon such as Atlantic, King, Sockeye, or Coho. They are similar but have slightly different flavors and fat content. Atlantic salmon tend to be farm raised while the other varieties are often wild caught, which are considered healthier but also more expensive.
Dijon Sauce – You'll prepare this simple Dijon sauce by mixing together Dijon mustard, olive oil, lemon juice, parsley, and minced garlic!
Lemon – Slice half of a lemon into four rings for topping the salmon before baking! It'll really add some extra flavor to the fish and is just plain pretty.
Why We Love This Recipe:
This recipe uses simple ingredients, but packs in bold, vibrant flavors.
Ready in just 20 minutes from start to finish!
This baked Dijon salmon feels like a fancy meal, but it couldn't be simpler.
Salmon is naturally low carb, full of omega-3, and a delicious source of protein.
Helpful Tools:
Lemon Squeezer – We love freshly squeezed lemon and lime! This tool makes it easy and mess free, and we use it all the time!
Parchment Paper – It has so many uses! The best one being that it also helps keep everything mess free.
How To: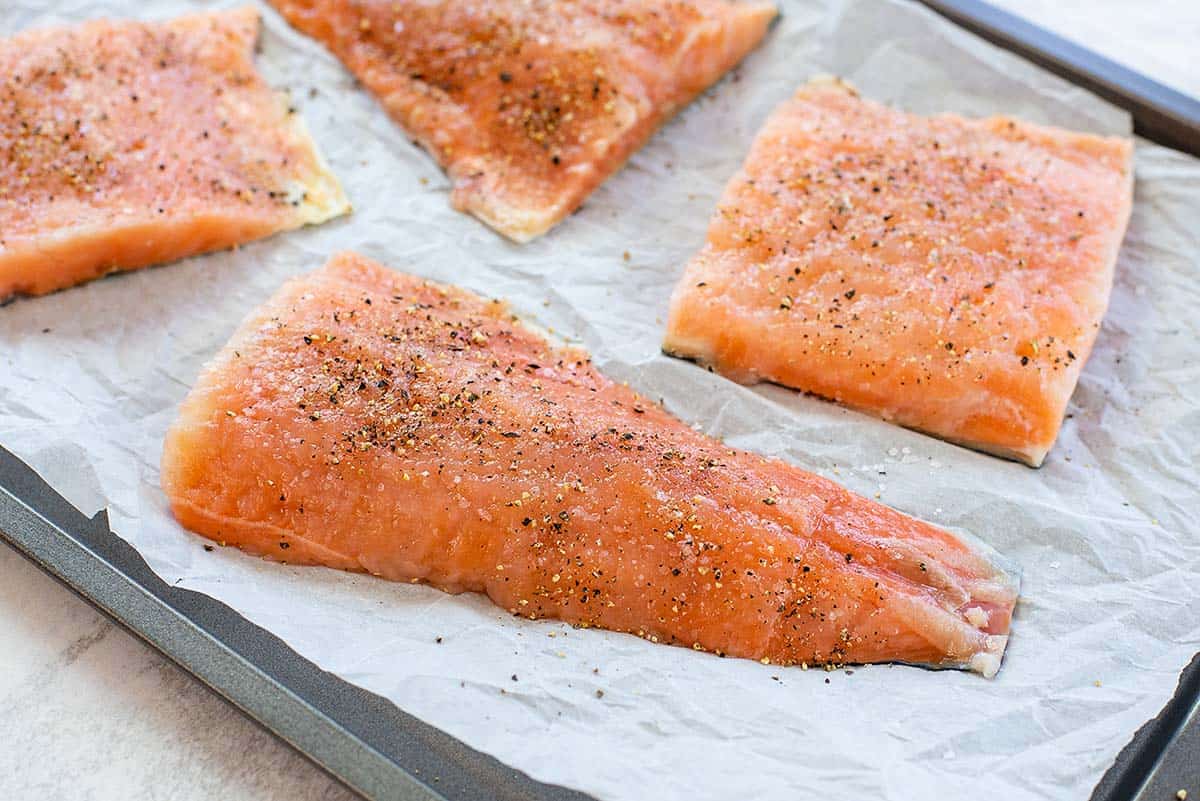 Prepare – While your oven preheats you can line a baking sheet with parchment paper and arrange the salmon filets on it. Sprinkle on some salt and pepper to taste.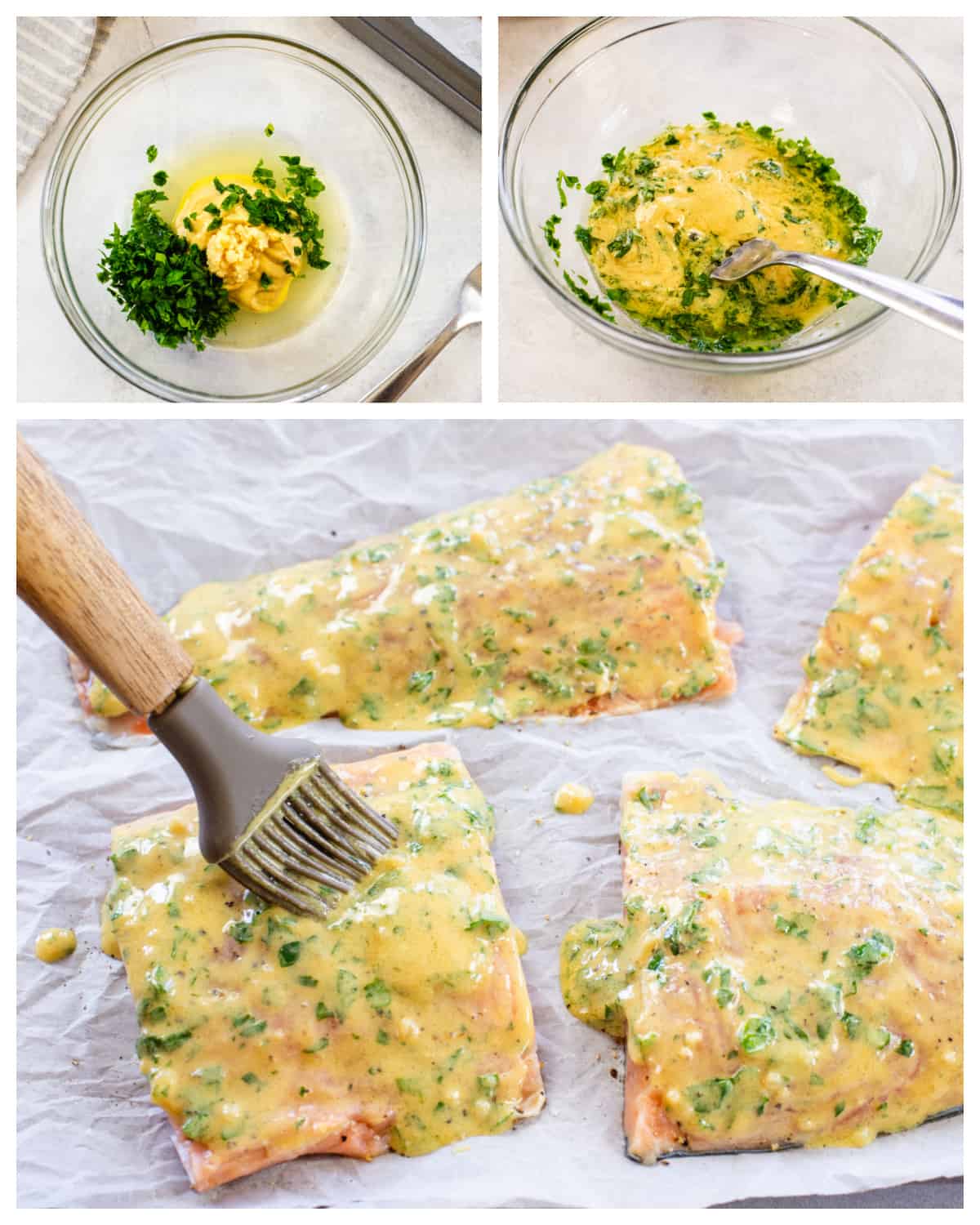 Dijon Sauce – This sauce is quick and easy. Add some Dijon mustard, olive oil, freshly squeezed lemon juice, chopped parsley, and the minced garlic to a small bowl. Whisk it all together until it is well combined.
Top – When the lemon Dijon sauce is ready to go you can spread it generously over the seasoned salmon filets and finally top each filet with a slice of fresh lemon! All that citrus and Dijon flavor will bake into the fish which will add the perfect pop of flavor to the salmon.
Bake – Finally you can add the baking sheet to the oven and bake for about 12 to 15 minutes. It depends on how large or thick the filets are so test with a fork and when it is easily flakes it should be done.
Serve – You'll want to serve this Dijon keto salmon while it is good and hot! I'd recommend trying it with this garlic parmesan asparagus that's also baked in lemon, or this air fryer asparagus if you want to keep it quick and mess free.
How Long to Bake Salmon:
There are a variety of methods for baking salmon, but we've found a screaming hot oven and a quick bake is the best way to get tender, flaky salmon that is moist and not dry.
Roast salmon at 450 degrees for 12-15 minutes, depending on the thickness of your salmon.
The internal temperature of salmon should be 145 degrees and the salmon should easily flake apart with a fork.
For perfectly roasted salmon, test with a meat thermometer.
Serving Suggestions:
Our Dijon Baked Salmon is a simple dish that goes well with a variety of side dishes. A few of our favorites include:
FAQ's:
How long is cooked salmon good for?
This Dijon salmon should last in the refrigerator for about 3 days.
Is baked salmon good for you?
Salmon is an excellent source of high quality protein, it's high in B-vitamins, and it's a good source of potassium. It's also full of omega-3 fatty acids which is what makes it so good for your brain! Wild caught salmon is preferable to farm raised.
Is salmon keto?
Salmon itself is keto friendly and contains no carbs. Often times, salmon is cooked with other ingredients that add sugar and carbs, but our Dijon baked salmon is naturally low carb and keto.
More Low Carb Seafood Recipes:
Dijon Salmon
Tender and flaky salmon bakes in just 15 minutes with this simple method! We added the bold flavor of lemon and dijon to really make this dish shine.
Ingredients
4 salmon filets
3 tablespoons Dijon mustard
3 tablespoons fresh minced parsley
1 tablespoon olive oil
1 tablespoon lemon juice
2 cloves garlic, pressed or minced
Salt and pepper, to taste
½ lemon, sliced into 4 rings
Instructions
Preheat oven to 450 degrees. Line a baking dish with parchment paper.
Arrange the salmon on the baking sheet and sprinkle with salt and pepper.
Add the dijon, parsley, olive oil, lemon juice, and garlic to a small bowl and stir to combine.
Spread the dijon sauce generously over the salmon filets. Top each filet with a slice of lemon.
Bake for 12-15 minutes or until the salmon is just cooked through and easily flakes with a fork.
Serve hot.
Notes
We prefer wild caught salmon to farm raised.
Salmon is done when it's reached an internal temperature of 145 degrees. You may remove from the oven at 140 degrees and allow it to rest on the hot pan to come to temperature for the most moist salmon.
Nutrition Information:
Yield: 4
Serving Size: 1
Amount Per Serving:
Calories: 512
Total Fat: 32g
Saturated Fat: 6g
Trans Fat: 0g
Unsaturated Fat: 23g
Cholesterol: 143mg
Sodium: 519mg
Carbohydrates: 3g
Net Carbohydrates: 2g
Fiber: 1g
Sugar: 0g
Protein: 51g
All information and tools presented and written within this site are intended for informational purposes only. This information is provided as a courtesy and there is no guarantee that the information is accurate.