This cauliflower au gratin recipe is perfectly cheesy with lots of cheddar and Gruyere cheese, crumbled bacon, and roasted cauliflower!
The holidays are coming and that means big family dinners. It can be stressful trying to cook a low carb meal for a group of people, but we've pretty much got it down to a science at this point.
I've learned that some things are non-negotiable. My family needs classic dinner rolls and real mashed potatoes at holiday dinners and I know I need to muster up the will power to pass those by.
But my family never notices they're eating healthier options when I swap in my keto green bean casserole or keto broccoli casserole for the carb filled versions.
And the secret for this cauliflower au gratin recipe? Don't. Try. To. Trick. Them.
Seriously – this IS NOT potatoes au gratin. It's cauliflower! And it's absolutely delicious! But if you go in hoping for potatoes or you hype this up to family as a potato substitute, people are inevitably disappointed.
Enjoy this dish for what it is – a cheesy, buttery, roasted cauliflower dish loaded with crumbled bacon and cheese.
Why We Love This Recipe:
All that creamy cheese and butter baked in makes this some serious comfort food!
It's an easy dish to put together and doesn't require a lot of work.
This is fancy enough for a holiday dinner, but easy enough for any night of the week.
Perfect for picky eaters, since the cheese and bacon are so appealing to most people!
Ingredient Notes: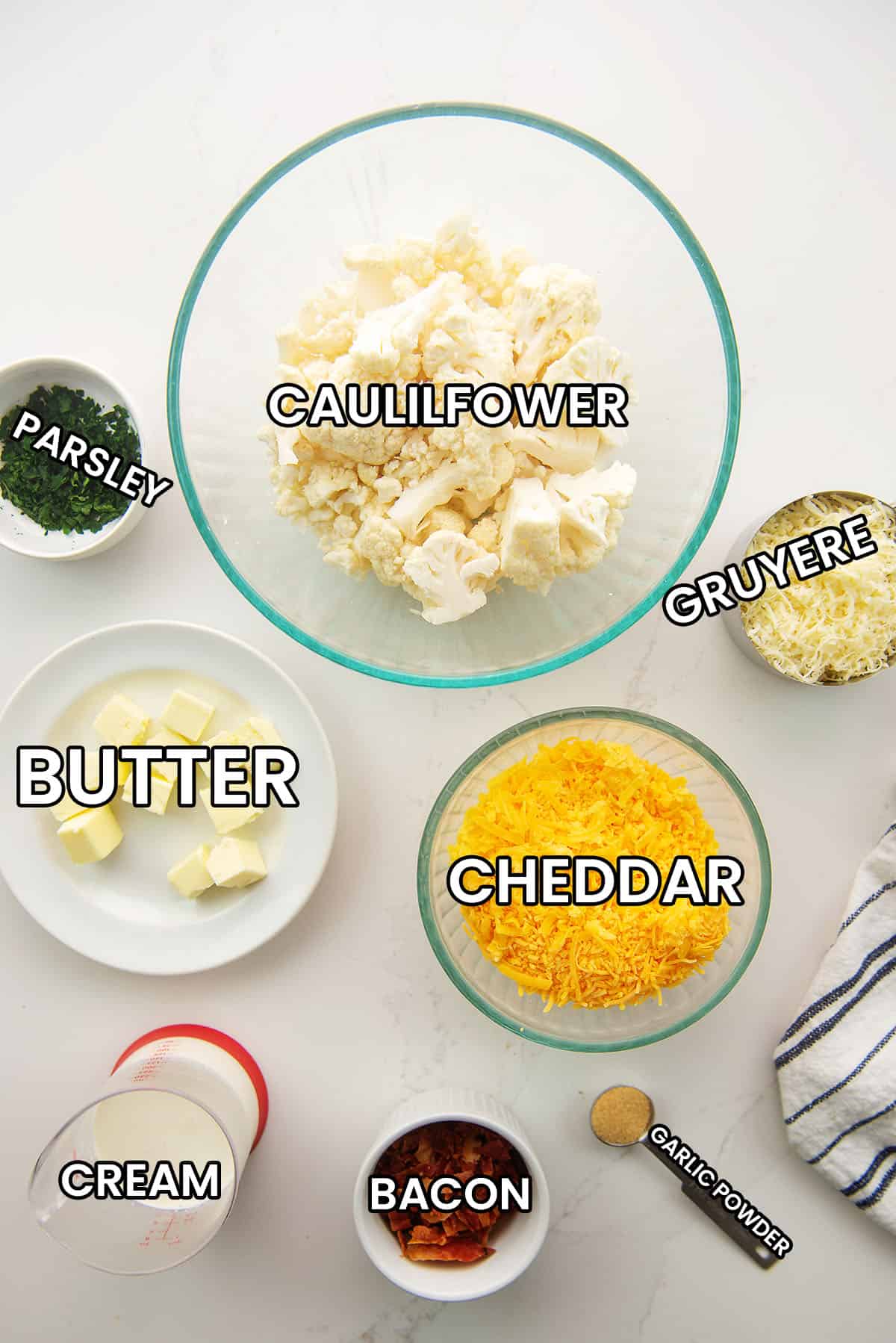 Cauliflower – This recipe starts with some fresh cauliflower florets. They'll get mixed up with some olive oil and seasoning and roasted before getting baked in cheese, butter, and bacon! We prefer fresh cauliflower here, but frozen will likely work in a pinch.
Cheese – You'll be adding lots of shredded cheddar cheese and Gruyere cheese along with some heavy cream to make this cauliflower au gratin recipe! Swap in provolone, gouda, havarti, pepperjack, or even Parmesan for the gruyere, if you'd like to mix things up.
Bacon – We like to add crumbled bacon to this cheesy baked cauliflower recipe! Bacon makes just about everything better, and it pairs really well with the cheese and cauliflower. Out of bacon? Some diced ham works well too!
How To:
Roasted Cauliflower – First up we're going to roast the cauliflower florets to add in some flavor before we bake it all up into a cheesy au gratin dish! Toss the cauliflower in the olive oil and the seasonings until the florets are coated. Add them to a rimmed sheet pan and arrange so they aren't overlapping. Roast the cauliflower for 20 minutes or until it has begun to brown and soften.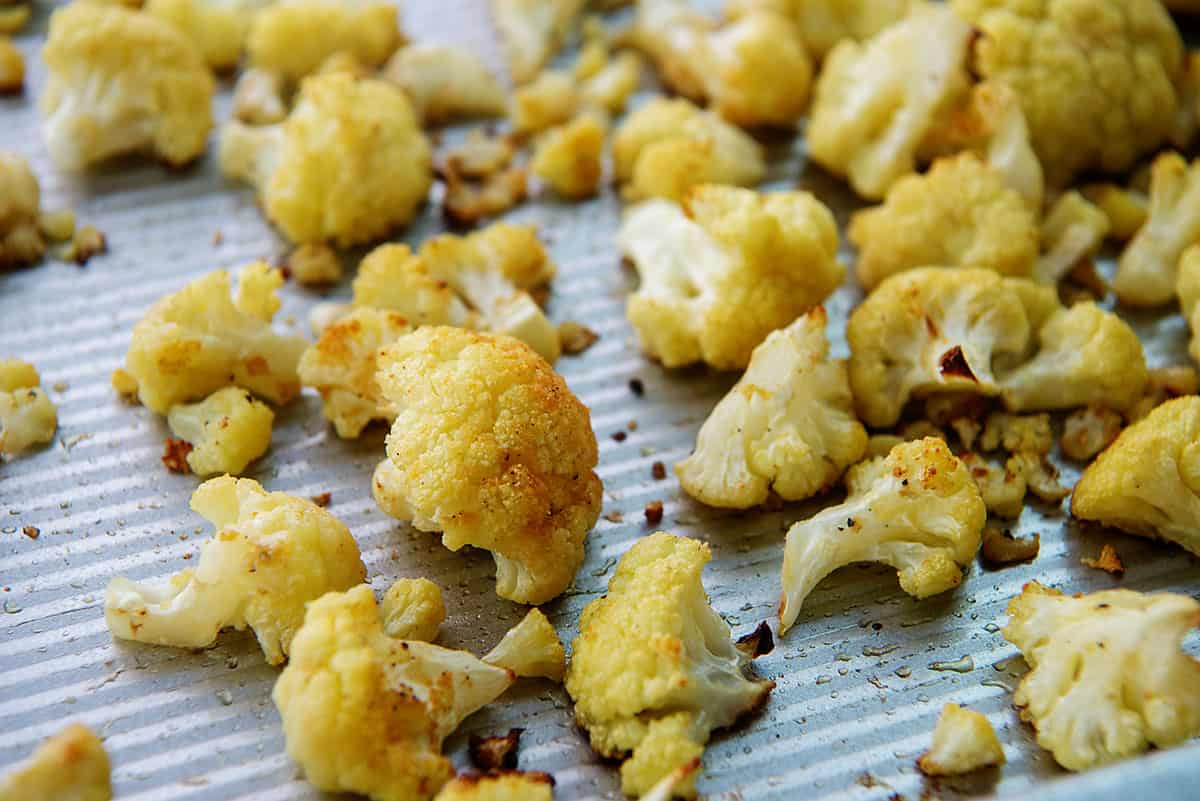 Cheesy Au Gratin – Grease up a baking dish and add half of the roasted cauliflower. Next start loading it up with half of the remaining ingredients including the butter, cheddar and Gruyere cheeses, and the crumbled bacon. Finally, make a second layer with the remaining half of ingredients so that you've got two layers of cauliflower, cheese, butter, and bacon!
Bake – All that's left now is to pop the dish in the oven and let it bake uncovered for about 20 to 30 minutes or until the cheesy top has turned golden brown and the cauliflower is tender. We like to sprinkle some parsley over the top to finish it off! We like to serve this low carb cauliflower au gratin as a side dish, but it'd work just as well as a main!
Helpful Tip!
We love the flavor and texture of fresh cauliflower florets, but frozen will likely work as well.
Steaming, boiling, or microwaving your cauliflower will also work if you don't want to roast your cauliflower, but roasting the cauliflower gives it an extra layer of flavor that we love!
Feel free to swap in whatever cheese you like. This recipe is hard to mess up!
FAQ's:
What does "au gratin" mean?
It's a term used for just about any dish that is covered with cheese or bread crumbs and baked in butter. Obviously we're going for low carb, so this is a cheesy au gratin dish with no breadcrumbs!
Can I store cauliflower au gratin?
You can keep this dish in the refrigerator for up to 3 days if it is well sealed. It can be reheated in the oven or the microwave.
Why is there liquid in the bottom of the dish?
Cauliflower releases liquid as it cooks, so there will be some of that liquid in the bottom of the dish We've also added butter and cream and some of that will be left behind in the dish.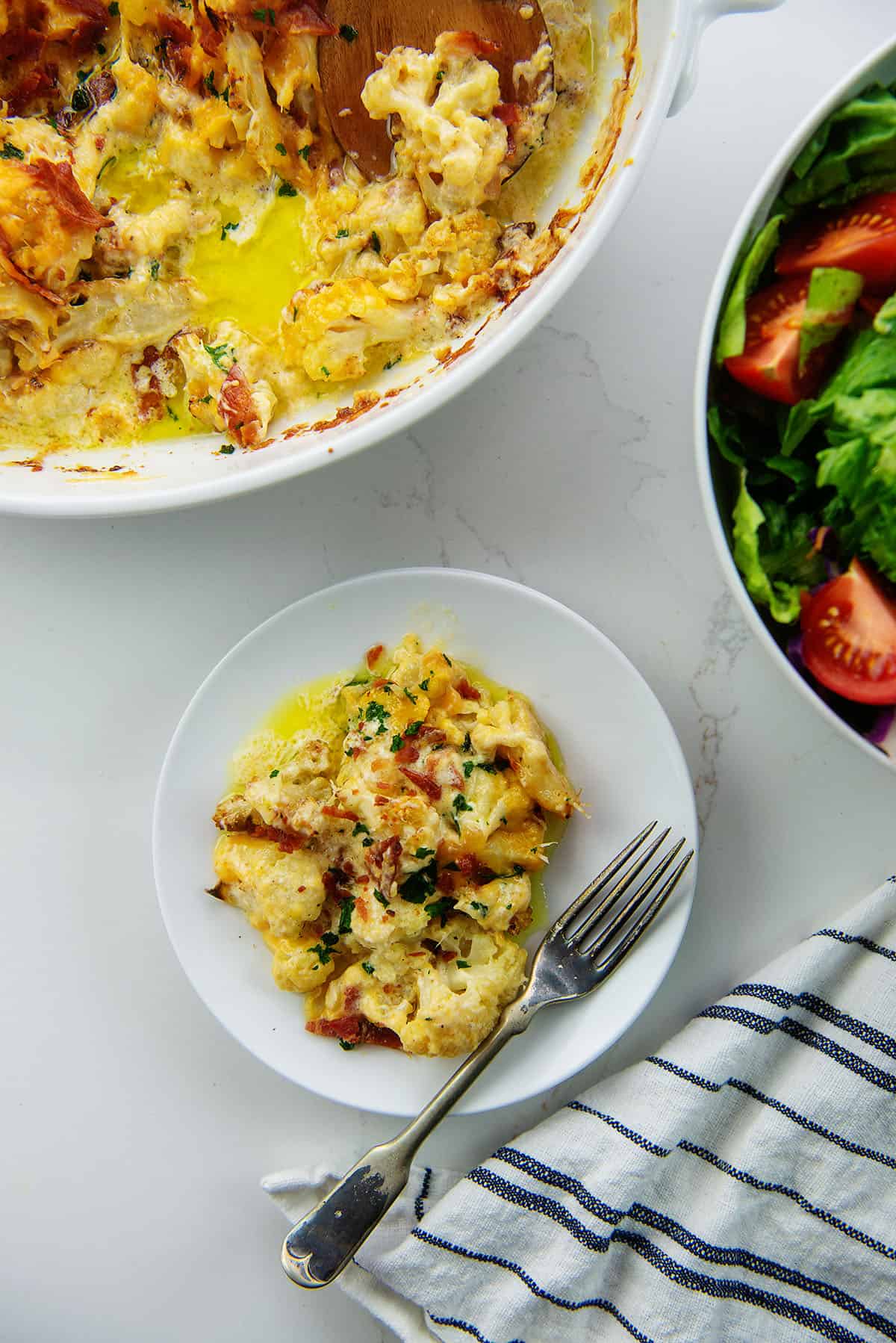 More Cheesy Low Carb Recipes!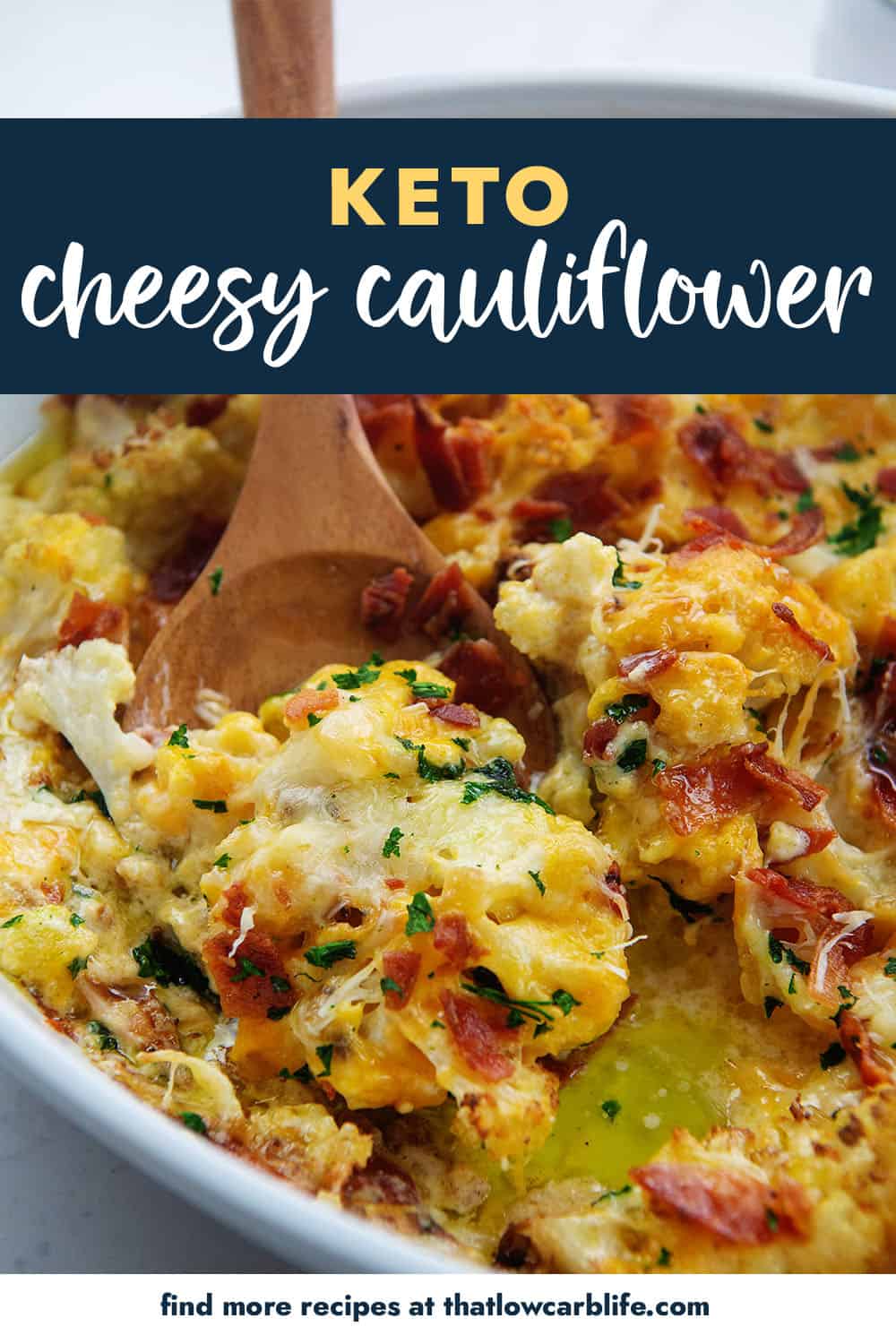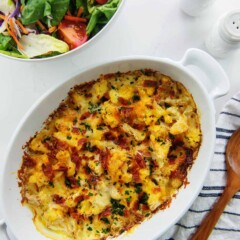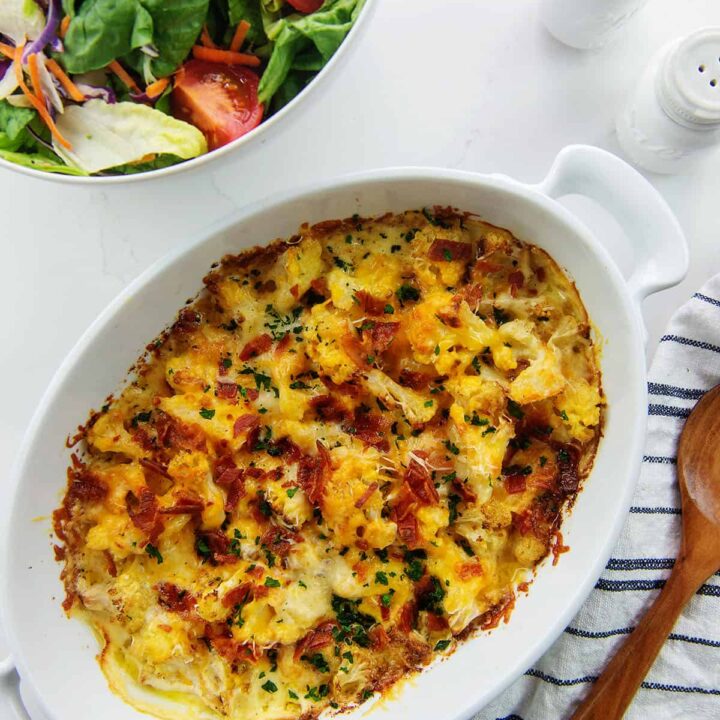 Cauliflower Au Gratin
We love to serve up this cheesy cauliflower au gratin for holiday dinners, but it's simple and quick enough for any night of the week. It's so decadent with the cream, butter, and 2 types of cheese!
Ingredients
24 ounces fresh cauliflower florets
1 tablespoon olive oil
1 teaspoon garlic powder
1 teaspoon cracked pepper
½ teaspoon salt
½ cup heavy cream
4 tablespoons butter, cubed
2 cups shredded cheddar cheese
1 cup shredded Gruyere cheese
4 slices fried bacon, crumbled
1 tablespoon minced parsley
Instructions
Preheat oven to 400 degrees.
Toss the cauliflower, oil, garlic powder, and salt and pepper together to coat.
Arrange the cauliflower on a rimmed sheet pan and bake for 20 minutes or until lightly browned and slightly tender.
Grease a 9x9 baking dish with nonstick spray.
Add half of the cauliflower to the baking dish and pour half the cream over the top. Arrange half the cubes of butter over the cauliflower. Sprinkle with half of the cheese and bacon.
Repeat the layers.
Bake, uncovered, for 20-30 minutes or until the top is golden and the cauliflower is tender.
Sprinkle with parsley and let set for 5 minutes before serving.
Notes
You may use any variety of cheese that you like. Cheddar and smoked gouda are another favorite in our house.
Nutrition Information:
Yield: 6
Serving Size: 1
Amount Per Serving:
Calories: 460
Total Fat: 40g
Saturated Fat: 22g
Trans Fat: 1g
Unsaturated Fat: 15g
Cholesterol: 111mg
Sodium: 768mg
Carbohydrates: 7g
Net Carbohydrates: 4g
Fiber: 3g
Sugar: 3g
Protein: 20g
All information and tools presented and written within this site are intended for informational purposes only. This information is provided as a courtesy and there is no guarantee that the information is accurate.