Posted: 09.25.18
Updated: 04.29.21
Low carb green bean casserole made from scratch with all kinds of goodness! This is the perfect Thanksgiving side dish, but it's easy enough to make any night of the week.
I grew up side-eyeing the green bean casserole.
Let's be real – it's not the prettiest dish and also, as a kid, green beans were the devil.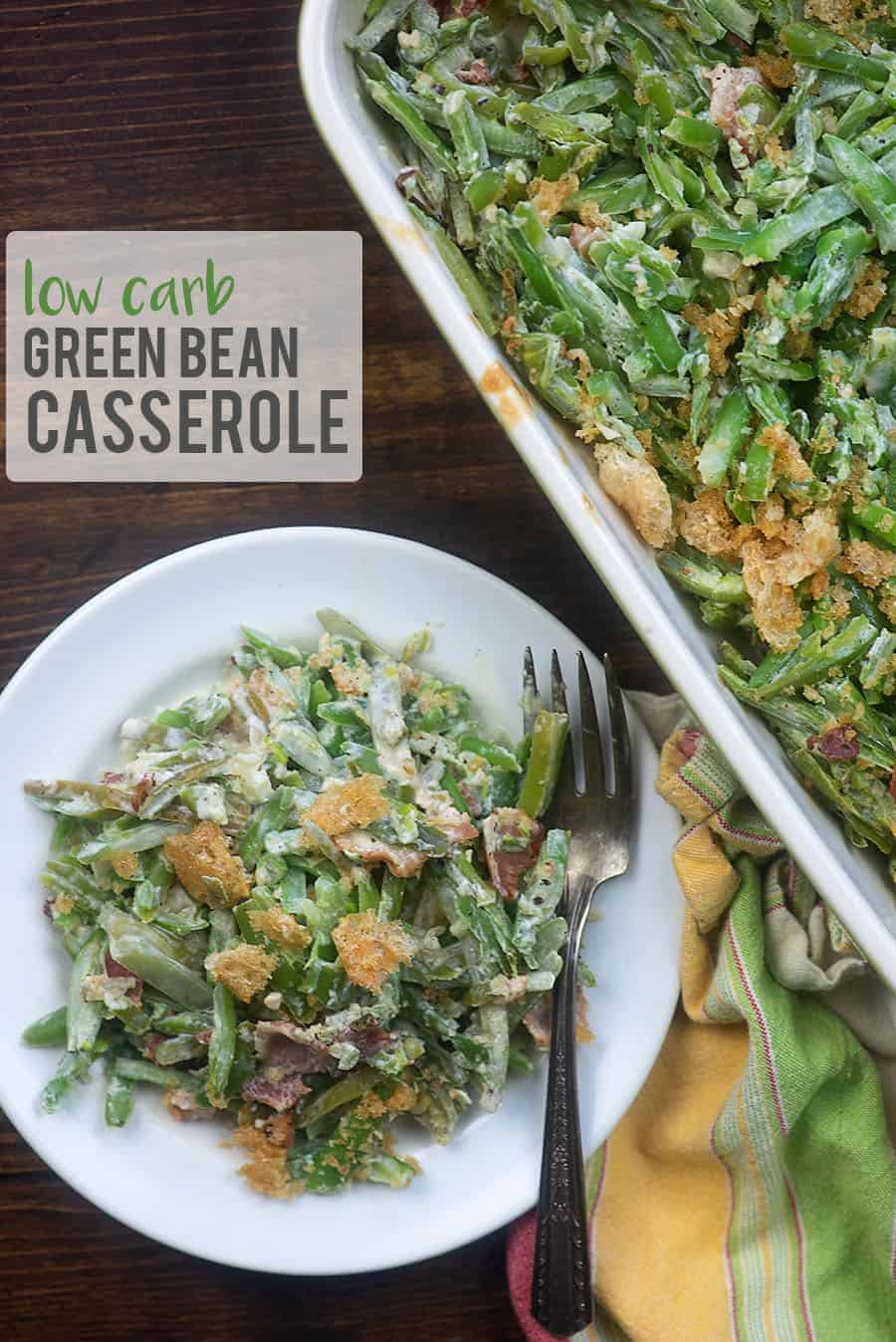 Luckily, my kiddos did not inherit the hatred of green beans that I had as a kid. They LOVE them and now I do too.

Normally I just cook green beans in bacon grease with tomatoes and onions (do you want that recipe? It will always be my favorite way to eat green beans!), but as the holiday season approaches, I knew I had to dream up a low carb green bean casserole.
I'm calling this a 'healthy green bean casserole' but I know I'm going to get some flack for it. Healthy is such a relative term – if you're low carb though, this fits the bill. If you're trying to eat low calorie or low fat, you might want to look elsewhere. 😉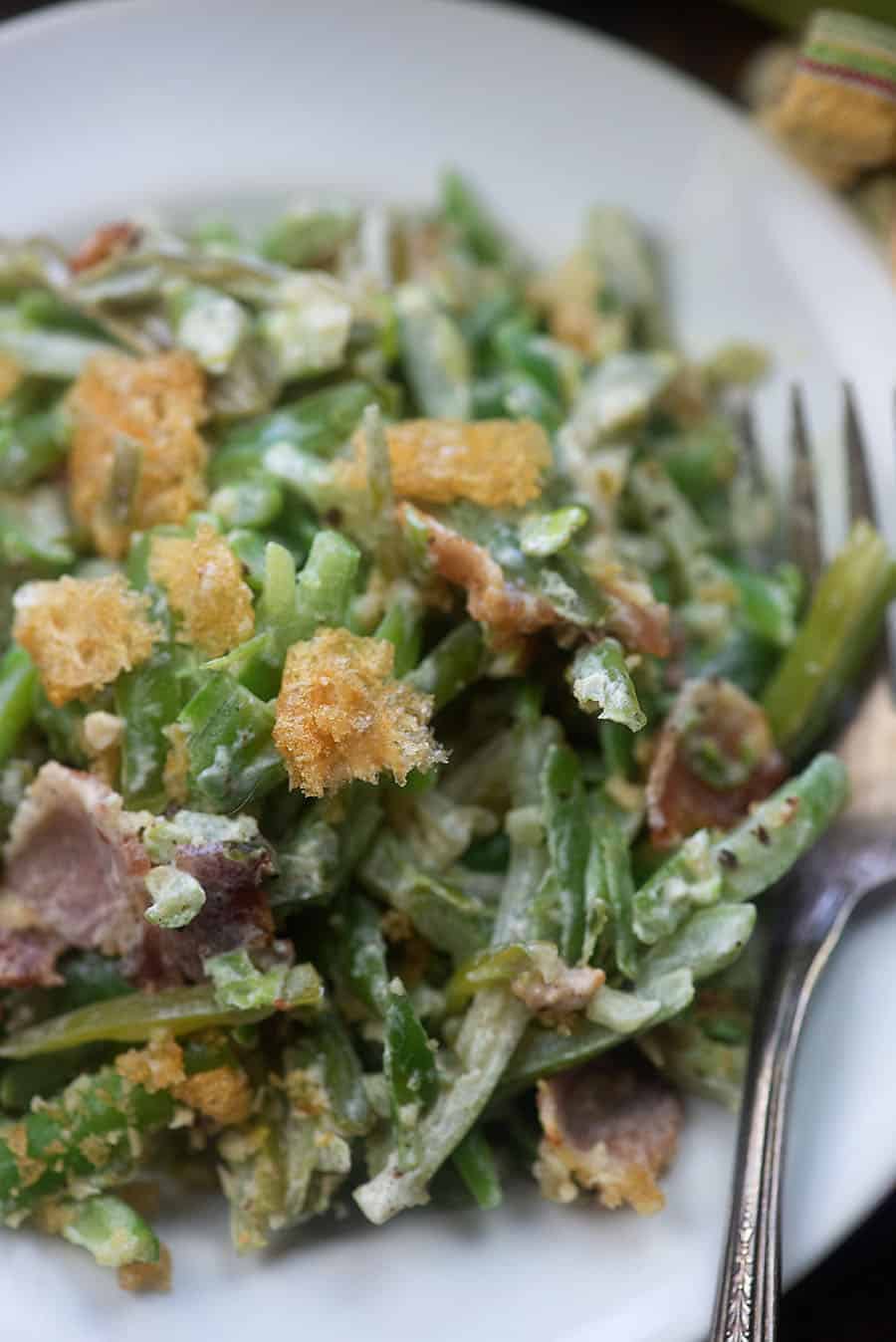 Green Bean Casserole with Cheese:
Rather than your traditional can of cream of mushroom soup in this recipe, we're using cream cheese as the thick, creamy goodness. It coats the green beans and adds great flavor.
This isn't going to taste quite the same as a traditional green bean casserole, but if you ask me, it tastes better and you won't go into a carb coma afterwards. 😉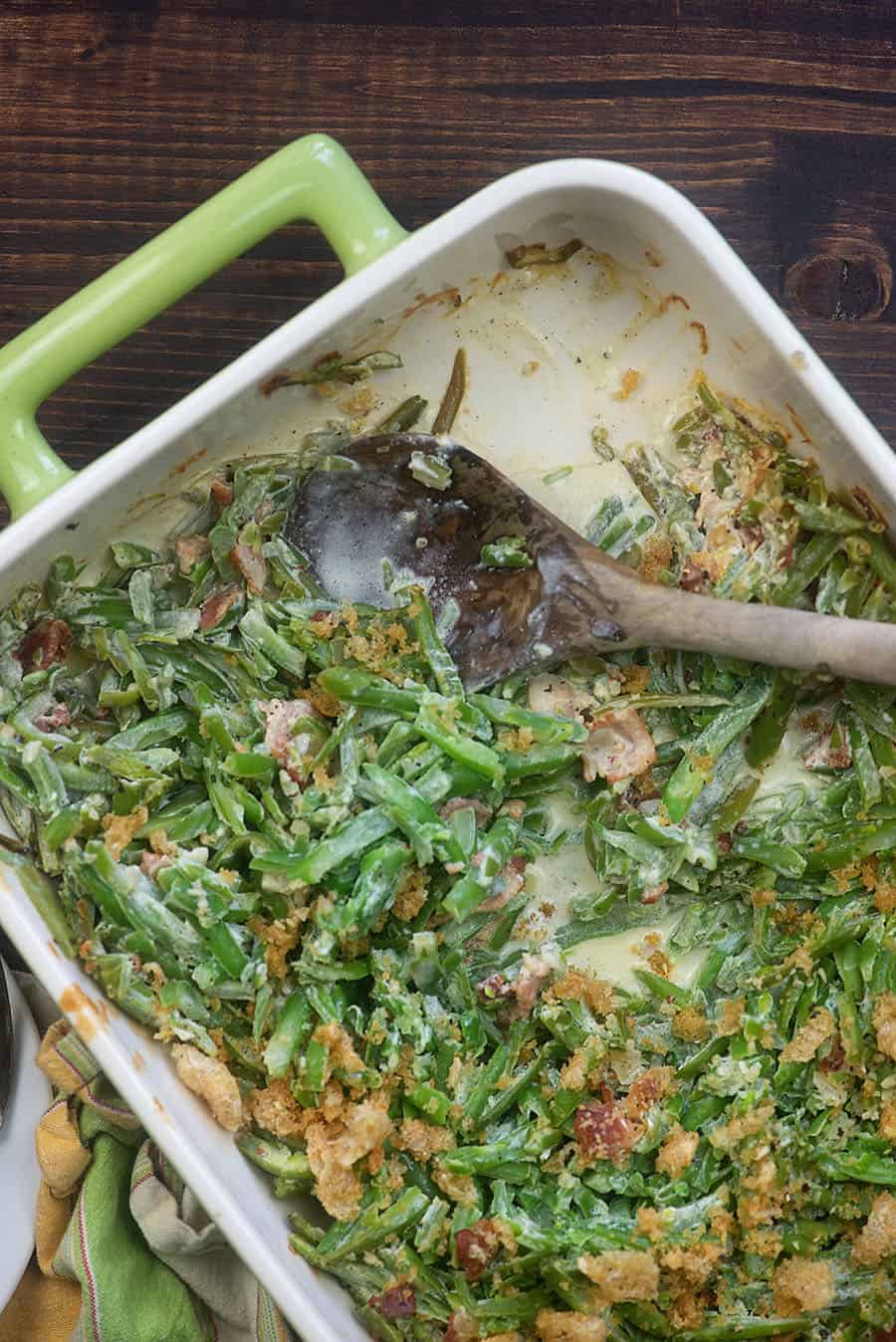 How to make green bean casserole from scratch:
To start, we're going to fry up some bacon. I feel like all delicious recipes start with this step, don't you?
Add in some diced onions and a bit of garlic and cook until the bacon is crisp and the onions are soft.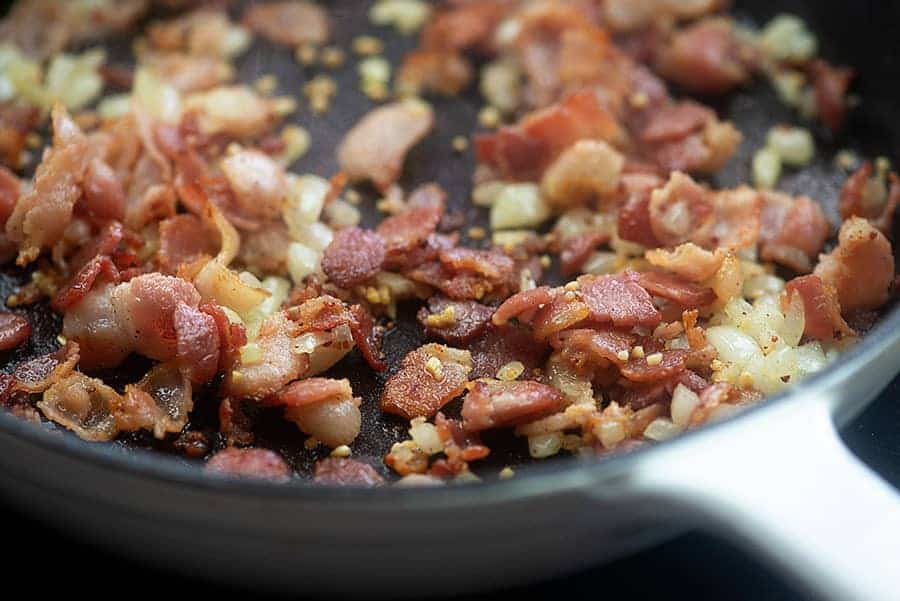 You'll want to leave about a tablespoon or so of bacon grease in the skillet, but drain off any excess.
Add a brick of cream cheese and some chicken broth and cook that over low heat, stirring constantly, until the sauce is smooth and creamy.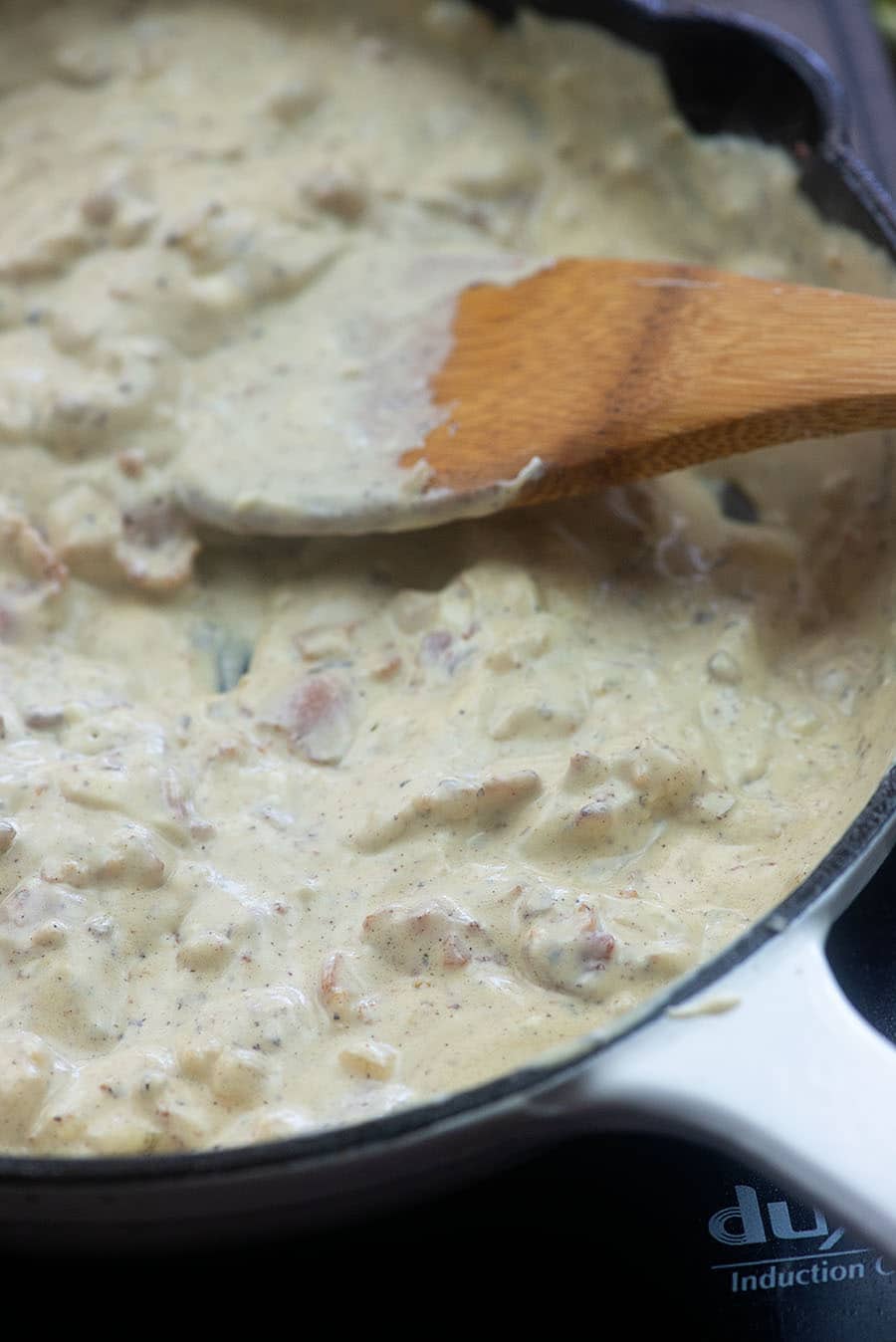 Pour that mixture over a bowl full of frozen french cut green beans and give it a good stir.
Pop the mixture into a 9×13 baking dish.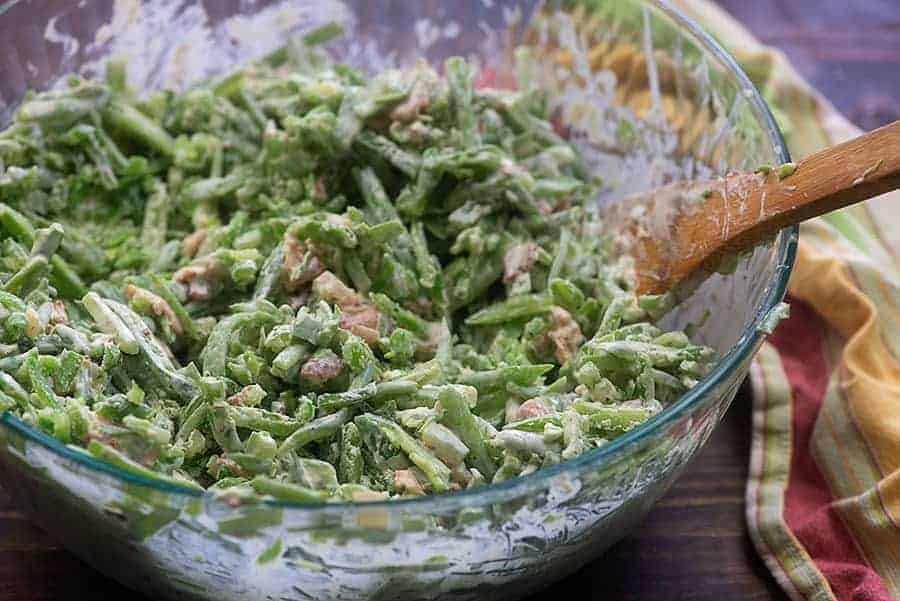 Everyone loves the crunchy goodness of the fried onions that traditionally top a green bean casserole, but they're full of carbs so we're getting creative while still keeping things simple.
Crush up some pork rinds and sprinkle those over the top along with a little dried minced onion. Flavor + crunch! Doesn't get better than that!
This low carb side dish was a big hit with my family. I hope you'll test it out on your family this holiday season too!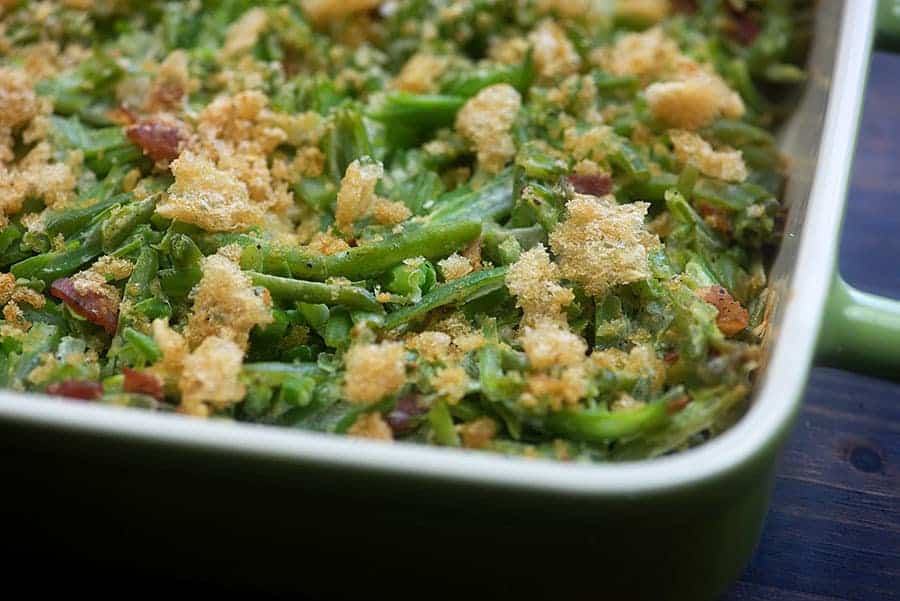 More low carb side dish recipes that are perfect for the holidays:
Keto Deviled Eggs: These make a great snack, appetizer, or side dish to any holiday meal.
Cauliflower Casserole: A true favorite of mine, so rich and creamy!
Prosciutto Wrapped Asparagus: Elegant and so full of goodness – this one is perfect for holiday dinners.
Broccoli Casserole: Have you seen the reviews on this recipe? People rave about it!
For more low carb goodness, be sure to follow me on Instagram!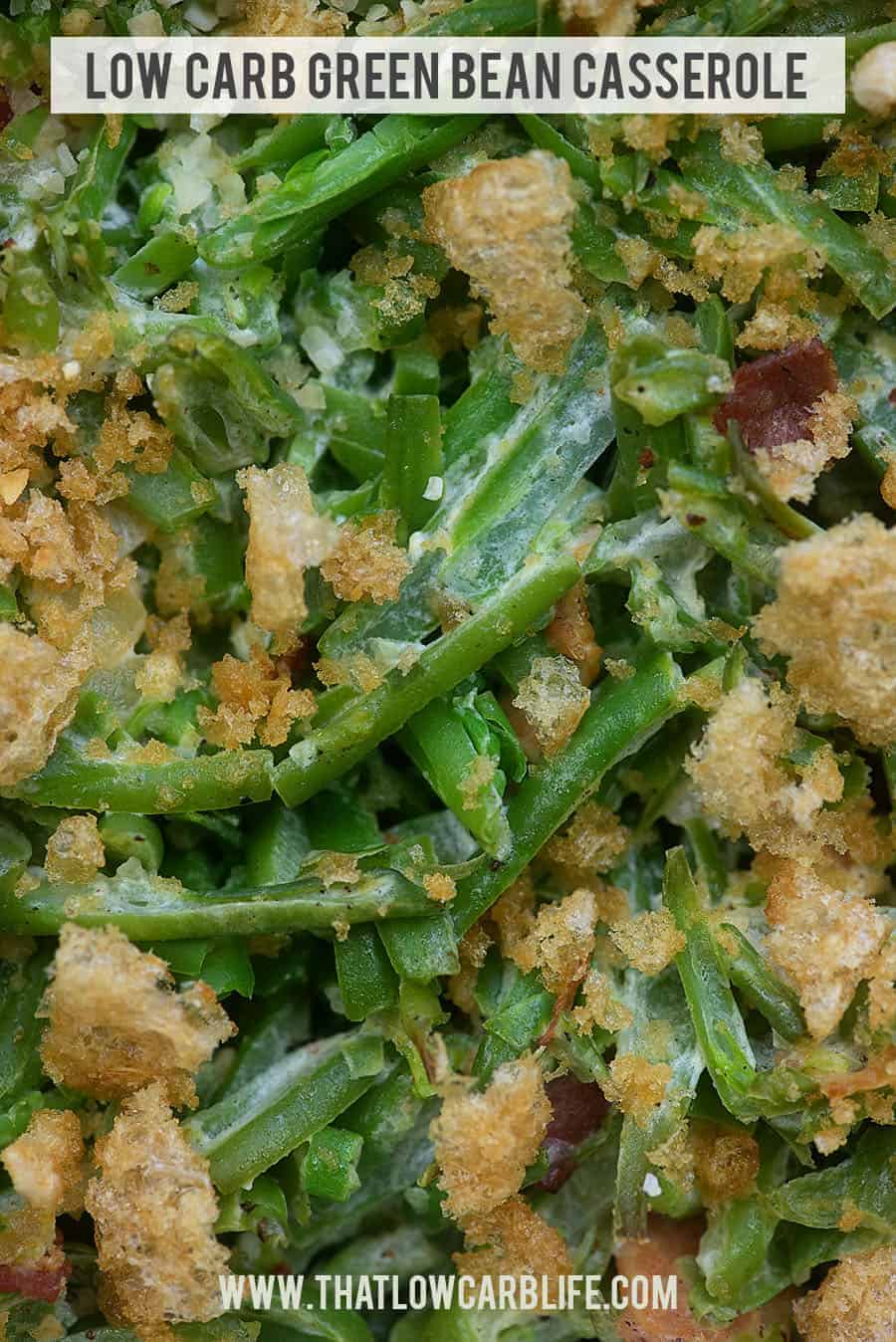 Follow me on social for more recipe ideas & inspiration!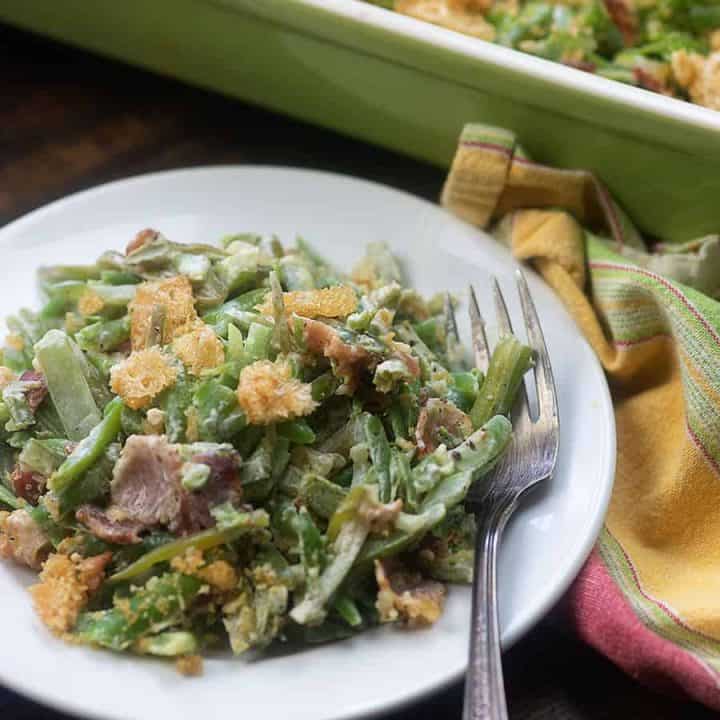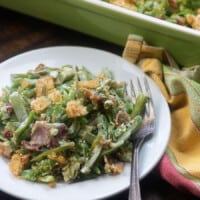 Healthy Green Bean Casserole
Low carb green bean casserole made from scratch! This is the perfect side for any holiday dinner!
Ingredients
6 slices bacon, chopped
¼ cup diced onion
1 clove garlic, minced
8 ounces cream cheese
½ cup chicken broth
1 teaspoon salt
1 teaspoon ground pepper
30 ounces canned green beans
½ cup crushed pork rinds
1 teaspoon dried onions
Instructions
Preheat oven to 350 degrees.
Add the bacon to a medium skillet over medium heat and cook, stirring frequently, until bacon is beginning to brown.
Add the onion and garlic to the bacon and continue cooking and stirring until bacon is crisp and onion is soft.
Drain all but 1 tablespoon of grease from the skillet.
Add the cream cheese and chicken broth to the skillet and cook over low heat, stirring constantly until the cream cheese has melted and the sauce is smooth and creamy.
Season with salt and pepper.
Add the green beans to a large mixing bowl and pour the cream cheese sauce over the top. Stir well to coat.
Add green beans to a 9x13 baking dish and sprinkle the top with the pork rinds and dried minced onion.
Bake for 30 minutes.
Serve immediately.
Nutrition Information:
Yield:

8
Serving Size:

1 grams
Amount Per Serving:
Calories:

253
Total Fat:

17g
Cholesterol:

39mg
Sodium:

594mg
Carbohydrates:

8g
Net Carbohydrates:

5g
Fiber:

3g
Sugar:

5g
Protein:

15g
All information and tools presented and written within this site are intended for informational purposes only. This information is provided as a courtesy and there is no guarantee that the information is accurate.
Want To Save This Recipe?