These creamy brussels sprouts are bursting with flavor after being sautéed in bacon grease and finished in a creamy Parmesan cheese sauce!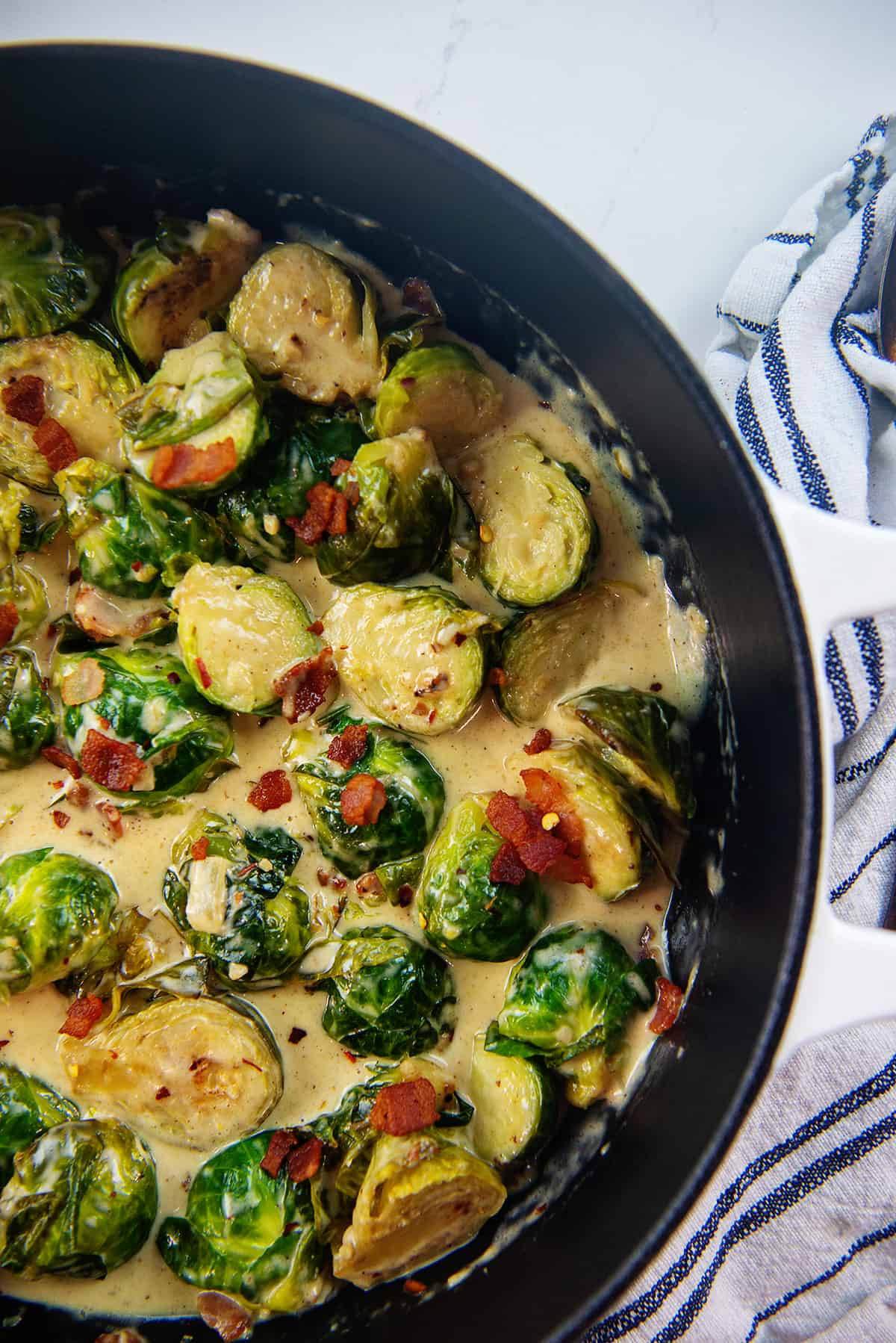 I grew up thinking I hated Brussels sprouts because, let's be honest… the people in my life were boiling them back in the day and no one wants to eat a boiled Brussels sprout.
I'm not sure what triggered me to be a big girl and branch out and try different ways to cook these little green veggies, but I'm so glad I did because now they're a favorite!
If you like cabbage, surely you like Brussels sprouts too – they taste so similar, in my opinion anyway!
We cooked these creamy Brussels sprouts in bacon grease and then poured in the cream and Parmesan to make the sauce. Pretty sure you can't go wrong with bacon, garlic, heavy cream, and Parmesan all in one dish.
Ingredient Notes: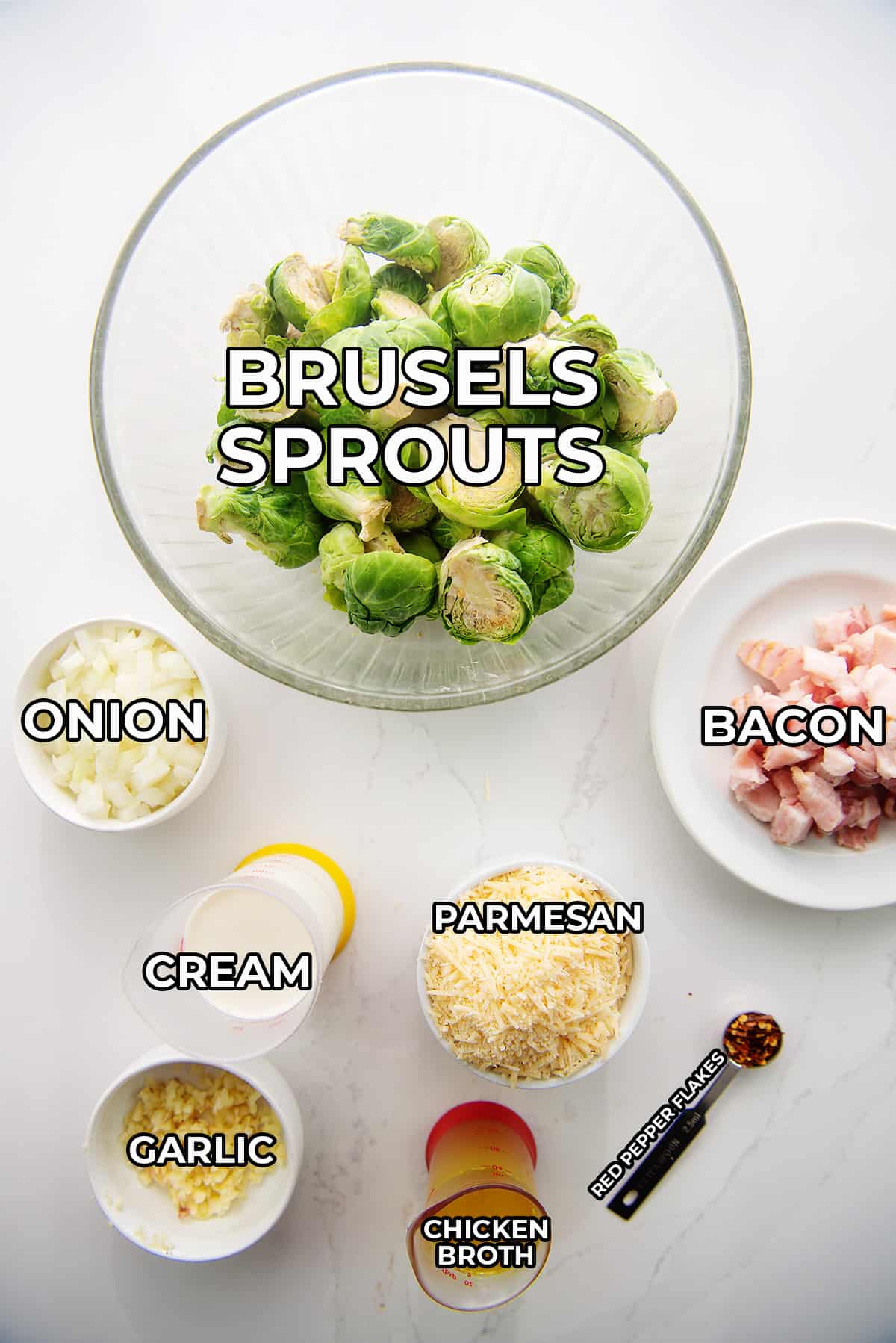 Brussels Sprouts – You'll need some fresh brussels sprouts that have been cut into halves. Fresh is definitely best here – we've never tested this with frozen Brussels sprouts.
Bacon – The chopped crispy bacon is a great addition to this dish and the grease is exactly what you need to cook the sprouts and onions in.
Dairy – We're combining heavy cream and Parmesan to create the creamy sauce. Swap the Parmesan for Gruyere, mozzarella, or even Swiss to change up the flavors.
Seasoning – We finish this off with a bit of red pepper flakes to add just a touch of spice. This helps balance the creamy sauce, but it's totally optional.
Why We Love This Recipe:
This recipe is a perfect 'starter recipe' for those who think they don't like Brussels sprouts. The cheesy sauce is similar to an Alfredo and the crispy bacon is enough to get anyone excited. This is decadent enough for a dinner party or holiday dinner, but easy enough to make any night of the week. This is also a recipe for keto Brussels sprouts, but no one will realize they're eating 'diet' food because it's so creamy and decadent!
How To Make Parmesan Brussels Sprouts:
Fry – First up you're going to need to fry the bacon! Remove it from the pan for later, but leave the grease behind to sauté the onion and Brussels sprouts.
Sauté – Cook the onion in the bacon grease until it's softened, about 5 minutes. Add the Brussels sprouts and cook for another 5 minutes and then stir in the garlic.
Simmer – Pour the chicken stock into the pot and cover. You're going to simmer the veggies in the chicken stock until the sprouts are tender, about 8 minutes.
Sauce – Now for the best part of this recipe! After infusing all that flavor into the veggies you're going to take it over the top with a creamy Parmesan cheese sauce. Remove the lid from the pan and pour in the heavy cream and then toss in the shredded Parmesan. Stir it up well and let it melt together over low heat until it forms a thick creamy cheese sauce that'll coat the brussels sprouts.
Serve – To finish off the creamy brussels sprouts add the cooked bacon back to the skillet and stir everything up until it is all well coated in the cheese sauce. Finally, sprinkle with some red pepper flakes to add a little spice to the dish and then serve it while it is good and hot! You'll won't look at sprouts the same way again after enjoying these creamy brussels sprouts!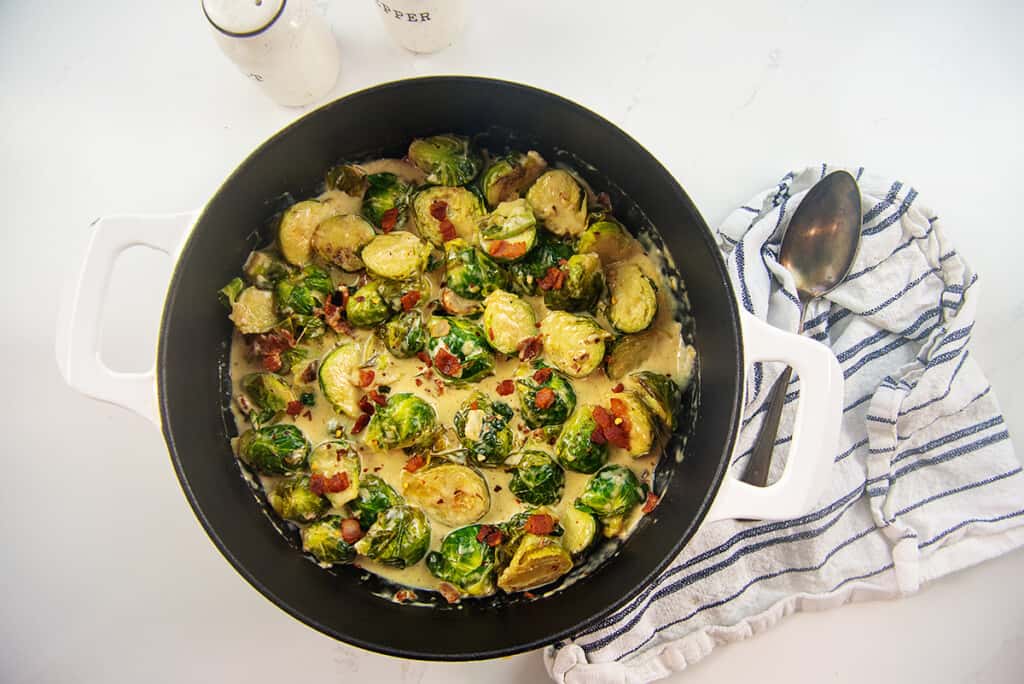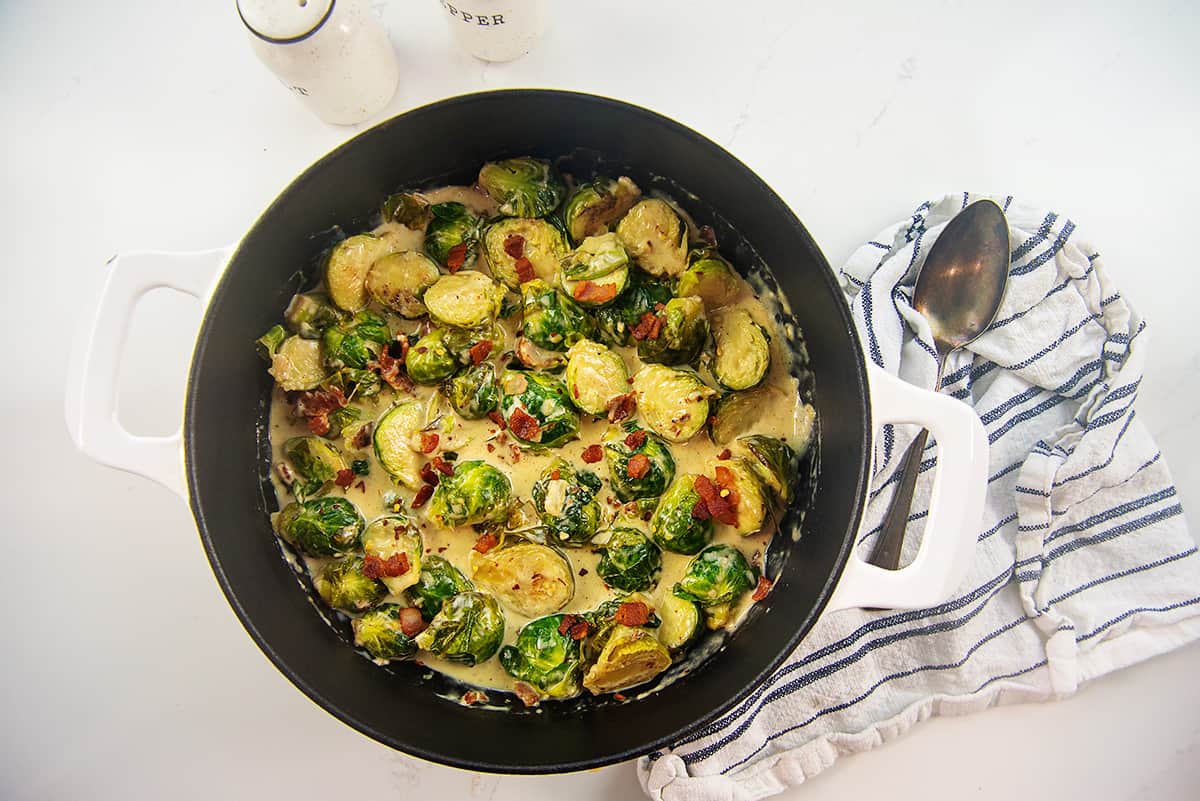 Helpful Tip!
Save yourself some work for later by chopping up the onion and brussels sprouts ahead of time! They'll stay fresh for at least a couple days if covered in the refrigerator.
FAQ's:
Can I store creamy brussels sprouts?
Yes, you can store these sprouts in a covered dish in the refrigerator for about 2 to 3 days. Reheat these in the microwave or the oven until hot, stirring as needed to keep the sauce creamy.
How do you prepare brussels sprouts?
You'll want to wash the brussels sprouts well, cut off the ends and trim any remaining stems or damaged looking leaves before cutting them into halves.
More Low Carb Brussels Sprouts Recipes!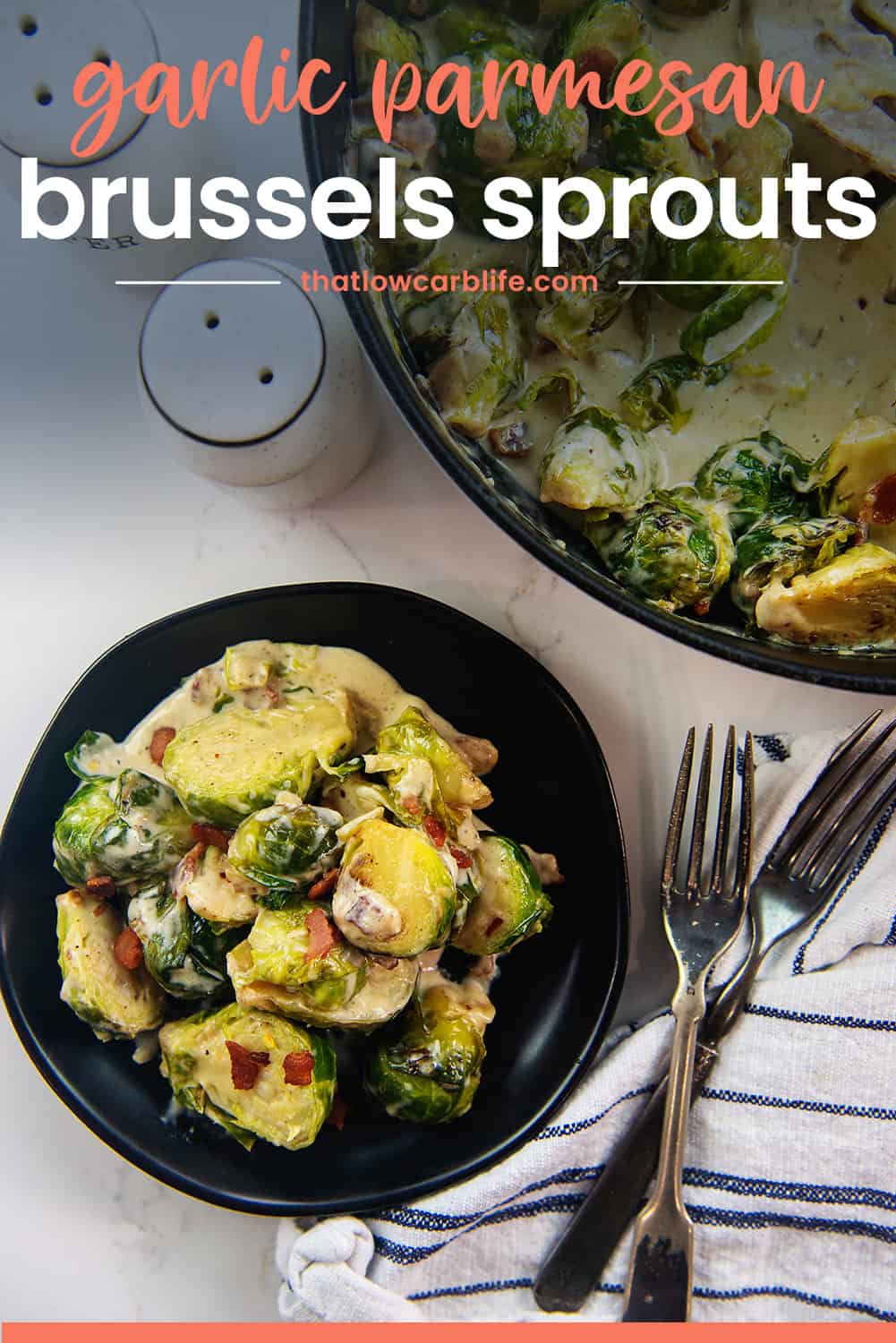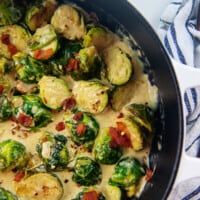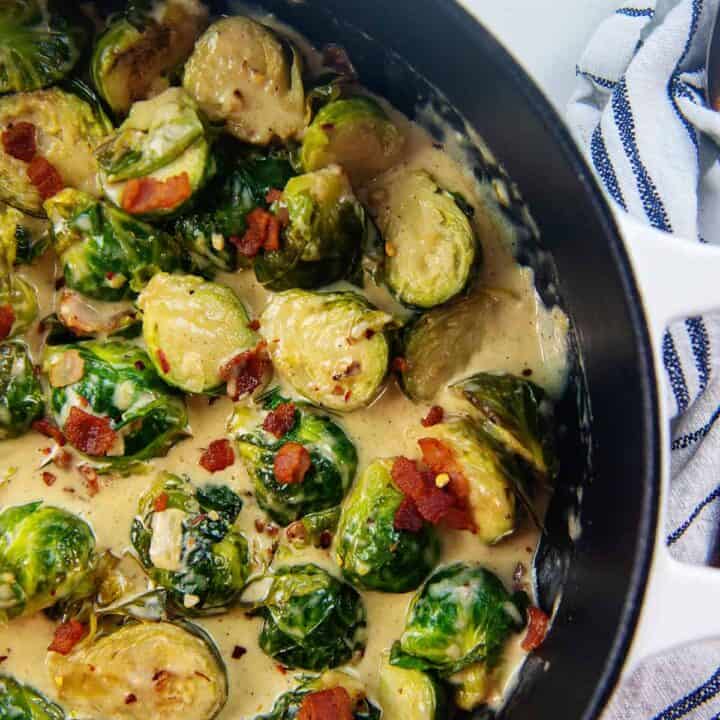 Creamy Brussels Sprouts
Bacon, parmesan, garlic, and Brussels sprouts make for a tasty side dish that will have you licking the plate. The sauce is rich and creamy and the Brussels sprouts are cooked to perfection.
Ingredients
4 slices bacon, chopped
¼ cup diced onion
1 pound fresh Brussels sprouts, halved
2 cloves garlic, minced
¼ cup chicken stock
1 1/2 cups heavy cream
1 cup shredded Parmesan
1 teaspoon salt
½ teaspoon red pepper flakes
Instructions
Add the bacon to a large, deep skillet over medium heat and fry, stirring often, until bacon is crispy. Remove bacon with a slotted spoon to a paper towel lined plate to drain.
Drain all but 2 tablespoons of bacon grease from the skillet.
Add the onion to the skillet and cook until softened, about 5 minutes.
Stir in the Brussels sprouts and cook for 5 minutes, stirring often. Stir in the garlic and cook for 1 minute more.
Add the chicken stock to the pan and cover the pan. Cook over low heat for 8 minutes or until Brussels sprouts are tender.
Remove the lid from the pan and add the heavy cream, Parmesan, and salt to the pan. Stir well to combine.
Let cook over low heat, stirring often, until the sauce has thickened and the cheese has melted, about 3 minutes.
Stir the bacon back into the pot and sprinkle with red pepper flakes before serving.
Notes
The red pepper flakes add just a touch of spice to balance out the creamy sauce, but you can skip them if you prefer.
Swap in Gruyere, swiss, or or mozzarella for the Parmesan if you'd like a different flavor.
Increase the servings to 6 and the carbs reduce down to 5g per serving. The serving is smaller, but these are pretty rich and satisfying thanks to that cream sauce.
Nutrition Information:
Yield: 4
Serving Size: 1
Amount Per Serving:
Calories: 496
Total Fat: 43g
Saturated Fat: 26g
Trans Fat: 1g
Unsaturated Fat: 14g
Cholesterol: 127mg
Sodium: 1132mg
Carbohydrates: 13g
Net Carbohydrates: 8g
Fiber: 5g
Sugar: 6g
Protein: 18g
All information and tools presented and written within this site are intended for informational purposes only. This information is provided as a courtesy and there is no guarantee that the information is accurate.