Our Keto Brussel Sprout Casserole is an easy, cheesy way to get that Brussels sprouts fix! Bacon, cheddar, and garlic make these Brussels sprouts extra delicious and something your family will ask for again and again!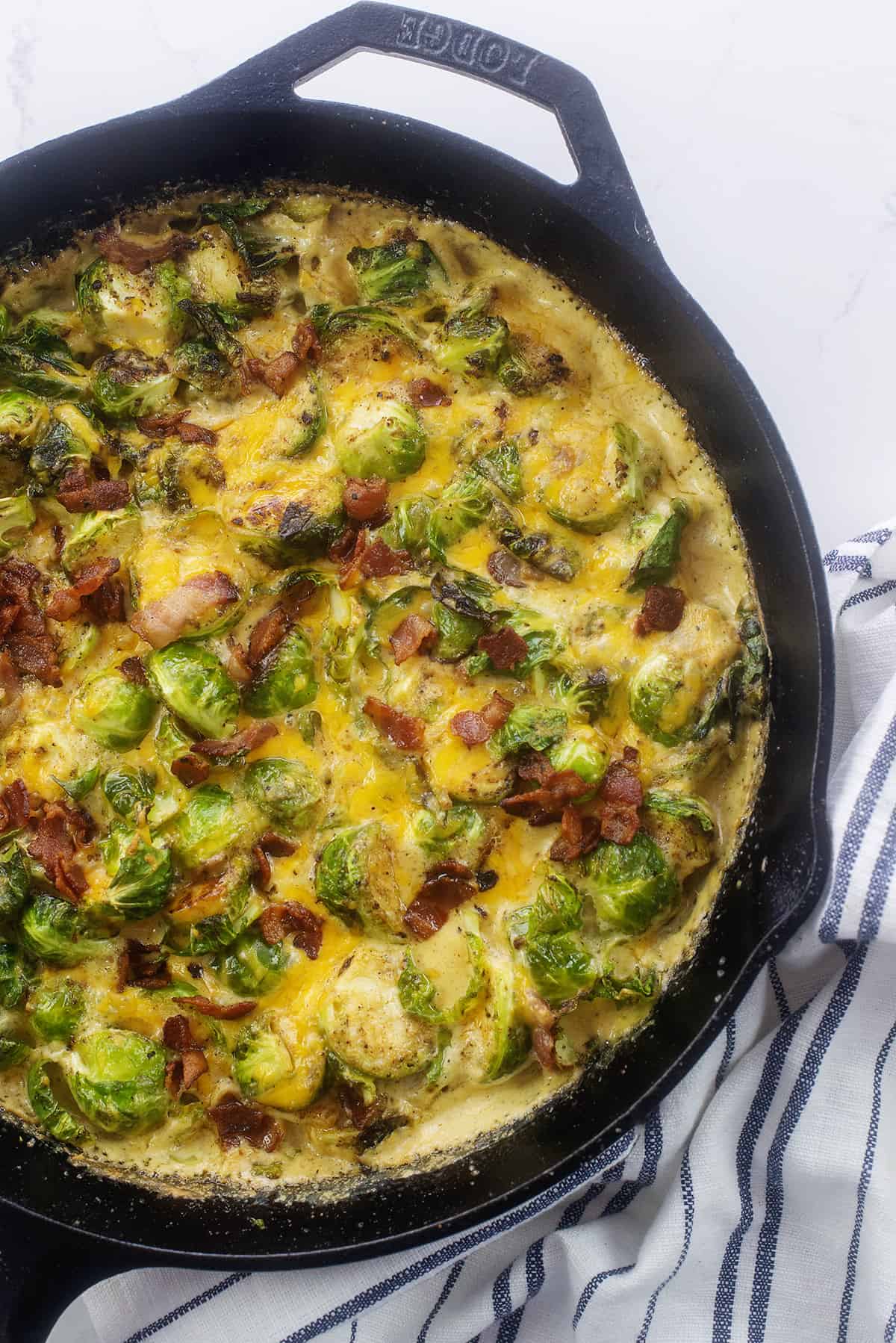 Did I just claim that this Brussel sprout casserole is something that your family is going to ask for on repeat? Yeah, I did. Bold claim, I know.
I have kids too and they are just as picky as the next, but when you cover brussels sprouts in bacon and cheese sauce, even they can't resist that funky green veggie!
We love to make this brussels sprout casserole for holiday dinners, because it's rich and decadent, but it's also easy enough for any night of the week. The bacon makes it taste extra special and the cheese sauce is honestly so good that you might consider grabbing a straw to suck up every last drop. 😉
This recipe goes great with our stuffed chicken breast, chicken drumsticks, and pork tenderloin. Or serve it next to the turkey or ham at your next holiday meal.
Ingredient Notes: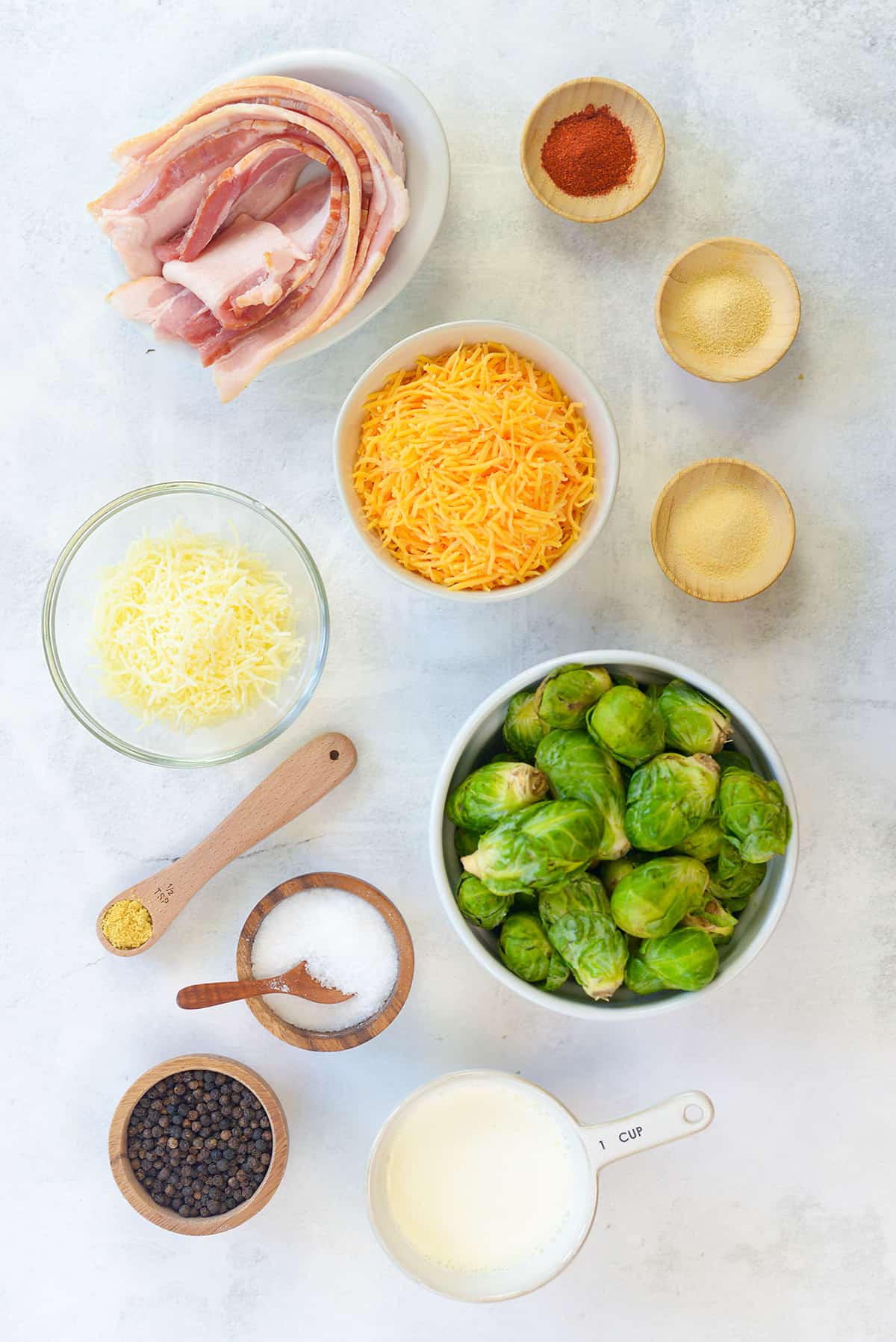 Brussels Sprouts – You'll want to use fresh Brussels sprouts for the best flavor and texture. Frozen may work, though we haven't tried it.
Bacon – You'll fry up some bacon to go in the casserole, and you'll use all that wonderful bacon grease to brown the sprouts before baking the casserole right in the skillet.
Cheese Sauce – We doctored up our keto cheese sauce and we're pouring it over this casserole and baking it all together.
Why We Love This Recipe:
Easy and cheesy – two of our favorite things!
Adding cheese and bacon to a not so popular veggie makes it way more likely that the family will give this recipe a shot. Works like a charm!
This dish is ready in less than 30 minutes, making it quick enough for any night of the week, but it's tasty enough for a holiday meal.
How To Make Brussels Sprouts Casserole:
Bacon – Chop the bacon into bite-sized pieces and fry it up. Transfer the bacon to a paper-towel lined plate to drain, but leave that bacon grease in the skillet.
Sprouts – Add the Brussels sprouts to the grease and sprinkle with the seasoning. Cook the sprouts until they're browned, about 6 minutes.
Cheese Sauce – Remove the sprouts from the skillet and set aside with the bacon. Add the heavy cream and the ground mustard to the skillet and heat it to just below a simmer. Turn off the heat and stir in half of the cheddar and mozzarella cheeses. Keep stirring until it melts into a smooth cheese sauce.
Combine – You can now return the sprouts to the skillet with half of the bacon and stir it all up to get it well coated in the creamy cheese sauce. Finally, sprinkle the remaining half of the cheeses and bacon over the top.
Bake – Pop the skillet into the oven, uncovered, and let it bake for 15 to 20 minutes or until it's all hot and bubbly. Serve it while it's still good and hot!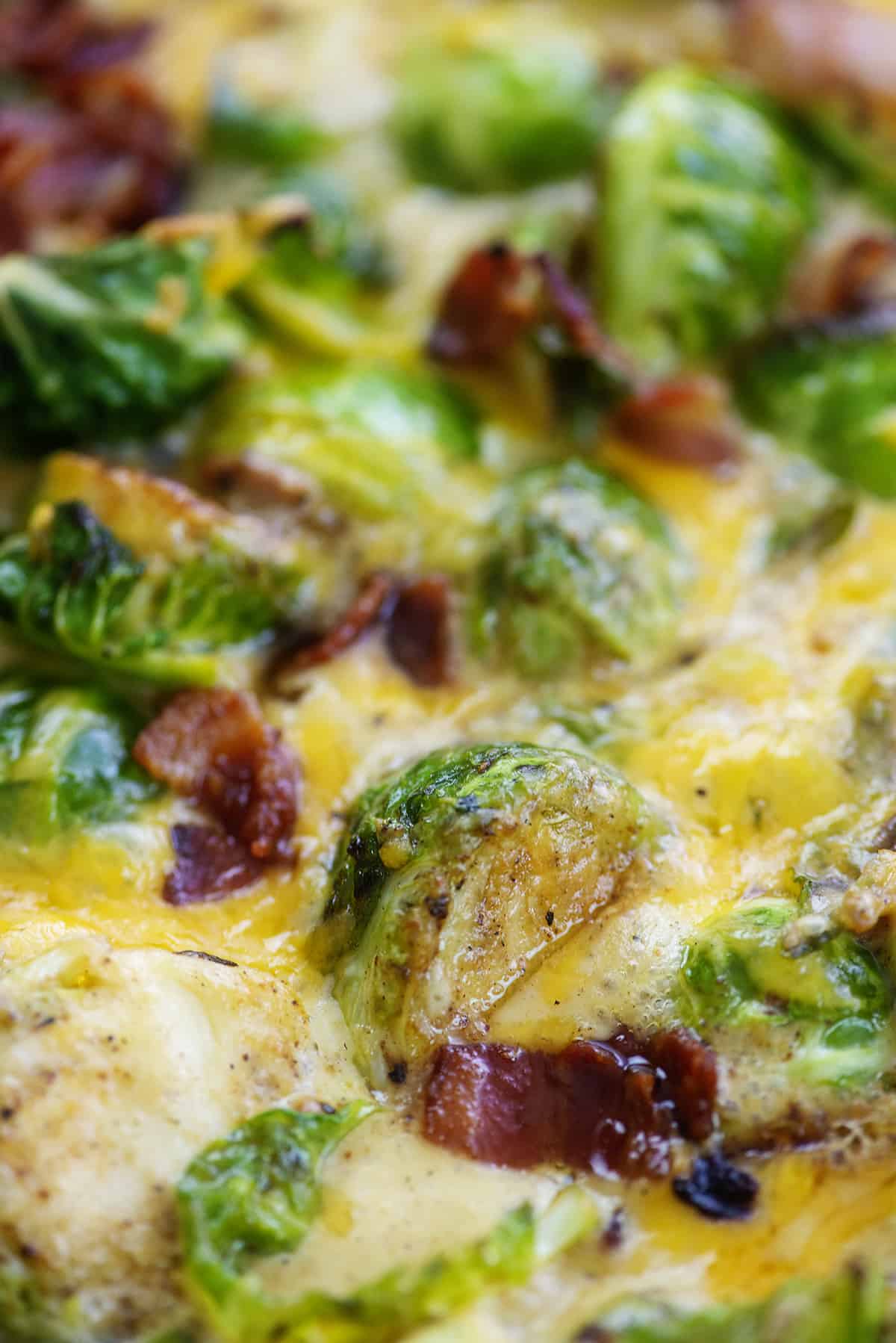 Helpful Tip!
If you don't have a cast iron or oven safe skillet, or if you would just like to use a baking dish, you can transfer the casserole ingredients to a 2 quart baking dish when it's all ready to bake.
FAQ's:
How to store this brussels sprouts casserole?
You can keep any leftovers stored in the fridge in an airtight container for 3-4 days. Reheat in the microwave.
Are Brussels sprouts healthy?
They are green and kids turn their nose up at them, so they must be! Yes, Brussels sprouts are a nutritious vegetable, packing in lots of fiber, vitamins, and minerals.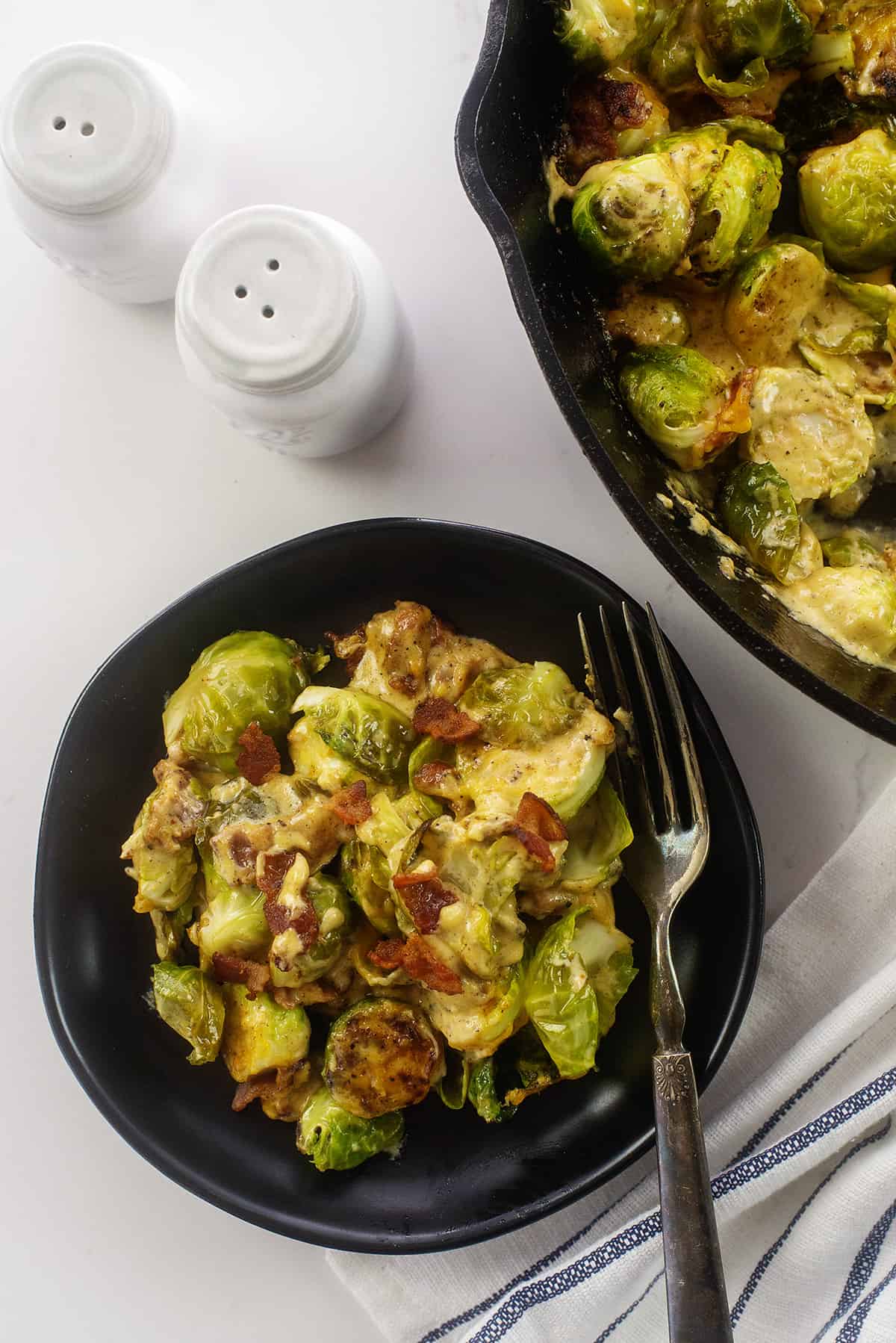 More Keto Brussels Sprouts Recipes: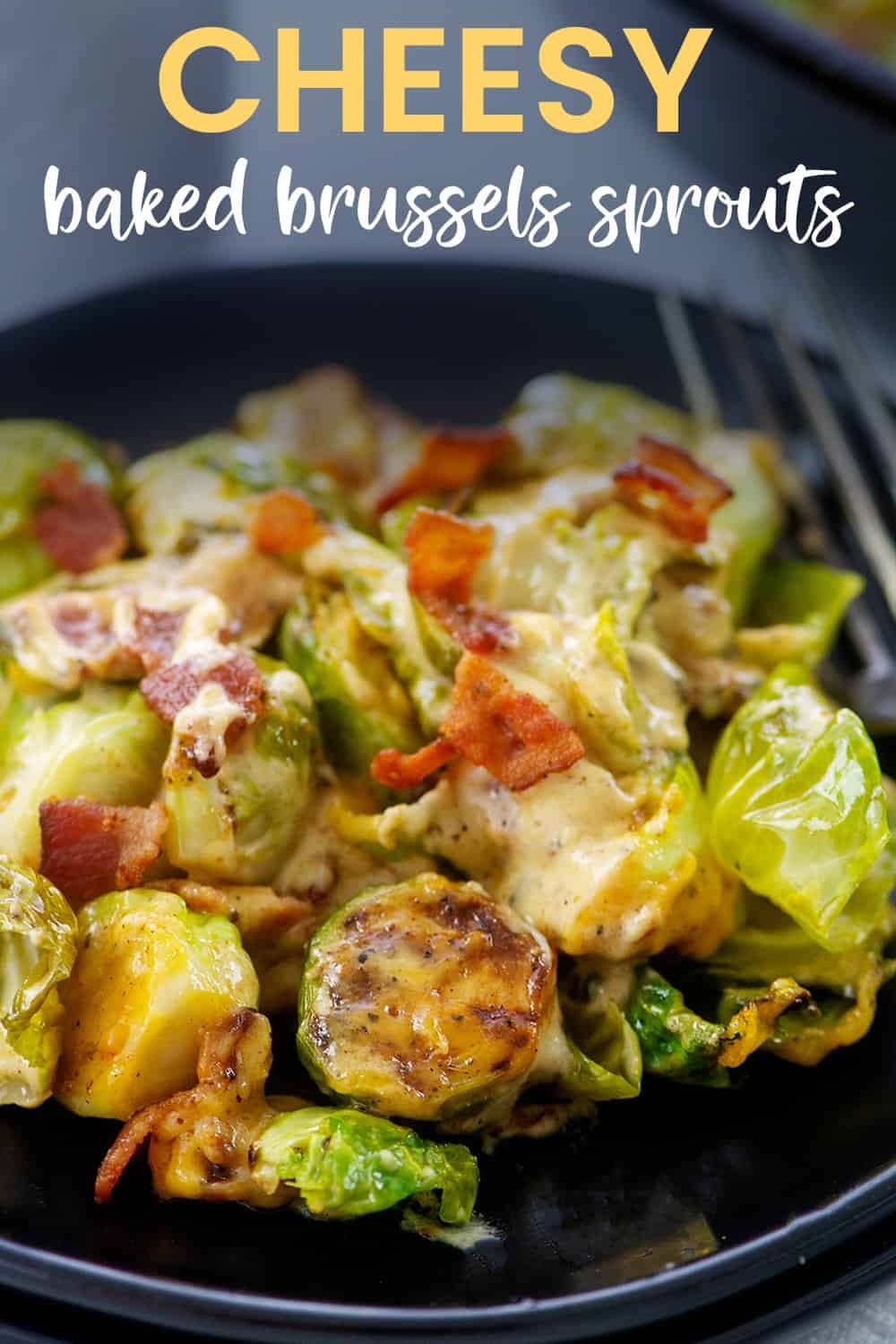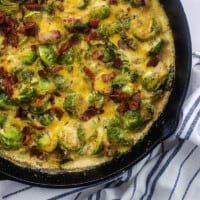 Keto Brussels Sprouts Casserole
This cheesy casserole is loaded with fresh Brussels sprouts and crispy bacon. The cheese sauce and bacon are what really makes this dish a winner in my house, but I'm just happy the kids are eating their Brussels sprouts!
Ingredients
8 slices bacon
1 ½ pounds Brussels sprouts
1 teaspoon garlic powder
1 teaspoon onion powder
1 teaspoon smoked paprika
1 teaspoon salt
1 teaspoon cracked pepper
1 cup heavy cream
½ teaspoon ground mustard
6 ounces sharp cheddar cheese, shredded
4 ounces mozzarella cheese, shredded
Instructions
Preheat oven to 375 degrees.
Chop the bacon into bite-sized pieces and add to a large oven-safe skillet, such as a cast iron skillet. Cook over medium heat until bacon is crisp. Remove to a paper towel lined plate to drain and set aside.
Trim the ends from the Brussels sprouts and cut in half. Add to the skillet with the bacon grease and stir to coat. Sprinkle with the seasoning.
Cook sprouts until browned, about 6 minutes.
Remove the Brussels sprouts to a plate and set aside. Wipe down the skillet with a paper towel to remove any excess grease.
Add the cream and ground mustard to the skillet and heat to just below a simmer. Turn off the heat and stir in half of the cheddar and half of the mozzarella. Stir well until the cheese has melted and you have a smooth sauce.
Return the Brussels sprouts and half of the bacon to the pan with the cheese sauce and stir to coat.
Sprinkle the remaining cheese over the top and top with the remaining bacon.
Place the skillet in the oven and bake for 15 minutes or until hot and bubbly.
Serve hot.
Notes
We have not tested this recipe with frozen Brussels sprouts as we like the taste and texture of fresh best.
Nutrition Information:
Yield: 6
Serving Size: 1
Amount Per Serving:
Calories: 425
Total Fat: 34g
Saturated Fat: 19g
Trans Fat: 1g
Unsaturated Fat: 12g
Cholesterol: 103mg
Sodium: 950mg
Carbohydrates: 11g
Net Carbohydrates: 8g
Fiber: 3g
Sugar: 4g
Protein: 20g
All information and tools presented and written within this site are intended for informational purposes only. This information is provided as a courtesy and there is no guarantee that the information is accurate.