This easy stuffed chicken breast recipe is going to be a new low carb family favorite! The cream cheese and Parmesan add a ton of flavor to this spinach stuffed chicken and the whole recipe is super quick to prepare.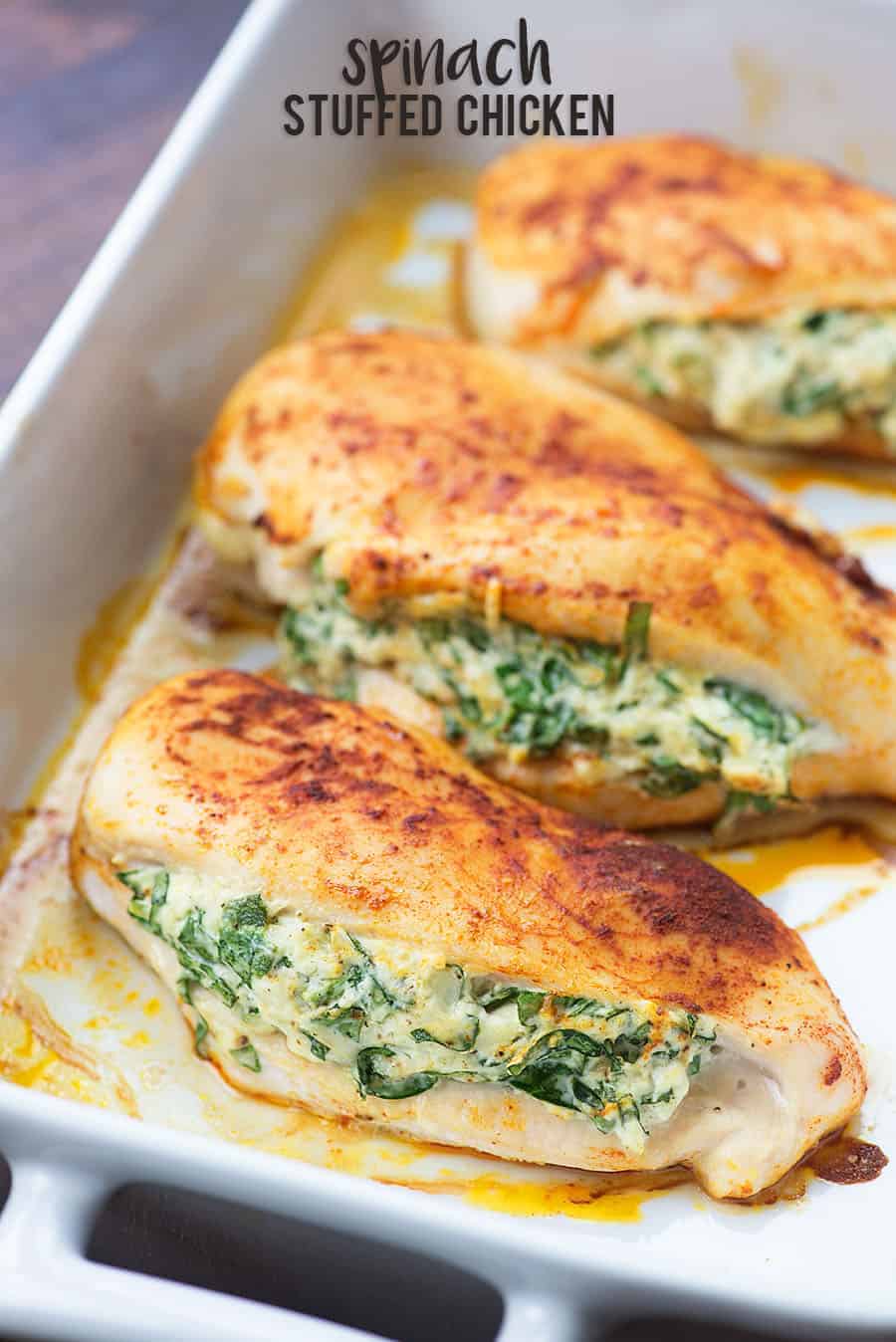 You guys. We had a break through yesterday.
My sweet, lovely daughter – the 13 year old – is not much for vegetables.
I mean, this is probably pretty normal and I try to remember that I also did not eat vegetables as a child and I survived. I still keep trying to push the veggies though.
Yesterday, for dinner, I told her we were having chicken. Cheese stuffed chicken breast, to be exact.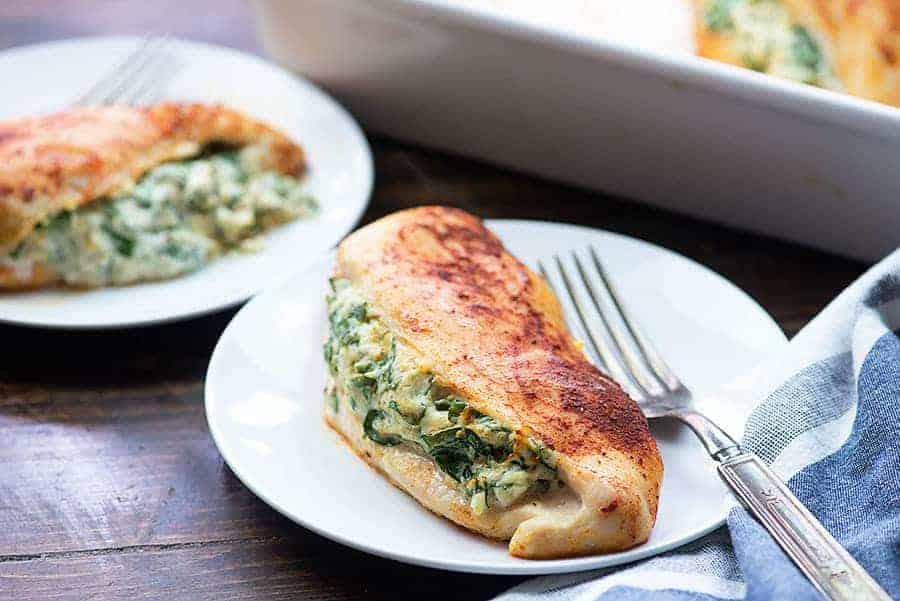 I left out the fact that there was spinach lurking in the cheese. She's not blind, so she totally saw it in there but just went with it.
You guys. She ate that entire piece of chicken. Alongside a serving of pan fried Brussels sprouts. Like, woah.
Progress.
Anyway, I now believe that this baked stuffed chicken breast recipe is magic. It's also easy and delicious and you're going to love it!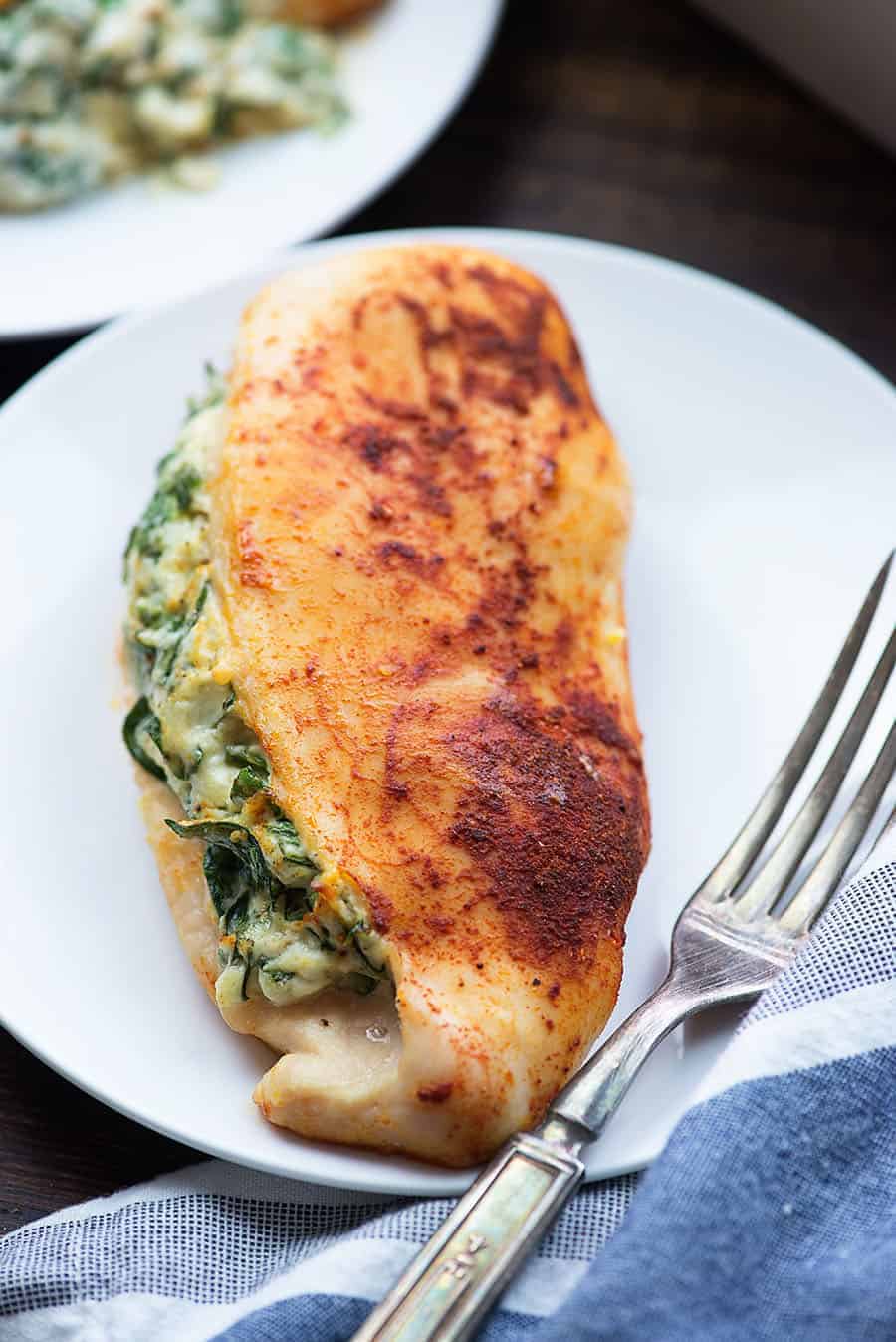 How To Make This Cheese Stuffed Chicken Breast:
You're going to start by mixing up your spinach filling. You'll want some cream cheese, Parmesan, a little mayo, chopped spinach, and seasonings. Basic stuff, friends.
Mix that all together in a small bowl and then set it aside.
Grab a pack of boneless, skinless chicken breasts. The filling should be the perfect amount for 4 breasts.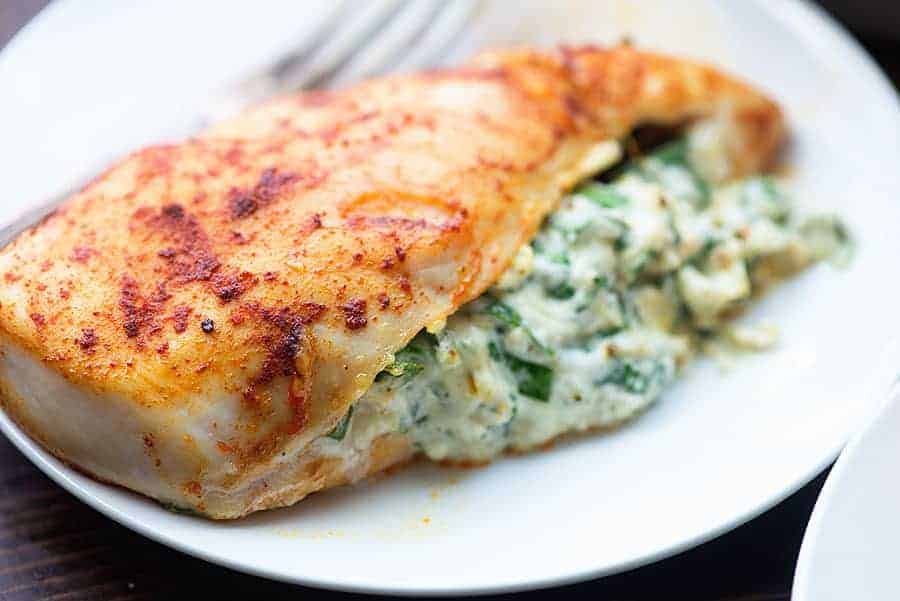 Season the chicken breasts and then take a sharp knife cut a little pocket in one side of the chicken. I do this by placing one hand on top of the chicken to hold it steady and then using a sharp knife to slice halfway through the breast, like you would do if you were butterflying it, but stopping about halfway into the chicken.
Watch my video below to see this step if it sounds tricky. It really is easy, promise.
Now just start spooning that spinach filling into the little pocket in your chicken!
Bake these for 25 minutes or until the chicken is fully cooked.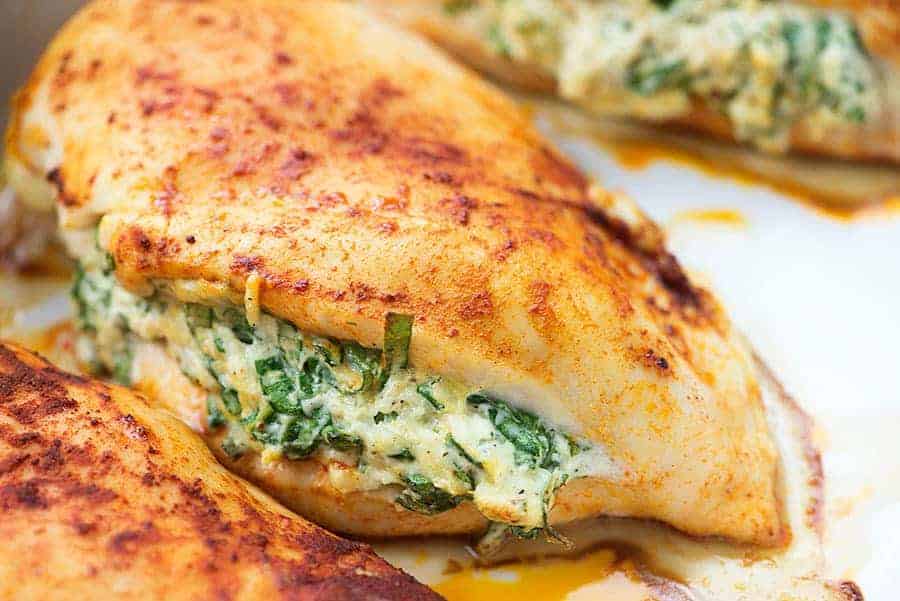 This cream cheese stuffed chicken breast recipe is perfect for your keto diet.
I could pretty much live on cream cheese and it's kind of perfect for keto. So low in carbs and high in fat with little protein.
The spinach is a great way to get some potassium in. I'm a stickler for staying on top of my electrolytes. I can always feel it when they get out of whack and it just ruins my whole day. Nobody needs to walk around feeling like they're going to faint any minute, you know?
Do you guys watch your electrolytes pretty closely while following a keto lifestyle? It's so important!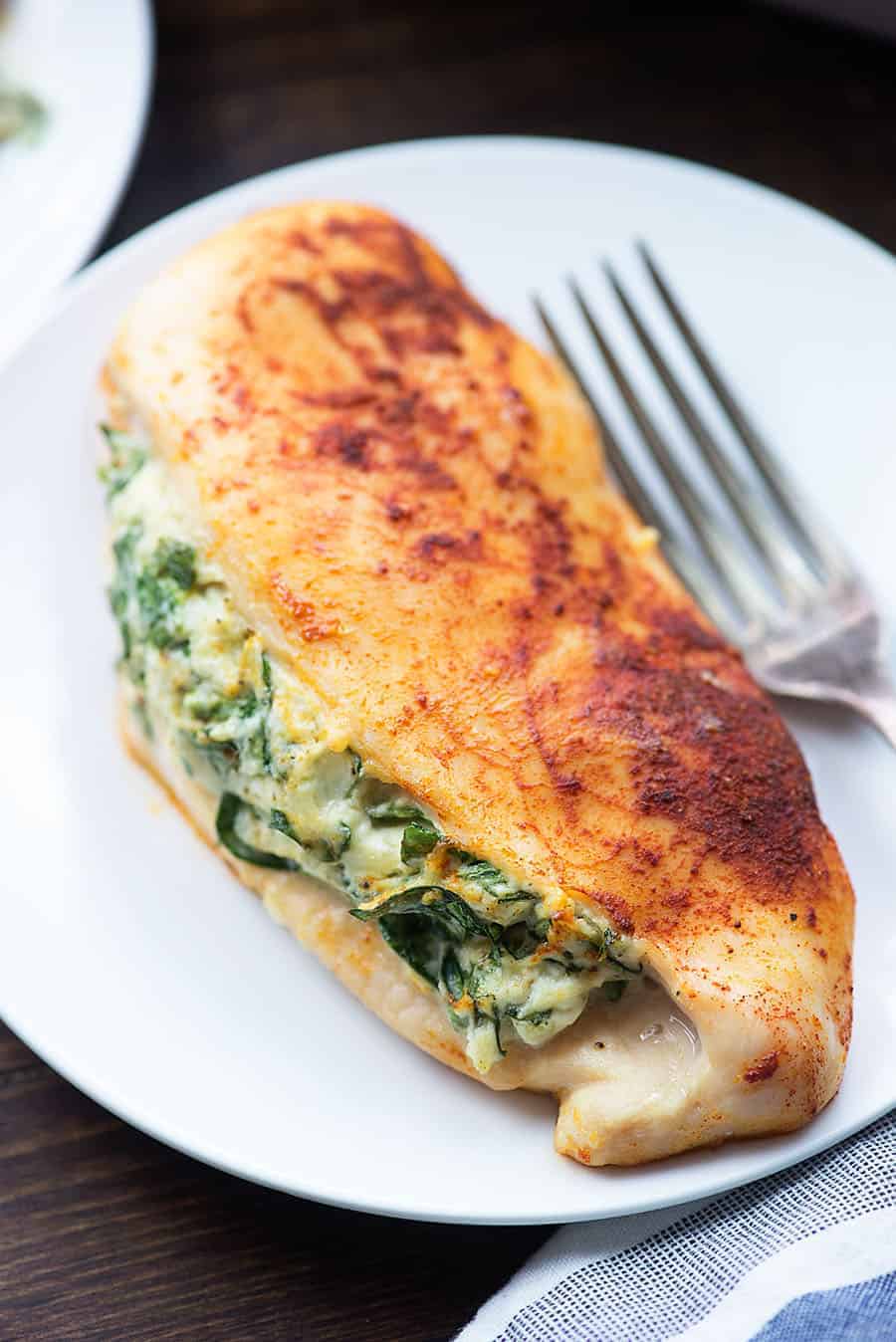 This baked stuffed chicken breast recipe is ready in just 35 minutes!
Okay, friends. I'm including a video below to show you just how easy this spinach stuffed chicken is!
I hope you guys give this a try and let me know what you and your family thinks. I hope it's a big hit.
Other recipes you might like:
Jalapeno Popper Stuffed Chicken – this one is wrapped in bacon, so you know it's amazing.
Broccoli Salad – this one is packed with cheddar and bacon!
Broccoli Cheese Casserole – if you love cheesy casseroles, this is a side dish you don't want to miss!
Teriyaki Chicken Stir Fry – low carb and so good!
If you like this recipe, you'll want to check out my eBooks full of family friendly recipes! Visit the shop!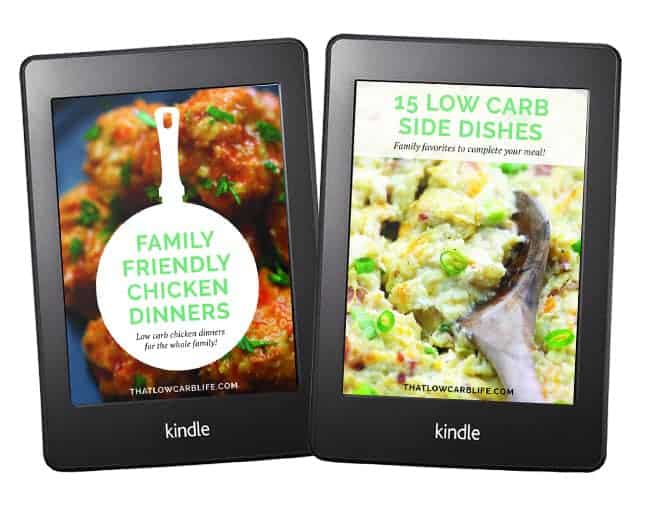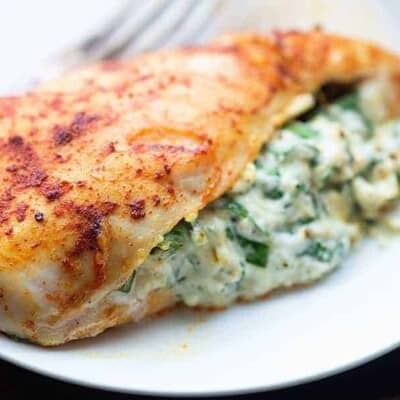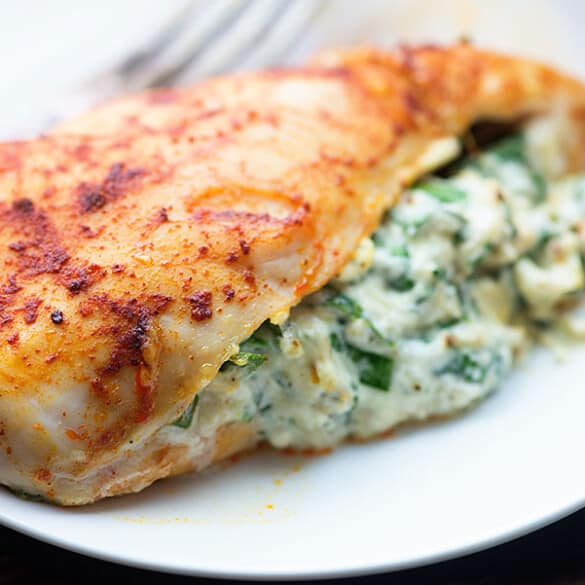 Spinach Stuffed Chicken Breasts
These spinach stuffed chicken breasts are loaded with cream cheese, fresh spinach, and Parmesan cheese.
Prep10 minutes
Cook25 minutes
Total35 minutes
Ingredients
4 chicken breasts
1 tablespoon olive oil or avocado oil
1 tesapoon paprika
1 teaspoon salt divided
¼ teaspoon garlic powder
¼ teaspoon onion powder
4 ounces cream cheese softened
¼ cup grated Parmesan
2 tablespoons mayonnaise
1 ½ cups chopped fresh spinach
1 teaspoon garlic minced
½ teaspoon red pepper flakes
Instructions
Preheat oven to 375 degrees.

Place the chicken breasts on a cutting board and drizzle with oil.

Add the paprika, 1/2 teaspoon salt, garlic powder, and onion powder to a small bowl and stir to combine. Sprinkle evenly over both sides of the chicken.

Use a sharp knife to cut a pocket into the side of each chicken breast. Set chicken aside.

Add cream cheese, Parmesan, mayonnaise, spinach, garlic, red pepper and remaining ½ teaspoon of salt to a small mixing bowl and stir well to combine.

Spoon the spinach mixture into each chicken breast evenly.

Place the chicken breasts in a 9×13 baking dish. Bake, uncovered, for 25-30 minutes or until chicken is cooked through.
Nutrition Information:
Serving: 1chicken breast| Calories: 407kcal (20%)| Carbohydrates: 3g (1%)| Protein: 41g (82%)| Fat: 24g (37%)| Saturated Fat: 9g (56%)| Polyunsaturated Fat: 13g| Cholesterol: 139mg (46%)| Sodium: 873mg (38%)| Fiber: 1g (4%)| Sugar: 1g (1%)| Net Carbs: 2g (4%)