These Keto Stuffed Mushrooms are packed with a savory Italian sausage and cheese filling and they make perfect low carb appetizers or snacks!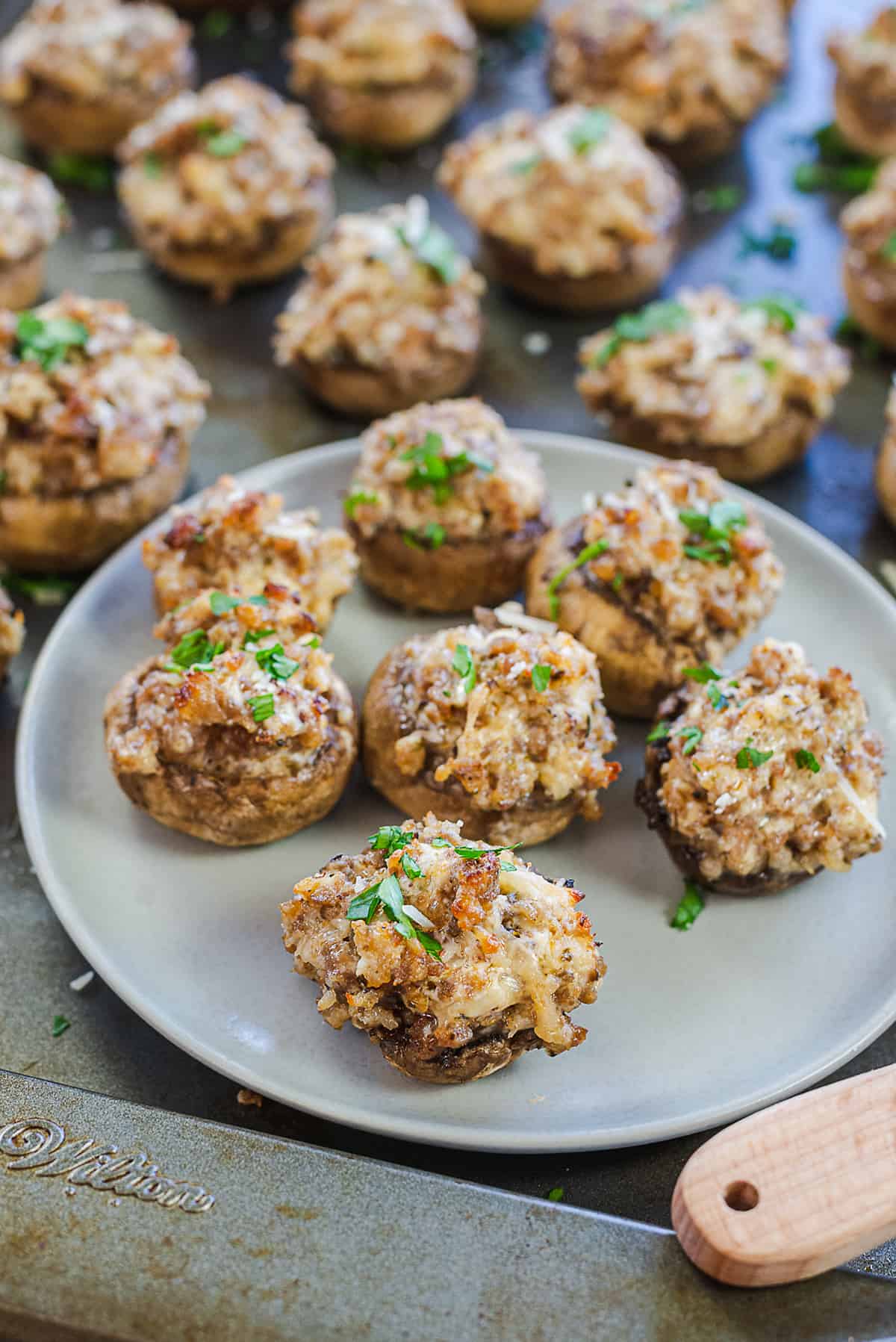 Nothing beats a simple appetizer or snack like stuffed mushrooms and these are low carb and so easy!
These are gorgeous to look at and tasty to eat, which makes them the perfect thing to serve at your next get together or dinner party.
Of course, they're totally simple enough to whip up just for yourself to munch on for dinner while watching TV…not that I've ever done such a thing. 😉
We filled these keto stuffed mushrooms with a savory filling made of Italian sausage, cream cheese, and Parmesan. Its simple, creamy, and flavorful.
I'm not sure what it is about stuffing one thing inside another, but it makes magic. Like my spinach stuffed chicken – a total reader favorite! I know these are going to be the next big hit, because they're just as good!
Ingredient Notes: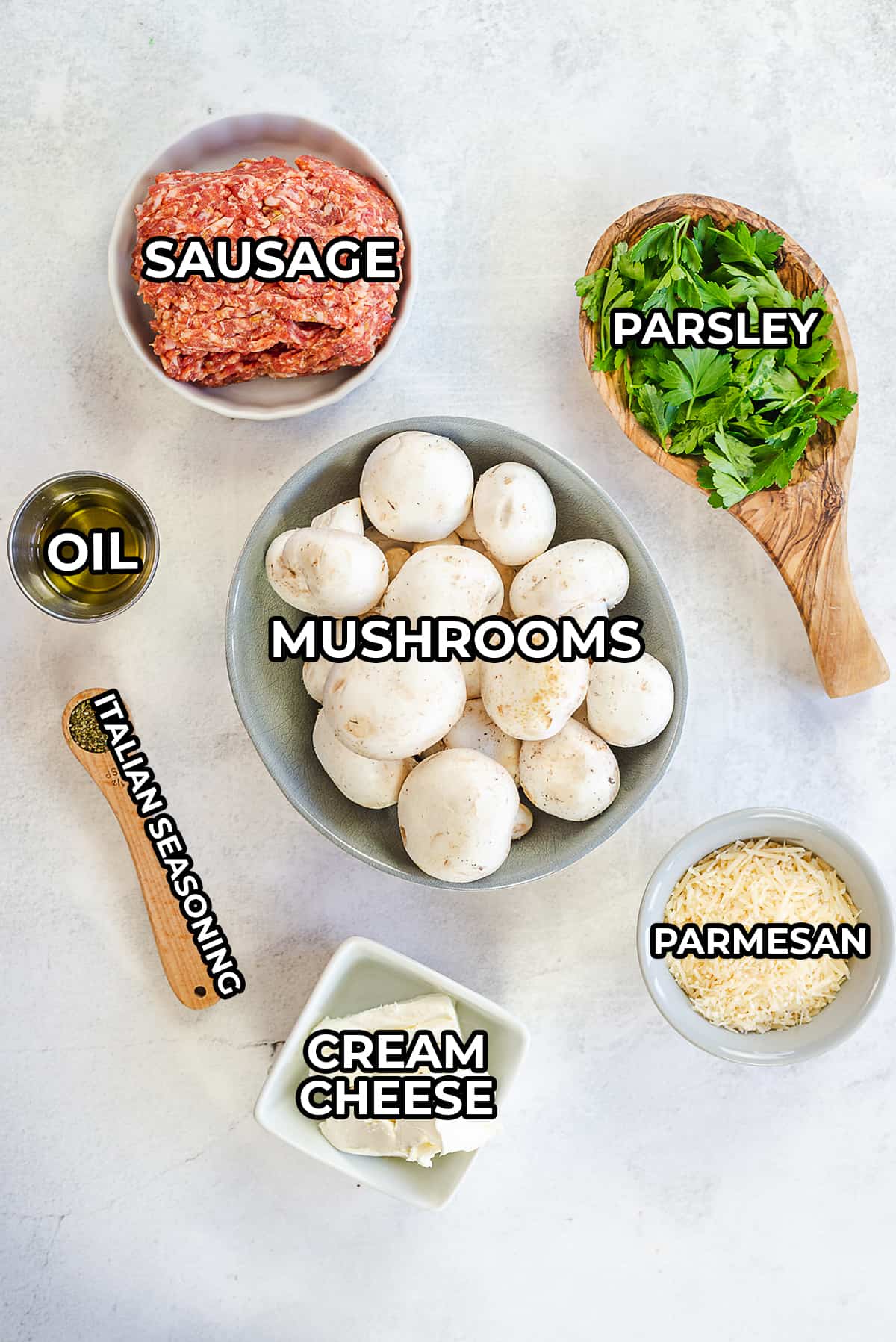 White Mushrooms – These are one of the most popular varieties of mushroom, mostly because of their mild flavor. They go well with lots of dishes and they are even better when stuffed with lots of good stuff! They also work well for making stuffed mushrooms due to their size and shape. You'll cut off the stems but those will get finely chopped and added back in. White button mushrooms or cremini work for this recipe.
Filling – The flavors of ground Italian sausage pair well with the savory umami flavor of the mushrooms! It'll get cooked and then mixed with the cream cheese, Parmesan cheese, and Italian seasoning to make a creamy, cheesy, flavorful filling.
Why We Love This Recipe:
This is one of those naturally low carb recipes that doesn't require any special ingredients or weird swaps. It's just stuffed mushroom goodness!
These make a great appetizer for a party and are delicious served hot or at room temperature.
This recipe is easy to halve or double, depending on your needs.
How To Make Stuffed Mushrooms:
Mushrooms – To start you'll want to prepare the mushrooms by first rinsing them and then removing the stems. Removing the stem should leave an opening in the mushroom that can be filled with the stuffing ingredients. Chop up the stems and set those and the mushrooms aside for now.
Sausage – Next you'll cook the Italian sausage. Add it to a skillet over medium heat and let it cook through, crumbling the sausage up as it cooks.
Filling – After preparing the sausage add it to a mixing bowl along with the chopped mushroom stems, Parmesan cheese, Italian seasoning, and the softened cream cheese. Stir all that up in the bowl until it is well combined and you've got a cheesy, savory filling that is perfect for these keto stuffed mushrooms!
Stuff – Once you've finished the filling you can start preparing the mushrooms to be stuffed and baked. Coat the outsides of the mushrooms with some olive oil and then start spooning the filling into each of the mushroom caps until they are stuffed full of the good stuff.
Bake – When you've finished stuffing the mushrooms start arranging them on a baking sheet and pop them in the oven for 20 to 25 minutes or until they have cooked through. We like to top our keto stuffed mushrooms off with some parsley or maybe some more Parmesan cheese before serving!
Helpful Tip!
You can use a food processor if you want to make things a little easier while also making sure that you get a good mix of all the filling ingredients! Just add in the mushroom stems, cheeses, cooked Italian sausage, and Italian seasoning then process. This will make a much smoother, creamier filling. If you prefer more texture, mix by hand.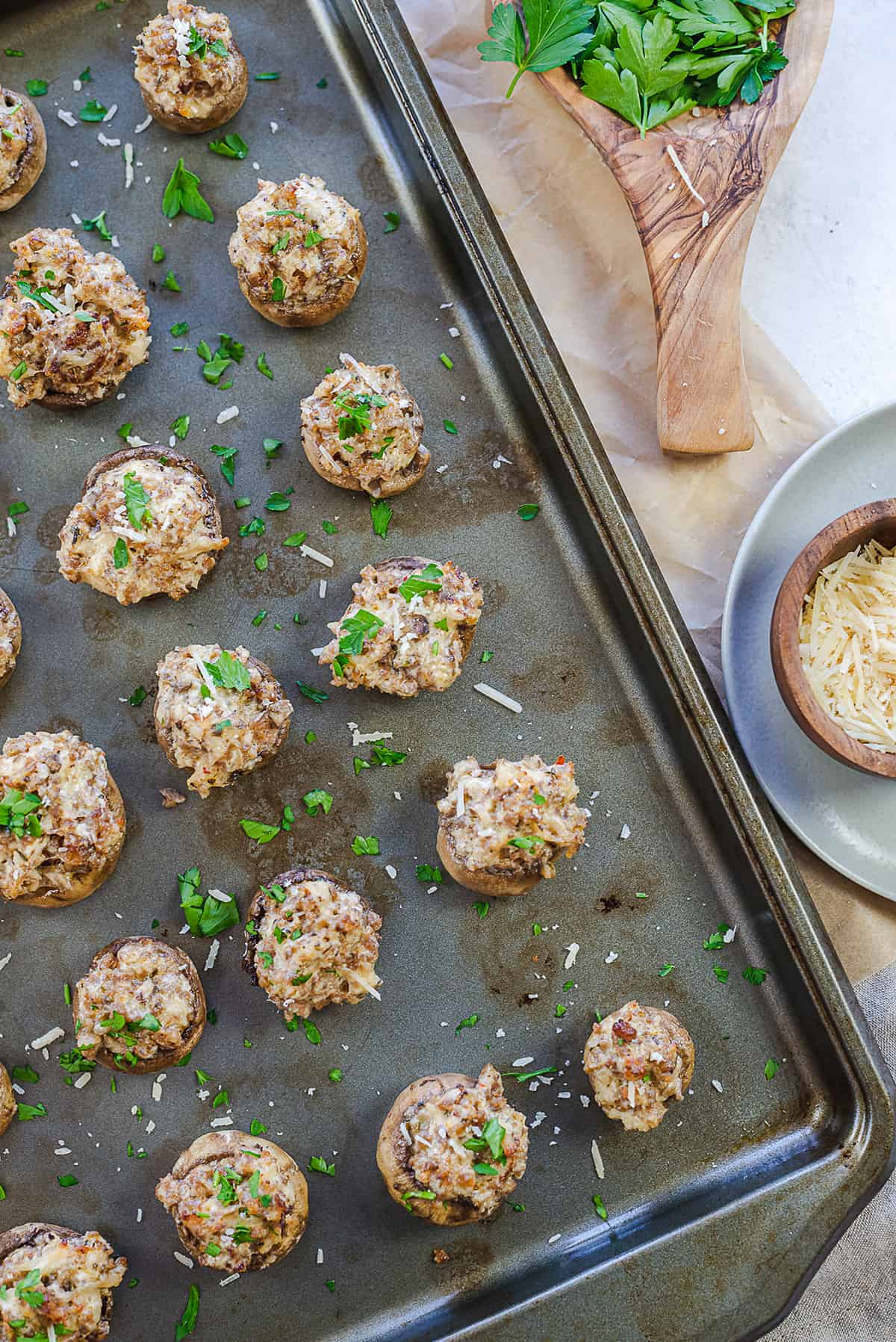 Try this Air Fryer version!
If you enjoyed these baked stuffed mushrooms then you'll definitely love how easy and cheesy these Shrimp Stuffed Mushrooms are – and they're made in the air fryer! Check the recipe out and give them a try.
FAQ's:
Can you store stuffed mushrooms?
These keto stuffed mushroom should last for up to 4 to 5 days in an airtight container in the refrigerator.
Can you freeze stuffed mushrooms?
Yes! You can either prepare them and freeze them before baking, or freeze them after baking. First place them on a baking sheet and freeze for an hour or so before transferring them to a freezer bag. This will keep them from sticking together.
Can I substitute ingredients?
Sure! These keto stuffed mushrooms are perfect for stuffing with all sorts of savory ingredients. Just make sure they are low carb and you should be all set. Finely chopped or processed nuts are a good choice, try it with some mozzarella cheese, or add some garlic!
More Savory Low Carb Appetizers: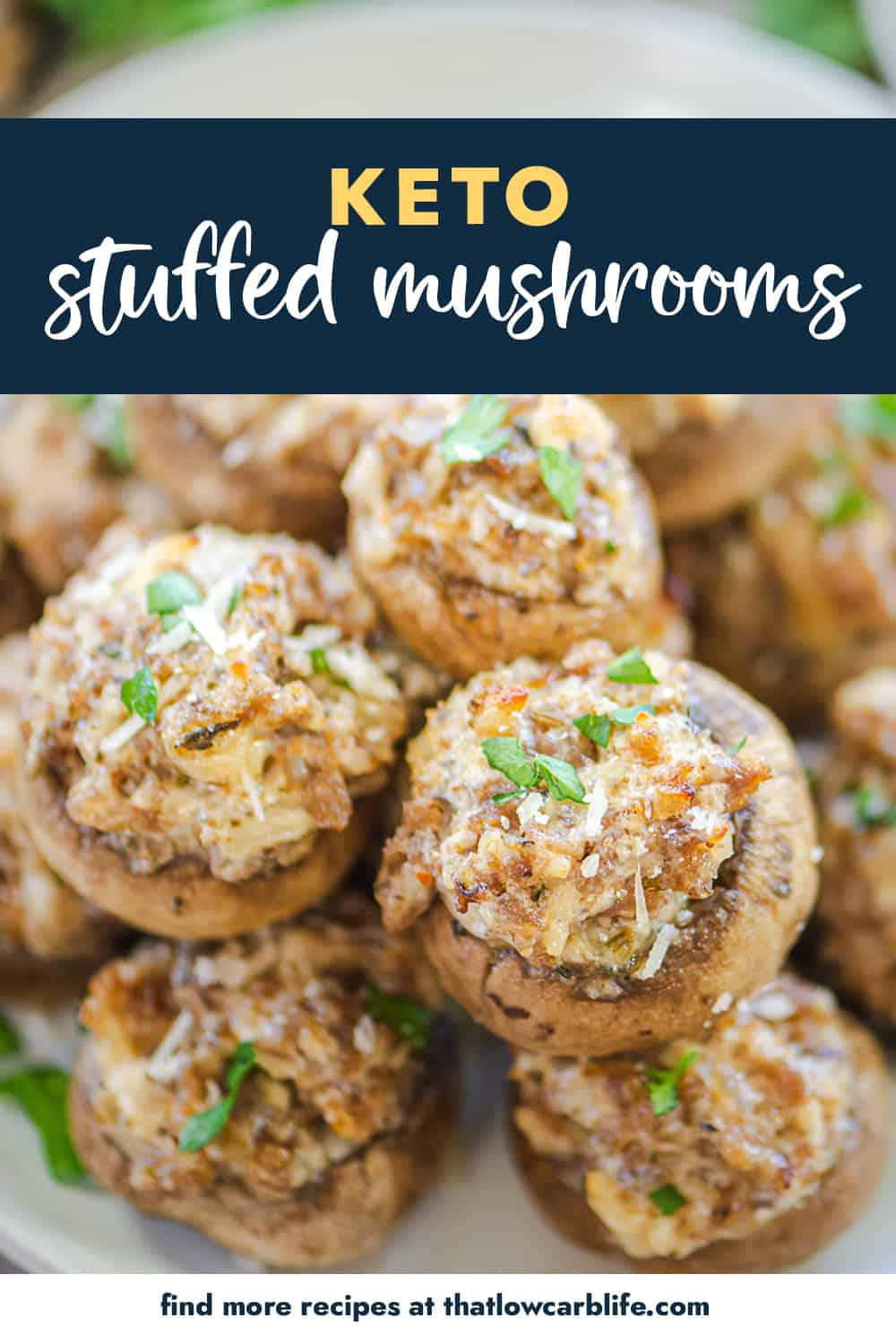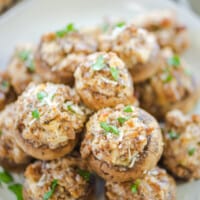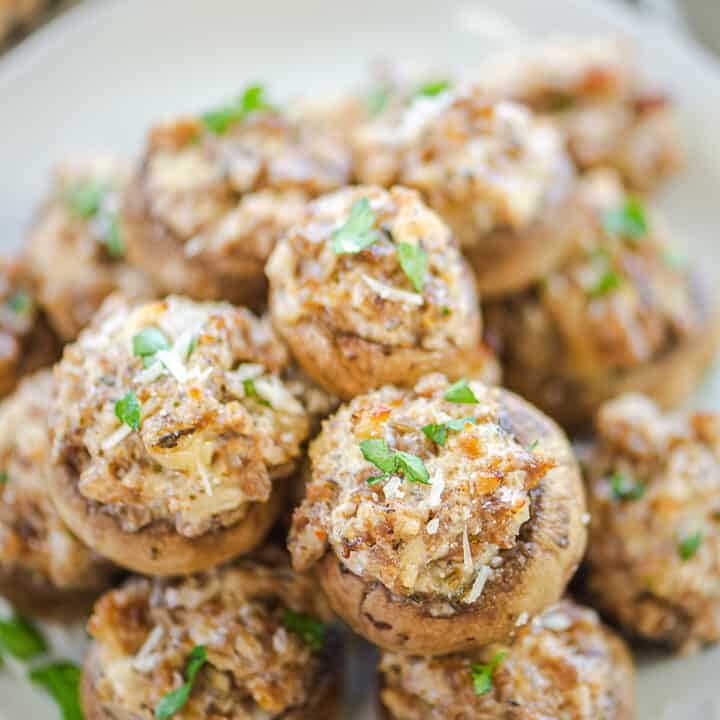 Keto Stuffed Mushrooms
These keto stuffed mushrooms are filled with a savory, cheesy sausage filling and baked for the perfect party appetizer. We love how simple these are and everyone raves over them.
Yield 24 stuffed mushrooms
Ingredients
16 ounces white mushrooms
1⁄2 pound ground Italian sausage
4 ounces softened cream cheese
1⁄3 cup shredded parmesan
1 teaspoon Italian Seasoning
2 teaspoons olive oil
Minced parsley, for garnish
Instructions
Preheat oven to 375 degrees.
Wash the mushrooms and remove the stems. Chop stems finely and set mushroom caps aside.
Add the sausage to a skillet over medium heat and cook through, crumbling the sausage as it cooks.
Combine sausage, cream cheese, mushroom stems, parmesan, and Italian seasoning in a bowl and stir well to mix.
Coat the outside of the mushrooms with olive oil.
Using a spoon, fill each mushroom cap with the filling.
Arrange the stuffed mushrooms on a baking sheet and bake for 20-25 minutes or until mushrooms are cooked through.
Sprinkle with parsley before serving.
Notes
We prefer mild Italian sausage in this recipe, but spicy will also work well.
A pound of mushrooms will be around 20-24 mushrooms depending on their size.
Nutrition Information:
Yield: 24
Serving Size: 1 mushroom
Amount Per Serving:
Calories: 62
Total Fat: 5g
Saturated Fat: 2g
Trans Fat: 0g
Unsaturated Fat: 3g
Cholesterol: 11mg
Sodium: 104mg
Carbohydrates: 4g
Net Carbohydrates: 2g
Fiber: 2g
Sugar: 1g
Protein: 3g
All information and tools presented and written within this site are intended for informational purposes only. This information is provided as a courtesy and there is no guarantee that the information is accurate.