We turned our favorite spinach dip into the ultimate low carb snack with these Spinach Stuffed Mushrooms! Everyone raves about these cheesy stuffed mushrooms and they're always quick to get eaten!
Absolute magic happens when you take our keto spinach artichoke dip and stuff inside a mushroom and I'm here to share that magic with you today!
These spinach stuffed mushrooms are absolutely packed with cheesy goodness, bursting with flavor thanks to the garlic, red pepper flakes, and Parmesan, and seriously just begging to be eaten.
I'm not a huge mushroom fan, to be perfectly honest, but you wanna fill them with dip? Yeah. Go ahead and count me in for a face full of those! 😉
I think you'll love how easy these are and what a crowd pleaser they are, too! No one will realize they're keto, which makes them fun to serve at parties. I love serving guests my low carb goodies and they never even realize it. I just want to be like, "See? Low carb isn't so bad, is it?!"
Much like our other keto stuffed mushrooms, these are sure to be an instant hit with your family and friends.
Ingredient Notes: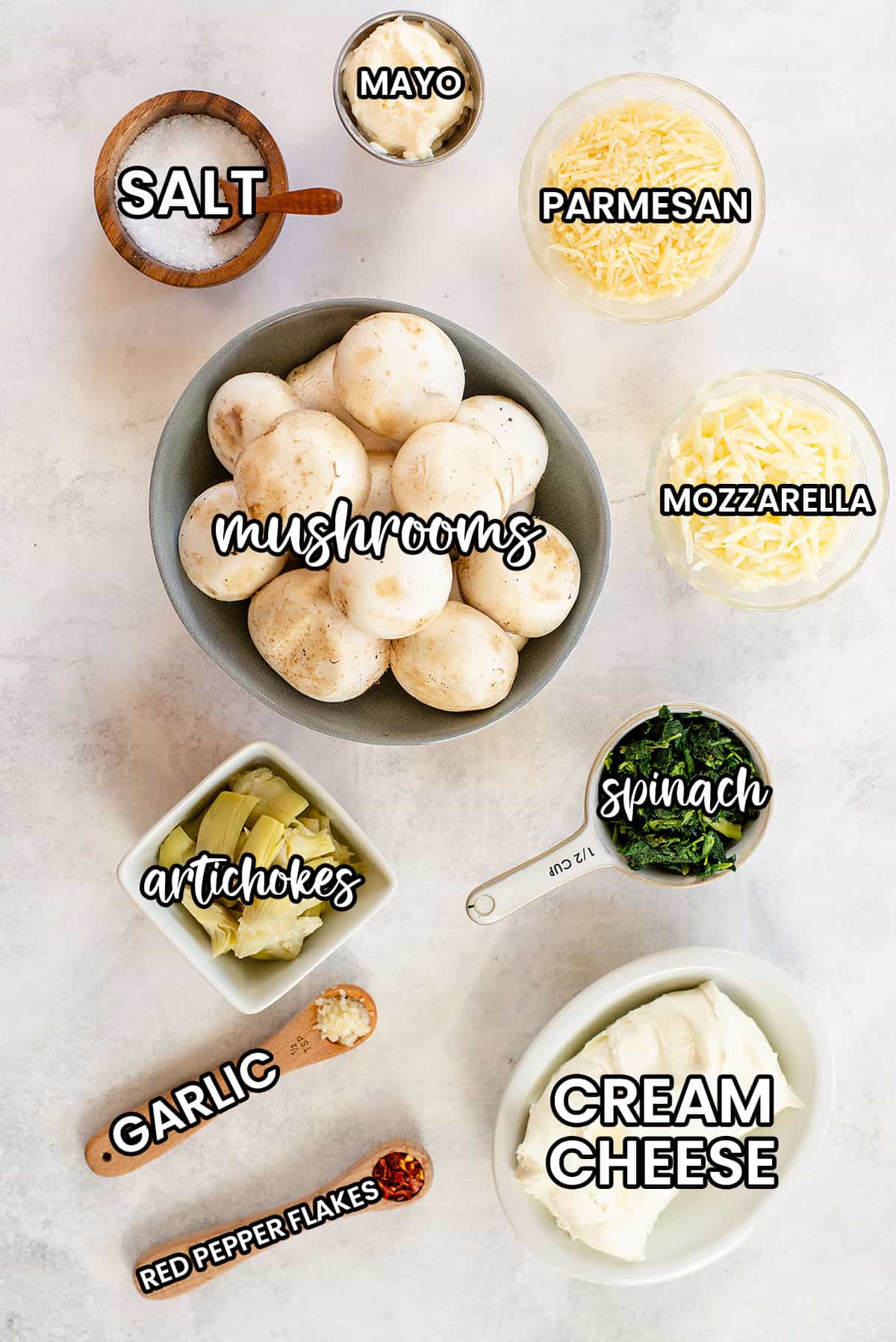 Mushrooms – We're using whole white mushrooms in this recipe. They're mildly flavored, easy to find in store, and the perfects shape for stuffing. Cremini mushrooms would also work for this recipe!
Spinach – I'm using frozen, chopped spinach that has been thawed and drained. Fresh spinach would likely work just fine, though we haven't tested it.
Artichoke Hearts – Keep thing simple and grab a can or jar of artichoke hearts from the store for this recipe. They'll get mixed up with the other creamy, cheesy ingredients for stuffing into the mushrooms!
Cream Cheese Filling – The artichoke hearts and spinach will get mixed up with cream cheese, mayonnaise, shredded parmesan and mozzarella cheese, garlic, salt, and crushed red pepper! This mixture is so flavorful and hard to resist.
Why We Love This Recipe:
These stuffed mushrooms are perfect for gatherings or parties!
They are so savory, creamy, and cheesy! Everyone loves them and asks for the recipe.
These are naturally low carb and easy to make.
Helpful Tools:
Our Favorite Hand Mixer
It's so easy to whip up dinner or dessert with this cute hand mixer. It'll simplify just about any baking recipe by keeping all that mixing quick and easy. A good electric hand mixer like this one is a must for any kitchen, and they don't take up much space. I've used this hand mixer for years and it's my favorite! Get it on Amazon.
How To Make Stuffed Mushrooms: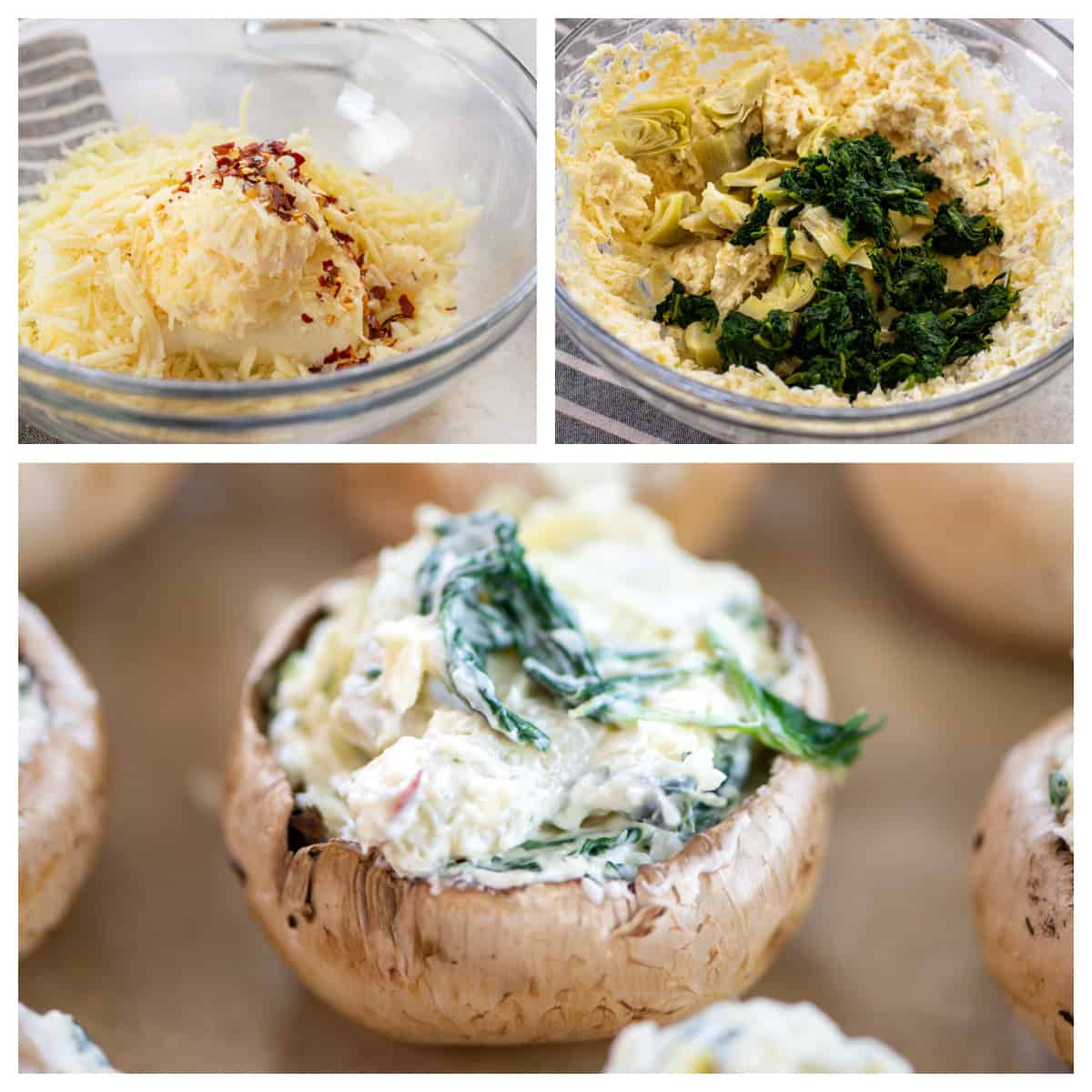 Mix – First you'll prepare the creamy, cheesy mixture that'll go into these keto stuffed mushrooms. Add the cream cheese, mayonnaise, shredded cheeses, garlic, salt, and red pepper to a mixing bowl. Use an electric mixer on medium speed to beat together all the ingredients until they are well combined.
Spinach & Artichoke – Now to add the veggies to the mix! Stir the artichoke hearts along with the spinach into the cream cheese filling. Continue to mix until the veggies are combined with the cheese to complete the spinach and artichoke stuffing.
Mushrooms – Wash the mushrooms and remove the stems. You can either discard the stems or save those for a different recipe. They'd be tast in our spaghetti squash casserole. Brush the outsides of the mushrooms with olive oil.
Stuff – Use a spoon to stuff each of the mushroom caps with the spinach and artichoke cream cheese filling.
Bake – Bake for 20-25 minutes on a parchment lined sheet.
Helpful Tip!
While we're pretty sure that our filling is the best, you could use prepared spinach artichoke dip from the store (just check the carbs!) to keep things even easier.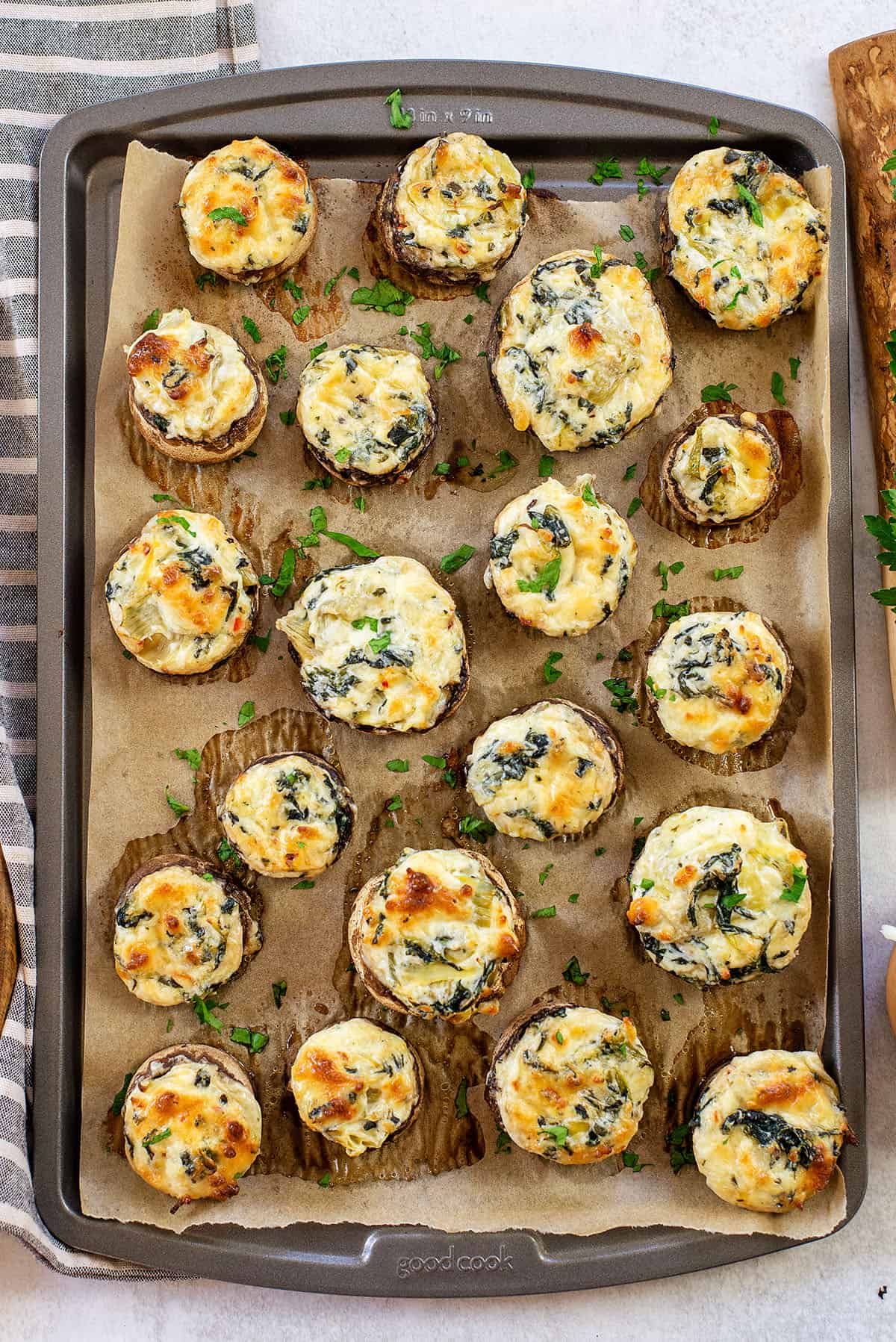 FAQ's:
Can you store stuffed mushrooms?
These cheesy spinach stuffed mushrooms should last for up to 4 to 5 days in an airtight container in the refrigerator.
Can you freeze stuffed mushrooms?
Yes! You can either prepare them and freeze them before baking, or freeze them after baking. First place them on a baking sheet and freeze for an hour or so before transferring them to a freezer bag. This will keep them from sticking together.
More Low Carb Appetizer Recipes:
More Savory Low Carb Mushroom Recipes: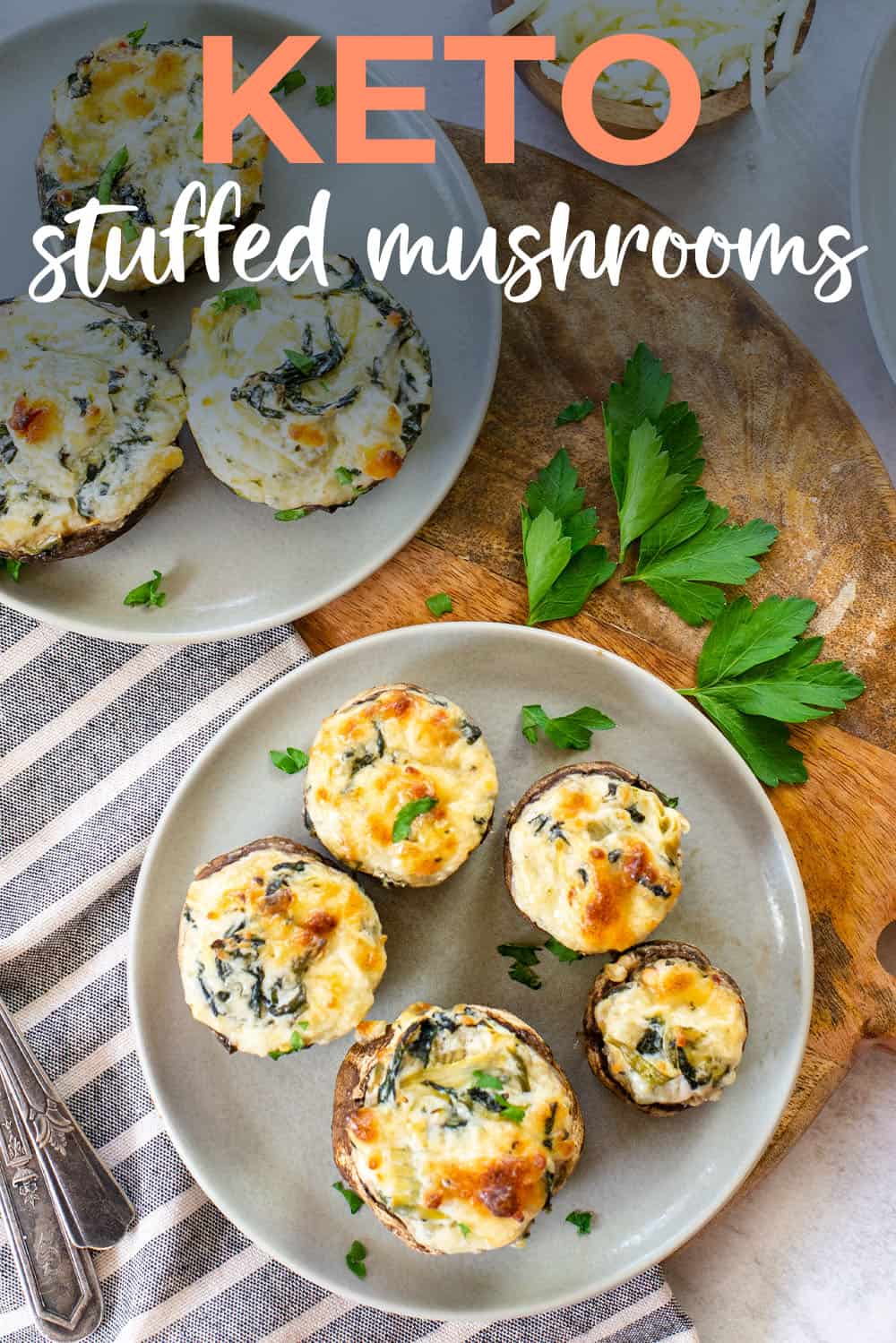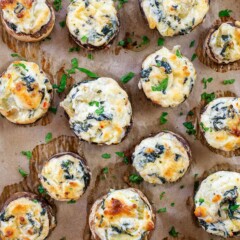 Spinach Stuffed Mushrooms
These cheesy spinach stuffed mushrooms make the perfect appetizer! Naturally low carb, full of flavor, and always a hit with friends and family.
Ingredients
8 ounces cream cheese, room temperature
1/4 cup mayonnaise
1/2 cup shredded Parmesan cheese
1/2 cup shredded mozzarella cheese
2 cloves garlic, minced
1/2 teaspoon salt
1/2 teaspoon crushed red pepper
4 ounces canned artichoke hearts, drained and chopped
1/2 cup frozen chopped spinach, thawed and drained
16 ounces white mushrooms
1 tablespoon olive oil
parsley, for garnish
Instructions
Preheat oven to 375 degrees.
In a large mixing bowl, combine the cream cheese, mayonnaise, Parmesan, mozzarella, garlic, salt, and red pepper.
Beat with a mixer on medium speed until well combined. Stir in the artichoke hearts and spinach.
Wash the mushrooms and remove the stems. Discard stems or save for another use.
Brush the outside of the mushrooms with olive oil.
Using a spoon, fill each mushroom cap with the filling.
Arrange the stuffed mushrooms on a baking sheet and bake for 20-25 minutes or until mushrooms are cooked through.
Sprinkle with parsley before serving.
Notes
We get about 20 mushrooms out of this recipe, but that number will vary a bit depending on the size of your mushrooms.
Nutrition Information:
Yield: 20
Serving Size: 1
Amount Per Serving:
Calories: 90
Total Fat: 8g
Saturated Fat: 3g
Trans Fat: 0g
Unsaturated Fat: 4g
Cholesterol: 15mg
Sodium: 175mg
Carbohydrates: 3g
Net Carbohydrates: 2g
Fiber: 1g
Sugar: 1g
Protein: 3g
All information and tools presented and written within this site are intended for informational purposes only. This information is provided as a courtesy and there is no guarantee that the information is accurate.