These Creamy Tuscan Mushrooms are prepared with garlic, butter, sun-dried tomatoes, and a creamy sauce with spinach for a fresh and healthy meal!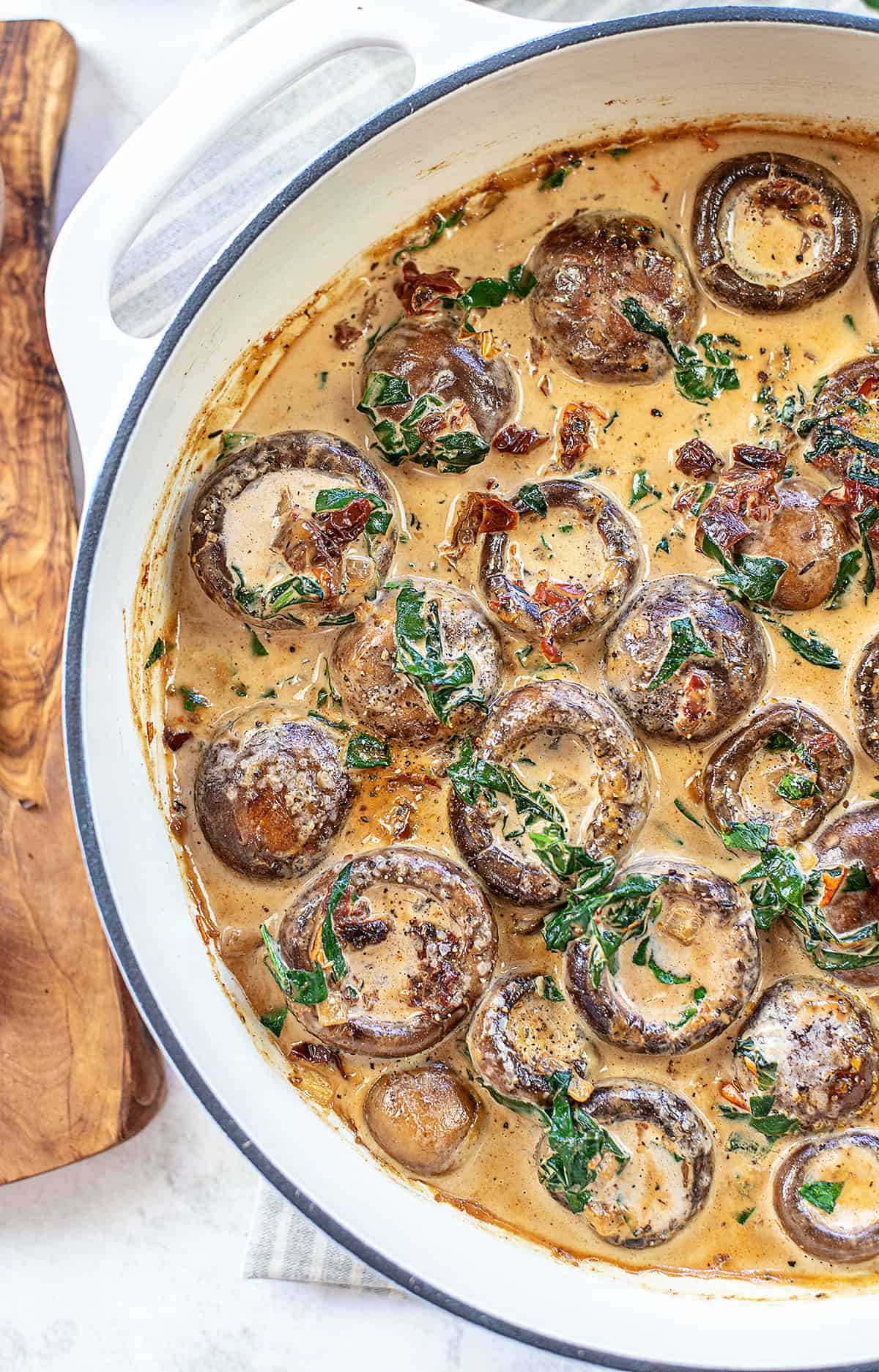 We've done it again – a recipe featuring the most delicious cream sauce that you may just want to eat with a spoon.
Actually, yeah…do we think this cream sauce can just be called soup? 😉 Seriously, though, that has my wheels turning…a creamy Tuscan chicken soup is now in the works!
In the meantime, let me turn you on to these delectable little mushrooms! Tender baby bellas, loads of garlic, plenty of that bright, poppy sun-dried tomato flavor, and a decadent creamy sauce to coat it all in. Oh, and spinach, to lighten things up and add in all those yummy nutrients.
Whether you serve these as a delicious vegetarian main dish (with cauliflower rice to soak up the extra sauce, obviously) or as a side dish with a juicy steak or piece of grilled chicken, these are sure to be a huge hit.
We've been on a mushroom kick lately, sharing recipes for our keto stuffed mushrooms (filled with sausage!) and our caprese stuffed mushrooms.
Ingredient Notes: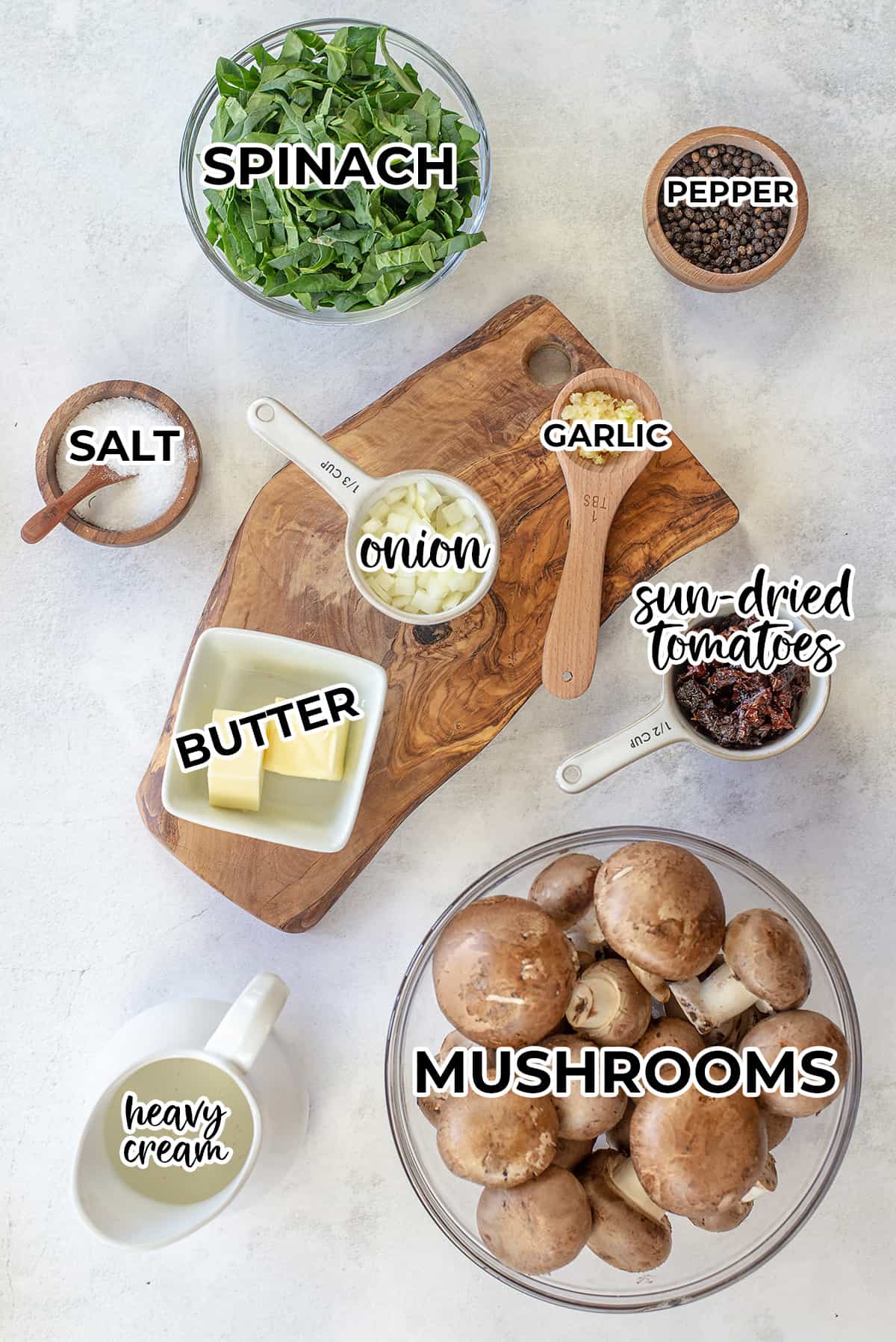 Mushrooms – We prefer baby bella mushrooms and their earthy, meaty flavor in this recipe. White mushrooms are a good substitute.
Sun-Dried Tomatoes – These little tomatoes pack a big punch of flavor. Bright and zippy, tangy and sweet, just all around delicious. Oil packed will work best here, but they were out when we photographed this recipe for you so we tested with dried tomatoes and those worked well too.
Spinach – My favorite veg to toss in foods. It doesn't have much flavor, but is nutrient dense.
Heavy Cream – This sauce may work with light cream or half and half, though we've only tested the recipe with heavy cream and that's what we recommend for the richest, thickest, most decadent sauce.
Why We Love This Recipe:
The sun-dried tomatoes pack an amazing punch of flavor in this recipe, along with the garlic and onion.
The cream sauce is high in fat, which makes it very satisfying and great for keto.
Ready in about 25 minutes!
This dish is versatile and can be served as a main course or a side.
How To: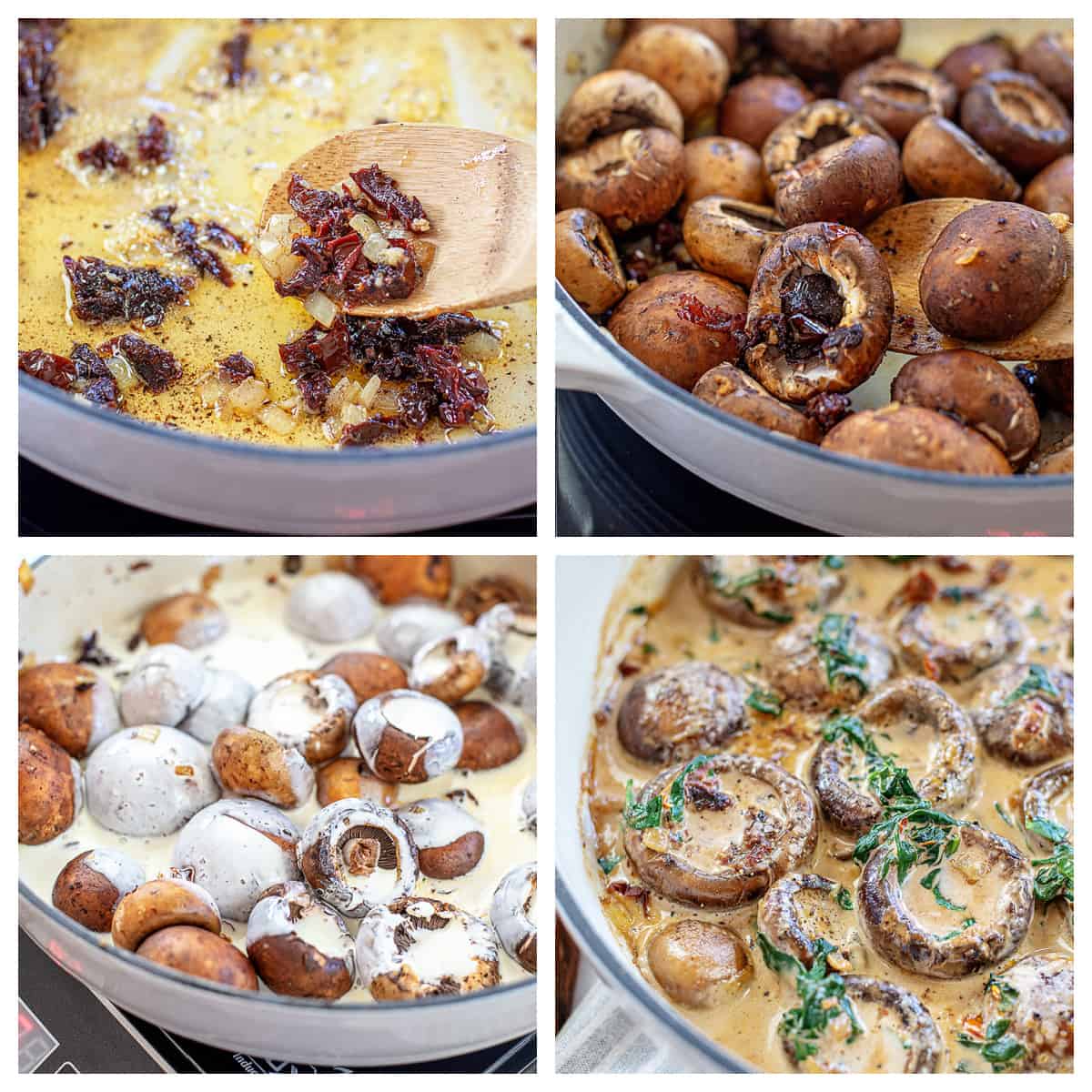 Prepare – To get started you can rinse and dry the mushrooms and remove any debris. Next heat up some butter in a skillet until melted and then add in the diced onions. Let those cook for about five minutes or until they've softened, and then add in the chopped sun-dried tomatoes and minced garlic. Stir all those together and cook for another couple minutes.
Mushrooms – You can now go ahead and add in the baby bella mushrooms! You'll want to stir these often with the other ingredients while cooking. Let it all cook for another five minutes or so before moving on to making the sauce.
Creamy Sauce – To turn this into a creamy Tuscan mushroom dish go ahead and pour in the heavy cream! Let it cook, stirring often, for another two to three minutes before adding in the chopped spinach. Stir it all up well and let it cook over low heat until the spinach has wilted and the sauce has slightly thickened, about 3 minutes.
Helpful Tip!
If your sauce has thickened more than you'd like, just stir in a splash more of cream. If your sauce is too thin, just cook it a bit longer to let it thicken up.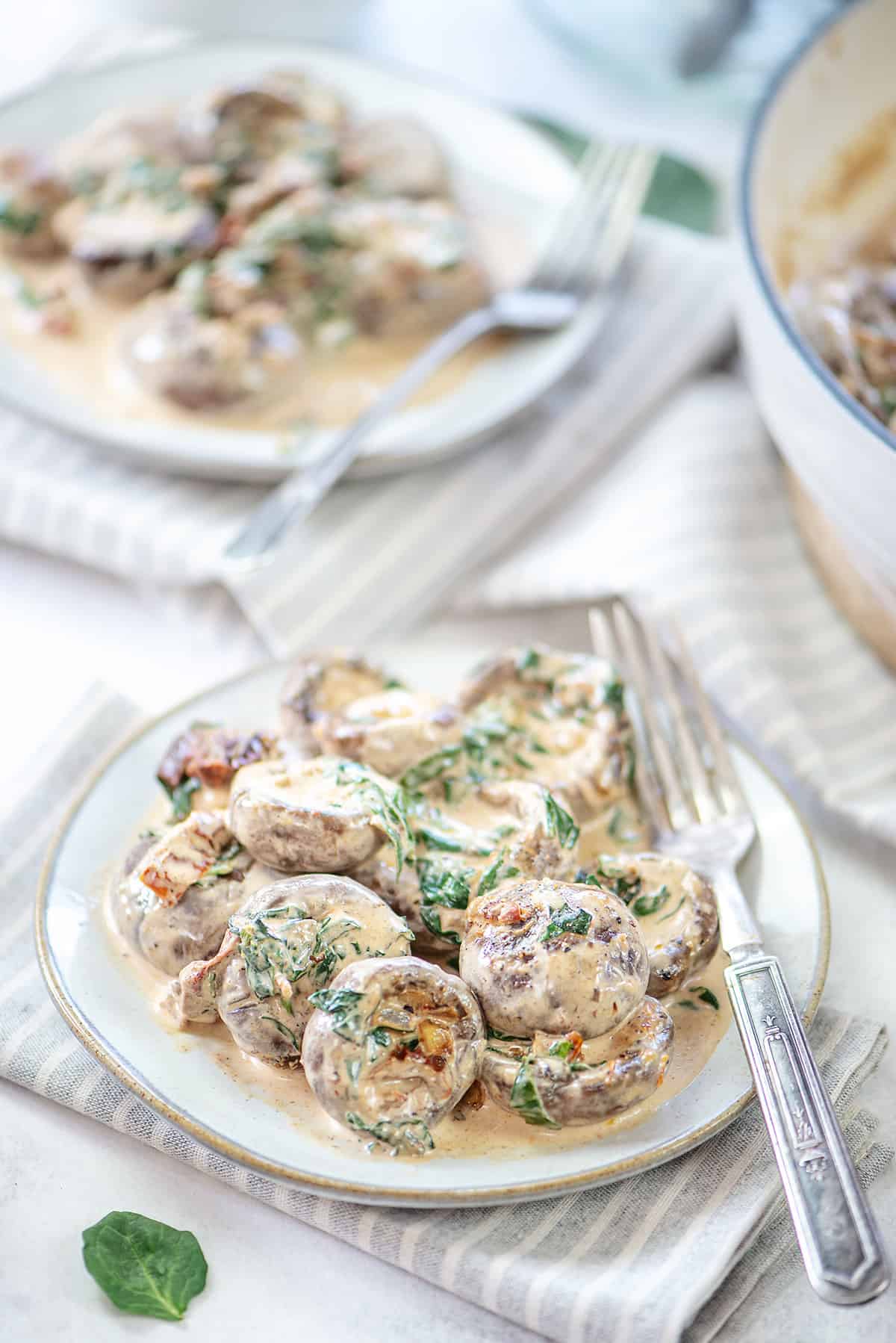 Make It Your Own:
Spice things up by sprinkling in some red pepper flakes, to taste.
Add Italian seasonings, such as thyme or oregano, to suit your tastes.
If you have picky eaters, leave out the onions entirely.
Dry packed sun-dried tomatoes work just as well as oil-packed, if that's what you have on hand.
Serving Suggestions:
These Creamy Tuscan Mushrooms can be served as a main dish or as a side dish! We love the versatility!
As a side, we love to serve them alongside:
FAQ's:
How to store creamy Tuscan mushrooms?
These creamy mushrooms should last for about 2 to 3 days in the refrigerator if they are stored in an airtight container. Unfortunately, these mushrooms will not freeze well.
How to clean mushrooms?
As with most vegetables you should rinse mushrooms before use, and clean out any debris or dirt. Give them a quick rinse and pat them dry right before cooking. Alternately use a soft bristled damp brush and brush any debris off the mushrooms.
More Creamy Low Carb Recipes: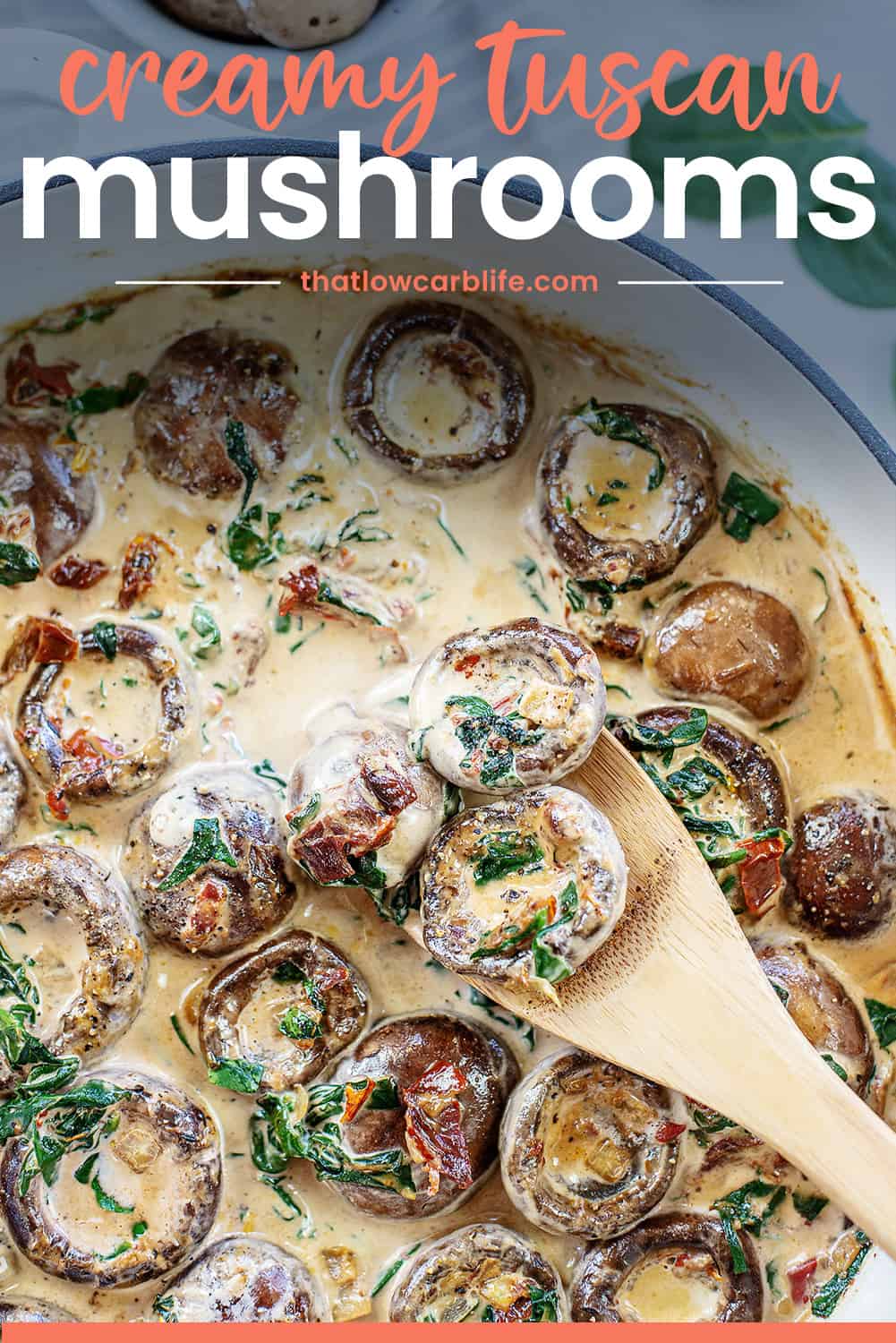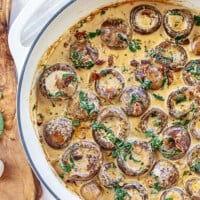 Creamy Tuscan Mushrooms
These creamy Tuscan mushrooms pack in loads of flavor thanks to those sun-dried tomatoes. This recipe serves 6 as a side dish or 3-4 as a main dish, depending on how big of eaters you have.
Ingredients
1 ½ pounds baby portobello mushrooms
2 tablespoons butter
¼ cup diced yellow onion
½ cup chopped oil-packed sun-dried tomatoes
2 cloves garlic, minced
1 cup heavy cream
2 cups chopped spinach
Salt and pepper, to taste
Instructions
Rinse and pat dry the mushrooms, removing any debris.
Heat a large, heavy bottomed skillet over medium heat. Add the butter to the skillet.
When the butter has melted add the onion and cook for 5 minutes, stirring often, to soften onions.
Add the sun-dried tomatoes and garlic and cook for 2-3 minutes.
Add the mushrooms to the skillet and cook, stirring often, about 5 minutes.
Add the heavy cream to the pan and let cook for 1-2 minutes to warm through.
Add the spinach and stir well. Continue cooking over low heat until spinach has wilted and sauce has thickened slightly, about 3 minutes.
Season with salt and pepper, to taste and serve hot.
Notes
We prefer baby bella mushrooms in this recipe, but white mushrooms also work.
We keep things simple and let the flavors of the sun-dried tomatoes and garlic shine though, but you could stir in Italian seasoning or fresh basil, if you'd like. A sprinkle of red pepper flakes will add a bit of spice to the dish as well.
We serve this a side dish to steak or chicken most often, but it could also work well as a vegetarian main dish. The cream sauce and mushrooms are quite filling and satisfying.
Nutrition Information:
Yield: 6
Serving Size: 1
Amount Per Serving:
Calories: 241
Total Fat: 20g
Saturated Fat: 12g
Trans Fat: 1g
Unsaturated Fat: 7g
Cholesterol: 55mg
Sodium: 170mg
Carbohydrates: 12g
Net Carbohydrates: 7g
Fiber: 5g
Sugar: 4g
Protein: 7g
All information and tools presented and written within this site are intended for informational purposes only. This information is provided as a courtesy and there is no guarantee that the information is accurate.