This creamy Tuscan chicken soup is made with shredded chicken, sun-dried tomatoes and tender veggies simmered in a creamy broth with spinach! This soup packs a flavor punch!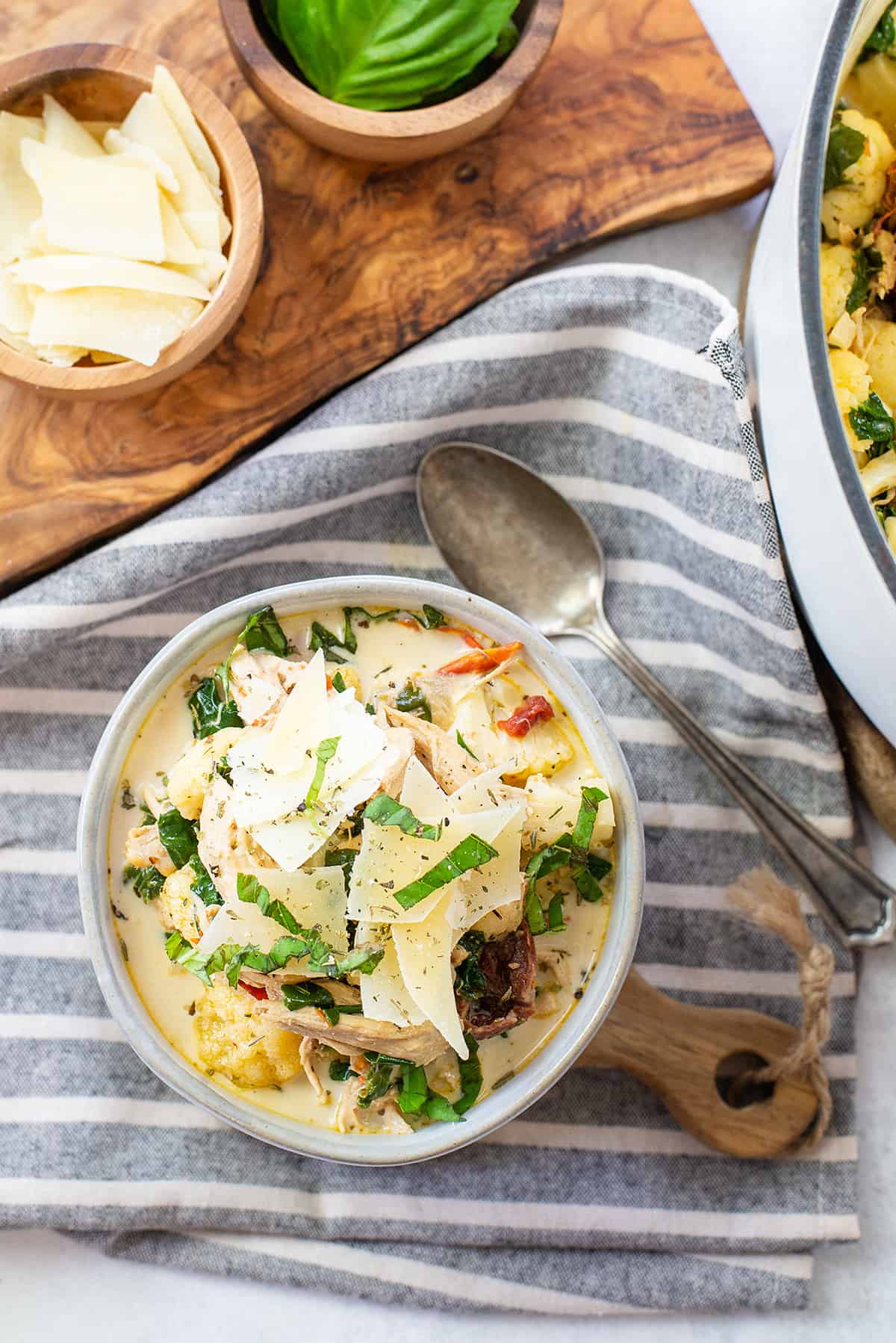 Soup Season is upon us and I am here for it!
I love curling up with a cozy bowl of soup – hearty and savory and cozy and comforting! What's not to love about that?
We have quite a few soup recipes here on the site, including our favorite Bacon Cheeseburger Soup and Chicken Taco Soup!
This particular soup, rich and creamy with a punch of flavor from the sun-dried tomatoes, is actually a riff on our ever popular Creamy Tuscan Chicken recipe. Every time I tell people about that recipe, I tell them that the sauce is so good I could drink it.
Finally had an ah-ha! moment and turned it into a soup so that I could happily slurp that sauce without feeling like a weirdo. 😉
And, of course, this is a keto tuscan soup, so you can feel good about serving it up, with just 4 net carbs per cup of soup!
👩‍🍳 Ingredients for Keto Tuscan Soup:
This post contains affiliate links. As an Amazon associate and member of other affiliate programs, I earn from qualifying purchases.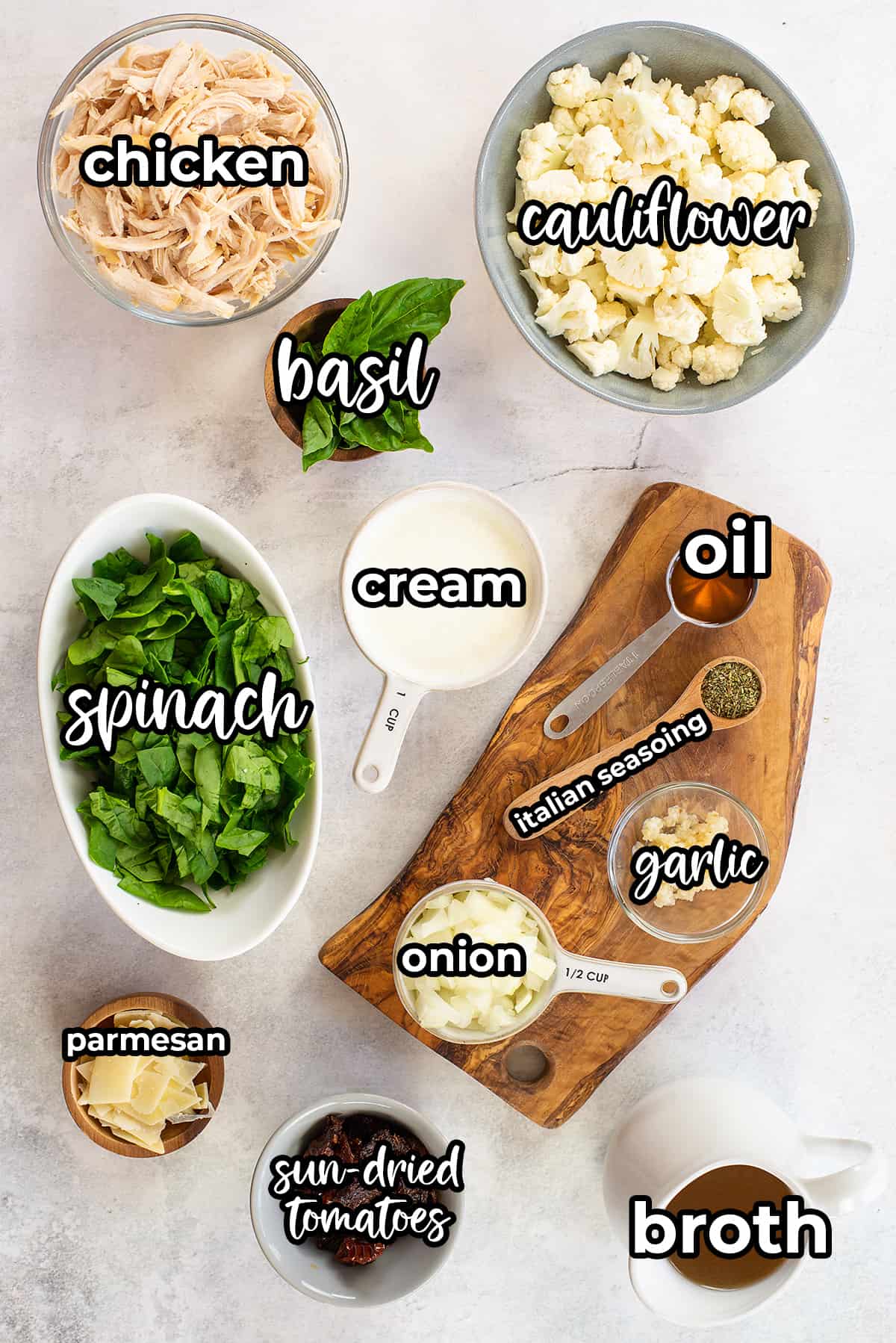 Shredded Chicken – I'm using precooked, shredded chicken in this recipe. We've always got some ready to go in the fridge for recipes just like this one. Follow the link for an easy crockpot recipe to make the chicken ahead of time! A rotisserie chicken will also work well!
Sun-Dried Tomatoes – These little tomatoes pack a big punch of flavor. Bright and zippy, tangy and sweet, just all around delicious. Use the oil packed kind and reserve a tablespoon of the oil. You're going to cook up some of the other ingredients in it for lots of flavor!
Veggies – This creamy Tuscan chicken soup is loaded spinach, cauliflower, garlic, and diced onion.
Chicken Broth – The liquid for this soup is mostly coming from the chicken broth, which is the perfect base to simmer all these ingredients in.
Heavy Cream – We're going for a creamy chicken soup and that's what you'll get by adding in some heavy cream. It'll also help thicken it up just a bit!
Seasoning – You'll season the creamy Tuscan soup with some Italian seasoning, salt, and pepper. We also like to serve it with some chopped basil and shaved parmesan!
Why We Love This Recipe:
Sun-dried tomatoes pack in a serious flavor punch that is hard to resist! They flavor the whole soup!
This soup is rich and creamy, tasting like it simmered for hours, but it's actually ready in less than 45 minutes.
We love using up our leftover salad veggies (spinach) and the cauliflower that was nearly forgotten about in the crisper in this soup. It's an easy way to bring life to veggies that we weren't super excited about in the first place. 😉
Our Favorite Dutch Oven!
This heavy duty Dutch oven is made with enameled cast iron in classic white. It's held up to years of abuse in my home and still looks brand new. Plus, it's a lot more economical than some of the more well known brands! Get it on Amazon.
How To Make Tuscan Soup: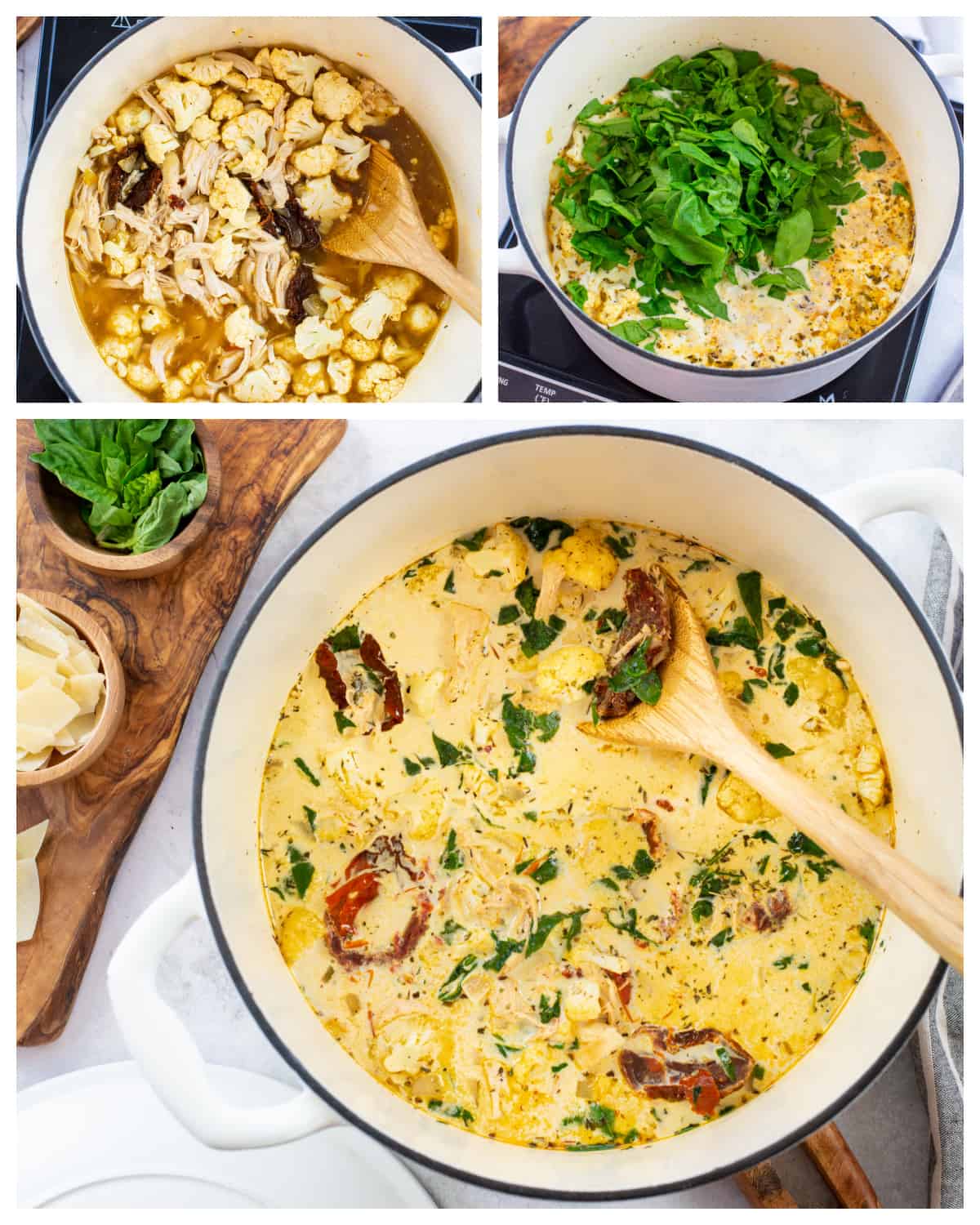 Sauté – Heat the oil from the jar of tomatoes in your pot and then saute those onions. Once soft, stir in the chopped tomatoes and garlic and cook for another minute or so. This is going to seriously amp up the flavor of this Tuscan chicken soup!
Simmer – Add the chicken broth, chicken, cauliflower and seasoning and simmer your soup, covered, for about 10 minutes. You want the cauliflower nice and tender here.
Finish – Finally you can stir in the heavy cream and the spinach and continue cooking until the spinach has wilted and the soup is creamy. Dish it up with some chopped basil and shredded Parmesan on top.
Helpful Tip!
If you're starting with fresh chicken breasts that are not yet cooked, simmer them with the tomatoes, onions, and garlic for 15-20 minutes or until they easily shred apart and then stir in the cauliflower and continue cooking as the recipe directs.
FAQ's:
How to store Tuscan chicken soup?
You can keep this creamy soup in an airtight container in the refrigerator for about 4-5 days! It should reheat well on the stove or in the microwave.
Can you freeze Tuscan chicken soup?
Yes! This soup should last frozen for a few months in a freezer safe bag, though the cauliflower might be a bit more mushy/soft after thawing and reheating.
More Low Carb Italian Recipes: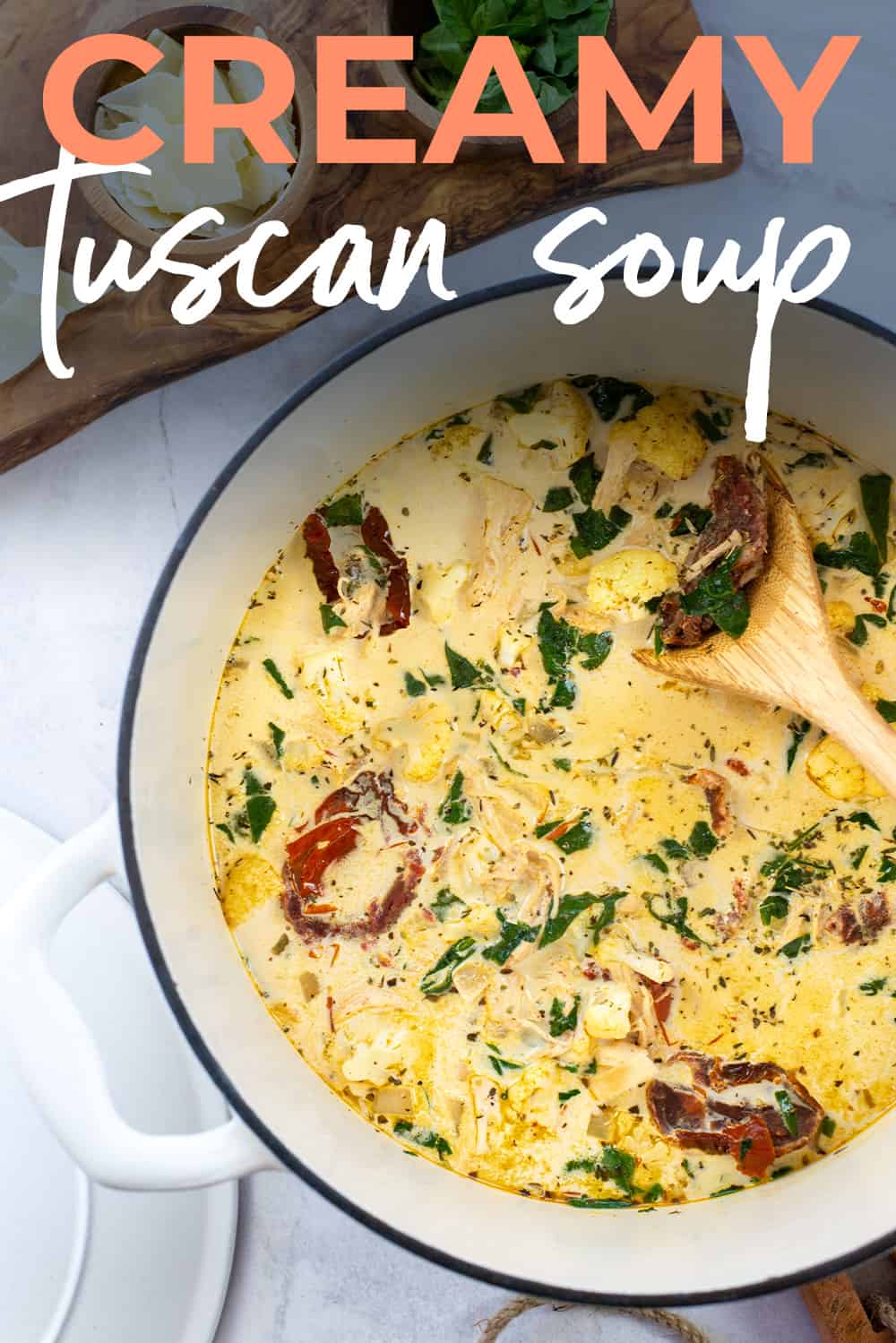 Creamy Tuscan Chicken Soup
Our Tuscan Chicken Soup is packing major flavor thanks to the sun-dried tomatoes! This rich, creamy soup is perfect for a chilly night and is ready in less than 45 minutes.
Ingredients
1 tablespoon oil from jar of sun-dried tomatoes
½ cup diced onion
½ cup chopped oil-packed sun-dried tomatoes, drained
3 cloves garlic, minced
4 cups chicken broth
2 cups cooked, shredded chicken
2 cups chopped cauliflower
1 teaspoon Italian seasoning
1 cup heavy cream
2 cups fresh chopped spinach
Salt and pepper, to taste
Shaved parmesan, for serving
Chopped basil, for serving
Instructions
Add the oil to a large dutch oven or stock pot and heat over medium heat. Add the onions and cook until softened, about 5 minutes.
Stir in the sun-dried tomatoes and garlic and cook for 1 minute.
Add the chicken broth, chicken, cauliflower, and Italian seasoning and stir to combine.
Bring to a boil, reduce to a simmer, and cook for 10 minutes or until cauliflower is as tender as you'd like.
Stir in the cream and spinach and cook until spinach has wilted, about 5 minutes.
Ladle into bowls and serve topped with shaved parmesan and chopped basil.
Notes
We prefer sun-dried tomatoes that are packed in oil WITHOUT the Italian herbs. If you purchase them with Italian herbs, you can reduce or omit the Italian seasoning or just add to taste towards the end of cooking the soup.
If your tomatoes do not come pre-chopped, you'll want to dice them up into small pieces.
To make this with fresh chicken breasts rather than already cooked and shredded chicken, add the chicken breasts as directed in step 3, but do not add the cauliflower. Simmer for 15 minutes or until the chicken easily shreds apart. Shred the chicken and then add the cauliflower and continue with step 4.
Nutrition Information:
Yield: 8
Serving Size: 1 cup
Amount Per Serving:
Calories: 205
Total Fat: 16g
Saturated Fat: 8g
Trans Fat: 0g
Unsaturated Fat: 7g
Cholesterol: 52mg
Sodium: 215mg
Carbohydrates: 5g
Net Carbohydrates: 4g
Fiber: 1g
Sugar: 2g
Protein: 8g
All information and tools presented and written within this site are intended for informational purposes only. This information is provided as a courtesy and there is no guarantee that the information is accurate.