This low carb creamy Cajun chicken recipe features pan seared chicken breast and veggies coated in Cajun seasoning with a rich, creamy sauce!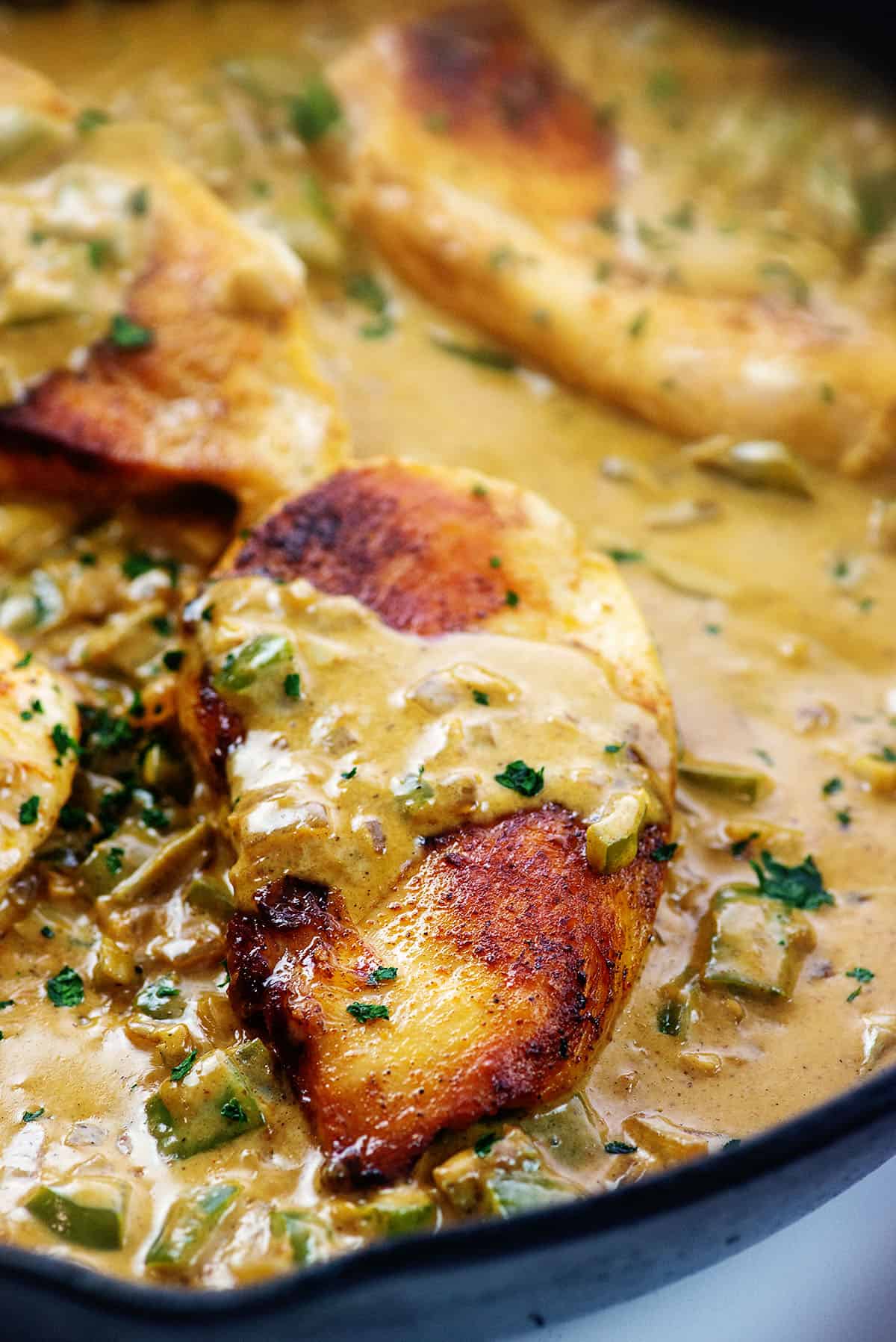 Tender chicken, a creamy sauce, and a little kick of Cajun seasoning…what more do you need at dinner time?!
This creamy Cajun chicken is a one skillet dinner that I am obsessed with! For such a simple recipe, it really packs in loads of flavor. An of course anything with a cream sauce is going to be super satisfying!
This recipe is a riff on our creamy lemon chicken and keto Tuscan chicken.
I love taking recipes that are already popular with you guys (like the two above) and putting a little spin on them. It just makes an old favorite into something new and fresh!
Ingredient Notes:
This post contains affiliate links. As an Amazon associate and member of other affiliate programs, I earn from qualifying purchases.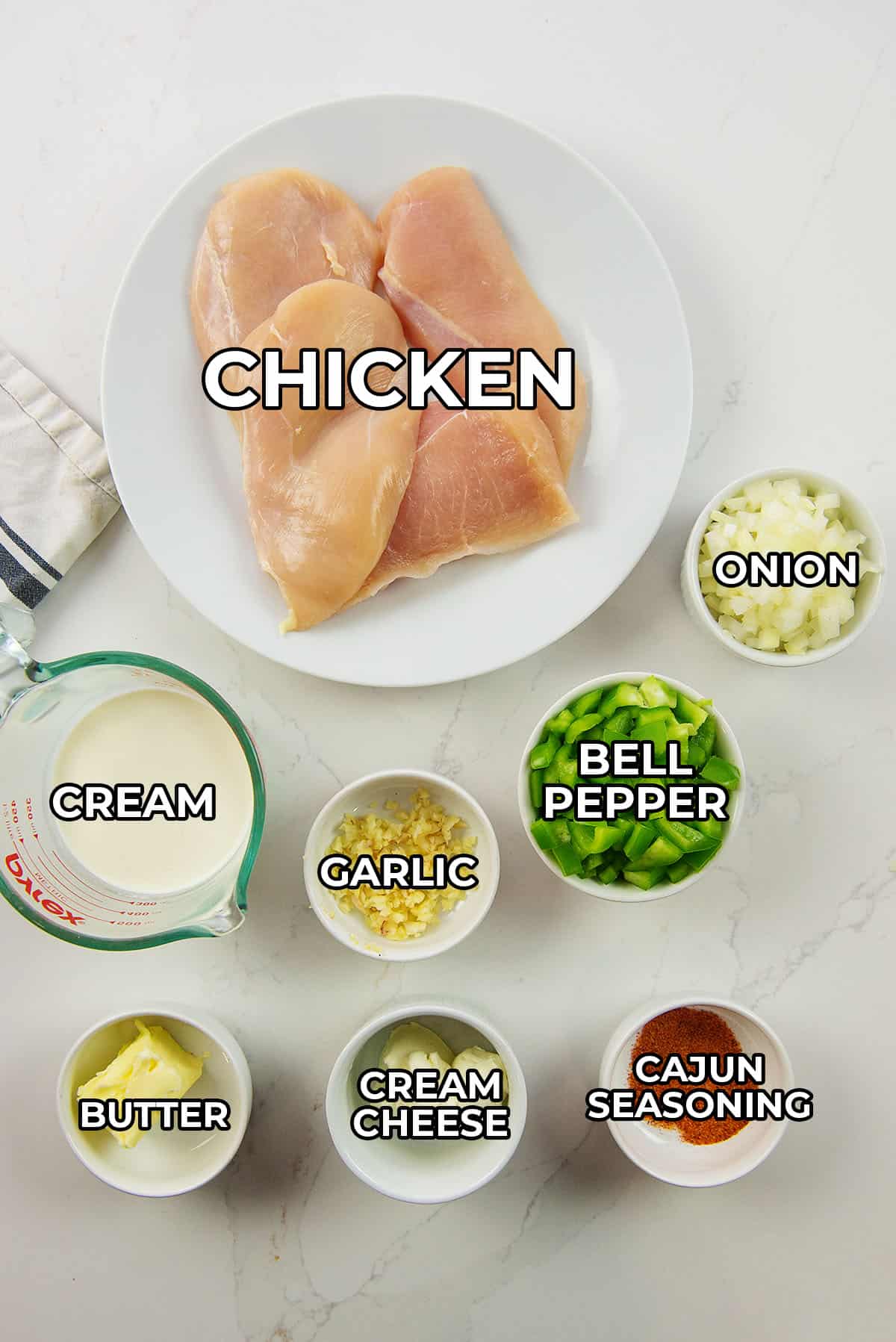 Chicken – I like to use thinly sliced chicken breasts in this recipe. You can use thicker breasts, but make sure to pound them out to an even thickness so they all cook at the same rate.
Cajun Seasoning – You can use any brand of Cajun or Creole seasoning you like as long as you've confirmed that it is low carb, but I would highly recommend this Cajun/Creole seasoning blend.
Veggies – You'll need some bell pepper and a yellow onion for this recipe. I used green bell peppers but it's okay to use any color that you prefer! You'll also need a couple cloves of minced garlic.
Cream – You'll melt together some heavy cream and cream cheese to prepare the creamy cheese sauce for this Cajun chicken!
Why We Love This Recipe:
I'll take just about any reason to use my favorite Cajun seasoning. It goes great on everything, but especially on chicken!
The rich, creamy cheese sauce is also pretty amazing. It's simple to make and it adds in loads of flavor with plenty of good fats from the heavy cream and cheese.
How To:
Season – To begin you'll need to season the chicken breasts with the Cajun seasoning. This is pretty simple, just sprinkle it on the chicken and start rubbing it in until it has been fully coated in the spices.
Chicken – When you've finished coating the chicken in the Cajun seasoning you can start frying them up in a skillet with a little butter. It'll take about five minutes per side or until the chicken has fully cooked through and is safe to eat. Remove the chicken from the skillet and set it aside.
Vegetables – Add some more butter to the skillet and heat until it has melted and then add in the bell pepper and onion. Sprinkle some more of the Cajun seasoning on the pepper and onion to add some extra flavor! Cook, stirring occasionally, until the vegetables have softened. Finally stir in the garlic and cook for another minute.
Cream – To turn this into a creamy Cajun chicken recipe go ahead and add the heavy cream and the cream cheese to the skillet with the vegetables. Let it melt together over low heat, stirring often, until it forms a thick creamy cheese sauce! Give it a taste and if you want even more Cajun flavor you can sprinkle a little extra in with the sauce; just be sure to not overdo it!
Combine – Once you've finished preparing the creamy cheese sauce mixed with the vegetables you can return the cooked Cajun chicken breasts to the skillet with the sauce and stir until the chicken has been fully coated.
Helpful Tip!
Let the sauce cook for a few minutes to thicken up before you add the chicken back to the skillet.
Want it to be even creamier and cheesier? Try adding in some grated Parmesan cheese to the cheese sauce mix!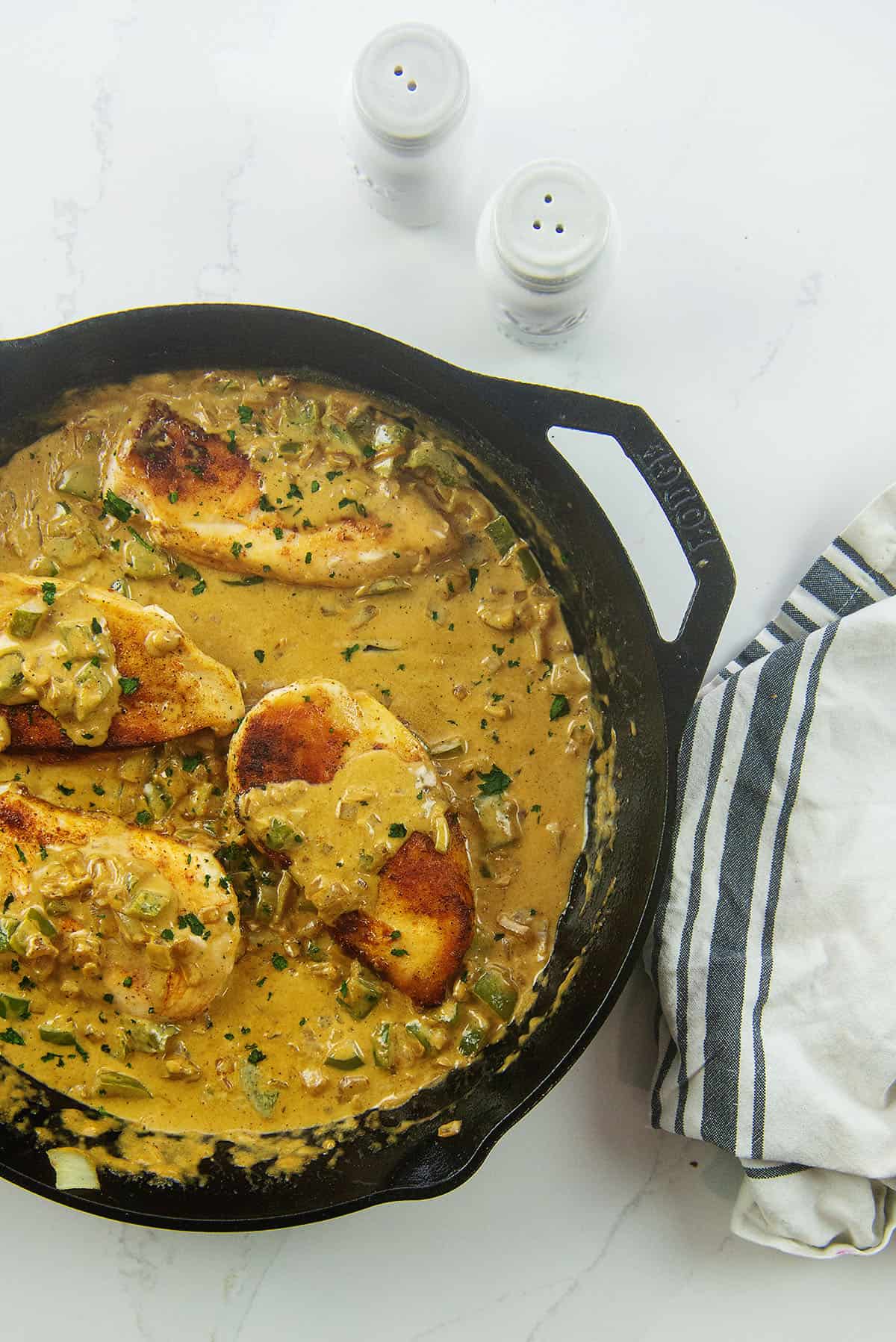 FAQ's:
Can I store this creamy Cajun chicken?
Yes, the chicken will last in the refrigerator for about 3 to 4 days if well sealed. I've never tried freezing this recipe.
What is Cajun seasoning?
Cajun seasoning is a blend of salt and other spices, like paprika, garlic powder, onion powder, and cayenne, that has a bit of a kick to it. Many blends are quite salty, so you'll want to taste the seasoning and be careful about adding any extra salt to the dish.
More Creamy Low Carb Recipes!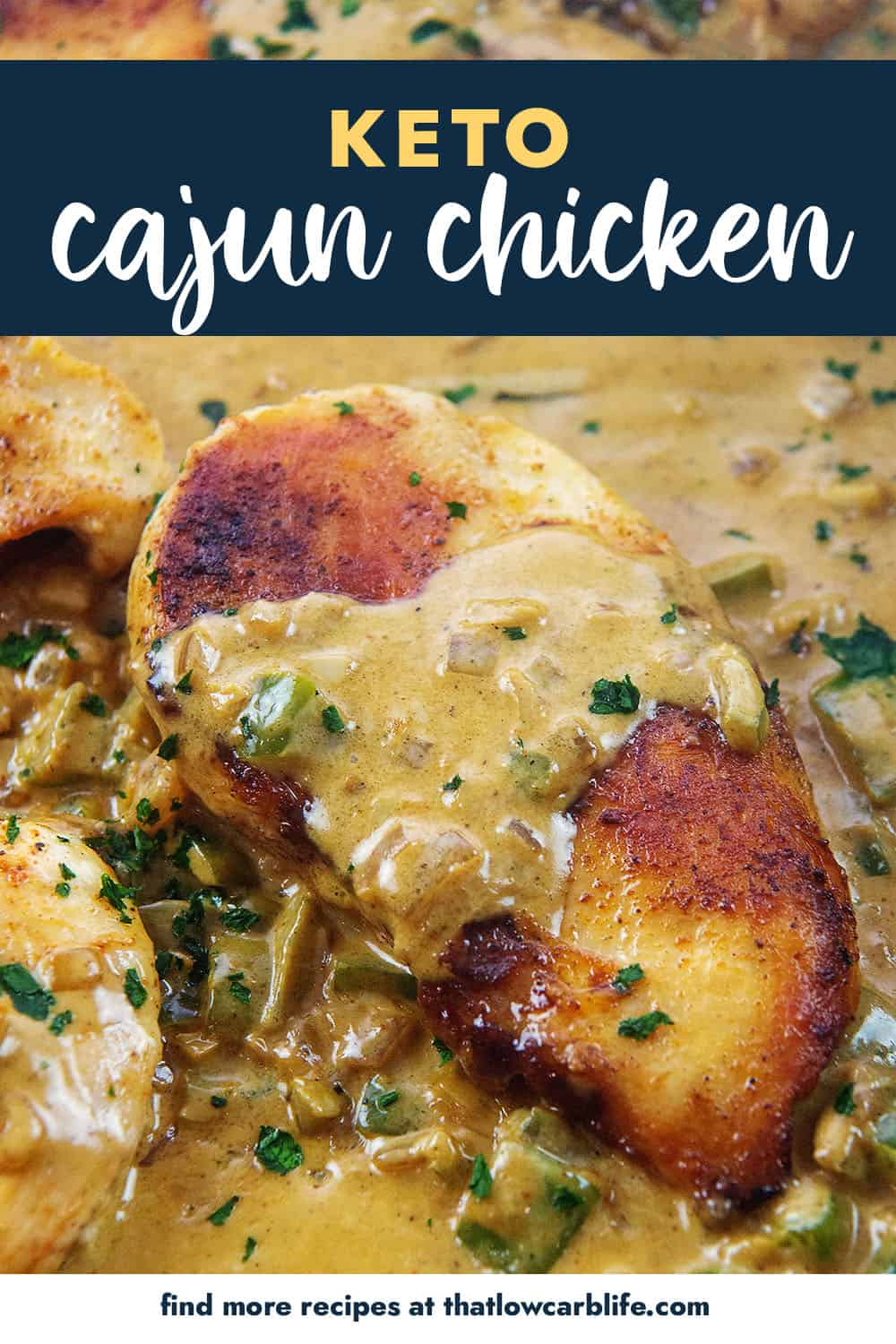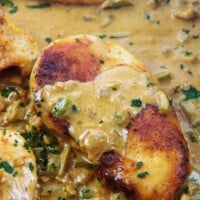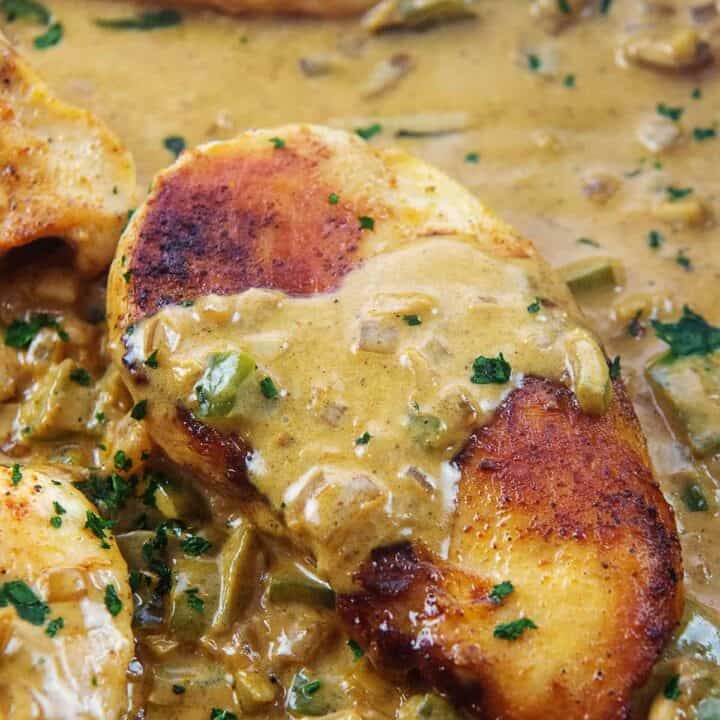 Creamy Cajun Chicken
This one skillet chicken recipe is seasoned with Cajun seasonings and cooked in a rich, creamy sauce.
Ingredients
4 thin sliced chicken breasts
2 teaspoons Cajun seasoning, divided
3 tablespoons butter, divided
½ yellow onion, diced
1 green bell pepper, diced
2 cloves garlic, minced
1 cup heavy cream
2 tablespoons cream cheese
Instructions
Sprinkle 1 teaspoon of the Cajun seasoning over the chicken breasts and rub to coat the chicken in the seasoning.
Heat a large, heavy bottomed skillet over medium heat. Add 2 tablespoons of butter to the skillet.
When the butter has melted add the chicken breasts and cook 5 minutes per side or until cooked through.
Remove the chicken to a plate and set aside.
Add the remaining butter to the skillet and melt.
Add the onion and pepper to the skillet and sprinkle with the remaining Cajun seasoning. Stir to coat.
Cook, stirring occasionally, until vegetables have softened, about 5 minutes. Stir in the garlic and cook for 1 minute more.
Add the heavy cream and cream cheese to the pan and stir well to melt the cream cheese. Let the sauce cook for 5 minutes to thicken over low heat.
Return the chicken to the skillet and coat with the sauce.
Serve immediately.
Notes
Some Cajun seasonings are quite salty and others are not. Taste your seasoning blend and adjust accordingly. We use and love Tony's seasoning.
Nutrition Information:
Yield: 4
Serving Size: 1
Amount Per Serving:
Calories: 517
Total Fat: 37g
Saturated Fat: 22g
Trans Fat: 1g
Unsaturated Fat: 12g
Cholesterol: 199mg
Sodium: 737mg
Carbohydrates: 6g
Net Carbohydrates: 5g
Fiber: 1g
Sugar: 4g
Protein: 40g
All information and tools presented and written within this site are intended for informational purposes only. This information is provided as a courtesy and there is no guarantee that the information is accurate.