This Creamy Tuscan Shrimp Recipe is a quick and flavorful dinner that packs so much flavor thanks to the cream sauce loaded with sun-dried tomatoes and garlic. Serve as is or over zucchini noodles or even atop a pile of steamed broccoli!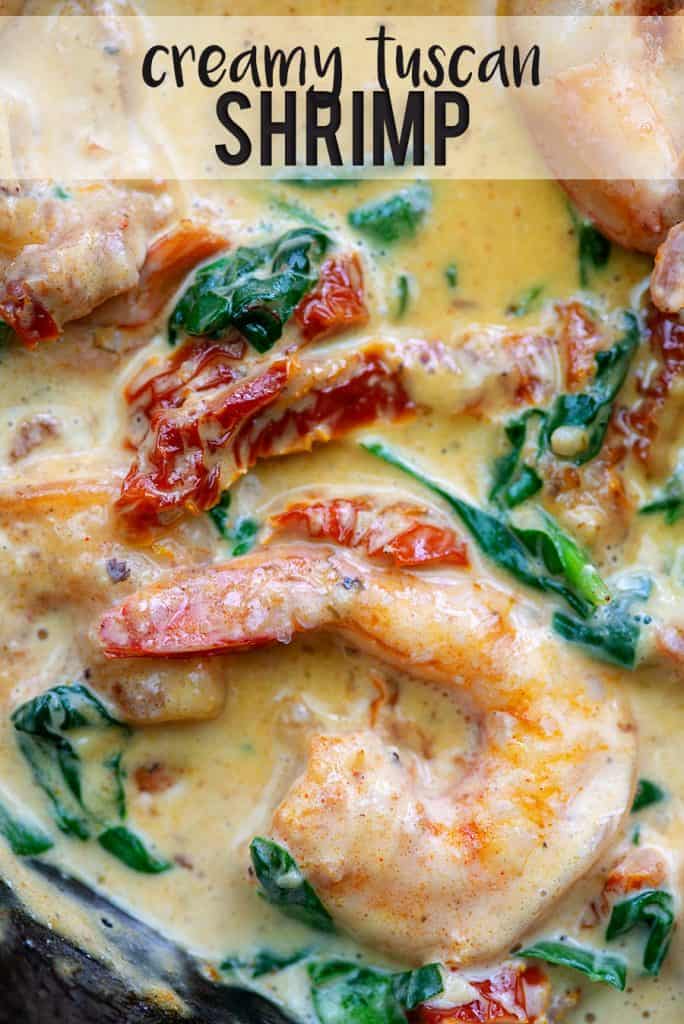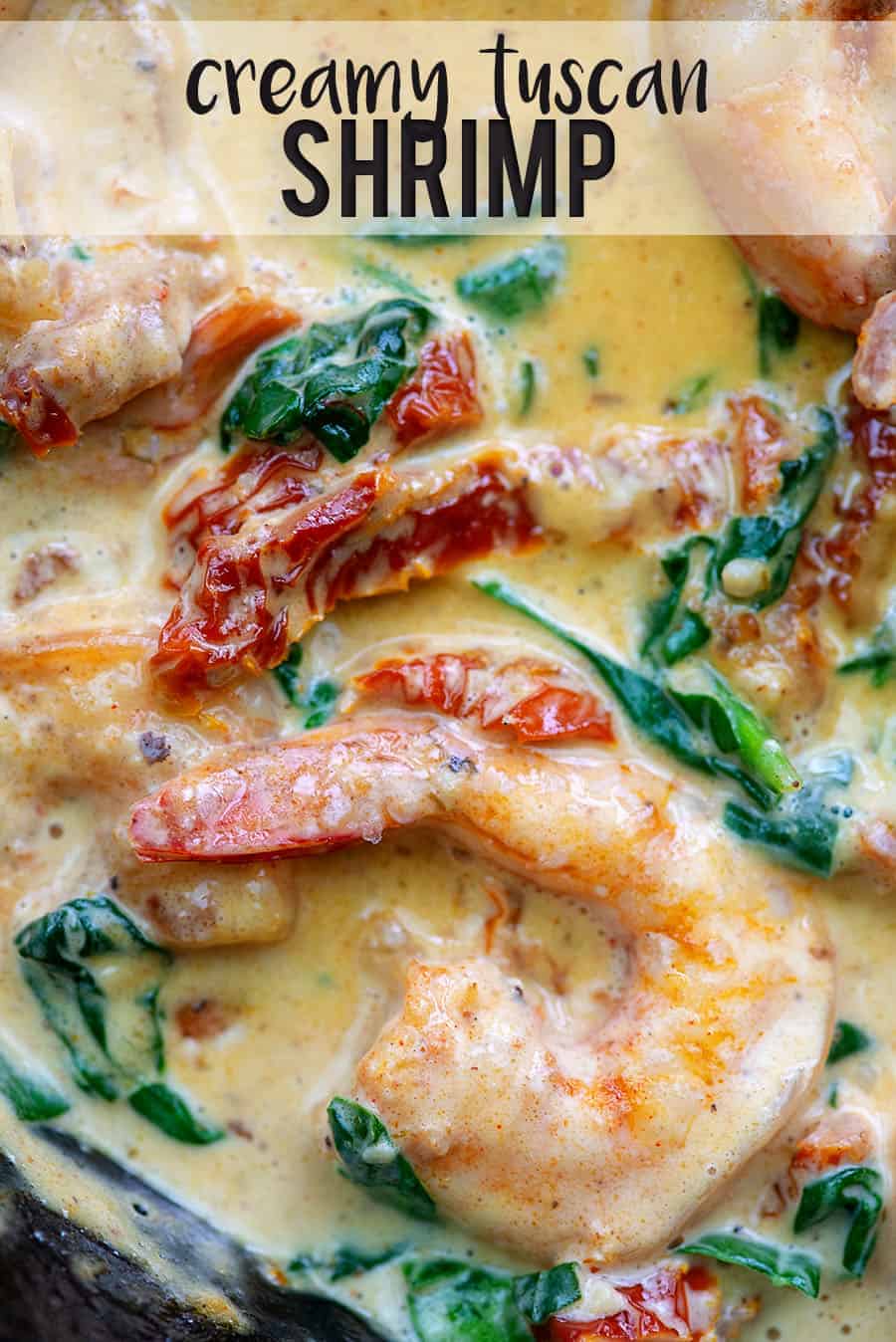 Lately, I've been craving sun-dried tomatoes. There is so much flavor packed into such a tiny little piece of tomato goodness.
I could honestly eat sun-dried tomatoes like candy! So sweet and bright and tangy and vibrant. Hard to resist, if you ask me!

They can be a bit carby, but luckily, you don't need a ton of sun-dried tomatoes to add loads of flavor to a dish – like this creamy Tuscan shrimp.
This skillet shrimp recipe is low carb, family friendly, and it's ready in about 15 minutes. I love quick dishes like this that taste like they were so much work and took you hours to prepare.
Let's make this!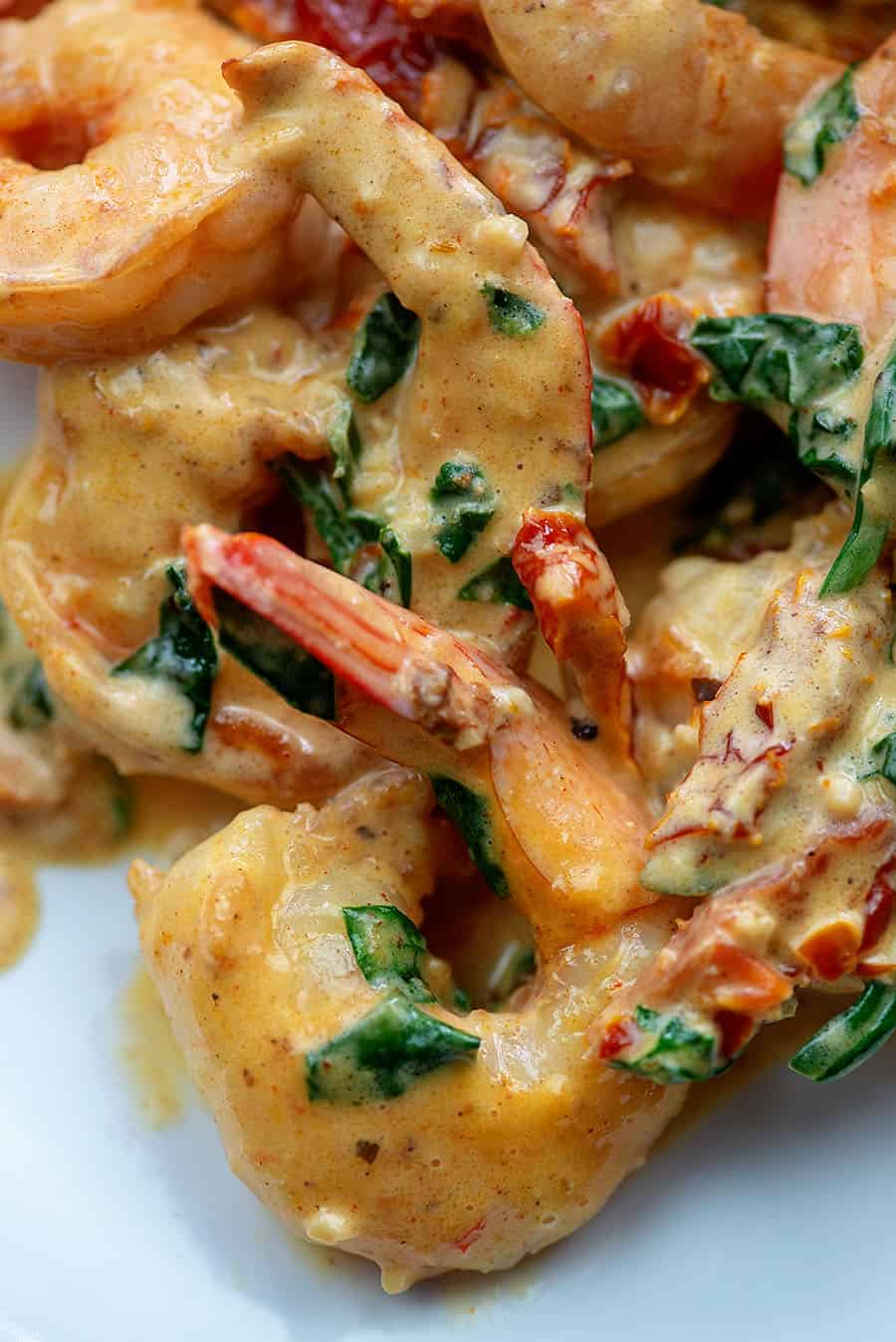 Ingredient Notes:
This post contains affiliate links. As an Amazon associate and member of other affiliate programs, I earn from qualifying purchases.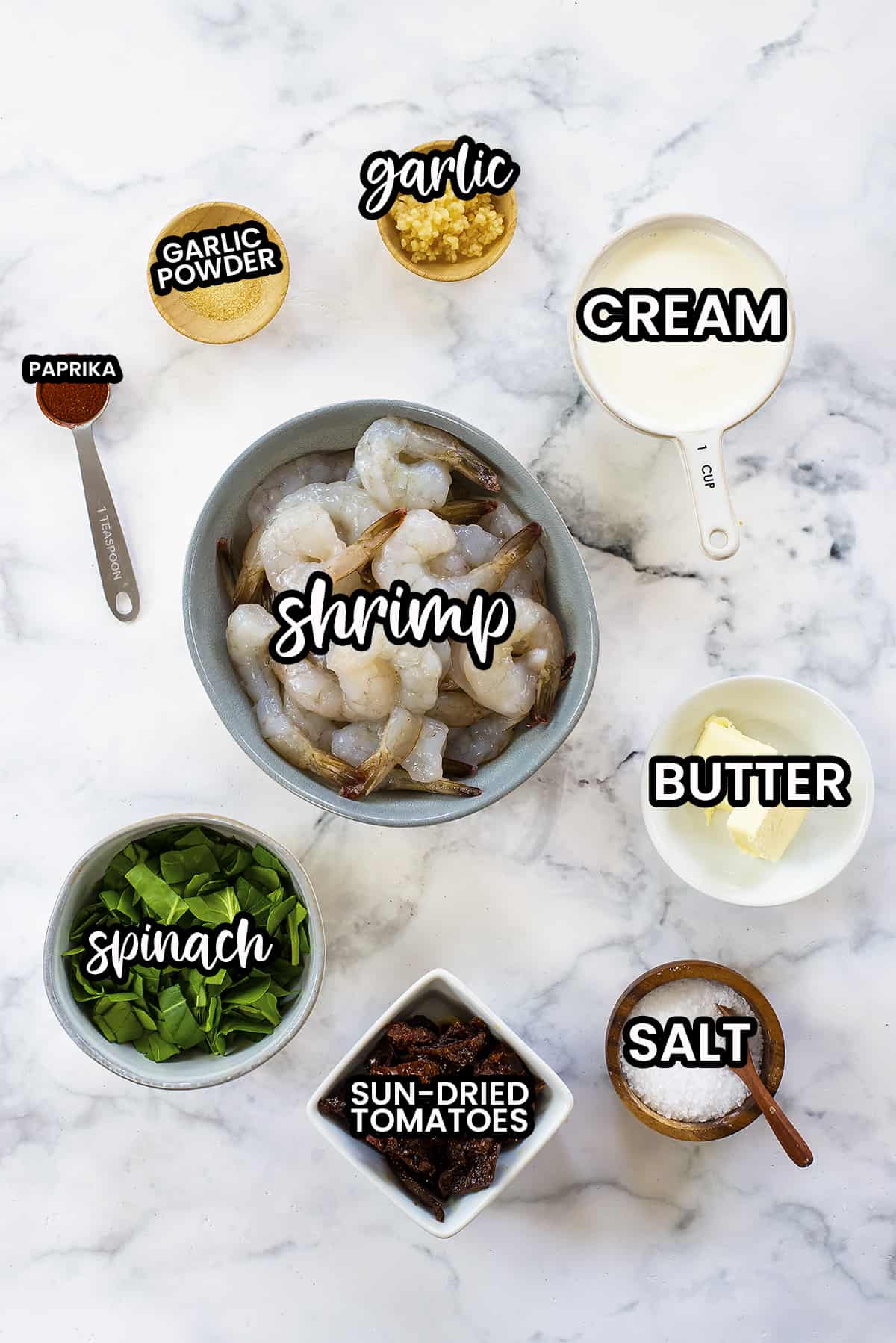 Shrimp – You'll need some large raw shrimp that have been peeled and deveined with the tail off. You can also use frozen shrimp but you will need thaw it first before cooking! (Tail was left on in these photos, but it's easier to eat without the tail!)
Butter – Shrimp and butter were pretty much made for each other. You'll cook the shrimp in the melted butter for lots of good flavor!
Seasoning – We're keeping it simple with garlic powder, paprika, and salt. The real flavor comes from the sun-dried tomatoes.
Heavy Cream – This creamy Tuscan shrimp recipe just wouldn't work without the heavy cream. It'll get mixed with the shrimp and melted butter then cooked until it has thickened into a flavorful sauce!
Sun-Dried Tomatoes – For this recipe I used the dry packed sun-dried tomatoes, not the kind that are packed in oil. If you use oil packed, you could skip the butter and saute the shrimp in the oil from the jar of tomatoes.
Spinach – Some freshly chopped spinach will pair perfectly with the creamy sauce, plus it'll add a nutritious and healthy boost! You could also use fresh kale.
What Readers Are Saying:
I made this for dinner the other night. Delish! Served it over spaghetti squash, and with a little grated parm. Next time I'd add mushroom, because we put mushrooms in everything. The flavors were even better the next day with leftovers. Thanks for the great recipe. – Lisa
How To Make Tuscan Butter Shrimp Recipe:
Butter Shrimp – To start, we're going to melt some butter in a large, heavy bottomed skillet. Add in your shrimp and season it with some garlic powder and paprika.
Cook the shrimp until pink and opaque and then remove them to a bowl.
Please note: I am using shrimp with the tail on because I think they look prettier in the photos. You'll probably want to use shrimp with tail off for easier eating. 😉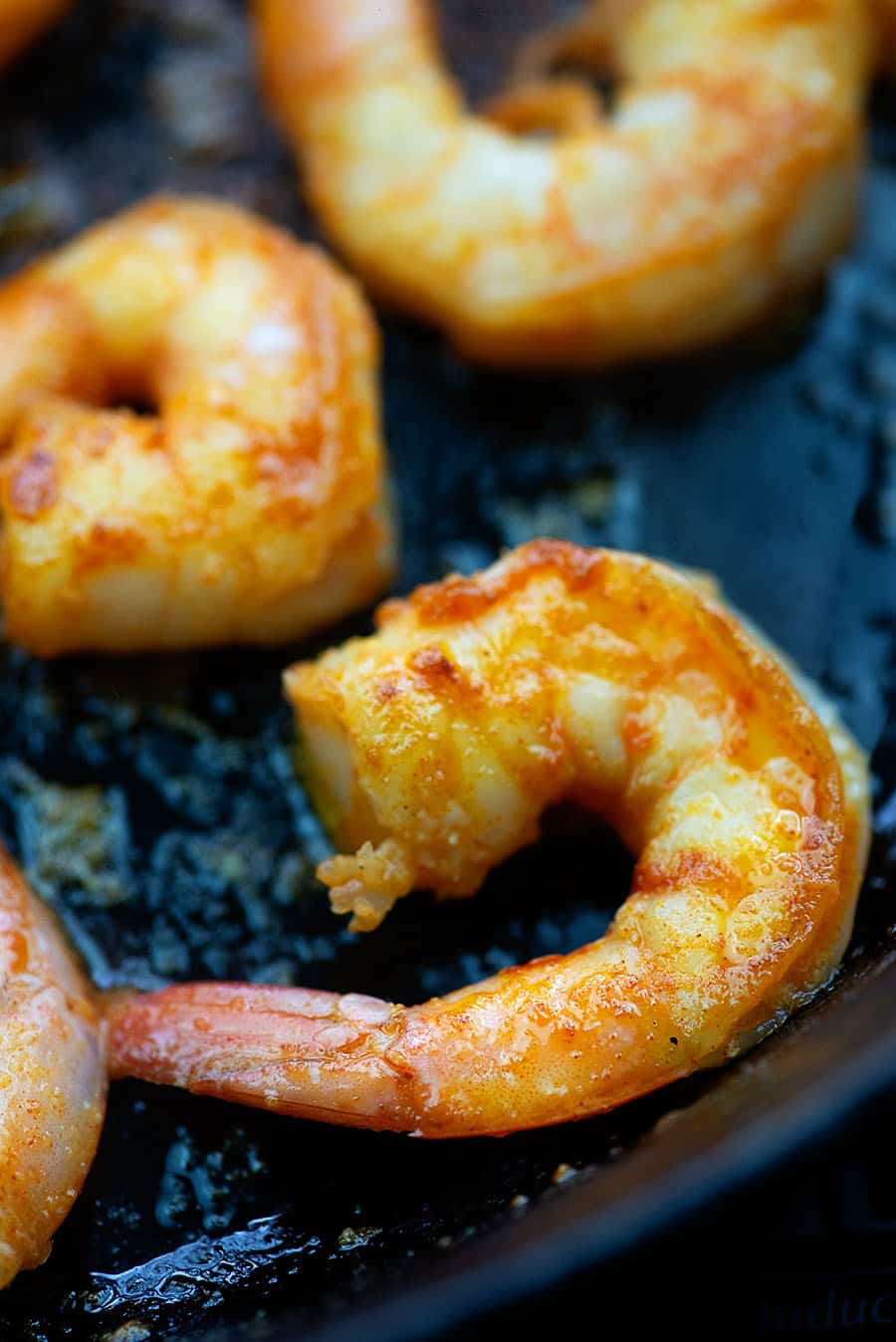 Heavy Cream – Pour some cream into the hot skillet. Add in your sun-dried tomatoes and garlic and give it a good stir. Let this mixture cook for a couple of minutes to reduce the sauce just a bit.
Spinach – Add some spinach and stir it around, letting it cook until it's wilted.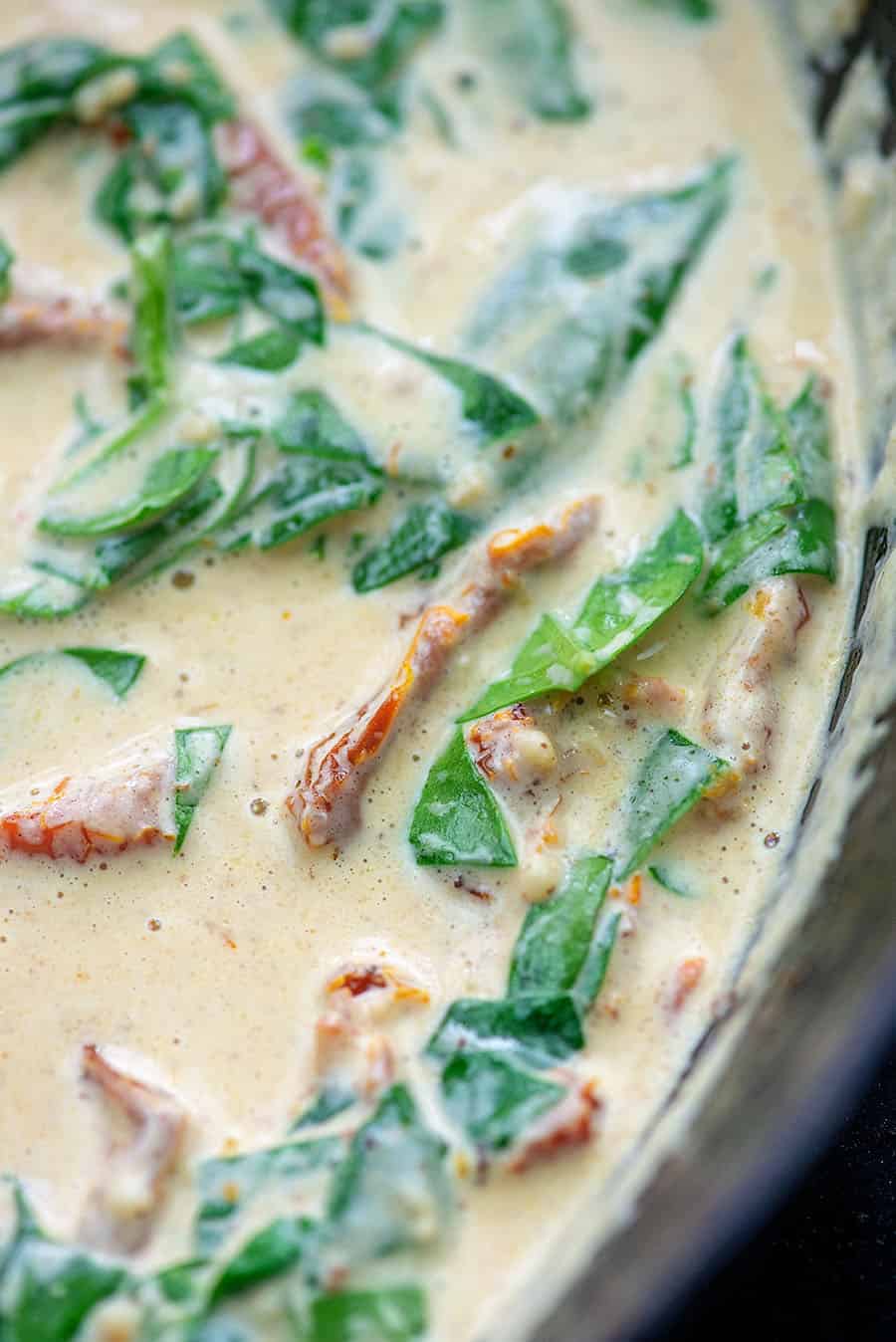 Finish – Stir the shrimp back into the sauce and season with a bit of salt.
That's it, friends! Dinner is served and it's taken you just about 15 minutes from start to finish. Crazy, right?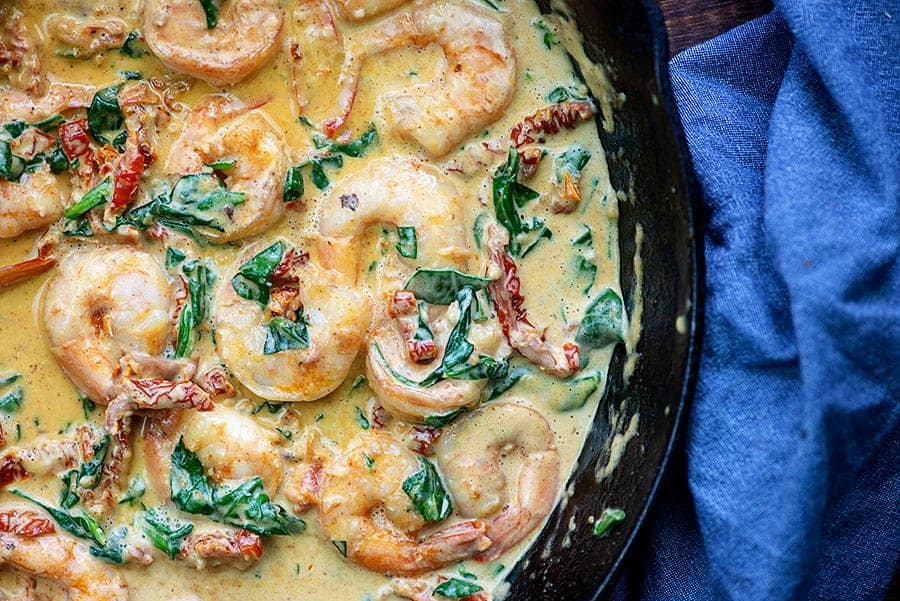 Why We Love This Recipe:
We love having lots of shrimp recipes on hand for busy nights because you can start with a bag of frozen shrimp and thaw it under cool running water in the sink in about 10 minutes, making it perfect for those nights when you have no idea what to do for dinner.
This creamy Tuscan shrimp recipe takes less than 15 minutes from start to finish, but it tastes like you've been slaving away all day.
Best of all, this dish is very versatile! Serve it over zucchini noodles, spaghetti squash, low carb pasta, or with a side of steamed broccoli. No matter how you serve it, it's always a hit because that cream sauce is seriously divine!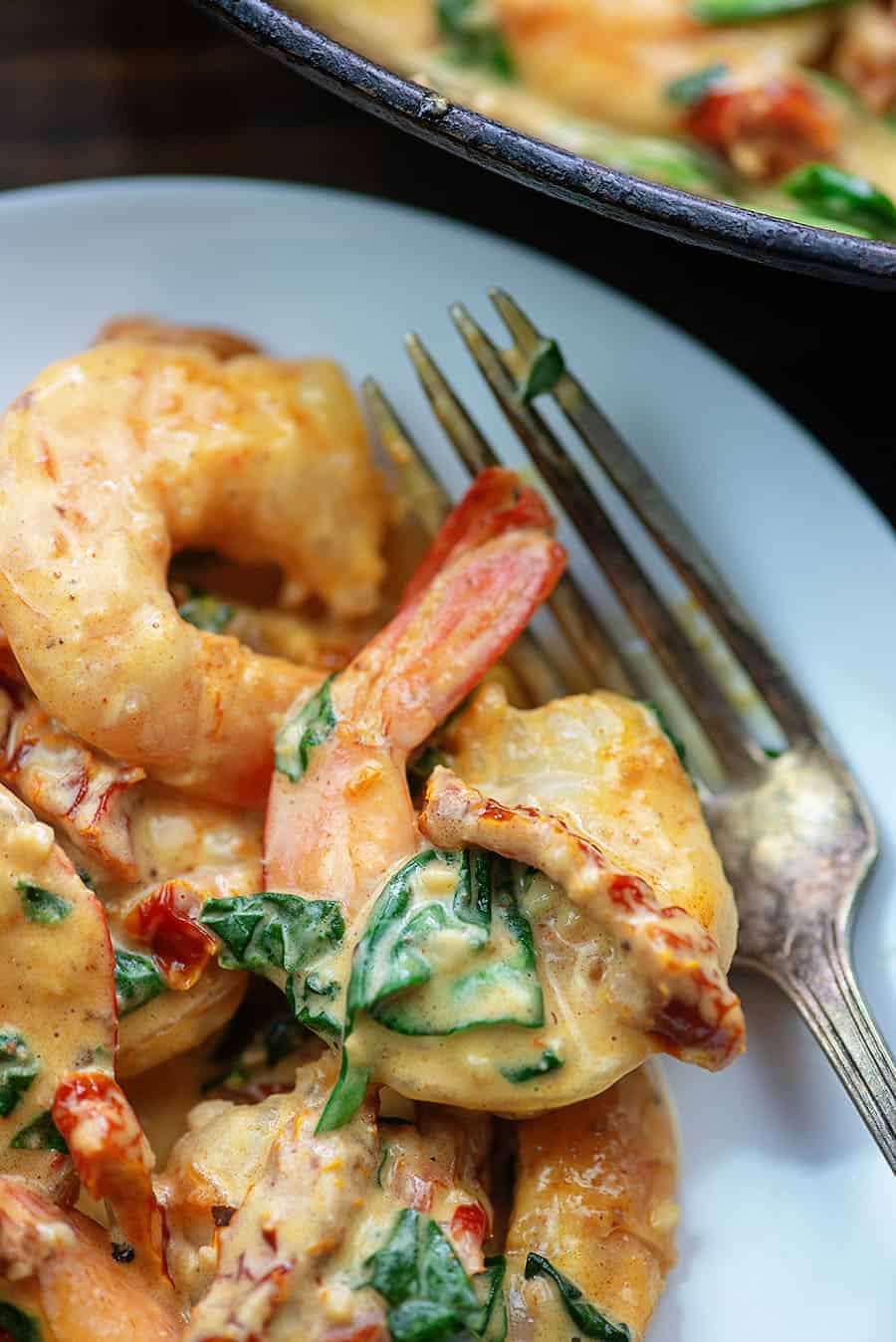 What To Serve With Low Carb Shrimp: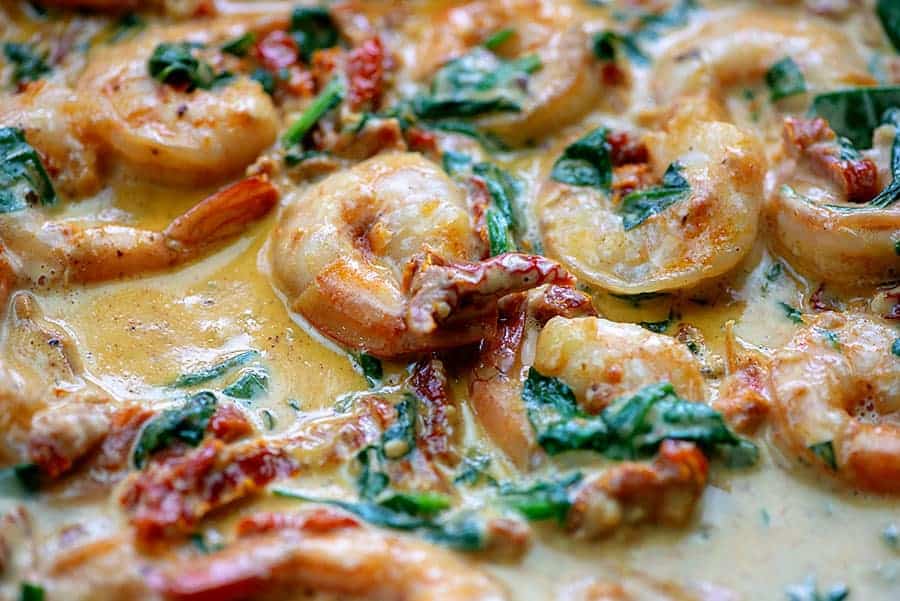 FAQ's:
Can I use frozen shrimp?
Yes, but it needs to thawed first. Run under cool water until thawed.
Can I substitute scallops for shrimp?
Yes, this should work fine as they are pretty similar but you will need to adjust the cook time appropriately.
How to store shrimp?
If you have any leftover creamy Tuscan shrimp you can keep it stored in an airtight container in the fridge for a couple of days. We usually don't store seafood for long. The sauce will also thicken up when chilled.
More Keto Seafood Recipes: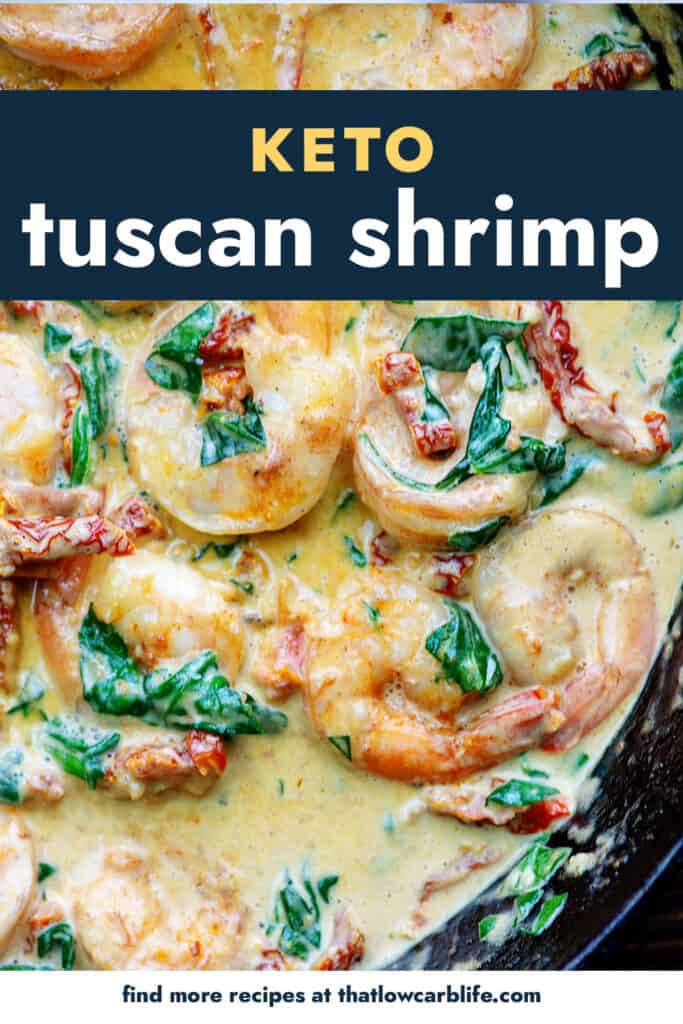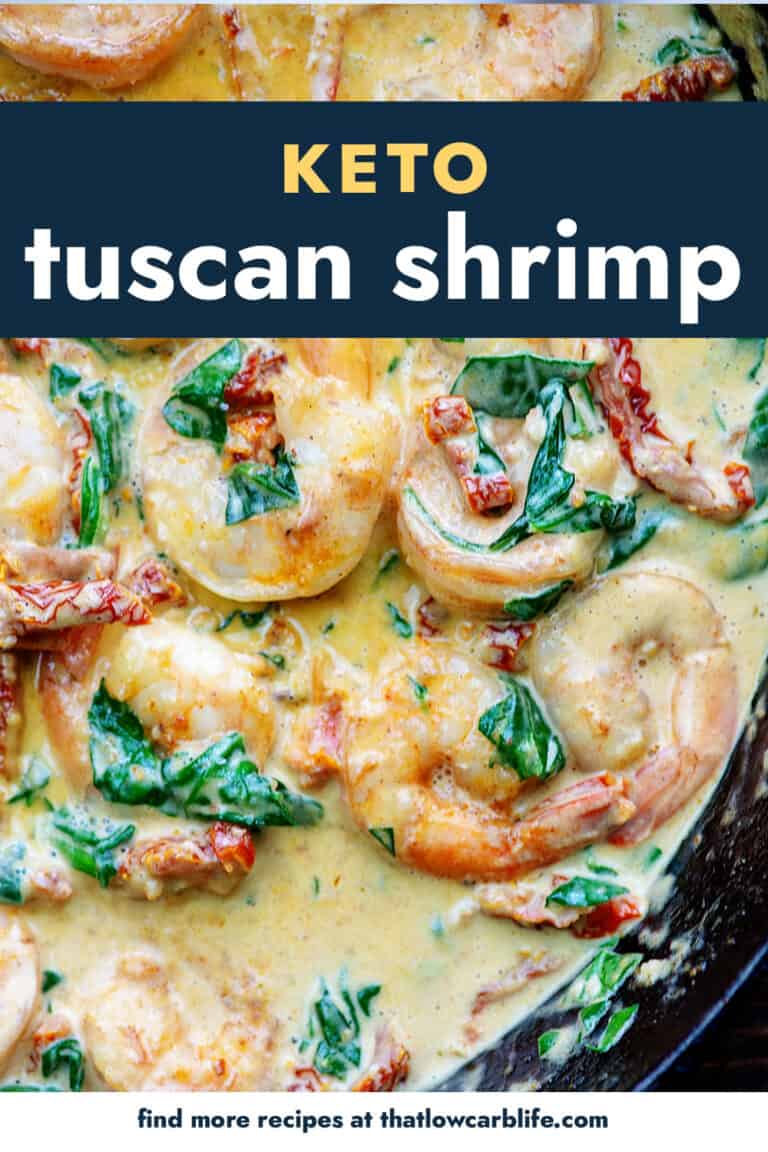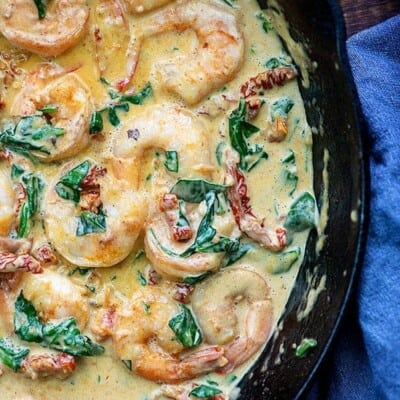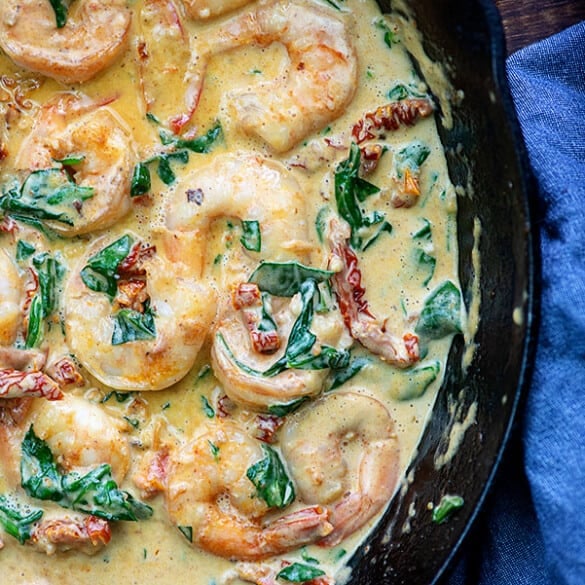 Creamy Tuscan Shrimp
The cream sauce is packed with flavor from the sun-dried tomatoes and the shrimp cooks in minutes making this a super simple recipe.
Prep5 minutes
Cook12 minutes
Total17 minutes
Ingredients
2 tablespoons butter
16 ounces large raw shrimp peeled, deveined, tail off
1 teaspoon paprika
1 teaspoon garlic powder
1 cup heavy cream
½ cup sun-dried tomatoes
2 cloves garlic minced
1 cup chopped spinach
1 teaspoon salt
Instructions
Heat a large, heavy bottomed skillet over medium heat. Add the butter to the skillet.

When the butter has melted add the shrimp and sprinkle with the garlic powder and paprika.

Cook for 5 minutes, stirring occasionally, or until shrimp is pink and opaque.

Remove the shrimp to a plate and set aside.

Add the heavy cream, sun-dried tomatoes, and garlic to the pan and stir well to combine. Let the sauce cook for 2 minutes to thicken over low heat.

Add the spinach and stir well. Continue cooking over low heat until spinach has wilted and sauce has thickened, about 2 minutes.

Return the shrimp to the skillet and coat with the sauce. Sprinkle with salt, to taste.

Serve immediately.
Tips & Notes:
Heavy cream will make the thickest, creamiest sauce – milk will not work as a substitute.
Nutrition Information:
Serving: 1| Calories: 368kcal (18%)| Carbohydrates: 8g (3%)| Protein: 20g (40%)| Fat: 29g (45%)| Saturated Fat: 18g (113%)| Polyunsaturated Fat: 9g| Trans Fat: 1g| Cholesterol: 225mg (75%)| Sodium: 1272mg (55%)| Fiber: 2g (8%)| Sugar: 5g (6%)| Net Carbs: 6g (12%)