This simple Tuscan salmon recipe starts with fresh salmon filets coated in a simple seasoning. The creamy Tuscan sauce offers loads of flavor thanks to the garlic, sun-dried tomatoes, and cream. Rich and decadent, but low carb and keto friendly!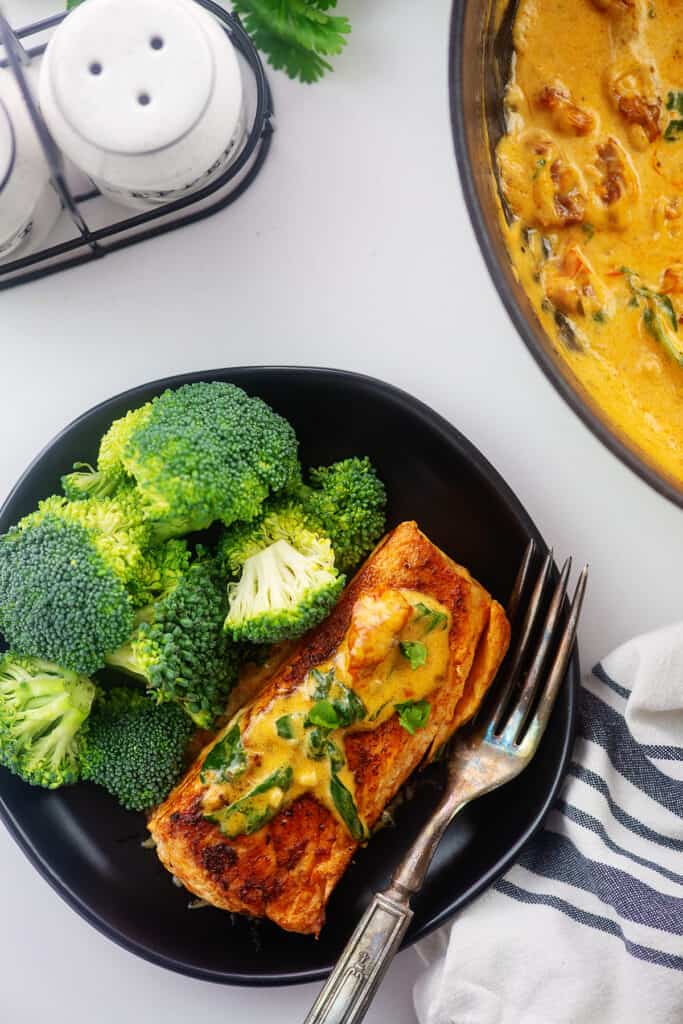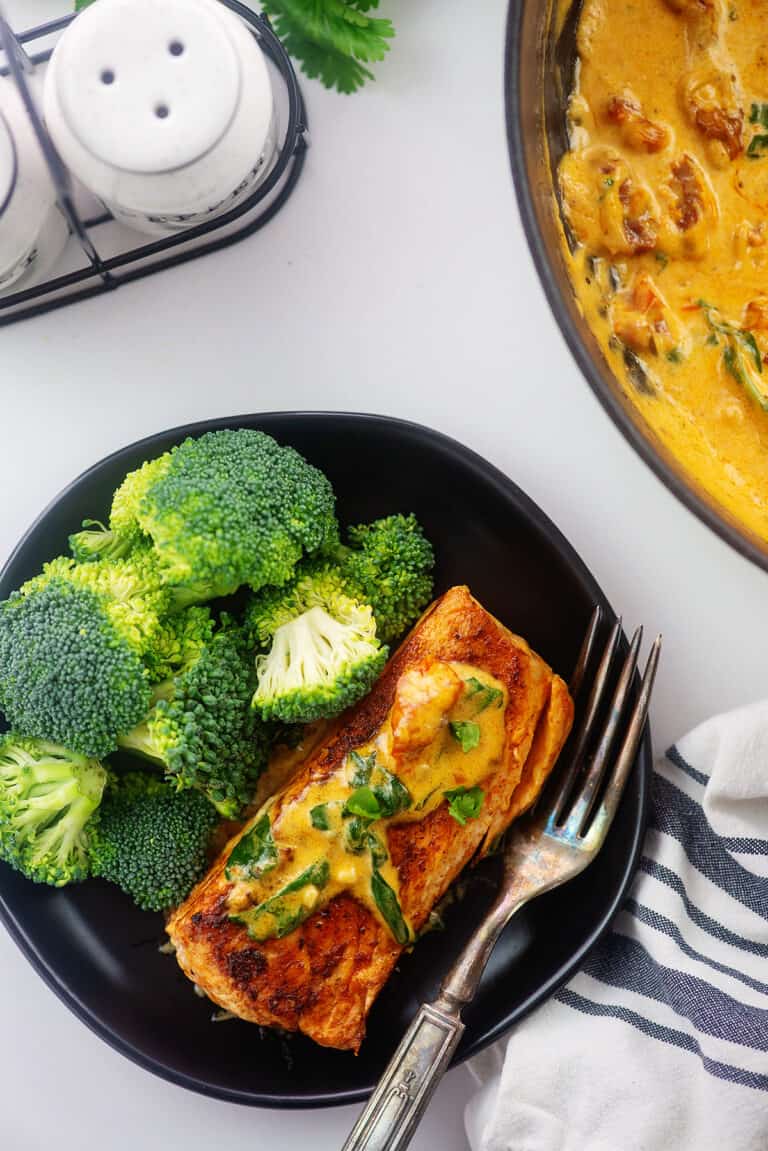 If this recipe looks a bit familiar, it's because I'm straight up obsessed with the sauce!
Not only do we make this creamy Tuscan chicken on the regular, we also make Tuscan shrimp.
It was only a matter of time before we brought salmon into the mix. 😉
One of the things I love about this recipe is how simple it is. Season the salmon, cook it in a skillet, add in a handful of ingredients for the sauce and let it simmer. Boom. The most flavorful dinner ever!
Ingredients:
Salmon Filets – This recipe makes enough sauce for 4, but you could increase the salmon and sauce according to how many people you're feeding.
Paprika – We prefer smoked paprika, but regular is fine.
Garlic Powder
Butter
Heavy Cream – We haven't tested this with half and half or light cream, but it would likely work. The carb count will change a bit and the sauce will be thinner.
Sun-Dried Tomatoes – We buy them oil packed in a jar, but the dried ones also work.
Garlic – We only call for 2 cloves, but feel free to go crazy, keeping in mind that there is 1 net carb per clove of garlic.
Fresh Spinach – We haven't tested this with frozen or canned spinach.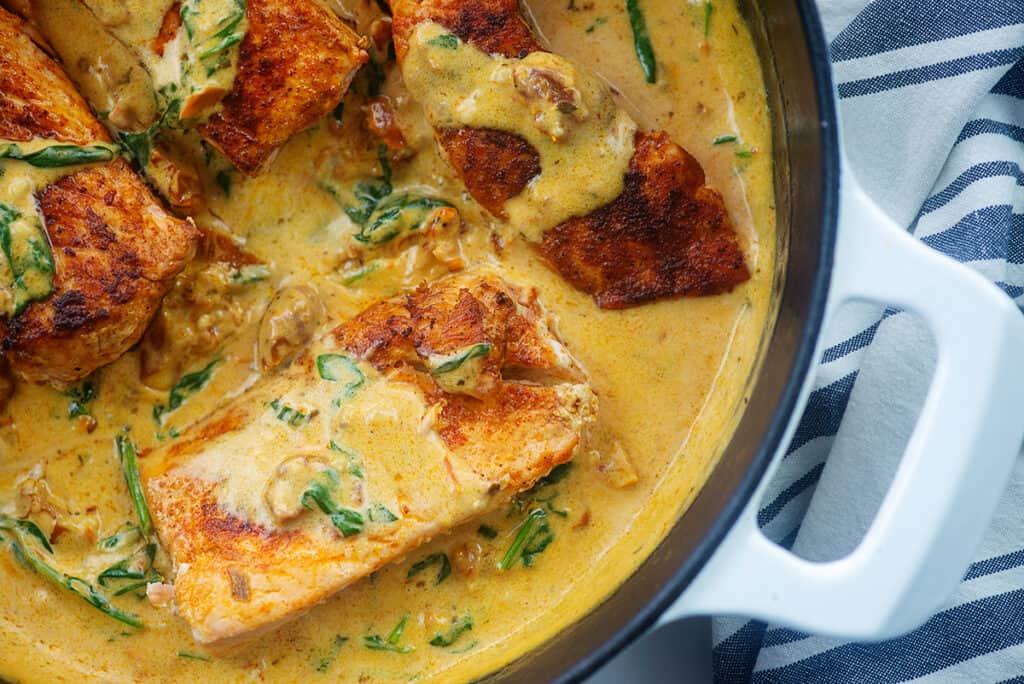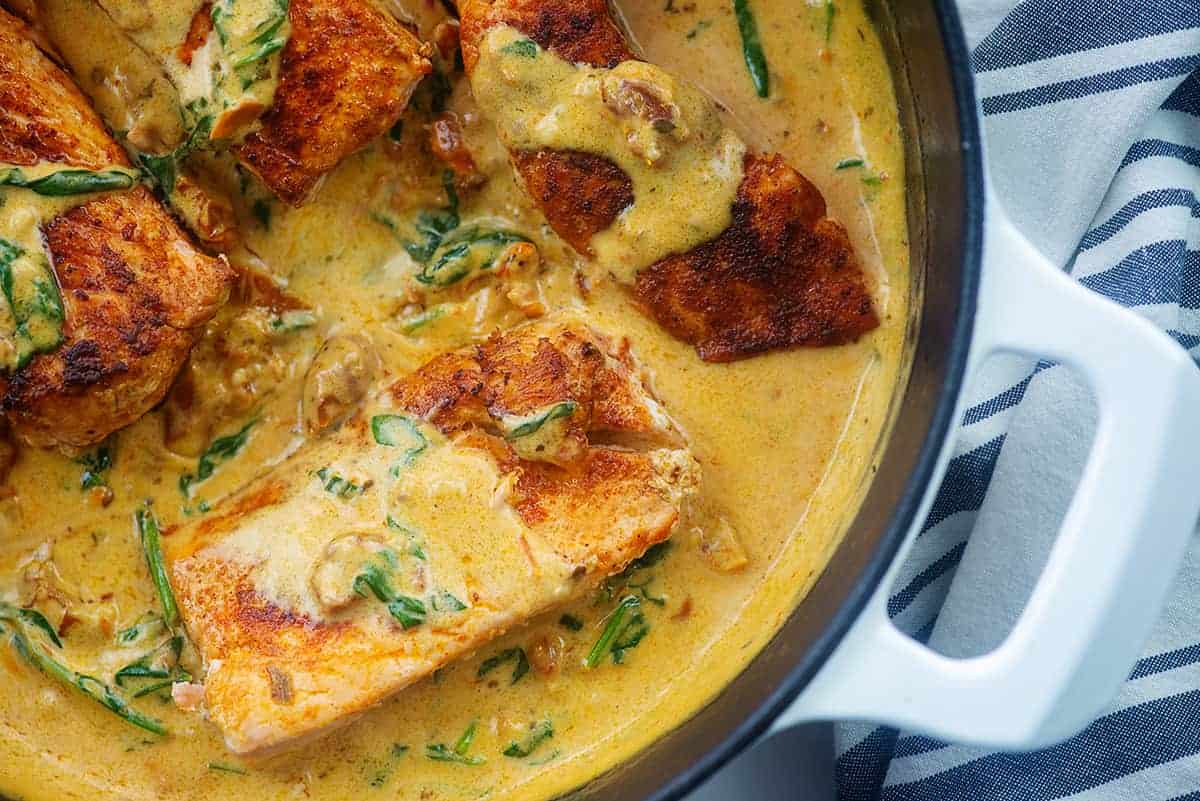 Is salmon keto?
Like all fresh meat and seafood, salmon is keto friendly.
Some recipes add ingredients that are not keto friendly, but our creamy Tuscan sauce is made with keto friendly ingredients, such as heavy cream, sun-dried tomatoes, and spinach.
While sun-dried tomatoes do contain a lot more carbs per cup than fresh raw tomatoes, they pack such a flavor punch that you only need to use a small amount.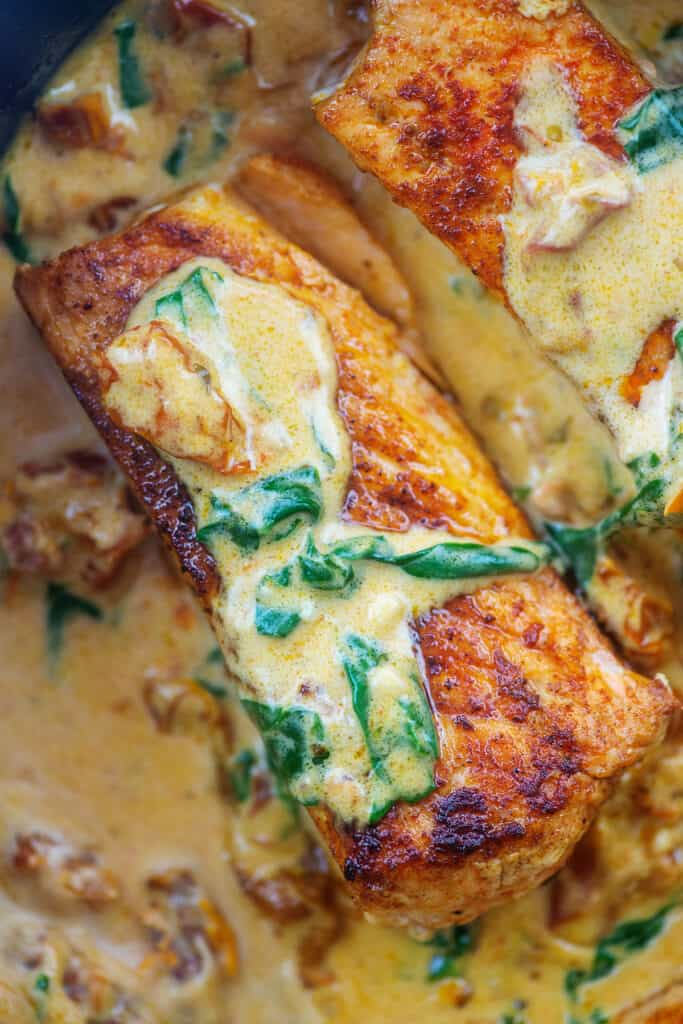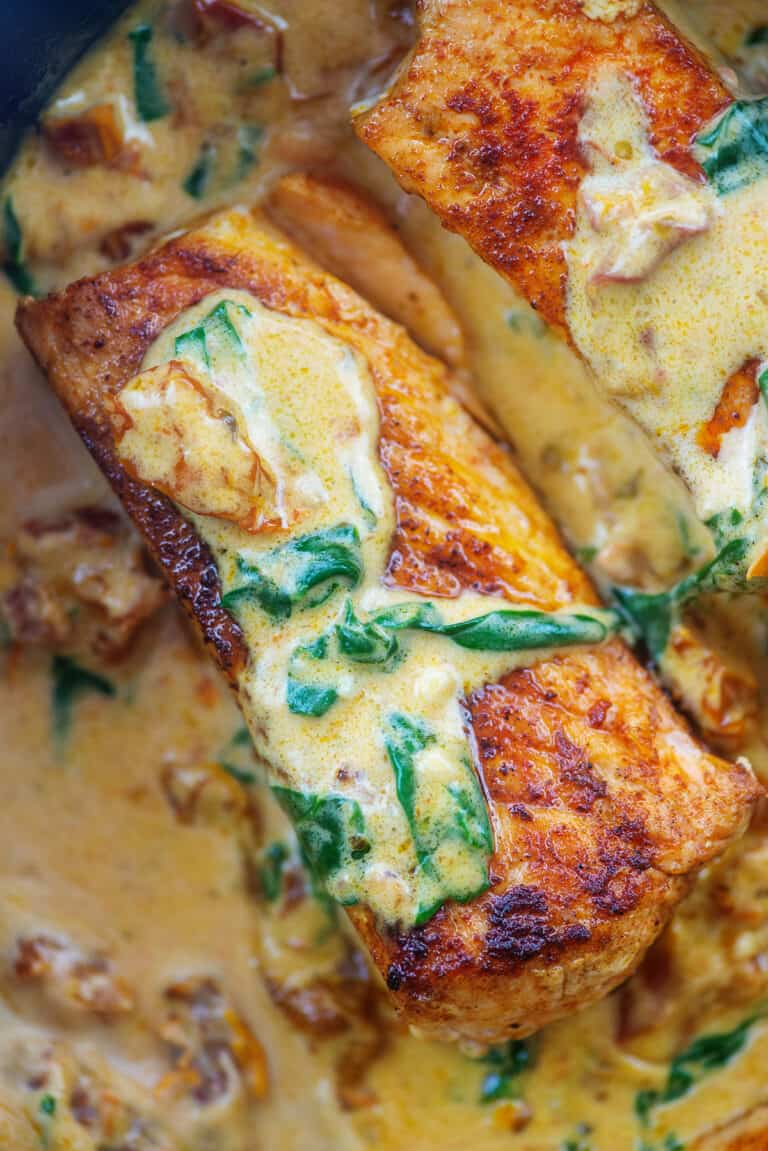 How long is cooked salmon good for?
Cooked salmon will last in the fridge for up to 3 days.
To reheat, we recommend using a low power and cooking in 30 second increments in the microwave along with the sauce.
More low carb seafood recipes: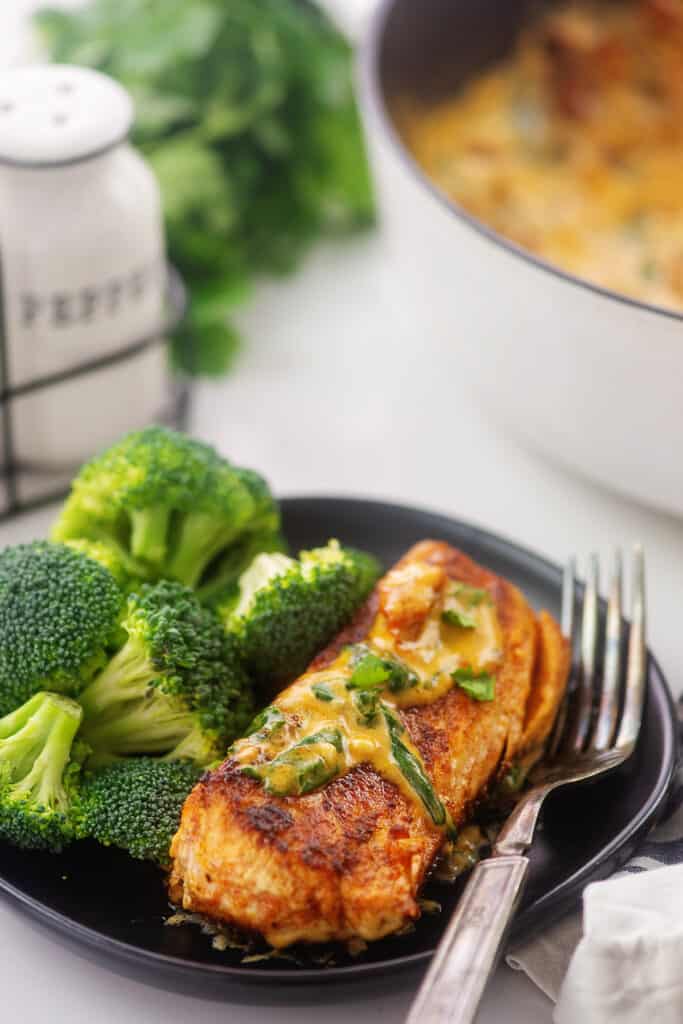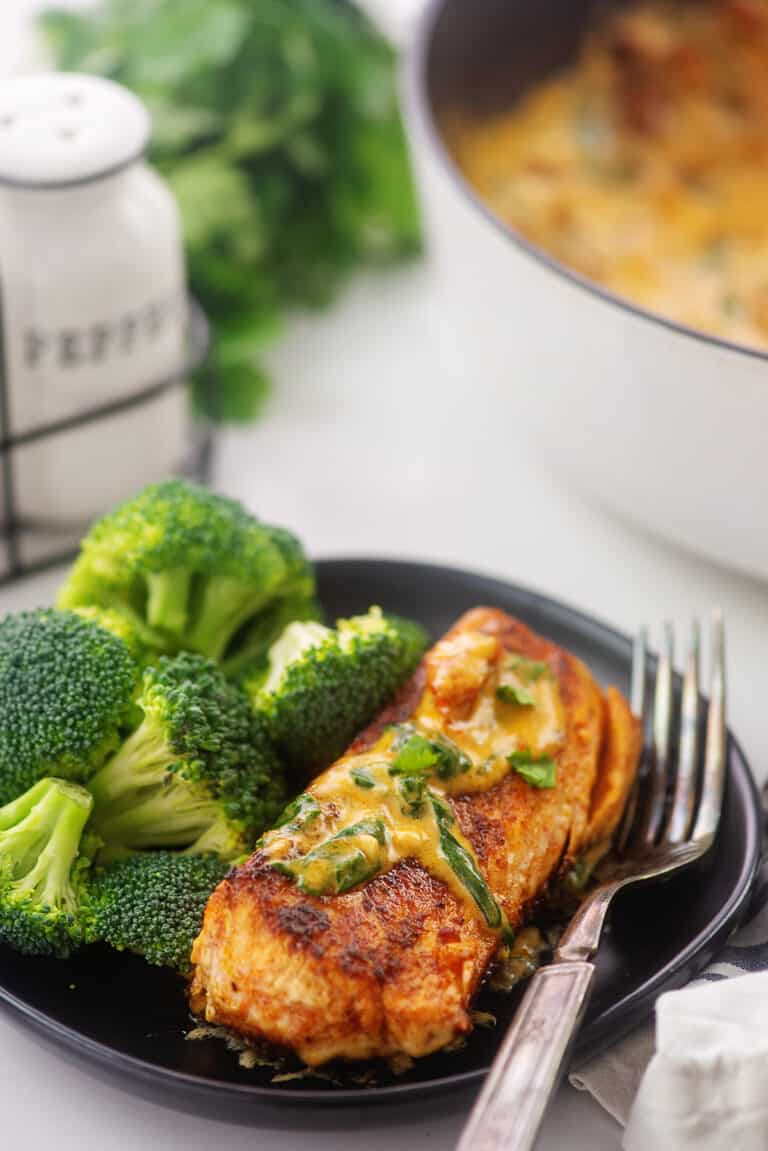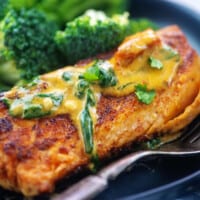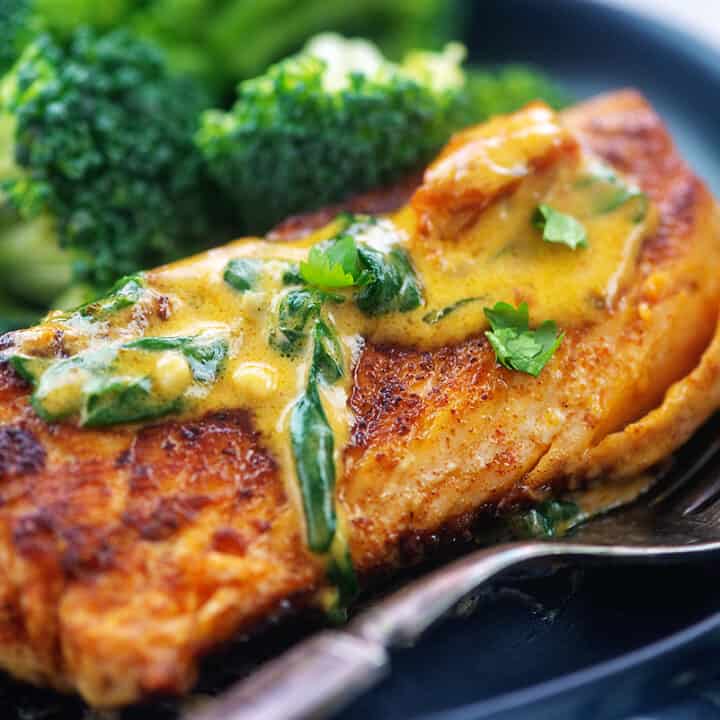 Creamy Tuscan Salmon
We make this recipe using chicken and shrimp, so it was only a matter of time before we gave it a try with salmon. The creamy sauce is so rich and flavorful and it's perfect with the seasoned salmon filets.
Ingredients
4 salmon filets, skin removed
1 teaspoon paprika
1 teaspoon garlic powder
1 teaspoon salt
2 tablespoons butter
1 cup heavy cream
½ cup oil-packed sun-dried tomatoes
2 cloves garlic, minced
1 cup chopped spinach
Instructions
Combine the paprika, garlic powder, and salt and sprinkle evenly over both sides of the salmon to coat.
Heat a large, heavy bottomed skillet over medium heat. Add the butter to the skillet.
When the butter has melted add the salmon and cook 5 minutes per side or until cooked to your liking
Remove the salmon to a plate and set aside.
Add the heavy cream, sun-dried tomatoes, and garlic to the pan and stir well to combine. Let the sauce cook for 2 minutes to thicken over low heat.
Add the spinach and stir well. Continue cooking over low heat until spinach has wilted and sauce has thickened, about 3 minutes.
Return the salmon to the skillet and coat with the sauce.
Serve immediately.
Nutrition Information:
Yield: 4
Serving Size: 1
Amount Per Serving:
Calories: 767
Total Fat: 57g
Saturated Fat: 23g
Trans Fat: 1g
Unsaturated Fat: 29g
Cholesterol: 226mg
Sodium: 798mg
Carbohydrates: 8g
Net Carbohydrates: 6g
Fiber: 2g
Sugar: 2g
Protein: 54g
All information and tools presented and written within this site are intended for informational purposes only. This information is provided as a courtesy and there is no guarantee that the information is accurate.