This PARMESAN CRUSTED COD is a simple cod recipe that's low carb and ready in just 15 minutes. Easy to prepare and the whole family loves this flavorful fish.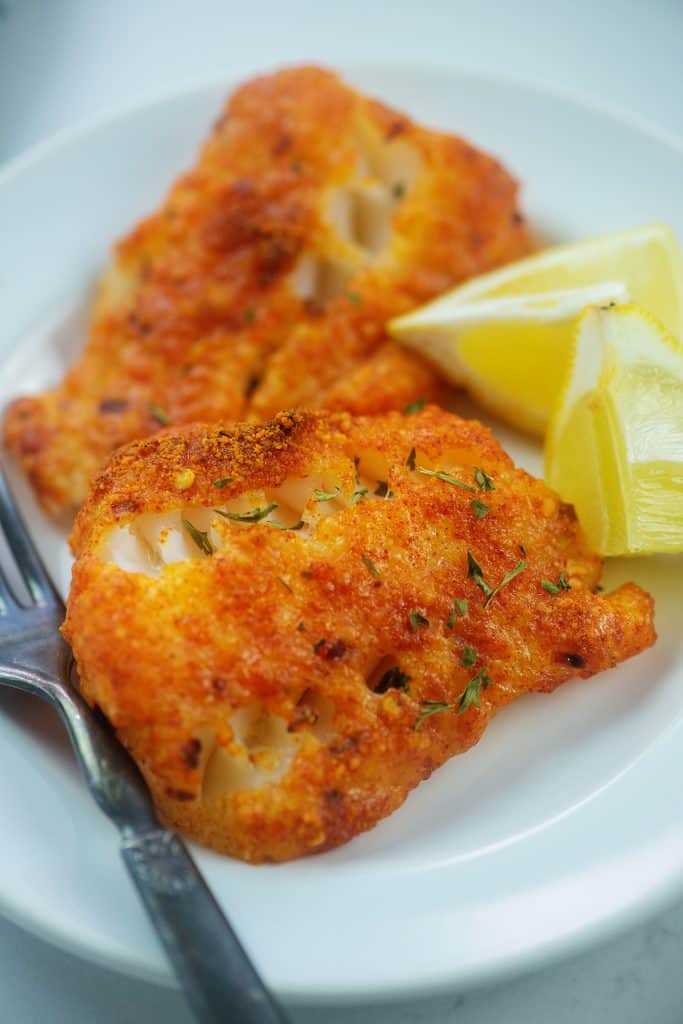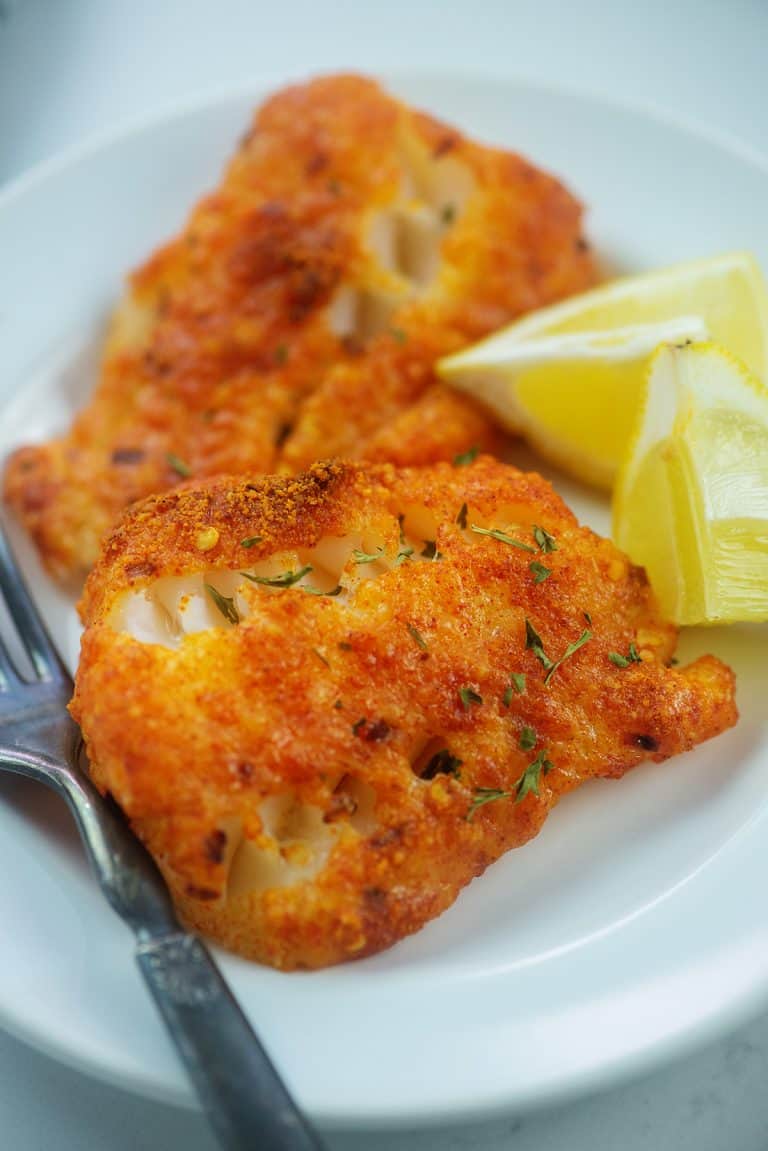 I'm always trying to come up with new ideas for seafood. It's not something we eat a lot of, but my husband and I both have a goal this year to reduce some of our beef consumption and replace it with fish.
It's a work in progress for sure and we've been having fun testing out new seafood recipes.
This Parmesan crusted cod is so dang easy to make and the fish bakes in about 10 minutes.
We love quick dinners like this!
How to:
Breading: We're breading the cod in a mixture of grated Parmesan cheese and seasonings. You'll just want to stir together Parmesan, garlic powder, onion powder, paprika, and red pepper flakes in a shallow dish.
Dredging: Add an egg to a second shallow dish and beat until it's smooth. Dip the cod first in the egg and then into the breading mixture.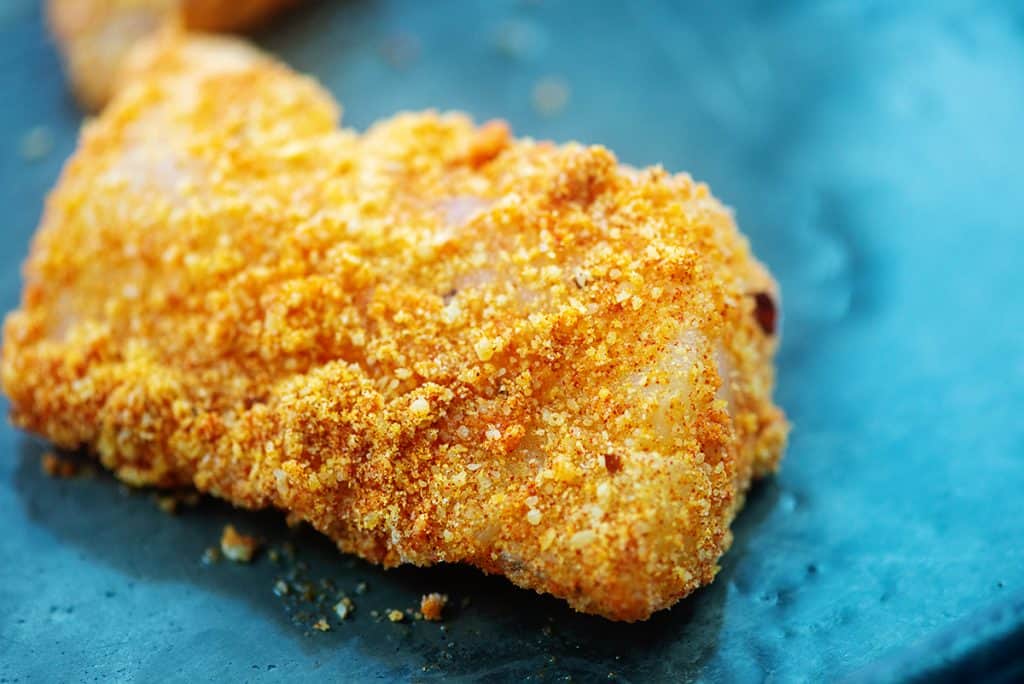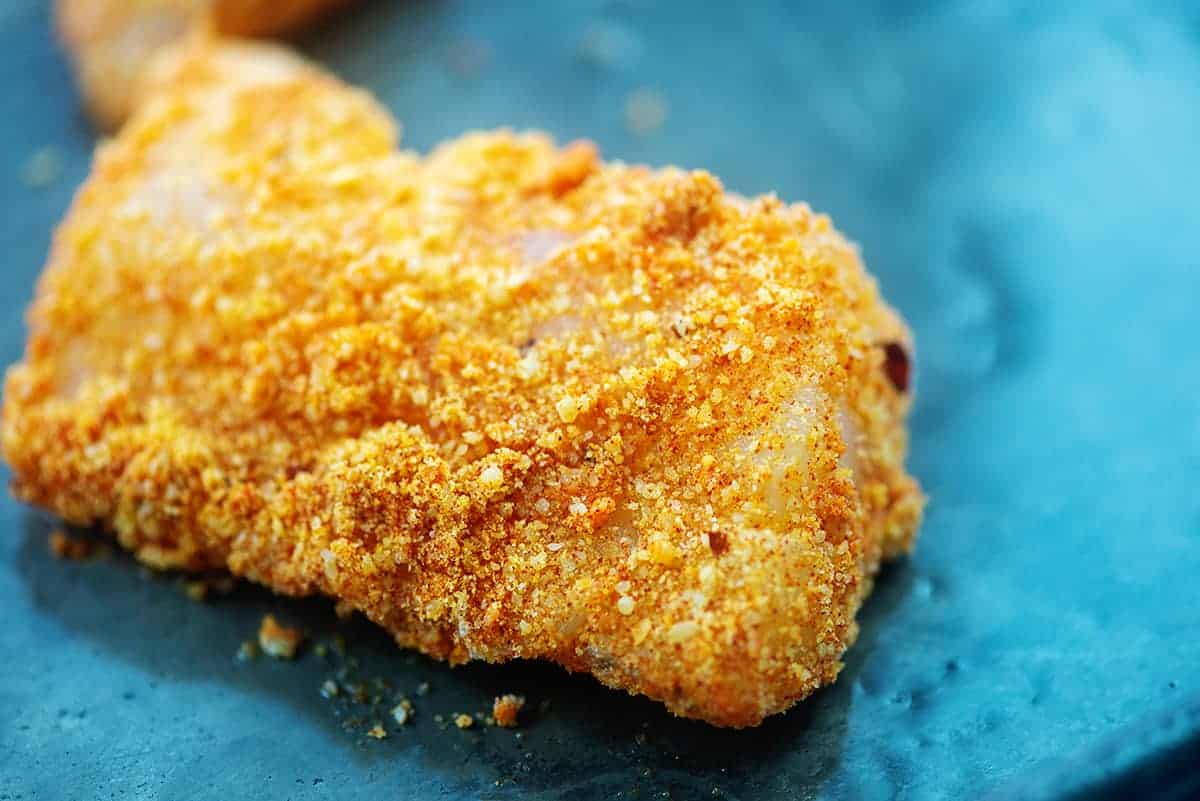 Bake: Place the fish on a greased baking sheet and bake at 425 degrees for about 10 minutes. The fish should easily flake apart with a fork.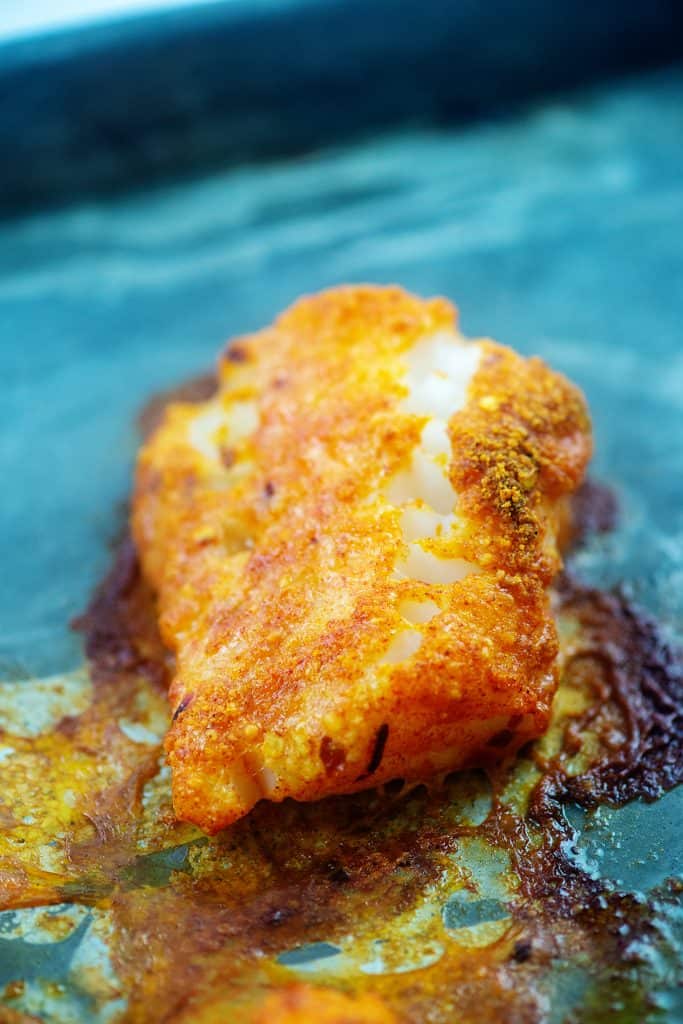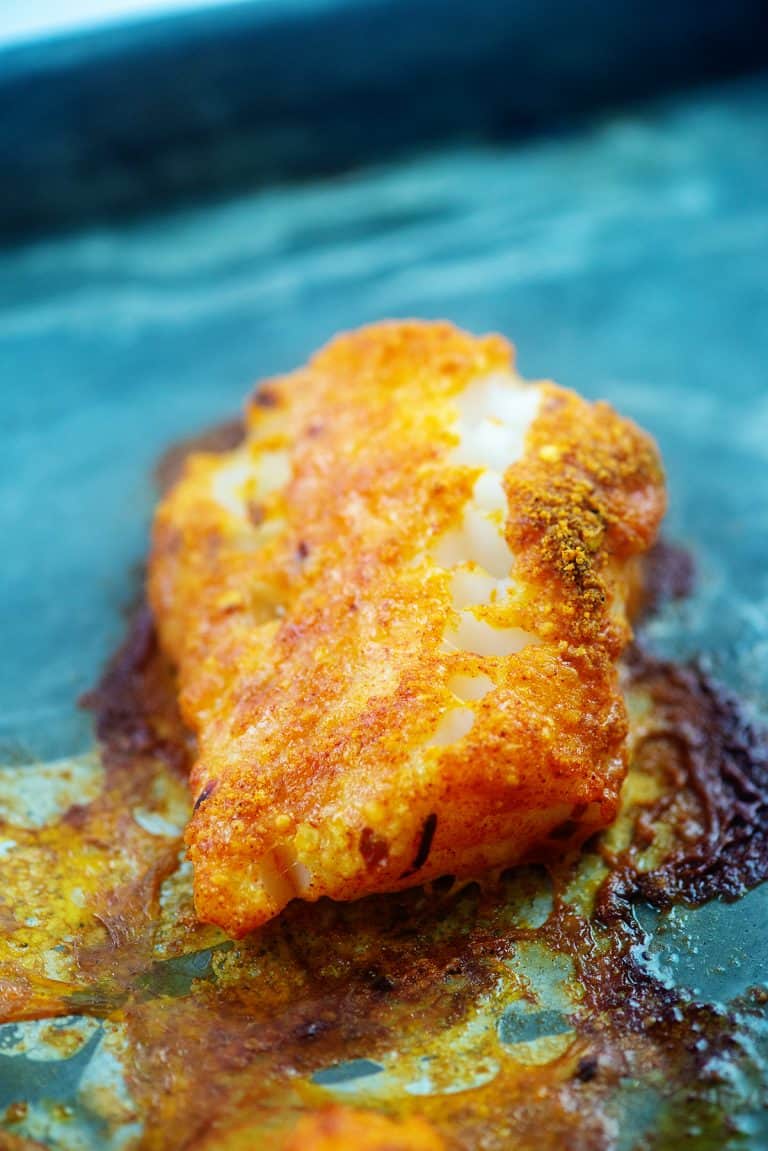 Serving: We like to serve this Parmesan crusted cod with lemon wedges, but this homemade tartar sauce is always welcome on our table.
How to tell when cod is done:
The easiest way to tell when fish is done is to use your fork!
Place the fork into the fish and give it a little twist. The fish will flake apart when it's fully cooked and no longer look translucent.
Fish is fully cooked at an internal temperature of 145 degrees.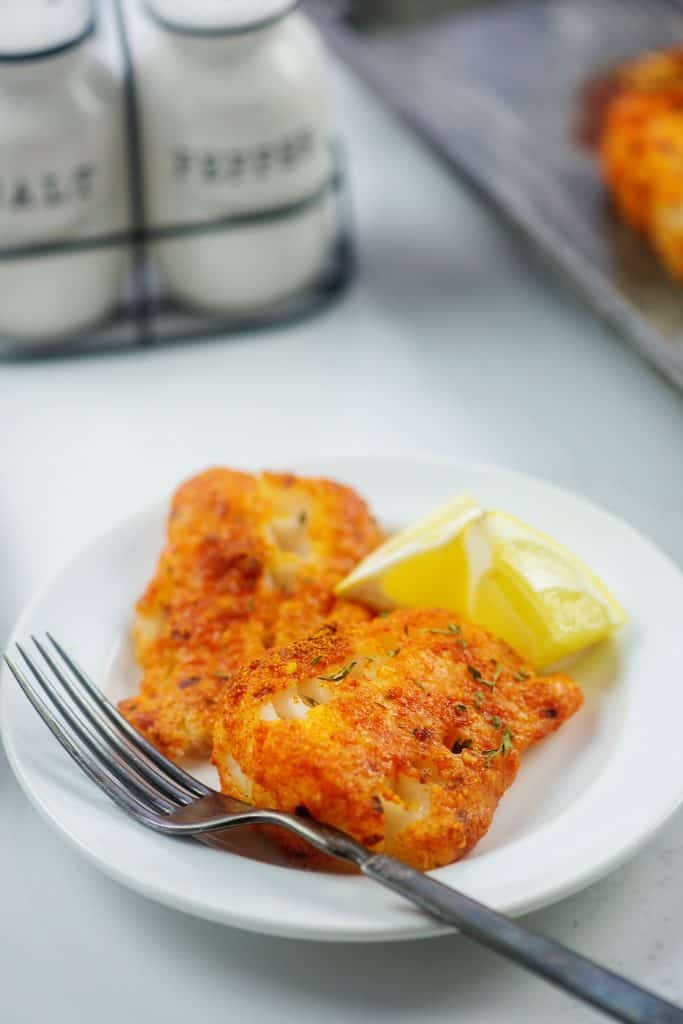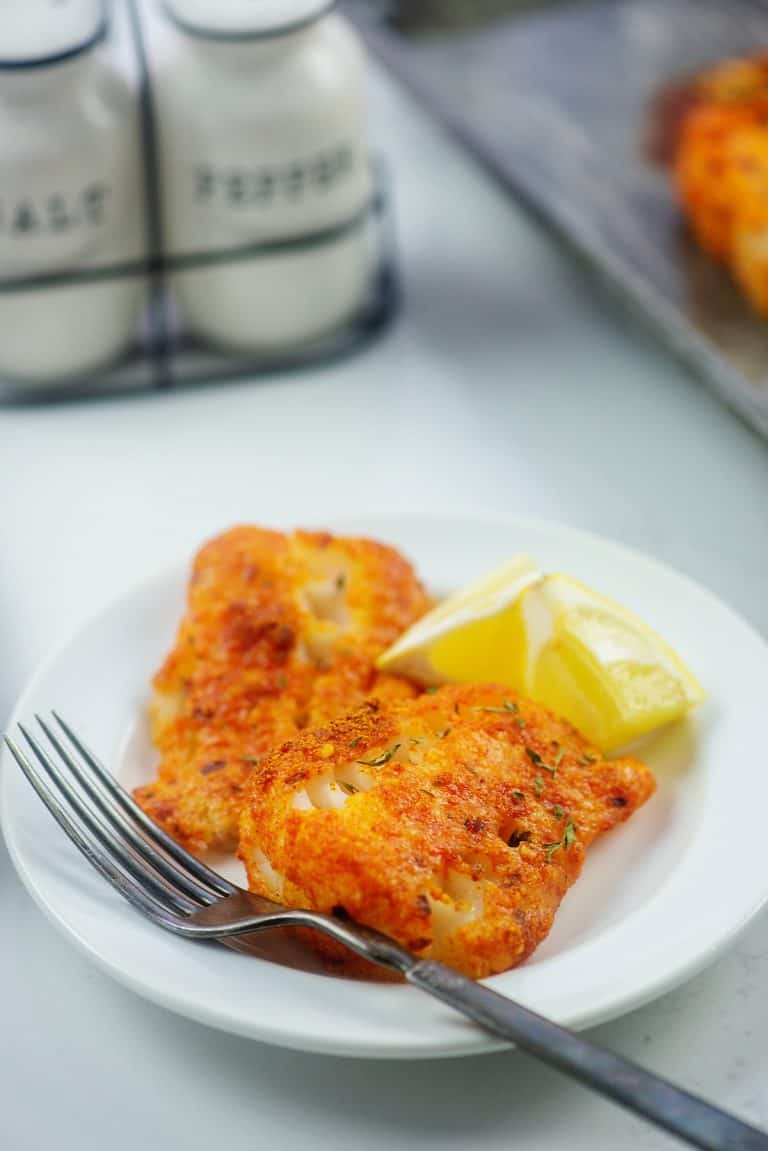 More low carb seafood recipes: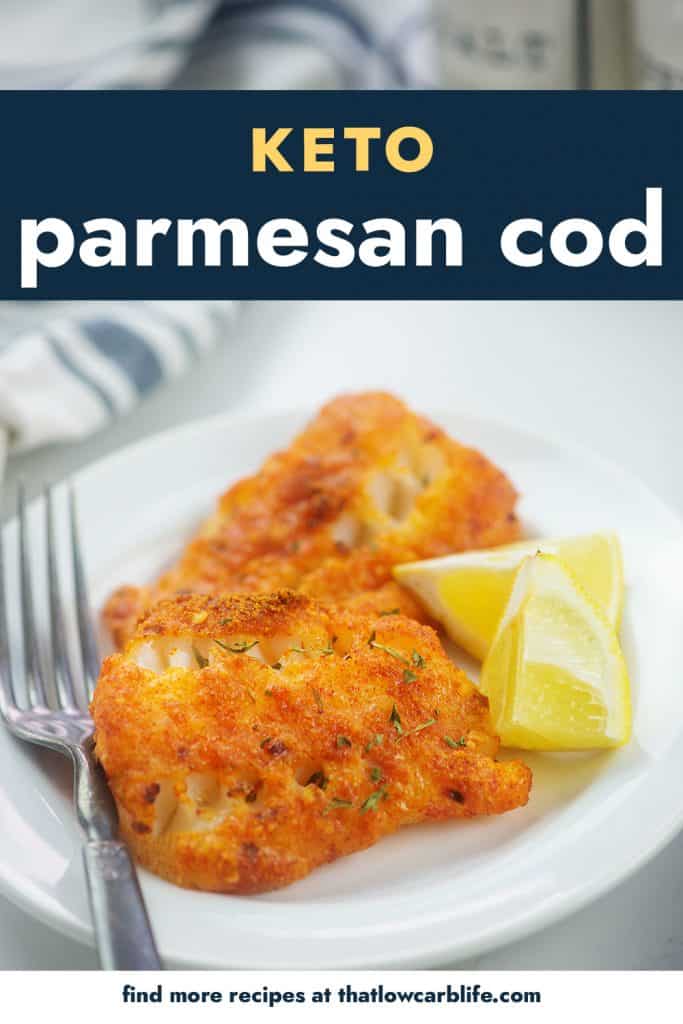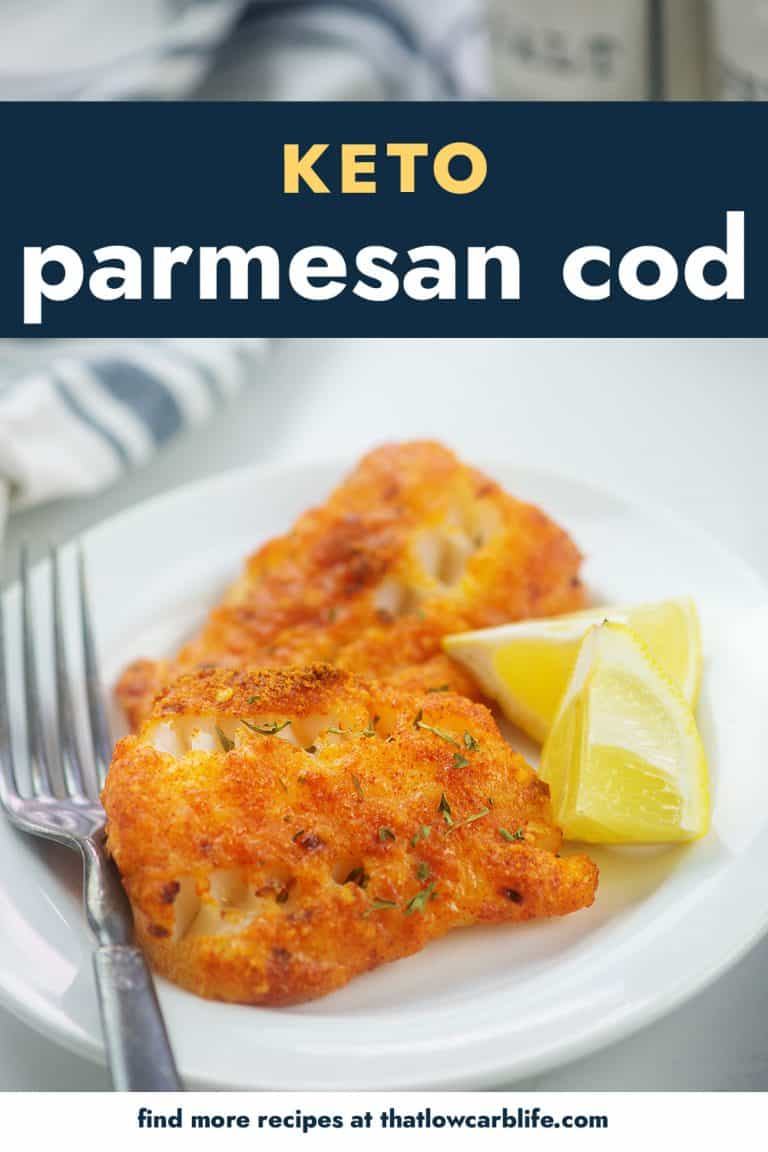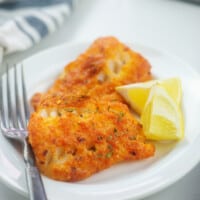 Parmesan Crusted Cod
Cod is a mild flavored white fish that cooks so quickly with this method. We bread it in a mixture of Parmesan and seasonings and then bake. Serve this with lemon wedges or tartar sauce.
Ingredients
4 cod filets, about 5 ounces each
1 large egg, beaten
½ cup grated Parmesan
1 teaspoon garlic powder
1 teaspoon onion powder
1 teaspoon smoked paprika
½ teaspoon red pepper flakes
Lemon, for serving
Instructions
Preheat oven to 425 degrees. Spray a baking sheet with non-stick spray.
Place the egg in a shallow dish.
Add the Parmesan and seasonings to a second shallow dish and mix together with a fork to combine.
Dip each cod filet first in the egg and then in the Parmesan mixture to coat. Arrange on the baking sheet.
Bake for 10-12 minutes or until fish is easily flaked with a fork.
Serve with lemon wedges or tartar sauce, if desired.
Notes
We use the powdery Parmesan cheese in the green can for a finer breading, but you could also use shredded Parmesan for a different texture.
Recommended Products
As an Amazon Associate and member of other affiliate programs, I earn from qualifying purchases.
Nutrition Information:
Yield: 4
Serving Size: 1 cod filet
Amount Per Serving:
Calories: 119
Total Fat: 5g
Saturated Fat: 2g
Trans Fat: 0g
Unsaturated Fat: 2g
Cholesterol: 77mg
Sodium: 273mg
Carbohydrates: 5g
Net Carbohydrates: 4g
Fiber: 1g
Sugar: 1g
Protein: 14g
All information and tools presented and written within this site are intended for informational purposes only. This information is provided as a courtesy and there is no guarantee that the information is accurate.