This keto salmon recipe is coated in garlic butter and baked with salmon all on one sheet pan for easy prep and clean up! The salmon is perfectly juicy and flaky and the asparagus turns out tender-crisp with the most amazing flavor thanks to all the garlic butter.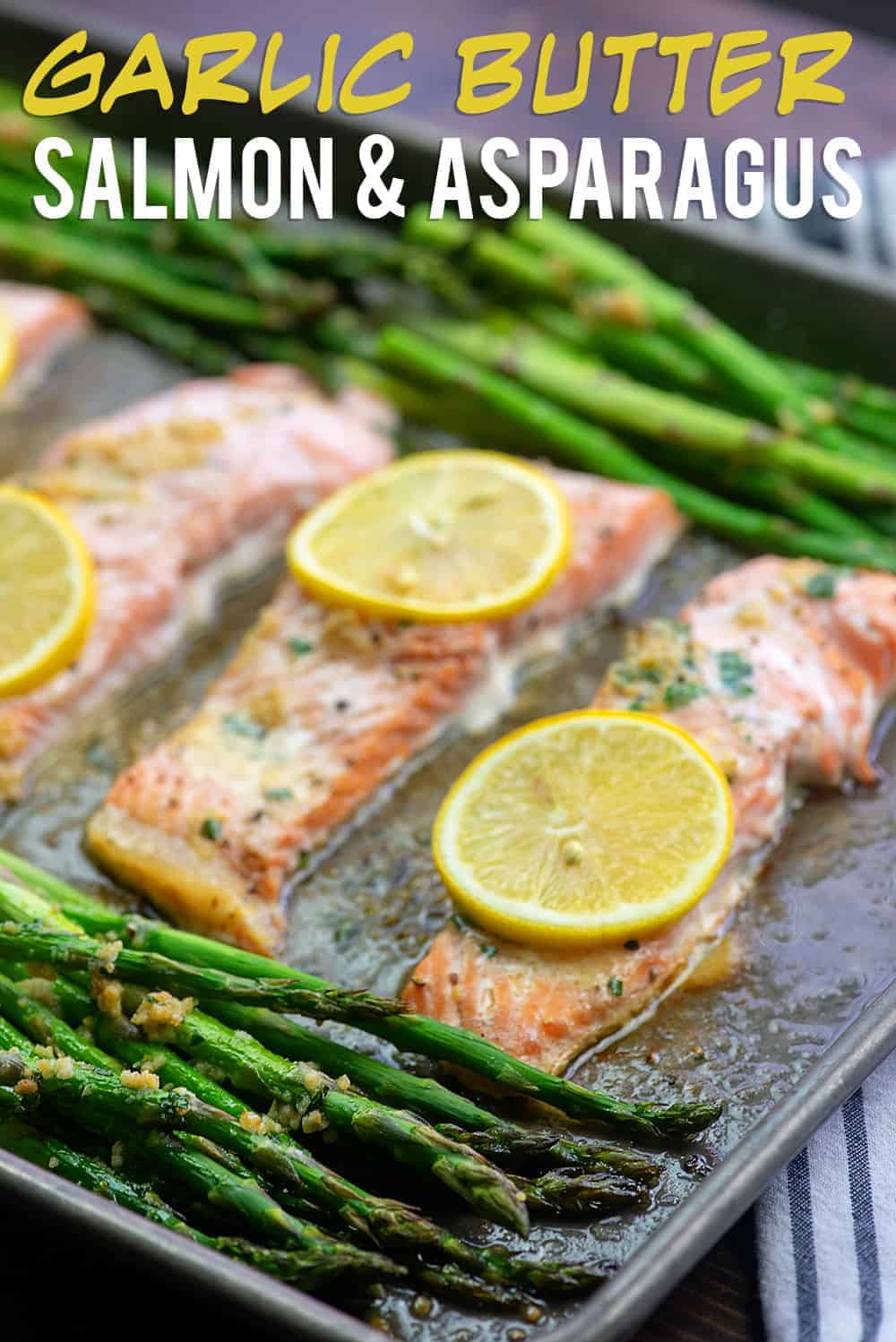 I'll be the first to admit that I'm not a huge fish lover, but I'm trying hard to change my ways.
Fish can be such a healthy protein and it's a nice change of pace when we're getting tired of eating the same old chicken or beef. Especially when it's topped with garlic butter!
This reminds me a bit of our garlic butter pork tenderloin – a reader favorite and so darn good! This is even easier though since it cooks right alongside the asparagus and your whole dinner is done on one pan!
I think you're going to love this one!
Keto Salmon Recipe Ingredients: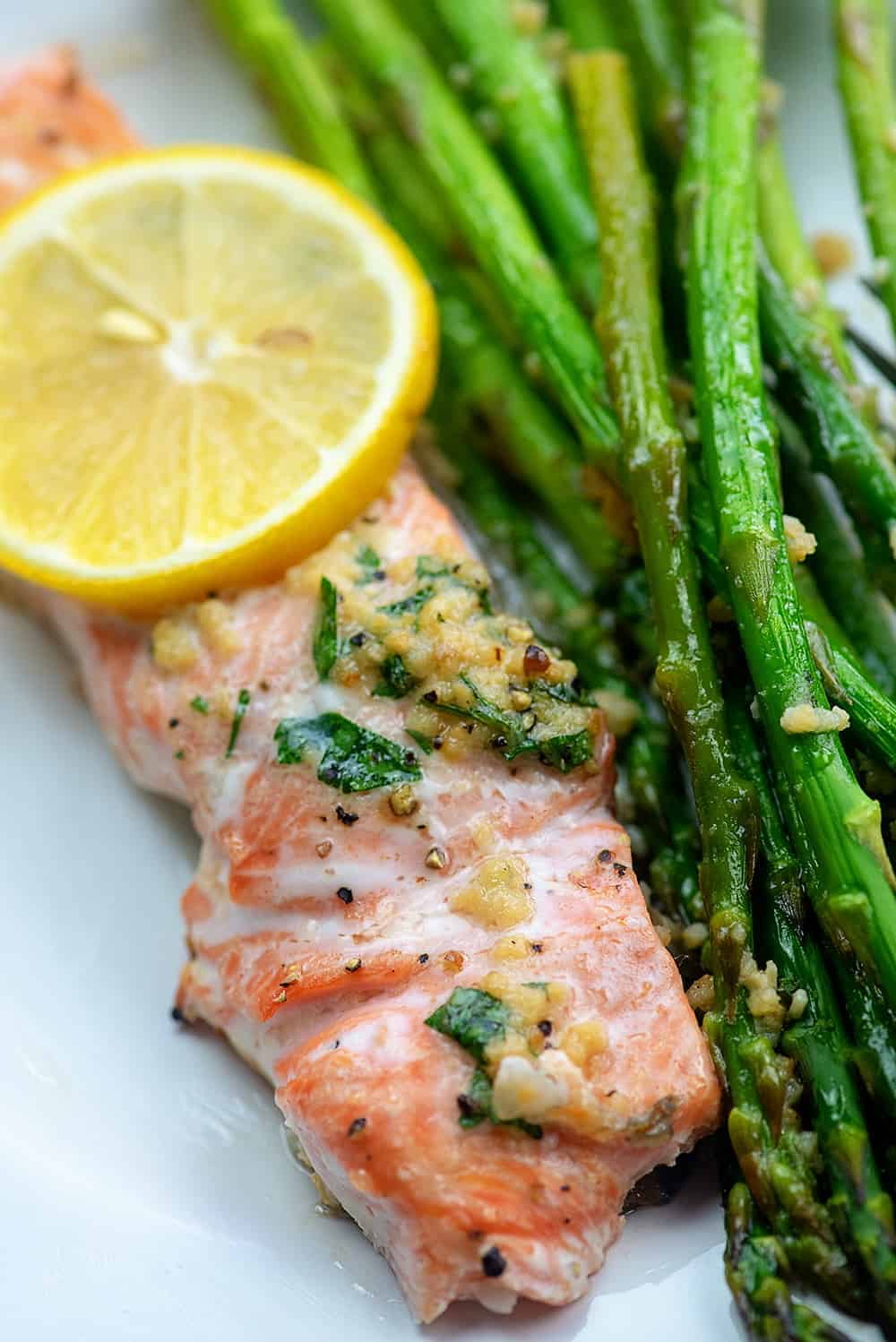 Salmon – There are a few different types of salmon such as Atlantic, King, Sockeye, or Coho. They are similar but have somewhat different flavors and fat content. Atlantic salmon tend to be farm raised while the other varieties are often wild caught, which are considered healthier but also more expensive. Use whatever type you want for this garlic butter salmon and asparagus recipe!
Asparagus – Fresh, trimmed asparagus is the perfect complement to this salmon. They both have powerful flavors that go well with each other and are even better with all that garlic butter flavor to balance them out!
Garlic Butter – Lots of melted butter with plenty of minced garlic, parsley, and onion powder make for an easy but incredibly flavorful butter sauce to drizzle over the salmon filets and asparagus. They'll bake up perfectly in all that garlic butter and take on even more flavor.
Lemon – The fresh slices of lemon will get placed over the salmon filets before baking and add a fresh pop of citrus.
Why We Love This Recipe:
Fish is not something that we have very often but it is great to change things up now and then and try something different without being fussy or difficult.
All that garlic butter! What's not to love about that?
Seafood, when eaten in moderation, can be very good for you, and salmon in particular is packed full of healthy omega-3 fatty acids and vitamins.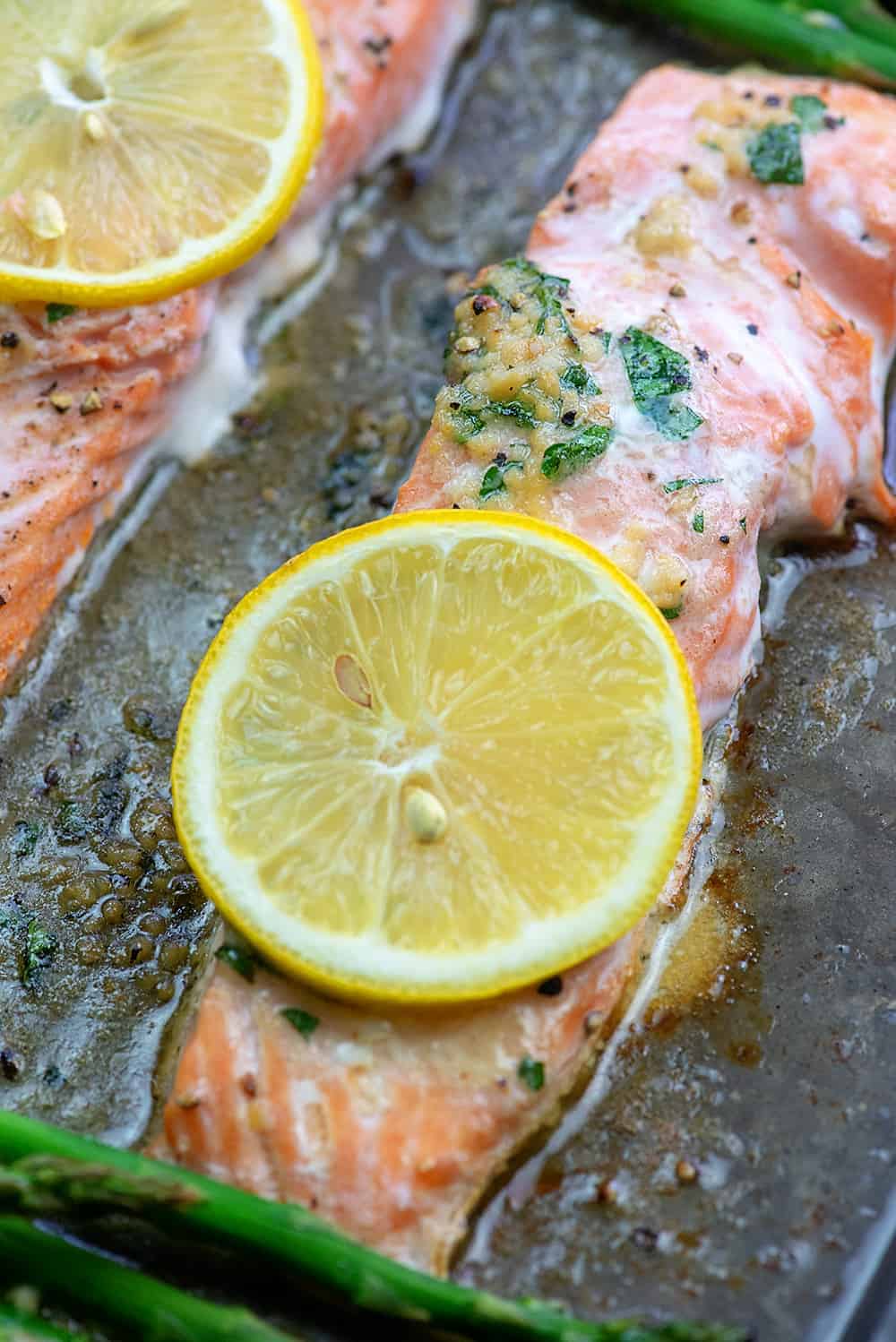 FAQs:
How long to bake salmon?
It doesn't take very long at all for this keto salmon recipe to bake since we're using such a hot oven. Set your oven to 450 degrees Fahrenheit and bake for 12-15 minutes or until it is opaque and flaky throughout.
Is baked salmon good for you?
Salmon is an excellent source of high quality protein, it's high in B-vitamins, and it's a good source of potassium. It's also full of omega-3 fatty acids which is what makes it so good for your brain! This is a low carb salmon recipe paired with healthy asparagus and topped off with a good fat – butter. All around, this baked salmon recipe is a great choice for your low carb diet!
How to reheat salmon?
If you've got leftover salmon, you'll want to be sure you reheat it properly so that it doesn't dry out. You'll want to go low and slow, heat it at 275 degrees Fahrenheit for about 15 minutes. You'll also want to add a little water or perhaps more garlic butter sauce to also help keep it from drying out. It will also help to cover it loosely with foil to keep the edges from getting too crisp.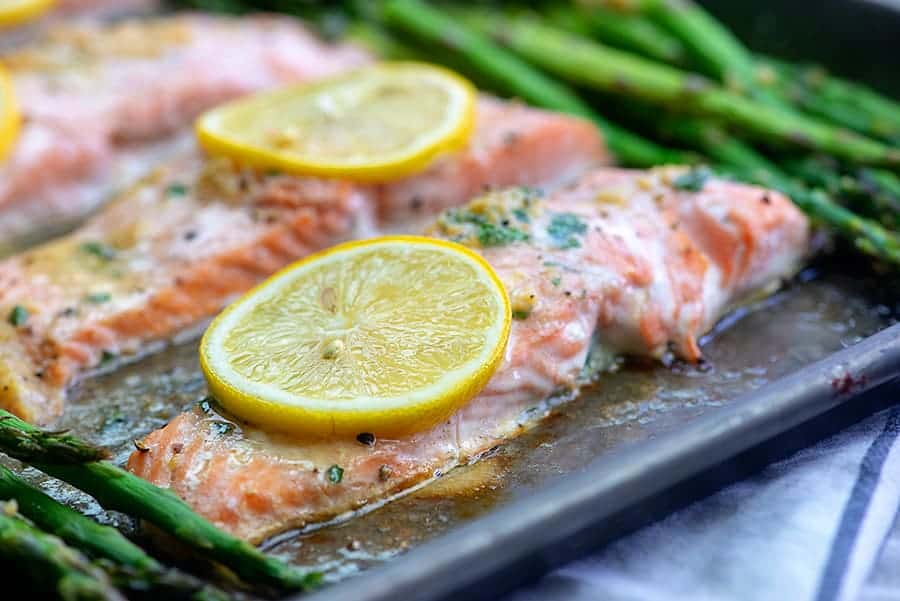 More Low Carb Seafood Recipes: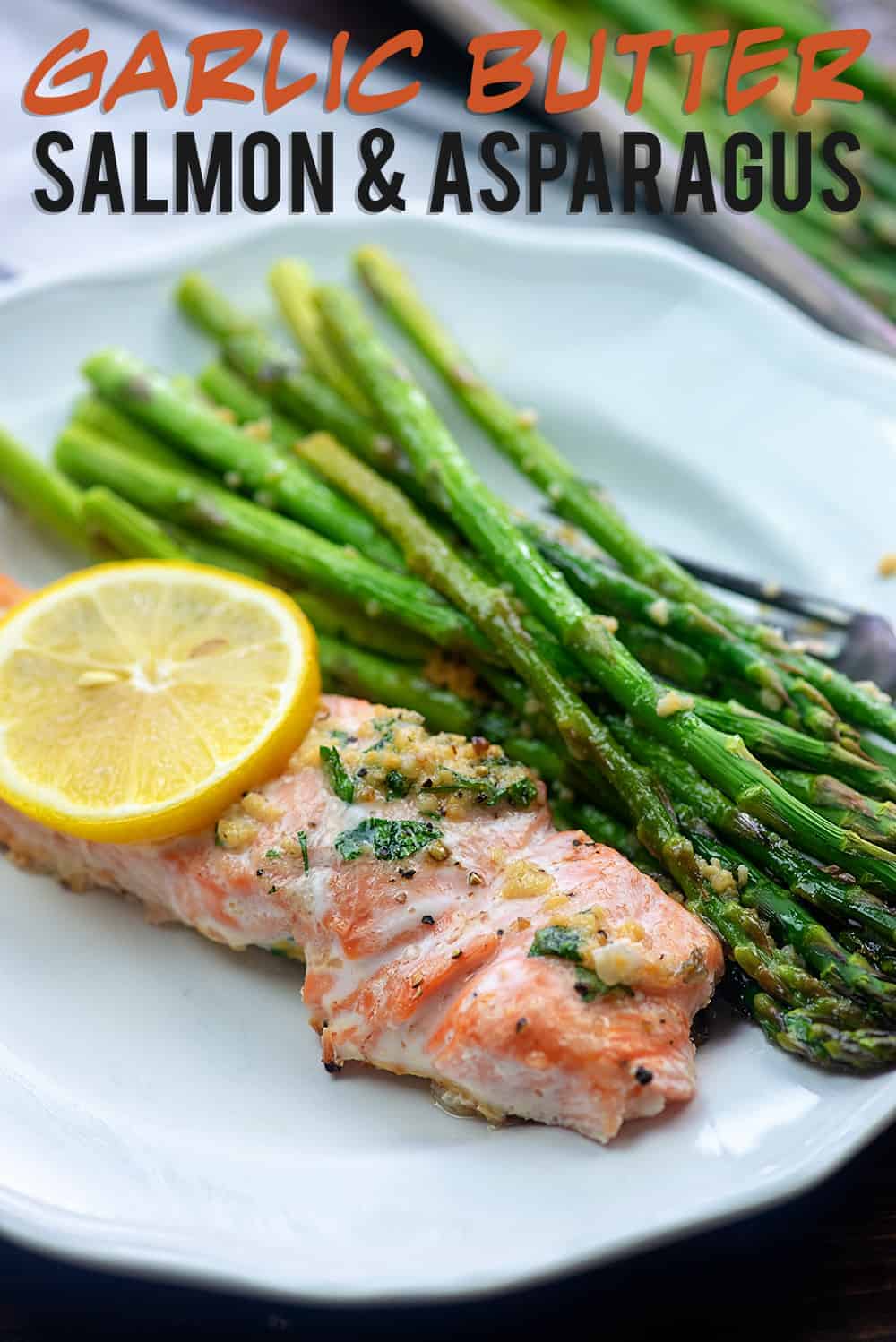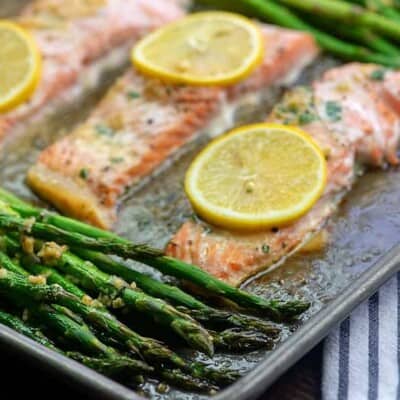 Garlic Butter Salmon and Asparagus
This easy baked salmon recipe is paired with asparagus and drizzled with garlic butter. Ready in about 20 minutes, it's a hit on busy nights!
Prep5 minutes
Cook12 minutes
Total17 minutes
Ingredients
1.5 pounds salmon cut into 4 fillets
1 pound asparagus trimmed
½ cup butter melted
3 cloves garlic minced
1 tablespoon minced parsley
1 teaspoon onion powder
1 teaspoon salt
½ teaspoon cracked pepper
4 slices lemon
Instructions
Preheat oven to 450 degrees. Spray a large rimmed baking sheet with non-stick spray.

Lay the salmon fillets down the center of the baking sheet, leaving space between each fillet.

Arrange the asparagus around the top and bottom of the baking sheet.

Whisk together the melted butter, garlic, parsley, and onion powder. Drizzle over the salmon and asparagus.

Sprinkle the salmon and asparagus with salt and pepper.

Lay 1 slice of lemon over each salmon fillet.

Bake for 12-15 minutes or until the salmon flakes with a fork and is opaque throughout.

Serve immediately.
Nutrition Information:
Serving: 1| Calories: 587kcal (29%)| Carbohydrates: 7g (2%)| Protein: 41g (82%)| Fat: 44g (68%)| Saturated Fat: 19g (119%)| Polyunsaturated Fat: 22g| Trans Fat: 1g| Cholesterol: 168mg (56%)| Sodium: 832mg (36%)| Fiber: 3g (13%)| Sugar: 2g (2%)| Net Carbs: 4g (8%)