This Creamy Lemon Garlic Salmon is an easy way to get salmon on the table! Pan seared salmon with a lemon dill sauce makes for a decadent dinner that's naturally low carb and a hit with the family!
I'm a sucker for a simple dinner with big, bold flavors and this Lemon Garlic Salmon doesn't disappoint!
I love dishes like this, because the salmon and the creamy lemon dill sauce cooks in one pan so easily and quickly. Plus, it's naturally low carb and everyone just loves the flavors going on here! So bright and zesty – a perfect compliment to the rich, buttery salmon.
This time around we served up our lemon dill salmon with some air fried asparagus, but it'd also be good with our crispy Brussel sprouts or Instant Pot broccoli. That lemon dill sauce is perfect drizzled over the veggies, too!
Ingredient Notes:
This post contains affiliate links. As an Amazon associate and member of other affiliate programs, I earn from qualifying purchases.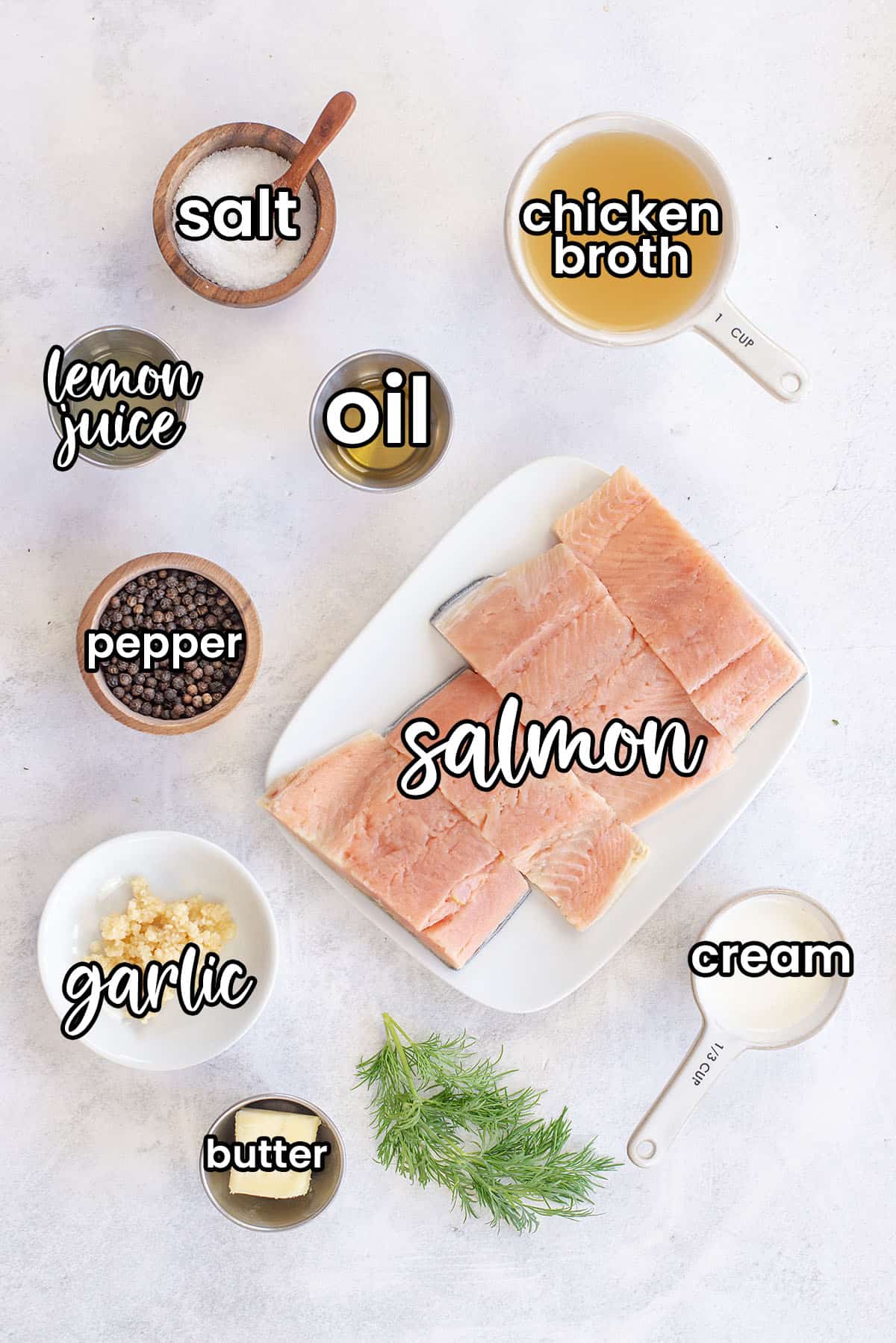 Salmon – There are a few different types of salmon such as Atlantic, King, Sockeye, or Coho. They are similar but have somewhat different flavors and fat content. Atlantic salmon tend to be farm raised while the other varieties are often wild caught, which are considered healthier but also more expensive.
Lemon Garlic Sauce – This creamy sauce is made from lemon juice, heavy cream, butter, garlic, and chicken broth. I'd recommend using freshly squeezed lemon juice but the bottled kind works too. This sauce is full of creamy garlic and lemon flavor that pairs perfectly with the rich flavor of the salmon!
Fresh Dill – For topping the creamy lemon garlic salmon before serving. Adds the perfect touch!
Why We Love This Recipe:
Ready in about 20 minutes with minimal prep work!
Big, bold flavors and a creamy sauce are always a hit in my house.
Easy to double for a big crowd or meal prep.
One skillet equals less mess!
Helpful Tools:
Lemon Squeezer – We love freshly squeezed lemon and lime! This tool makes it easy and mess free, and we use it all the time!
Whisk – An essential kitchen tool! A whisk makes deglazing the pan quick and easy, along with many other uses.
Skillet – We love this gorgeous enameled cast iron dish.
How To:
Season – To get started, let the salmon filets come to room temperature and then season both sides with salt and pepper. We season pretty liberally here.
Sear – Heat some oil in a skillet and start cooking the salmon skin side down which helps keep it from drying out and overcooking. When browned, flip it over and continue cooking for a couple more minutes or until the salmon is cooked through.
Sauce – Remove the cooked salmon filets from the skillet and pour in the chicken broth. Use a whisk to deglaze the pan, then add in the garlic and lemon juice and bring to a boil. The chicken stock needs to reduce by half, so let it simmer for about 10 minutes. When reduced, whisk in the cream and butter until it all melts together and forms into a smooth, creamy lemon garlic sauce!
Finish – Return the cooked salmon to the skillet with the sauce and cook for another minute to rewarm the salmon and coat it in the sauce. Top it with some fresh dill and serve!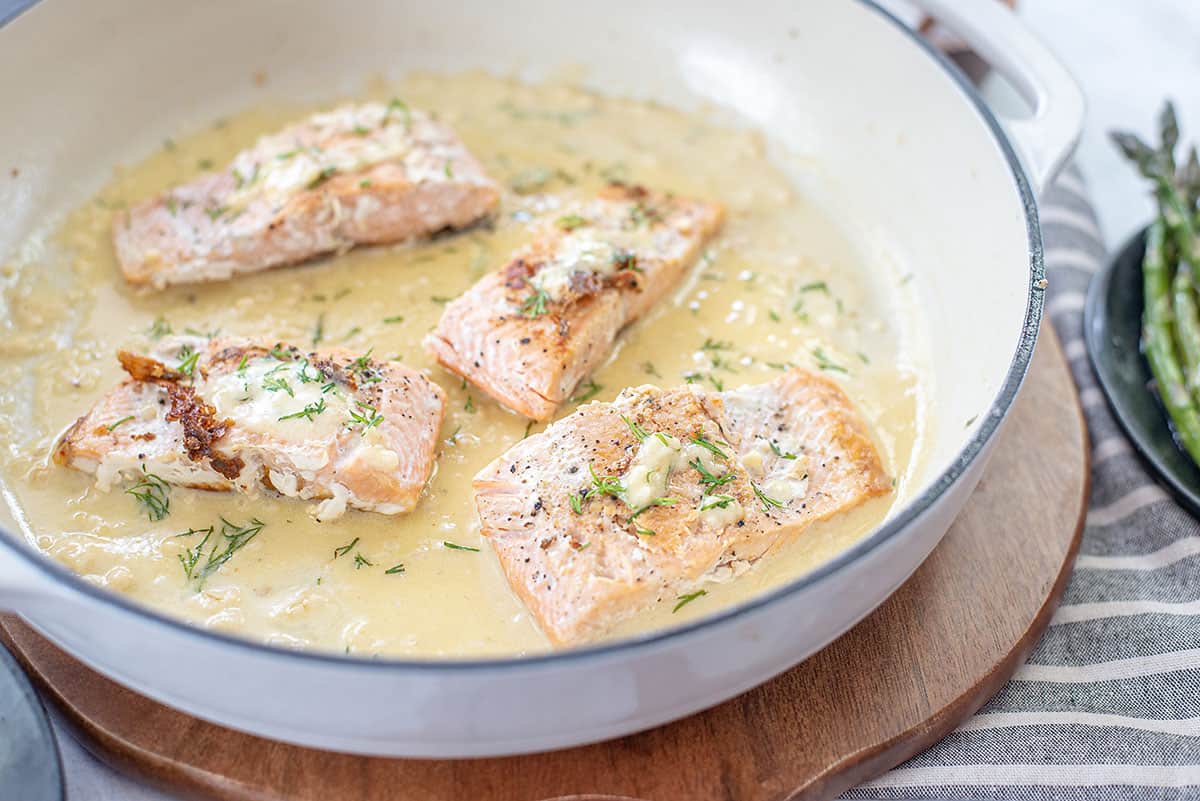 Helpful Tip!
You can make the sauce as thin or thick as you prefer! We like the sauce to be a bit on the thinner side, not overly thickened like gravy. If it's too thin, keep cooking it until it reduces further. If it's too thick, whisk in a little more broth or cream.
FAQ's:
How long is cooked salmon good for?
Cooked salmon will last in the fridge for up to 3 days. To reheat, we recommend using a low power and cooking in 30 second increments in the microwave along with the sauce.
Is salmon keto?
Yes, like all fresh meat and seafood it is keto! Some recipes may add ingredients that are not keto friendly, but the ingredients in this creamy lemon garlic salmon are great for a low carb and keto diet.
How to tell when salmon is done?
Use a fork to gently press down on the top of the salmon. It should easily flake apart, the pink parts separating from the white.
More Keto Salmon Recipes: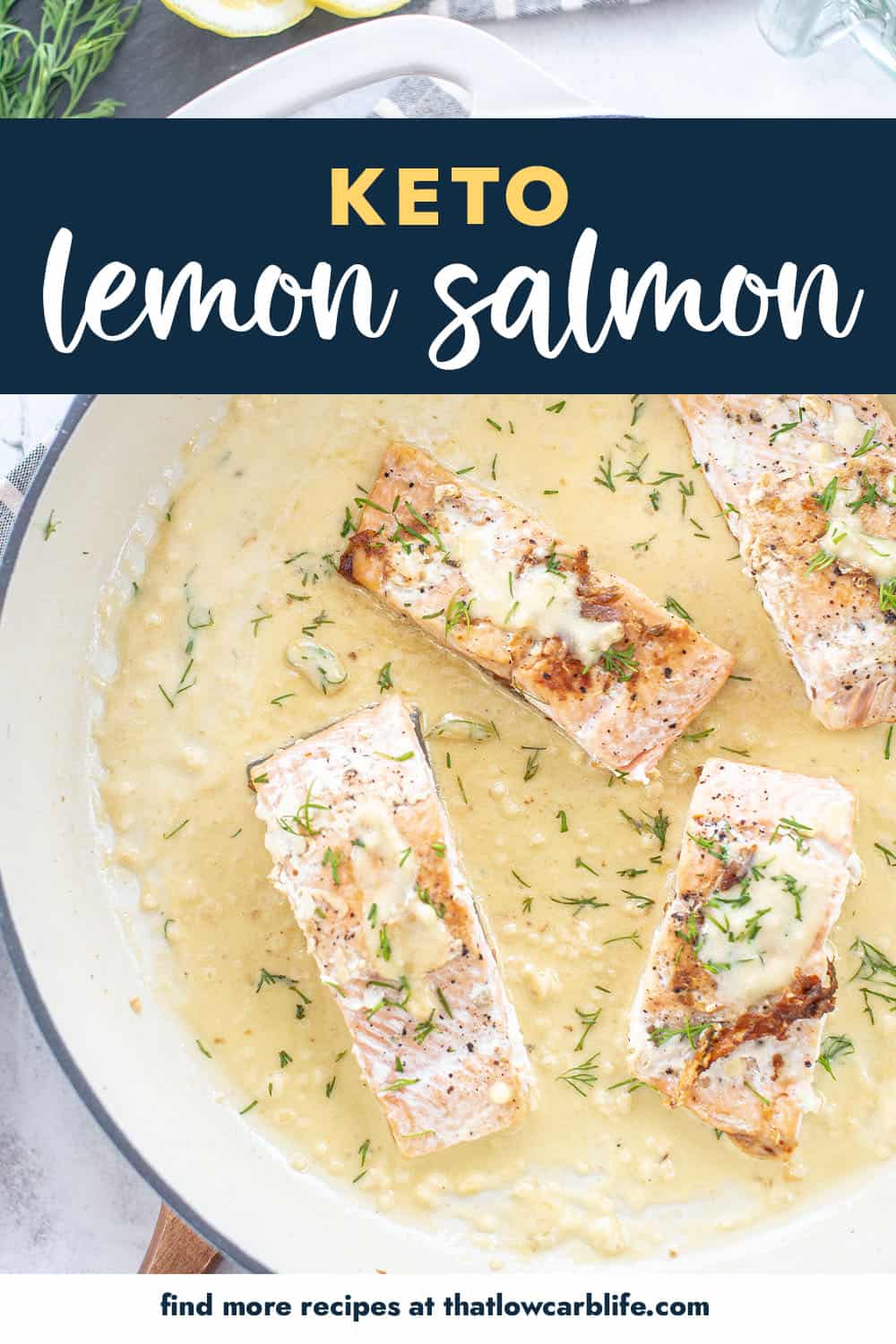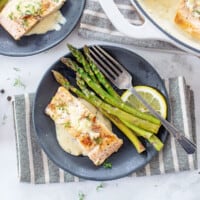 Creamy Lemon Garlic Salmon
This lemon garlic salmon is so simple to whip up and made in one skillet. We love that it's naturally low carb and always a hit with friends and family. The extra sauce is delicious over roasted veggies.
Ingredients
4 salmon filets, about 1 pound
1 teaspoon salt, more to taste
1/2 teaspoon pepper
1 tablespoon olive oil
1 cup chicken broth
1 tablespoon lemon juice
3 cloves garlic, minced
2 tablespoons butter
¼ cup heavy cream
2 teaspoons dill
Instructions
Bring the salmon to room temperature for about 10 minutes before cooking. Season the salmon on both sides with salt and pepper.
Heat a large, heavy-bottomed skillet over medium heat. Add the oil and heat until it shimmers.
Add the salmon to the skillet, skin side down, and cook until browned, about 4-5 minutes. Flip salmon and cook for 3-4 more minutes or until salmon is browned and cooked through.
Remove salmon to a plate and set aside while you make the sauce.
Add the chicken broth to the pan and whisk to deglaze the pan. Add the lemon juice and garlic to the pan and bring to a boil over medium heat.
Allow chicken stock to reduce by half, about 10 minutes.
Whisk the butter and cream into the chicken stock until butter has melted and mixture is smooth and creamy.
Return the salmon to the skillet and sprinkle with fresh dill. Cook for 1 minute to rewarm the salmon.
Taste sauce and add additional salt, if needed. Serve hot.
Notes
For a thicker sauce, continue cooking over low heat to reduce it further. For a thinner sauce, cook for less time or whisk in extra broth.
Nutrition Information:
Yield: 4
Serving Size: 1
Amount Per Serving:
Calories: 607
Total Fat: 43g
Saturated Fat: 13g
Trans Fat: 0g
Unsaturated Fat: 26g
Cholesterol: 176mg
Sodium: 949mg
Carbohydrates: 2g
Net Carbohydrates: 2g
Fiber: 0g
Sugar: 1g
Protein: 51g
All information and tools presented and written within this site are intended for informational purposes only. This information is provided as a courtesy and there is no guarantee that the information is accurate.