You won't believe how good these crispy Brussels sprouts are until you've tried them! Skip the stinky steamed stuff, these sprouts have the perfect texture and roasty toasty flavor!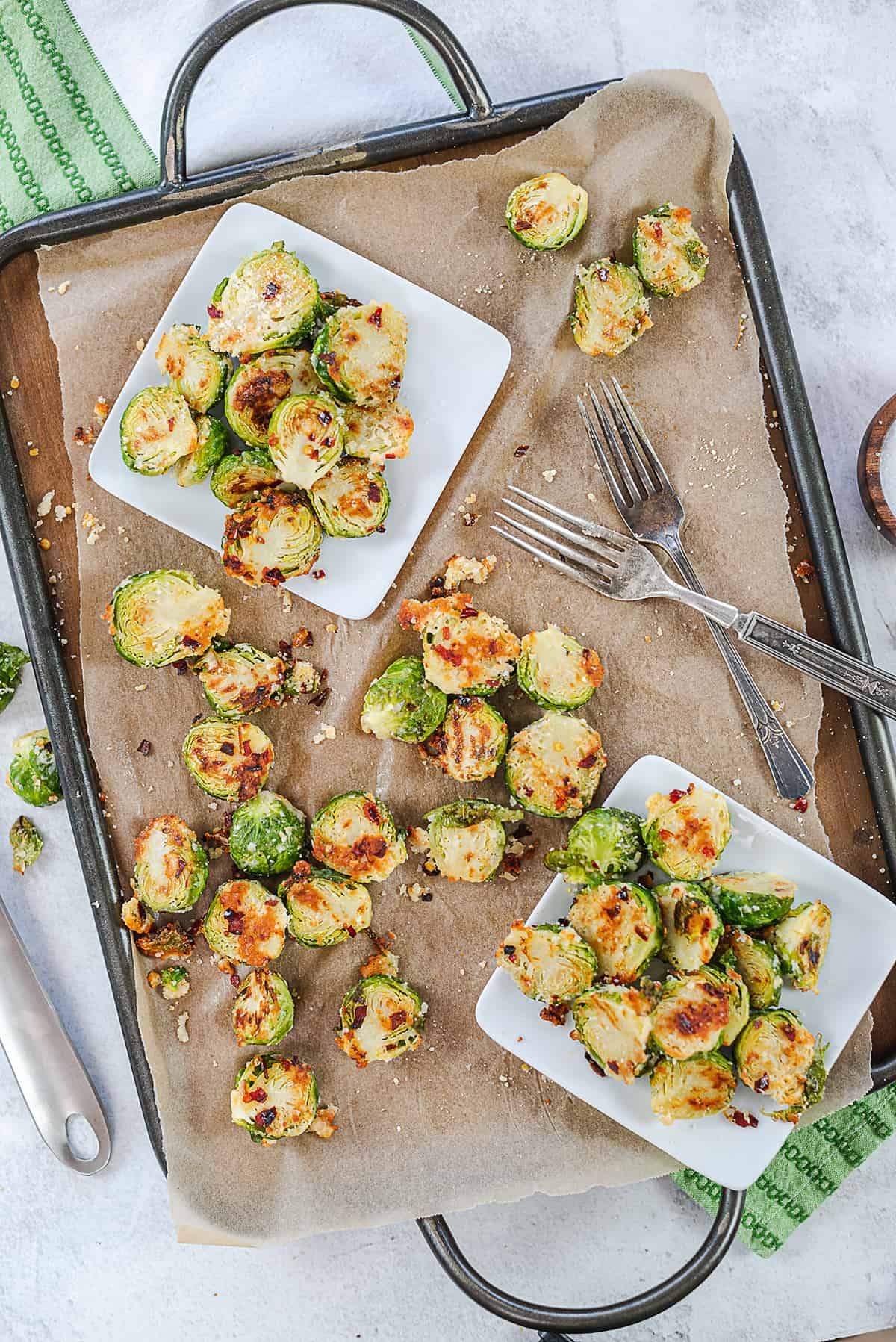 Brussels sprouts are definitely a love them or hate them type of food, but I'm pretty sure that most people in the 'hate them' category just haven't had them cooked properly.
If you're boiling Brussels sprouts, it's no wonder they aren't your favorite vegetable!
Roasted Brussels sprouts, like other vegetables, sweeten up as they roast because the natural sugars found in the sprouts caramelizes. The Brussels sprouts get a bit crispy on the outside, thanks to the Parmesan we coat them in, and they're fork tender and have a nice bite to them – nothing like mushy boiled Brussels sprouts!
These would make a great side dish for your holiday dinner, but they're so simple that you can really make them any night of the week.
And if this isn't the Brussels sprouts recipe for you, be sure to try out our creamy Brussel sprouts or these bacon wrapped Brussel sprouts (just use keto maple syrup on that one).
Ingredient Notes: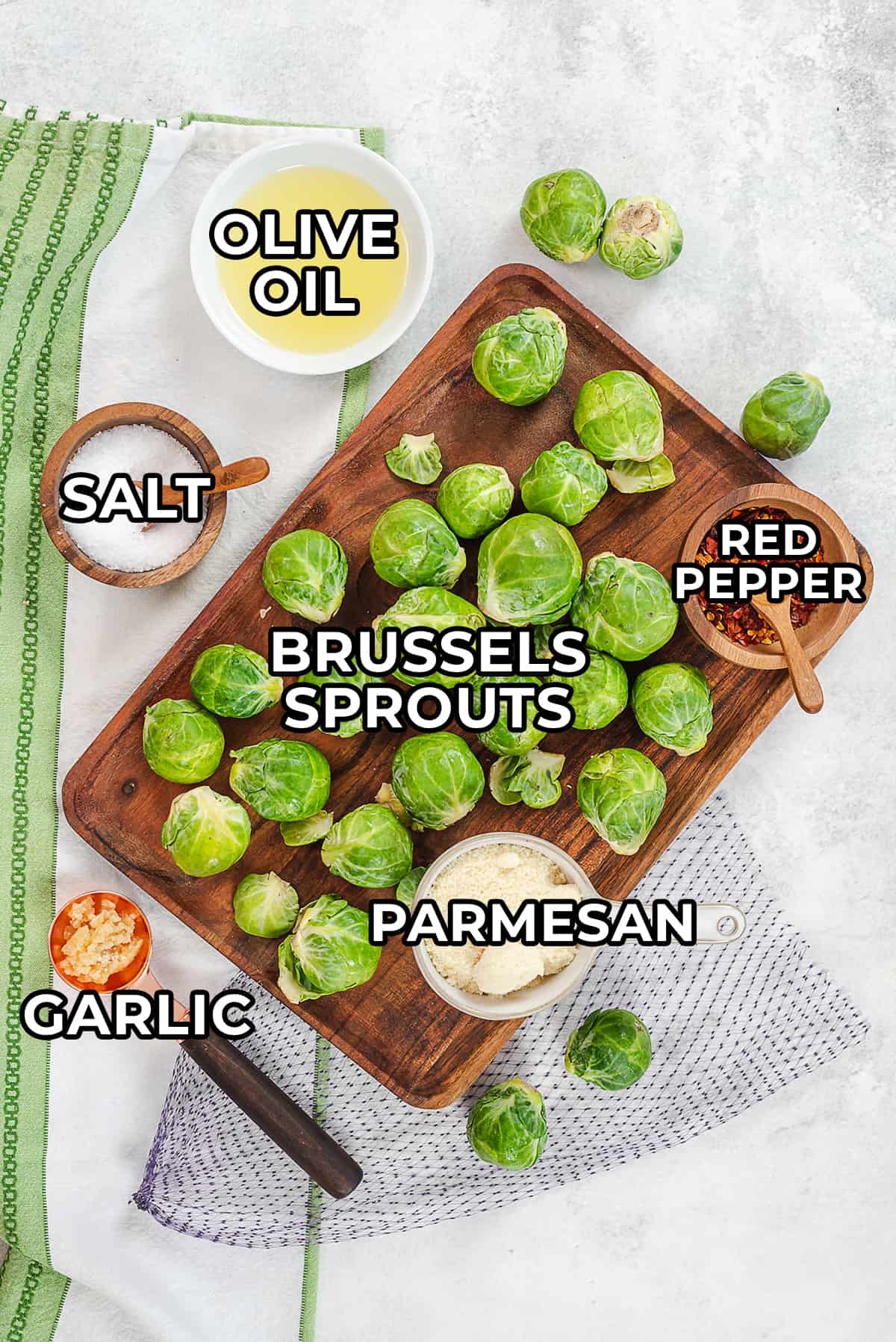 Brussels Sprouts – You'll need some fresh brussels sprouts that have been cut into halves. Fresh is definitely best here – we've never tested this with frozen Brussels sprouts and don't believe the texture would be as good.
Crispy Coating – To make perfectly crispy Brussels sprouts you're going to coat them in a mixture of olive oil, minced garlic, powdery Parmesan cheese, salt and red pepper flakes! The pepper will add just a little bit of a kick to the oven roasted Brussels sprouts.
Why We Love Crispy Brussels Sprouts:
Roasted crispy Brussels Sprouts are a whole different thing from the stinky, mushy steamed or boiled sprouts! When you roast them, the outside gets perfectly crispy and caramelized and the seasoning they roast in doesn't hurt either. These definitely aren't boring Brussels sprouts!
How To:
Prepare – First up you'll want to prepare the Brussels sprouts by washing them and trimming the ends. Cut them in half from top to bottom and and then dry them off with a paper towel. Add the sprouts to a large mixing bowl and then dump in all the remaining ingredients. Give it a good stir to coat the sprouts in the oil and seasoning mixture.
Bake – Spread the Brussels sprouts out onto a large rimmed baking sheet in an even layer. If you want them to be extra crispy place the sprouts cut side down. They won't take very long to cook, about 25 to 30 minutes or until they've turned a deep golden brown and are nice and crispy!
Helpful Tip!
Save yourself some work for later! You can prepare and cut the Brussels sprouts ahead of time and store sealed in the fridge until you are ready to use them. They'll stay fresh for at least a couple of days.
FAQ's:
Can you store roasted Brussels Sprouts?
Sure! Just put them in an airtight container and they should last in the fridge for up to 4 days. I wouldn't recommend freezing them or they'll probably turn out soggy.
How do you prepare Brussels Sprouts?
You'll want to wash the brussels sprouts well, cut off the woody ends and trim any remaining stems or damaged looking leaves before cutting them into halves. Sounds tedious, but it goes quick!
More Low Carb Brussels Sprouts Recipes!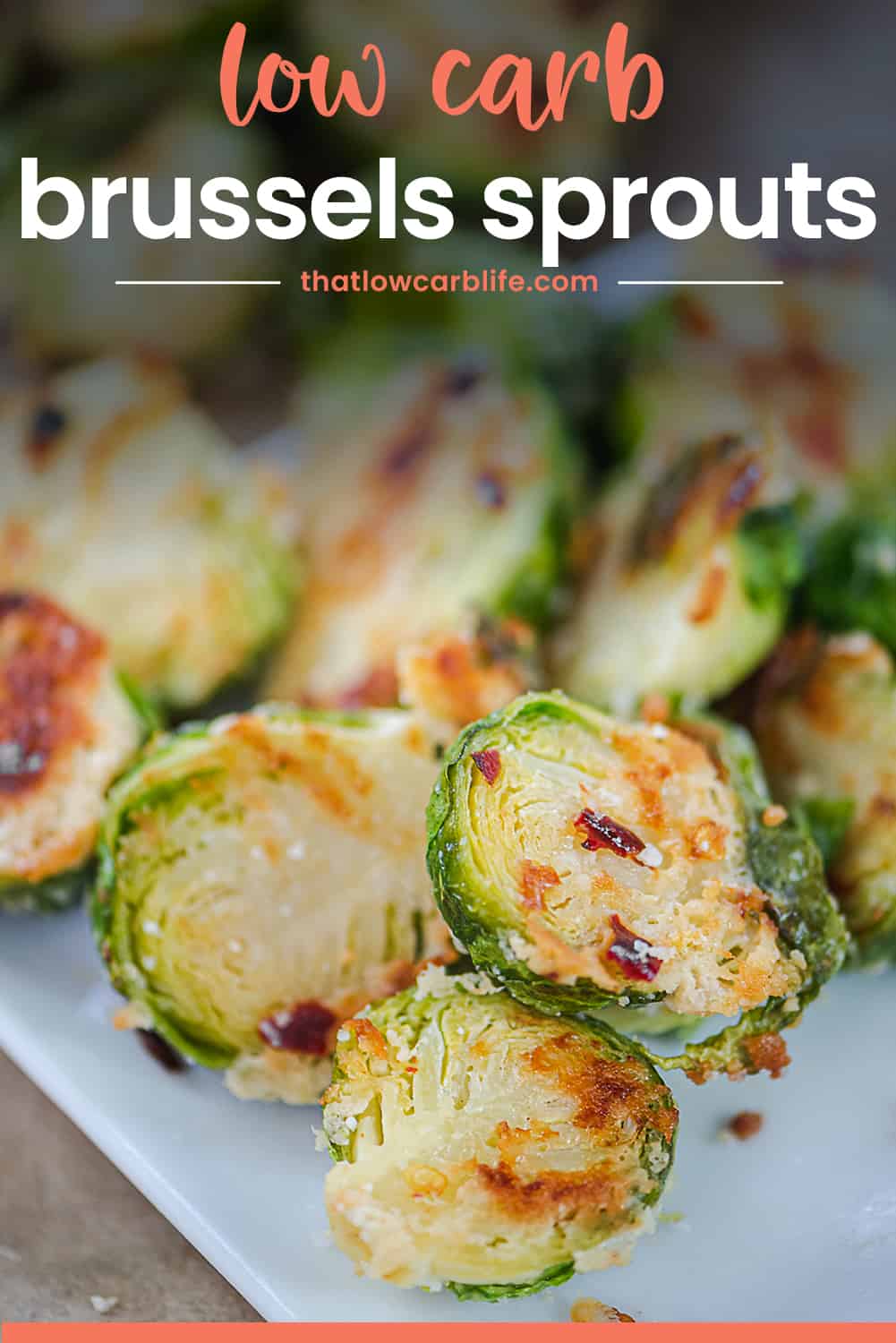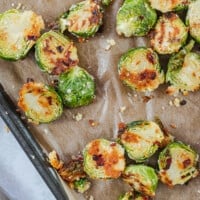 Crispy Brussels Sprouts
These crispy Brussels sprouts are coated in grated Parmesan to give them a crisp coating and loads of flavor. We season these with red pepper flakes for just a little kick, but this can be omitted or reduced if you prefer.
Ingredients
1 pound Brussels sprouts
2 tablespoons olive oil
3 cloves garlic, minced
½ cup grated Parmesan cheese, see note
½ teaspoon salt
Pinch of red pepper flakes
Instructions
Preheat oven to 400 degrees.
Wash the Brussels sprouts and trim the ends. Cut in half from top to bottom. Pat dry with a paper towel.
Add Brussels sprouts to a large mixing bowl along with the remaining ingredients. Stir to coat.
Spread the Brussels sprouts onto a large, rimmed baking sheet in an even layer. For extra crispiness, place Brussels sprouts cut side down.
Bake for 25-30 minutes or until sprouts are a deeply golden brown and crispy.
Serve hot.
Notes
Be sure to use the powdery Parmesan cheese and not shredded cheese. You can use the kind in the green shaker can or you can buy it from the refrigerated cheese section of the grocery store if you'd like a higher quality cheese.
Nutrition Information:
Yield: 4
Serving Size: 1
Amount Per Serving:
Calories: 156
Total Fat: 11g
Saturated Fat: 3g
Trans Fat: 0g
Unsaturated Fat: 7g
Cholesterol: 11mg
Sodium: 514mg
Carbohydrates: 8g
Net Carbohydrates: 5g
Fiber: 3g
Sugar: 2g
Protein: 7g
All information and tools presented and written within this site are intended for informational purposes only. This information is provided as a courtesy and there is no guarantee that the information is accurate.