This keto side dish of SAUTEED KALE AND BRUSSELS SPROUTS is a healthy nutritious side that's easy enough for any night, but fancy enough for a holiday dinner. We love the tart sweetness of the balsamic vinegar paired with the salty prosciutto.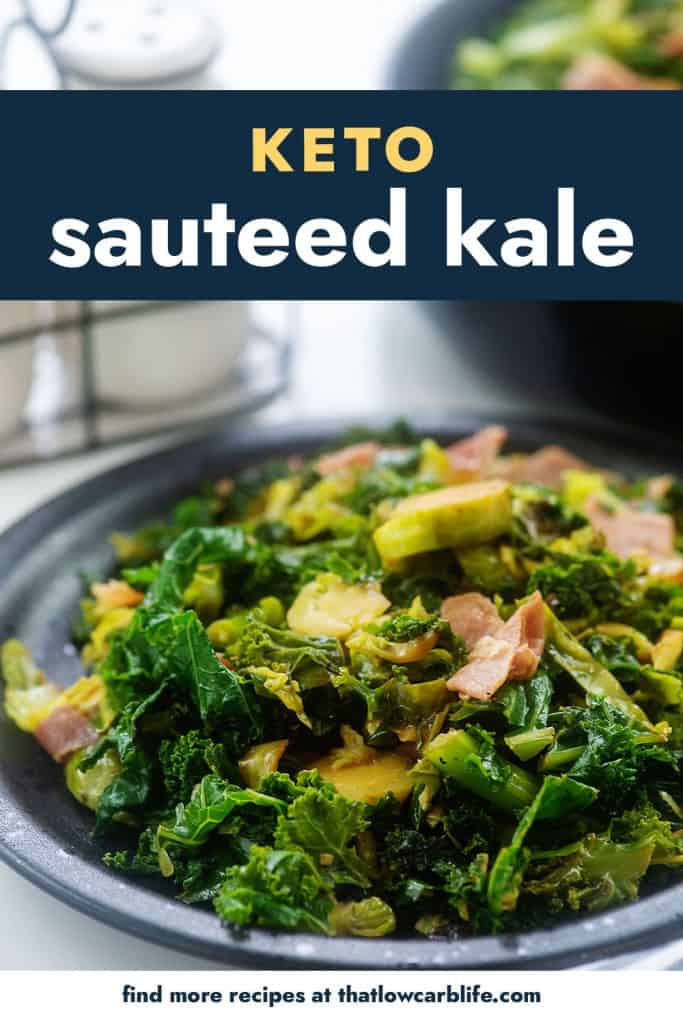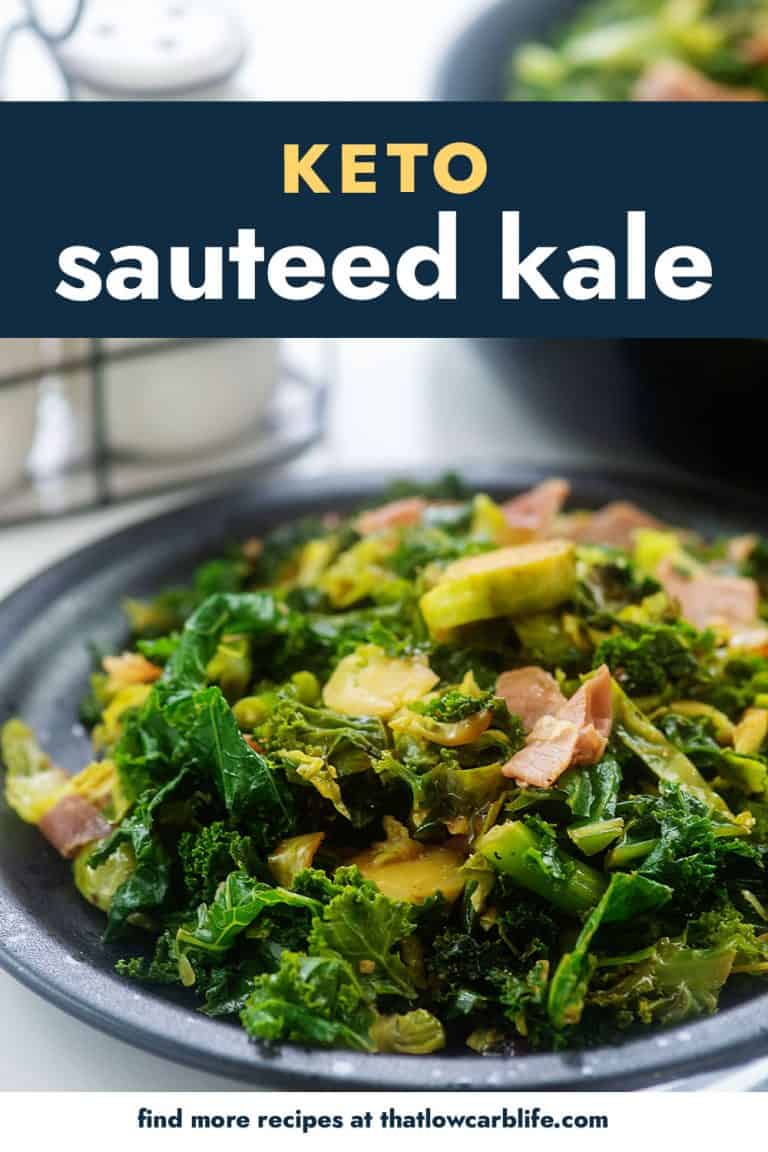 Alright, admittedly this recipe here is a little outside of my usual comfort food, family friendly type of recipes.
But you guys, I had to share it, because even though it is violently green and nutritious looking, it's seriously amazing.
I saw this sauteed kale recipe in Taste of Home, tweaked it a bit to make it more keto friendly, and the first time I tried it I called the whole family into the kitchen to take a taste right out of the skillet.
This one is so dang good. Really complex flavors, especially considering that this cooks in just 15 minutes.
If you've already had sauteed Brussels sprouts and liked them, I think you'll really love this upgraded version. Same goes for kale!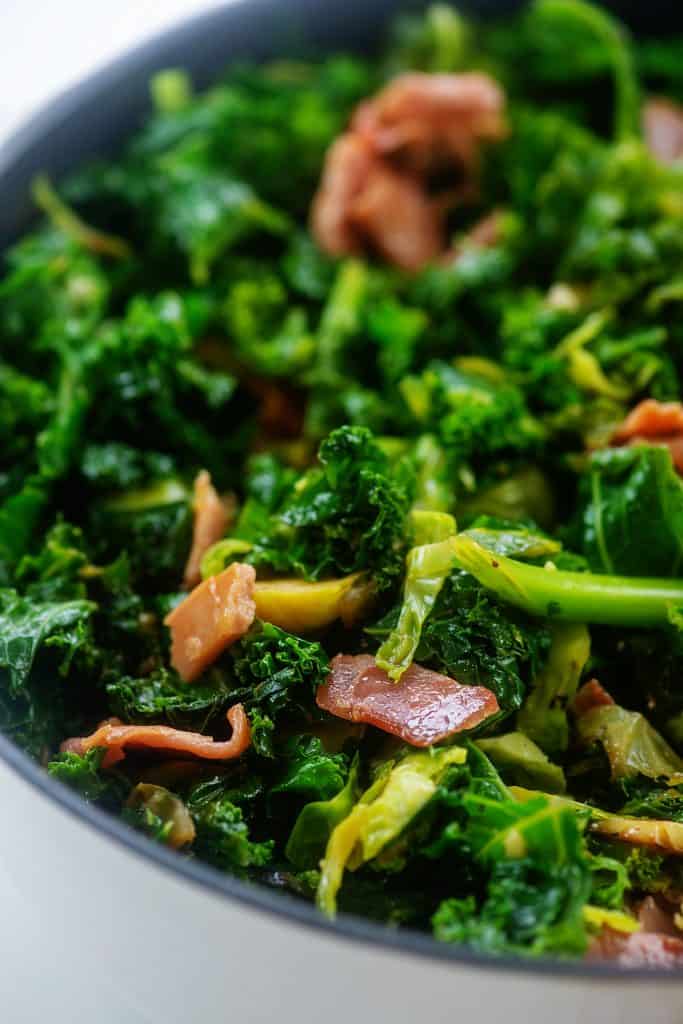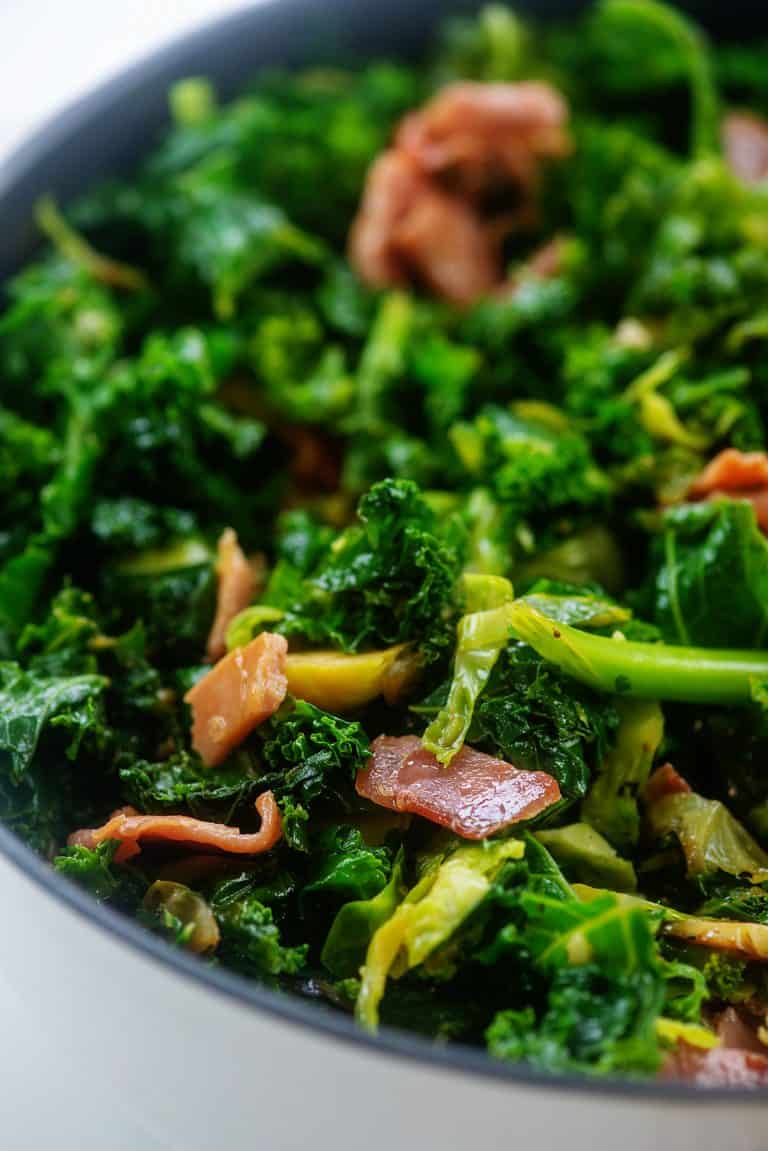 How to saute kale:
This recipe goes pretty quick, so we like to get everything chopped and ready to go before we start cooking.
You'll want to dice up some prosciutto, slice Brussels sprouts into thin strips, and chop kale into bite-sized pieces.
You will also need diced onion and minced garlic for this recipe.
Cook the prosciutto in a bit of oil until crisp. This will take about 3-4 minutes.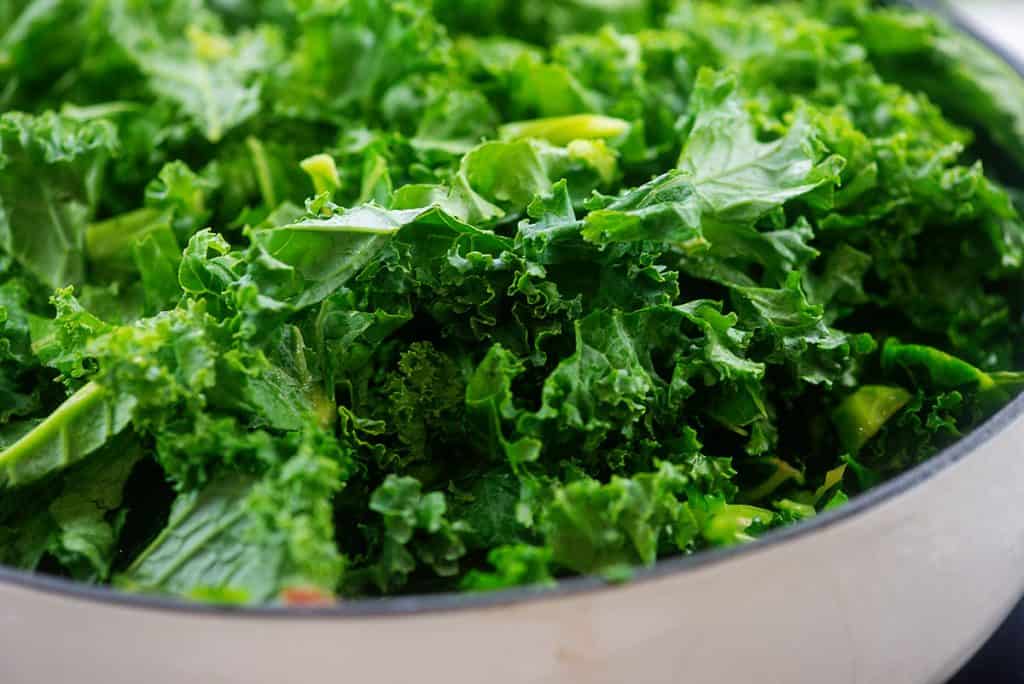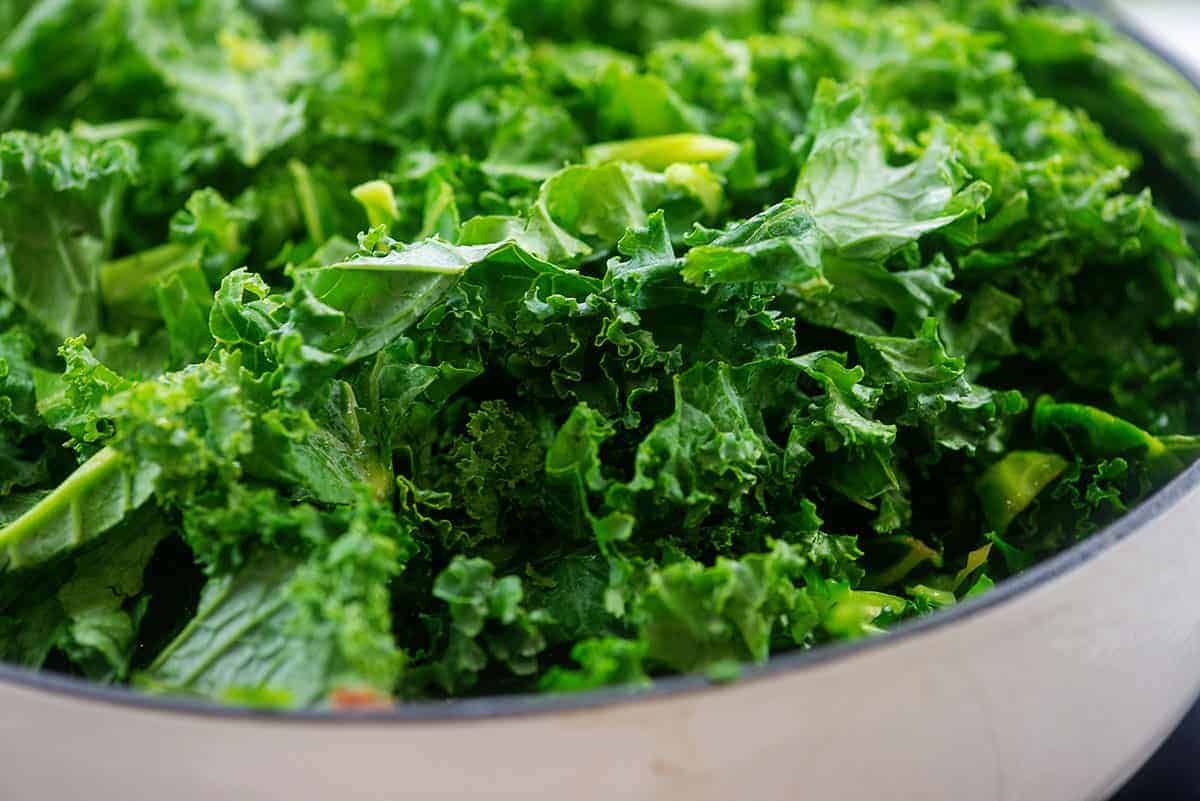 Next, you'll cook the Brussels sprouts, kale, onion, and garlic in a bit of butter. We like to let them get a bit browned to on bottom. Those browned bits are so flavorful.
Add in some chicken broth, salt, and pepper and let this simmer for about 5 minutes to soften everything up.
To serve, sprinkle with the crispy prosciutto and drizzle with a bit of balsamic.
This sauteed kale and Brussels sprouts is so simple and so flavorful!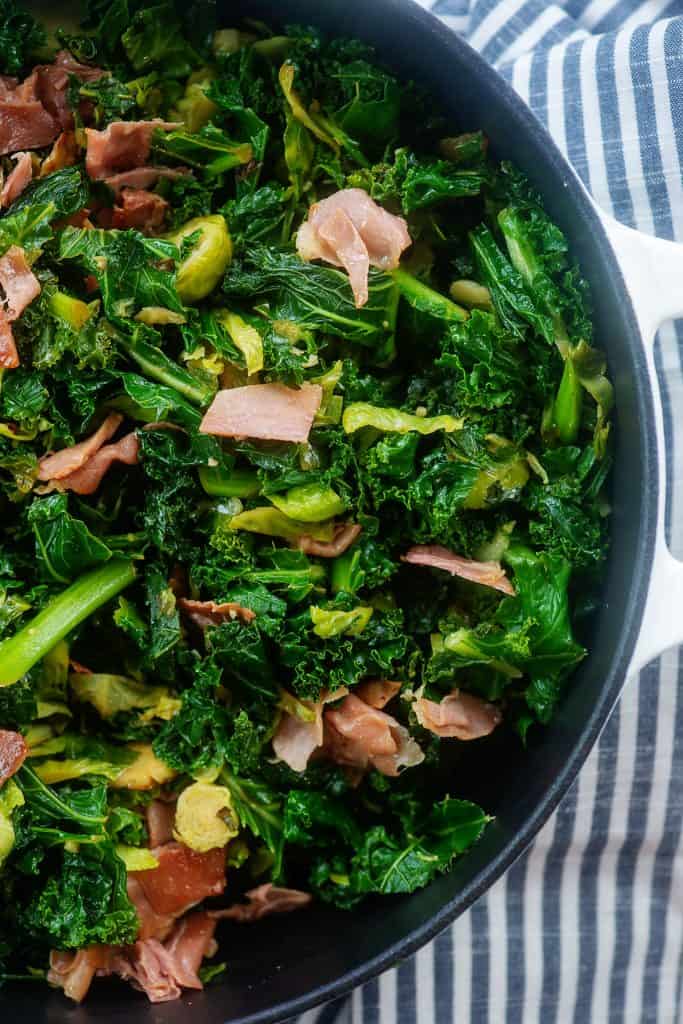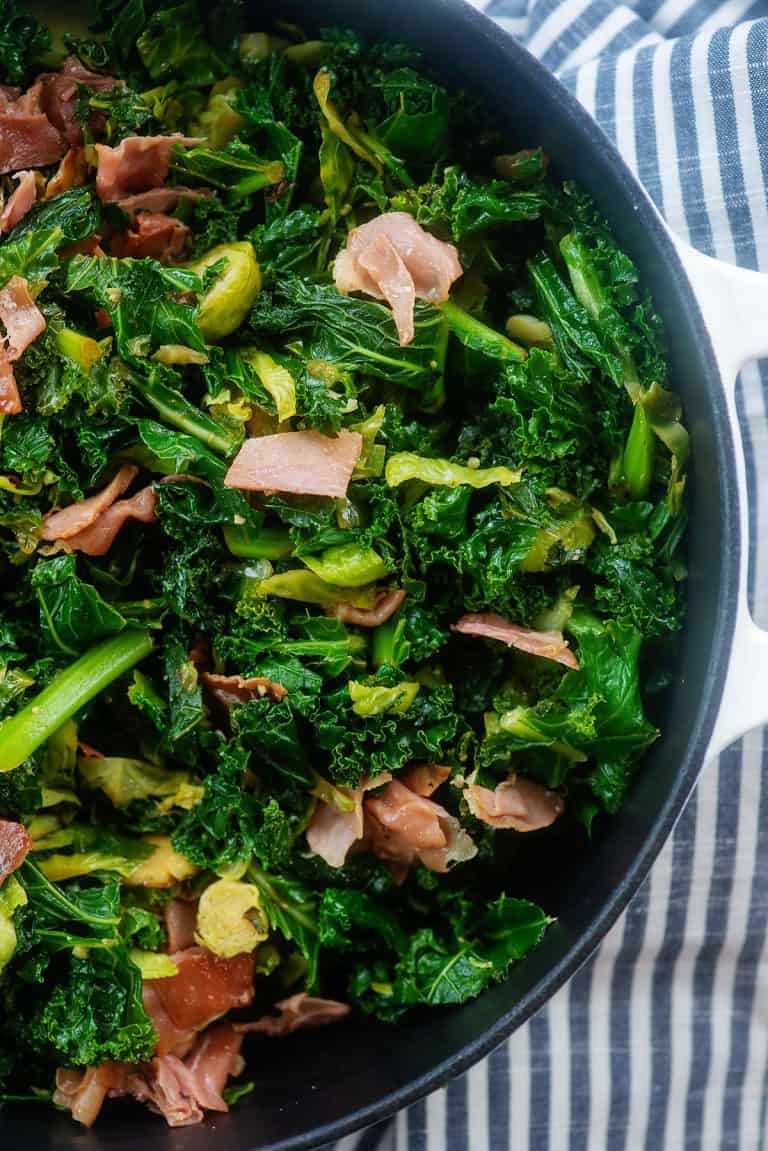 Tips & Tricks:
Prosciutto: Prosciutto is an Italian cured ham that is very thinly sliced. We usually eat it cold (it's amazing wrapped around a string cheese!), but you can also fry it up like you would bacon. If you don't have/can't find prosciutto, bacon is a great replacement.
Balsamic Vinegar: Many balsamic vinegars are loaded with sugar. Make sure to read the labels! You're looking for one with just 2 grams of carbs per tablespoon. We use this balsamic vinegar, because it's low in carbs, tastes great, and is budget friendly.
Cast Iron: We like to use a big cast iron skillet for this recipe, because of the way it cooks. It allows the vegetables to get a bit browned and those browned bits are flavor bombs. You can certainly use a non-stick skillet, but we prefer cast iron.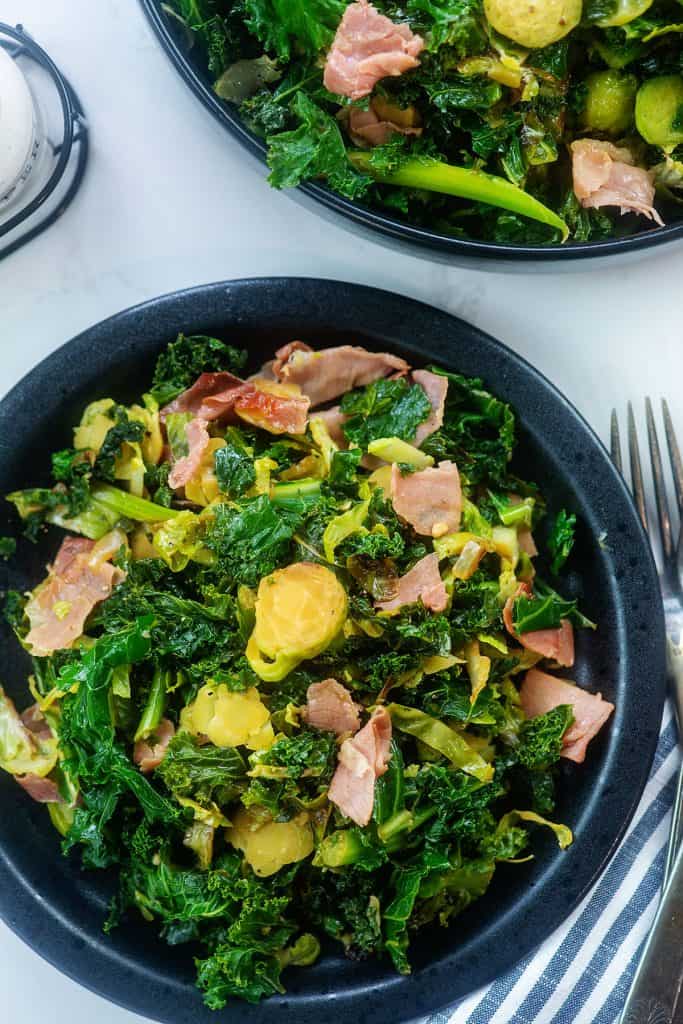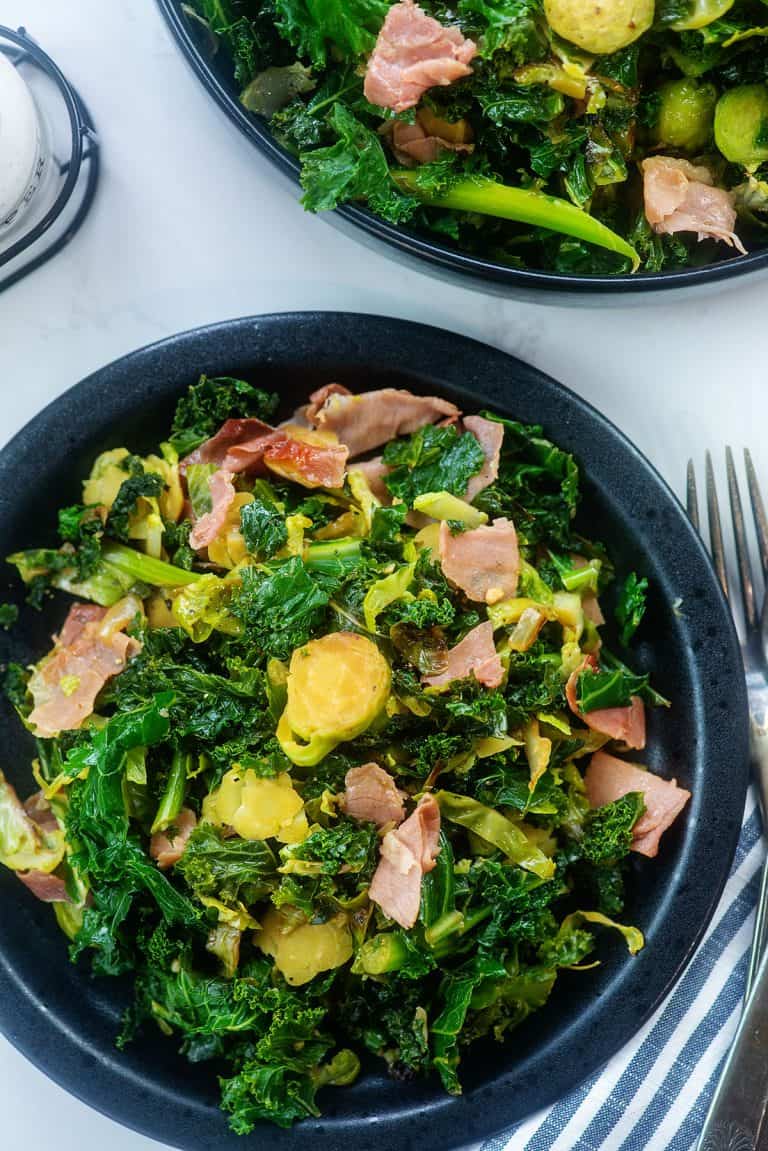 More low carb side dish recipes: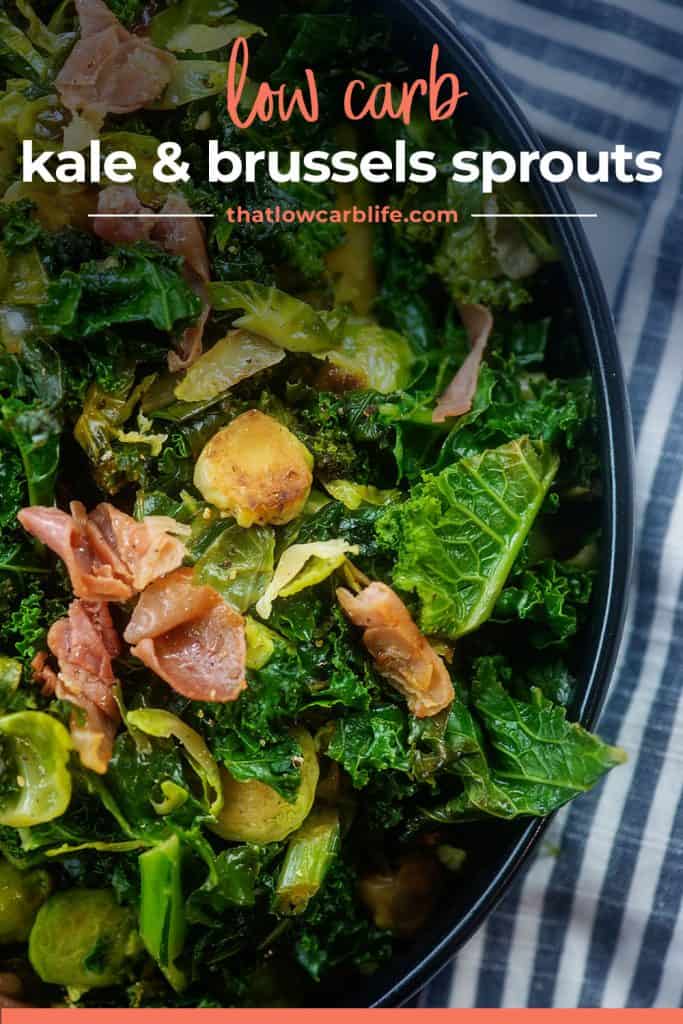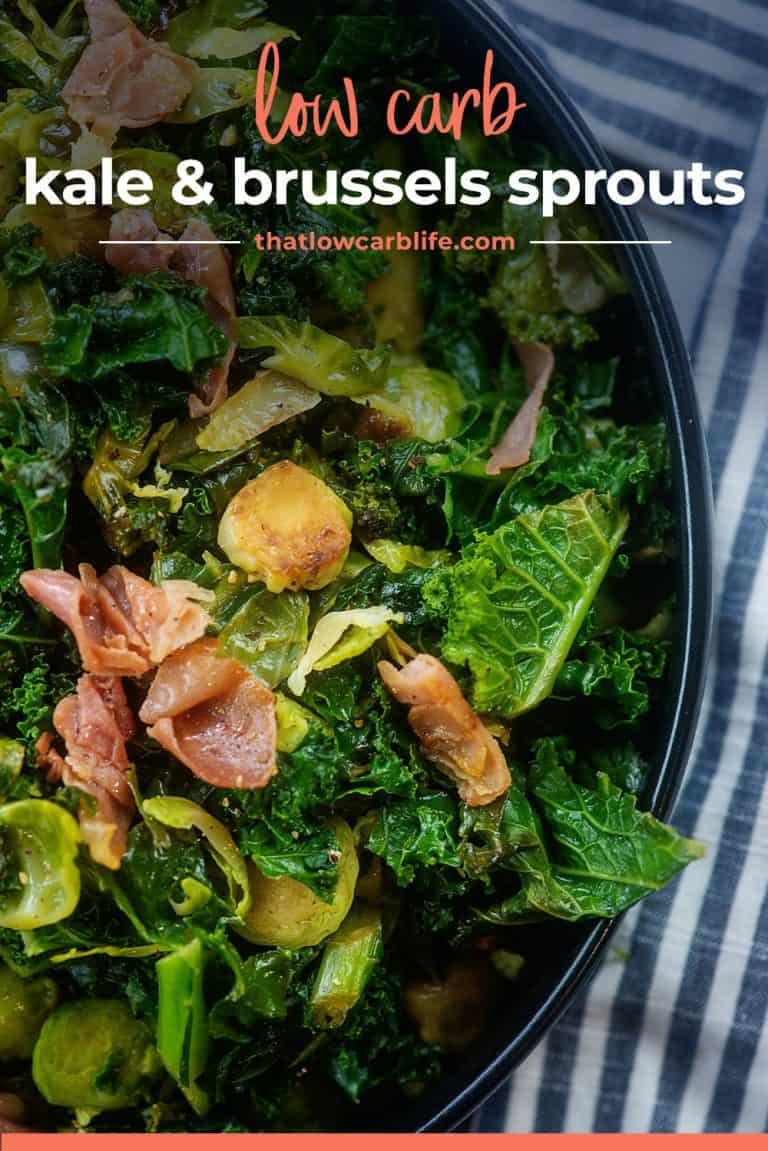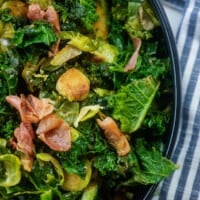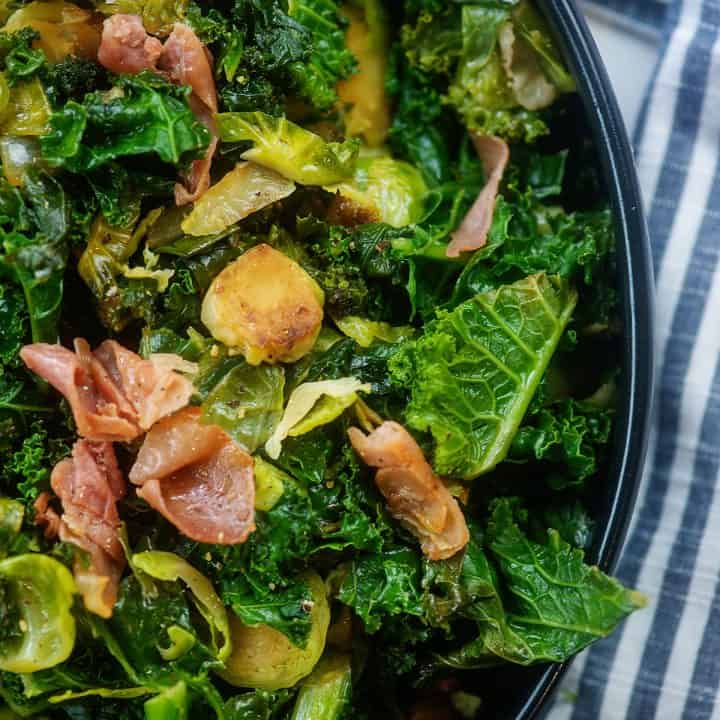 Sauteed Kale and Brussels Sprouts
Crispy prosciutto, tender kale and Brussels sprouts, and a drizzle of balsamic all make this side dish just burst with flavor. It's elegant enough for a holiday dinner, but simple enough for any weeknight.
Ingredients
1 tablespoon oil
4 ounces prosciutto, diced
1 tablespoon butter
1 pound Brussels sprouts, thinly sliced
1 pound kale, shredded or finely chopped
¼ cup chopped onion
1 clove garlic, minced
1/4 cup chicken broth
1/2 teaspoon salt
1/2 teaspoon cracked pepper
1 tablespoon balsamic vinegar
Instructions
Heat the oil in a large, deep skillet over medium heat. Add the prosciutto and cook, stirring often, until crisp, about 3 minutes.
Remove the prosciutto from the pan with a slotted spoon and set aside.
Add the butter to the skillet and melt.
Add the Brussels sprouts, kale, and onion and cook, stirring often, until vegetables begin to soften, about 5 minutes.
Stir in the garlic and cook for 1 minute more.
Add the chicken broth, salt, and pepper and bring to a boil. Reduce to a simmer, cover, and cook for 5 minutes or until vegetables are tender.
Drizzle with balsamic and top with prosciutto.
Serve immediately.
Notes
You may use bacon in place of prosciutto, if preferred.
Be sure to use a balsamic vinegar with just 2 grams of sugar per tablespoon. Many of them are loaded with sugar.
Recommended Products
As an Amazon Associate and member of other affiliate programs, I earn from qualifying purchases.
Nutrition Information:
Yield: 6
Amount Per Serving:
Calories: 131
Total Fat: 7g
Saturated Fat: 2g
Trans Fat: 0g
Unsaturated Fat: 4g
Cholesterol: 19mg
Sodium: 773mg
Carbohydrates: 10g
Net Carbohydrates: 6g
Fiber: 4g
Sugar: 3g
Protein: 9g
All information and tools presented and written within this site are intended for informational purposes only. This information is provided as a courtesy and there is no guarantee that the information is accurate.