Our Baked Spinach Casserole is loaded with cheese and bacon! It makes a decadent side dish that is easy enough for any night of the week, but special enough for holiday dinners. Only 3 net carbs per serving, too!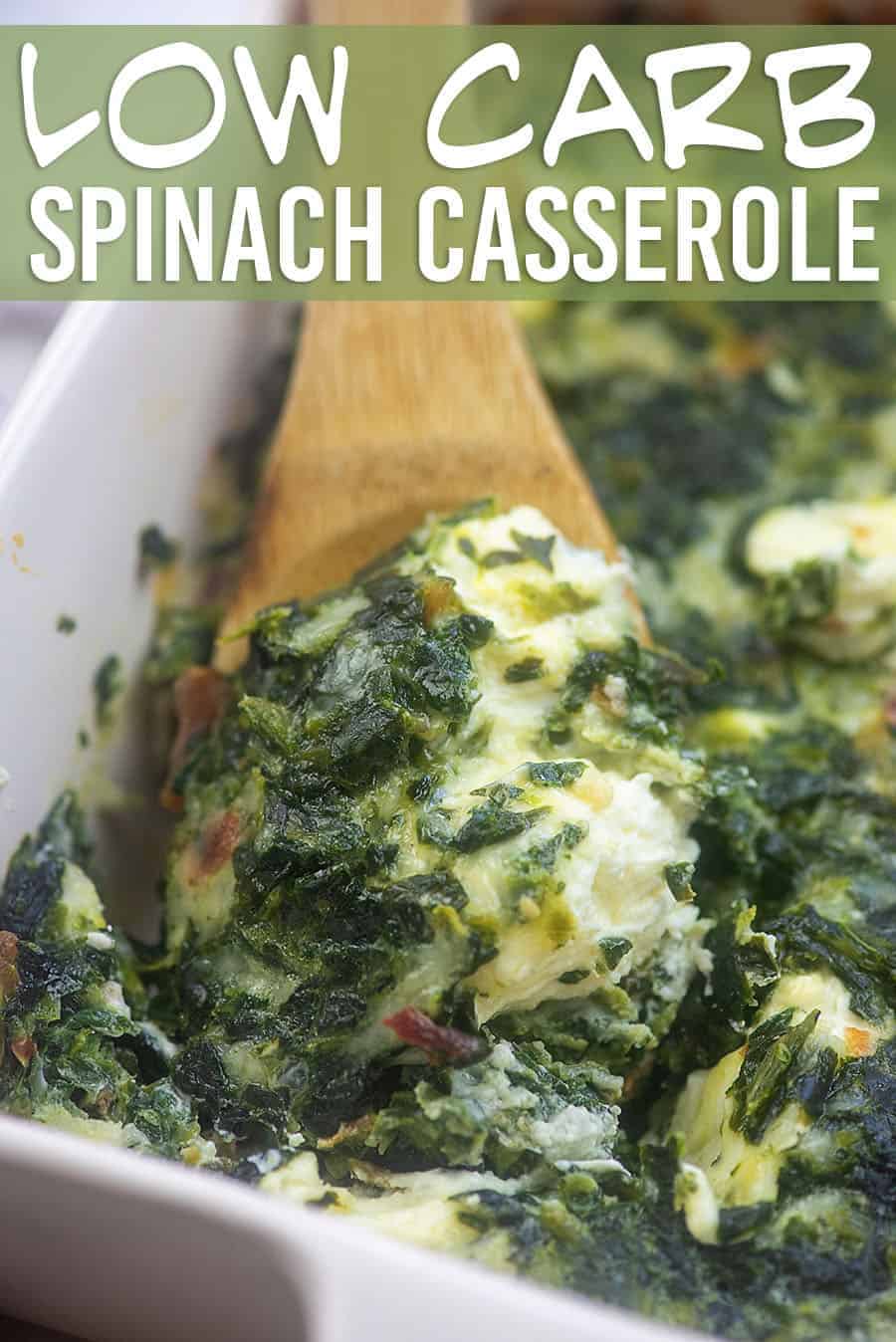 I have no problem sneaking spinach into salads in my house. The kids will eat it just fine without complaint.
I also sneak spinach into their smoothies most of the time. Like our keto green smoothie, made with strawberry and spinach!
But cooked spinach? They're usually not a fan.
Enter this baked spinach recipe – it's packed with cream cheese, monterey jack cheese, eggs, and bacon.
This baked spinach casserole is a decadent cheesy dish that is easy enough to make any night, but fancy enough for company or even a holiday dinner. Love dishes like that!
Ingredient Notes: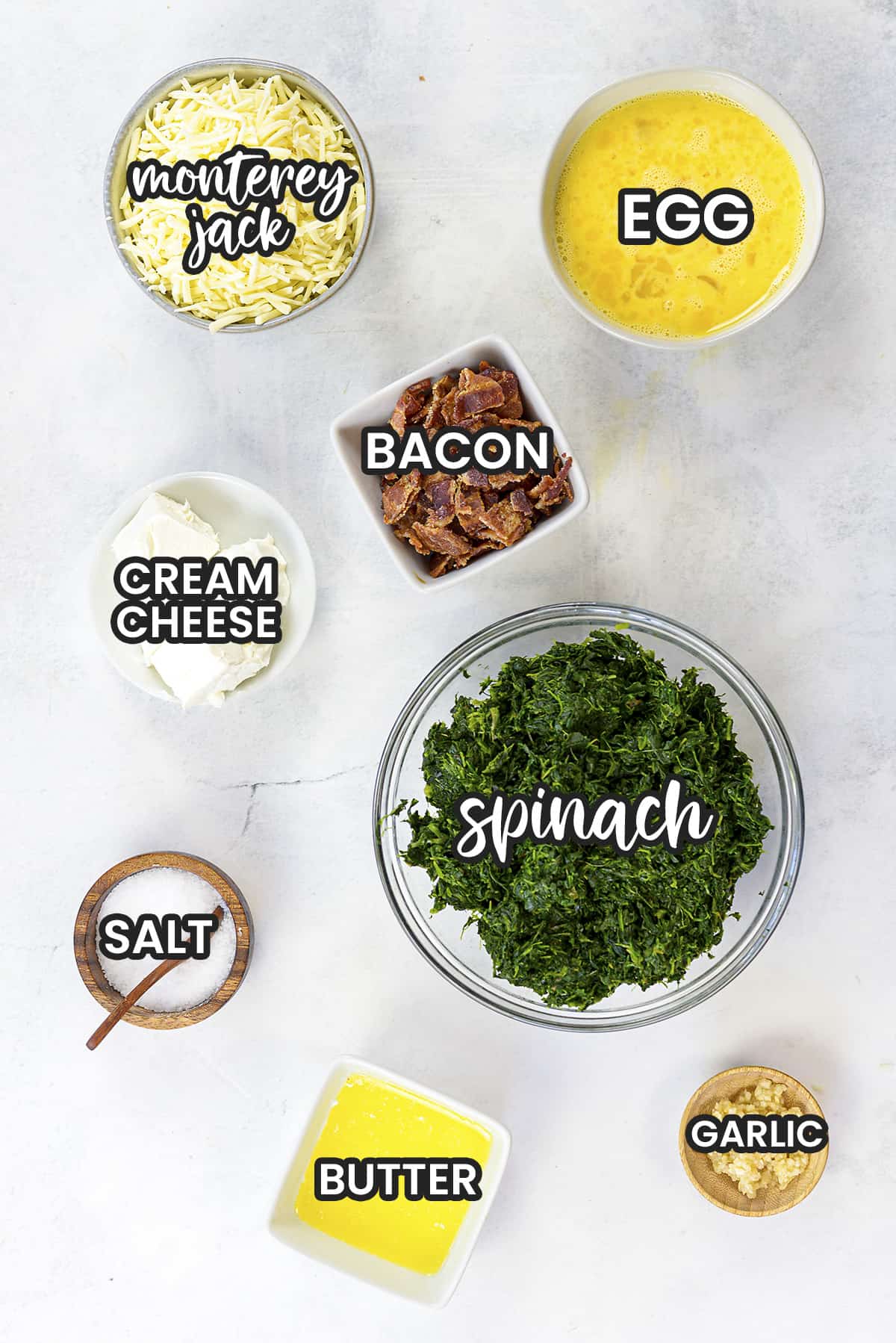 Spinach – We're keeping it easy and starting with frozen spinach. If you'd like to use fresh, you'll want to wilt it first by sautéing it in a little butter or oil for a few minutes. I've never tried this with canned spinach but some readers have commented that it works as well.
Cheese – We're using a combination of Monterey Jack and cream cheese to make this rich, decadent side dish. You could use pepper jack instead of Monterey Jack if you want to add a little bit of a spicy kick to the casserole!
Bacon – Some pre-cooked, crumbled bacon adds a smoky, salty bite to this creamy casserole. If you need a quick, easy, mess free way to prepare some bacon ahead of time check out this air fryer bacon recipe!
Other – You'll need eggs to help bind all the ingredients together, and they add a little moisture to the casserole. For flavor you'll also be adding in some minced garlic, salt, and melted butter!
Why We Love This Recipe:
Casseroles make dinner easy! This spinach casserole is quick to put together and is finished baking in under an hour.
This is a perfectly cheesy and savory casserole but it's also a great way to work some nutritious spinach into your diet!
We love that this is simple enough to make for any night (just stir the ingredients together and bake!), but it's fancy enough to serve up for a holiday dinner!
How To Make Spinach Casserole:
Spinach – This recipe is super simple and starts off with a couple packs of frozen spinach. You'll want to be sure to thaw it and drain as much liquid as you can from the spinach. To drain the spinach well, I place it in a colander and press it down to squeeze out as much liquid as I can.
Mix – Add your spinach to a mixing bowl along with some cream cheese, Monterey jack, fried bacon, whisked eggs, butter, garlic, and salt and pepper. Stir the mixture all up. It doesn't look like much here, but man this bakes up into something tasty.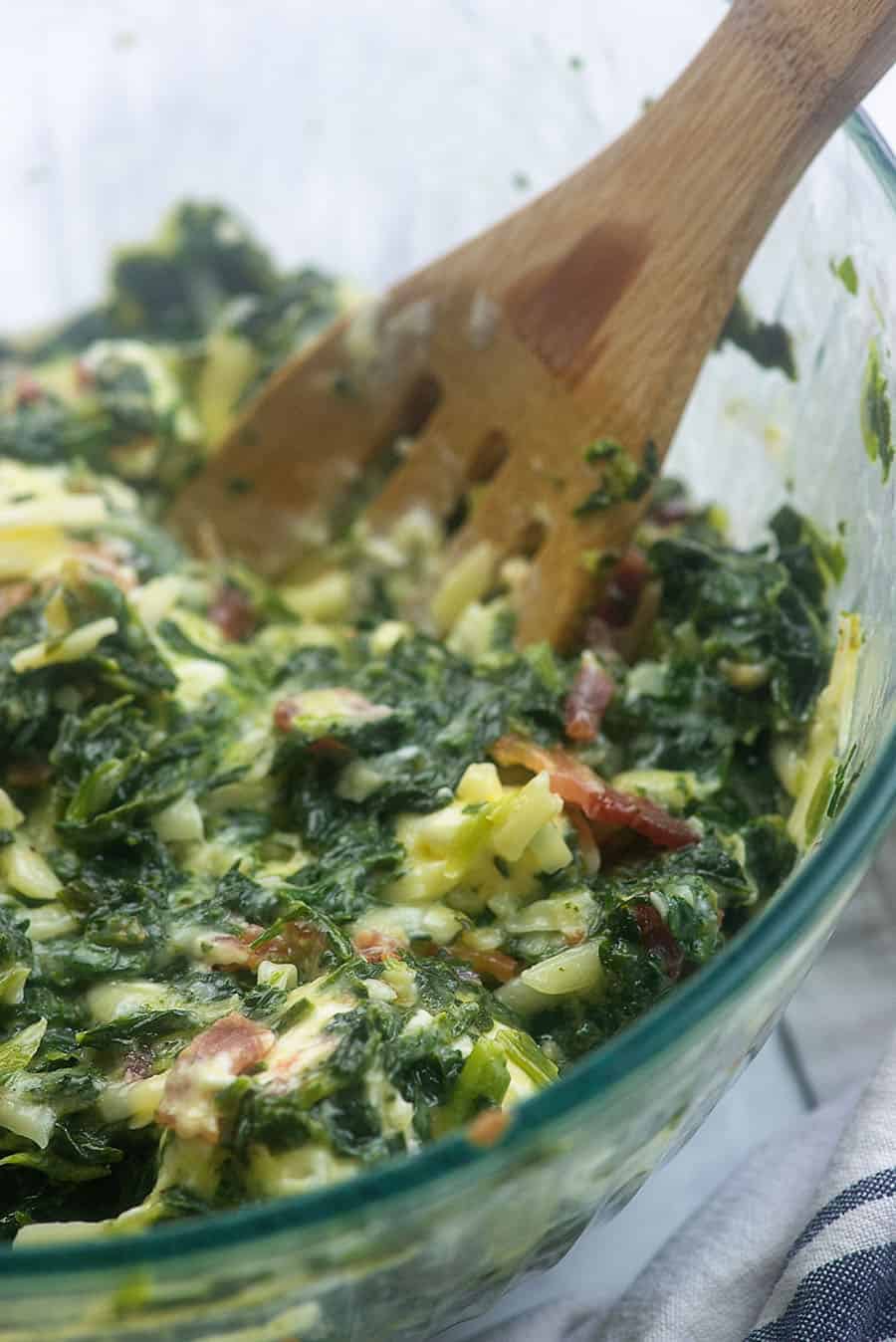 Bake – Spread the spinach soufflé mixture into a 9×9 baking dish and pop it all in the oven. This spinach casserole bakes up in about 35 minutes.
Spinach Nutrition:
I try to eat spinach often, because it is a great source of magnesium and potassium, both of which I have to watch while on a keto diet.
Keeping your electrolytes in balance while eating low carb or keto can be tricky, because the diet often acts as a diuretic (meaning you're peeing out those electrolytes).
Spinach has 3g carbs and 2g fiber per 2 cups of raw spinach plus loads of vitamins and minerals. That's pretty impressive!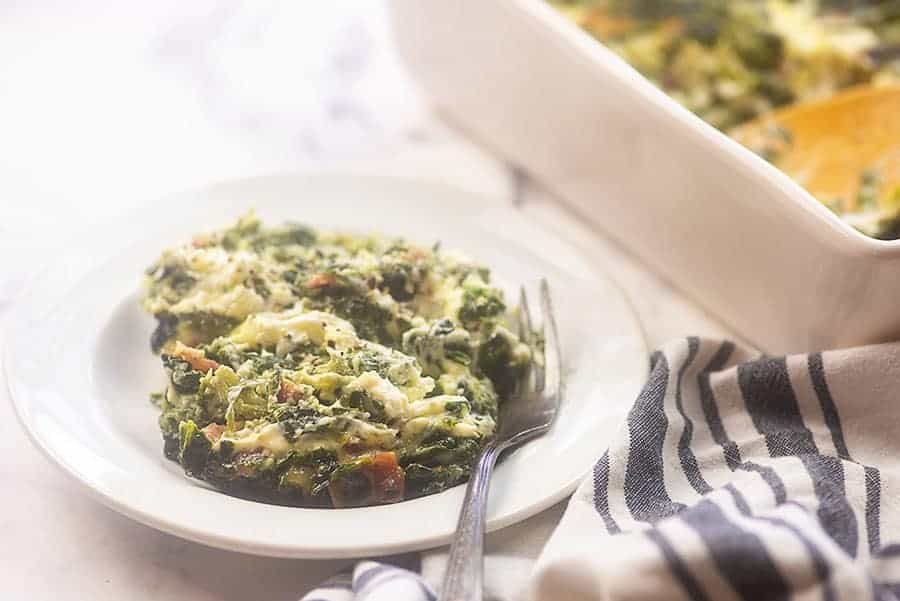 FAQs:
Is this dish spinach soufflé?
I actually discovered this recipe in an old Taste of Home magazine and tweaked it just a tiny bit. It was called spinach soufflé, but it's not at all like a traditional soufflé that puffs and rises, so I've renamed it. I wanted to go ahead and mention spinach soufflé here though, because that was it's original name and readers may recognize it if they stalk Taste of Home magazines the way I do. 😉
How to store spinach casserole?
You can keep this casserole wrapped tightly in plastic wrap in the fridge for about 3 to 4 days. I would not recommend freezing this recipe. Cream cheese doesn't always freeze that well.

More Keto Spinach Recipes: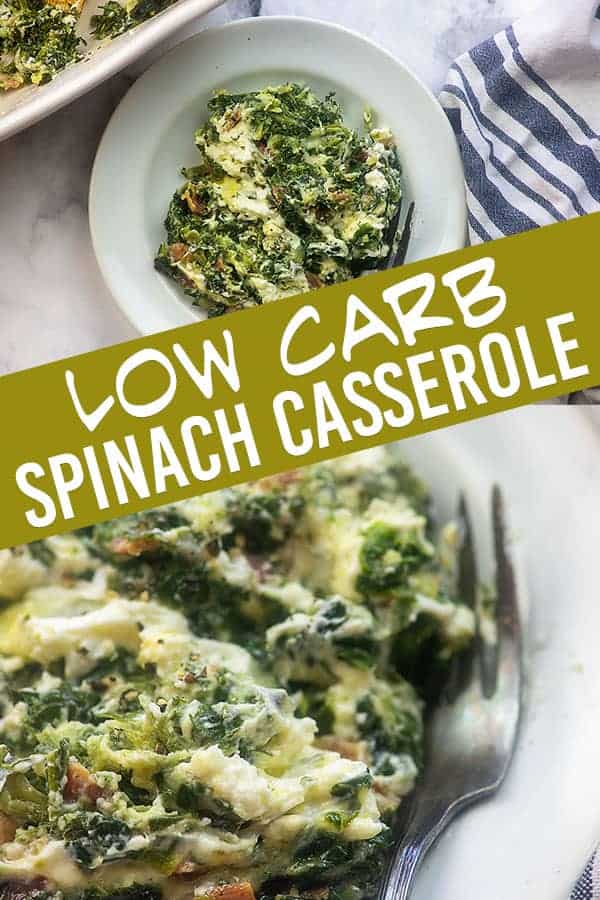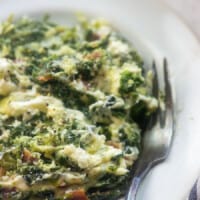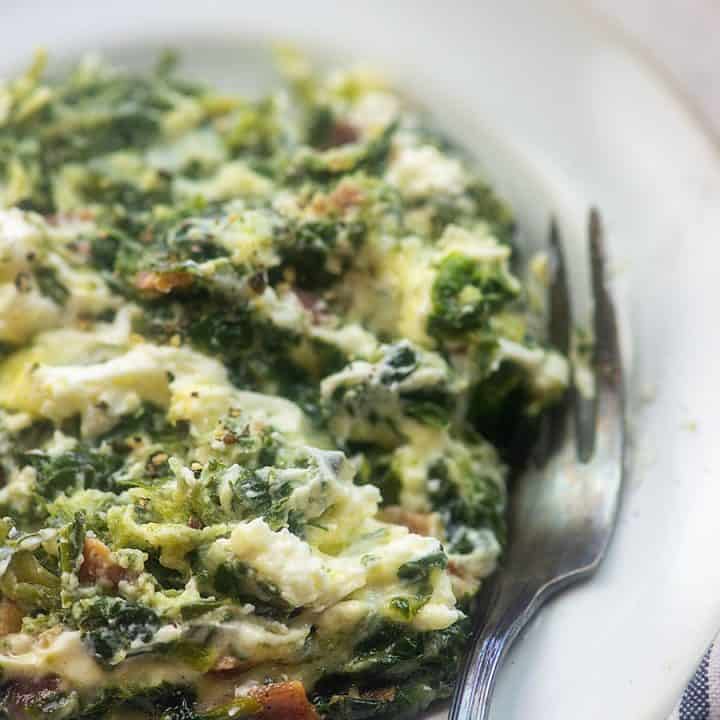 Spinach Casserole
Easy, cheesy, and totally decadent baked spinach!
Ingredients
20 ounces frozen spinach, thawed and squeezed dry
4 ounces cream cheese, cut into small cubes
1 1/2 cups shredded monterey jack cheese
6 slices bacon, fried and crumbled
4 large eggs, beaten
1/4 cup butter, melted
2 cloves garlic, minced
1/2 teaspoon salt
Instructions
Preheat oven to 350 degrees.
Add all of the ingredients to a large mixing bowl and stir well to combine.
Spread mixture into a 8x8 baking dish and bake for 35-40 minutes or until the edges are golden and the center is set.
Serve immediately.
Notes
The original recipe from Taste Of Home called for a full 8 ounces of cream cheese, but we find this to be extremely rich and more like a spinach dip.
Use pepperjack cheese to give it a bit of a kick, if you prefer.
Recommended Products
As an Amazon Associate and member of other affiliate programs, I earn from qualifying purchases.
Nutrition Information:
Yield: 6
Serving Size: 1
Amount Per Serving:
Calories: 374
Total Fat: 31g
Saturated Fat: 17g
Trans Fat: 0g
Unsaturated Fat: 12g
Cholesterol: 200mg
Sodium: 799mg
Carbohydrates: 7g
Net Carbohydrates: 3g
Fiber: 4g
Sugar: 1g
Sugar Alcohols: 0g
Protein: 20g
All information and tools presented and written within this site are intended for informational purposes only. This information is provided as a courtesy and there is no guarantee that the information is accurate.