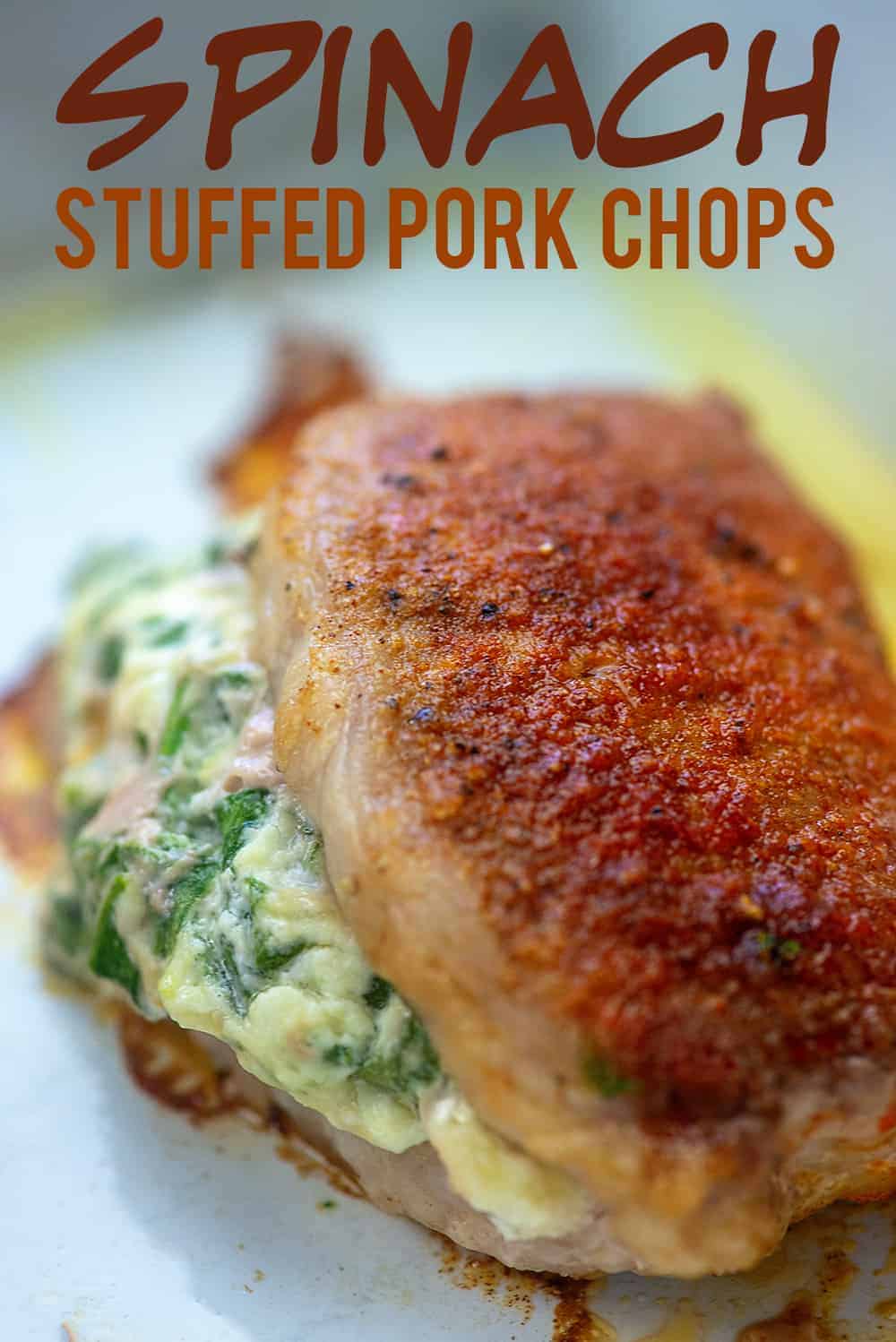 These SPINACH STUFFED PORK CHOPS are a simple meal that's naturally low carb while still packing in a whole lot of flavor! These stuffed pork chops are easy to prepare and always a hit with friends and family.I don't know about you, but I love a good pork chop and my whole family does too.
Luckily for me, they're generally really easy to prepare and these spinach stuffed pork chops are no exception.
Bonus points: My kids actually eat spinach when I serve it to them stuffed inside pork!
My favorite way to get my kids to eat foods they don't usually love is to pair it with something they're already a fan of. Works like a charm!
Bet your kiddos will gobble this one up too.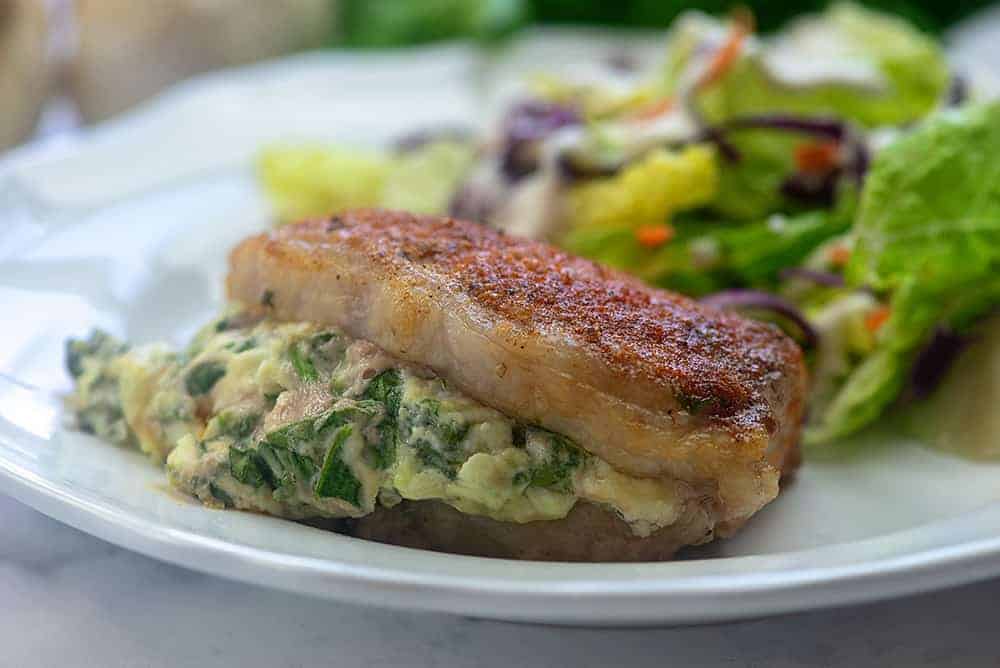 How to make stuffed pork chops:
We're making spinach stuffed pork chops, so you'll need cream cheese, chopped fresh spinach, mayonnaise, Parmesan, garlic, and red pepper flakes. This mixture just gets stirred together and then spooned into the chops.
You might recognize this filling from my spinach stuffed chicken!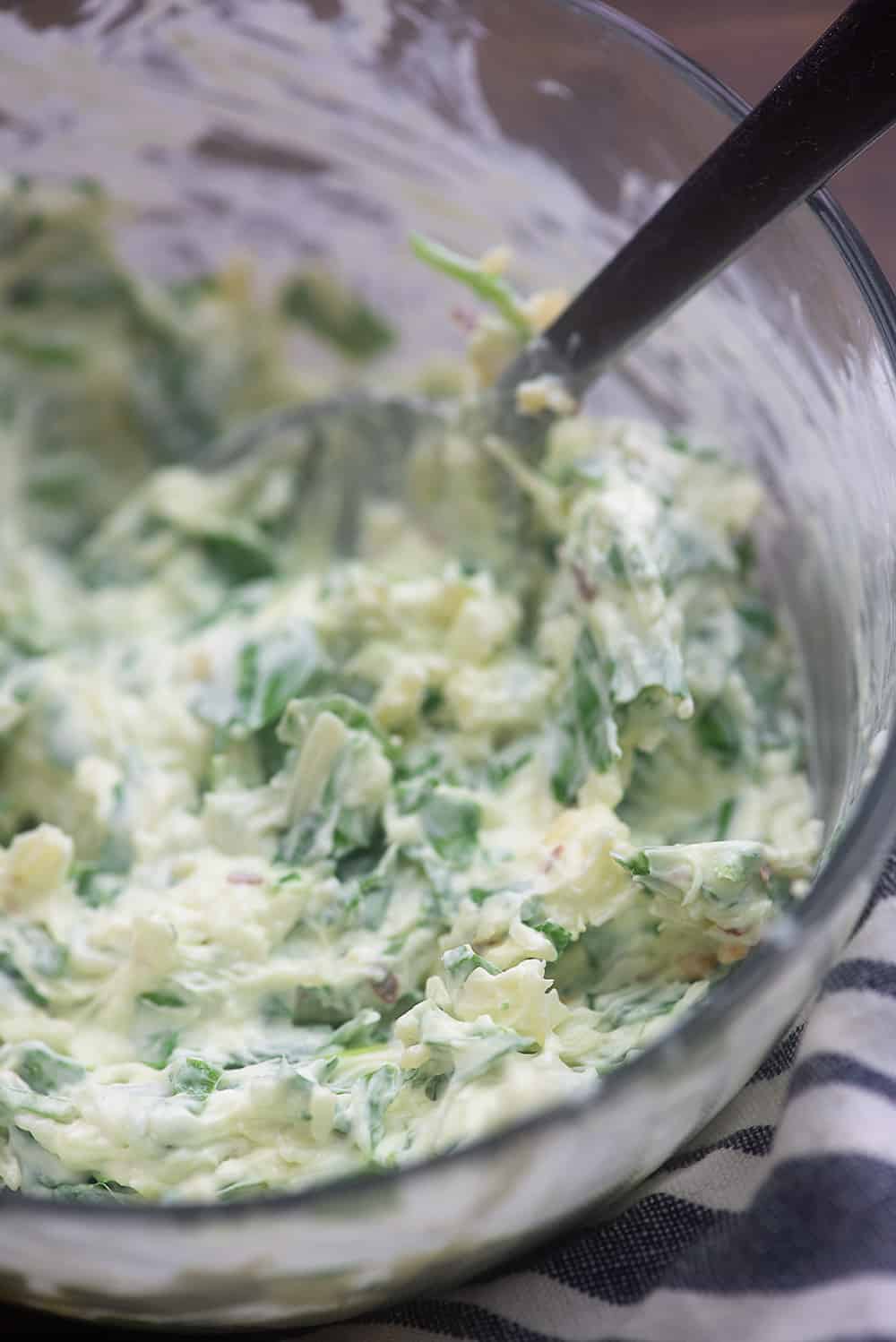 To make these baked stuffed pork chops, you'll want to slice a deep pocket into the side of each pork chop. I have a video on this page that you can watch for help with that. It's really quite simple though!
Drizzle your pork chops with a little oil, season them up with some paprika, garlic powder, onion powder, and salt, and then spoon in the filling.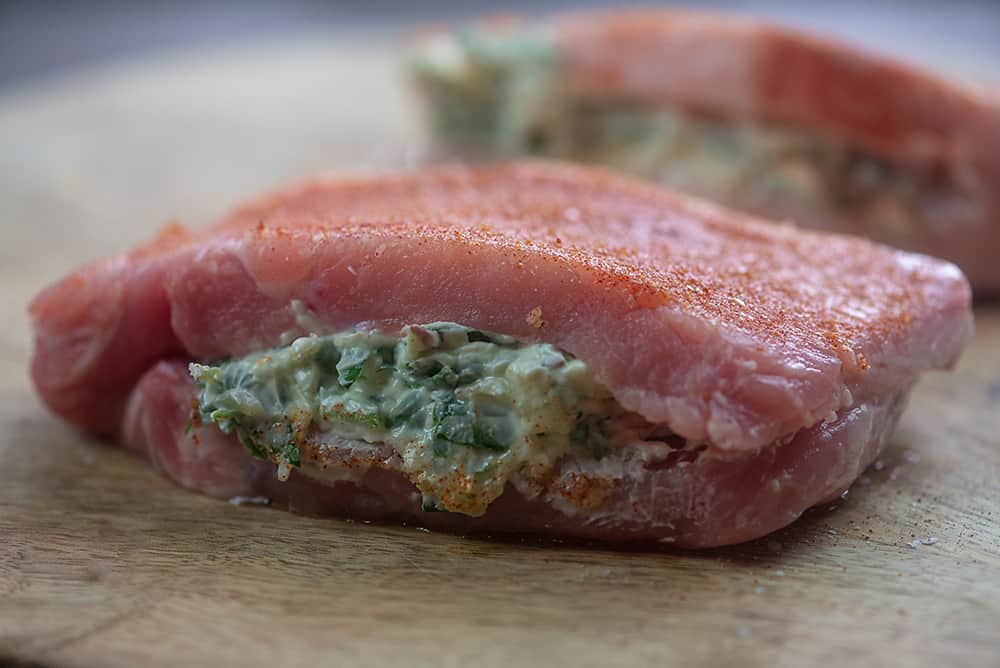 How long to cook stuffed pork chops:
Preheat your oven to 375 degrees and place your pork chops in a baking dish with a little room in between each chop.
Bake for 20-25 minutes, depending on how done you like your pork chops.
The National Pork Board recommends cooking pork chops to an internal temperature of 145 degrees followed by a three minute rest.
For a more well done pork chop, cook to an internal temperature of 155 degrees, followed by a three minute rest.
These baked stuffed pork chops should be nice and juicy with the most amazing filling. I think you'll love this easy recipe!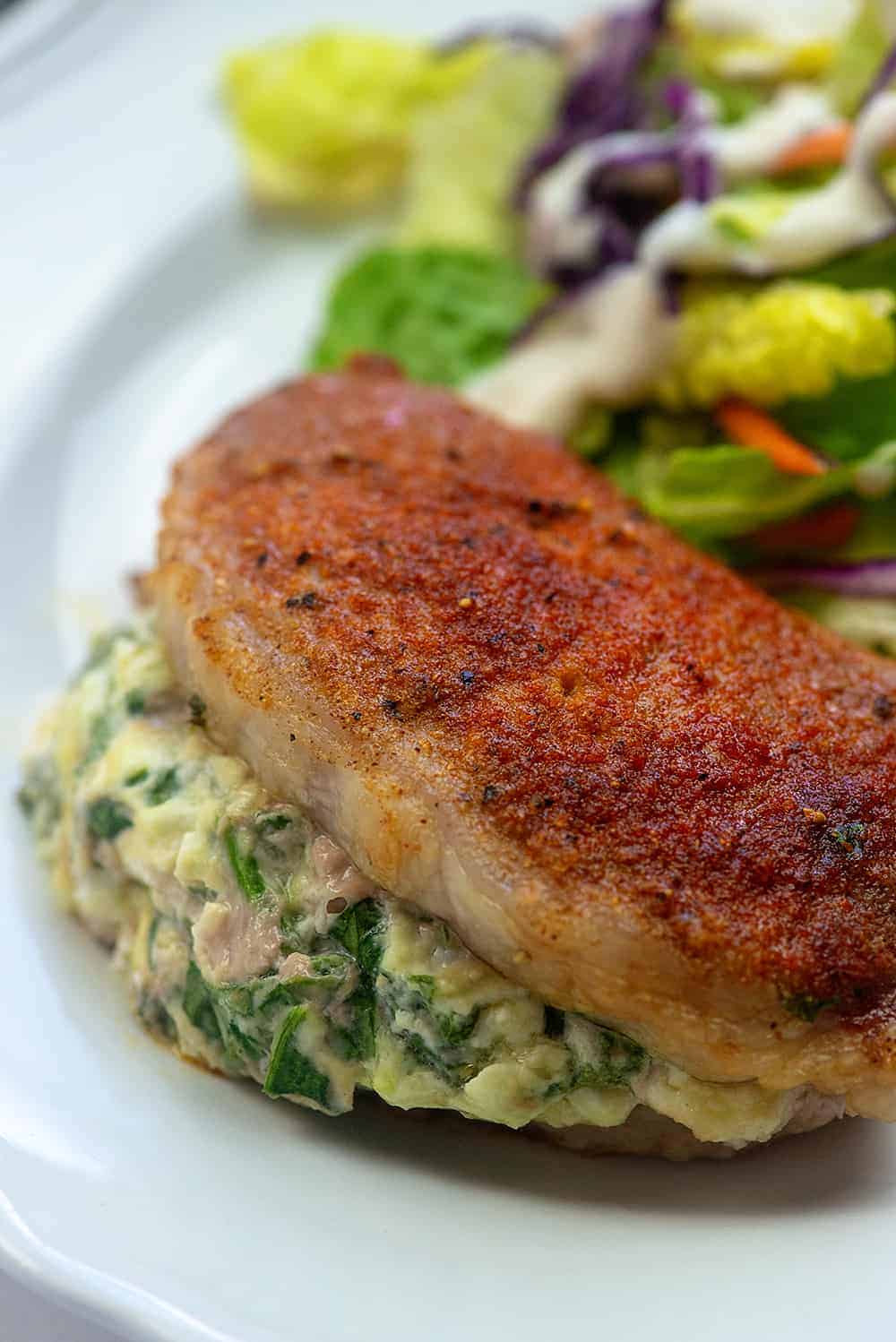 What to serve with baked stuffed pork chops:
Baked Asparagus: It's topped off with a little cheese and bacon!
Cucumber Tomato Feta Salad: It's light and refreshing!
Mashed Turnips: Comfort food!
Cauliflower Slaw: An interesting twist!
Cauliflower Mac and Cheese: My daughter couldn't believe this was made with cauliflower!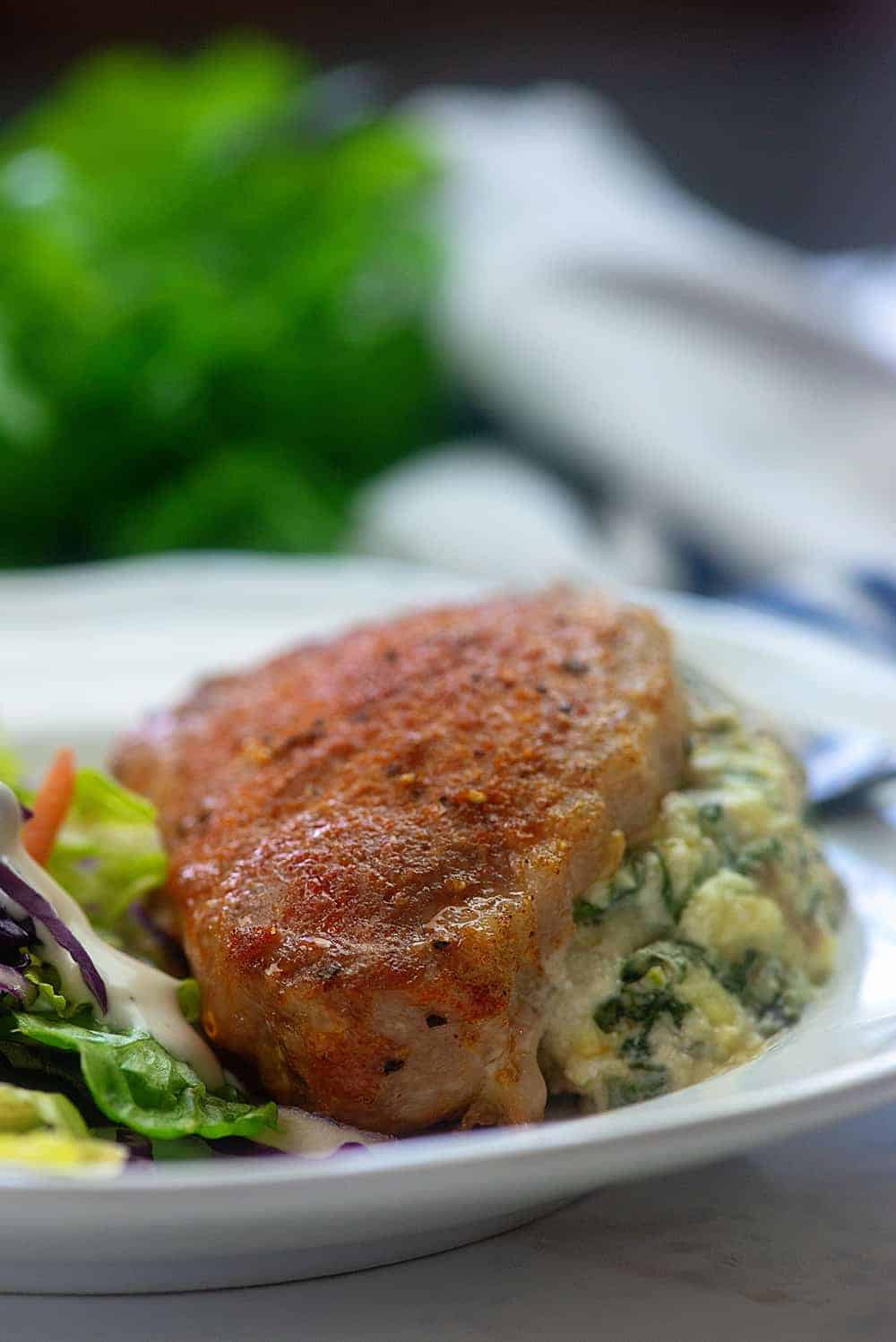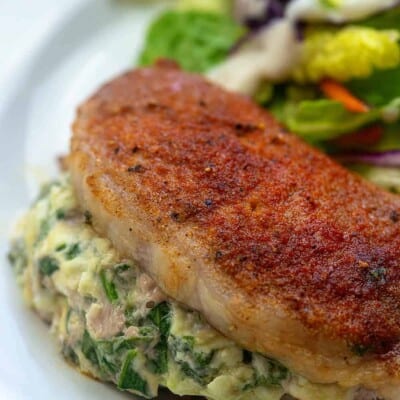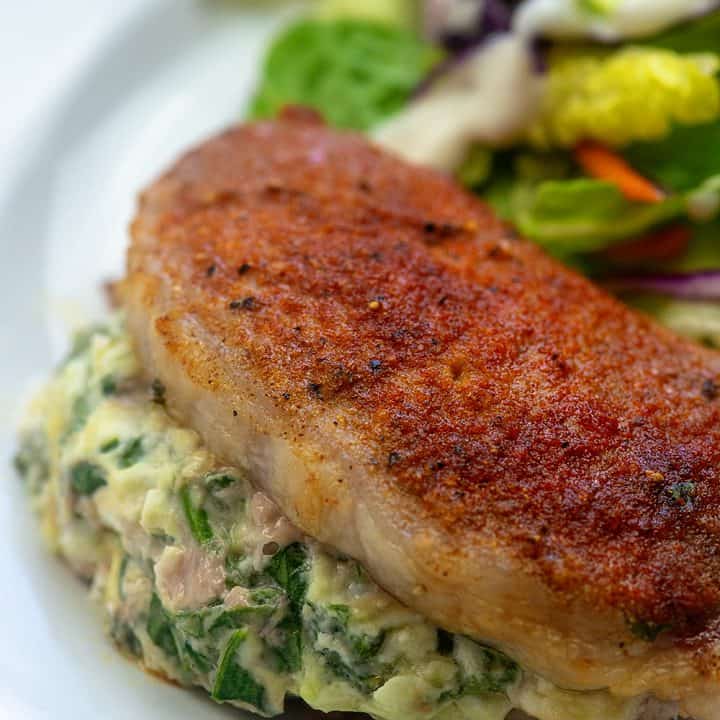 Spinach Stuffed Pork Chops
These baked stuffed pork chops are stuffed with a cream cheese and spinach filling.
Prep10 minutes
Cook25 minutes
Total35 minutes
Ingredients
24 ounces pork chops
1 tablespoon olive oil or avocado oil
1 teaspoon paprika
1 teaspoon salt divided
¼ teaspoon garlic powder
¼ teaspoon onion powder
4 ounces cream cheese softened
¼ cup grated Parmesan
2 tablespoons mayonnaise
1 ½ cups chopped fresh spinach
1 teaspoon garlic minced
½ teaspoon red pepper flakes
Instructions
Preheat oven to 375 degrees.

Place the pork chops on a cutting board and use a sharp knife to cut a pocket into the side of each.

Drizzle the pork chops with the avocado oil.

Add the paprika, 1/2 teaspoon salt, garlic powder, and onion powder to a small bowl and stir to combine. Sprinkle evenly over both sides of the pork.

Add cream cheese, Parmesan, mayonnaise, spinach, garlic, red pepper and remaining ½ teaspoon of salt to a small mixing bowl and stir well to combine.

Spoon the spinach mixture into each pork chop evenly.

Place the pork chops in a 9×13 baking dish. Bake, uncovered, for 25 minutes or until pork is cooked to an internal temperature of 145 degrees.

Rest 3 minutes before serving.
Nutrition Information:
Serving: 1pork chop| Calories: 596kcal (30%)| Carbohydrates: 4g (1%)| Protein: 48g (96%)| Fat: 42g (65%)| Saturated Fat: 14g (88%)| Polyunsaturated Fat: 23g| Cholesterol: 180mg (60%)| Sodium: 878mg (38%)| Fiber: 1g (4%)| Sugar: 1g (1%)| Net Carbs: 3g (6%)