These baked lemon pepper pork chops are ready in no time, and with a simple lemon pepper and smoked paprika seasoning you'll love the flavor!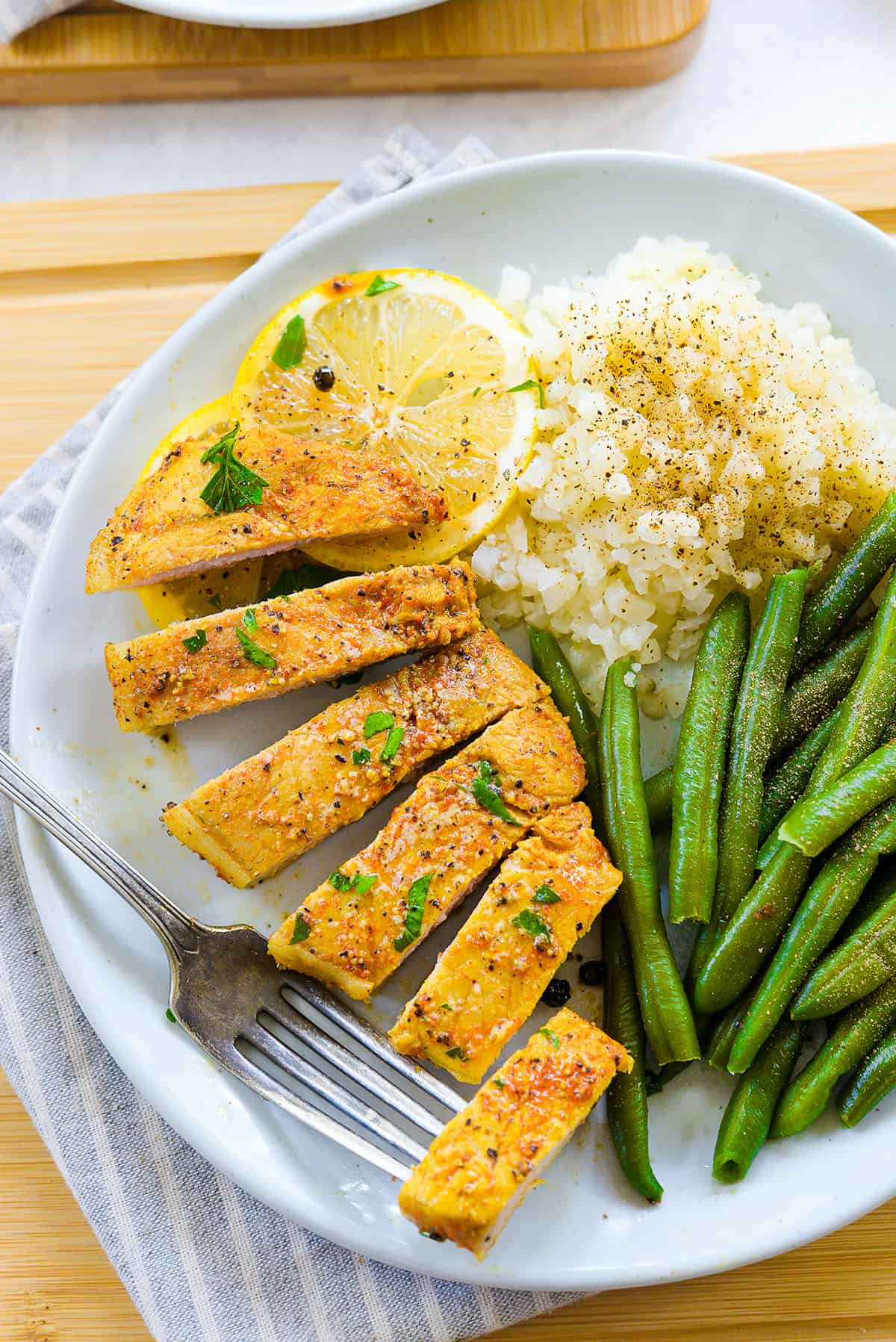 Pork chops are a universal favorite in my house – at least, they have been since I figured out that the key to pork is to just not overcook it. 😉
Did you know that pork can safely be eaten at just 145 degrees and that's where it will be the most juiciest and succulent? <— That's the big secret to perfect pork chops right there!
Of course, a tasty blend of seasonings doesn't hurt things either, and this time around we went for Lemon Pepper Pork Chops. The bright, zesty flavor just pops in your mouth and keeps you coming back for bite after bite.
We paired this with some simple cauliflower rice and green beans, both sprinkled with a little lemon pepper seasoning. But, these are also tasty with our fan favorite cauliflower mac and cheese and balsamic Brussel sprouts.
No matter what you pair this with, the pork chop will be the star of the show with that bright, zippy blend of seasonings coating the juicy pork!
If you love lemon pepper like we do, be sure to check out our lemon pepper wings and lemon pepper fish too!
Ingredient Notes:
This post contains affiliate links. As an Amazon associate and member of other affiliate programs, I earn from qualifying purchases.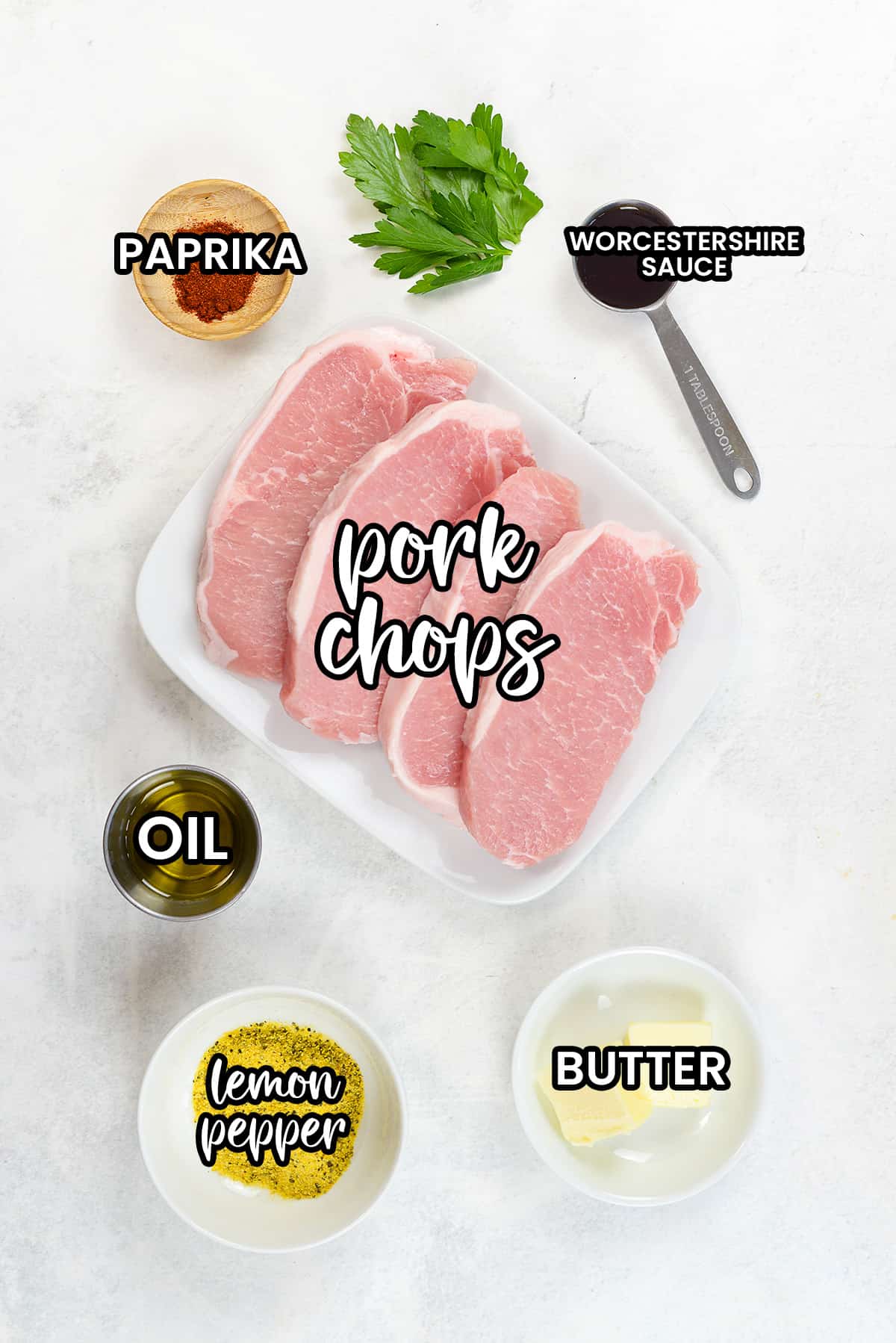 Pork Chops – You'll need about 1″ thick boneless pork chops. You can use a thinner cut too but you will need to adjust the cook time.
Olive Oil – It'll help keep the seasoning on the pork chops and add some flavor.
Worcestershire Sauce – We love the savory flavor this adds to just about anything! You'll mix it up with the olive oil and seasoning.
Lemon Pepper Seasoning – We're using prepared lemon pepper seasoning. You can use any brand you like, but some do have sugar. We really love Kinder's seasonings, but if you're strict keto you should note this does contain sugar.
Smoked Paprika – You can use regular paprika if you don't like the smoky flavor.
Butter – We like to top each pork chop with some butter before baking. It helps keep them tender and juicy!
Why We Love This Recipe:
Pork chops are an easy meal that go well with lots of different keto and low carb side dishes!
You can use your own lemon pepper seasoning or store bought, and mix in any other seasonings you might like. Turn up the heat by adding a little cayenne pepper to the mix!
This only takes a couple of minutes of prep and then you're free to finish up the rest of dinner while these bake in the oven.
Our Favorite Meat Thermometer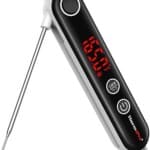 I love using this meat thermometer for making sure the meat is fully cooked! Easy for beginners & absolutely worth the low cost. Just stick it in the thickest part of the meat to check for doneness. This thermometer is also magnetic so it's easy to store right on the side of the fridge or oven for easy access! Get it on Amazon.
How To Make Lemon Pepper Pork Chops: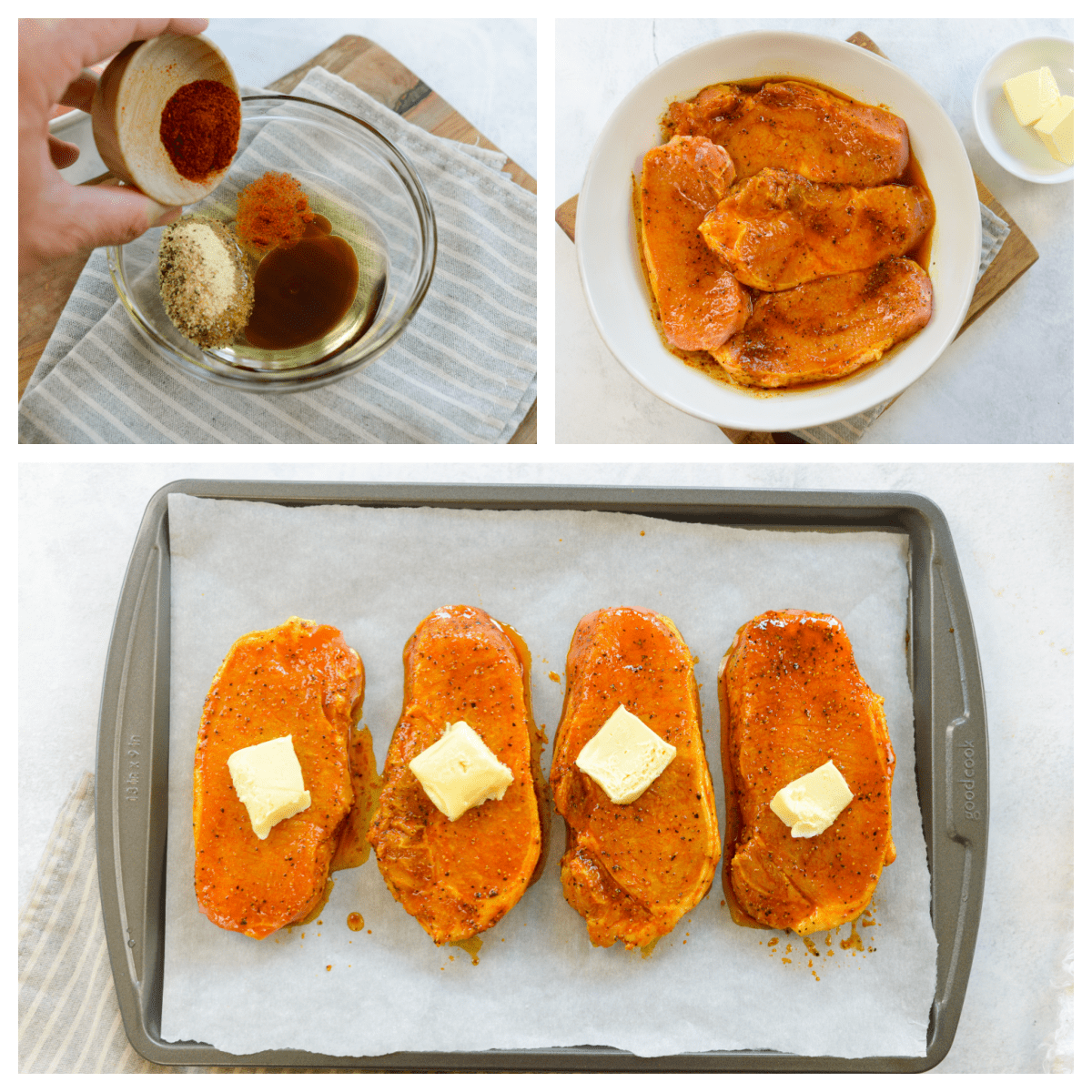 Seasoning – Combine the oil, Worcestershire sauce, lemon pepper seasoning, and paprika in a small bowl and whisk it all together.
Marinate – Pour the seasoning over the pork chops and coat them in all that flavor. You could start baking the chops right away but if you let them chill in the fridge for at least 30 minutes (and up to 8 hours) you'll give the seasoning and Worcestershire sauce a chance to settle in and add more flavor.
Bake – When you're ready to start baking prepare a baking sheet with some parchment paper and arrange the seasoned pork chops in an even layer. Top each pork chop with a little butter! You'll bake them for 15 minutes or until the chops have reached an internal temperature of 145 degrees. The time may vary depending on the thickness of the chops so always check the temp to be sure!
Serve – When the pork chops have finished baking we like to sprinkle on some parsley and serve them hot. They go perfectly with some charred green beans and mashed cauliflower!
Helpful Tip!
In a rush? You can skip the marinade and just coat your pork chops in the seasoning and bake straight away. The longer they have to sit in the marinade, the more flavorful they'll be, but don't let that stop you. These are tasty no matter how long you have!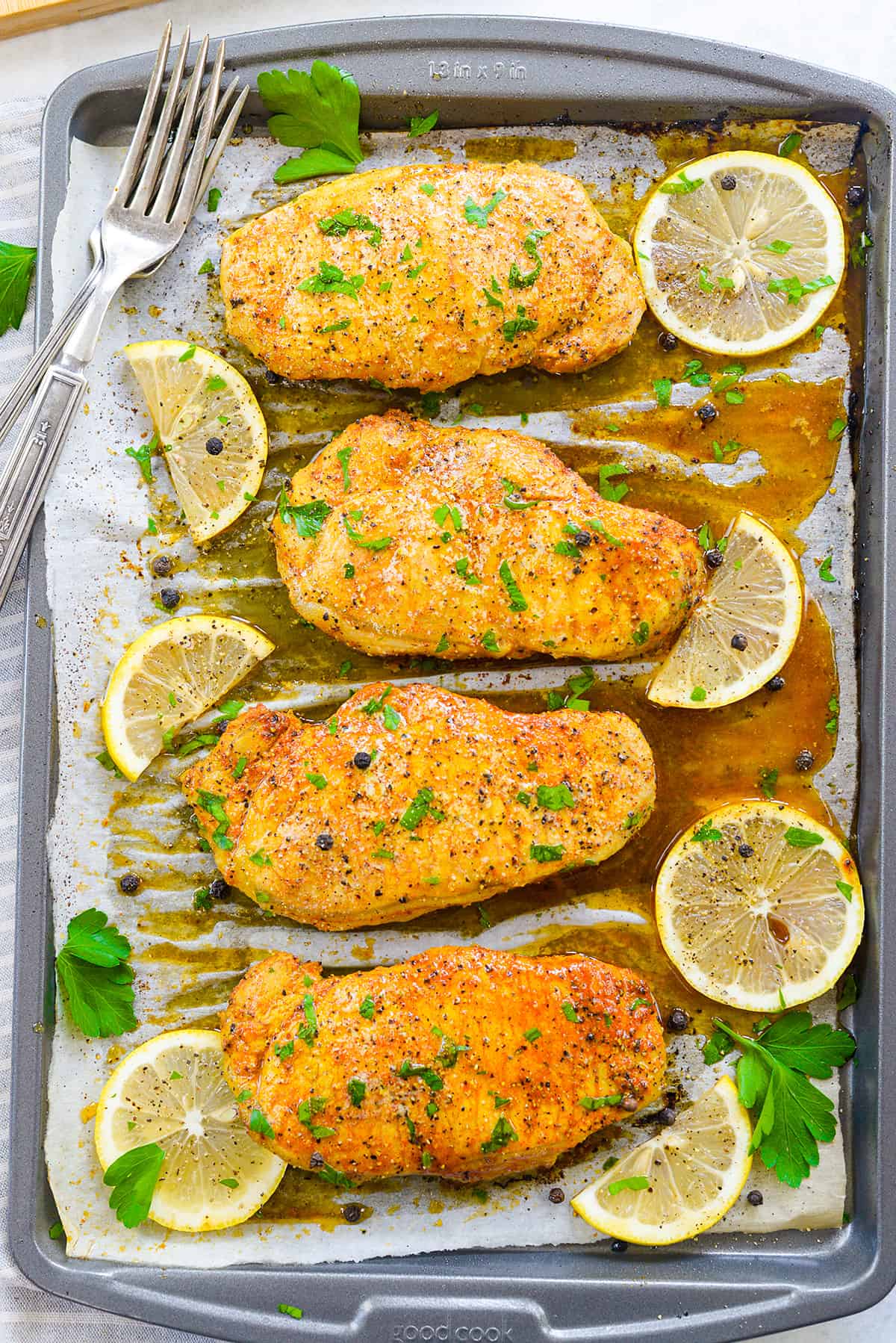 FAQ's:
How to store pork chops?
You can keep these baked lemon pepper pork chops in your fridge for at least 3 days. They can be reheated in the oven or microwave. They'll also freeze well just like any other baked pork chop recipe. They'll last at least a few months if properly stored when freezing.
How long to bake pork chops?
I'm baking these pork chops at 425 degrees for about 15 minutes. But that time can vary depending on how thick the pork chops are, so always be sure to check that they've reached a safe temp of 145 degrees! Pork chops are easy to overcook and will dry out pretty quick, so checking the temp isn't just safe it also means you'll get perfectly tender and juicy pork chops.
Can I use bone in pork chops?
We prefer the boneless and they cook faster and more evenly, but there isn't any reason you couldn't use bone in pork chops. They will probably take longer to bake so adjust the time as necessary.
More Keto Pork Chop Recipes: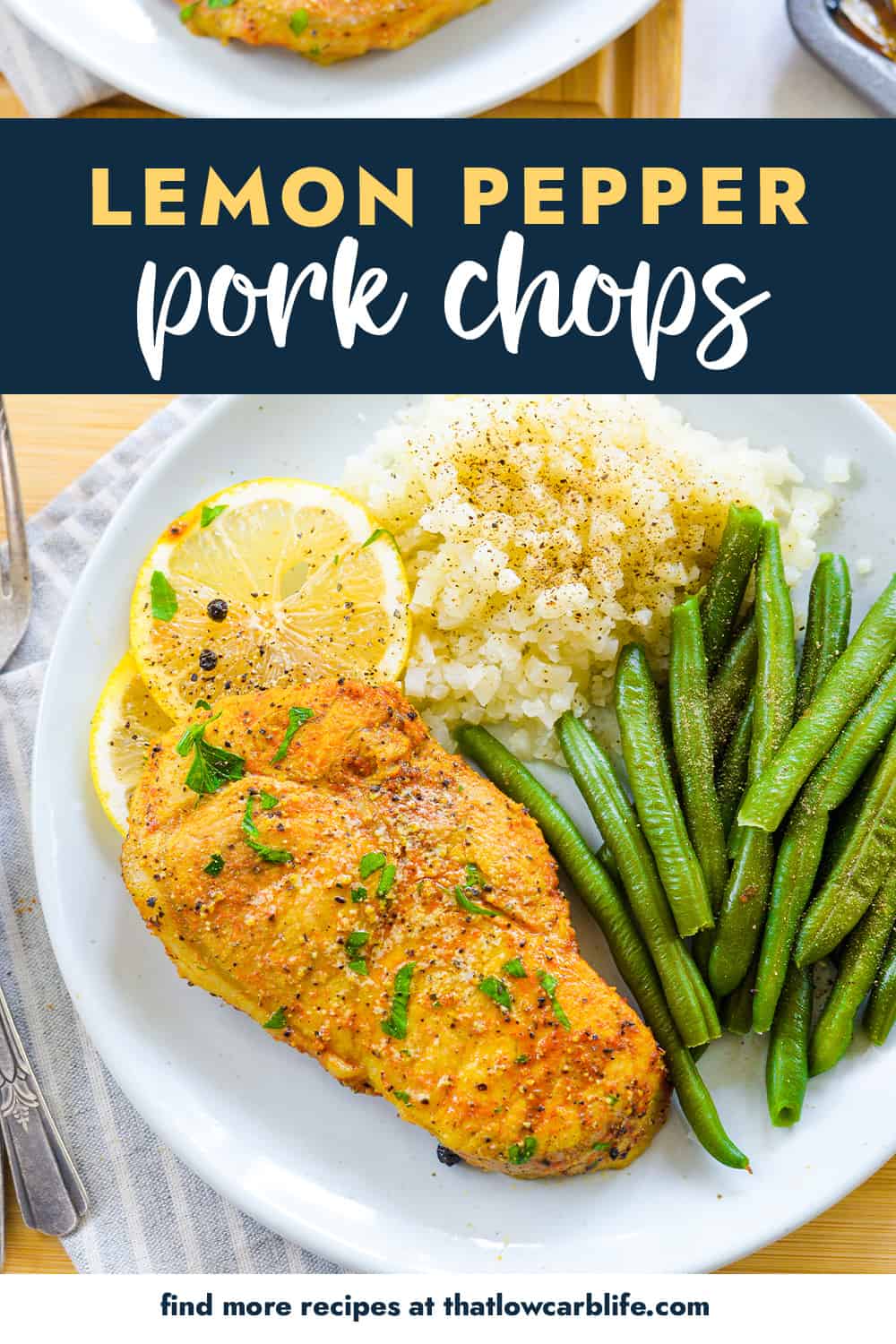 Lemon Pepper Pork Chops
These baked lemon pepper pork chops are ready in no time, and with a simple lemon pepper and smoked paprika seasoning you'll love the flavor!
Additional Time 30 minutes
Ingredients
4 boneless pork chops, about 1 inch thick
2 tablespoons olive oil
1 tablespoon Worcestershire sauce
4 teaspoons lemon pepper seasoning
1 teaspoon smoked paprika
2 tablespoons butter
Parsley, for garnish
Instructions
Add the pork chops to a shallow dish in an even layer or a zip top bag.
Stir together the oil, Worcestershire sauce, lemon pepper, and paprika. Pour over the pork chops and rub to coat the chops in the seasoning.
Let marinate for at least 30 minutes and up to 8 hours.
Preheat oven to 425 degrees. Line a baking small baking sheet with parchment paper.
Arrange pork chops on the baking sheet. Top each pork chop with a piece of butter.
Bake for 15 minutes or until pork chops reach an internal temperature of 145 degrees.
Let rest for 5 minutes before sprinkling with parsley and serving.
Notes
Pork chops can be safely eaten once they reach an internal temperature of 145 degrees. We recommend checking with a meat thermometer to get the perfect temp. Overbaked pork chops tend to dry out pretty quickly.
If you don't have time to marinate the pork chops, you can bake them right away. They are more flavorful after marinating, but still quite tasty either way!
Nutrition Information:
Yield: 4
Serving Size: 1
Amount Per Serving:
Calories: 434
Total Fat: 31g
Saturated Fat: 11g
Trans Fat: 0g
Unsaturated Fat: 19g
Cholesterol: 118mg
Sodium: 1104mg
Carbohydrates: 2g
Net Carbohydrates: 1g
Fiber: 1g
Sugar: 1g
Protein: 37g
All information and tools presented and written within this site are intended for informational purposes only. This information is provided as a courtesy and there is no guarantee that the information is accurate.