These LEMON GARLIC PORK CHOPS are a quick weeknight dinner that packs in loads of flavor from a simple mixture of lemon, garlic, and a little cayenne. The family begs for these juicy pork chops and I love that they're low carb and healthy!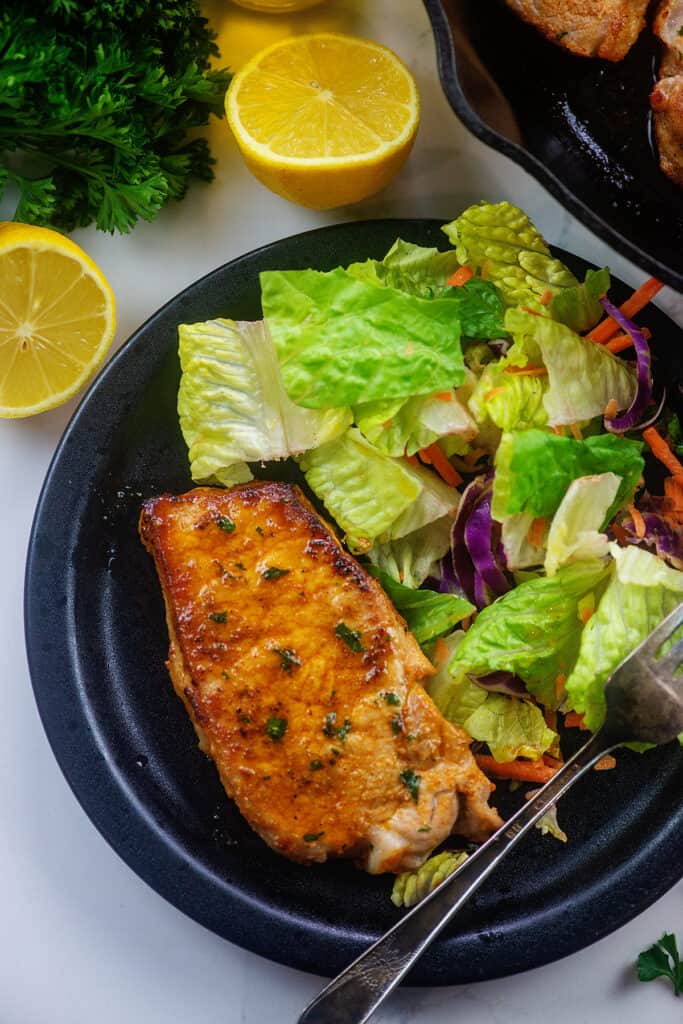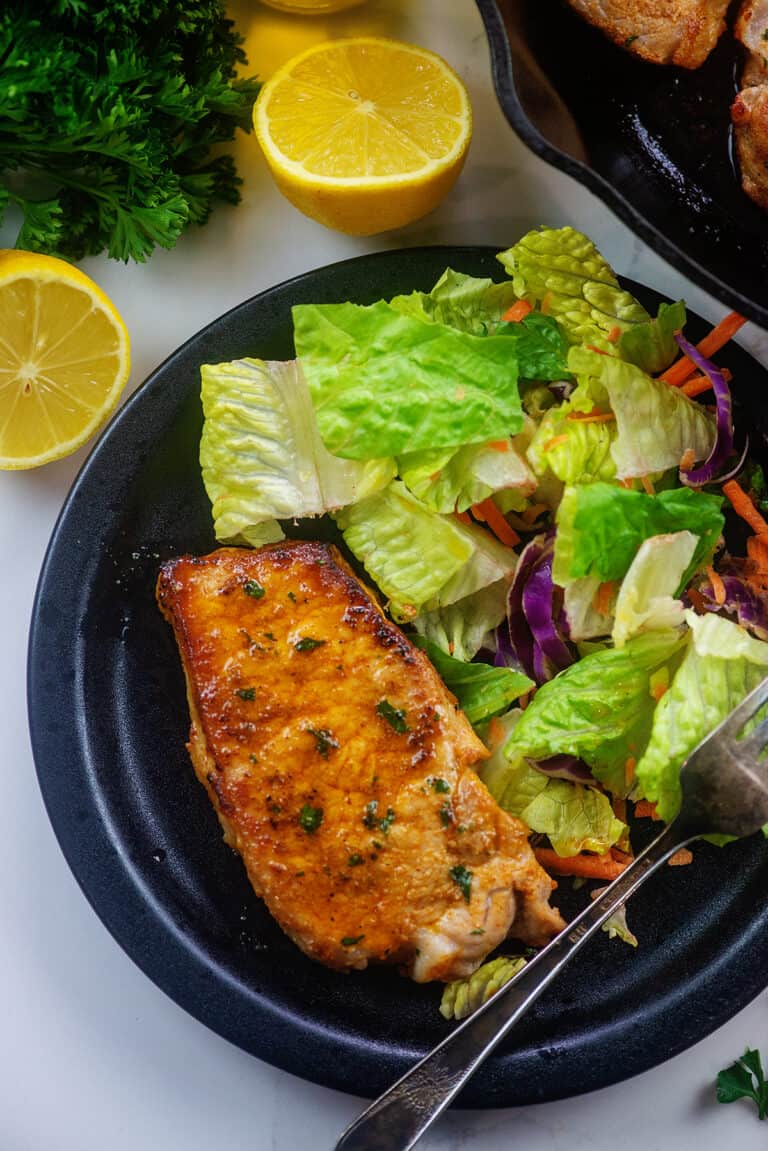 Pork chops are a favorite in our house and we're always testing out new ways to cook them.
I'm personally a fan of boneless pork chops, so that's what most of the recipes on this site feature, including today's lemon garlic pork chops.
They turn out so flavorful, perfectly cooked, and did I mention that they are easy? We just brush them with flavor and bake! Can't beat that.
If you also love pork chops, you'll want to try out our air fryer pork chops and stuffed pork chops. Both are fabulous!
Ingredients:
Pork Loin Chops – We prefer thicker chops for this, but any thickness will work as long as adjust the bake time.
Lemon Juice – Fresh is best, but the kind in the squeeze bottle works.
Olive Oil
Garlic Powder
Smoked Paprika – If all you have is regular paprika, that's fine. We do love the flavor of smoked though!
Cayenne – This gives the pork chops a tiny kick. Feel free to omit or reduce if you're not into spice.
Salt
How to:
Make the seasoning: Combine the lemon juice, oil, garlic powder, paprika, cayenne, and salt in a small bowl and whisk it all together.
Pork Chops: Brush the seasoning over both sides of the pork chops to coat.
Sear: Place the pork chops in a hot, oven safe skillet. We use cast iron for this. You'll want to sear them on one side, flip them over, and then transfer them to a hot oven.
Bake: Pop the pork chops into the oven and let them cook through. For pork chops about an inch thick, this will take about 15 minutes. Adjust time down according to the thickness of your chops and pull them out when they reach 150-155 degrees and let them rest for a few minutes.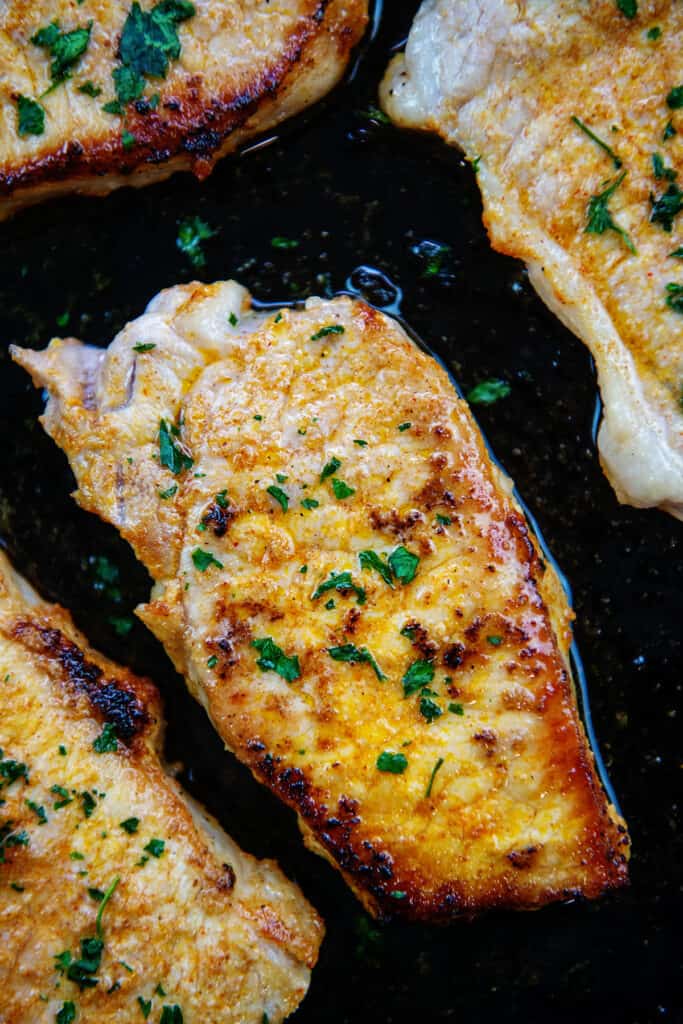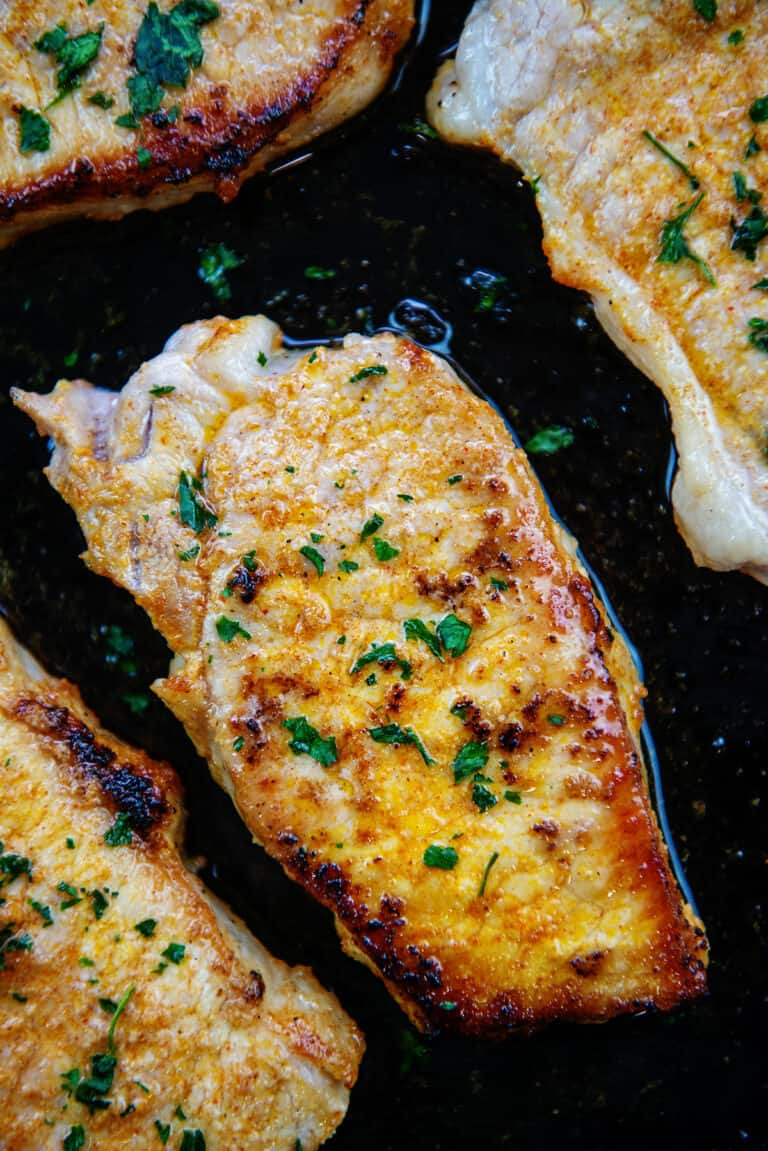 What temperature are pork chops done?
Pork can be cooked to and eaten at a variety of temperatures.
For medium rare pork, cook to an internal temperature of 145 degrees. This is the lowest temperature that is still safe to eat for pork.
For medium, cook to 150-155.
Medium well is 155-160.
Well done pork chops are cooked to 160 degrees. There will be no pink, but they easily get dried out at this temperature.
For the best flavor and texture, we prefer to cook pork to medium (150-155 degrees) and let it rest for 5 minutes before serving.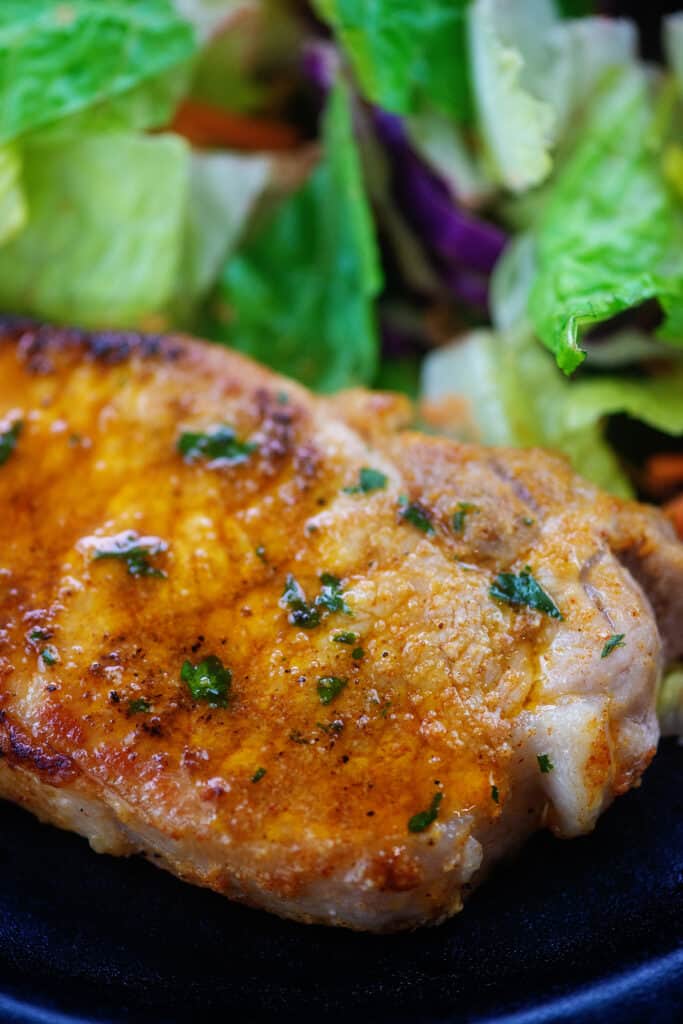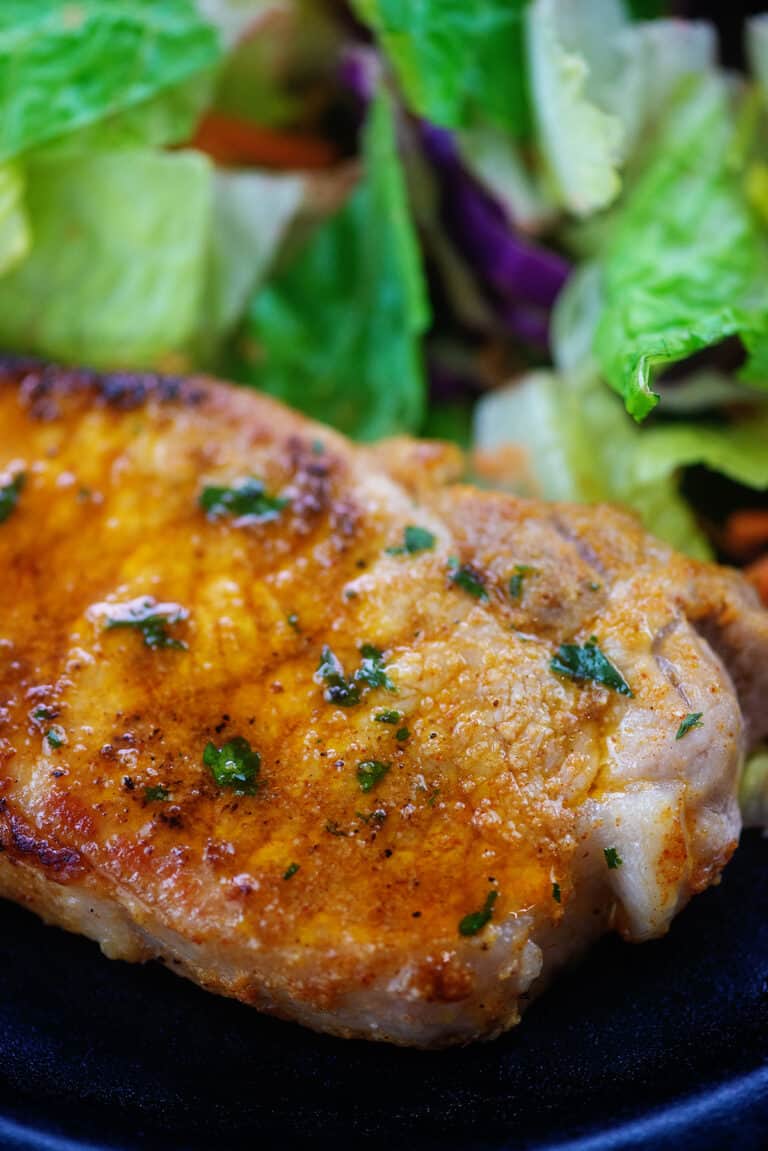 More keto pork recipes: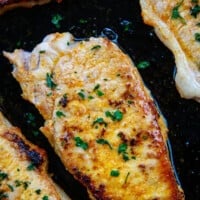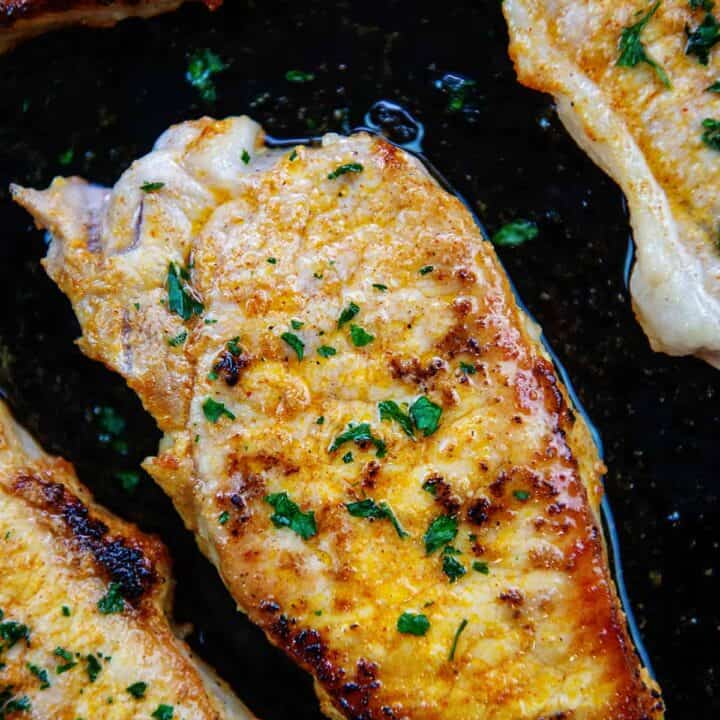 Lemon Garlic Pork Chops
These keto pork chops are seasoned with lemon, garlic, and red pepper for a big burst of flavor! Tender and juicy, this recipe is ready to devour in about 20 minutes!
Ingredients
2 tablespoons fresh lemon juice
1 tablespoon olive oil, plus more for the pan
2 teaspoons garlic powder
1 teaspoon smoked paprika
1 teaspoon salt
1/4 teaspoon cayenne, optional
4 boneless pork loin chops, about 6 ounces each
Instructions
Preheat oven to 400 degrees.
Combine the lemon juice, oil, garlic powder, paprika, salt, and cayenne in a small bowl and stir well to combine.
Brush the lemon mixture over both sides of the pork chops.
Heat an oven safe skillet over medium high heat. Add enough olive oil to lightly grease the bottom of the pan.
Place the pork chops in the skillet and cook for 3-4 minutes or until golden brown.
Flip the pork chops and immediately place the skillet in the oven.
Bake for 15 minutes or until pork chops reach 150 degrees. Timing will vary depending on the thickness of the pork chops.
Let rest 5 minutes before serving.
Notes
We prefer to cook pork chops to an internal temperature of 150-155 degrees and let them rest for 5 minute before serving. The temperature will continue to rise as they rest resulting in a perfectly cooked pork chop that is moist and tender.
Nutrition Information:
Yield: 4
Serving Size: 1
Amount Per Serving:
Calories: 121
Total Fat: 7g
Saturated Fat: 2g
Trans Fat: 0g
Unsaturated Fat: 5g
Cholesterol: 34mg
Sodium: 550mg
Carbohydrates: 2g
Net Carbohydrates: 2g
Fiber: 0g
Sugar: 0g
Protein: 12g
All information and tools presented and written within this site are intended for informational purposes only. This information is provided as a courtesy and there is no guarantee that the information is accurate.