These bacon wrapped pork chops are wrapped in bacon and brushed with sugar free BBQ sauce before being baked to perfection! Ready in 30 minutes and a crowd pleaser!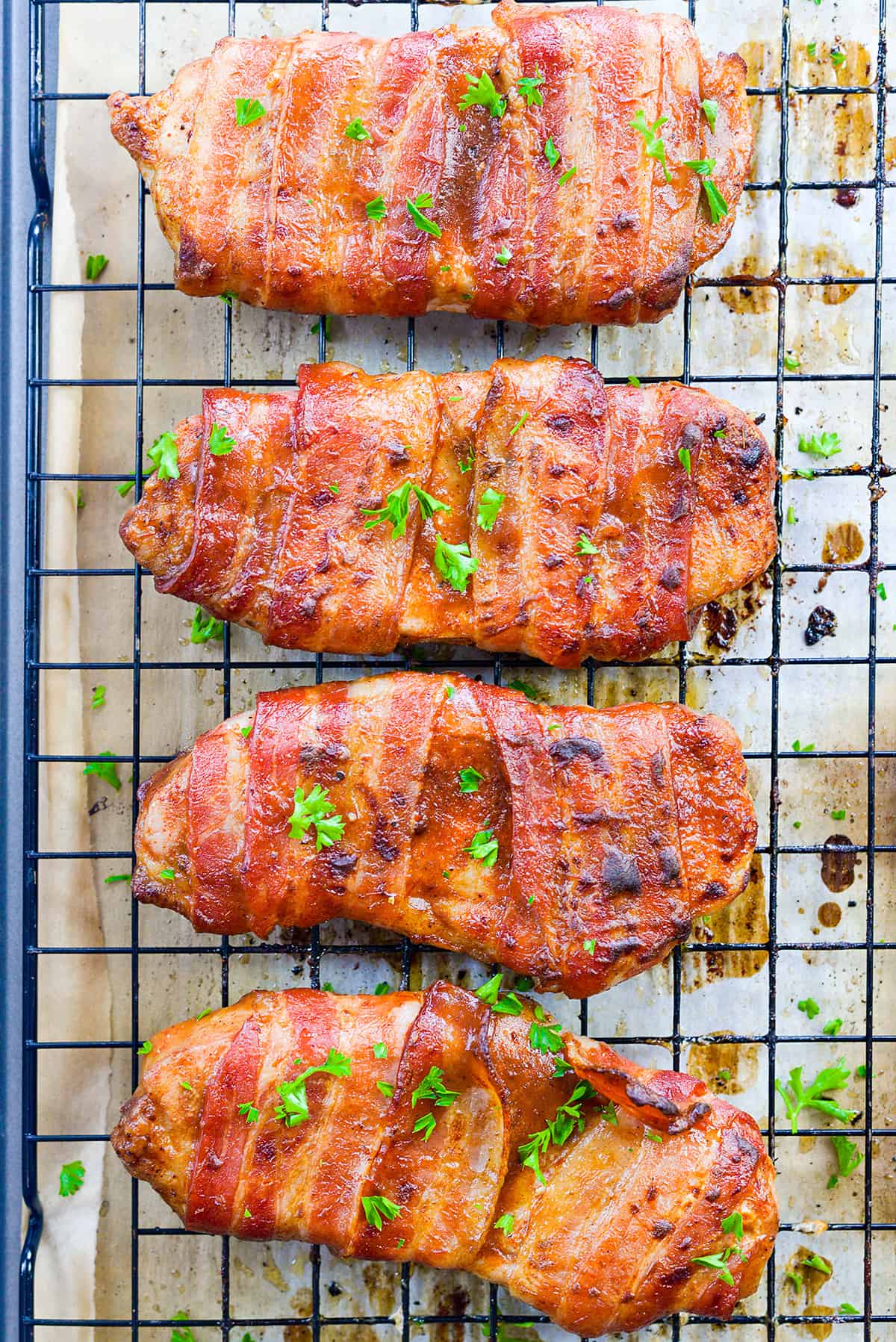 Pork wrapped in pork? Sign me up for that! 😉
These Bacon Wrapped Pork Chops have quickly become a favorite in our house. The tender pork chops are surrounded by crispy bacon and it's all brushed with sweet (sugar free) BBQ sauce. Hard to go wrong with those flavors!
We just shared our recipe for Lemon Pepper Pork Chops last week, but here we are again with another keto pork chop recipe. Hopefully it's not pork chop overload for you – we just love how versatile and easy they are.
We make pork chops at least once a week in our house. How about you?
Of course, we also love food that's wrapped in bacon, like our bacon wrapped pork tenderloin!
Ingredient Notes:
This post contains affiliate links. As an Amazon associate and member of other affiliate programs, I earn from qualifying purchases.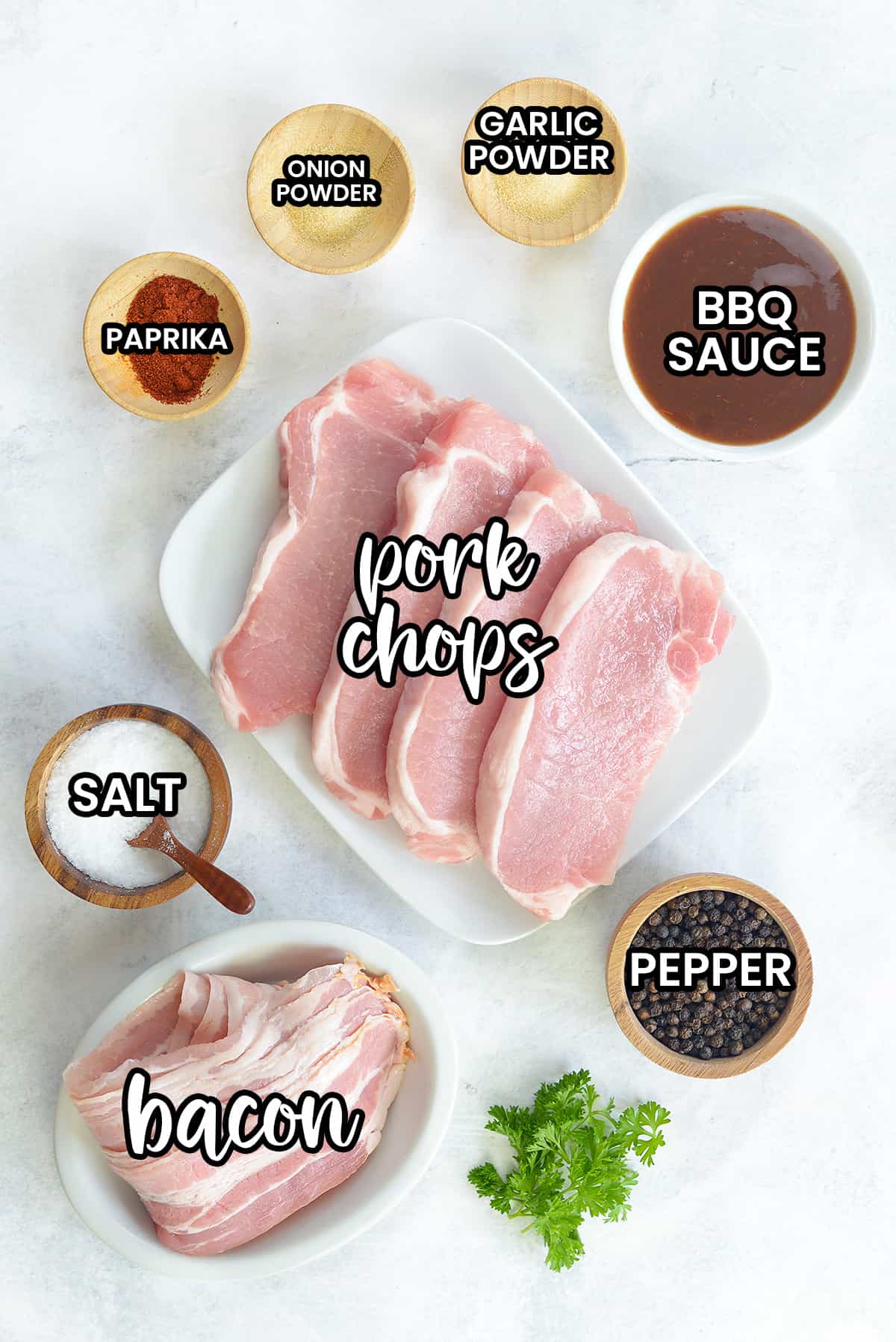 Pork Chops – You'll need four boneless pork chops, about 1/2 – 3/4″ thick.
Seasoning – The seasoning is a mix of garlic powder, onion powder, smoked paprika, salt, and pepper. You can omit the salt if you don't like it too salty, which may also depend on the bacon that you are using.
Bacon – You're going to want to use a thin sliced cut of bacon so that it cooks up nice and crisp.
BBQ Sauce – You can use any sugar free BBQ sauce that you prefer or you can make a homemade BBQ sauce. Some popular store bought options:
Why We Love This Recipe:
Juicy pork chops, wrapped in bacon. Enough said. 😉
The BBQ sauce adds a nice smoky, sweet flavor or tangy, spicy flavor, depending on what type of sauce you choose.
These are ready in about 25 minutes!
The whole family loves this one – there's nothing screaming 'low carb' so you'll get no complaints!
Our Favorite Meat Thermometer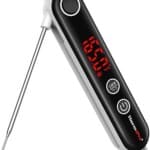 I love using this meat thermometer for making sure the meat is fully cooked! Easy for beginners & absolutely worth the low cost. Just stick it in the thickest part of the meat to check for doneness. This thermometer is also magnetic so it's easy to store right on the side of the fridge or oven for easy access! Get it on Amazon.
How To Bake Pork Chops: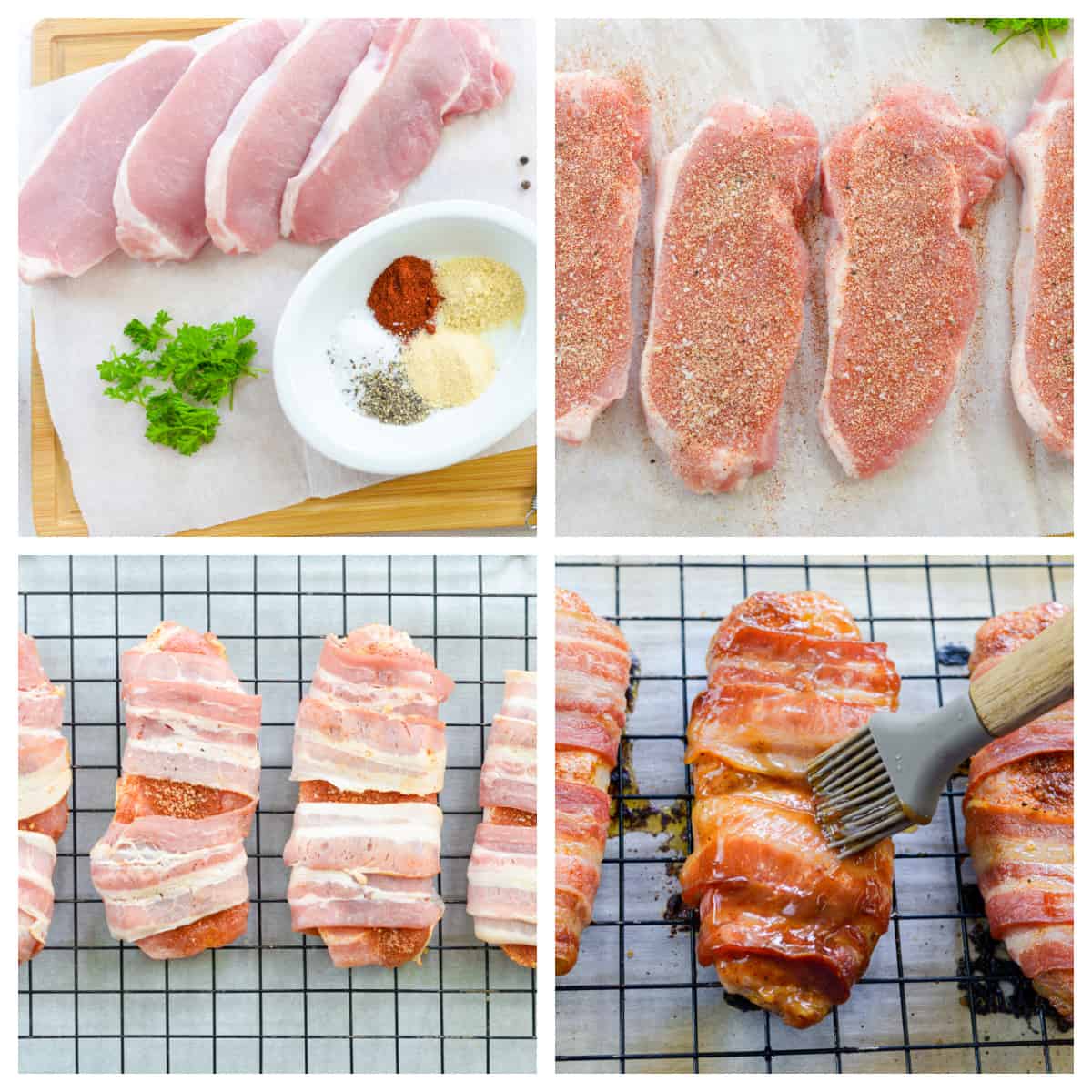 Prepare – To get started you'll preheat your oven to 400 degrees and place a wire rack over a rimmed baking sheet. Pat your pork chops dry and then stir together the seasoning blend.
Seasoning – Rub that seasoning over both sides of the pork chops to coat them.
Bacon – When you've seasoned the boneless pork chops you can start wrapping them in the bacon. Use 2 slices, being careful not to overlap too much or it won't cook or crisp up as evenly. Thin sliced bacon is going to work best for this!
Bake & Baste – Place your bacon wrapped pork chops on the wire rack and bake them for about 16 to 18 minutes, or until they've reached a safe temp of 145 degrees. I've linked to my favorite meat thermometer above! Brush them with BBQ sauce and pop them under the broiler for a minute or two to caramelize the sauce.
Serve – When the BBQ bacon pork chops are finished you can let them rest for 5 minutes before serving. We like to garnish ours with some parsley. Try serving these chops with some charred green beans or maybe some loaded broccoli!
Helpful Tip!
Using a thick sliced bacon will make for a chewy, unpleasant texture. Use a thinner cut of bacon for the best results.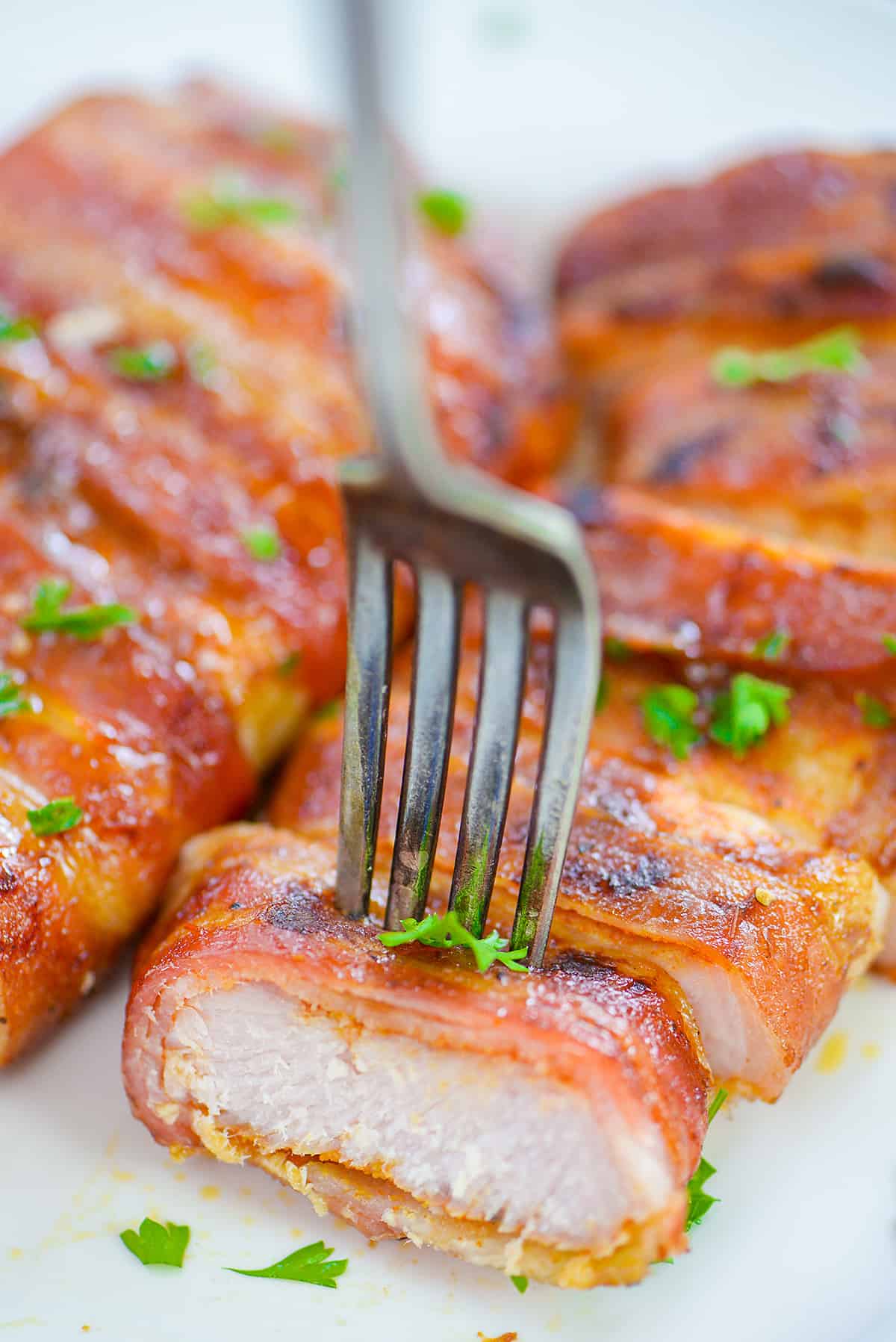 FAQ's:
How to store pork chops?
You can keep these bacon wrapped pork chops in the refrigerator in an airtight container for about 3 to 4 days. They can be reheated in the oven or microwave.
How long to broil pork chops?
Not long! It shouldn't take more than a minute or two. Most broilers get very hot so you'll want to closely watch the pork chops when broiling to be sure that the sauce does not burn.
What temp to cook pork chops?
You'll set your oven to 400 degrees and cook the pork chops for around 18 minutes. Pork chops are safe to eat once they've reached an internal temperature of 145 degrees.
More Keto Pork Chop Recipes: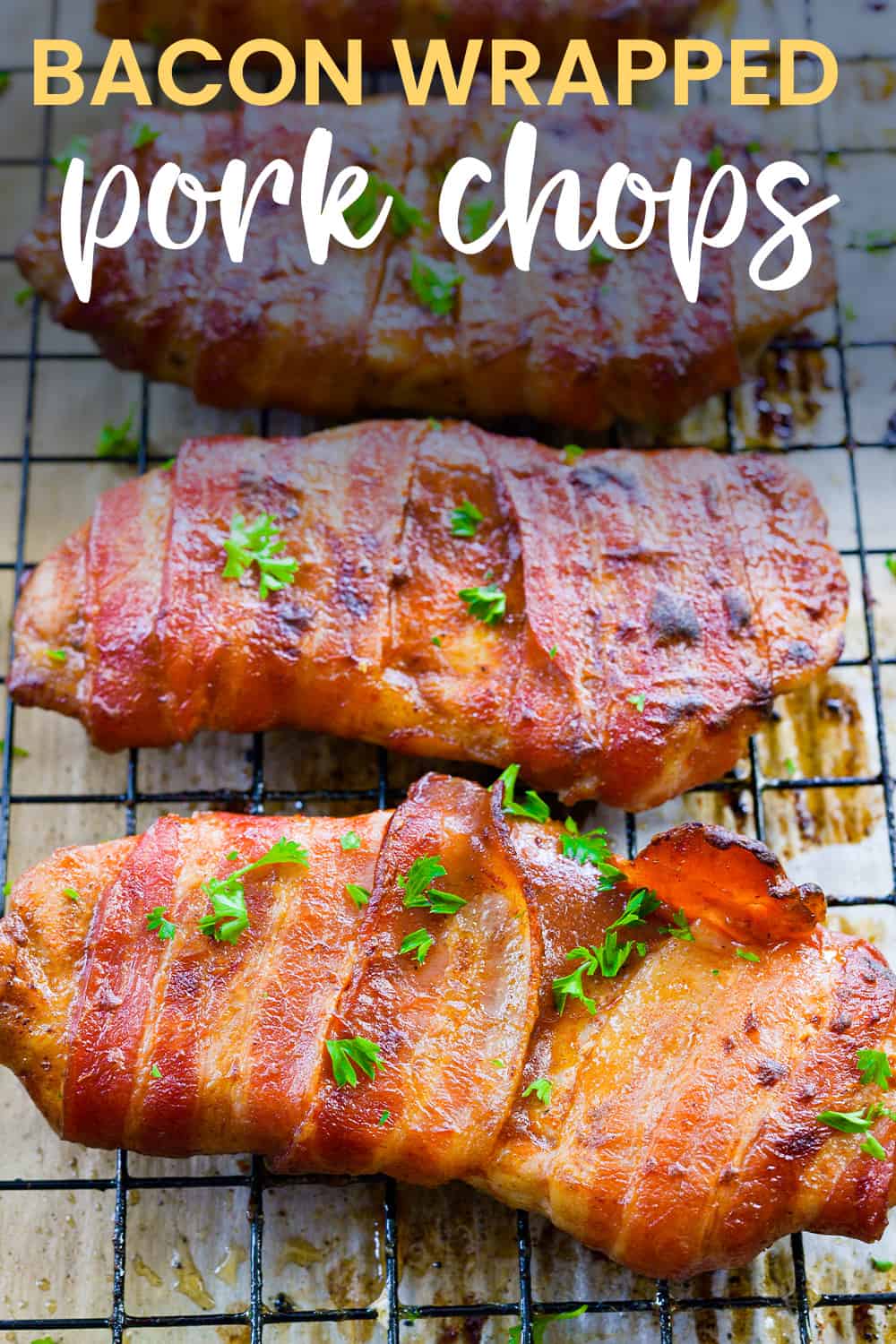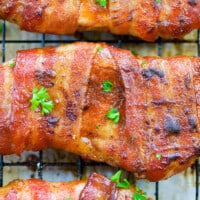 Bacon Wrapped Pork Chops
These pork chops turn out so moist and flavorful and the crispy BBQ bacon on the outside is really hard to beat! Use your favorite bottle of sugar free BBQ sauce (see blog post for our recommendations) or make your own!
Ingredients
4 boneless pork chops, about ¾ inch thick
1 teaspoon garlic powder
1 teaspoon onion powder
1 teaspoon smoked paprika
½ teaspoon salt, see note
½ teaspoon cracked pepper
8 slices bacon
3 tablespoons sugar-free BBQ sauce
Parsley, for garnish
Instructions
Preheat oven to 400 degrees. Place a wire rack over a rimmed baking sheet and set aside.
Pat dry the pork chops. Combine the garlic powder, onion powder, smoked paprika, salt, and pepper in a small bowl and sprinkle over both sides of the pork chops to coat.
Wrap each pork chop in 2 slices of bacon, being careful not to overlap the bacon too much so that it cooks evenly and crisps up in the oven.
Arrange the pork chops on the wire rack and bake for 16-18 minutes or until pork reaches 140-145 degrees.
Remove from the oven and brush with the BBQ sauce.
Turn on the broiler and place the pork chops back in the oven for 2-3 minutes, keeping a close eye so that the sauce doesn't burn.
Remove from the oven and let rest for 5 minutes. Sprinkle with parsley and serve.
Notes
If you're sensitive to salt or your bacon is very salty, you may want to omit this from the seasonings.
Nutrition information is calculated based on a BBQ sauce with 1 gram of carbs per 1 tablespoon, such as G. Hughes.
No sugar free bbq sauce on hand? Try mixing 1/4 cup sugar free ketchup with 3 tablespoons of bottled Italian salad dressing to make a sweet, tangy sauce that works great in place of BBQ.
Nutrition Information:
Yield: 4
Serving Size: 1
Amount Per Serving:
Calories: 480
Total Fat: 27g
Saturated Fat: 9g
Trans Fat: 0g
Unsaturated Fat: 16g
Cholesterol: 126mg
Sodium: 859mg
Carbohydrates: 2g
Net Carbohydrates: 2g
Fiber: 0g
Sugar: 0g
Protein: 45g
All information and tools presented and written within this site are intended for informational purposes only. This information is provided as a courtesy and there is no guarantee that the information is accurate.