Our Bacon Wrapped Shrimp is brushed with a sweet and spicy mix of butter, sweetener, and cayenne and then baked until the shrimp is cooked through and the bacon is crisp. These make the perfect appetizer, but I could easily turn them into dinner, too!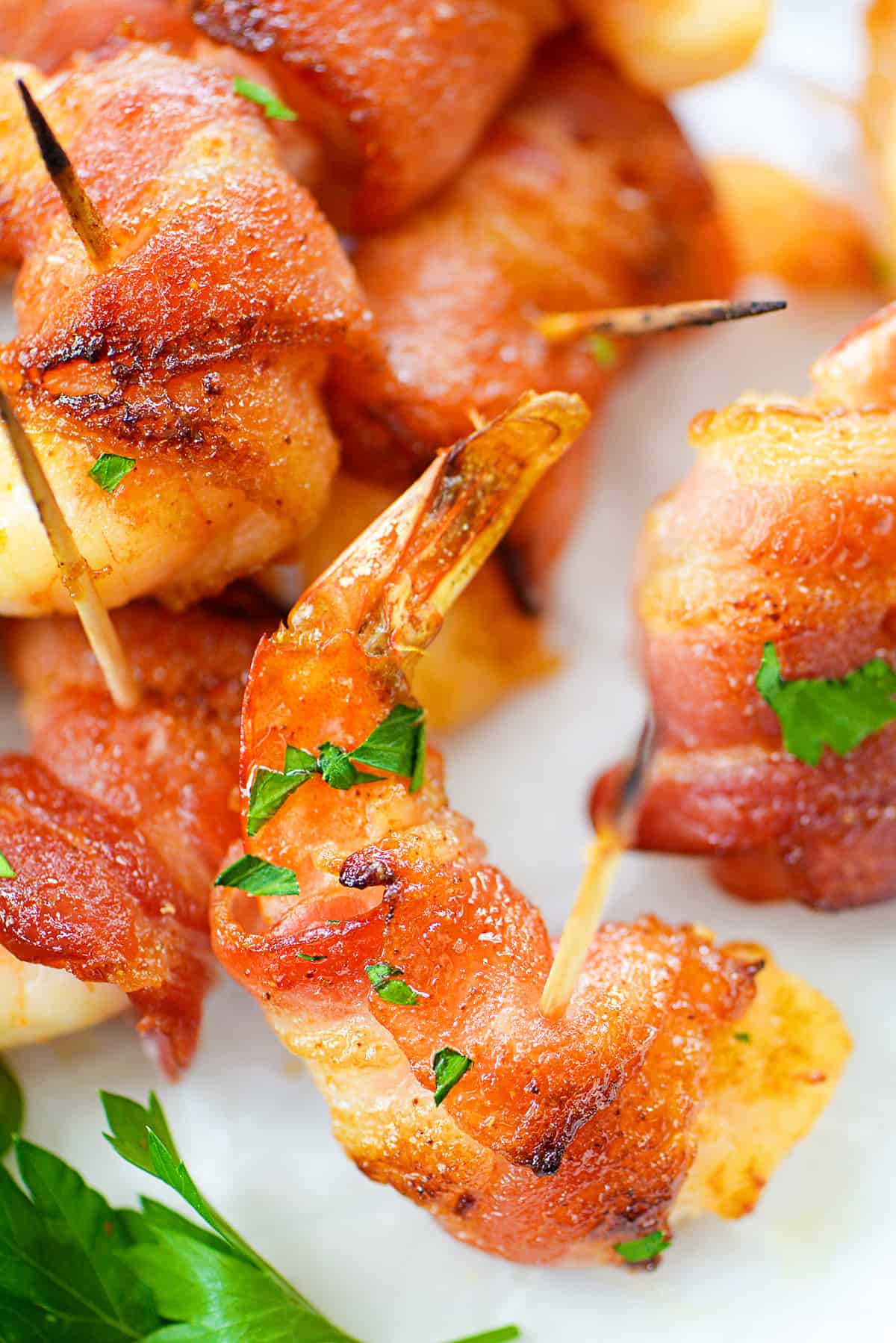 We've been on a major bacon kick lately, which is honestly kind of embarrassing considering that most non-keto people think that all we eat is bacon. I'm just out here perpetuating the stereotype!
Hard to be mad about it though when you see me wrapping things in bacon, like our bacon wrapped pork tenderloin and bacon wrapped pork chops. Now here we are with bacon wrapped shrimp!
This is honestly the perfect appetizer – crispy bacon, tender shrimp, and a sweet and spicy glaze that gets brushed over the top. Everyone loves this one and, while it does take a few minutes to wrap the bacon around each shrimp, it's really quite an easy dish.
Ingredient Notes:
This post contains affiliate links. As an Amazon associate and member of other affiliate programs, I earn from qualifying purchases.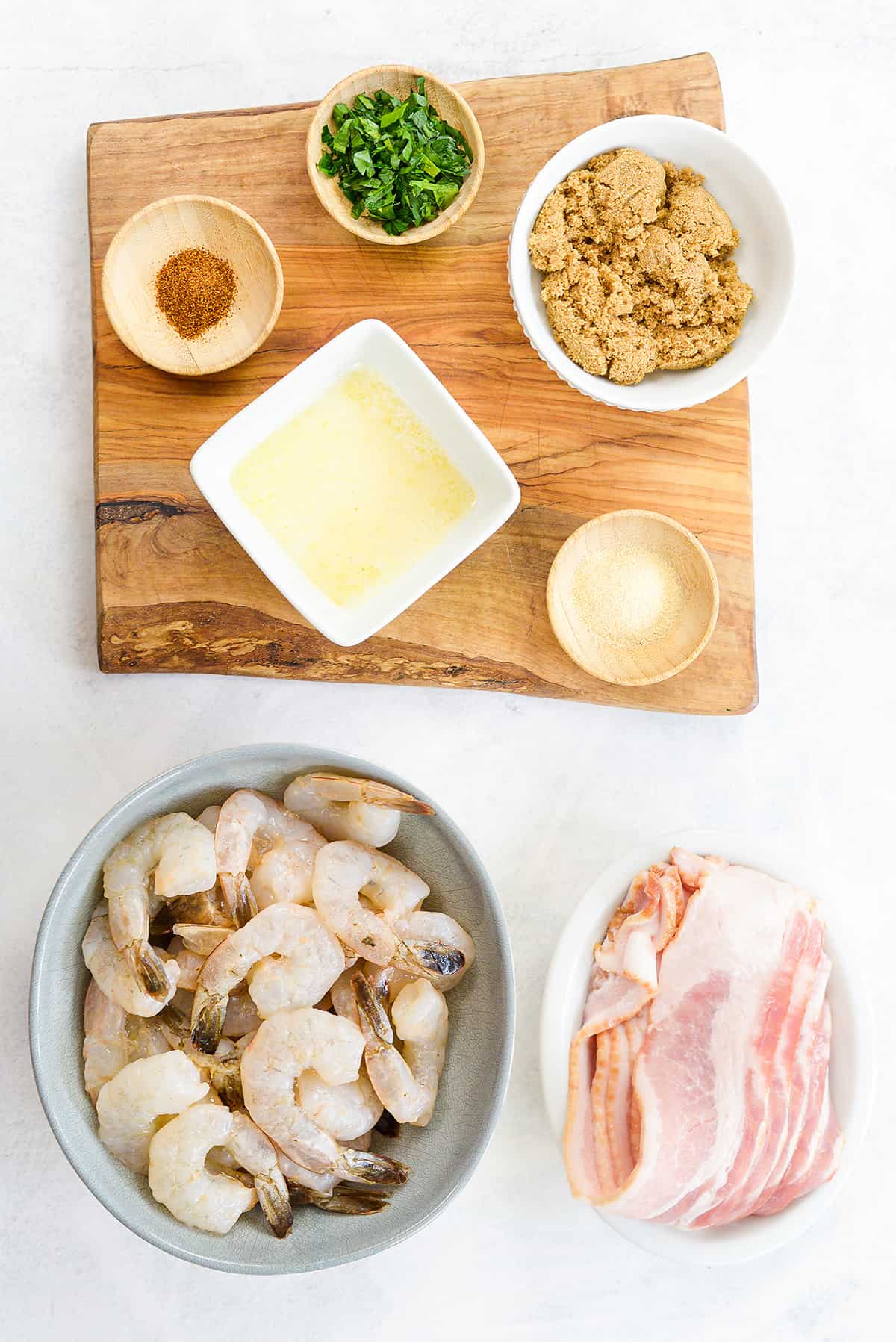 Shrimp – You'll need a pound of raw jumbo shrimp, about 20 of them, that have been peeled and deveined with the tail on or off. Fresh or frozen and thawed shrimp will work just fine. If you're using shrimp with the tail on, you can choose to skip the toothpicks and people can grab the shrimp by their tails when eating.
Bacon – You'll want to use thin sliced bacon as it will crisp up and cook through much better than thick sliced bacon will.
Sauce – Melted butter, brown sugar replacement, garlic powder, and cayenne pepper add loads of flavor. We use Lakanto or Swerve as our sweetener of choice.
Why We Love This Recipe:
This recipe is so simple to put together! Just wrap some shrimp in bacon and brush it with the seasoning mix.
Anything wrapped in bacon is going to taste better and be a huge hit with friends and family.
This is meant to be served as an appetizer or snack, but you can definitely eat this for dinner if you like!
How To Make Bacon Wrapped Shrimp: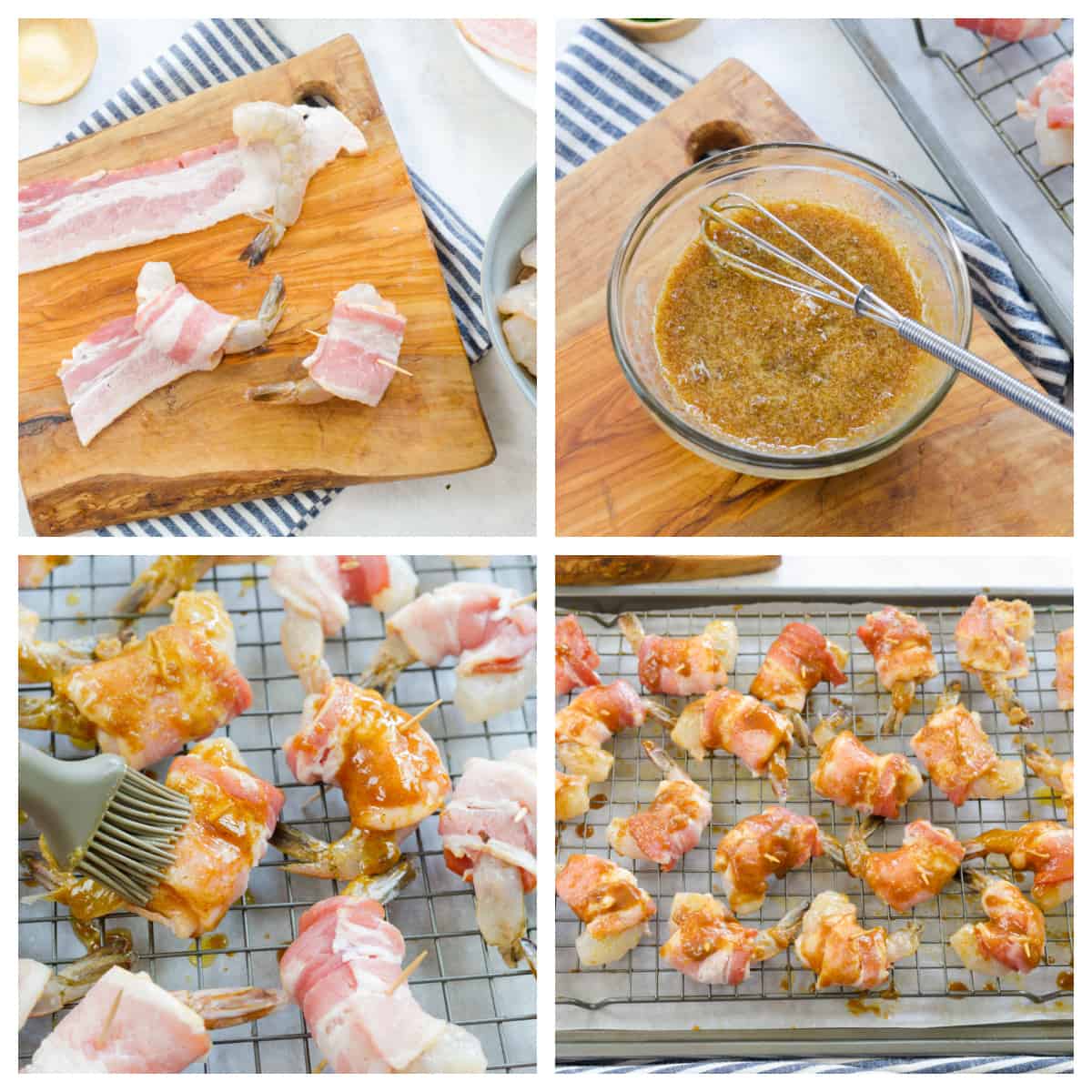 Bacon – You'll need 10 slices of bacon which you will then cut in half to make 20 pieces. Start wrapping each shrimp in the bacon, leaving the tail uncovered. Place the bacon wrapped shrimp onto the wire rack with enough room between each one for easy air flow. This will allow the bacon to crisp up all the way around.
Seasoning – This sweet and spicy seasoning is made by melting some butter and whisking it together with the brown sugar replacement, garlic powder, and cayenne pepper!
Baste – Brush the butter mixture liberally over each piece of shrimp.
Bake – Pop these sweet and spicy shrimp in the oven for about 15 minutes. At that point you'll want to switch over to the broiler to finish them off under a high heat for about 1 to 2 minutes to crisp the bacon. Watch it closely so that it does not burn!
Serve – We finish these off with some minced parsley and serve them hot! These make great keto party snacks or appetizers that are also perfect for holiday gatherings or watching the big game!
Karly's Tip!
If you're having trouble getting the bacon to stay in place on the shrimp, you can insert a toothpick to hold it in place and to make for easier snacking!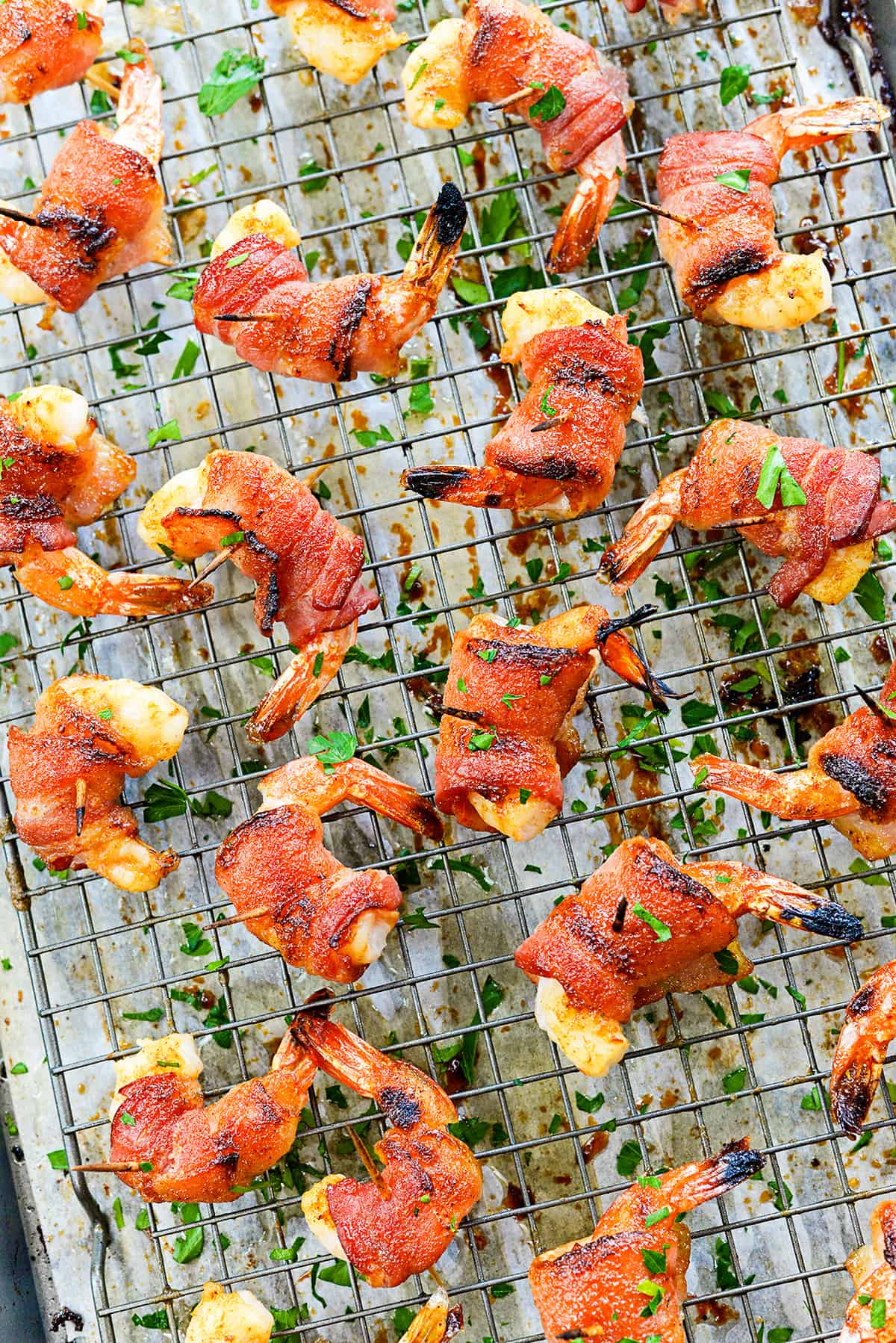 FAQ's:
How to store bacon wrapped shrimp?
These are best enjoyed fresh but you can keep any leftovers stored in the fridge in an airtight container for 1 to 2 days.
Can I air fry bacon wrapped shrimp?
I haven't tried it myself but it should work fine! I'd air fry the bacon wrapped shrimp at 400 degrees for about 10 minutes, flipping them once halfway through. The bacon should crisp up nicely in the air fryer!
What type of bacon to use?
You can use any kind of bacon you want as long as it is thin sliced! If it is too thick it won't cook through before the shrimp has finished baking, and it won't be crispy. Using thin sliced bacon and then finishing under the broiler gets it perfectly crispy!
More Keto Snack Recipes: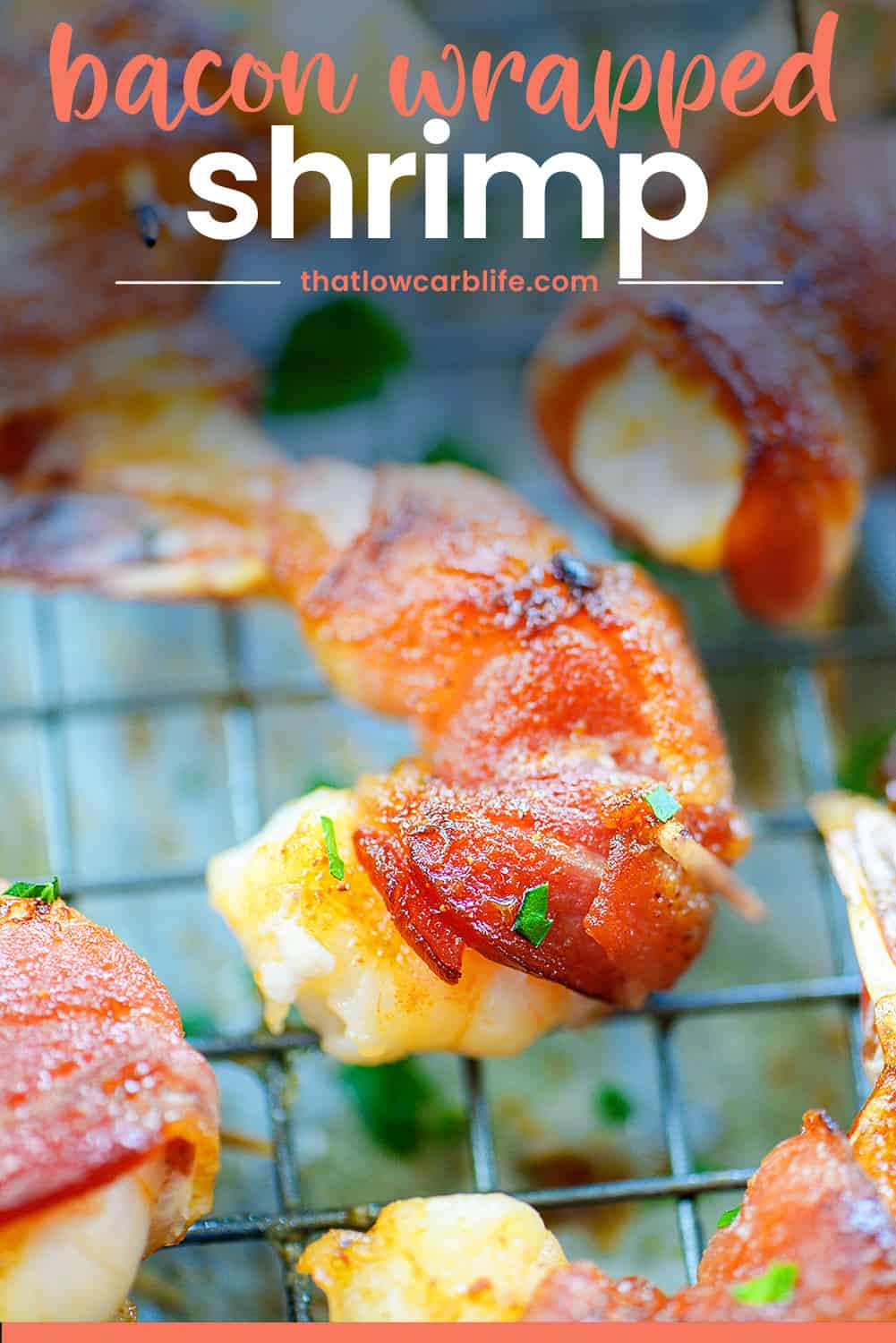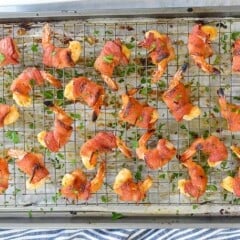 Bacon Wrapped Shrimp
This Bacon Wrapped Shrimp is basted with a sweet and spicy sauce! Low carb, keto, and perfect for snacking!
Ingredients
1 pound raw jumbo shrimp, about 20 shrimp, peeled and deveined, tail on
10 pieces thin sliced bacon
3 tablespoons butter, melted
3 tablespoons brown sugar replacement
1 teaspoon garlic powder
½ teaspoon cayenne, more to taste
Parsley, for garnish
Instructions
Preheat oven to 400 degrees. Place a wire rack over a large, rimmed sheet pan.
Slice each piece of bacon in half to make 20 pieces of bacon. Wrap each shrimp in the bacon, leaving the tail uncovered.
Arrange shrimp on the wire rack with room between each for air to flow.
Whisk together the butter, brown sugar replacement, garlic powder, and cayenne.
Brush the mixture liberally over the shrimp to coat.
Bake for 15 minutes and then turn the oven to broil. Broil for 1-2 minutes to finish crisping the bacon.
Sprinkle with minced parsley and serve.
Notes
To make these in the air fryer, cook at 400 degrees for 10 minutes.
Feel free to skip the cayenne if you don't like spice.
You may use shrimp with the tails on or off.
Nutrition Information:
Yield: 20
Serving Size: 1 shrimp
Amount Per Serving:
Calories: 82
Total Fat: 4g
Saturated Fat: 2g
Trans Fat: 0g
Unsaturated Fat: 2g
Cholesterol: 69mg
Sodium: 373mg
Carbohydrates: 1g
Fiber: 0g
Sugar: 1g
Protein: 8g
All information and tools presented and written within this site are intended for informational purposes only. This information is provided as a courtesy and there is no guarantee that the information is accurate.