These juicy Bacon Wrapped Chicken Thighs are prepared with a flavorful homemade seasoning mix and then tightly wrapped in bacon and baked! The outside is crispy and the inside is moist and juicy!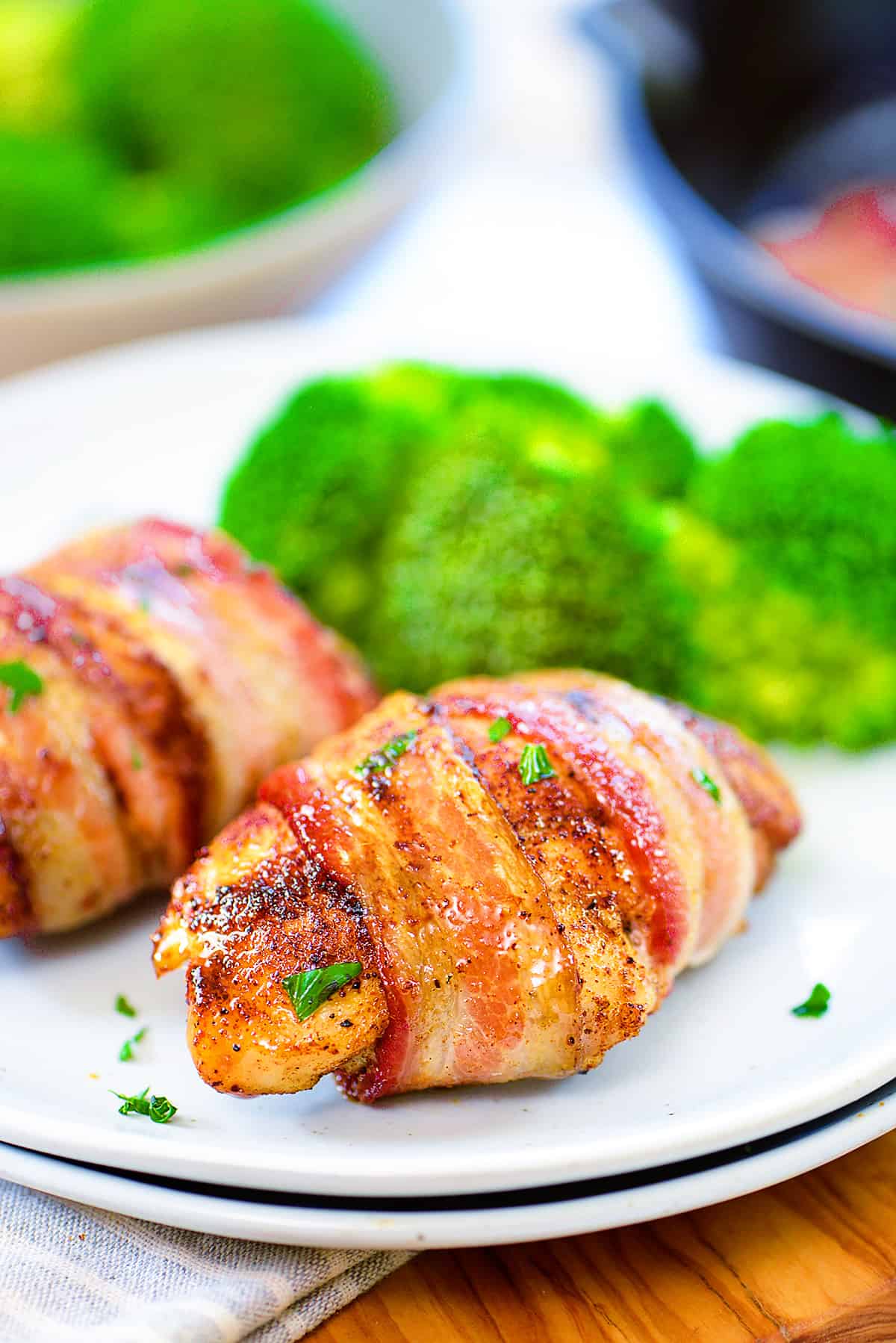 We've been on a major bacon kick these days.
Something about bacon just improves pretty much everything and I'm not shy about adding it to recipes. 😉
These Bacon Wrapped Chicken Thighs are so tender and moist. The dark meat already tends to come out juicy, but let it cook with bacon and you've really got a winner!
Our Bacon Wrapped Pork Tenderloin and Bacon Wrapped Pork Chops have been huge hits, so hey…why not bacon wrapped chicken thighs??
We've even done bacon wrapped chicken breasts in the air fryer!
Basically, the takeaway here is that if you season things nicely and wrap them in bacon, you're going to have a winner of a dinner! And no one will even realize this one is low carb.
Ingredient Notes:
This post contains affiliate links. As an Amazon associate and member of other affiliate programs, I earn from qualifying purchases.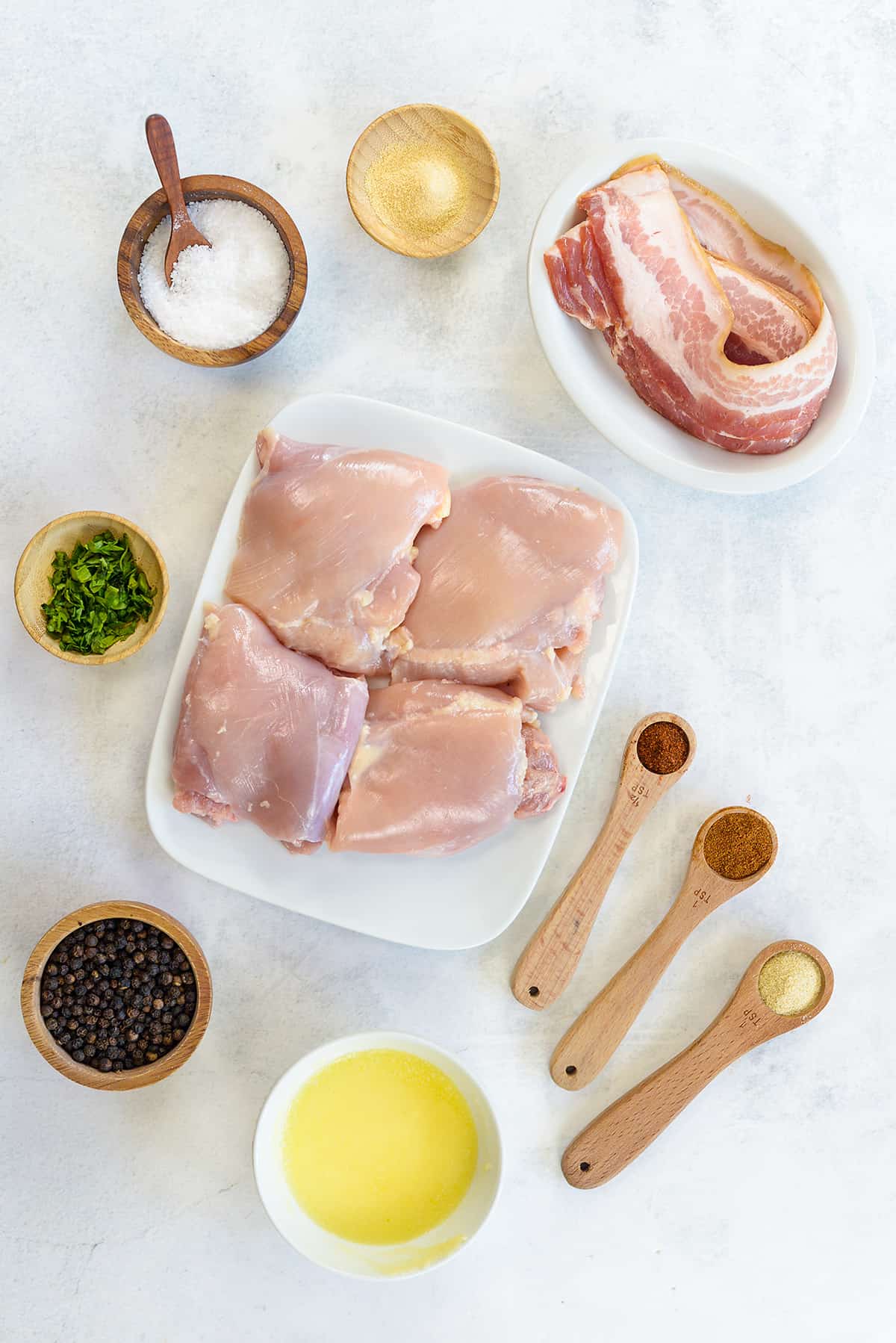 Chicken Thighs – You'll want to use boneless, skinless chicken thighs for this recipe. This recipe also works well with smaller chicken breasts if you prefer white meat.
Bacon – When making bacon wrapped chicken thighs it is best to use a thin sliced bacon. It'll crisp up and cook through a lot better than thick cut bacon!
Seasoning – You'll prepare a mix of salt, pepper, paprika, onion powder, garlic powder, dried parsley, and chili powder. It'll add lots of good flavor! If you want to add some smokiness swap out the paprika for smoked paprika.
Why We Love This Recipe:
Bacon makes pretty much everything taste better!
The seasoning does a great job of adding lots of flavor to the chicken thighs. And the bacon helps hold it all in.
Chicken thighs already tend to bake up fairly moist, but when wrapped in bacon things are extra juicy and delicious! No dry chicken here.
Our Favorite Meat Thermometer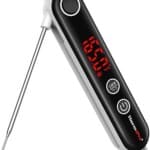 I love using this meat thermometer for making sure the meat is fully cooked! Easy for beginners & absolutely worth the low cost. Just stick it in the thickest part of the meat to check for doneness. This thermometer is also magnetic so it's easy to store right on the side of the fridge or oven for easy access! Get it on Amazon.
How To Make Chicken Thighs Wrapped in Bacon: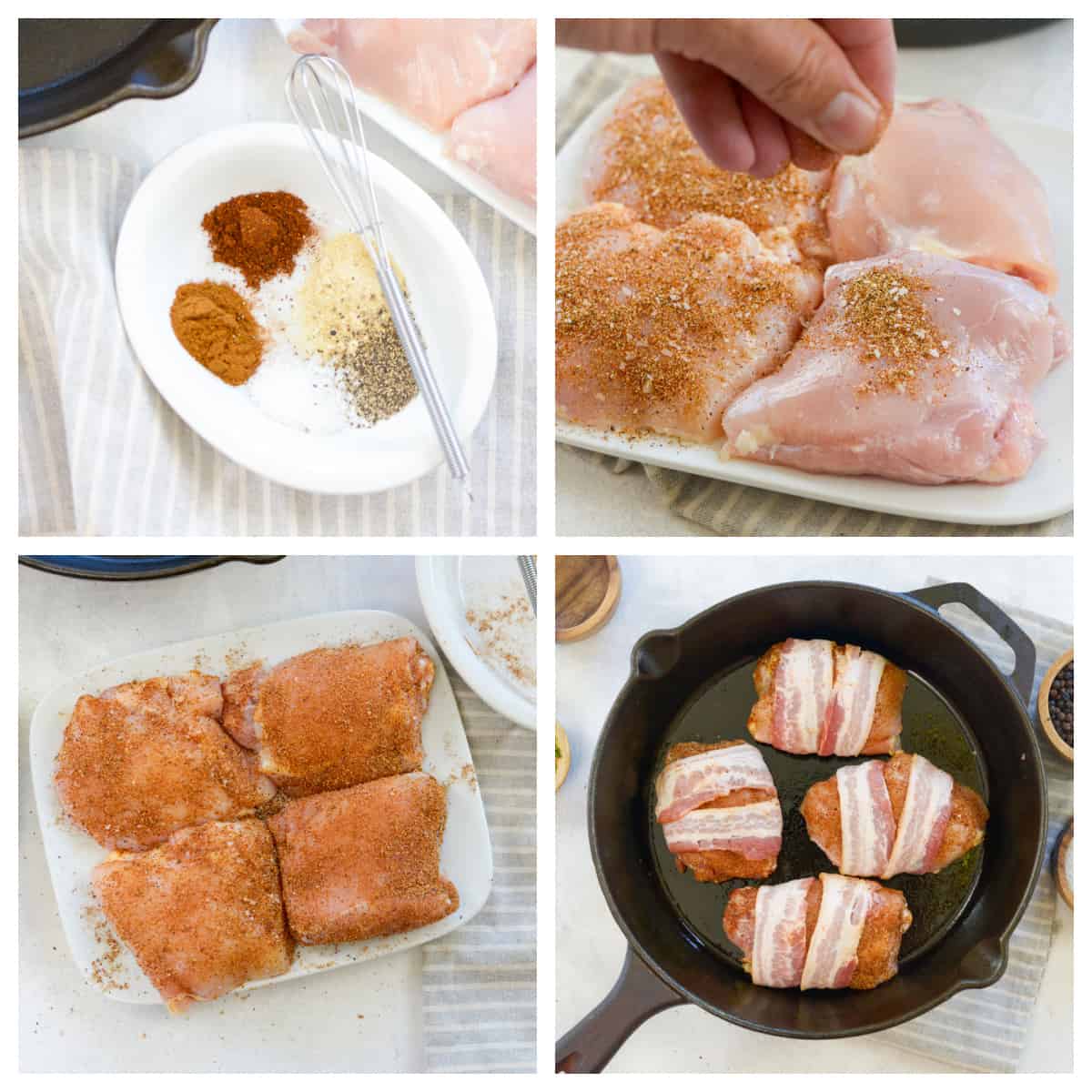 Seasoning – Add all of the seasoning and spice to a mixing bowl and combine, then start seasoning the chicken. This mix is going to add lots of great flavor to the chicken so make sure you liberally season the chicken thighs well on both sides! We want flavor!
Wrap – Next you'll want to roll the seasoned chicken thighs up tightly, sort of like a jelly roll, and then wrap one piece of bacon around each thigh. Try not to overlap the bacon. Place the bacon wrapped chicken seam side down in your baking dish or cast iron skillet.
Bake – Place your chicken in a 400 degree oven for 25 to 30 minutes or until it has reached a safe temperature of 165 degrees. I've linked to my favorite meat thermometer above! The time to bake may vary based on the thickness of the chicken and the bacon so always check to make sure that the chicken is safe to eat.
Finish – You can either serve the chicken now or if you want to get the bacon nice and crispy you can set your oven to broil and place the chicken under the broil for about 1 to 2 minutes. It can burn quickly so watch it closely! We like to top the chicken with some parsley and serve it up with loaded broccoli or garlic parmesan asparagus!
Cast Iron Skillet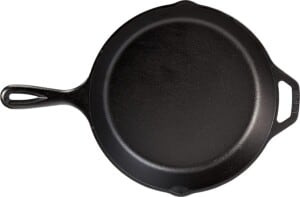 We use our cast iron skillet just about every day! They're non-stick, easy to clean, and go from stove to oven like a dream! We love this skillet for searing steak or baking chicken.
Flavor Variations:
BBQ: During the last 5 minutes of baking, brush the chicken with sugar-free barbecue sauce. Finish it under the broiler to caramelize the sauce.
Ranch: Swap the seasonings for a packet of ranch seasoning mix and liberally rub it all over the chicken thighs to coat.
Smoky Chipotle: Combine 1 teaspoon each of chipotle chili powder, cumin, smoked paprika, onion powder, garlic powder, salt, and cracked pepper and rub liberally on the chicken.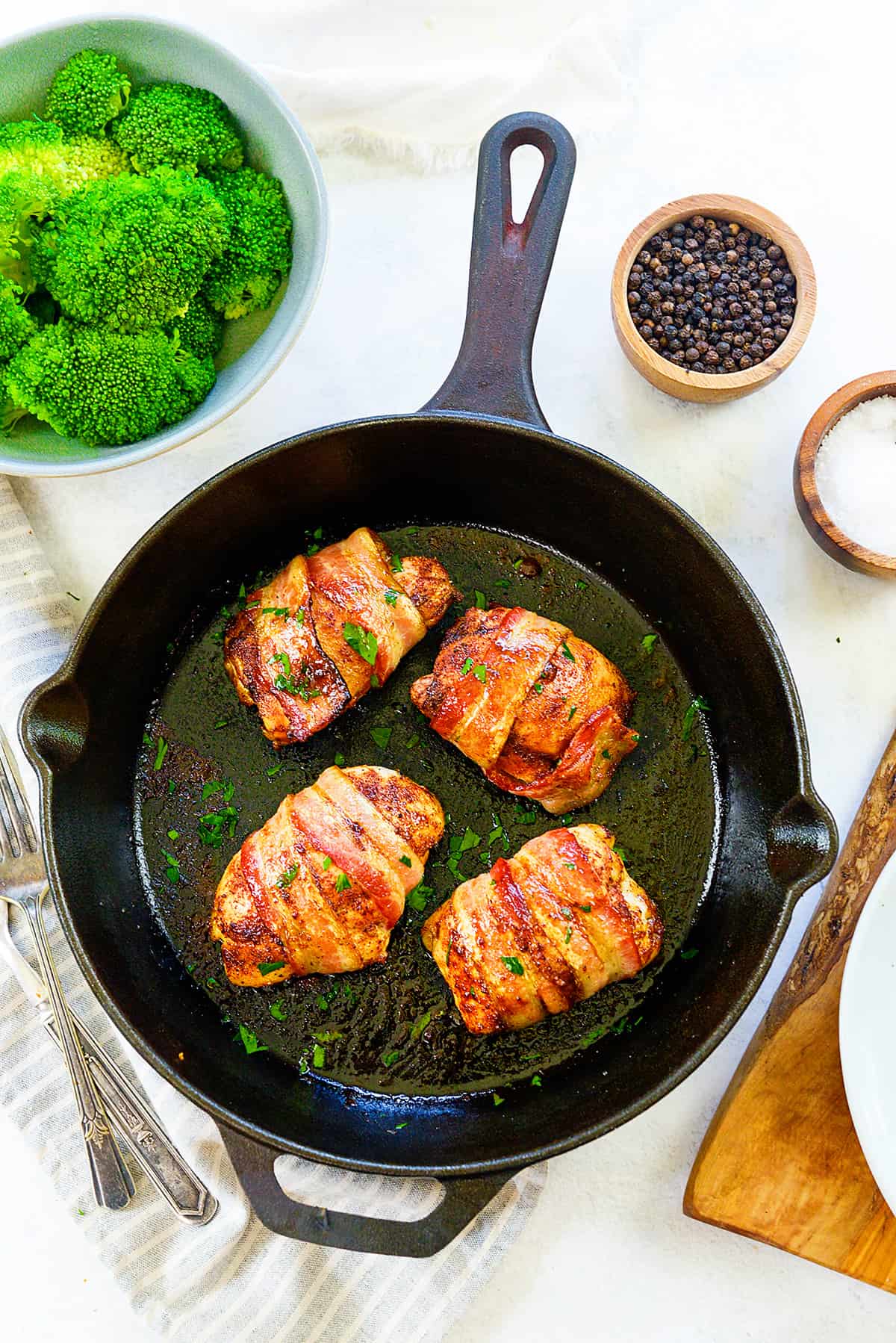 FAQ's:
How to store chicken?
These bacon wrapped chicken thighs will keep well in the fridge for about 3 days in an airtight container. You can reheat them in the microwave or the oven.
How long to bake chicken?
At 400 degrees it'll usually take about 25 to 30 minutes, but this can vary based on how large the chicken thighs are and how thick cut the bacon is. The safest way to make sure this chicken is ready to eat is to use a meat thermometer!
Can chicken still be pink when done?
Chicken should be cooked to an internal temperature of 165 degrees. Color isn't the best indication of doneness, especially when the chicken is seasoned or wrapped in bacon. Use a meat thermometer to check the internal temperature of chicken.
More Bacon Wrapped Recipes: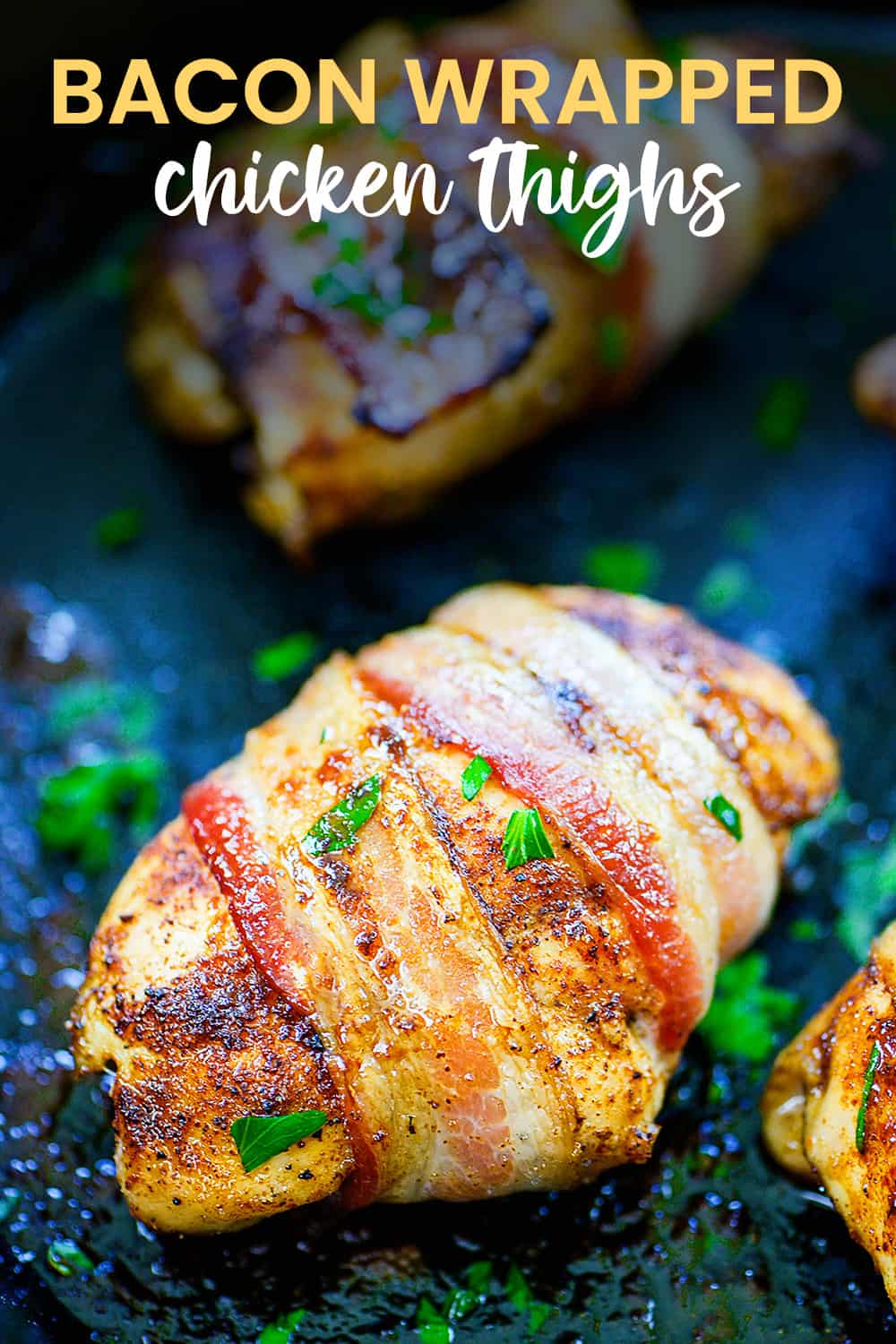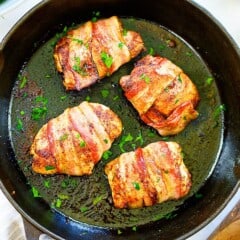 Bacon Wrapped Chicken Thighs
Chicken thighs turn out so moist and flavorful when you wrap them in bacon and bake them! We used a simple seasoning blend, but feel free to mix things up. Ideas in the blog post above!
Ingredients
4 boneless, skinless chicken thighs
1 teaspoon paprika
1 teaspoon onion powder
1 teaspoon garlic powder
1 teaspoon dried parsley
1 teaspoon salt
½ teaspoon cracked pepper
½ teaspoon chili powder
4 slices bacon
Parsley, for garnish
Instructions
Preheat oven to 400 degrees. Spritz a baking dish with non-stick spray or lightly oil a cast iron skillet.
Add all of the seasonings to a small bowl and season the chicken liberally on both sides.
Roll the chicken up tightly and wrap one piece of bacon around each chicken thigh.
Place chicken in the skillet, seam side down, and bake for 25-30 minutes or until a thermometer reads 165 degrees.
If needed, turn the oven to broil and broil the chicken for 1-2 minutes to crisp the bacon to your liking.
Sprinkle with parsley and serve.
Notes
This chicken recipe is easily adaptable. We included other seasoning options in the blog post, but a favorite is to brush the chicken with sugar-free barbecue sauce 5 minutes before it's done cooking. Once the chicken is cooked through, broil for a minute or two to caramelize the sauce.
Use a thin sliced bacon for best results.
Nutrition Information:
Yield: 4
Serving Size: 1
Amount Per Serving:
Calories: 246
Total Fat: 13g
Saturated Fat: 4g
Trans Fat: 0g
Unsaturated Fat: 9g
Cholesterol: 148mg
Sodium: 933mg
Carbohydrates: 2g
Net Carbohydrates: 1g
Fiber: 1g
Sugar: 0g
Protein: 31g
All information and tools presented and written within this site are intended for informational purposes only. This information is provided as a courtesy and there is no guarantee that the information is accurate.