This bacon wrapped pork tenderloin is so tender and full of juicy flavor, with a sweet and spicy mixture on the bacon that is irresistible! Ready in about 30 minutes!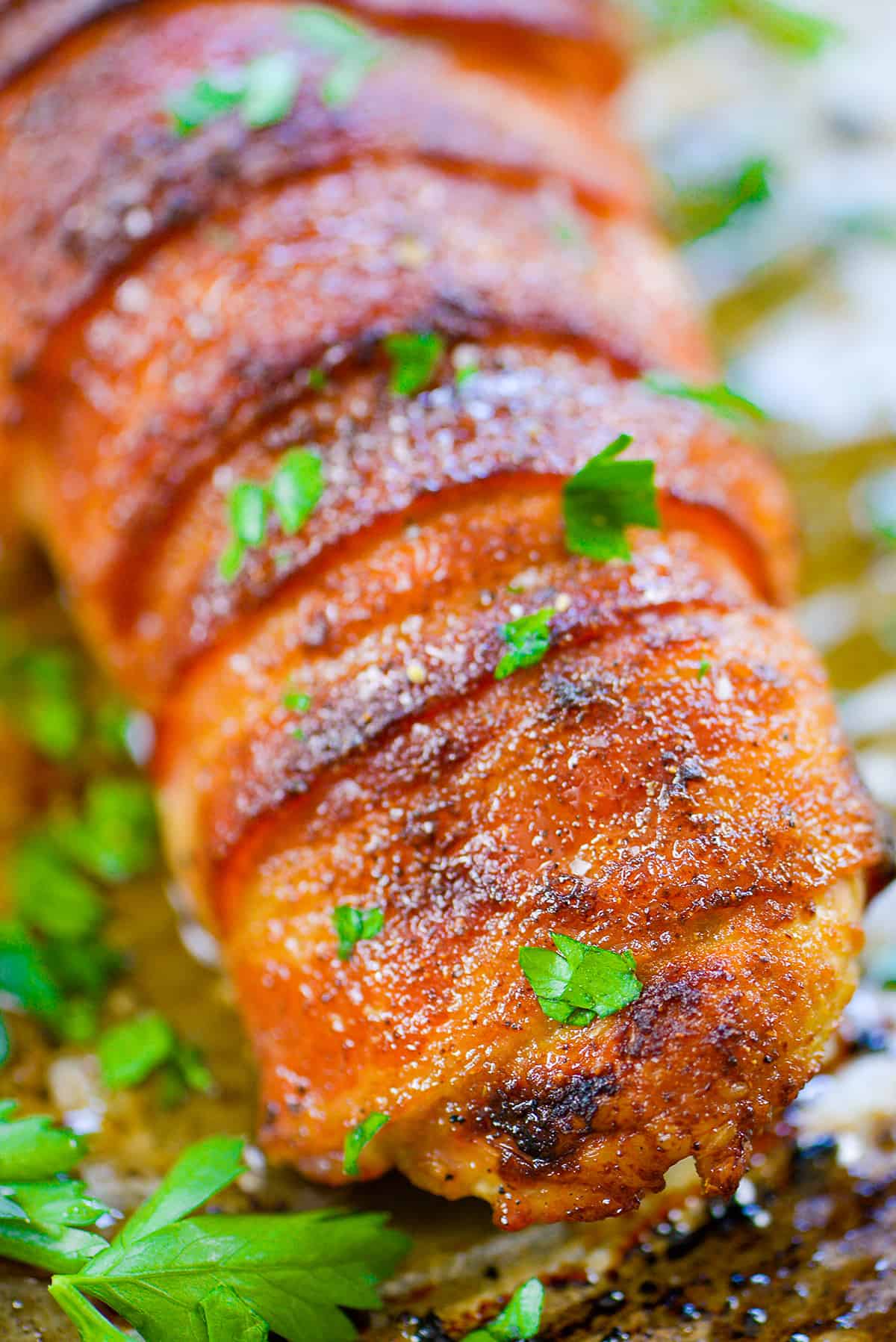 We're a sucker for an easy dinner and this one fits the bill perfectly!
Tender and juicy pork tenderloin wrapped in crispy bacon – what's not to love about a dinner like that? Plus, we rub the bacon with a simple sweet and spicy mixture that really takes this dish over the top.
Our garlic butter pork tenderloin has been a reader favorite for years now. It's so simple to prepare, bakes quickly, and it tastes like it came from a fancy restaurant. We knew that recipe would be stiff competition when coming up with another pork tenderloin recipe, but we think we did pretty darn good here.
The pork stays super moist and tender thanks to the bacon surrounding. As the fat from the bacon renders, it seasons the pork tenderloin inside. The spice mixture on the outside is easy to customize (don't like spice? Leave it out!) and then whole recipe takes about 30 minutes! Perfect for a weeknight.
Oh, and if you love bacon like we love bacon, be sure to check out these bacon wrapped chicken breasts! They're made in the air fryer and a major favorite around here.
Ingredient Notes:
This post contains affiliate links. As an Amazon associate and member of other affiliate programs, I earn from qualifying purchases.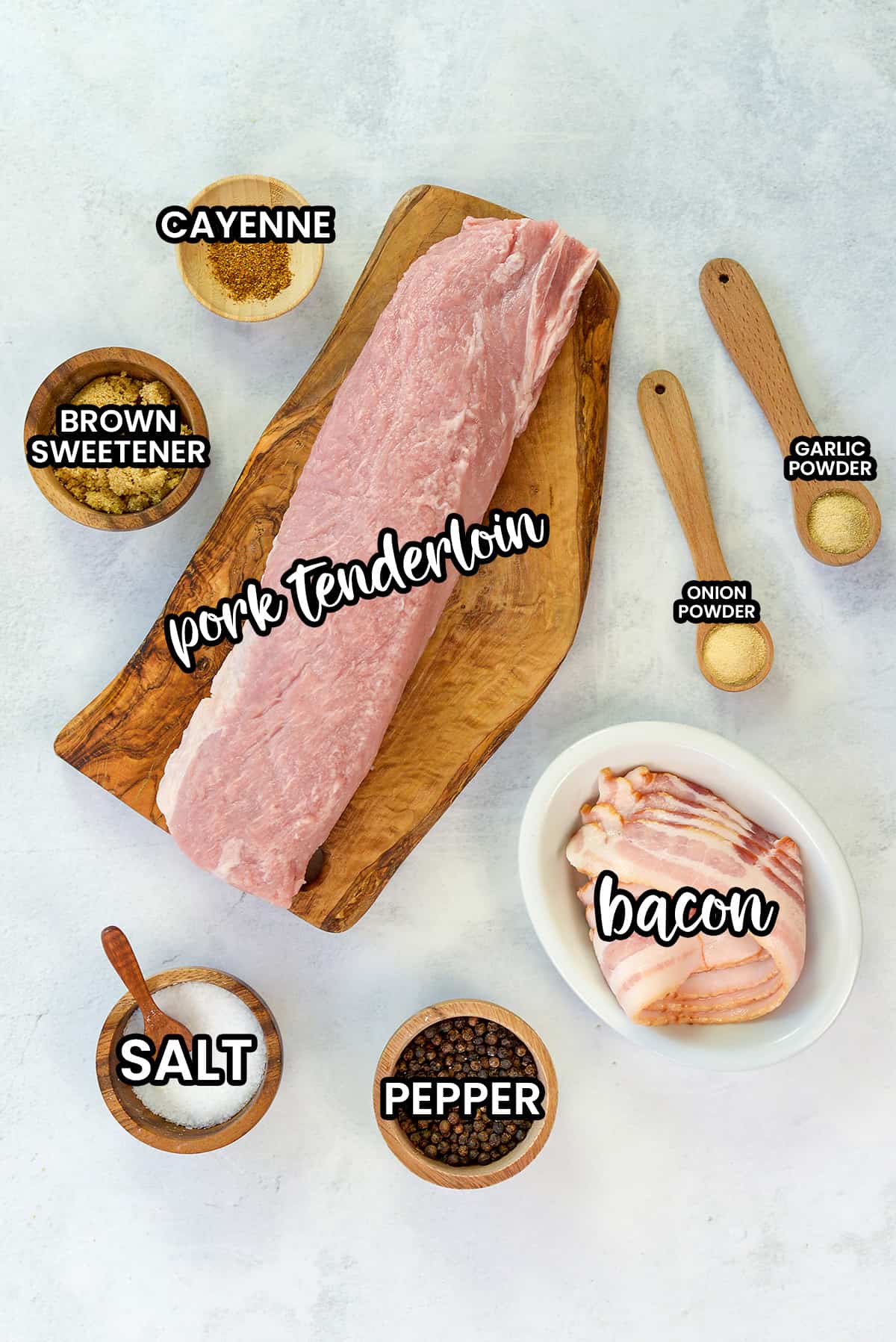 Pork Tenderloin – This tender, juicy cut of pork is so full of flavor! A tenderloin, or pork fillet, is a lot like a beef tenderloin in that it is super tender and always a crowd pleaser. It's hard to go wrong with such a good cut of meat.
Bacon – You'll wrap the tenderloin up in bacon It'll help lock in the flavors and keep the tenderloin nice and juicy while adding a crisp, flavorful crust.
Sweetener – A good brown sugar substitute that we use in pretty much all our recipes is Lakanto Brown Monkfruit Sweetener. It's the perfect low carb replacement for brown sugar, but any 1:1 brown sugar substitute will work. Use code THATLOWCARBLIFE for 20% off your order at Lakanto.
Seasoning – Garlic powder, onion powder, salt, and cracked pepper make up the base of the seasoning, but we also add in a little cayenne pepper for kick. You can omit this entirely or swap for chili powder if you don't like too much spice. We think the sweet with the spicy is a great combo though.
Why We Love This Recipe:
The pork is so tender, juicy, and flavorful! No wonder they call it a tenderloin.
We love anything wrapped in bacon!
The sweet and spicy flavor combo is always a win in my house.
Our Favorite Meat Thermometer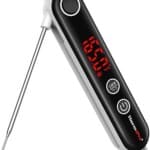 I love using this meat thermometer for making sure the meat is fully cooked! Easy for beginners & absolutely worth the low cost. Just stick it in the thickest part of the meat to check for doneness. This thermometer is also magnetic so it's easy to store right on the side of the fridge or oven for easy access! Get it on Amazon.
How To Make Bacon Wrapped Pork Tenderloin: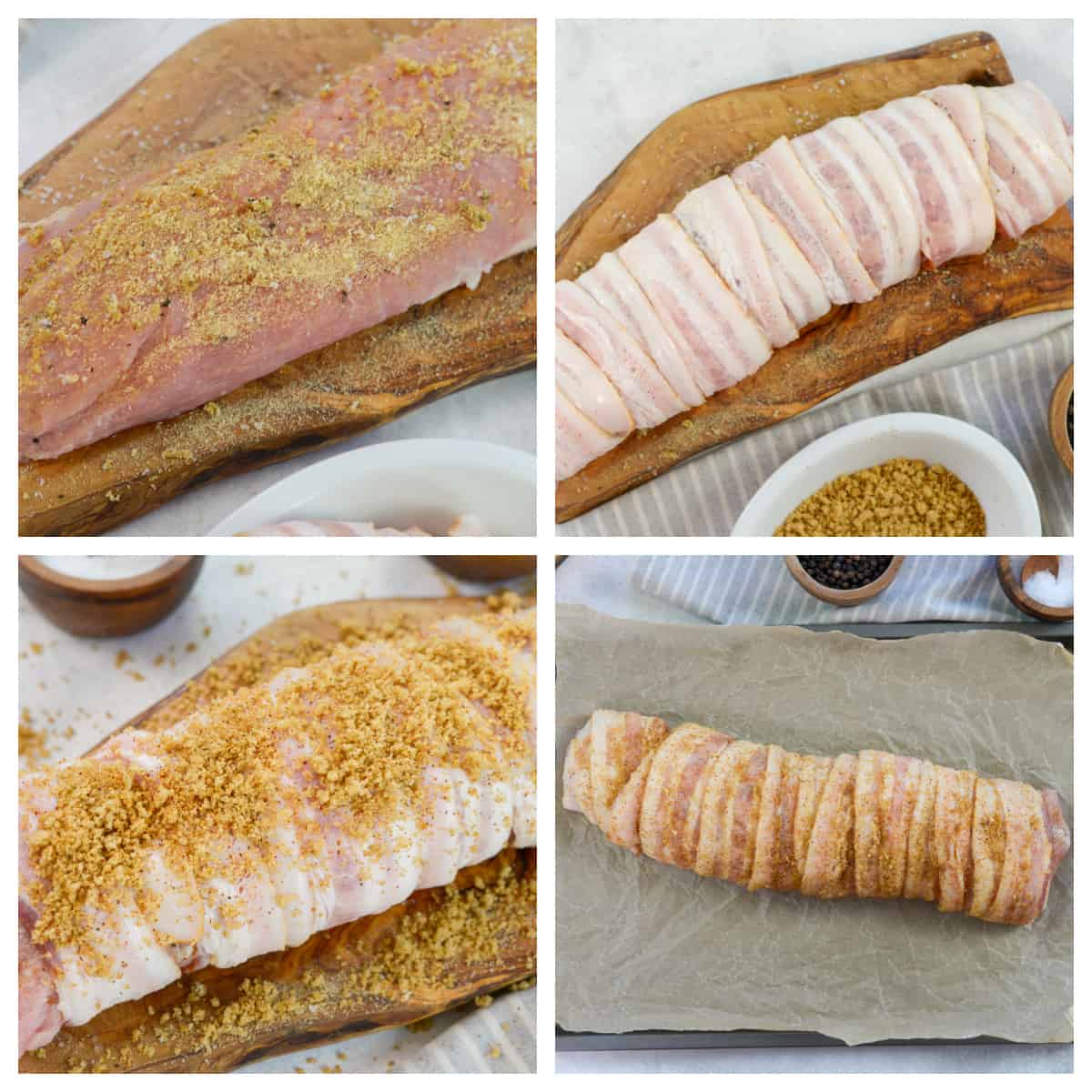 Prepare – To get started you'll preheat your oven and spray a baking sheet with some non-stick spray. Season the pork tenderloin with the garlic powder, onion powder, salt, and pepper.
Bacon – Now for my favorite part! Start wrapping the pork tenderloin with the bacon slices until it's covered all the way around. That bacon will lock in the juicy flavor of the tenderloin and keep it from drying out while adding even more flavor! Secure the bacon in place with some toothpicks if necessary. Cooking it with the seam side down will also help hold it in place.
Sugar & Spice – If you've never tried sweet and spicy bacon you've been missing out! Mix together the brown sugar replacement with the cayenne. When combined, sprinkle it over the bacon wrapped pork. Gently press the mixture onto the bacon wrapped tenderloin to coat it. You can skip the cayenne if you're worried about spice, or just use less. It's so good though!
Roast – When the bacon wrapped pork tenderloin is all seasoned and ready to go you can place it on the baking sheet and roast it in the oven for 25 minutes or until the internal temperature reaches 145 degrees. If the bacon isn't as crispy as you want it to be you can place the sheet under the broiler to crisp it up. Just watch it closely because it can burn quick!
Serve – We like to slice the roasted pork tenderloin into about 1 1/2 inch thick slices. See below for some suggestions on what to serve with this pork roast!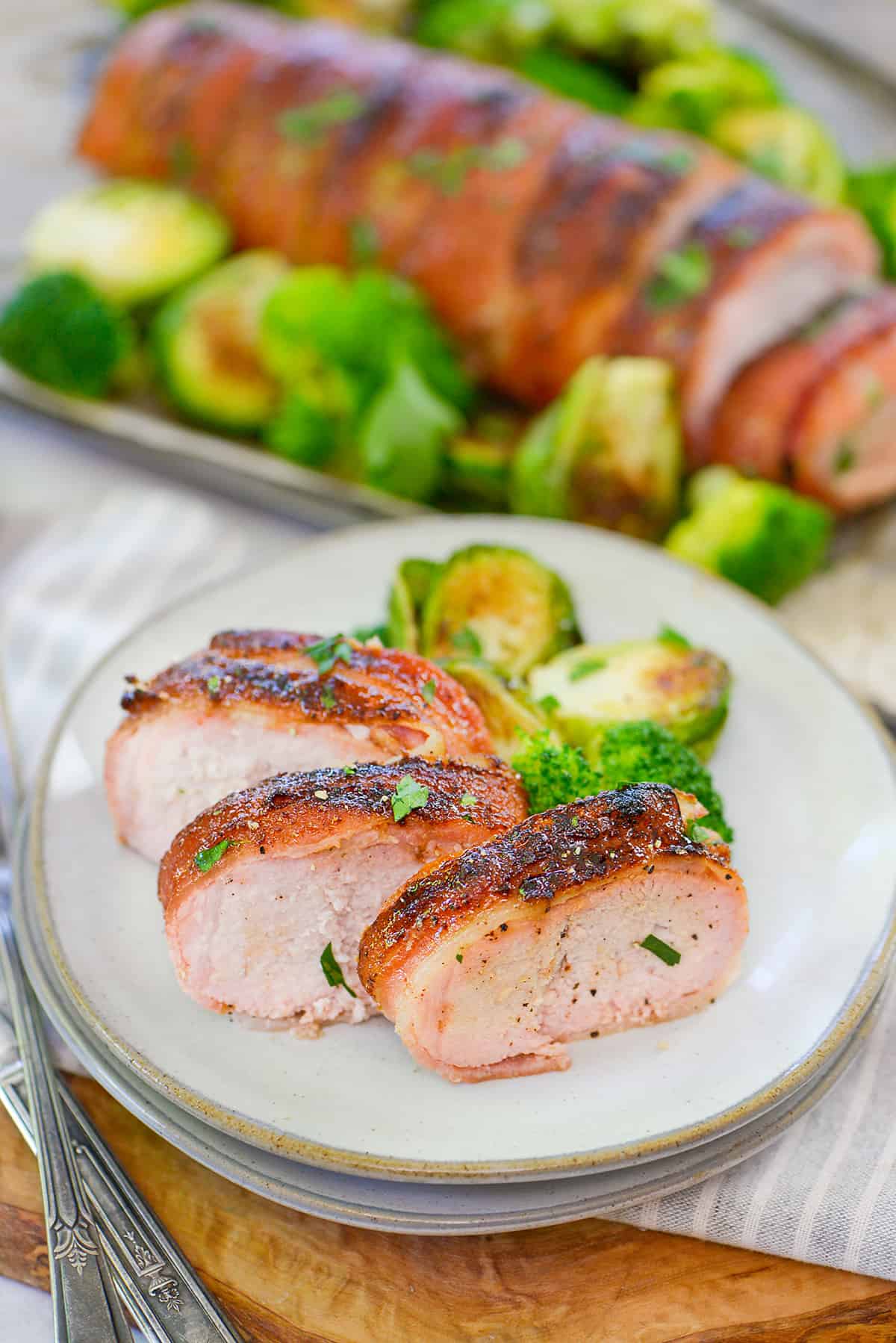 What To Serve With Pork Tenderloin:
If you're in need of a good low carb side dish to go with your bacon wrapped pork tenderloin dinner I've got a few recommendations for you to check out!
FAQ's:
How to store pork tenderloin?
You can keep the bacon wrapped pork tenderloin slices stored in an airtight container in the refrigerator for about 5 days!
Why wrap tenderloin in bacon?
Besides the obvious answer that bacon makes everything better there is a good reason to wrap a tenderloin in bacon. Pork tenderloin is very lean, which means that they can dry out easily during cooking. The fat in the bacon helps add flavor and moisture to the tenderloin, ensuring you'll have a juicy and succulent piece of pork.
How long to cook pork tenderloin:
We cook our pork tenderloin at 425 degrees for about 25 minutes. The minimum safe internal temperature for pork tenderloin is 145 degrees Fahrenheit, per the USDA. Allow the tenderloin to rest for a few minutes before cutting.
More Keto Pork Recipes: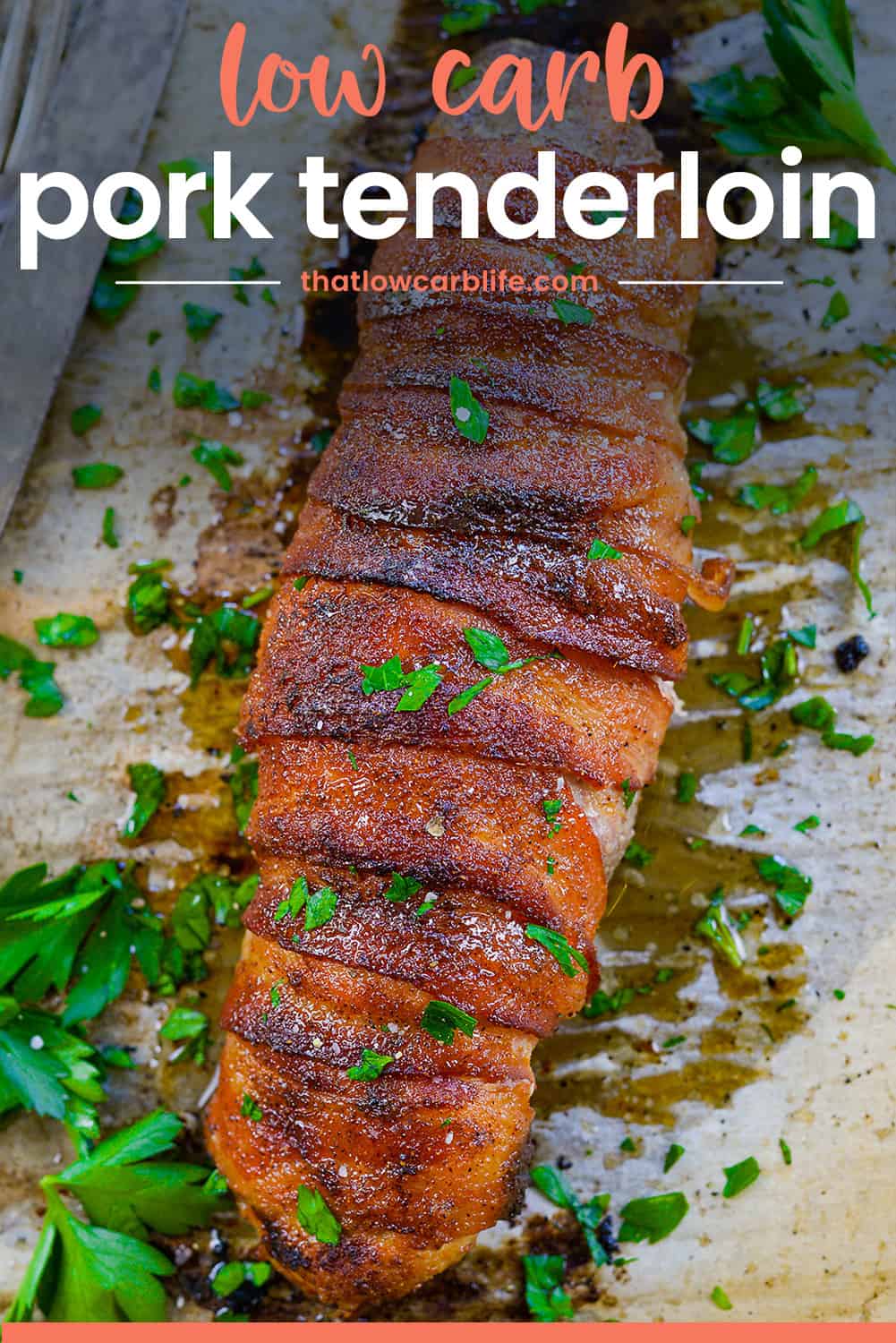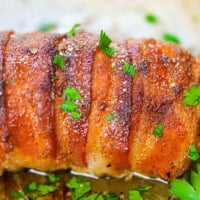 Bacon Wrapped Pork Tenderloin
This pork tenderloin turns out so juicy and flavorful, thanks to the layer of crispy bacon wrapped around it. It has a sweet and mildly spicy seasoning over the bacon, which everyone just loves!
Ingredients
1 pork tenderloin, about 1 to 1½ pounds
1 teaspoon garlic powder
1 teaspoon onion powder
1 teaspoon salt
1 teaspoon cracked pepper
5 slices bacon
¼ teaspoon cayenne, more to taste
Instructions
Preheat oven to 425 degrees. Spray a baking sheet with non-stick spray.
Season the pork tenderloin on all sides with the garlic powder, onion powder, salt, and pepper.
Wrap the tenderloin in the bacon slices to cover. Use toothpicks to hold the bacon in place, if necessary.
Stir together the brown sugar replacement and cayenne to combine and sprinkle over the bacon wrapped pork. Lightly press the mixture into the bacon.
Roast in the oven for 25 minutes or until the internal temperature reaches 145 degrees. If bacon is not as crisp as you'd like, place the pan under the broiler and cook until bacon is crisp. Keep a close eye on it as the broiler goes quick.
Slice into 1 ½ inch thick slices and serve.
Notes
We use Lakanto Brown Monkfruit Sweetener in this recipe. It bakes and tastes just like sugar with 0 net carbs. Use code THATLOWCARBLIFE for 20% off your order at Lakanto.com.
Nutrition Information:
Yield: 4
Serving Size: 1
Amount Per Serving:
Calories: 205
Total Fat: 8g
Trans Fat: 0g
Cholesterol: 84mg
Sodium: 786mg
Carbohydrates: 2g
Net Carbohydrates: 2g
Fiber: 0g
Sugar: 2g
Protein: 32g
All information and tools presented and written within this site are intended for informational purposes only. This information is provided as a courtesy and there is no guarantee that the information is accurate.