Baked pork tenderloin marinated in a simple cilantro chimichurri! This pork tenderloin is bursting with big flavor!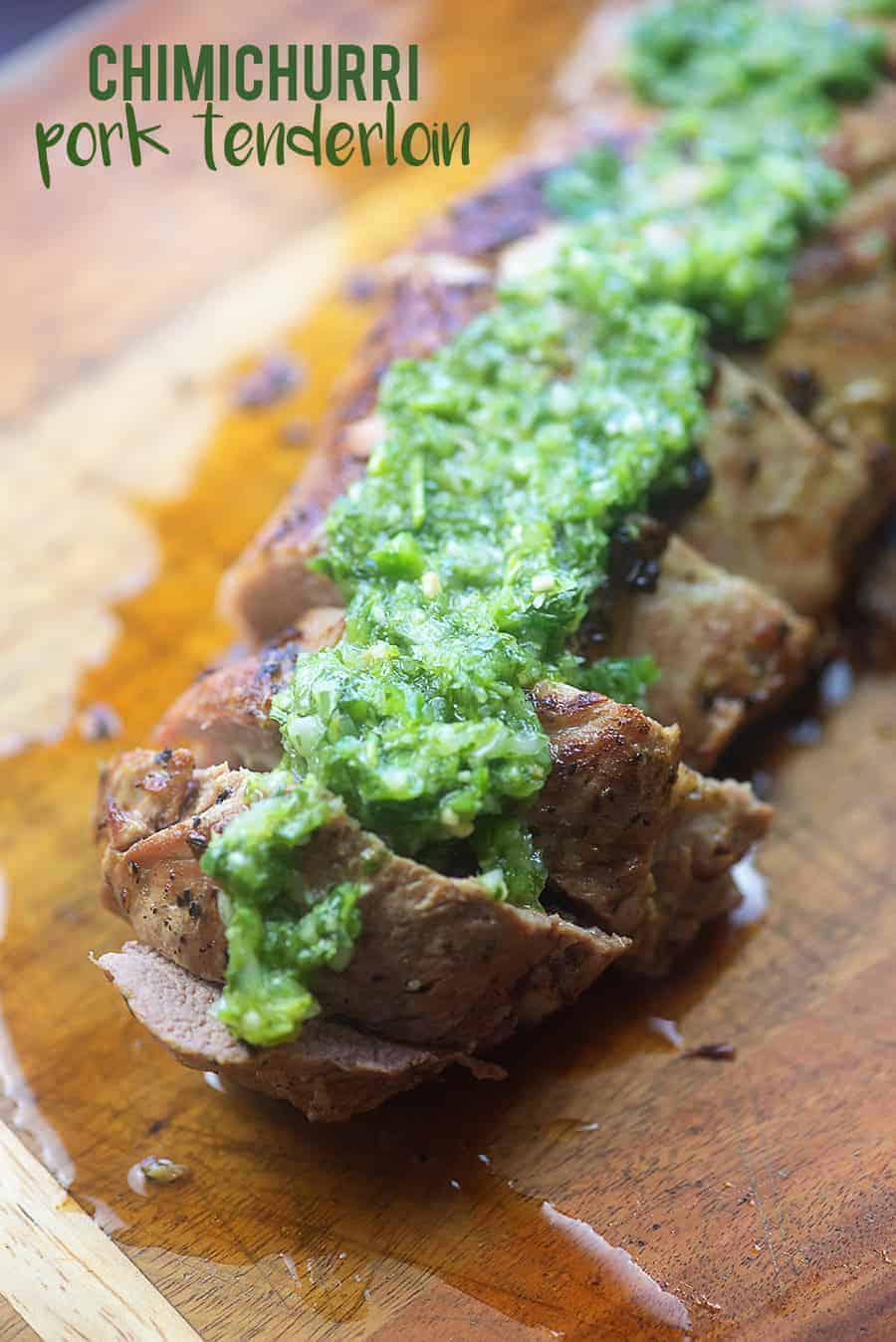 There are a few things that I'm currently obsessing over and one of those things is cilantro.
Like, I know that some of you think it tastes like soap and I guess that you're all out there still living your life, but I'm just not sure how it has any joy in it. Life without cilantro? I just can't.
What do you put on your tacos? In your salsa? In your cilantro lime cauliflower rice? On top of your low carb taco soup? I just don't get it.
Anyway, today's recipe is for the cilantro lovers. I see you out there.
Let's get started with this delectable cilantro chimchurri!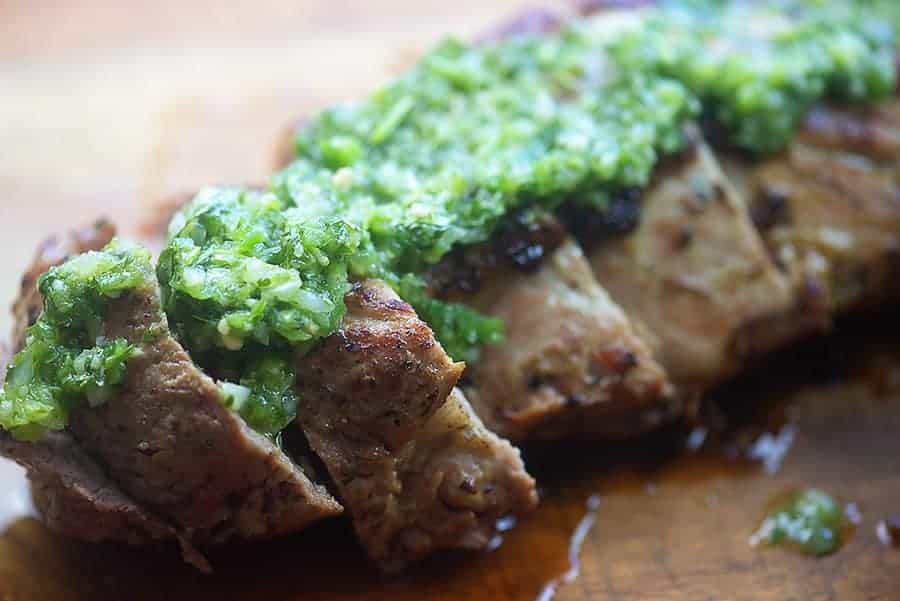 What is chimichurri?
Chimichurri is a sauce traditionally made of parsley, garlic, vinegar, oil, and crushed red pepper. The ingredients all get tossed in a food processor or blender and processed together to make the most brightly flavored, gorgeously green, vibrant tasting sauce you'll ever get a chance to dig into.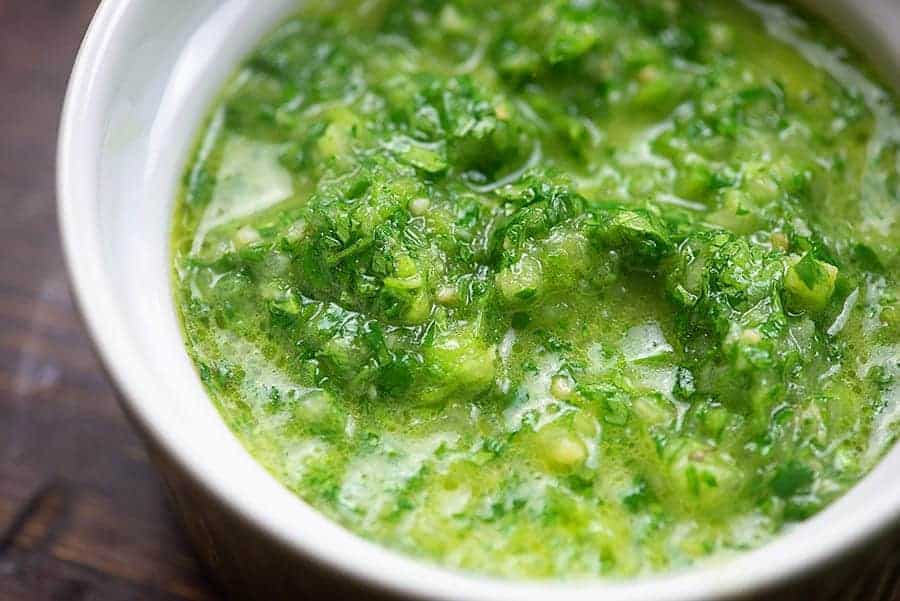 I've swapped out half of the parsley for cilantro in this recipe, because like I said above: cilantro is life. This cilantro chimichurri also has loads of garlic, onion, and some jalapeno for a little kick. I could seriously eat this by the spoonful!
How to make chimichurri:
You'll start with a cup each of parsley and cilantro. Add those to a food process or blender along with three cloves of garlic, a chopped and seeded jalapeno, some diced onion, salt and pepper. You'll also drizzle in a quarter cup of olive oil and three tablespoons of vinegar. I use white distilled vinegar, but apple cider works as well. Process the mixture until it's just slightly chunky.
Marinade for pork tenderloin:
Add your pork tenderloin to a large zip top bag and pour half of the cilantro chimichurri into the bag. Place the remaining chimichurri in a sealed dish and refrigerate until ready to eat. Be sure to coat the pork in the chimichurri and then seal the bag and refrigerate for at least 4 hours. The longer the better!
How to make baked pork tenderloin:
We're going to make this pork tenderloin in the oven, but I think it's important to sear it on the stove first. It gives the outside this gorgeous, crispy crust. Start with a screaming hot cast iron skillet and a little olive oil. Sear on all sides until you have a nice crust.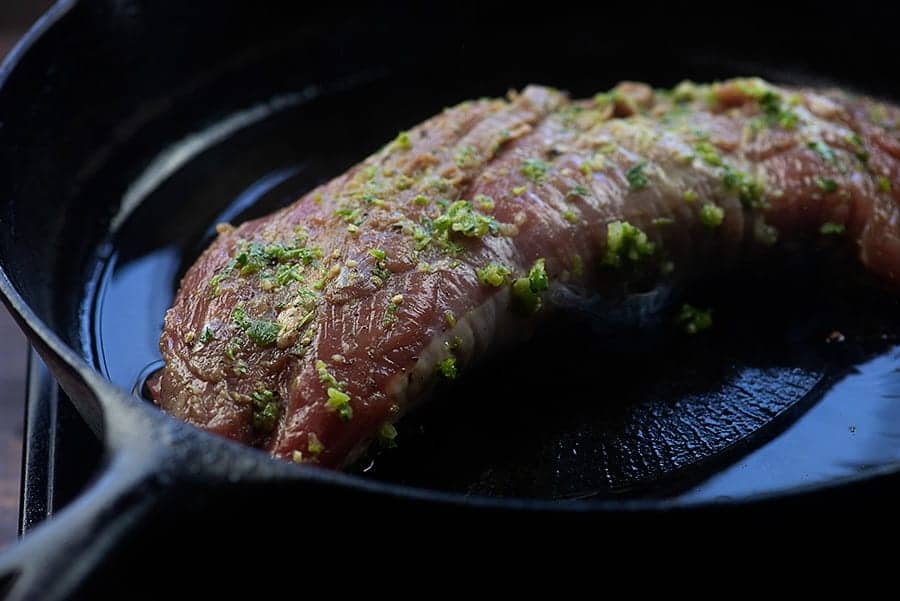 Pop the skillet into a 425 degree oven for 15-20 minutes or until a thermometer reads 145 degrees on the pork. Let the pork rest for 5 minutes before slicing and drizzling with the reserved chimichurri. There you have it! Baked pork tenderloin drizzled with a vibrant cilantro chimichurri! This whole dish is just divine and I think you're going to love it! For more recipes like this, be sure to follow me on Pinterest or Facebook!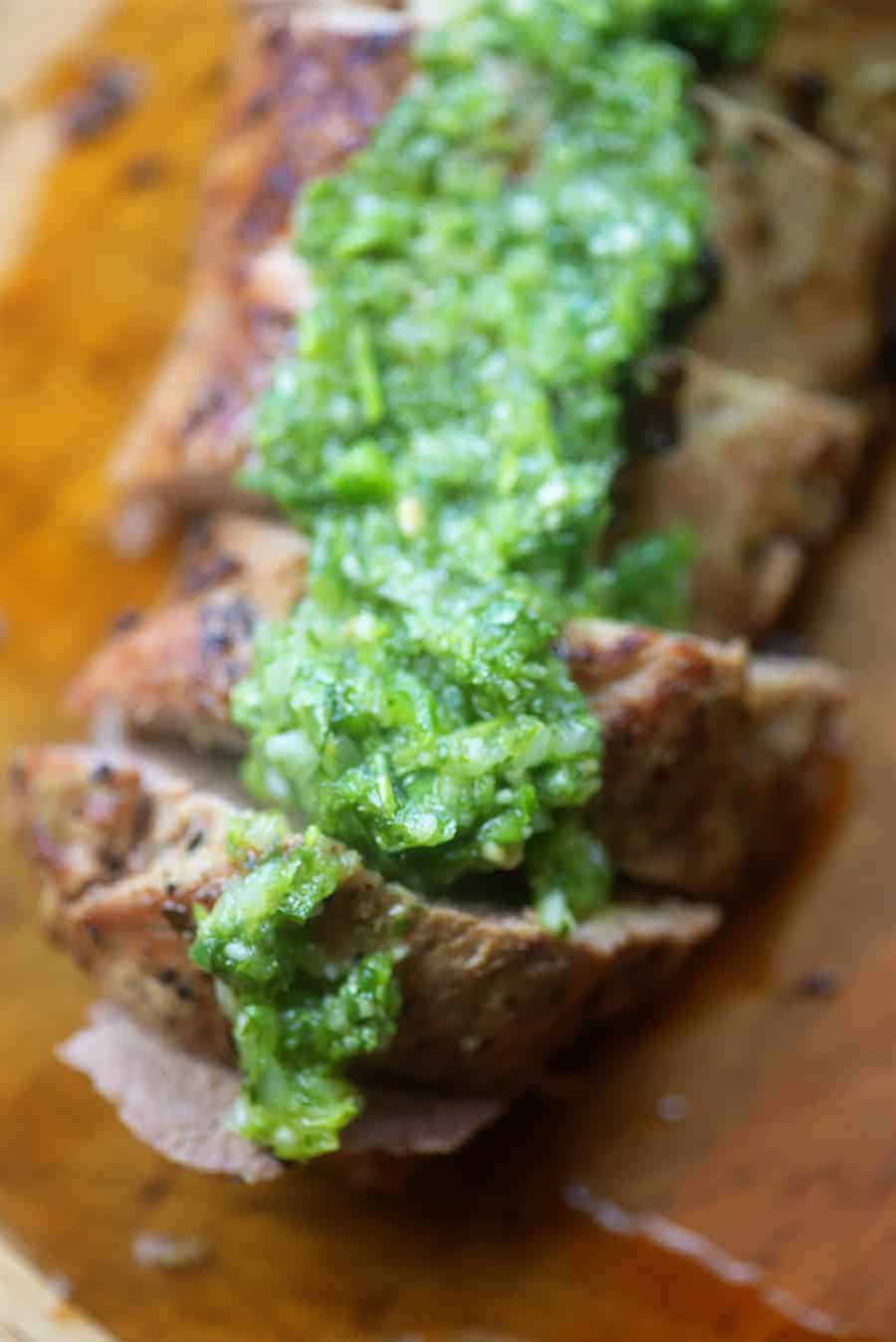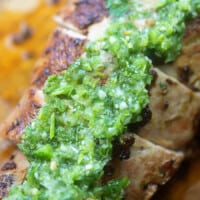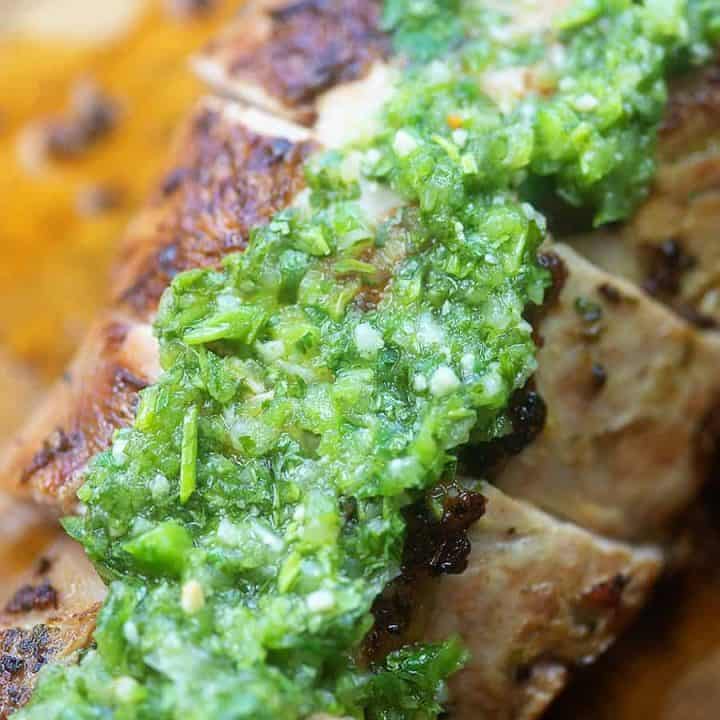 Chimichurri Pork Tenderloin
Baked pork tenderloin marinated in a vibrant cilantro chimichurri and then baked to perfection!
Total Time 4 hours 35 minutes
Ingredients
1 cup fresh flat-leaf parsley
1 cup fresh cilantro
3 large garlic cloves
1 jalapeno pepper, diced, seeds removed
1/4 cup chopped white onion
1 teaspoon salt
5 tablespoons olive oil, divided
3 tablespoons vinegar
1 pound pork tenderloin
Instructions
Add the parsley, cilantro, garlic, jalapeno, onion, salt, 4 tablespoons olive oil, and vinegar to a food processor or blender and process until nearly smooth.
Pour half of the mixture into a small dish, cover, and refrigerate until ready to serve.
Add the pork tenderloin to a large zip top bag and add the remaining half of the chimichurri to the bag. Coat the pork in the sauce, seal bag, and refrigerate for at least 4 hours.
Preheat oven to 425 degrees. Heat a cast iron skillet over high heat.
Add the remaining tablespoon of oil to the skillet and heat until shimmering. Add the pork and sear on all sides, about 3 minutes per side, until golden brown.
Transfer skillet to oven and bake for 15-20 minutes or until pork reaches 145 degrees.
Let rest for 5 minutes before slicing and serving with reserved chimichurri.
Recommended Products
As an Amazon Associate and member of other affiliate programs, I earn from qualifying purchases.
Nutrition Information:
Yield: 4
Serving Size: 1
Amount Per Serving:
Calories: 335
Total Fat: 22g
Saturated Fat: 4g
Trans Fat: 0g
Unsaturated Fat: 17g
Cholesterol: 83mg
Sodium: 605mg
Carbohydrates: 4g
Net Carbohydrates: 3g
Fiber: 1g
Sugar: 1g
Protein: 30g
All information and tools presented and written within this site are intended for informational purposes only. This information is provided as a courtesy and there is no guarantee that the information is accurate.