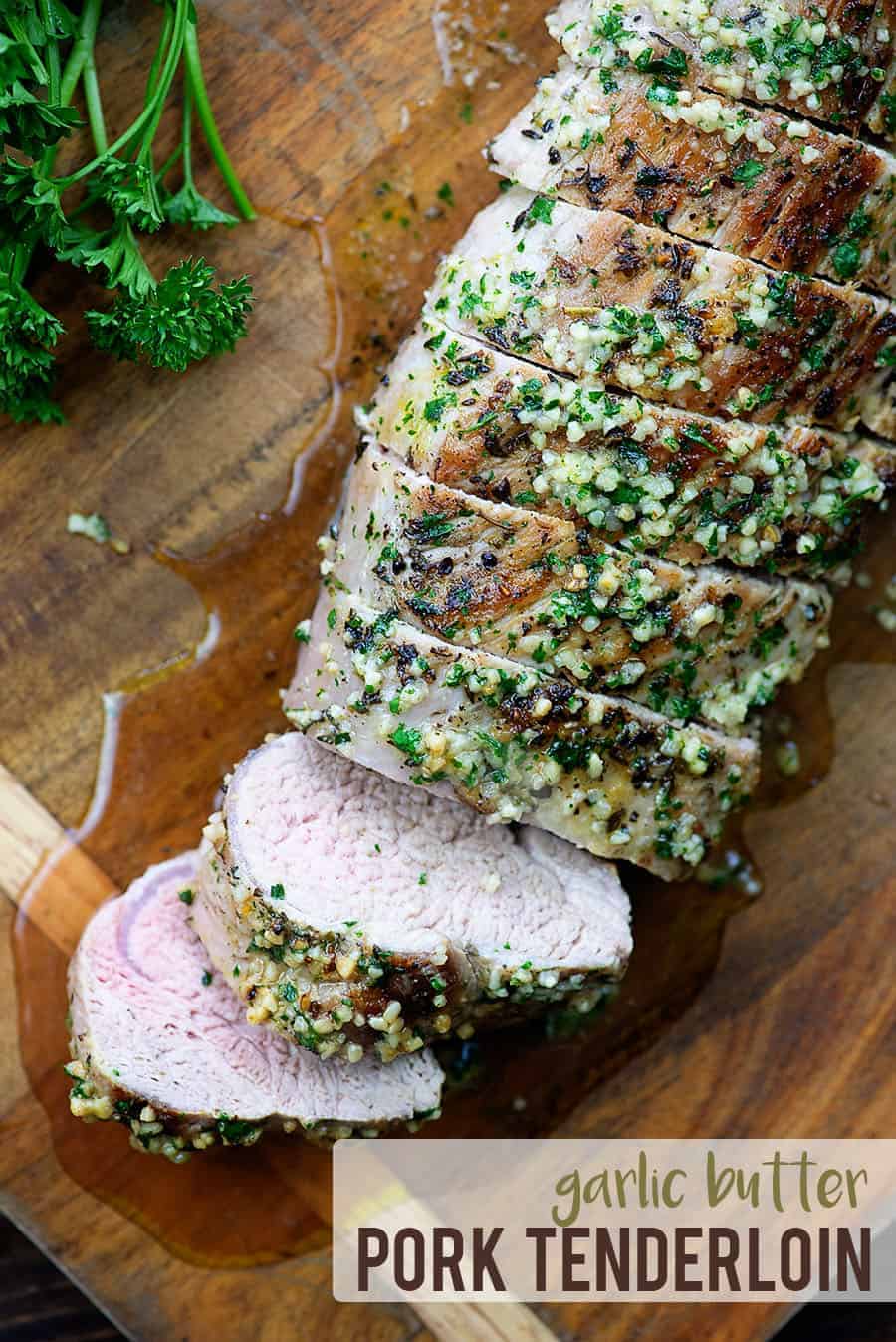 Pork tenderloin, seared to perfection, finished in the oven, and then topped off with a decadent garlic butter. Would you believe this recipe is ready in about 30 minutes and it's naturally low in carbs?

I snagged a couple of pork tenderloins at the grocery store the other day. They were on sale and I'm all in for pork, so I couldn't pass them up.
Of course, I had no idea what I was going to do with the pork tenderloin when I got it home, but I figured an idea would come to me.
It didn't. That's the way my brain works – I'm full of ideas until I need them. 😉
I asked Chad what he was feeling for dinner one night and he said he wanted something extra buttery and extra garlic-y, so I just went for it, you guys.
Garlic Butter Pork Tenderloin. Can you handle this amount of goodness?
This looks and tastes like a fancy restaurant meal, but it was one of the easiest things I've made in a long time and it was ready in about 30 minutes.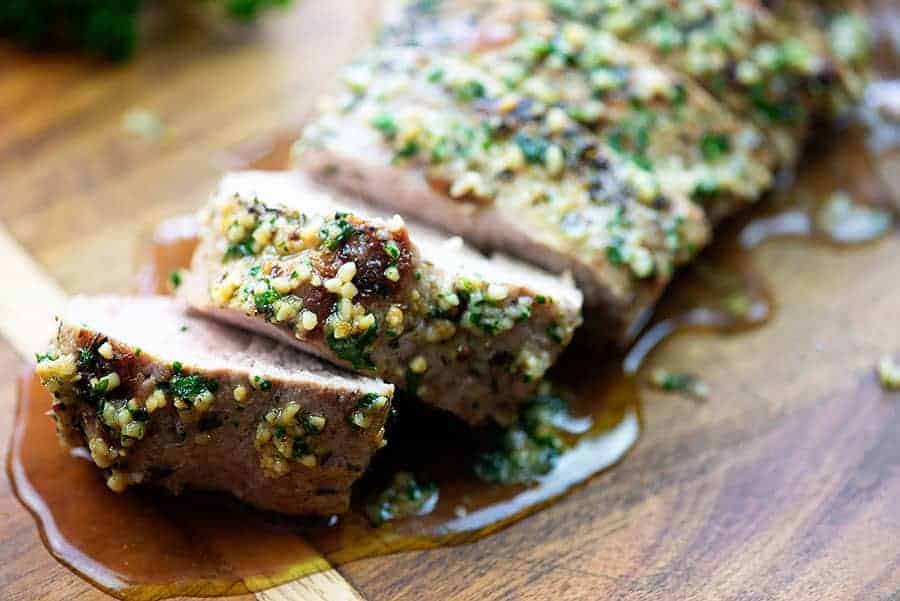 How to make pork tenderloin:
First up, grab a heavy bottomed, oven safe skillet. I used cast iron.
Preheat the oven to 425 degrees.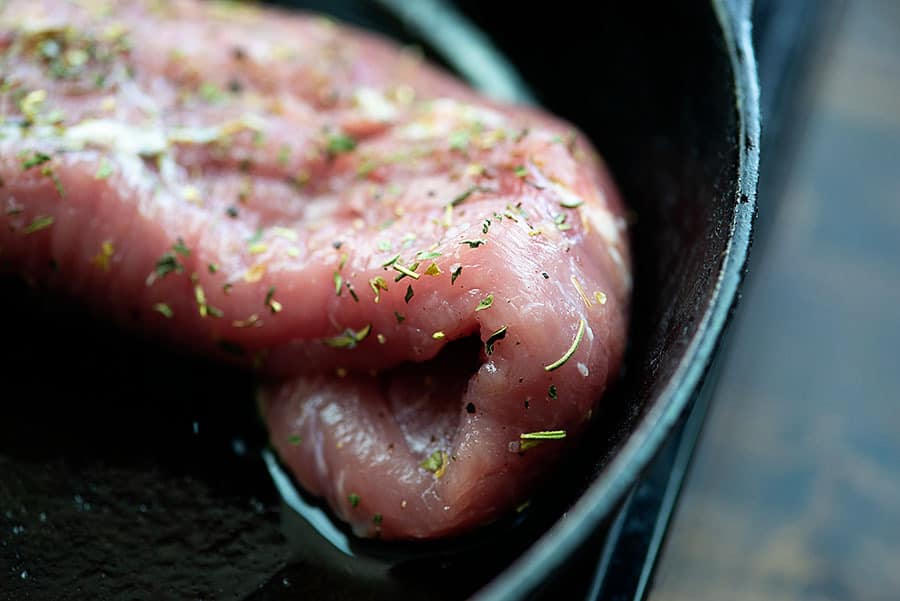 This oven pork tenderloin starts off with a little Italian seasoning, salt, and pepper. Just sprinkle it all over on both sides.
Add some olive oil to your hot skillet. Once the oil is hot, sear the pork on both sides.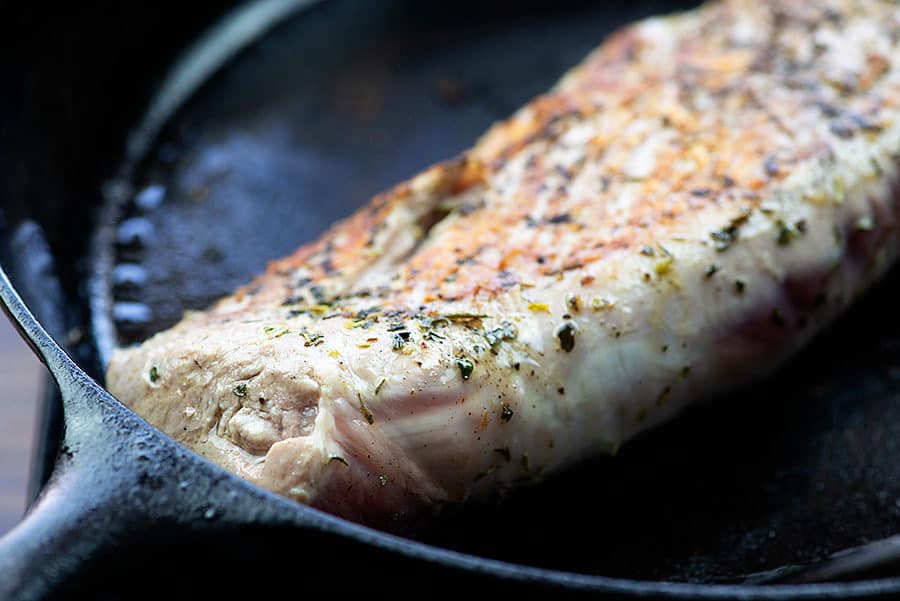 We're locking in the juice and adding a ton of flavor by searing the meat before putting it in the oven. Don't skip this step!
For baked pork tenderloin, we're going to need to do a little oven time.
Pork tenderloin cooking time:
Pop the whole skillet into the hot oven and let it cook for about 15 minutes, depending on the level of doneness you prefer.
Did you know that pork isn't required to be cooked to well done?
I like to cook my pork until it's just oh so slightly pink in the center, so I pull it from the oven at 145 degrees and let it rest for about 5 minutes before cutting.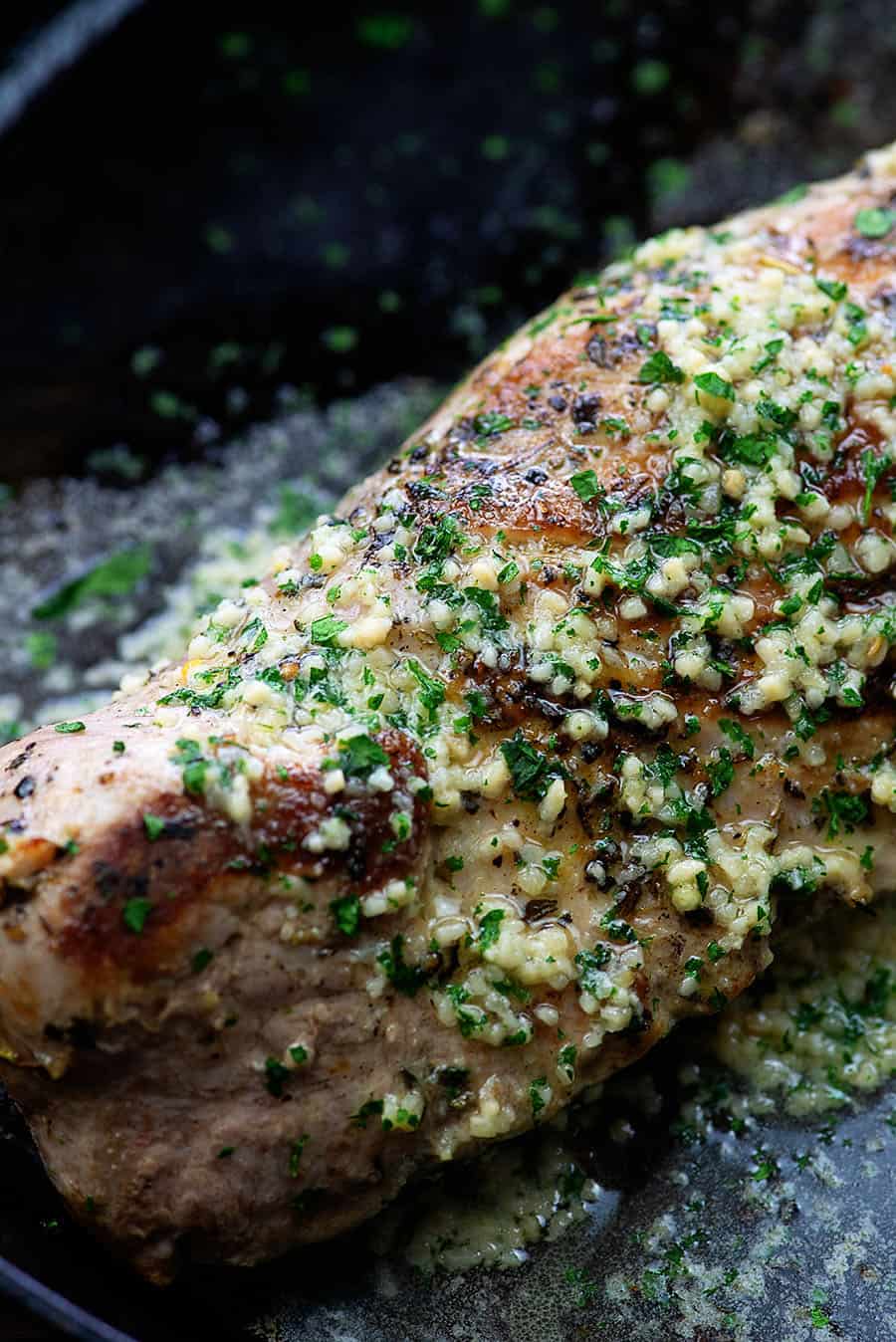 You can safely pull your pork anytime after 145 degrees and up to 160, if you like it well done. Just allow the pork tenderloin to rest for at least 5 minutes before slicing.
What to season pork tenderloin with:
Garlic butter, of course!
We've already started it out with a little Italian seasoning, salt, and pepper, but now we're going big and bold.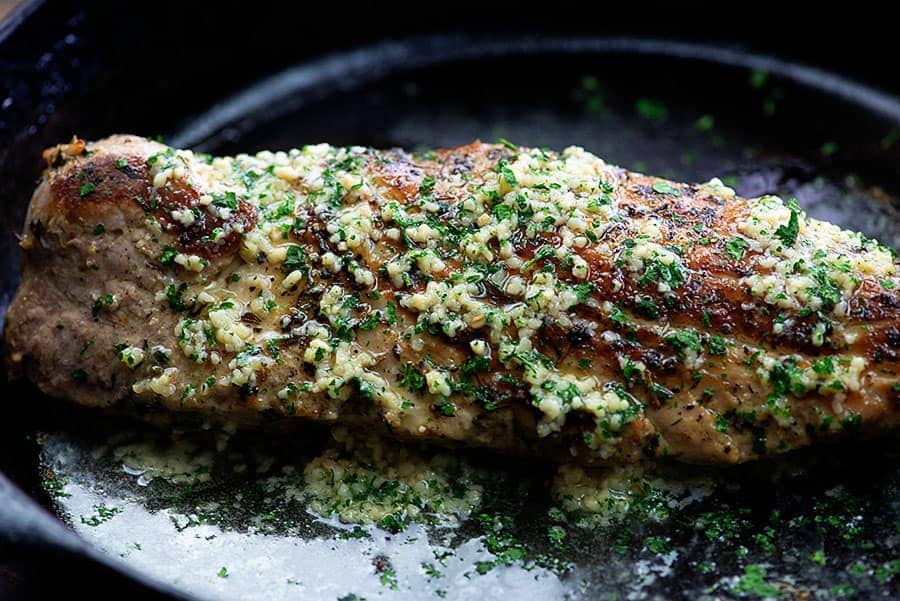 Once your pork is cooked and rested, melt together a little butter, a lot of garlic, some onion powder, and fresh parsley.
Pour it right over the top of your tenderloin.
Can't you just smell it when you look at the photos? So. Good.
What to serve with pork tenderloin:
There are so many delicious low carb side dishes that would work with this pork tenderloin!
My fried radishes are a great sub for potatoes and I think they work perfectly with this tenderloin recipe.
Keto coleslaw is always a win with any type of meat.
Brussels sprouts and bacon would make a lovely side dish and so would this cauliflower mac and cheese.
You could also keep it simple with a fresh green salad or some zoodles tossed in a little sugar-free marinara.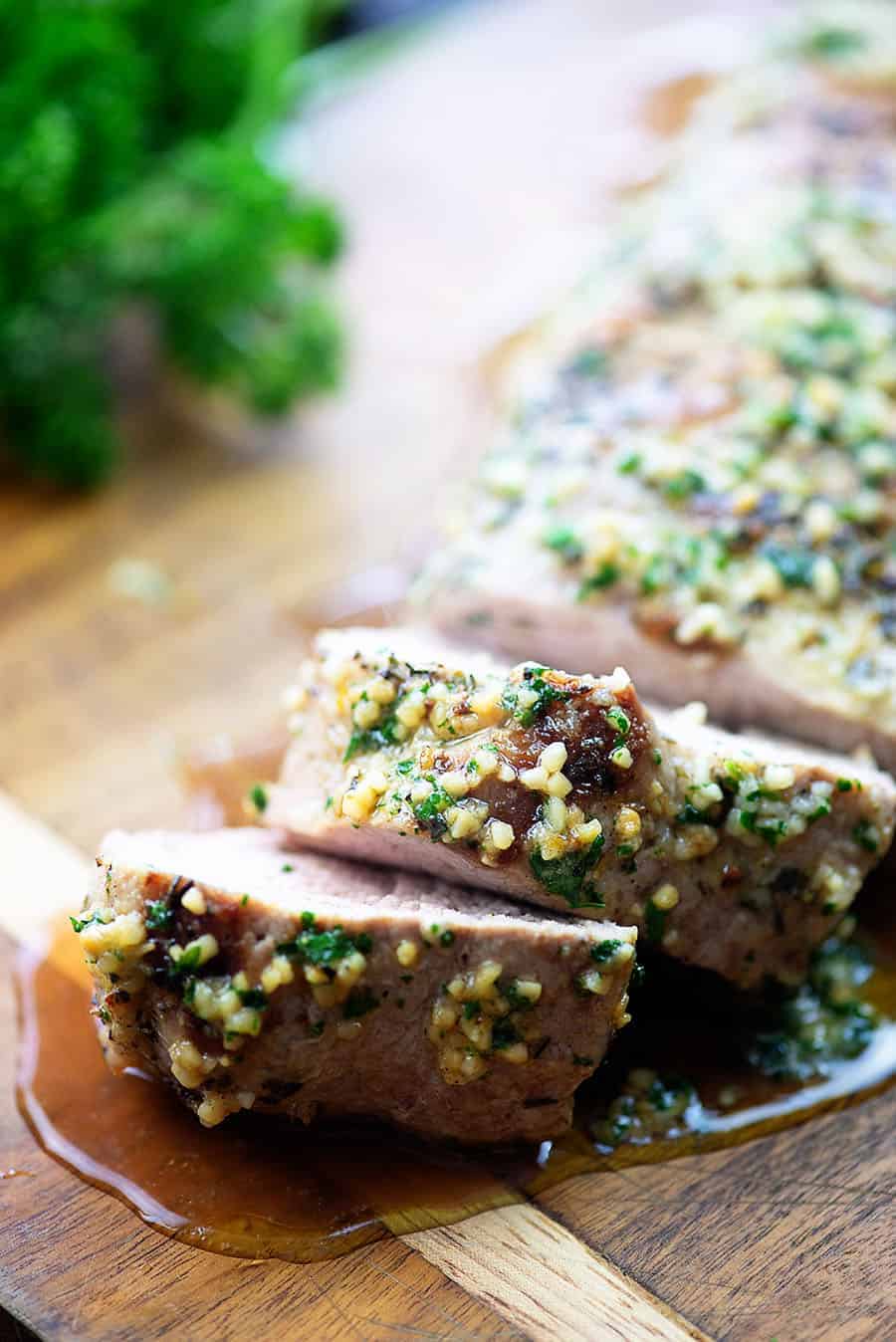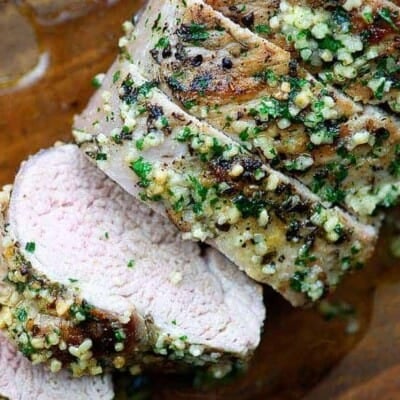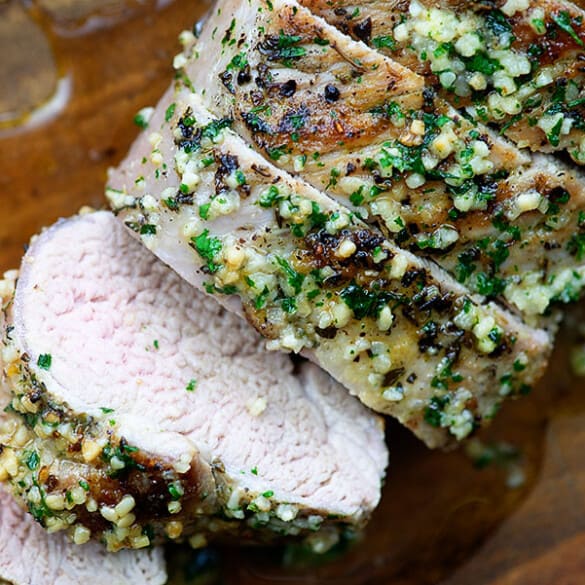 Garlic Butter Pork Tenderloin
This pork tenderloin feels like a fancy restaurant meal, but it's ready at home with minimal work in just 30 minutes.
Prep10 minutes
Cook15 minutes
Total25 minutes
Ingredients
1 ½ pounds pork tenderloin
1 tablespoon Italian seasoning
1 teaspoon salt
1 teaspoon pepper
2 tablespoons avocado oil
¼ cup melted butter
4 cloves garlic minced
½ teaspoon onion powder
1 tablespoon chopped parsley
Instructions
Preheat oven to 425 degrees.

Season all sides of the tenderloin with Italian seasoning, salt, and pepper.

Heat oil in a large heavy-bottomed skillet, such as cast iron, over high heat.

Add the pork to the skillet and sear for 2-3 minutes per side.

Transfer skillet to the oven and bake for 15 minutes or until the pork reaches an internal temperature of 145 degrees.

Remove from oven and let rest for 5 minutes.

While pork is resting, whisk together the butter, garlic, onion powder, and parsely.

Pour the garlic butter over the pork.

Slice pork into 1-inch thick slices and serve.
Tips & Notes:
If you don't have an oven safe skillet, transfer from the skillet to a baking dish and proceed with baking. Pork is safe to eat while still pink in the center. It does tend to dry out quickly when cooked well done, so we recommend cooking to 145 degrees so that the pork is juicy and tender.
Nutrition Information:
Serving: 1| Calories: 280kcal (14%)| Carbohydrates: 1g| Protein: 30g (60%)| Fat: 17g (26%)| Saturated Fat: 7g (44%)| Polyunsaturated Fat: 8g| Cholesterol: 103mg (34%)| Sodium: 479mg (21%)| Net Carbs: 1g (2%)