Mississippi Pork Roast is juicy, fork tender pork that's slow cooked in Au Jus and ranch seasoning with pepperoncini for unbelievable flavor! Serve over a pile of mashed cauliflower or with a side of veggies for a tasty low carb dinner.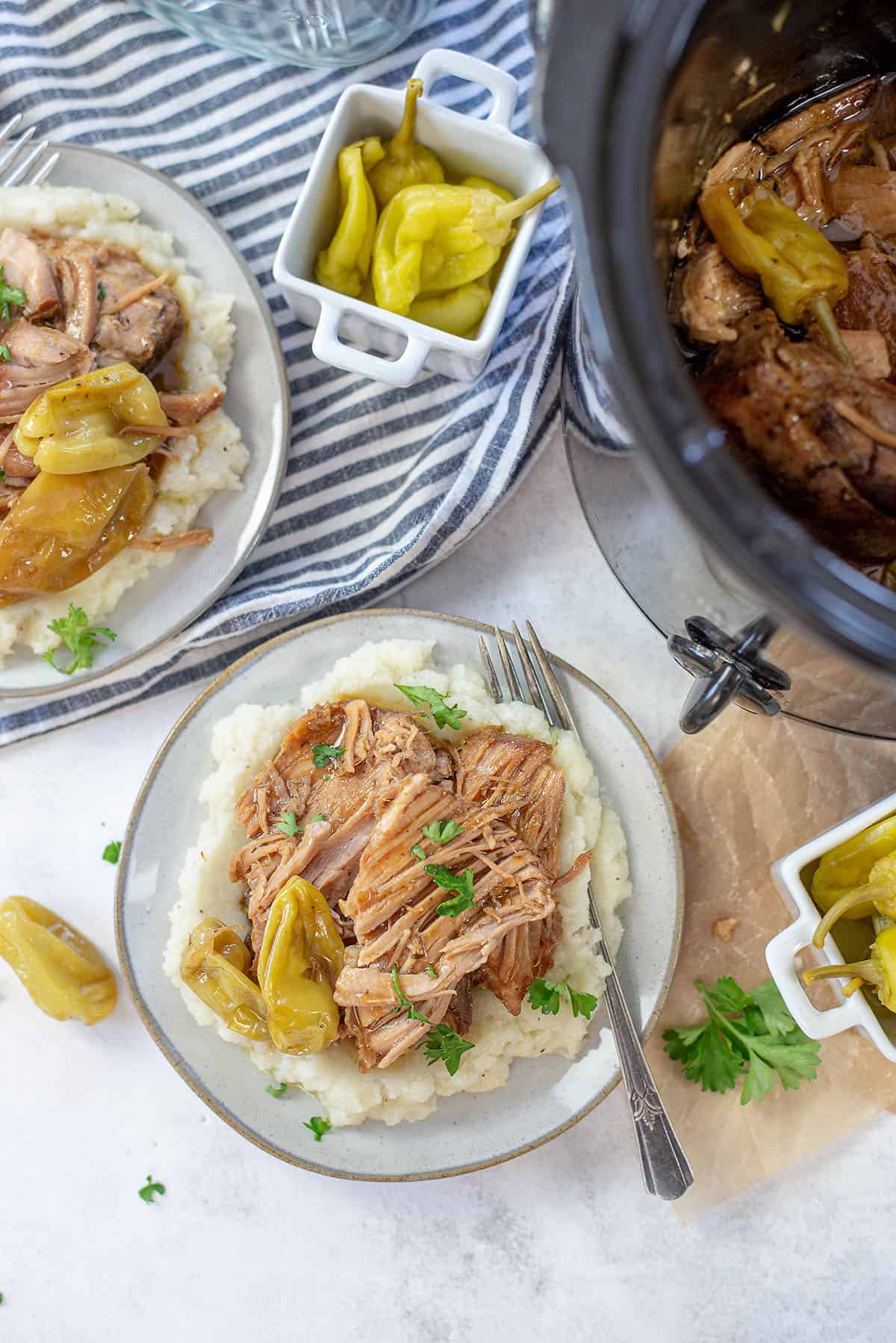 You know it's a good day when you come home to a recipe that took 5 minutes of prep and just 5 ingredients and it's made your whole house smell like heaven!
This Mississippi pork roast is so tender that it practically melts in your mouth.
We LOVE the flavors of these Mississippi style recipes, made with dry ranch seasoning, au just mix, pepperoncini, and butter. Just change up the meat to suit your tastes.
Be sure to check out our Instant Pot Mississippi Pot Roast and our Mississippi Chicken recipe too! It doesn't matter what kind of protein you use, the flavors are intensely savory and irresistible!
Ingredient Notes: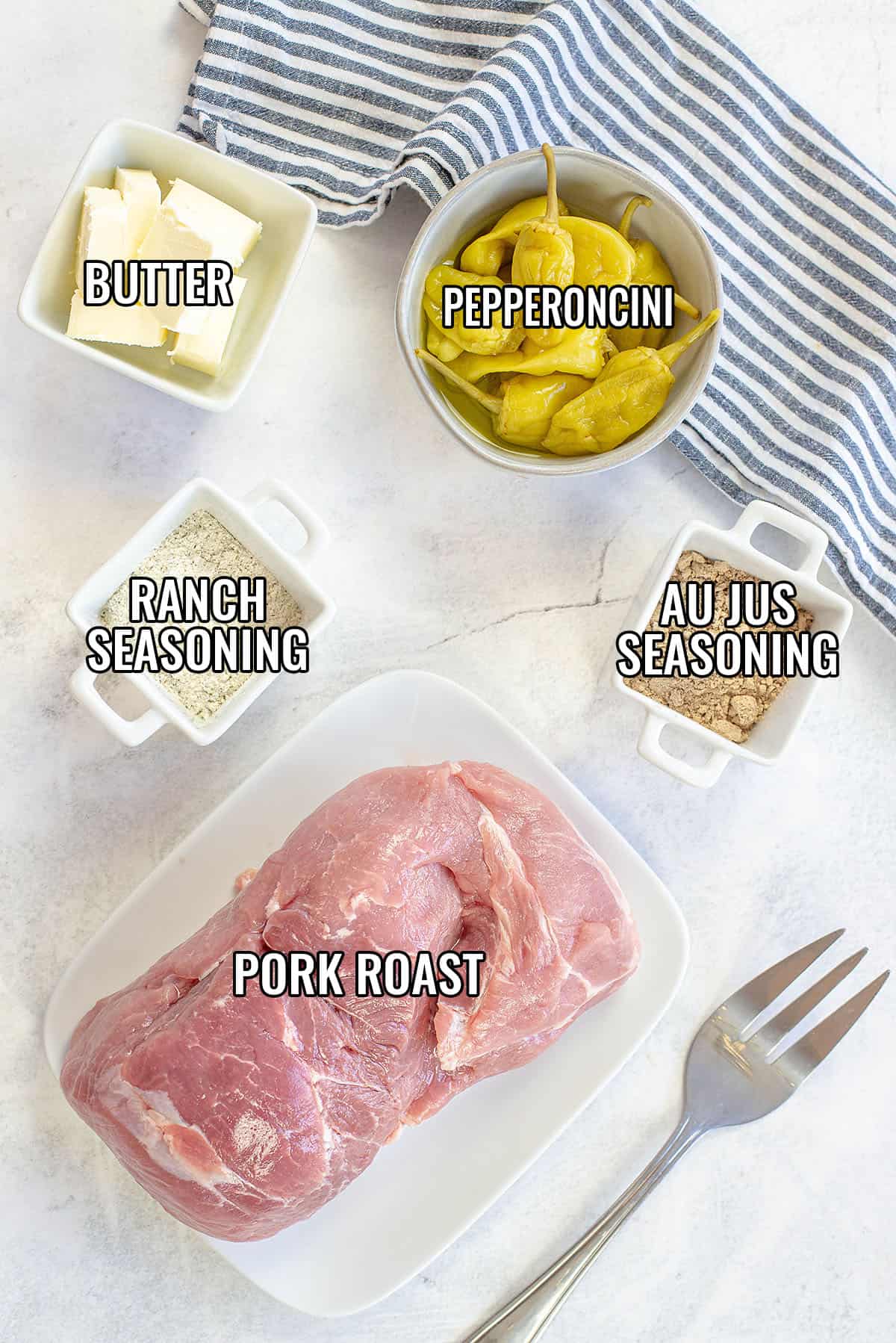 Pork Roast – You're going to need a 3 to 4 pound roast for this recipe. Either a pork shoulder or pork butt will work, they're basically the same thing! You won't need to do any cutting either, by the time this roast is finished it'll be fork tender and will easily shred!
Seasoning – This Mississippi pork roast recipe is all about the flavor! A good part of that flavor will come from adding in a packet of Au Jus seasoning and a packet of dry ranch seasoning. It makes for a super savory seasoning combo!
Jarred Pepperoncini – This final ingredient adds just as much flavor if not more than the packets of seasoning. You can use either the whole pepperoncini or the sliced kind! Either way, definitely keep some of the juice from the jar that it comes in. You'll slow cook the pork roast in the pepperoncini juice and it'll take in all that wonderful flavor!
Why We Love This Recipe:
You literally just toss things in the slow cooker and walk away. It's so easy!
Just 5 minutes of prep and 5 ingredients!
This packs in a ton of savory flavor thanks to those seasoning packets!
How To Make Mississippi Pork Roast:
Prep: Add all of the ingredients right into the slow cooker.
Slow Cook: Cover and cook on high for 4-6 hours or low for 8-10 hours.
Shred: Use a couple of forks and shred the roast to your liking. Shred more finely for sandwiches or leave it in bigger chunks if you're eating over mashed cauliflower.
Helpful Tip!
Be sure to use a packet of ranch seasoning and not ranch dip! The ranch dip mix is much saltier than the seasoning mix.
Serving Suggestions:
There are many ways to serve up our Mississippi Pork Roast and they're all delicious!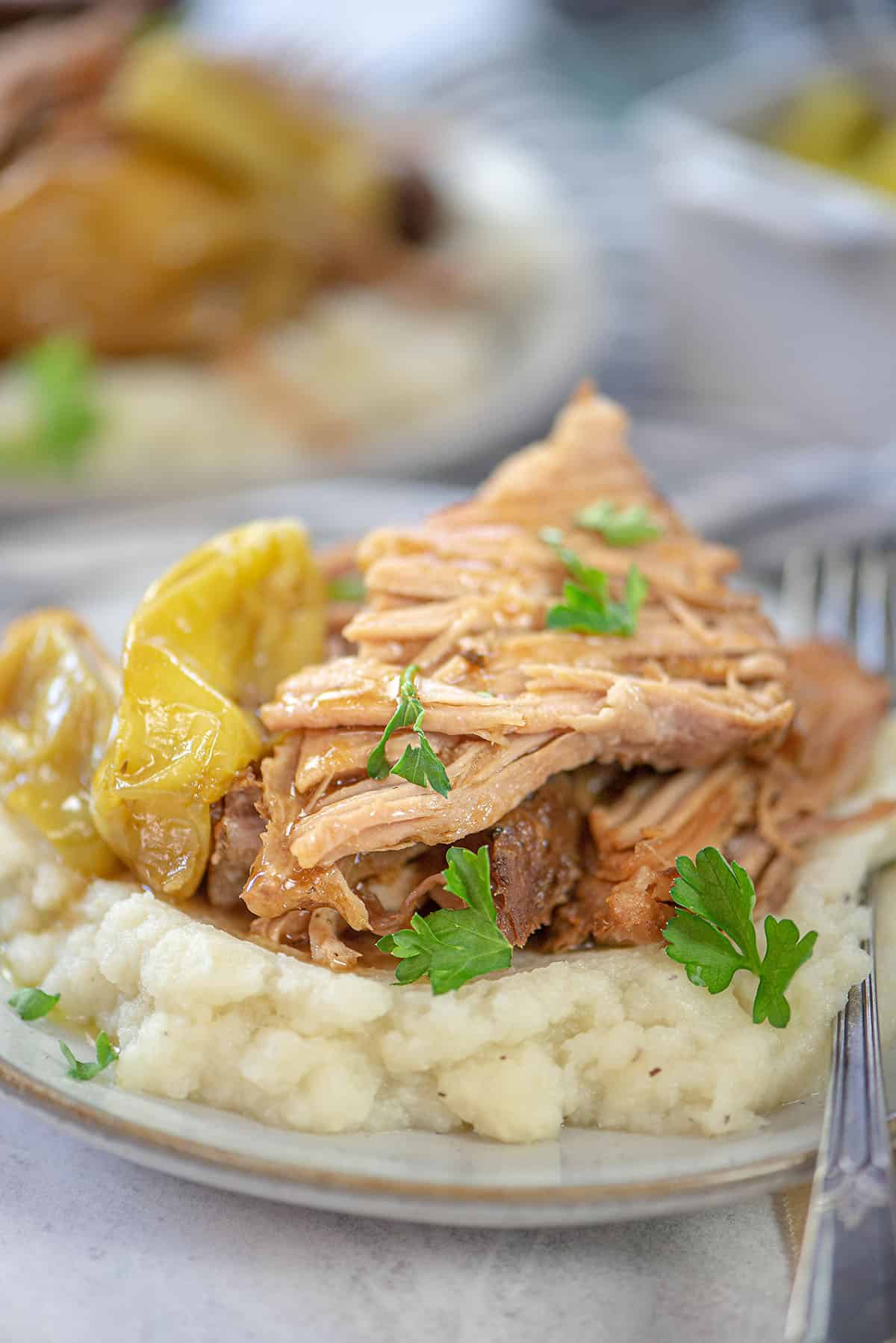 FAQ's:
How to store pork roast?
Unless you've got a big family or you're really hungry you may have some leftovers. This recipe does make a lot! But the good news is that Mississippi pork roast tastes just as good if not better when heated up the next day. You can keep this covered in the refrigerator for about 3 to 4 days!
Is Mississippi roast spicy?
Nope, this recipe isn't spicy! The pepperoncini add a lot of savory flavor and the vinegar helps balance out the richness of this dish. It does add some zip, but we don't find this to be spicy at all. If you're really sensitive to spice, you can cut down on the peppers or just use the juice from the jar.
Do I need to add liquid to slow cooker pork?
The pork will release juices as it cooks, so you don't need to add very much liquid to the crockpot. We recommend adding in 1/4 cup of the juice from the jar of pepperoncini in this crockpot Mississippi pork recipe.
Why is my Mississippi roast tough?
Mississippi roast is meant to be a tender roast that easily shreds apart and practically melts in your mouth. If your roast is tough, you'll just want to cook it for longer. All slow cookers are a bit different and some run hotter or cooler than others, so cook times may vary. You'll know your roast is done when the meat easily pulls apart and is tender and juicy.
More Savory Slow Cooker Recipes: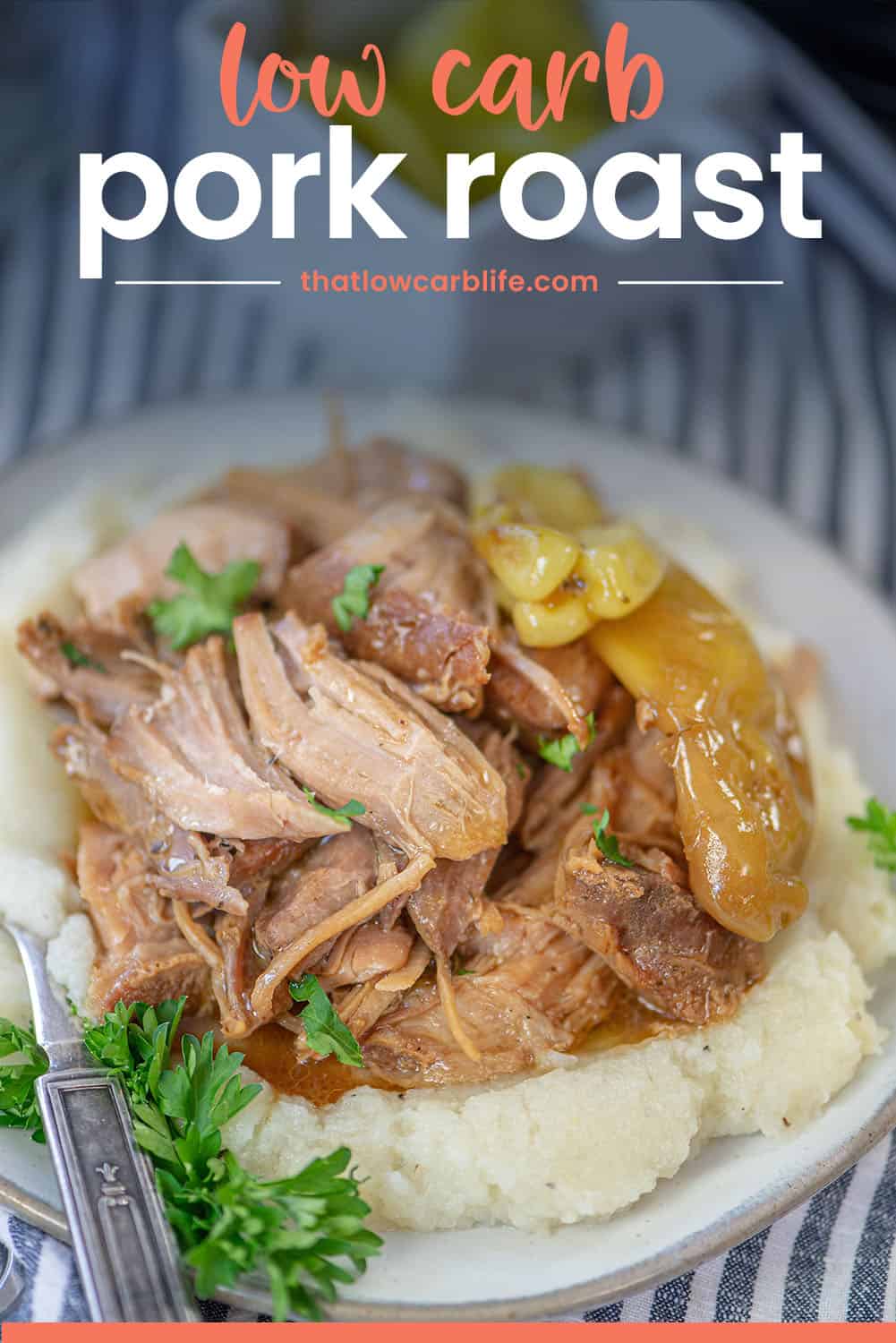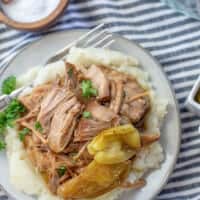 Mississippi Pork Roast
This Mississippi pork roast is just about the easiest crockpot recipe we make! Just 5 ingredients and the result is a super flavorful, tender pork roast that practically melts in your mouth. The dish really isn't spicy - the pepperoncini just help cut the richness of the pork and balance the flavors while adding a bit of zip to the pork.
Total Time 8 hours 5 minutes
Ingredients
3-4 pound pork roast
1 packet Au Jus mix
1 packet dry ranch seasoning
6 tablespoons butter
8 pepperoncini peppers, plus ¼ cup of juice from jar
Instructions
Add the pork roast to a crockpot and sprinkle with the seasoning packets.
Place pats of butter over the pork roast.
Arrange the peppers around the roast and add ¼ cup of juice from the jar of pepperoncini to the slow cooker.
Cover and cook on high for 4-6 hours or low for 8-10 hours or until the pork roast shreds apart easily. Every slow cooker cooks differently, so timing will depend on your slow cooker. When pork is tender and easily pulls apart, it is done.
Pull apart the pork into chunks and serve with the juice spooned over the top.
Notes
You can use any cut of pork you like for slow cooking, but we prefer pork sirloin or ribeye roast. Pork shoulder or butter is delicious for slow cooking and shredding apart, but id does have quite a bit more fat than we usually like for this recipe.
Au jus mix can be found with the packets of gravy, chili seasoning, etc. in the grocery store. We use McCormick brand.
We prefer to use Hidden Valley Ranch Seasoning - not ranch dip. The seasoning packet has less sodium than the dip and makes for a less salty finished product.
If you don't like the peppers, you can leave them out entirely, but they do add to the flavor and are easy to pick around. At the very least, we recommend using the juice from the jar.
Recommended Products
As an Amazon Associate and member of other affiliate programs, I earn from qualifying purchases.
Nutrition Information:
Yield: 8
Serving Size: 1
Amount Per Serving:
Calories: 779
Total Fat: 58g
Saturated Fat: 24g
Trans Fat: 0g
Unsaturated Fat: 29g
Cholesterol: 228mg
Sodium: 1420mg
Carbohydrates: 5g
Net Carbohydrates: 4g
Fiber: 1g
Sugar: 4g
Protein: 54g
All information and tools presented and written within this site are intended for informational purposes only. This information is provided as a courtesy and there is no guarantee that the information is accurate.