These slow cooker keto ribs are easy to make with a simple dry rub and they come out perfectly tender and juicy! With sugar free BBQ sauce you can forget about the carbs and just dig in!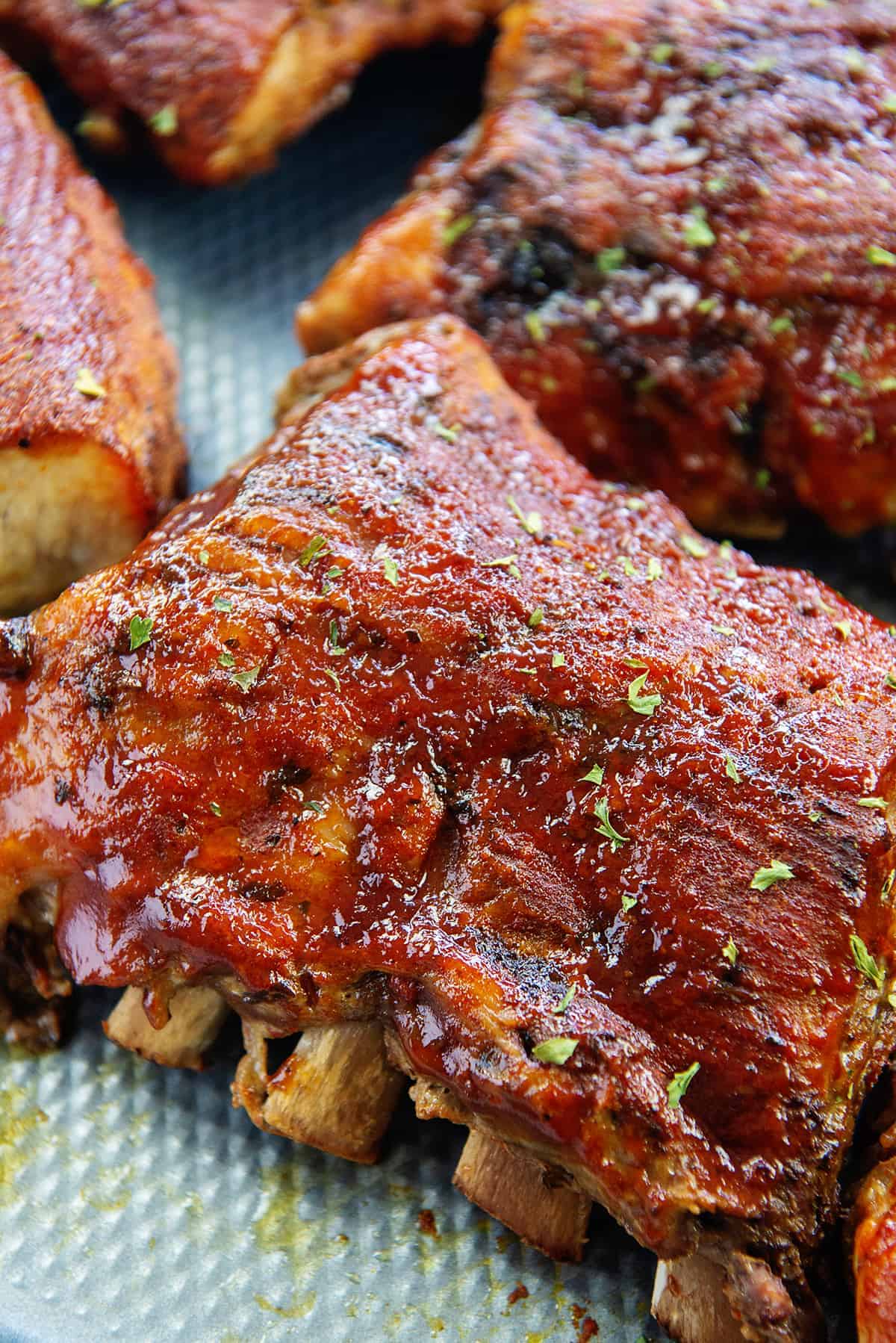 Feeding people is my love language and my husband absolutely loves ribs, so you better believe that I have spent some time mastering ribs in my kitchen.
We've smoked them and baked them, but honestly I think my favorite way to cook ribs is in the crock pot. Sounds crazy, but they turn out so tender and juicy every single time and it just couldn't be easier.
We make these keto ribs often, especially when we have guests over and no one ever realizes that these are low carb. Love when that happens!
We use our special dry rub on the ribs, pop them in the slow cooker, brush them with our favorite sauce, and broil until things are all sticky and saucy and delicious. You just can't beat this keto rib recipe!
Not into ribs? Try our keto pulled pork. It's another favorite around here!
Ingredient Notes:
This post contains affiliate links. As a member of Amazon Associates and other affiliate programs, I earn from qualifying links.
Ribs – We used baby back ribs in this recipe as they are our favorite type and they always turn out well in the slow cooker!
Brown Sugar Substitute – You can use your favorite low carb brown sugar substitute for this recipe. We use and love Lakanto. Use code THATLOWCARBLIFE for 20% off your order at Lakanto.com.
Sugar Free BBQ Sauce – As with the brown sugar substitute feel free to choose your favorite brand. There are lots of bottled sugar free BBQ sauces and home made recipes out there that will work for these ribs. We use and love the no sugar added Sweet Baby Ray's. It's made with allulose and no one realizes it's sugar free.
How to:
Prepare the Ribs – First up you'll need to get the ribs ready for the slow cooker. You'll want to be sure to remove the membrane from the back of the ribs. Some ribs come with this already removed, but if not just slip your knife between the meat and the membrane and use a paper towel to grip the membrane and pull it off. You'll also want to cut the ribs in half or in thirds so that they can fit in your slow cooker. When the ribs are ready you can move on to making the dry rub for them!
Dry Rub – You can start making this simple but flavorful dry rub recipe by mixing together the paprika, garlic powder, onion powder, pepper, salt, parsley and the brown sugar substitute. Whisk those together until they are well combined and then you can get down to seasoning the ribs!
Sprinkle some of the dry rub on one side of the ribs and then use your hands to rub it into the meat. Try and cover as much of the outside surface of the ribs as you can because it's going to add a lot of good flavor! Flip the ribs over and cover the other side with the dry rub too.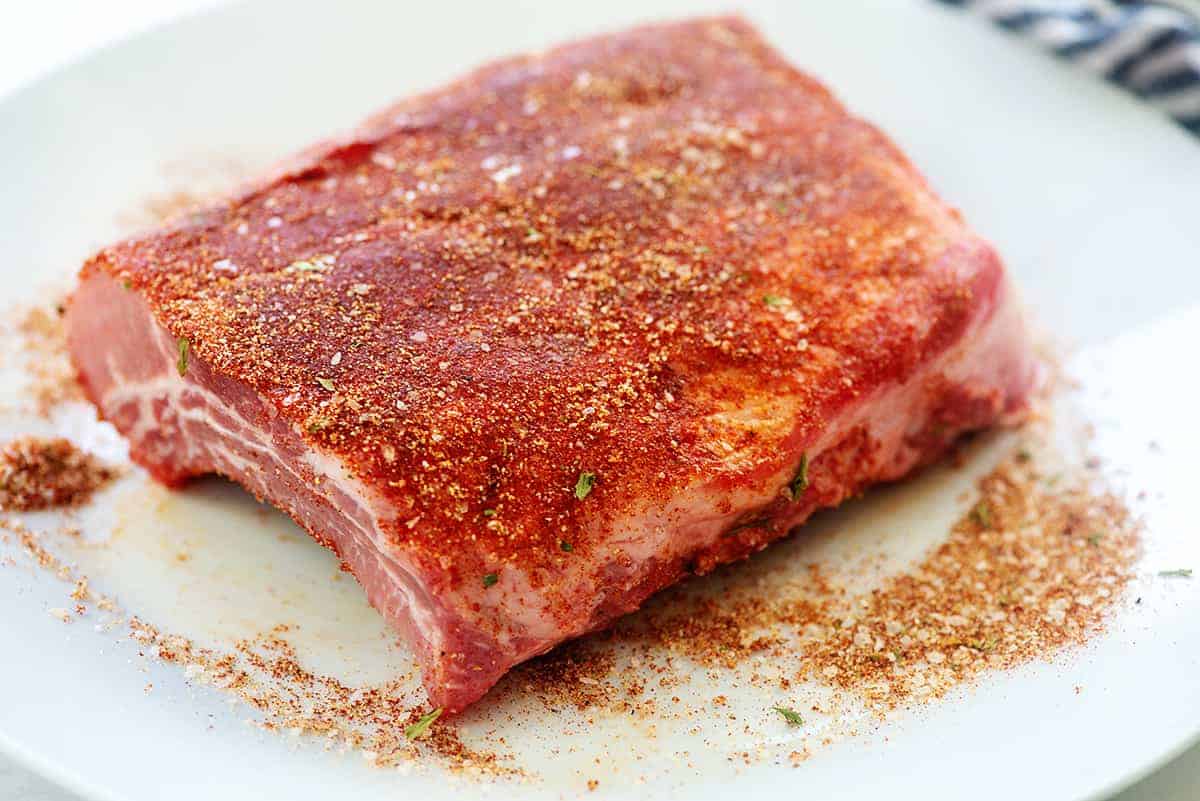 Slow Cook – With the ribs prepared and seasoned it is time to start the slow cook. Pour the apple cider vinegar and water into the slow cooker and add the ribs. They'll slow cook in the vinegar and get an amazing, tender juicy flavor!
If you don't have as much time you can cook these on high, but ribs cooked low and slow taste the best! It'll be about 8 hours on low. Once they've finished slow cooking there are just a couple of important steps left to do before you can start enjoying these ribs!
Broil with Sauce – Carefully remove the ribs from the slow cooker when they've finished and place them on a baking sheet. Now you can start brushing on the sugar free BBQ sauce! Generously apply the sauce to the ribs and when they are well coated place the baking sheet under a broiler.
The broiler will quickly thicken up the sauce and caramelize it which will add even more flavor to these keto ribs! Watch them closely under the broiler because it can quickly go from being perfectly done to burnt. It should take about five minutes. Once removed from the broiler these keto ribs are ready to be served hot!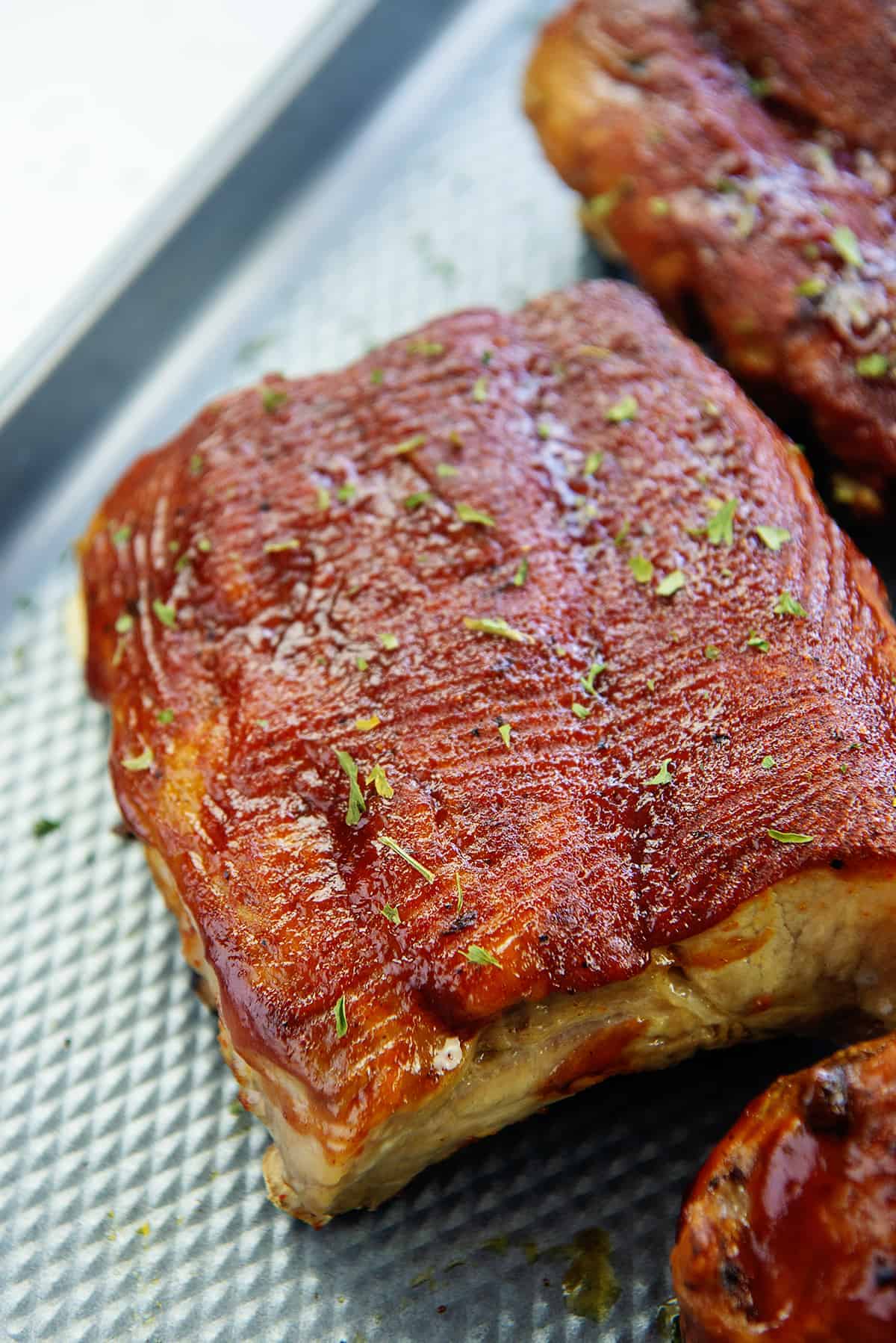 FAQs:
Can I store these ribs after cooking?
Absolutely! We love making extra so that we have plenty of leftovers. They should last in the fridge for about 3 or 4 days in an airtight container.
Do I have to use sugar free BBQ sauce?
BBQ sauces are full of sugar, so if you're watching carbs you'll want to specifically seek out a no sugar added BBQ sauce. If you're not concerned about carbs, just sauce your ribs with whatever your favorite sauce is and don't worry about it!
Why are my ribs tough?
Every slow cooker cooks a bit differently, so if your ribs are still tough when the time is up, just keep cooking them a bit longer. The meat should pull back from the bones a bit and they should be very tender when finished cooking.
More low carb slow cooker recipes: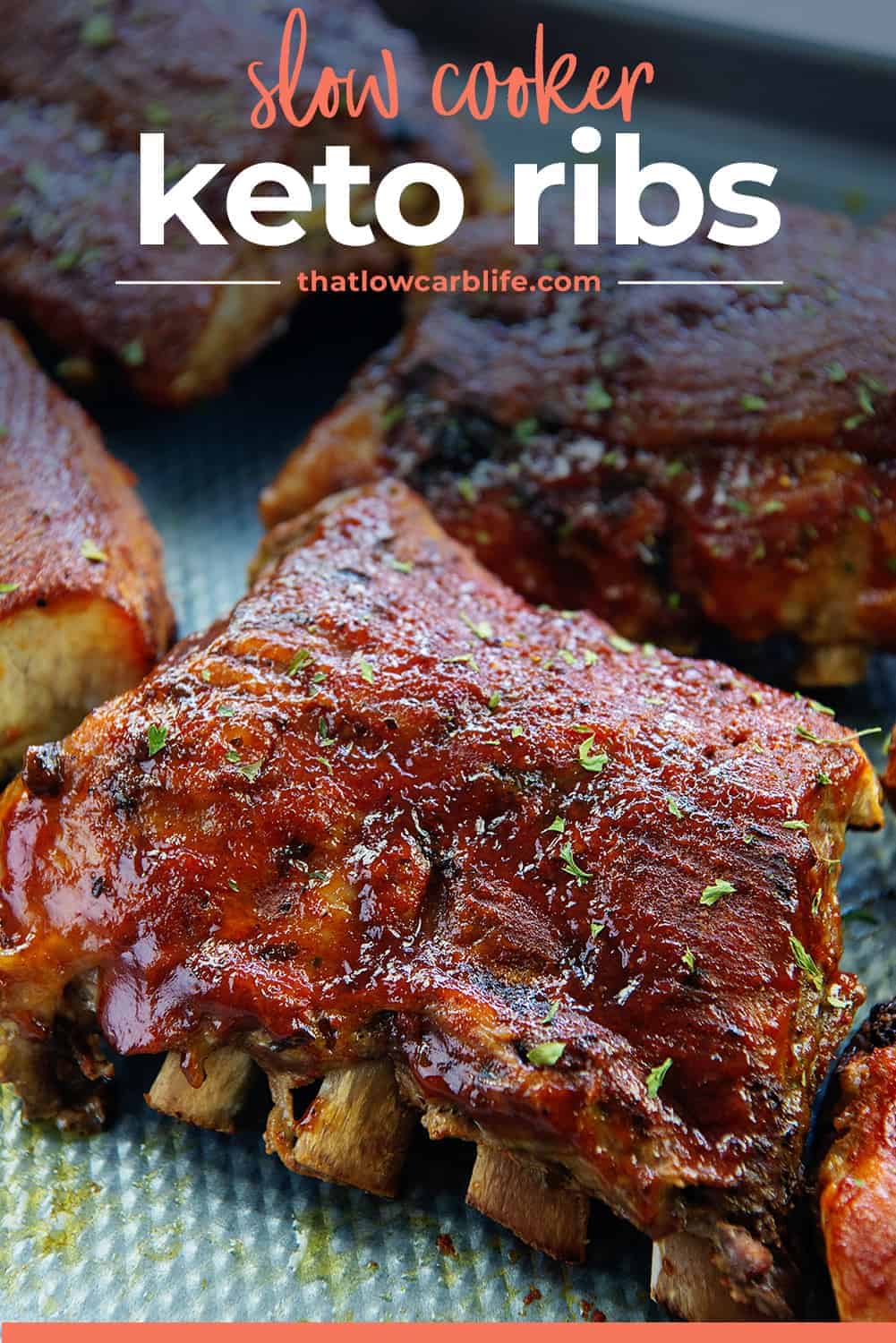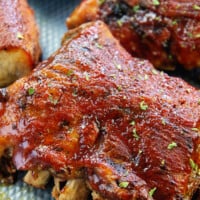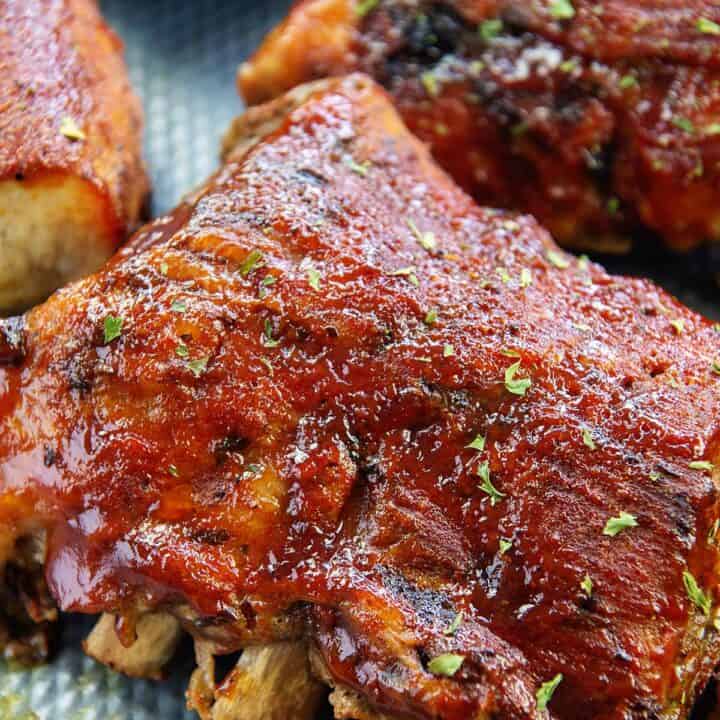 Keto Ribs
Tender, juicy ribs cooked in the slow cooker and slathered in sugar free BBQ sauce make for a tasty low carb dinner. This recipe makes 2 full racks of ribs and nutrition information is based on a half rack serving. We often cut the ribs into thirds to feed our family and then get 6 portions.
Ingredients
2 racks baby back ribs
2 tablespoons paprika
1 tablespoon salt
1 tablespoon ground black pepper
2 teaspoons garlic powder
2 teaspoons onion powder
1 teaspoon parsley
2 tablespoons apple cider vinegar
Instructions
Remove the membrane from the back of the ribs and cut each rack of ribs in half so that they fit easily in the slow cooker.
In a small bowl, whisk together the paprika, brown sugar substitute, salt, pepper, garlic powder, onion powder, and parsley.
Sprinkle the dry rub over each side of the ribs and use your hands to press it into the meat.
Add the apple cider vinegar to the bottom of a slow cooker along with 2 tablespoons of water. Place the ribs in the slow cooker.
Cook, covered, on high for 4 hours or low for 8 hours.
When ribs are tender but not falling apart, carefully remove them from the slow cooker to a large baking sheet. Brush with barbecue sauce.
Place under the broiler until the sauce has thickened and begun to caramelize, about 5 minutes.
Let rest for 5 minutes before serving.
Notes
It's easy to tell that ribs are done when the meat pulls back and the bones are poking out about 1/2 -3/4 an inch. It's fine to cook the ribs until they're falling off the bone, if that's how you prefer them, but they'll be done before that point.
We recommend No Sugar Added Sweet Baby Ray's sauce for the barbecue sauce. It's available on Amazon (linked above) but can be found much cheaper in most grocery stores.
We use and love Lakanto sweeteners. Use code THATLOWCARBLIFE for 20% off your order.
Nutrition Information:
Yield: 4
Serving Size: 1
Amount Per Serving:
Calories: 706
Total Fat: 46g
Trans Fat: 0g
Cholesterol: 132mg
Sodium: 1929mg
Carbohydrates: 7g
Net Carbohydrates: 5g
Fiber: 2g
Sugar: 1g
Protein: 58g
All information and tools presented and written within this site are intended for informational purposes only. This information is provided as a courtesy and there is no guarantee that the information is accurate.