This Keto Crockpot BBQ Chicken features tender fork shredded chicken slow cooked in a sweet and tangy keto BBQ sauce! Our recipe turns out so flavorful and is super simple. Lots of serving ideas listed below!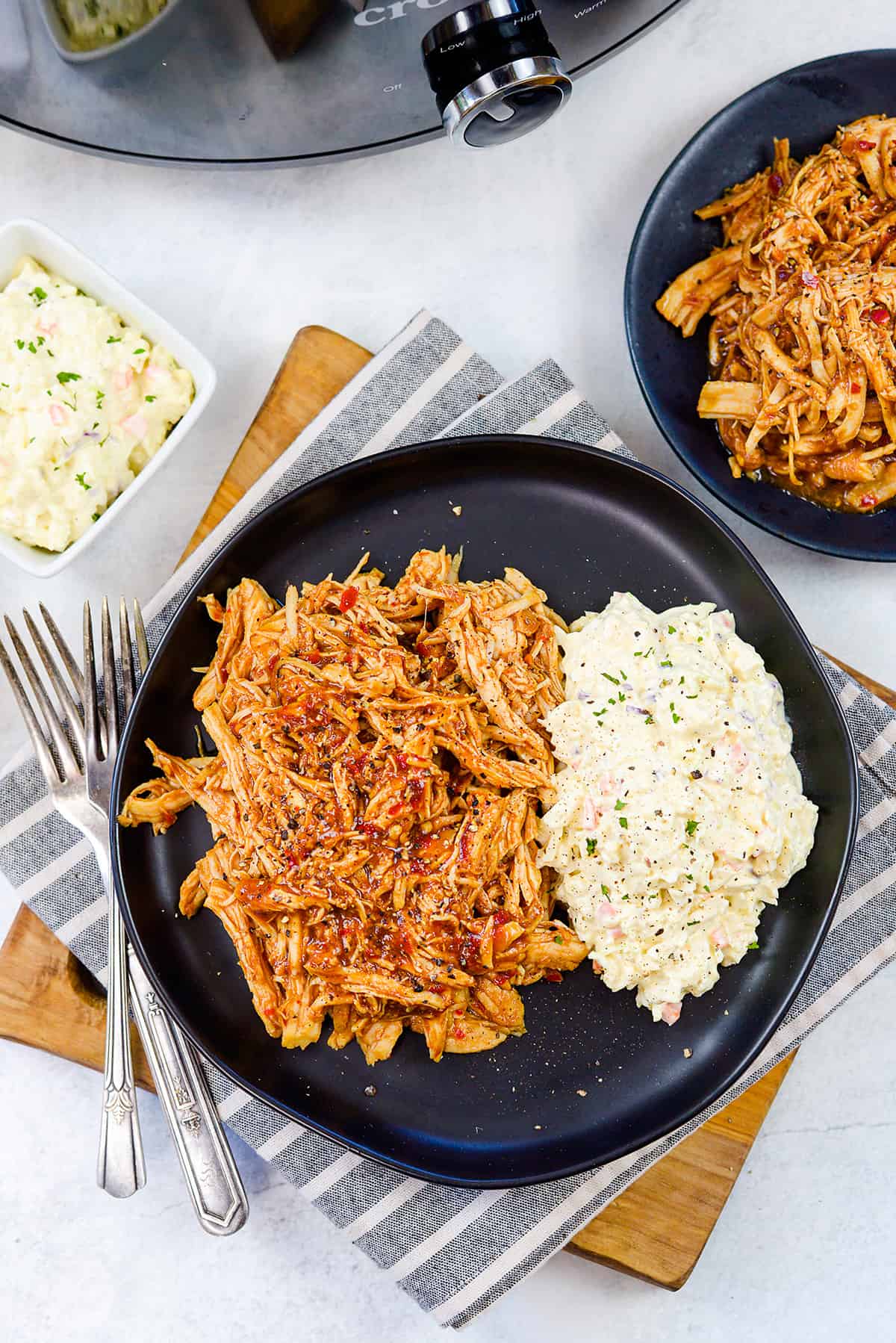 Which do we love more? An easy crockpot meal or a saucy BBQ chicken? Hard to say, so we just went ahead and married the two! 😉
This Keto Crockpot BBQ Chicken is such an easy meal to toss in the crockpot, it makes the whole house smell amazing, and there are about a million ways to serve this up.
We like to shred this up and serve it with a pile of our keto coleslaw and some cauliflower mac and cheese, but you better believe it's tasty as a sandwich on our keto hamburger buns, too!
Sure, you might think you don't need a recipe for this, since you really could just toss your favorite BBQ sauce in the crockpot along with some chicken and let it cook through, but I promise you that our version is so much better and barely any more work. We're still using a bottle of sauce, we're just doctoring it up a bit for maximum yum! 🙂
Ingredient Notes:
This post contains affiliate links. As an Amazon associate and member of other affiliate programs, I earn from qualifying purchases.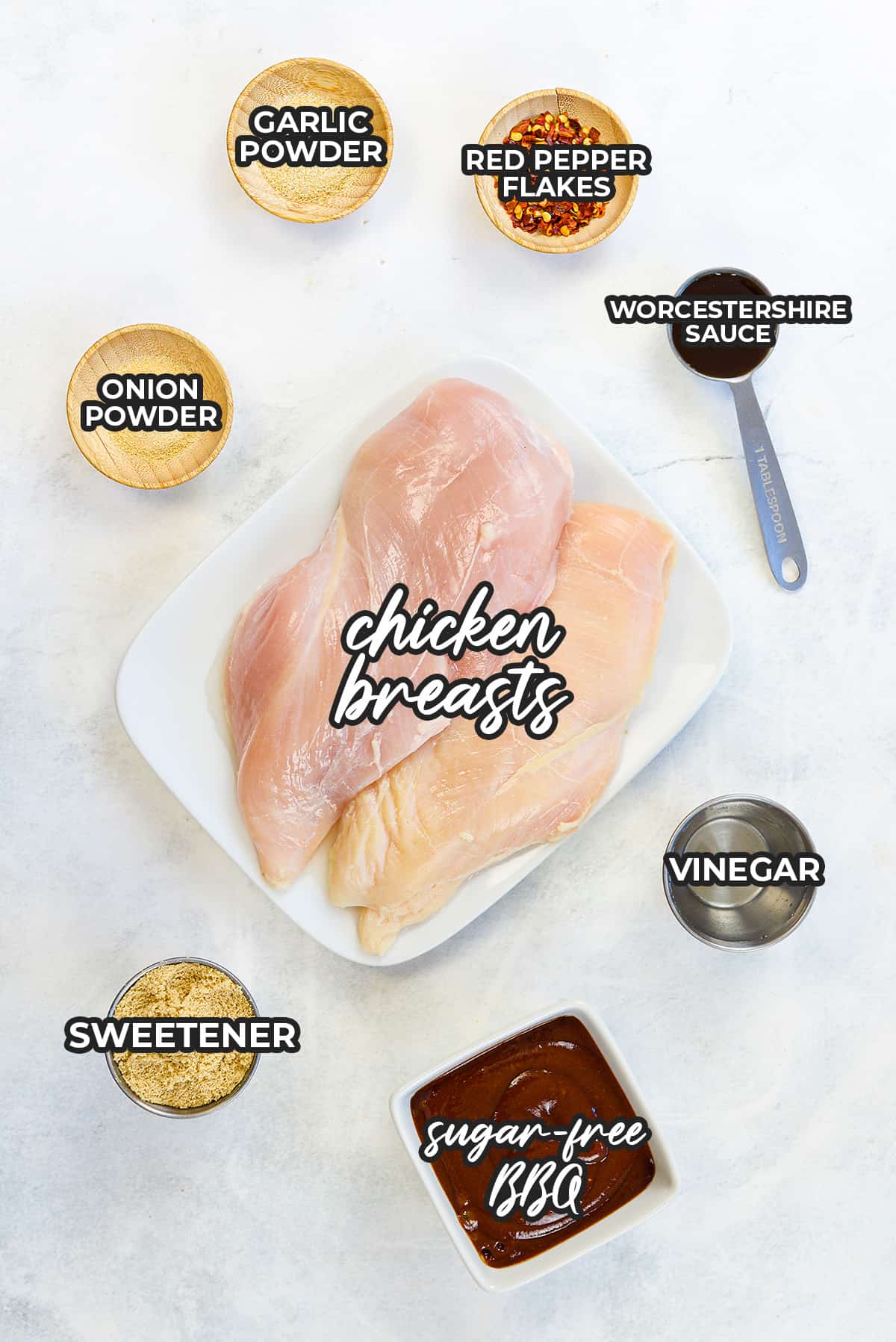 Chicken Breast – You'll need about two pounds of boneless skinless chicken breasts. They'll shred up perfectly after slow cooking in the keto BBQ sauce ingredients! You could also use chicken thighs for this instead.
Sugar Free BBQ Sauce – We really love Sweet Baby Ray's no sugar added sauce for this low carb BBQ chicken recipe! It uses allulose as the sweetener, which is a natural sweetener that is keto friendly. This tastes just like the regular version of Sweet Baby Ray's sauce and we love it! It has 1g net carbs per 2 tablespoons, which is pretty amazing!
Sweetener – We're sweetening up the sauce with a hit of brown sugar sweetener. We like Lakanto or Swerve for this.
White Distilled Vinegar – A little tang goes a long way towards balancing the flavors. We use white distilled vinegar, but apple cider vinegar is also a great choice.
Worcestershire Sauce – This adds good savory flavor to just about any recipe! Most brands are already low carb though you may want to check for added sugars.
Seasoning – Some garlic powder, onion powder, and red pepper flakes. This slow cooker barbecue chicken comes out tender, juicy, sweet, and tangy. The red pepper flakes add a bit of heat, but we don't find it overwhelming at all. Feel free to reduce (or increase) the amount of red pepper to suit your tastes.
Why We Love This Recipe:
The crockpot makes this recipe so simple! Just mix up the sauce and toss it in with the chicken and you are good to go.
The BBQ chicken gets perfectly juicy and tender after slow cooking in all that sauce, and it is absolutely full of flavor!
This one is family-friendly and even the carb lovers will enjoy this one! Serve with buns for them and on a low carb wrap or over coleslaw for any low carbers!
How To Make Barbecue Chicken: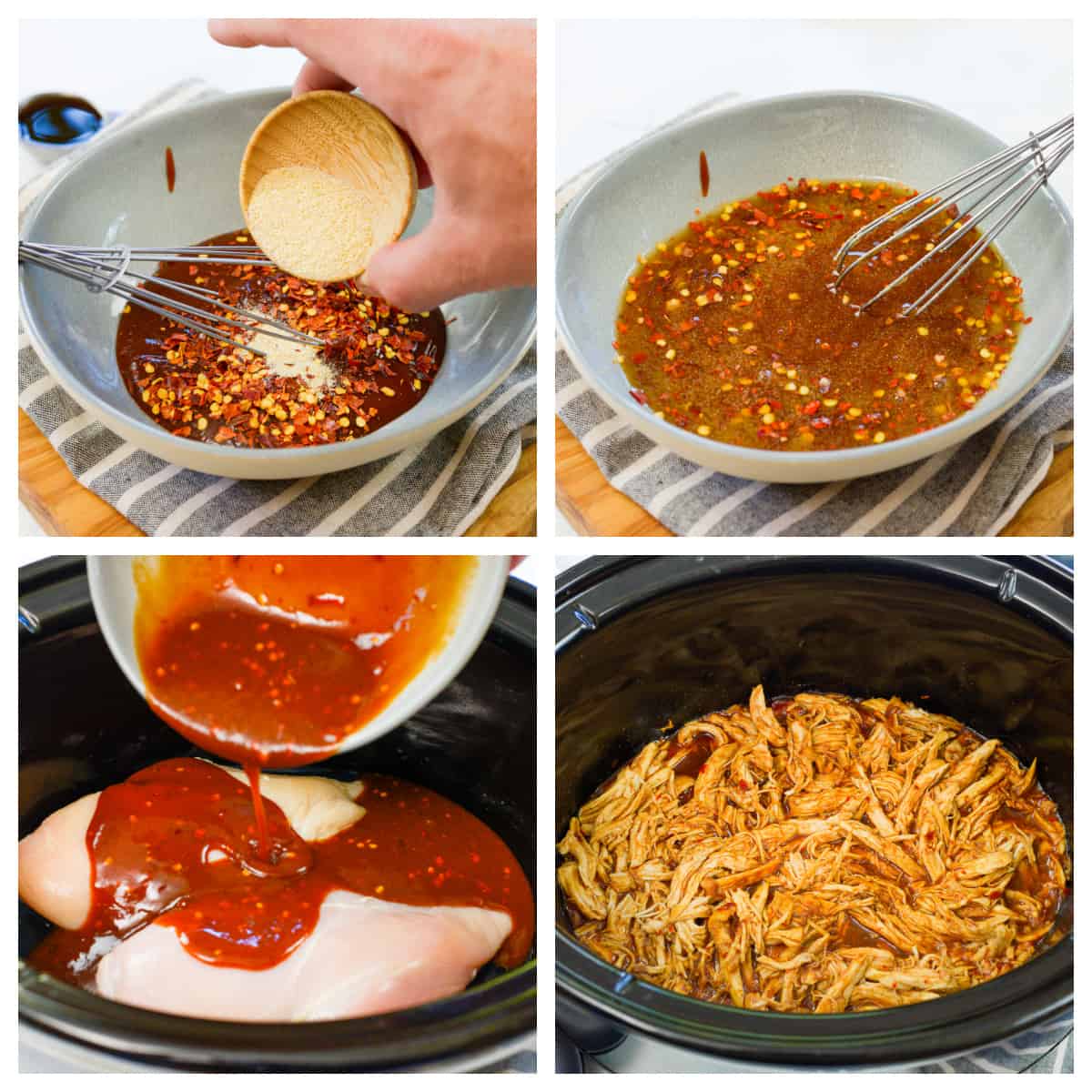 Sauce – Add the BBQ sauce, brown sugar sweetener, vinegar, Worcestershire, and seasoning to a small bowl and whisk together until it is well combined.
Chicken – Add the chicken breasts to the slow cooker and then pour the barbecue sauce mixture over the top! Give it a good stir to coat the chicken breast in the sauce as well as possible.
Slow Cook – When ready you can cover the crockpot and start slow cooking on low for 4-6 hours, or until the chicken easily shreds apart with a fork. It should be perfectly tender and juicy after slow cooking in the BBQ sauce.
Helpful Tip!
There are lots of brands of slow cookers and they each cook differently. For chicken breasts, 4-6 hours on low seems to do the trick for most. 3-4 hours on high also works.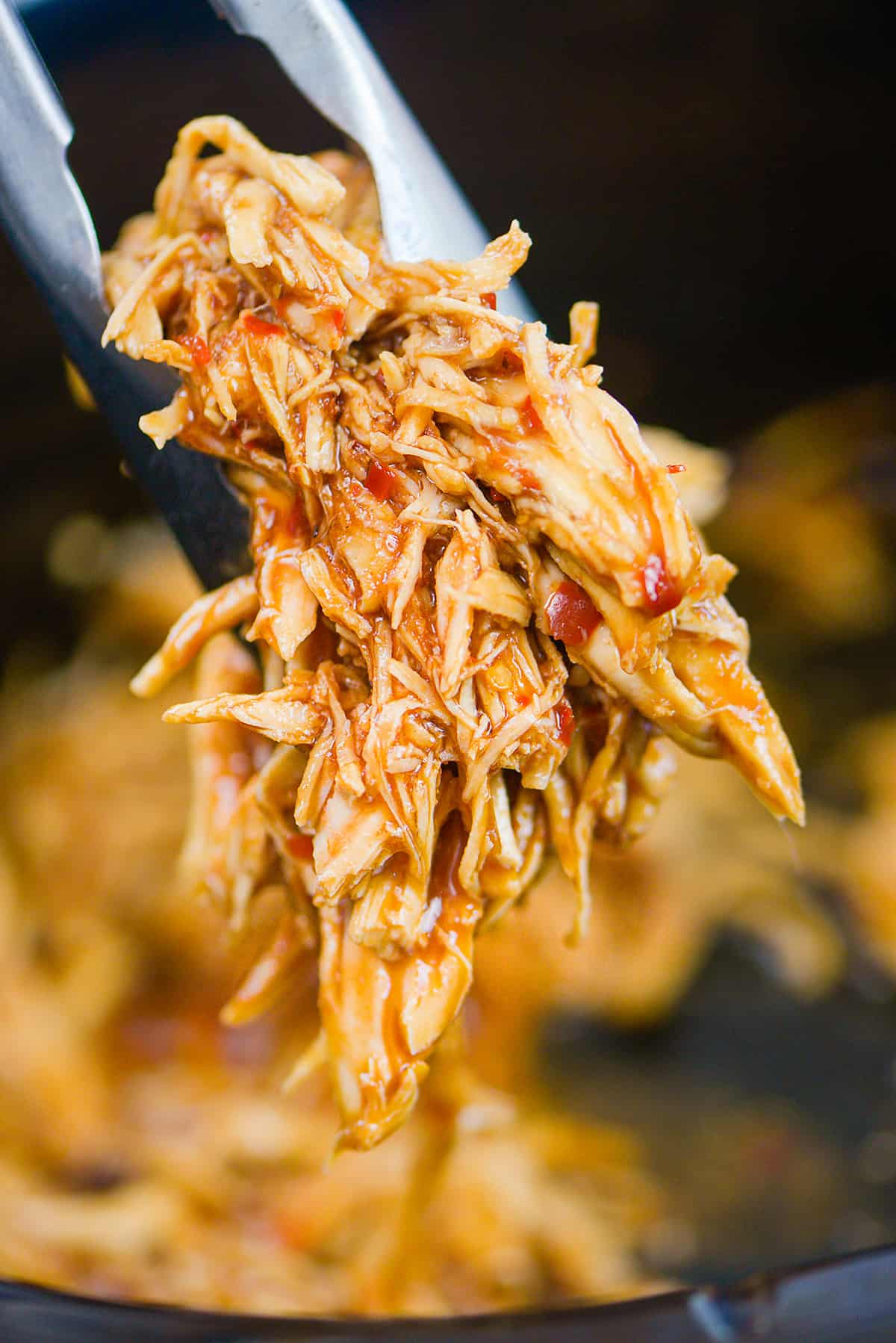 Serving Suggestions:
Serving up our Keto BBQ Chicken is easy! Cook, shred, and plate it up in any of the following ways:
FAQ's:
How to tell when chicken is done in crockpot?
All slow cookers cook a bit differently, so you can't rely on just timing alone. You'll know your barbecue chicken is fully cooked when it's tender enough to easily shred apart with a fork.
Can I use frozen chicken?
Yes, you just want to give it plenty of time to cook through! You may need to increase the cook time to 6-8 hours if starting with frozen chicken breasts.
How to store chicken?
You can keep this sugar free BBQ pulled chicken recipe stored in an airtight container in the fridge for at least 3 to 4 days!
More Keto Crockpot Recipes: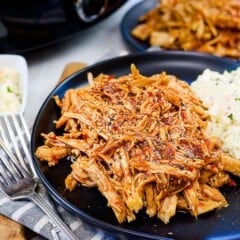 Keto Crockpot BBQ Chicken
We love using the slow cooker to make ultra tender and juicy chicken. This recipe features a doctored up BBQ sauce that really adds a sweet, tangy flavor to the chicken. Read the blog post above for a list of serving ideas.
Total Time 4 hours 10 minutes
Ingredients
2 pounds boneless skinless chicken breasts
1/2 cup bottled sugar-free barbecue sauce, plus more for serving
1/4 cup brown sugar sweetener
1/4 cup white distilled vinegar
1 tablespoon Worcestershire sauce
2 teaspoons red pepper flakes more or less to taste
1 teaspoon garlic powder
1 teaspoon onion powder
Instructions
Add the chicken breasts to a slow cooker.
In a small bowl, whisk together the barbecue sauce, brown sugar sweetener, vinegar, Worcestershire sauce, red pepper flakes, garlic powder, and onion powder.
Pour the barbecue sauce mixture over the chicken and stir to coat.
Cover the slow cooker and cook on low for 4 hours or until chicken is easily shredded with a fork.
Serve hot.
Notes
All slow cookers cook differently. 4 hours is what works for us, but keep cooking until your chicken easily shreds apart with a fork.
Chicken thighs will also work in this recipe.
We like to serve this chicken with a side of cauliflower rice and our keto coleslaw, but there are loads of ideas listed in the blog post.
We used Sweet Baby Ray's No Sugar Added sauce which has 1 net carb per 2 tablespoons. (4g total carbs - 1g fiber - 2g allulose = 1g net carbs) You'll want to use a sauce with the same amount of carbs or recalculate the nutrition information yourself for accurate info.
Nutrition Information:
Yield: 6
Serving Size: 1
Amount Per Serving:
Calories: 362
Total Fat: 6g
Saturated Fat: 2g
Trans Fat: 0g
Unsaturated Fat: 3g
Cholesterol: 129mg
Sodium: 201mg
Carbohydrates: 3g
Net Carbohydrates: 2g
Fiber: 1g
Sugar: 1g
Protein: 47g
All information and tools presented and written within this site are intended for informational purposes only. This information is provided as a courtesy and there is no guarantee that the information is accurate.