This simple recipe makes four perfect KETO HAMBURGER BUNS that are soft, fluffy, and topped with sesame seeds. These are easy enough for anyone to make with just a handful of ingredients. Grain free, gluten free, and even the family enjoys them!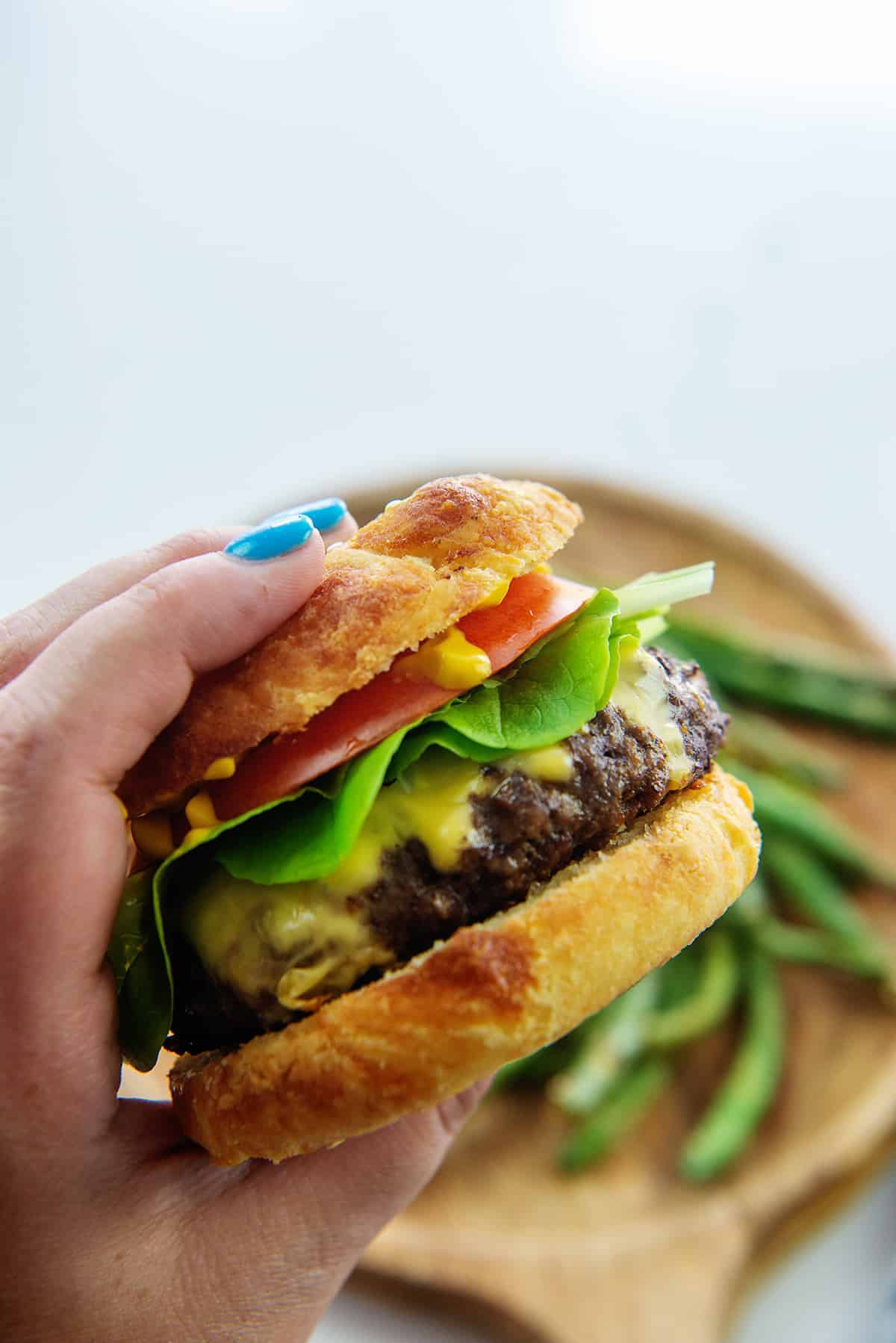 The time is here, friends!
Keto Hamburger Buns time! Are you excited?
I teased you with this recipe when I shared photos of my keto sloppy joes, but the buns weren't quite perfect yet and I wanted to keep testing. We finally got it right and I'm happy to share these low carb buns with ya! You're going to love them!
There are plenty of ways to make low carb bread, but you know me…I like to keep things simple and I hate using a bunch of expensive, difficult to find ingredients.
So, when I set out to conquer keto hamburger buns, I started with my favorite low carb dough…fathead dough. It makes the perfect pizza, but switching it up to make buns took a little tinkering.
We reduced the cheese, increased the almond flour, and added quite a bit of baking powder for lift. The result is a bun that is sturdy enough to hold with your hands and is light enough to enjoy with your burger. It's still filling (hello cheese and almond flour) but not heavy and dense like traditional fathead dough.
These keto hamburger buns ARE more dense than a traditional bun though. I've yet to find a keto bread made without gluten that is light and fluffy like wheat bread. So don't be expecting a complete dupe for a white bun…expect something delicious, but a little different. 😉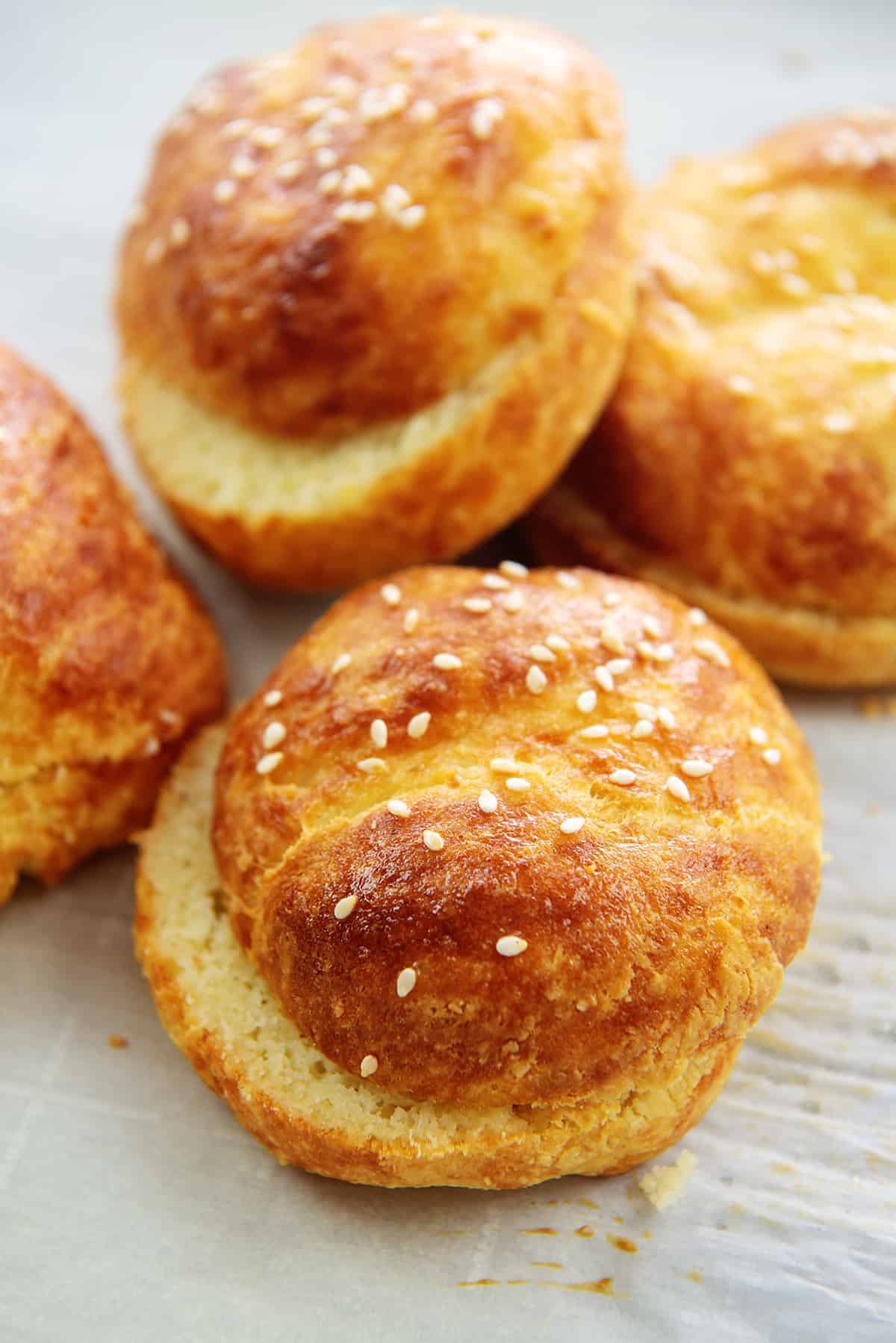 Ingredient Notes:
Almond Flour – The perfect grain free, gluten free alternative to regular flour. It works great and it won't have an almond flavor! Use finely ground blanched almond flour for best results. We like this brand.
Cheese – Mozzarella and cream cheese seems like an odd ingredient for hamburger buns, but it binds everything together and the end result doesn't really taste cheesy.
Baking Powder – A full tablespoon seems like a lot, but we tested this with varying amounts. We want soft, fluffy hamburger buns and a tablespoon does the trick.
Sesame Seeds – These are optional but if you want a traditional hamburger bun, don't skip!
How to:
Melt the Cheese – While your oven is pre-heating you can get started by adding the cream cheese and the mozzarella cheese to a mixing bowl and heating in your microwave for about a minute. Stir together and return it to the microwave for another half a minute or so until both cheeses have melted.
Form the Dough – In the same bowl with the melted cheese, add in the almond flour, egg, and baking powder. You'll want to stir it well until it has combined.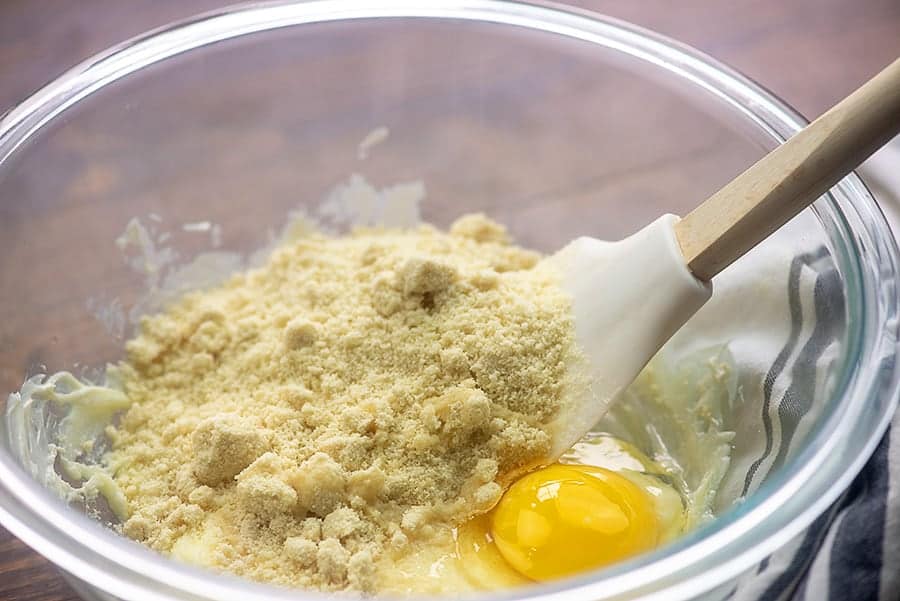 When combined you can begin kneading the dough. Use lightly oiled hands for best results, and knead the dough until it is smooth and pliable! When ready you can begin separating the dough into balls of equal size and shape. There should be enough to make four buns.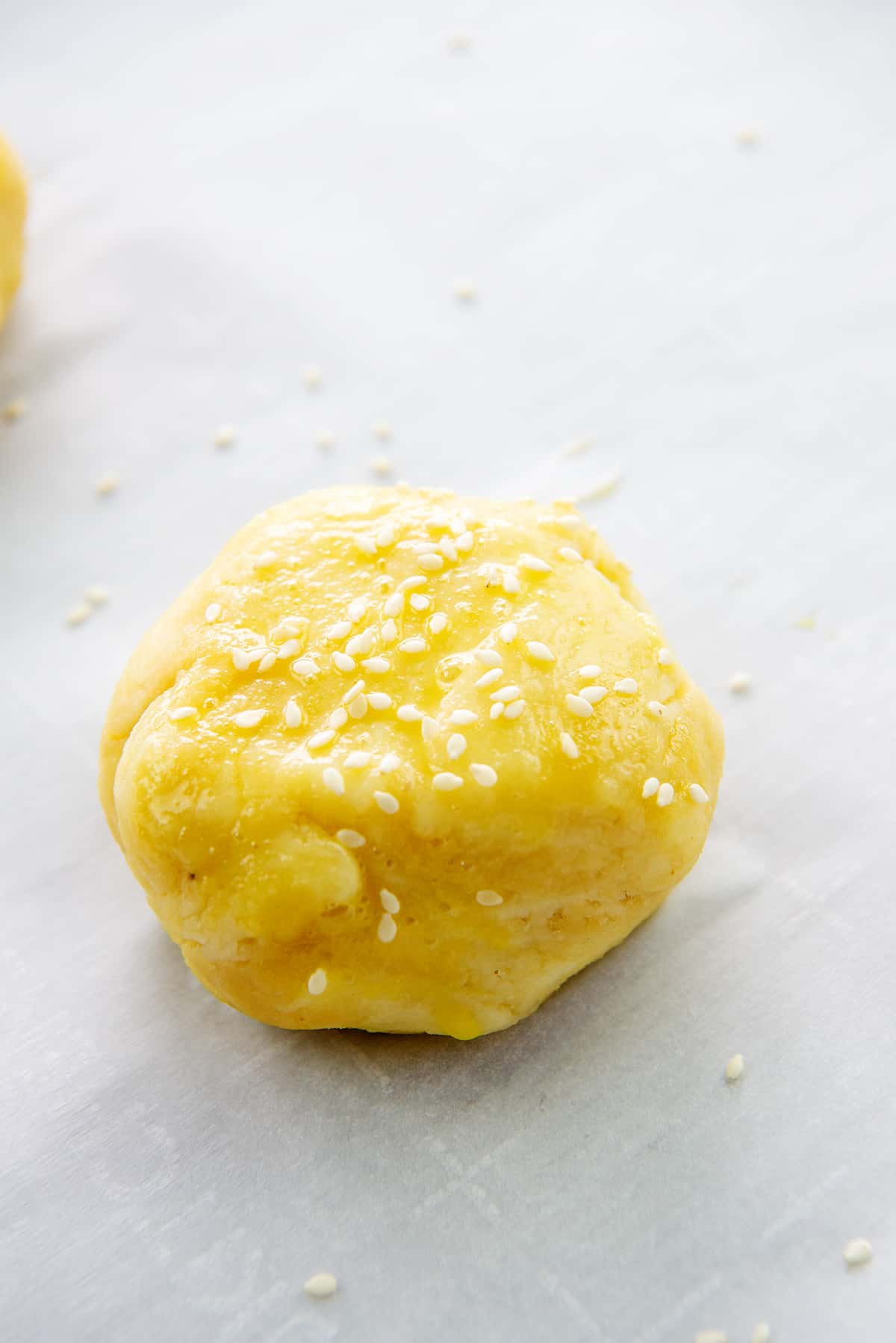 Helpful Tip:
The dough is mostly going to hold it's shape, with just a bit of movement. Go ahead and press these out into the shape that you want for buns.
If you leave them in a ball shape, they'll bake up more like dinner rolls. Flatten them into a rounded disc.
Bake – When it is formed and ready you can place the balls of dough onto a prepared baking sheet. Almost done! Brush the dough with the beaten egg, which will help give it that traditional golden brown hamburger bun look. Also, it helps keep the sesame seeds in place. After brushing with the egg you can sprinkle with the sesame seeds.
Finally, go ahead and place the baking sheet in the oven and bake for about ten minutes or until they are golden brown on the top. Depending on the size of your buns, bake time may vary a bit. Just keep an eye on them and remove them when they are browned on top and seem set in the middle.
Let them cool for about 10 minutes after removing from the oven and then slice in half with a serrated knife. Homemade keto burger buns are that simple!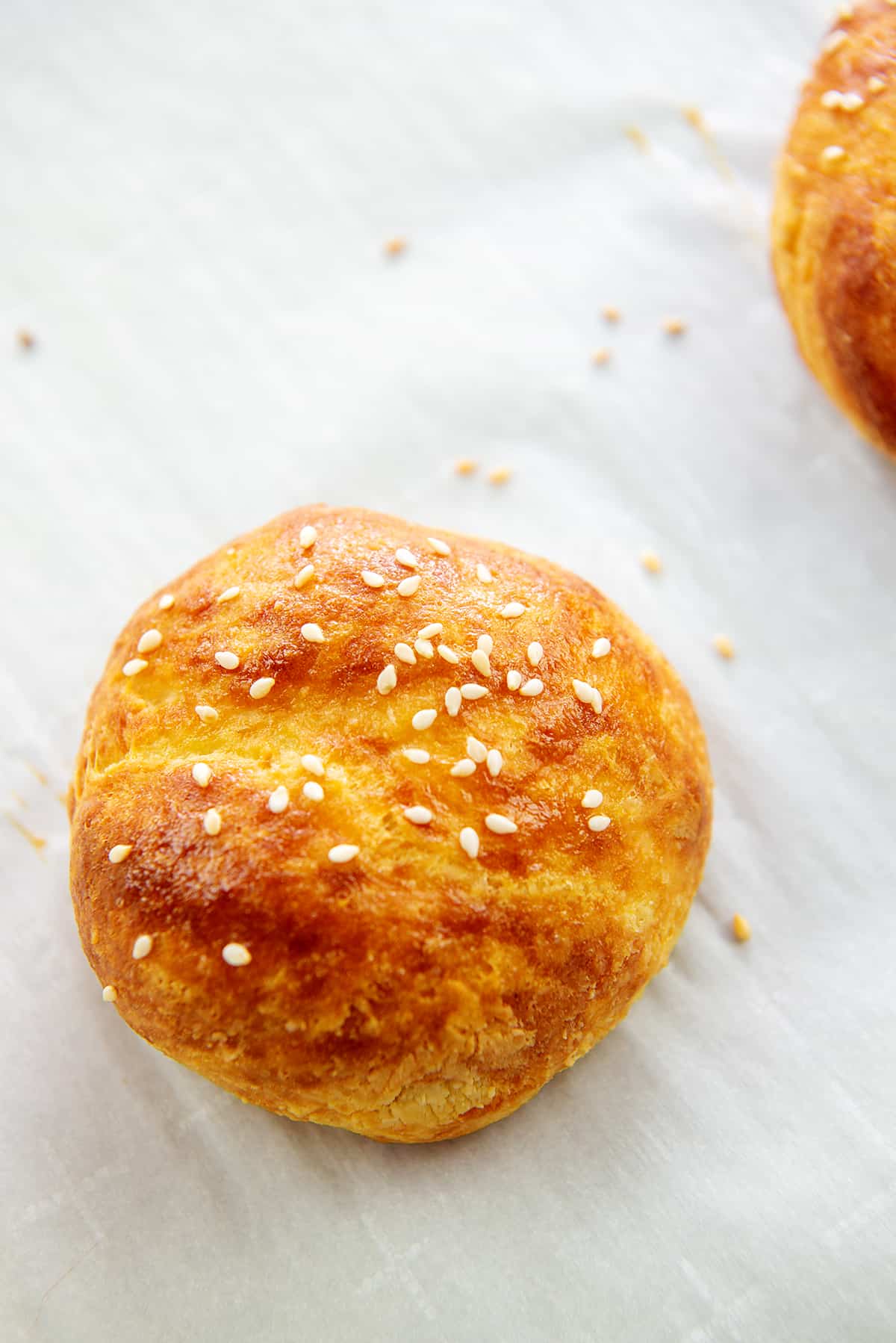 FAQs:
Can Keto Hamburger Buns be toasted?
Yes! Nothing makes a regular hamburger bun taste better than buttering them up and toasting on a griddle or skillet. You can do the same thing with these keto burger buns!
Can they be stored?
You can store these buns in an airtight container in the refrigerator for about a week, and they should stay good in the freezer for a few months. However, these buns are best eaten when a bit warm so if you do store them it's recommended that you re-heat them in the microwave or they won't be as soft.
What to put on your Keto Hamburger Buns?
We kept it simple with a burger, but you can certainly get more creative than that!
My Arby's chaffle or Big Mac Chaffle would be a great option for these buns, if you're not into chaffles or don't have a mini waffle maker.
These loose meat sandwiches are another perfect dinner recipe. Just swap out the buns for these keto buns!
More low carb bread recipes: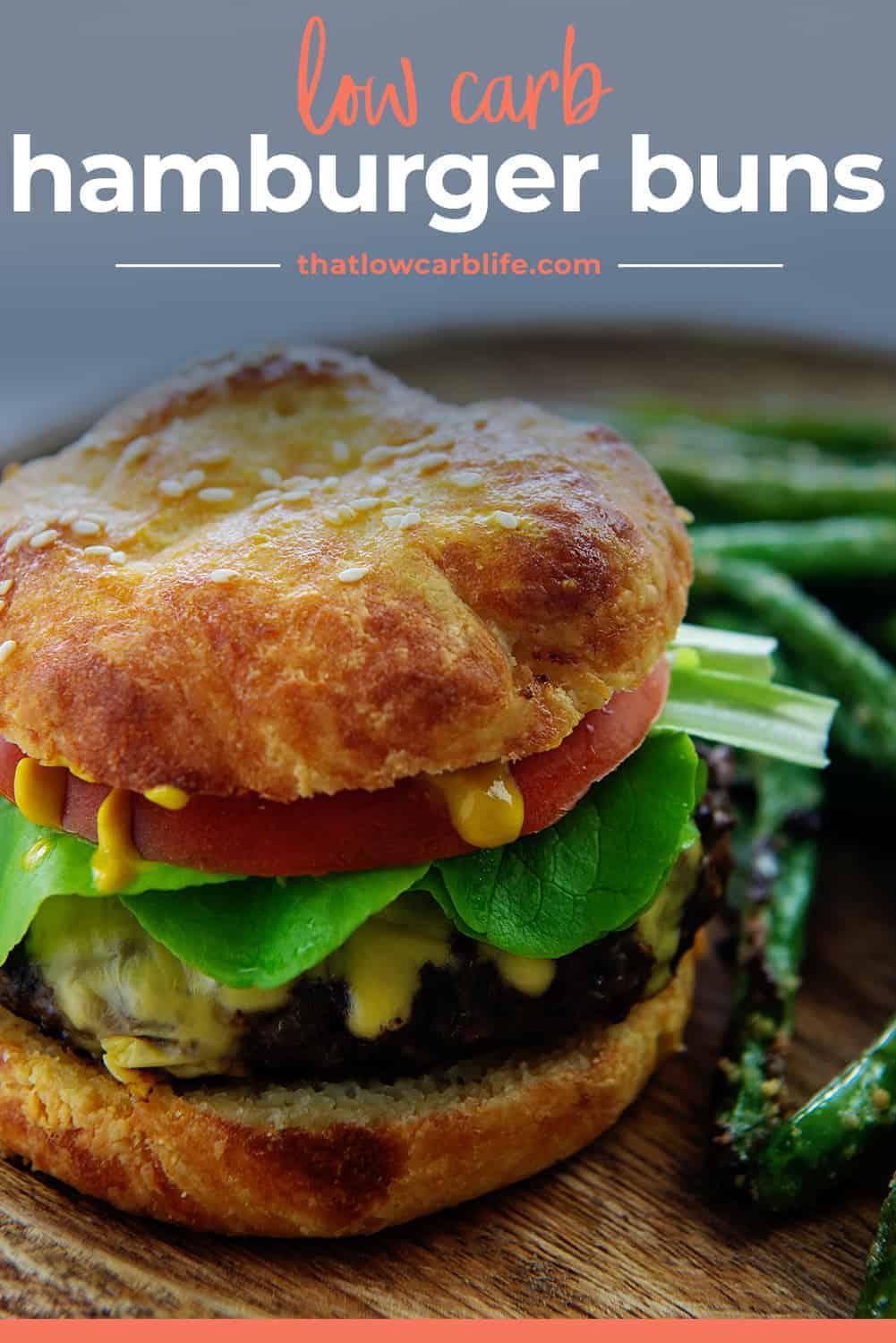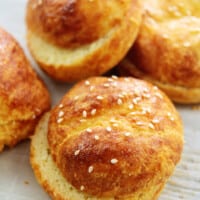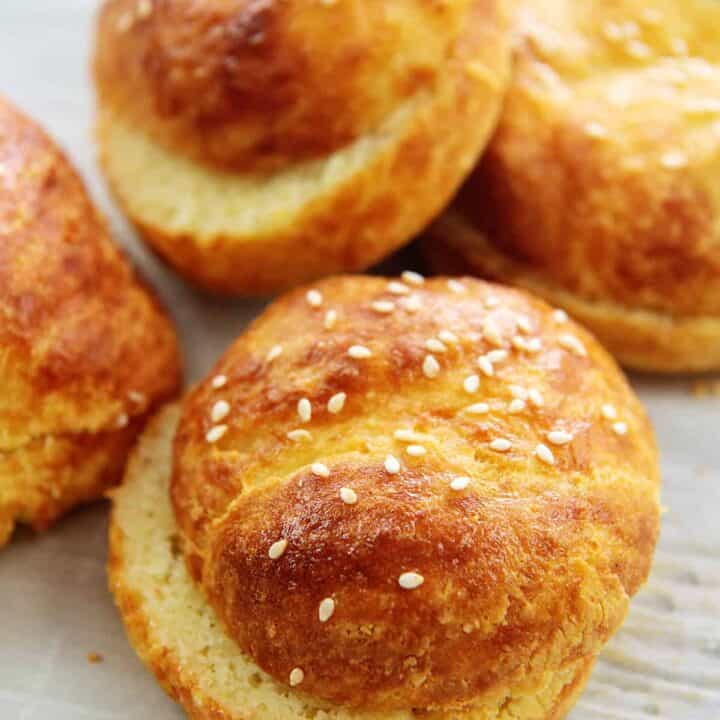 Keto Hamburger Buns
Soft and fluffy hamburger buns made with zero grains! These are the perfect way to enjoy that burger!
Ingredients
For the buns:
1 1/2 cups shredded mozzarella
2 tablespoons cream cheese
1 large egg, beaten
1 cup finely ground almond flour
1 tablespoon baking powder
For the top:
1 large egg, beaten
sesame seeds
Instructions
Preheat oven to 425 degrees. Line a baking sheet with parchment paper.
Add the mozzarella and cream cheese to a microwave safe bowl and microwave for one minute. Stir to combine and return to microwave until cheese has melted, about 30 more seconds.
Stir to combine the cheeses and then add the egg, almond flour, and baking powder to the mixture. Stir well to combine.
Lightly oil your hands and knead the dough until smooth and pliable.
Separate dough into 4 evenly sized balls and shape into buns.
Place dough on prepared baking sheet and brush with the second beaten egg. Sprinkle with sesame seeds.
Bake for 10-15 minutes or until golden brown on top and the sides seem fully set (no melty cheese).
Let cool for 10 minutes before slicing in half and serving.
Notes
This recipe makes 4 buns that are a bit smaller than a traditional bun. If you'd like a larger bun, shape into just 3 buns. This dough is fairly filling with the cheese and almond flour, so we find that the size of 4 buns is perfect.
These should be golden brown on top and the sides should look fully set when you pull them from the oven. If they're undercooked, the centers will be a bit melty/cheese, but it should set up a bit as they cool.
Use a serrated knife to cut the buns in half.
Nutrition Information:
Yield: 4
Serving Size: 1
Amount Per Serving:
Calories: 361
Total Fat: 28g
Saturated Fat: 7g
Trans Fat: 0g
Unsaturated Fat: 19g
Cholesterol: 121mg
Sodium: 643mg
Carbohydrates: 12g
Net Carbohydrates: 7g
Fiber: 5g
Sugar: 2g
Protein: 18g
All information and tools presented and written within this site are intended for informational purposes only. This information is provided as a courtesy and there is no guarantee that the information is accurate.