Posted: 11.13.18
Updated: 02.24.19
Low carb cornbread made with ZERO corn that actually tastes like the real deal! I'm so excited about this recipe and I think you're going to love the authentic taste and texture with just 1 net carb per slice!
So, I make A LOT of recipes. Two recipes every week for this blog and two to three recipes every week for my other blog. (Did you know I had a second blog? It's not low carb – I started it years ago before discovering my love of low carb!)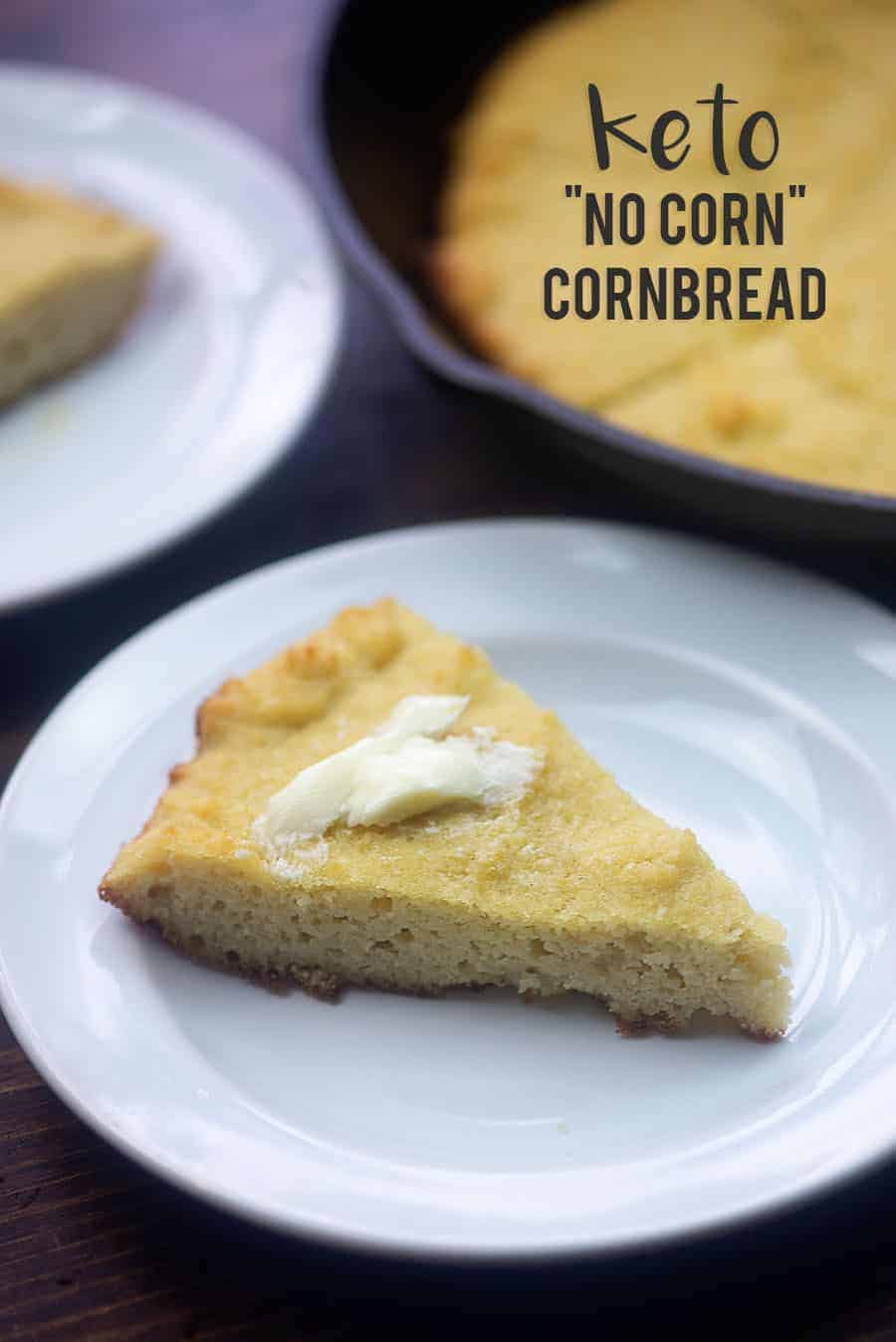 So, that's 4-5 new recipes a week. Obviously I love all the recipes that I share on the internet (plenty of recipes don't make the cut), but THIS recipe for low carb cornbread is one that I'm extra excited about!

I'm a huge fan of cornbread, but we all know that corn is full of sugar and starch and it's definitely not a good fit for a low carb diet.
This low carb cornbread contains zero corn but it still somehow manages to taste soooooo dang close to 'real' cornbread and the texture is spot on too! I'm obsessed.
I fed this to my kids and didn't tell them what it was. Both assumed they were eating traditional cornbread!
Smear on some butter or use this in some homemade stuffing <— recipe for that coming this week, just in time for Thanksgiving! Get excited.
How to make low carb cornbread:
I'm super excited about this recipe because it doesn't call for any 'weird' ingredients that you have to order online. You should be able to find everything you need at your local grocery store, which is a total win! You may even have all the ingredients in your pantry right now!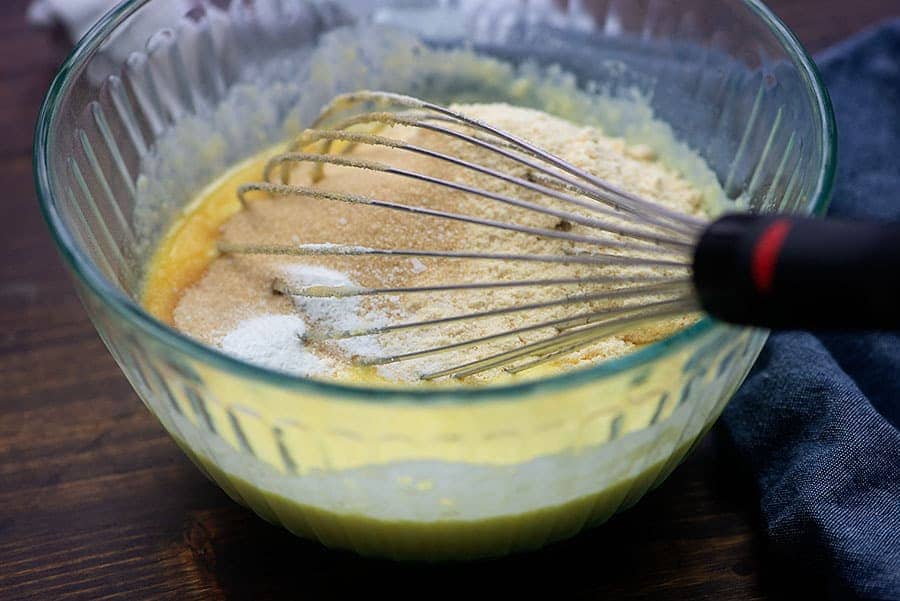 You'll need: coconut flour, your favorite sweetener (see below for mine), butter, eggs, cream, salt, and baking soda.
Totally doable list of ingredients, right?
You'll just mix everything together in a mixing bowl and then spread into a cast iron skillet or 8×8 baking dish.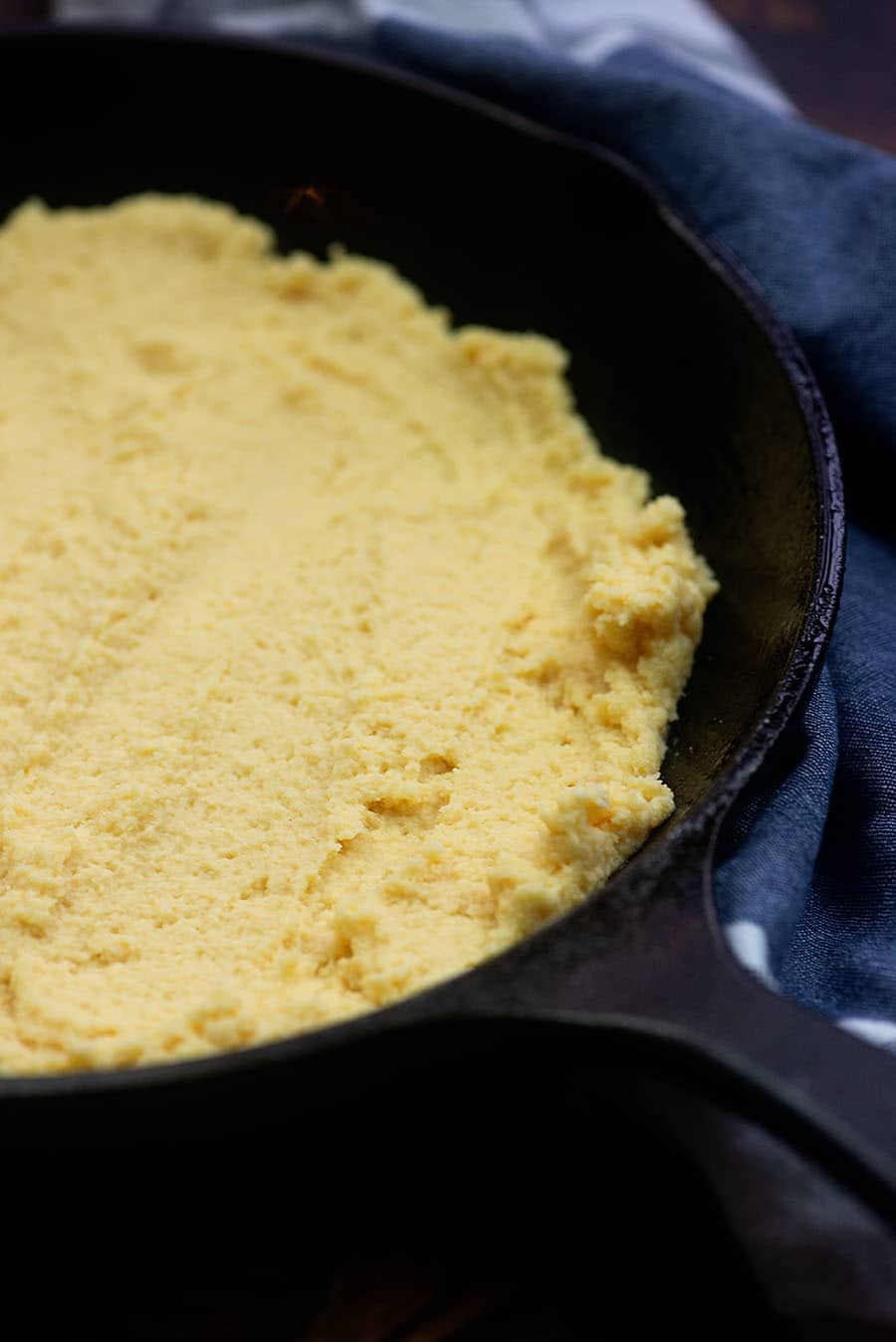 I prefer cast iron because it gives a nice little crunch to the bottom of the cornbread.
Bake that up and then dig in. We like our cornbread with extra butter and a little drizzle of sugar free honey substitute. Sooooo good!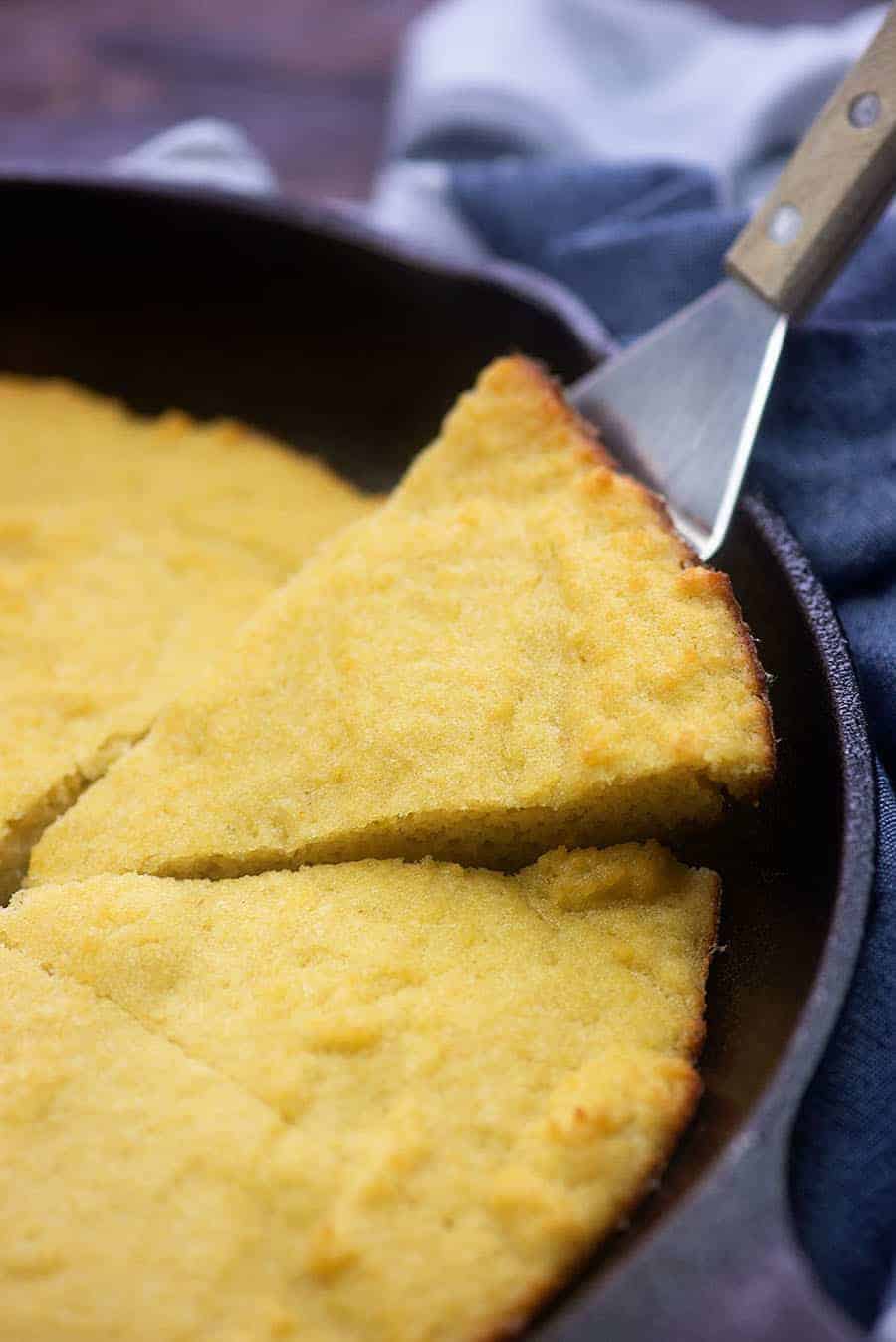 Products I use for this low carb cornbread:
Coconut Flour: This is easy to find in any well-stocked grocery store, but I can usually find the best price on Amazon.
Monkfruit Sweetener: This is my FAVORITE brand of sweetener. No funky aftertaste. It's made with erythritol and monkfruit extract so it's perfect for keto.
Cast Iron Skillet: We use our cast iron skillet for frying bacon, cooking up chicken, and just about everything else too. It's my favorite skillet!
More low carb favorites to try:
Pulled Pork Recipe: This one starts in the slow cooker with a simple seasoning blend!
BBQ Sauce Recipe: For topping that pulled pork!
Cauliflower Soup: Warm, comforting, and totally delicious.
Fathead Pizza: I top mine with all the goodness of a BLT.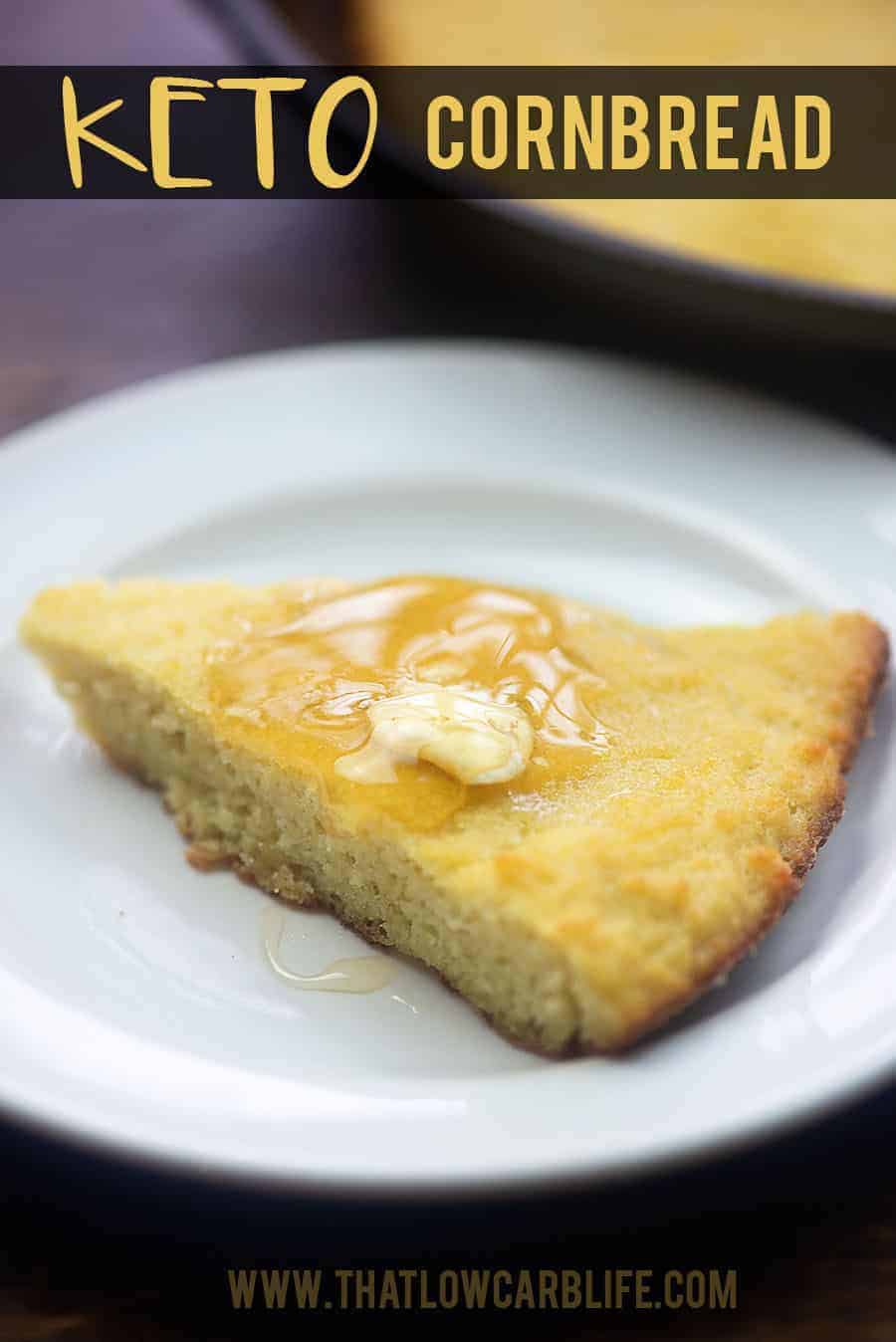 Follow me on social for more recipe ideas & inspiration!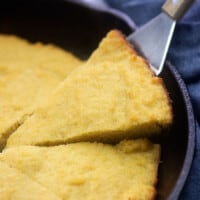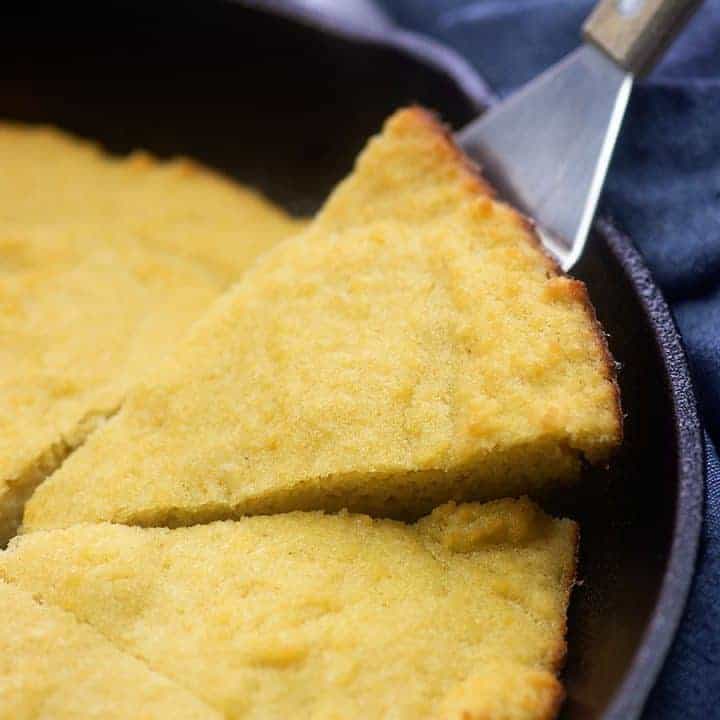 Low Carb Cornbread
This low carb 'cornbread' contains no corn at all, but you'll fool everyone that tries it! The flavor and texture are spot on! Just 1 net carb per slice!
Ingredients
6 tablespoons butter, melted
⅓ cup heavy cream
3 large eggs
½ teaspoon salt
¼ teaspoon baking soda
Instructions
Preheat oven to 350 degrees. Spray a 10 inch cast iron skillet or 8x8 baking dish with non-stick spray.
Add the melted butter, cream, and eggs to a mixing bowl and whisk to combine.
Add the coconut flour, sugar substitute, salt, and baking soda to the bowl and stir well to combine.
Spread the mixture into the prepared dish and bake for 15-20 minutes or until the edges are golden and a tester comes out clean.
Notes
We serve our cornbread with a smear of butter and a drizzle of sugar free honey substitute.
Regarding the sweetener: Yes, this cornbread is a bit sweet. If you prefer cornbread that is not sweet, I'd reduce the amount of sweetener to a teaspoon or two. Corn is naturally sweet and I think the sweetener helps give it a more authentic taste, but you can leave it out if you prefer.
Recommended Products
As an Amazon Associate and member of other affiliate programs, I earn from qualifying purchases.
Nutrition Information:
Yield:

8
Serving Size:

1 slice
Amount Per Serving:
Calories:

167
Total Fat:

15g
Cholesterol:

106mg
Sodium:

291mg
Carbohydrates:

4g
Net Carbohydrates:

2g
Fiber:

2g
Sugar:

1g
Protein:

4g
Want To Save This Recipe?