Our Keto Cornbread is made with ZERO corn, but it actually tastes like the real deal! I'm so excited about this recipe and I think you're going to love the authentic taste and texture with just 1 net carb per slice!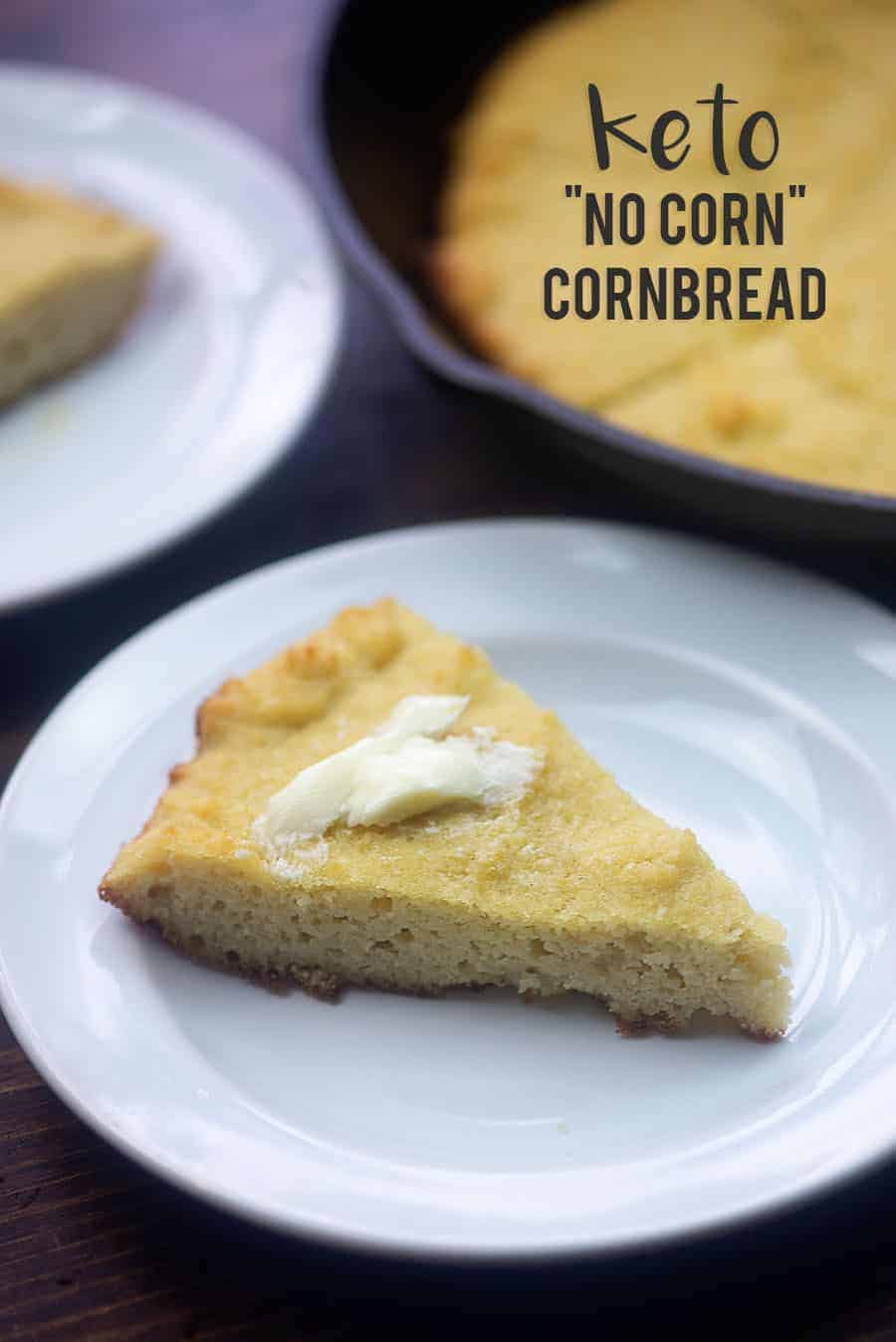 So, I make A LOT of recipes. Two recipes every week for this blog and two to three recipes every week for my other blog. (Did you know I had a second blog? It's not low carb – I started it years ago before discovering my love of low carb!)
So, that's 4-5 new recipes a week. Obviously I love all the recipes that I share on the internet (plenty of recipes don't make the cut), but THIS recipe for low carb cornbread is one that I'm extra excited about!

I'm a huge fan of cornbread, but we all know that corn is full of sugar and starch and it's definitely not a good fit for a low carb diet.
This low carb cornbread contains zero corn but it still somehow manages to taste soooooo dang close to 'real' cornbread and the texture is spot on too! I'm obsessed.
I fed this to my kids and didn't tell them what it was. Both assumed they were eating traditional cornbread!
Smear on some butter or use this in some homemade stuffing <— recipe for that coming this week, just in time for Thanksgiving! Get excited.
👩‍🍳 Ingredient Notes:
This post contains affiliate links. As an Amazon associate and member of other affiliate programs, I earn from qualifying purchases.
Coconut Flour – That's right, we're using coconut flour in place of actual corn in this low carb corn bread recipe! Trust me, it works. This is easy to find in any well-stocked grocery store, but I can usually find the best price on Amazon.You'll mix in some baking soda and salt with this too.
Sweetener – We use and love Lakanto products. We're using their original sweetener in this recipe. It bakes and tastes like real sugar with no impact on blood glucose, so it can be counted as ZERO net carbs!
Wet Ingredients – You'll mix in some melted butter, eggs, and heavy cream to make a rich batter.
Topping – We love to serve this low carb cornbread with some sugar free honey substitute, or my favorite Lakanto sugar free maple syrup!
Cast Iron Skillet – We use our cast iron skillet for frying bacon, cooking up chicken, and just about everything else too. It's my favorite skillet and it works perfectly for making this low carb corn bread!
Shop Keto Ingredients
We use Thrive Market for a lot of our specialty ingredients and keto snacks or products. Their prices tend to be cheaper than the local stores and I love that you can so easily sort products by diet.
Like Costco, this is a membership site, but we find that it's more than worth it based on the amount we save over the regular grocery store.
They have monthly or yearly plans. Check it out here.
Why We Love This Recipe:
It looks and tastes just like real cornbread without all the carbs!
You can top it off with some butter and sugar free honey substitute, or try it with some keto maple syrup!
Serve this with my keto chili and you'll forget you cut the carbs at all!
How To Make Keto Cornbread:
Mix – This recipe is pretty simple, you'll just add all the ingredients to a mixing bowl and whisk it all together until it is well combined into a batter.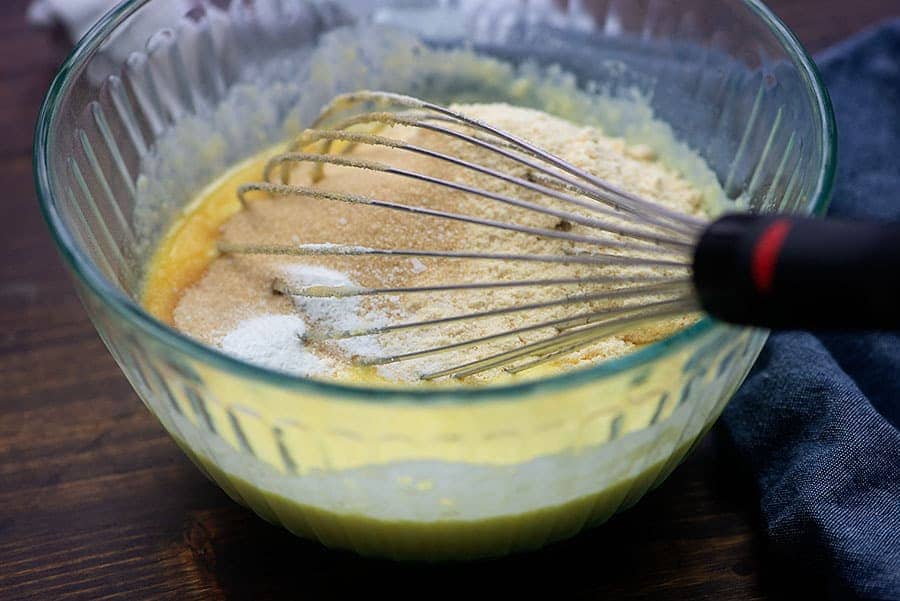 Spread – Once you've mixed together the low carb cornbread batter you can spread it into a cast iron skillet or an 8×8 baking dish. I prefer cast iron because it gives a nice little crunch to the bottom of the cornbread.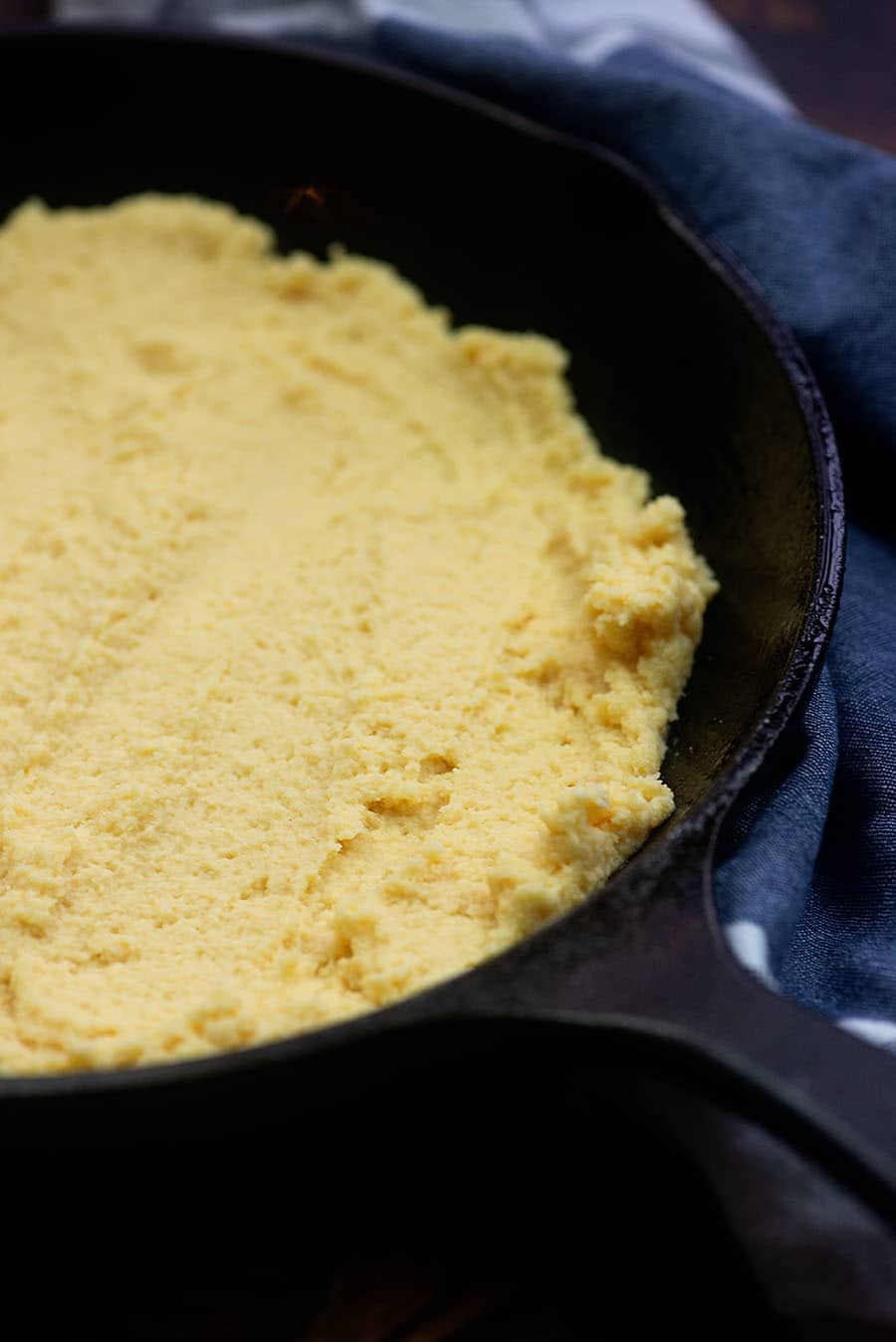 Bake – Place the skillet or baking dish into the oven and start baking! It'll take about 15 to 20 minutes or until a tester comes out clean.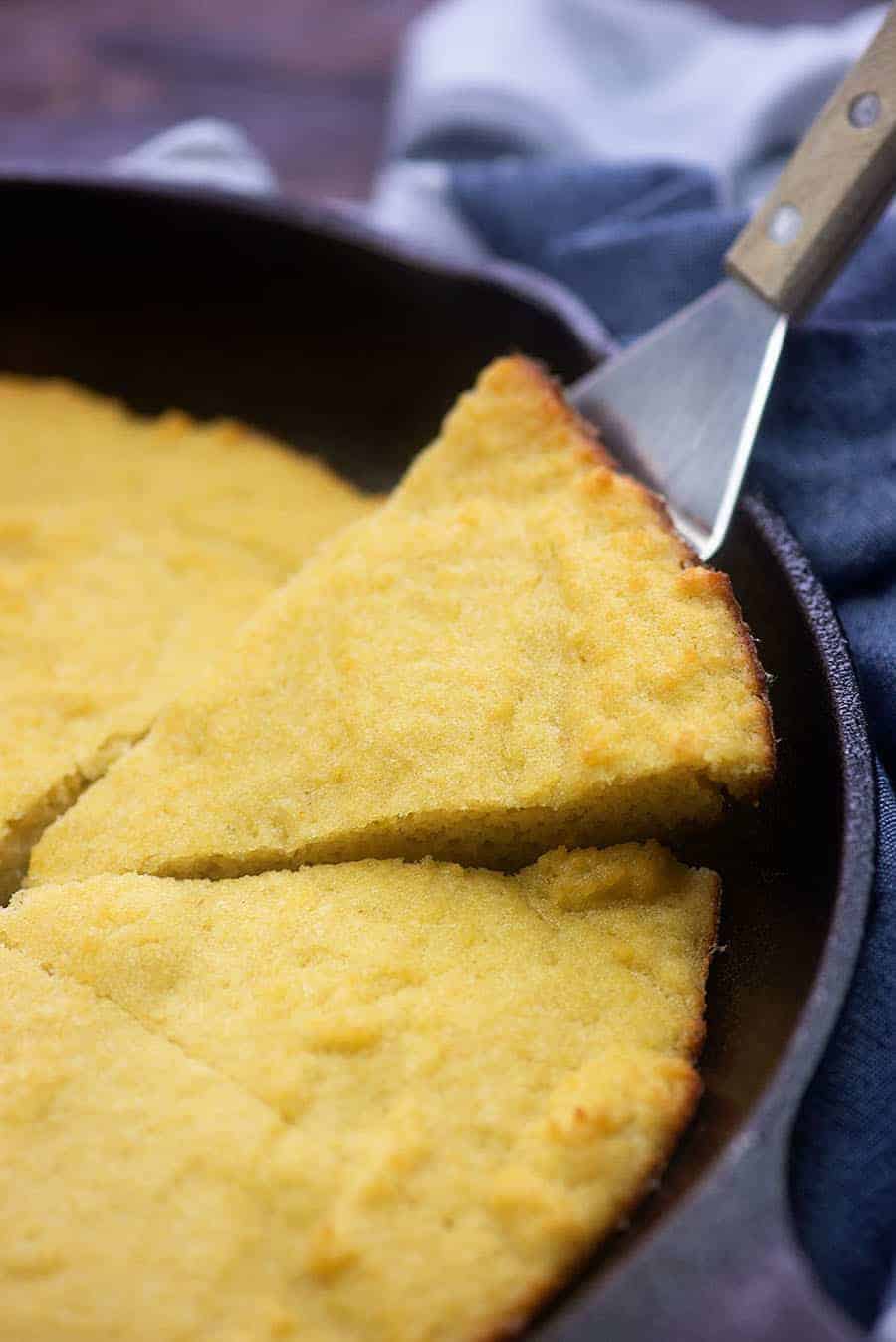 Serve – We like to serve our keto cornbread with extra butter and a little drizzle of sugar free honey substitute or some sugar free maple syrup! Sooooo good! If you enjoyed this cornbread recipe you'll love my keto jalapeno cheddar cornbread
❔ FAQs:
What is keto cornbread?
Well, it's not actual cornbread. But it's close, in terms of taste, texture, and appearance! This keto cornbread is made with coconut flour so there is no actual corn in it.
How to store keto cornbread?
You can keep this keto cornbread recipe stored in the skillet covered with some plastic wrap, or cut the cornbread into pieces and store them in an airtight container. It'll stay fresh for about 3 days at room temperature and up to a week in the fridge.
Can you freeze keto cornbread?
Yes, it is possible to freeze this low carb cornbread recipe. You'll first want to cut the cornbread into pieces and then wrapping well in plastic wrap.
🍽 More Low Carb Favorites: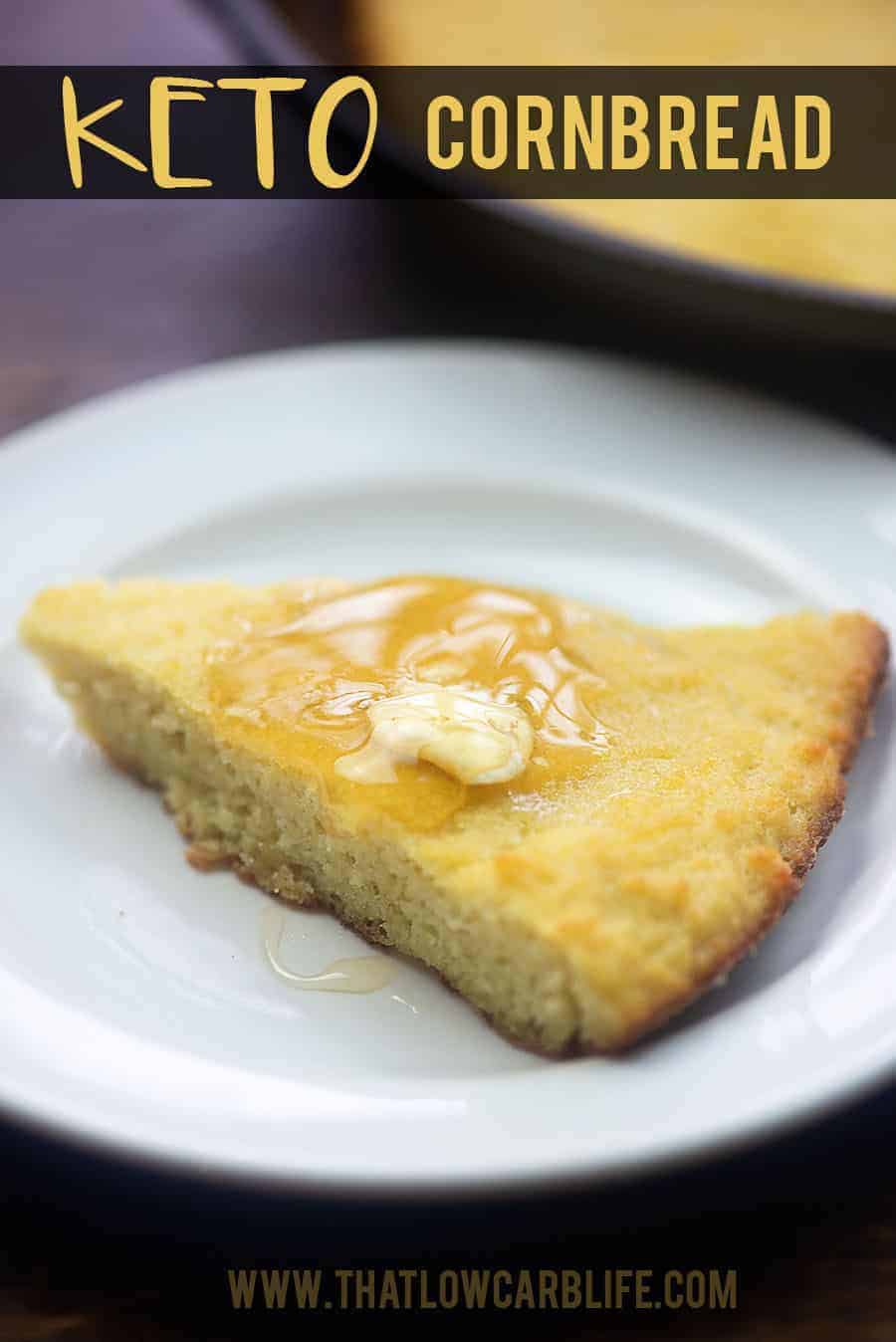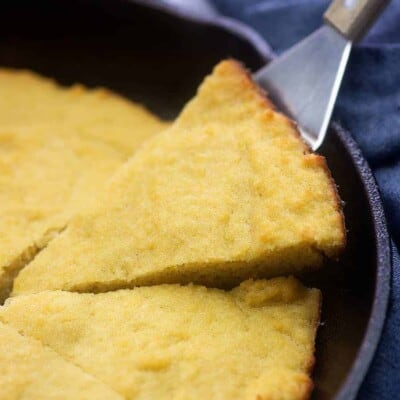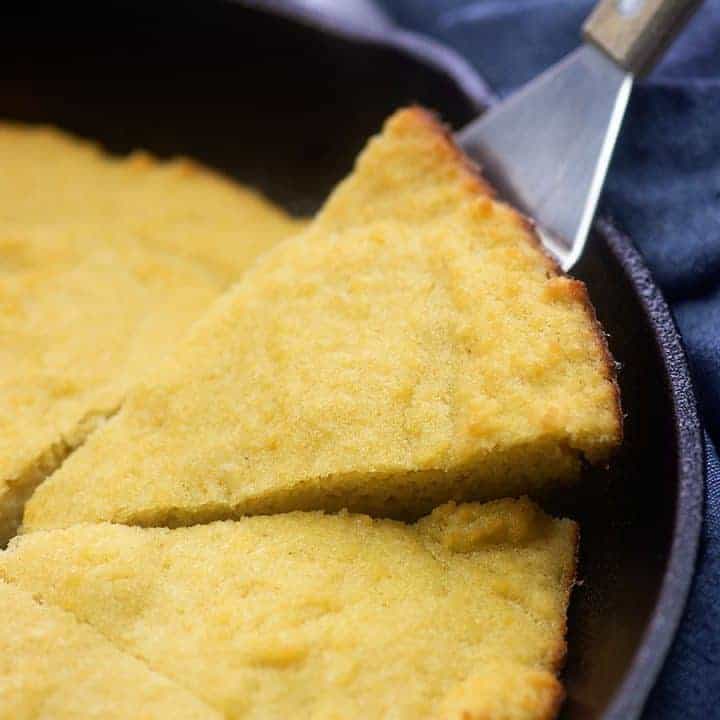 Low Carb Cornbread
This low carb 'cornbread' contains no corn at all, but you'll fool everyone that tries it! The flavor and texture are spot on! Just 1 net carb per slice!
Prep10 minutes
Cook20 minutes
Total30 minutes
Instructions
Preheat oven to 350 degrees. Spray a 10 inch cast iron skillet or 8×8 baking dish with non-stick spray.

Add the melted butter, cream, and eggs to a mixing bowl and whisk to combine.

Add the coconut flour, sugar substitute, salt, and baking soda to the bowl and stir well to combine.

Spread the mixture into the prepared dish and bake for 15-20 minutes or until the edges are golden and a tester comes out clean.
Tips & Notes:
We serve our cornbread with a smear of butter and a drizzle of sugar free honey substitute.
Regarding the sweetener: Yes, this cornbread is a bit sweet. If you prefer cornbread that is not sweet, I'd reduce the amount of sweetener to a teaspoon or two. Corn is naturally sweet and I think the sweetener helps give it a more authentic taste, but you can leave it out if you prefer.
Nutrition Information:
Serving: 1slice| Calories: 167kcal (8%)| Carbohydrates: 4g (1%)| Protein: 4g (8%)| Fat: 15g (23%)| Cholesterol: 106mg (35%)| Sodium: 291mg (13%)| Fiber: 2g (8%)| Sugar: 1g (1%)| Net Carbs: 2g (4%)