Mustard BBQ sauce is my favorite low carb BBQ sauce recipe! It's simple to throw together and it is positively delicious served over pulled pork or grilled chicken. A little sweet, a little tangy, and so easy!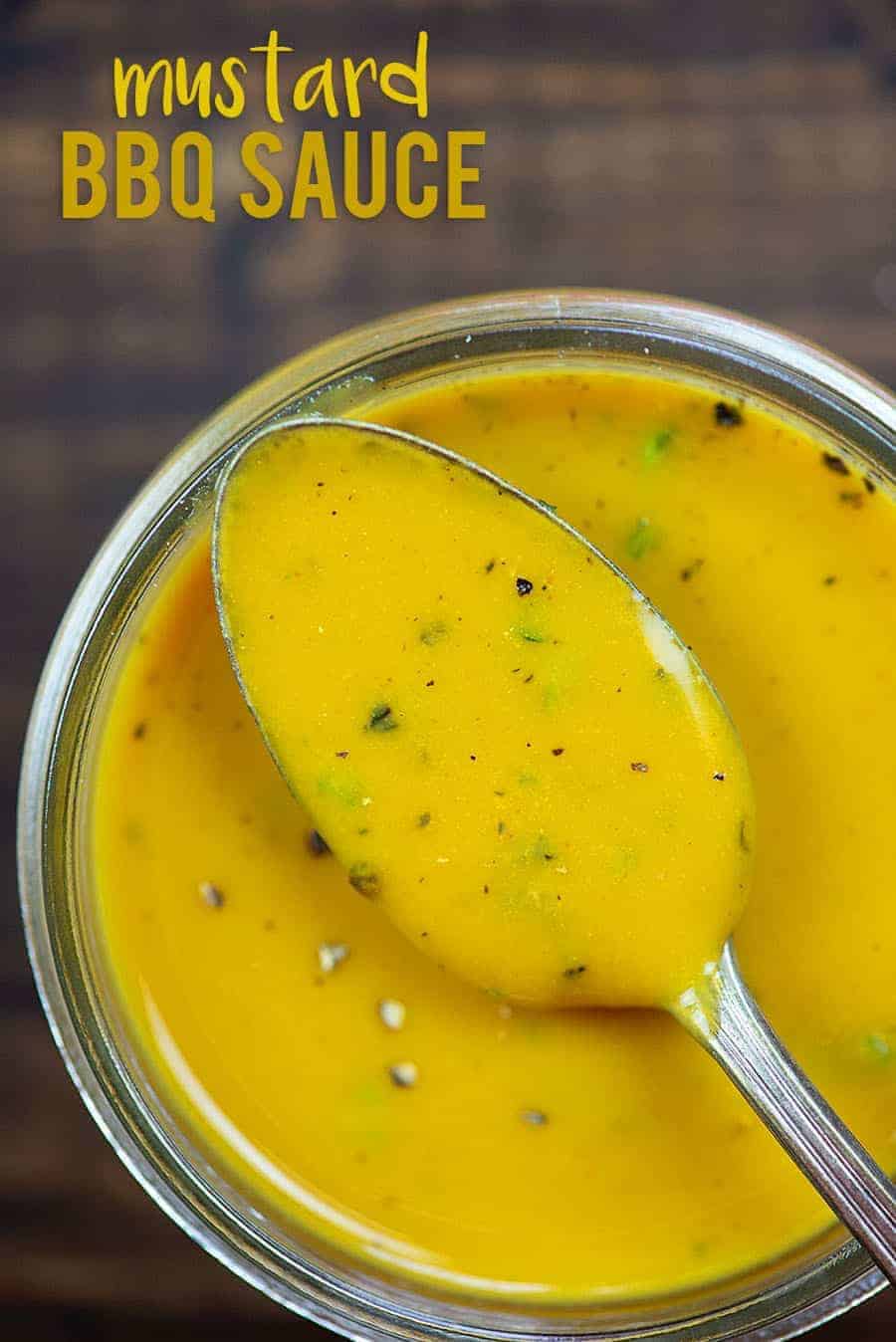 My husband bought me a smoker for my birthday a couple years ago.
Partially because I clearly enjoy cooking and trying out new things, but partially because the man is downright obsessed with pulled pork.
He piles low carb pulled pork on his plate, tops it off with some keto coleslaw, and goes to town .

We've always purchased the low carb bbq sauce in a bottle from the local grocery store and it's pretty good, but I knew I could do better at home and that's exactly what I did.
I'm still perfecting my traditional sugar free bbq sauce, but this mustard bbq sauce? Nailed it!
Mustard Based BBQ Sauce:
If you've never had a mustard BBQ sauce before, you're in for a treat!
Traditionally, barbecue sauce starts with ketchup or tomatoes and a whole lot of sugar. Tomatoes are already fairly carb-y and then adding all that sugar just makes traditional BBQ sauce totally not low carb friendly.
Starting with mustard solves that problem nicely and makes for a really unique, boldly flavored, tangy, semi-sweet sauce. The flavors all just explode in your mouth!
Word of warning: If you don't like mustard, you will probably hate this sauce. Just throwing that out there, because I know I'll get emails asking if you can 'taste the mustard.' You can definitely taste the mustard. 😉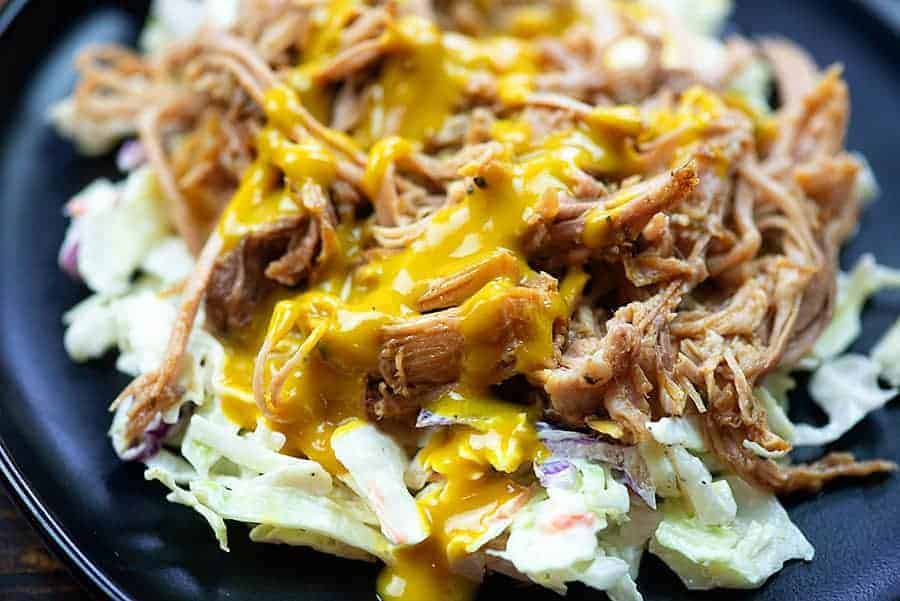 Why We Love This Recipe:
This sauce has a tangy, vibrant flavor that pairs really well with pulled pork. Plus, it's beyond easy – just toss in a sauce pan, stir, and cook. It's easy to adjust the sweetness, heat, and tang for this recipe too, which makes it a favorite with readers.
Ingredient Notes:
This post contains affiliate links. As an Amazon associate and member of other qualifying programs, I earn from qualifying purchases.
Yellow Mustard – We're using a bottle of traditional, American-style yellow mustard. The kind you'd put on a hot dog.
Apple Cider Vinegar – Vinegar will add that perfect tangy taste to the sauce!
Sweetener – For this low carb barbecue sauce, I'm using my favorite brown sugar substitute: Lakanto Monkfruit Sweetener. To me, it tastes just as good as brown sugar! No weird aftertaste or cooling effect and 0 net carbs.
Molasses – Just about any good BBQ sauce has some molasses in it. It really adds a lot of flavor! Just be sure to use regular molasses and not the blackstrap molasses.
Cayenne Pepper – This will add a little heat to the sauce! If you want to increase the spiciness, just add more!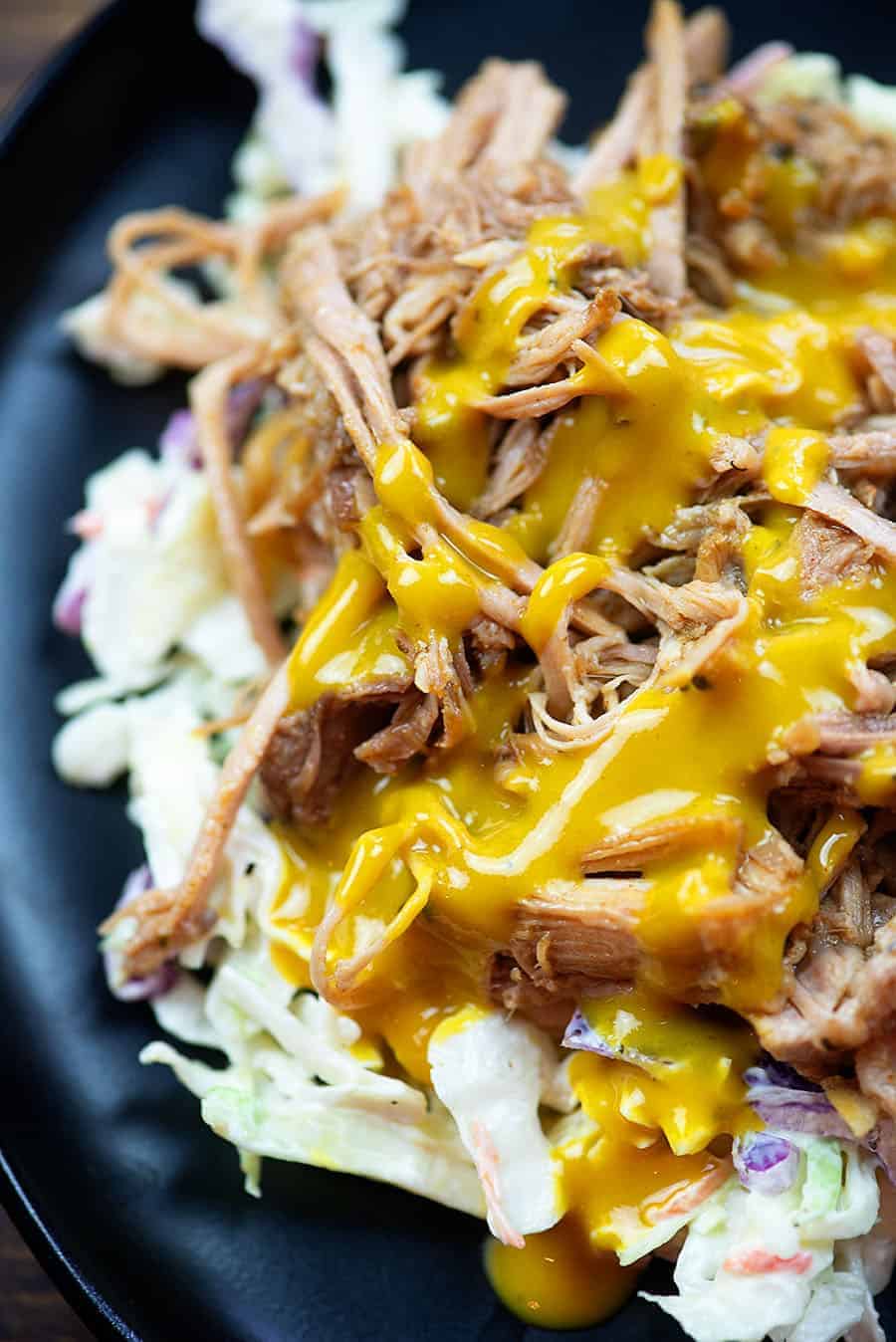 Shop Keto Ingredients
We use Thrive Market for a lot of our specialty ingredients and keto snacks or products. Their prices tend to be cheaper than the local stores and I love that you can so easily sort products by diet.
Like Costco, this is a membership site, but we find that it's more than worth it based on the amount we save over the regular grocery store.
They have monthly or yearly plans. Check it out here.
How To: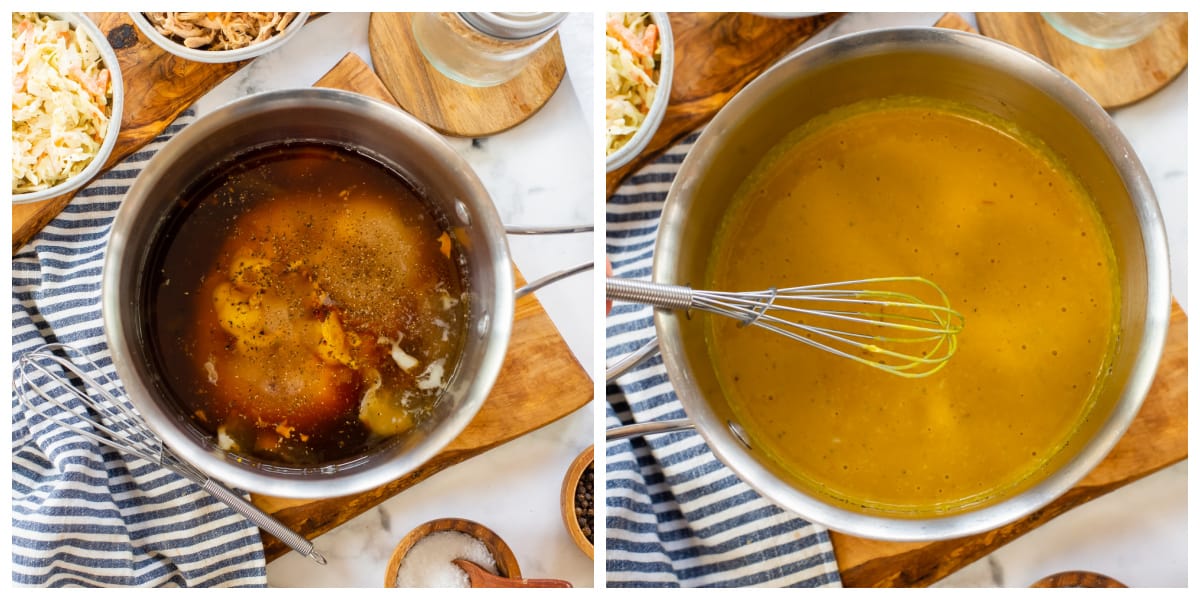 Mix – This is a mustard based BBQ sauce, so we'll start with an entire cup of yellow mustard. I'm just using ballpark style American yellow mustard. You'll also add in some chicken stock (or the liquid from cooking a pulled pork), apple cider vinegar, your favorite sugar substitute, a spoonful of molasses, Worcestershire sauce, and the seasonings. Basically just fill up a pot on the stove with all the ingredients. Simple!
Heat – Bring your pot of ingredients to a boil, reduce to a simmer, and cook for about 5-10 minutes. You want the sauce to reduce a bit and thicken up. Give it a taste and add more salt, pepper, or cayenne, depending on your preferences. That's all there is to it! The sauce may thicken a little more as it cools. All that's left to do is pour it over something tasty like pulled pork!
What Readers Are Saying:
This is delicious!! Thank you. I am not even sure what I will serve it with yet, but I love mustard and made it as soon as I saw the recipe. – Joan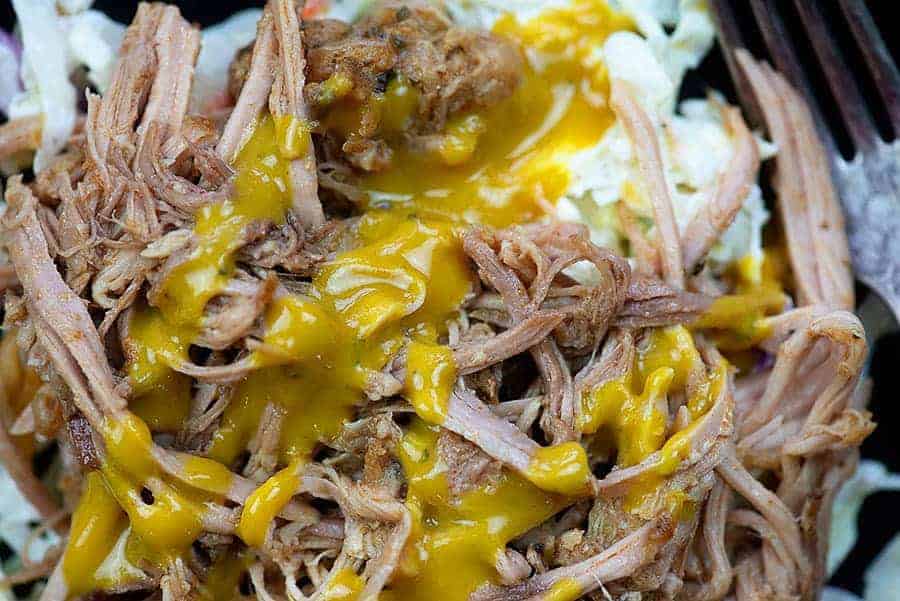 FAQs:
Is yellow mustard low carb?
Generally most brands of mustard are going to be low carb, but some will sneak in sweeteners so just check the label if you aren't sure. Otherwise, use your favorite brand.
Does this BBQ sauce taste like mustard?
Yes! It is a mustard based sauce, so if you don't like mustard this probably isn't for you. There are definitely some other great flavors in it though that come from the vinegar, molasses, Worcestershire, and seasonings.
Can I store this BBQ sauce?
Yep, it'll store well in a sealed mason jar in the refrigerator for up to a week! We have not tried canning this recipe and don't know if it would be safe to do so.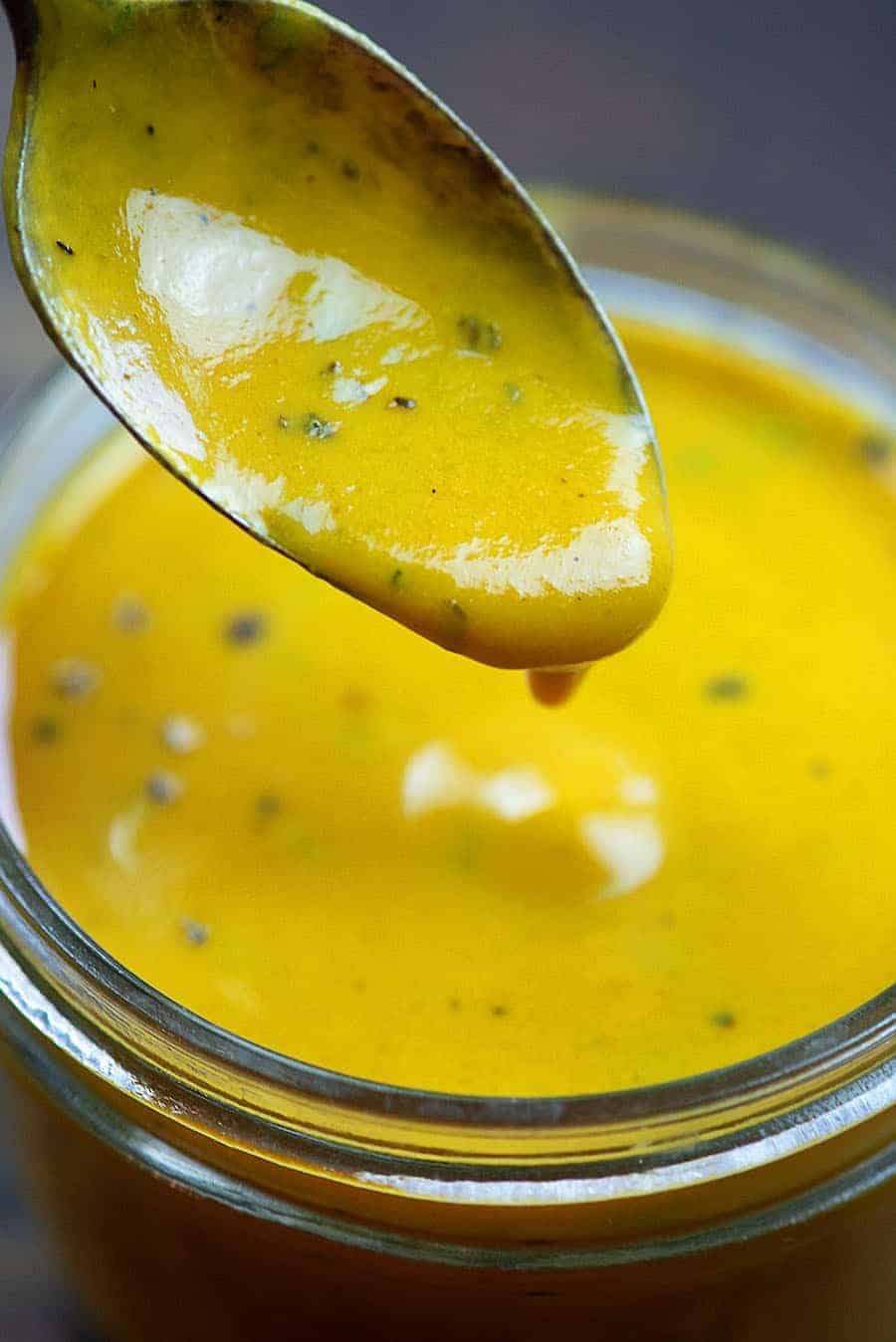 MORE BBQ FAVORITES!
Keto Ribs: These slow cooker keto ribs are easy to make with a simple dry rub and they come out perfectly tender and juicy!
Air Fryer Chicken Breast: Try out this awesome, easy air fryer recipe! It's low carb and you can pour all the mustard BBQ sauce on it that you want!
BBQ Chicken Wings: My slow cooker chicken wings recipe is beyond easy and the 2 ingredient keto BBQ sauce is going to leave you drooling!
Low Carb Pulled Pork: We can't get enough of slow cooked pulled pork, and it's just what this mustard BBQ sauce recipe needs!
MORE LOW CARB FAVORITES!
Fathead Pizza: This is a staple in our house – the crust is perfect with any toppings, but it's extra good for BLT pizza!
Low Carb Crackers: Sometimes you just need something crunchy to munch on!
Cauliflower Salad: You won't even miss the pasta, promise.
Keto Ranch Dressing: Another staple that we always have in the fridge!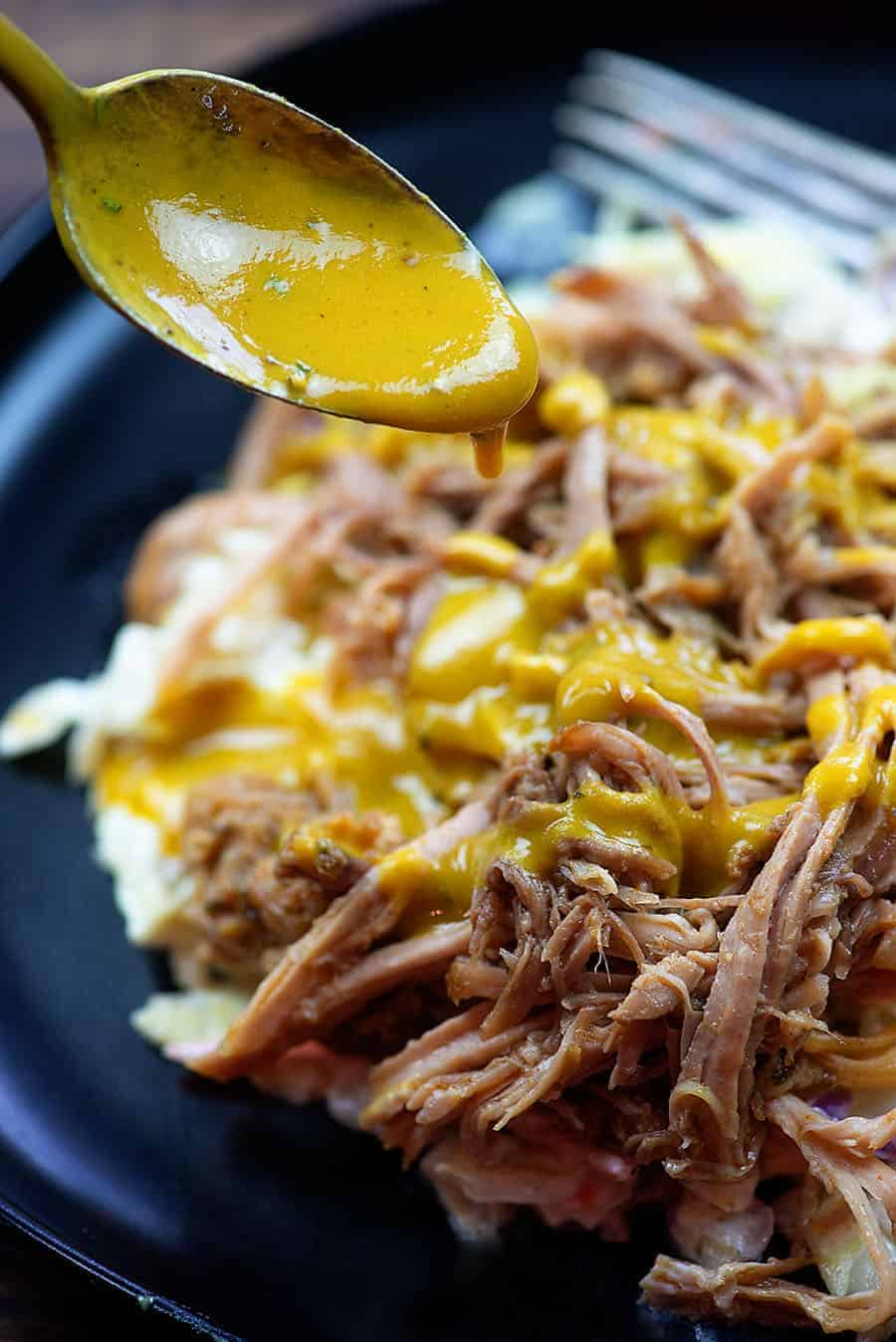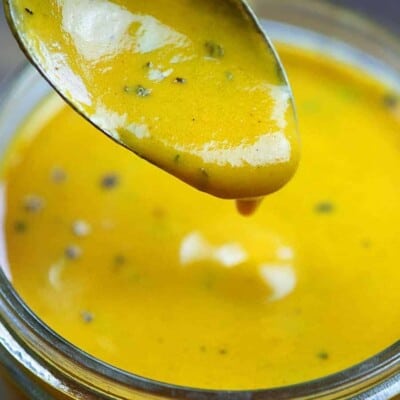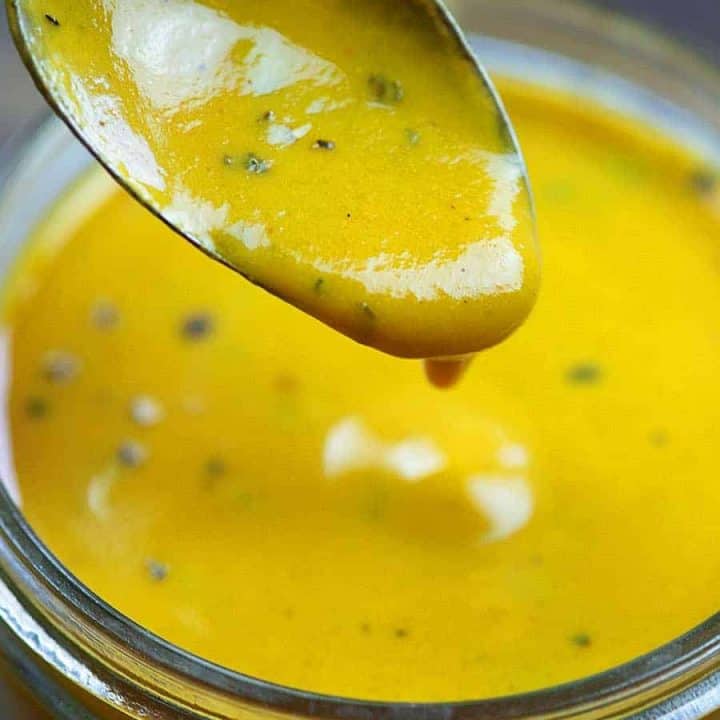 Mustard BBQ Sauce
This low carb sauce is tangy, bold, and perfect for topping your pulled pork or grilled chicken!
Prep2 minutes
Cook10 minutes
Total12 minutes
Ingredients
1 cup yellow mustard
1/2 cup chicken or beef stock or 1/2 cup cooking liquid from pork or beef roast
1/2 cup apple cider vinegar
1/4 cup brown sugar subtitute
1 tablespoon molasses not blackstrap
1/4 cup Worcestershire sauce
1/4 teaspoon cayenne pepper more or less, to taste
1 teaspoon kosher salt
1 teaspoon freshly ground pepper
Instructions
Add all ingredients to a 2-quart saucepan over medium-high heat and whisk to combine.

Bring liquid to a light boil, then immediately reduce heat to medium-low and simmer for 10 minutes, stirring occasionally to reduce liquid by one-fourth, or until desired consistency is reached.

Taste for seasoning and add more salt, pepper, or cayenne as desired.

Store unused sauce in a mason jar or other tightly sealed container for up to one week.
Tips & Notes:
This sauce is tangy, sweet, and a little spicy. It is perfect over pulled pork, grilled chicken, or anywhere you'd use a traditional bbq sauce.
Add additional sweetener, vinegar, or cayenne to taste, depending on your preferences.
We prefer to use the liquid leftover from cooking our low carb pulled pork in place of broth, but broth works just fine too!
Nutrition Information:
Serving: 2tablespoons| Calories: 21kcal (1%)| Carbohydrates: 3g (1%)| Protein: 1g (2%)| Fat: 1g (2%)| Polyunsaturated Fat: 2g| Cholesterol: 23mg (8%)| Sodium: 393mg (17%)| Fiber: 1g (4%)| Sugar: 2g (2%)| Net Carbs: 2g (4%)