These LOW CARB CRACKERS are bursting with the flavor of spicy ranch, but you can customize them with any flavors you like! I like to serve these alongside cheese and pepperoni for a simple snack, but they also work well for dipping.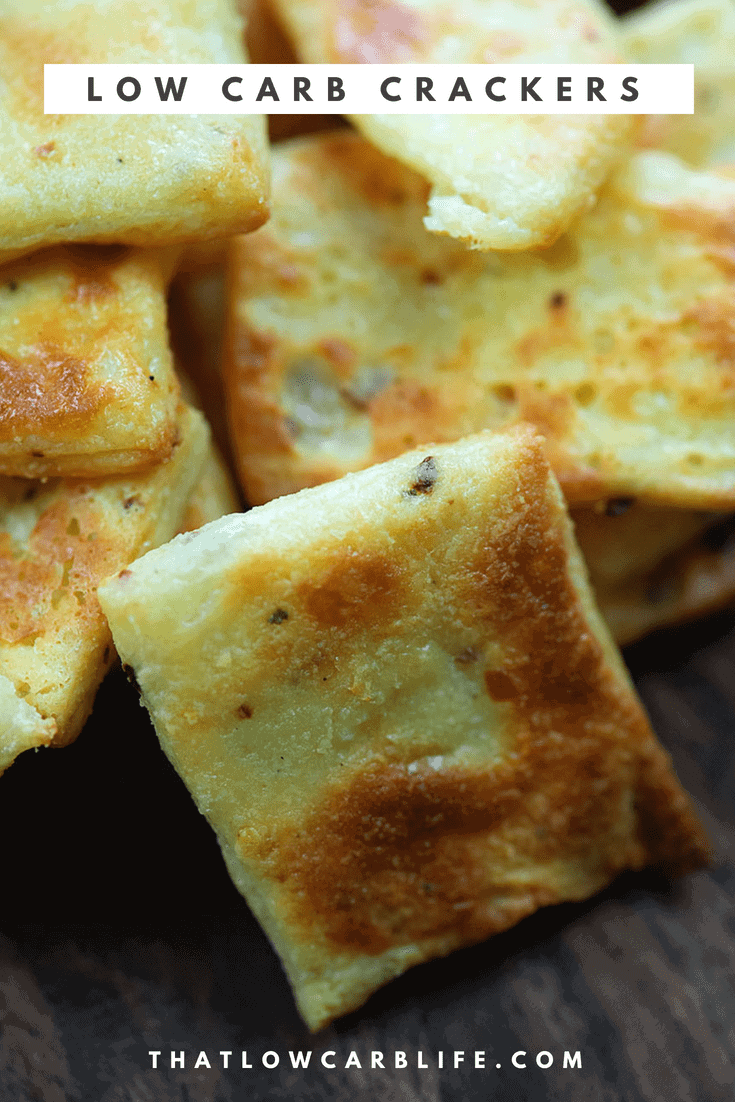 Let's be perfectly honest here, for a minute…I'm a snacker.
I don't often eat breakfast and instead just have a quick snack mid-morning. Lunch is usually fairly small, which means that another snack happens mid-afternoon.
I try really hard not to snack after dinner, but if I just really need something I'll stick to healthy low carb options.
Luckily, snacking is so simple while eating low carb. A couple of slices of pepperoni, string cheese, a pickle spear, a boiled egg with a drizzle of Frank's hot sauce, one of those 100 calorie packs of flavored almonds…so many options!

This low carb crackers recipe works perfect for snack time, but I've been known to turn them into lunch with a little cheese and deli meat – hello, low carb Lunchables. I swear I'm not 5 years old, I just sometimes eat like I am. 😉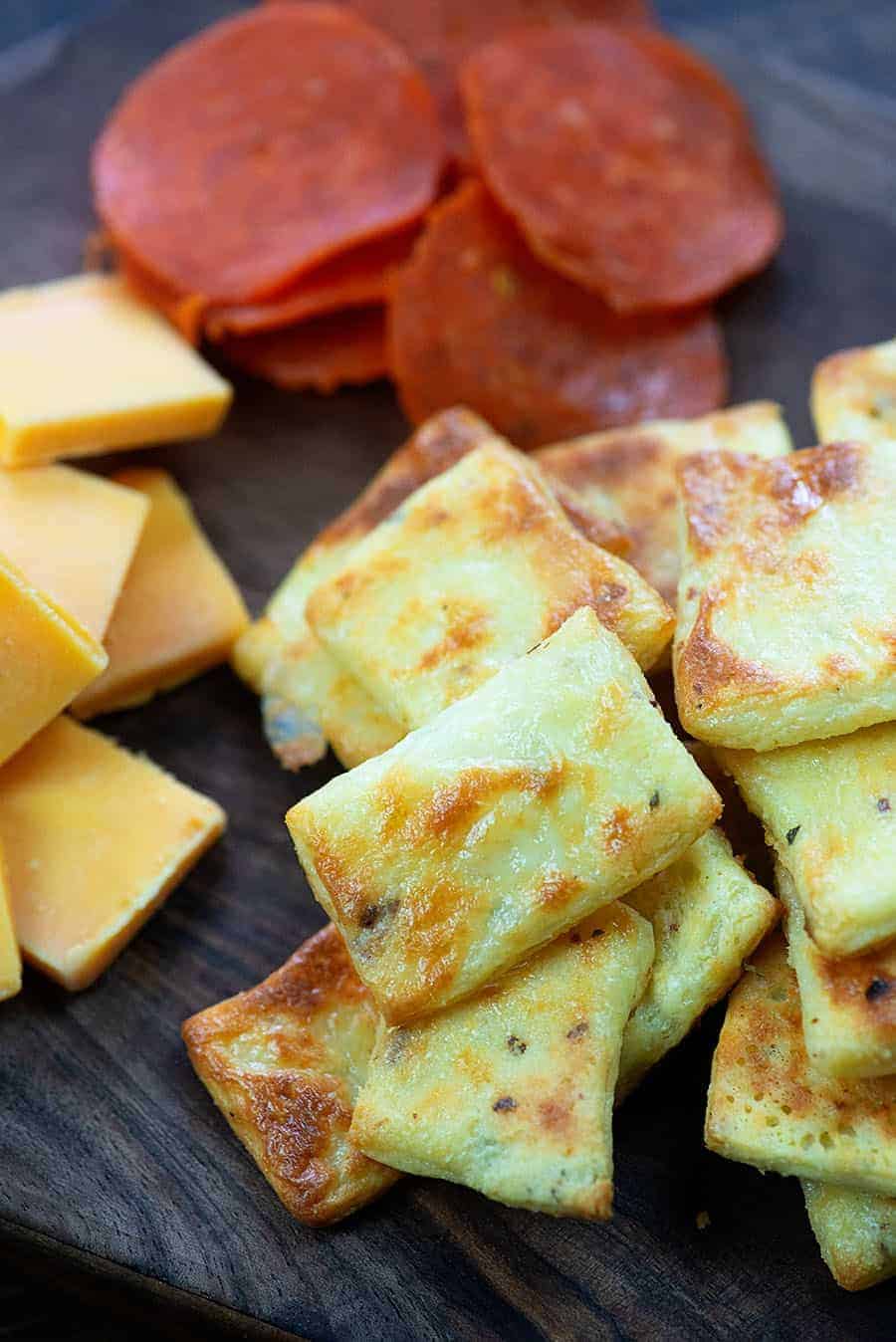 Ingredients for Keto Crackers:
Almond Flour – We use finely ground almond flour. We haven't tested this with other flours so we can't say how it would work.
Cream Cheese
Egg
Mozzarella – You can buy pre-shredded or shred your own.
Ranch Seasoning – use a packet or make your own with the seasonings from our homemade ranch dressing.
Red Pepper Flakes – this is what gives the recipe a little kick. You can adjust to your own tastes.
Fathead Crackers:
These keto crackers start with fat head dough. Have you made fat head dough before? We use it for our fathead pizza too.
It's basically just a mixture of almond flour, cream cheese, mozzarella, and egg. You combine it all together, roll it out, and bake it.
Fat head dough makes my favorite pizza crust, but this time around I added some seasonings to the mixture and ended up with this low carb crackers recipe.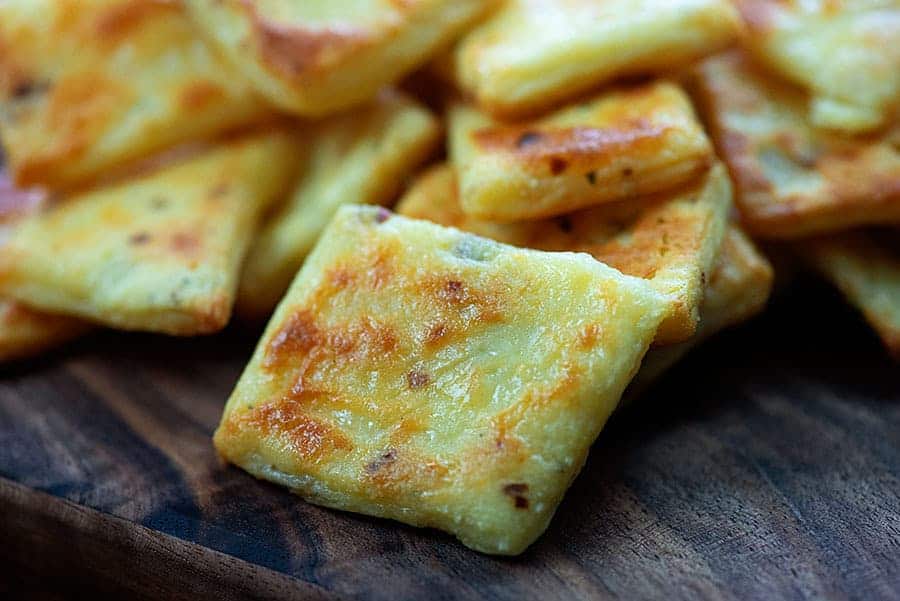 How To:
To start, add some cream cheese and mozzarella to a microwave safe bowl. Microwave for about 60 seconds or until the mixture is melted enough to stir together until smooth.
Stir in the egg, almond flour, ranch seasoning, and red pepper flakes. The mixture is thick and sticky, but just keep working it until it forms a dough.
Place the dough onto a sheet of parchment paper and place another piece of parchment on top. Roll the dough out between the parchment paper.
Use a pizza cutter to cut the crackers into squares. You'll end up with 60 crackers.
Bake these at 425 degrees for about 5 minutes and then flip the crackers and continue baking for 5 more minutes.
Pro Tip!
These crackers do NOT bake up as crispy as a traditional cracker! If you want them as crisp as possible, roll them thin and bake until golden.
FAQ's:
Why aren't my crackers crispy?
These are a riff on my fathead pizza dough, which won't get as crisp as a traditional wheat cracker. To get them even crisper, roll the dough thin and bake until golden brown.
What flour can I use besides almond flour?
You can try coconut flour, but you'll want to try just 1/4 cup of coconut flour in place of the almond flour. I haven't tested the recipe this way, so I can't guarantee it will work, but this is where I would start testing.
More Low Carb Snacks:
BBQ Keto Meatballs – make 'em small and serve with toothpicks or make them larger and serve over mashed cauliflower!
Slow Cooker Chicken Wings – the perfect appetizer or snack, especially during football games!
Keto Deviled Eggs – these have bacon and cheddar mixed right in with the yolk!
Keto Pigs in a Blanket – The ultimate kid friendly snack or lunch!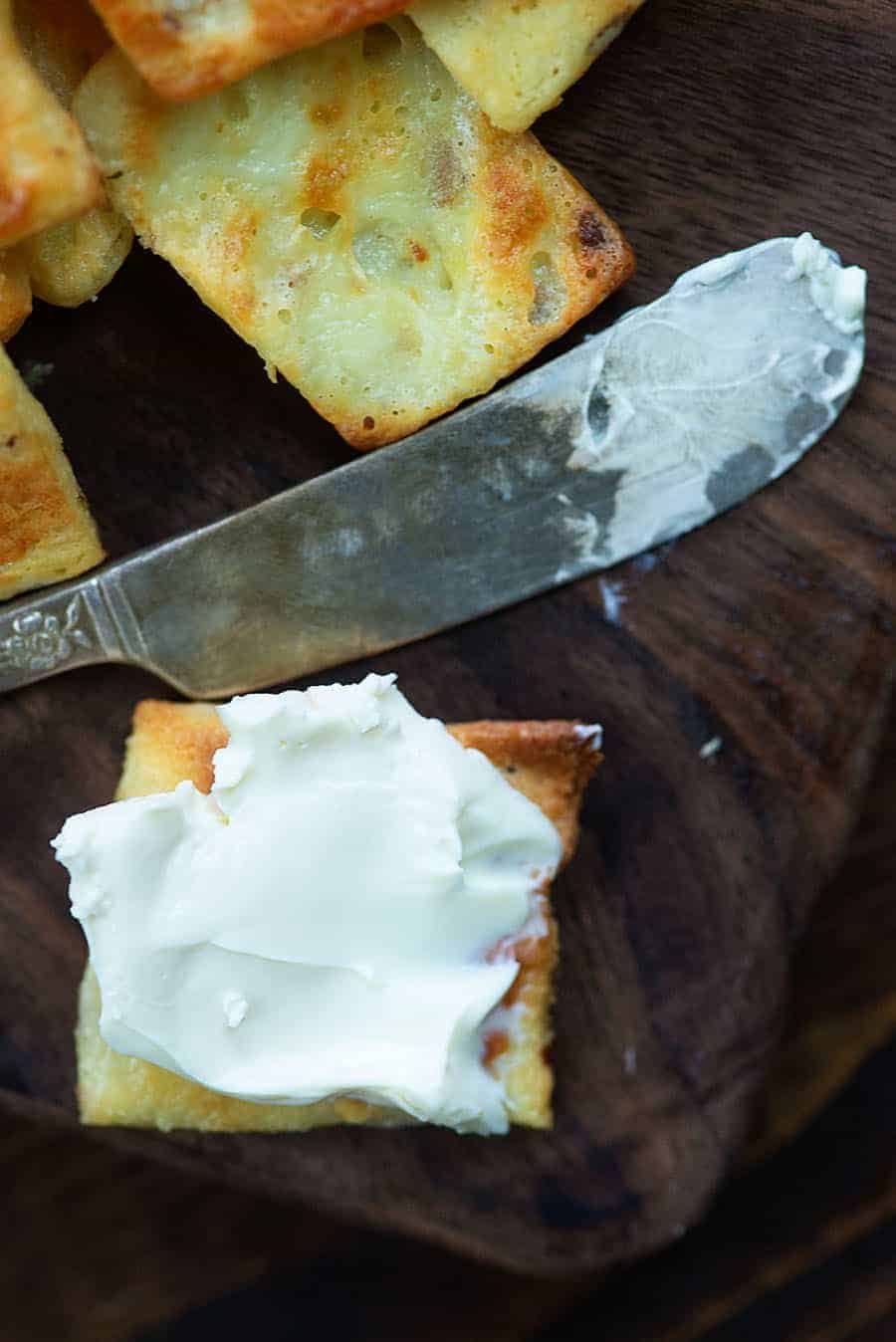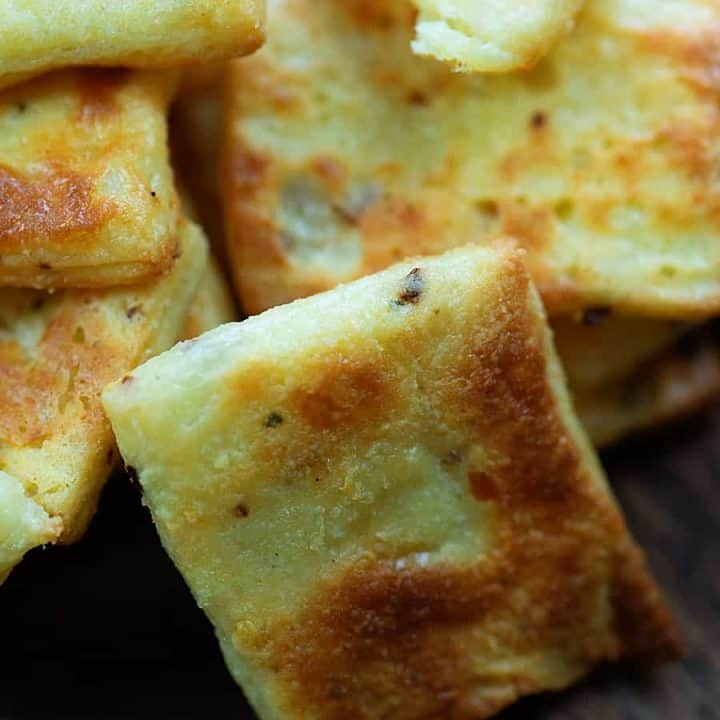 Low Carb Spicy Ranch Crackers
These spicy ranch crackers are low carb and full of flavor! Serve with cheese or spread them with cream cheese. This recipe makes about 60 1-inch crackers.
Ingredients
2 cups grated mozzarella
2 tablespoons cream cheese
3/4 cup almond flour
1 large egg
1/2 teaspoon red pepper flakes
Instructions
Preheat oven to 425 degrees.
Add the mozzarella and cream cheese to a large microwave safe bowl and microwave in 30 second intervals until melted.
Stir the cheese until smooth and stir in the almond flour, egg, ranch seasoning, and red pepper flakes.
Place the dough on a large sheet of parchment paper. Top with a second sheet of parchment. Roll the dough out to about 1/4 inch thick.
Use a sharp knife or pizza cutter to cut the dough into 1-inch square pieces yielding about 60 pieces.
Transfer the crackers to a parchment lined baking sheet.
Bake for 5 minutes, flip the crackers, and bake for 5 minutes more.
Cool before serving.
Notes
Store crackers tightly covered in the refrigerator for up to 5 days.
Be sure to use the dry ranch seasoning mix and not already prepared liquid salad dressing.
These crackers won't get quite as crisp as a traditional cracker, but rolling them out thinly helps.
Recommended Products
As an Amazon Associate and member of other affiliate programs, I earn from qualifying purchases.
Nutrition Information:
Yield: 4
Serving Size: 15 crackers
Amount Per Serving:
Calories: 235
Total Fat: 18g
Sodium: 499mg
Carbohydrates: 4g
Net Carbohydrates: 3g
Fiber: 1g
Sugar: 1g
Sugar Alcohols: 0g
Protein: 17g
All information and tools presented and written within this site are intended for informational purposes only. This information is provided as a courtesy and there is no guarantee that the information is accurate.