Our KETO PIGS IN A BLANKET make an easy lunch that's fun to eat. Our kids even enjoy this low carb recipe.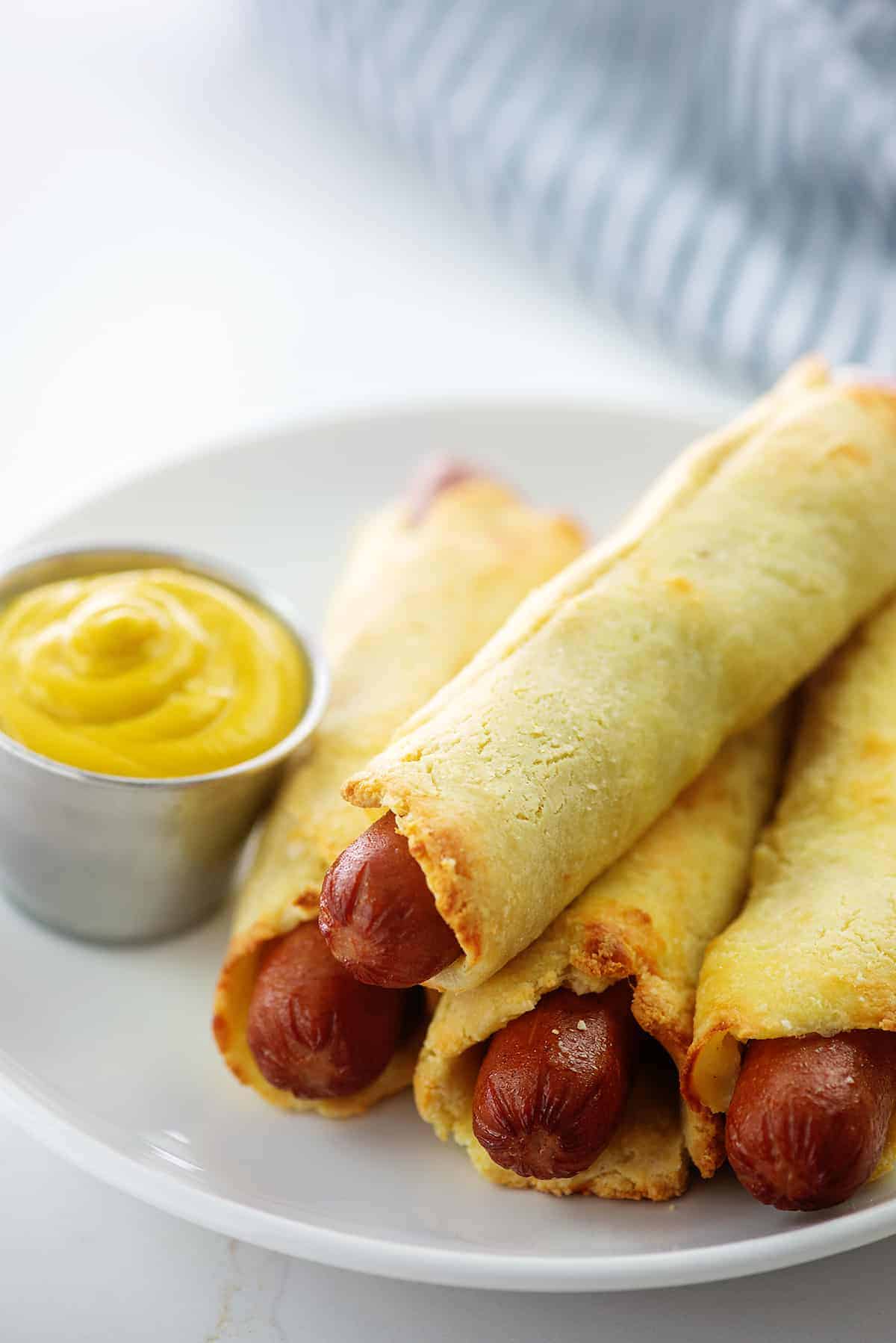 I love a good hot dog, but I get a little weirded out by them if they're not in some sort of bun. Which is a total bummer, becuase what an easy lunch a plain old hot dog would be!
We're still experimenting with our keto hot dog buns using our keto hamburger bun recipe, but in the meantime, we've been making keto pigs in a blanket!
So simple, super filling, and even the kids like them.
I love recipes like this for an easy lunch, especially since they reheat perfectly so you can eat them all week long!
Try our keto corn dog muffins too!
How to:
Make the Dough: We're using a simple fathead dough for this recipe. You'll just melt together mozzarella and cream cheese, and then stir in an egg, almond flour, and baking powder. This dough is fairly thick and easy to work with. Just get in there with your hands and mix it up, if needed.
Shape the Dough: Parchment paper is the key when working with fathead dough. The parchment keeps the dough from sticking quite so much. We just break the dough into four portions and smoosh it out between pieces of parchment paper, until it's about as long as your hot dogs and about 3-4 inches wide. Roll the hot dog up in the dough.
Bake: Line your baking sheet with more parchment paper (this is a must or the dough will stick!) and bake your pigs in a blanket. Ten minutes at 425 degrees will do the trick!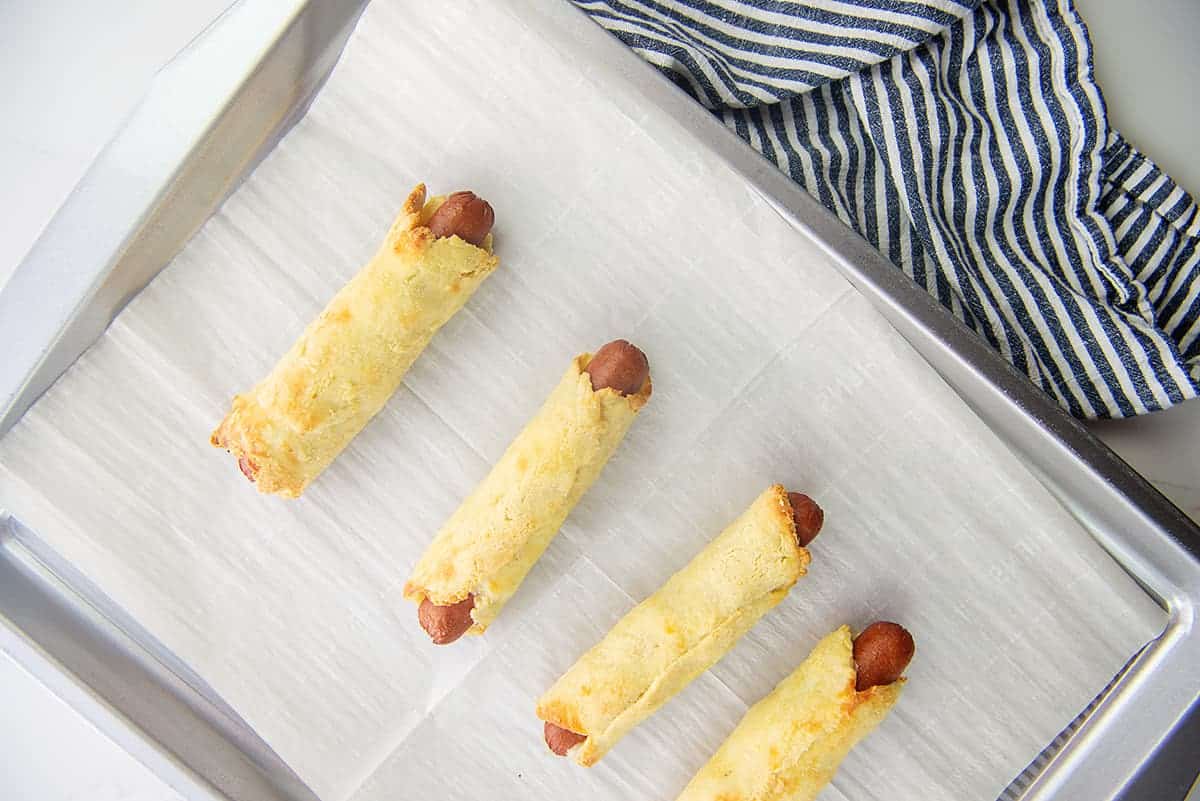 Serving Suggestions:
I'm a sucker for ketchup and mustard on my hot dogs, so that's what I usually do.
You could also whip up a batch of this hot dog chili (use sugar free ketchup, of course), and top your pigs in a blanket with that. What a delicious meal!
Or, make our keto chili and serve these on the side.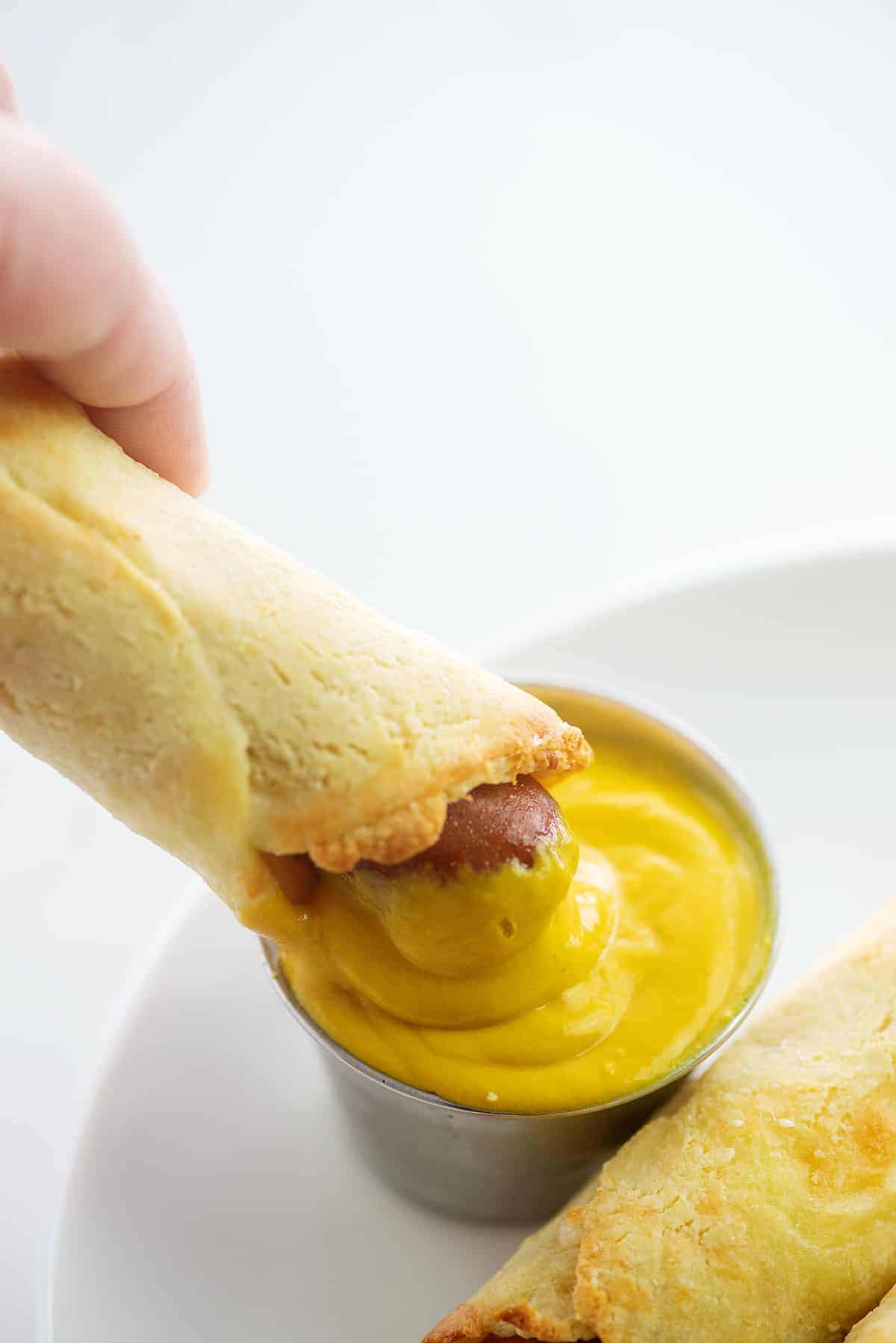 Can I use coconut flour instead of almond flour?
We have not tested this recipe using coconut flour, but I do believe it would work. Decrease the amount to 1/4 cup. I can not guarantee this will work as we haven't tested it, but my experience tells me this will be just right. 🙂
FAQ's:
What is fathead dough?
Fathead dough is a mixture of mozzarella cheese, eggs, cream cheese, and either coconut or almond flour. It's a simple dough that's easy to work with and very versatile. We often use it for pizza.
What type of hot dogs should I use?
We like to use a good quality hot dog. Applegate Farms uncured beef hot dogs have quality ingredients and 0 carbs. We also like Hebrew National hot dogs, though they do have 2g of carbs per hot dog.
More popular low carb recipes: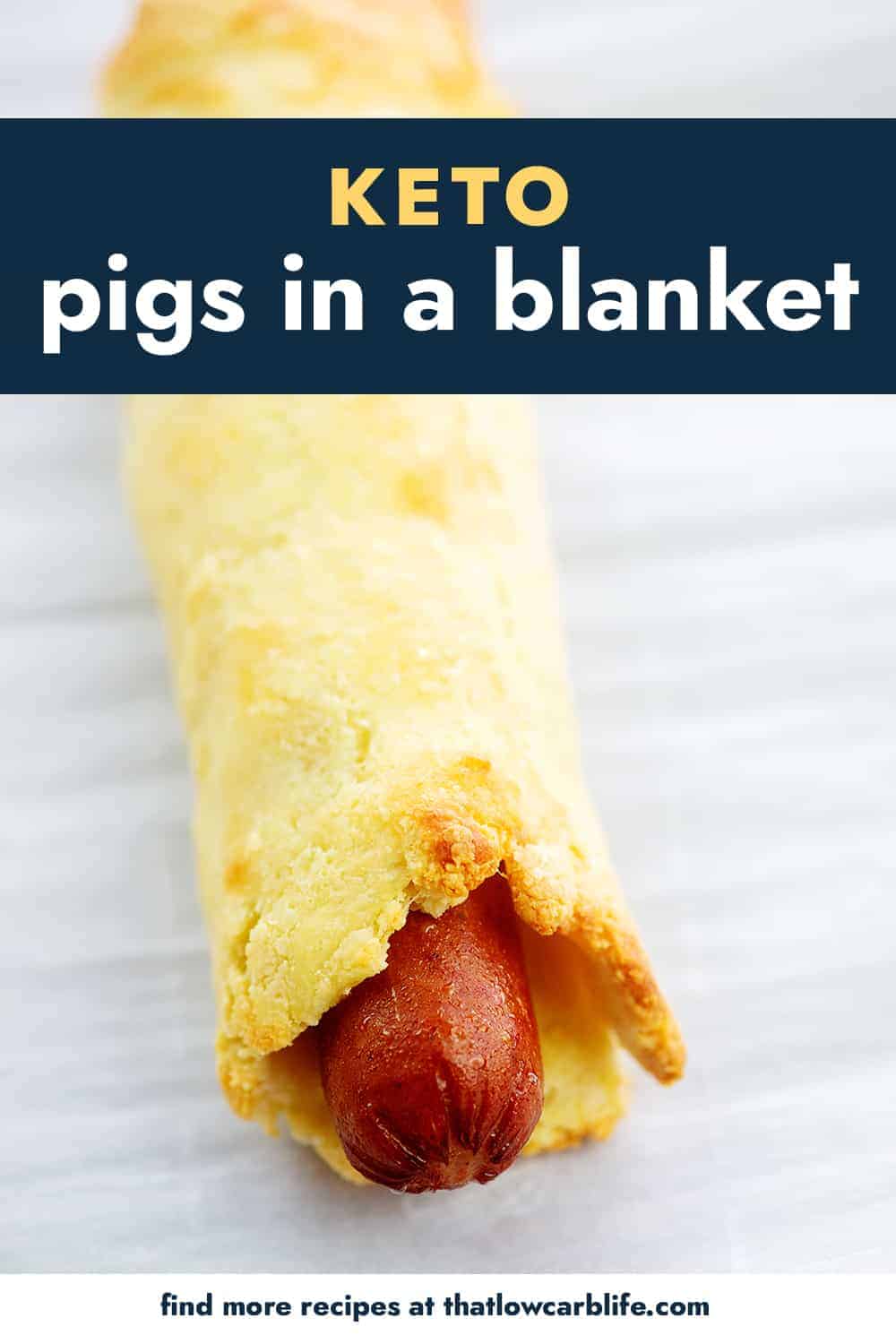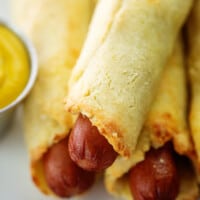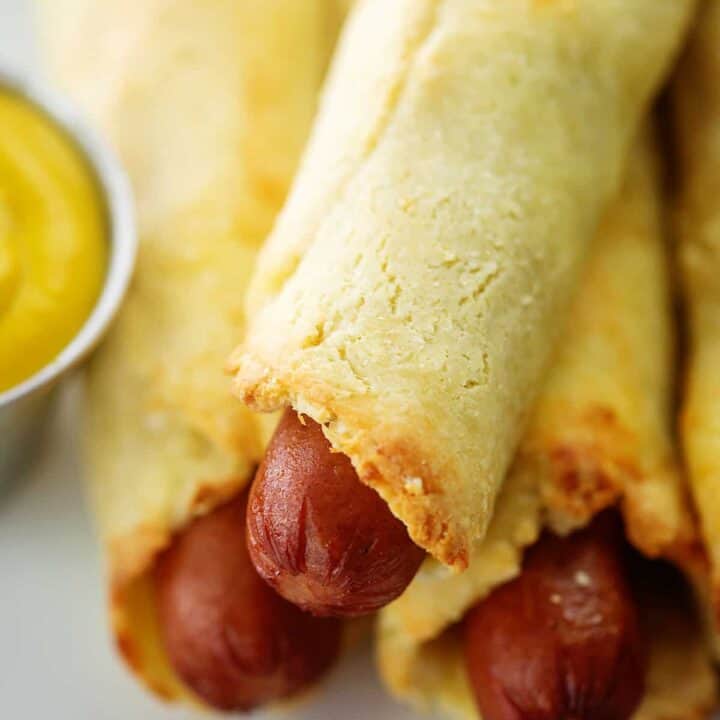 Keto Pigs in a Blanket
These pigs in a blanket are made with a low carb almond flour dough. Simple enough for a weekday lunch, but so tasty even the kids love them. Feel free to double the recipe and keep these on hand to reheat for lunch all week long.
Ingredients
1 cup mozzarella cheese
1 tablespoon cream cheese
1 large egg, whisked
1 cup almond flour
½ teaspoon baking powder
4 hot dogs
Instructions
Preheat oven to 425 degrees. Line a baking sheet with parchment paper.
Add the mozzarella cheese and cream cheese to a mixing bowl and microwave for 1 minute. Stir and microwave for 30 more seconds or until cheese has melted.
Add the egg, almond flour, and baking powder to the cheese and mix well to form a dough.
Separate the dough into 4 equal sized balls.
Press each piece of dough out between two pieces of parchment paper to form a rectangle about 3 inches wide by 4 inches tall.
Wrap the hot dogs in the dough.
Place the wrapped hot dogs on the prepared baking sheet and bake for 10 minutes, or until golden brown.
Serve hot.
Notes
The dough is fairly sticky, but pressing it out between parchment paper makes it fairly easy to shape and work with.
Nutrition Information:
Yield: 4
Serving Size: 1
Amount Per Serving:
Calories: 431
Total Fat: 37g
Saturated Fat: 11g
Trans Fat: 0g
Unsaturated Fat: 22g
Cholesterol: 100mg
Sodium: 674mg
Carbohydrates: 8g
Net Carbohydrates: 4g
Fiber: 4g
Sugar: 2g
Protein: 20g
All information and tools presented and written within this site are intended for informational purposes only. This information is provided as a courtesy and there is no guarantee that the information is accurate.