Low Carb Meatloaf that the whole family will devour! Wrapped in bacon, topped with the simplest little sauce, and baked to juicy meatloaf perfection. This is sure to be a family favorite.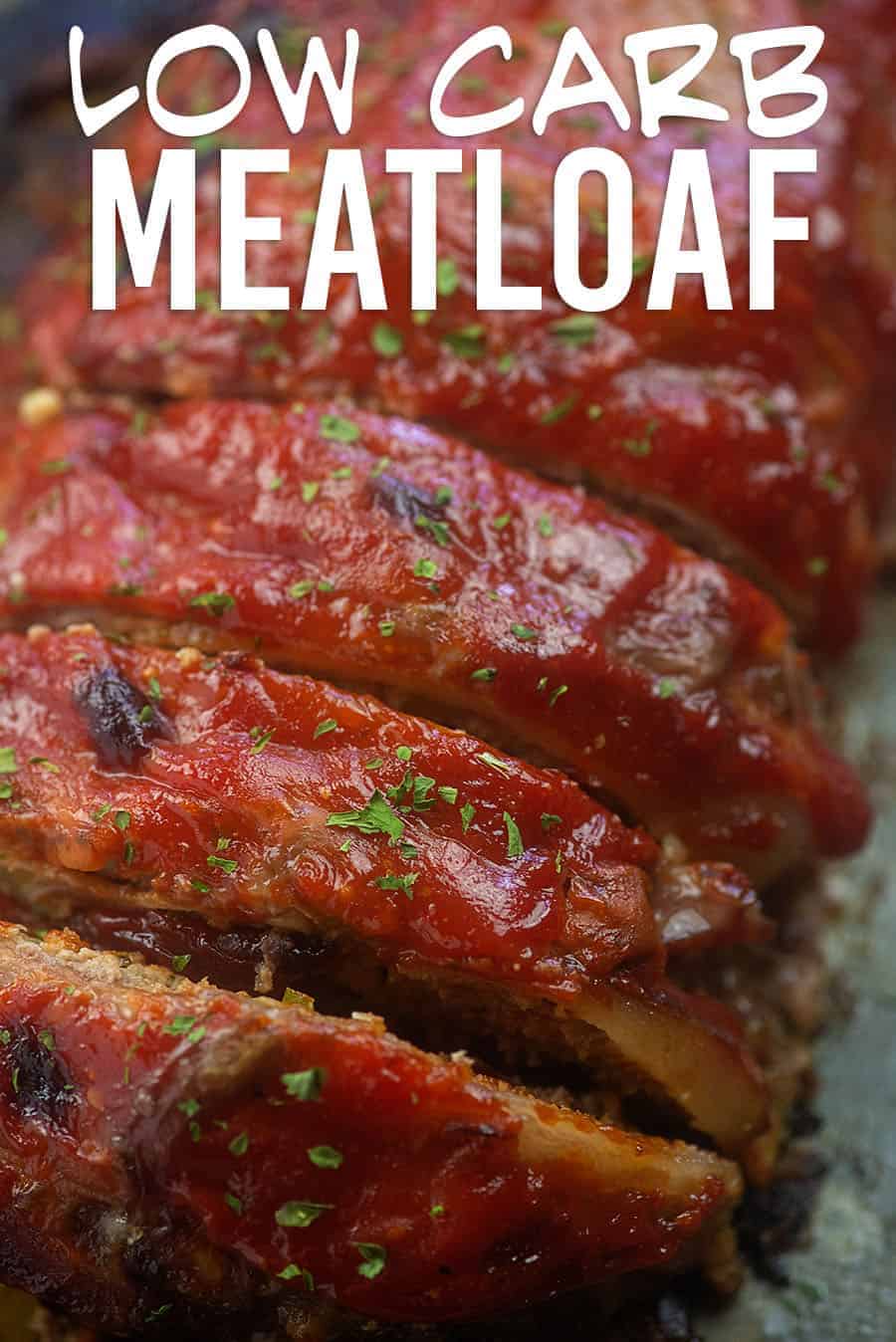 I'm a total sucker for meatloaf and meatballs.
My mom never made either one when I was a kid, so when I grew up and discovered how tasty they both are, I started making up for lost time.
We went through a period where we were eating meatloaf every few nights there for awhile. I'm sure the husband loved it. 😉
Anyway, we still have this low carb meatloaf at least once a month. It's easy to prepare, hearty, comforting, and it's just plain delicious.
I can never get enough of the sweet tangy sauce on top! It's the best part of meatloaf, if you ask me.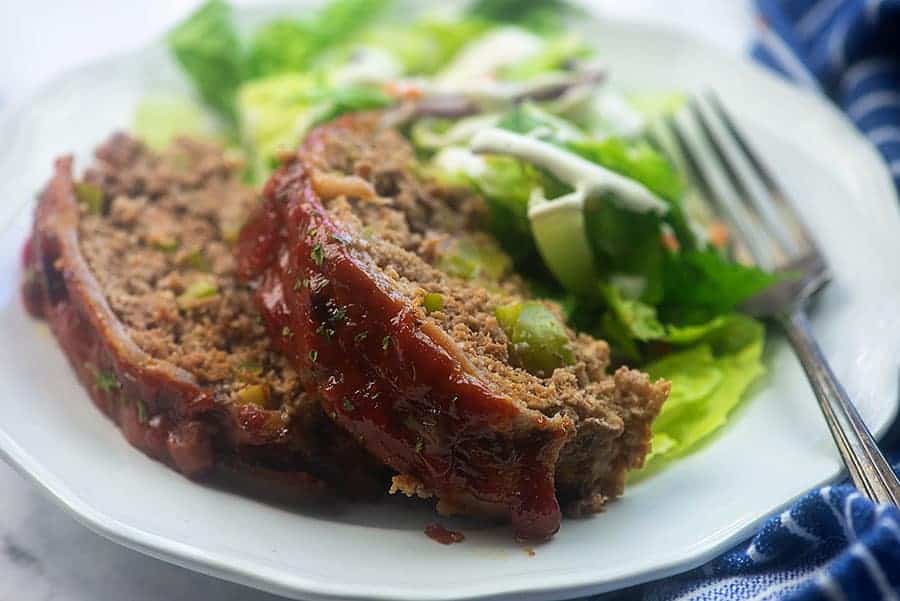 Ingredient Notes:
This post contains affiliate links. As an Amazon associate and member of other affiliate programs, I earn from qualifying purchases.
Beef – We prefer lean ground beef in our meatloaf. You could do a combo of beef and ground pork, if you like.
Keto Meatloaf Binder – You have two options in this recipe for a low carb meatloaf binder: crushed pork rinds or almond flour. The pork rinds end up being a bit more light and they don't add carbs to the meatloaf. The almond flour seems to hold together a bit better, but produces a heavier meatloaf with a few more carbs. We like both, but usually go for the almond flour in my house.
Bacon – This is a keto meatloaf, so we're going all out and wrapping our meatloaf in bacon.
Meatloaf Topping – This low carb meatloaf sauce consists of just 2 ingredients: sugar free ketchup and bottled Italian salad dressing. We like no sugar added Heinz ketchup or Primal Kitchen Ketchup. They add the perfect sweet and tangy flavor to this low carb meatloaf recipe.
Cheese – I've added Parmesan and cheddar cheeses to this low carb meatloaf so they'll help bind the pork rinds or almond flour together and add some cheesy flavor!
What Readers Are Saying:
"This is a very delicious dish and will replace my usual recipe. Even better than any non-keto meatloaf I have made. I was skeptical about the Italian dressing being added to the glaze, but it is perfect. Thanks for this great new family favorite." – Erica
How To: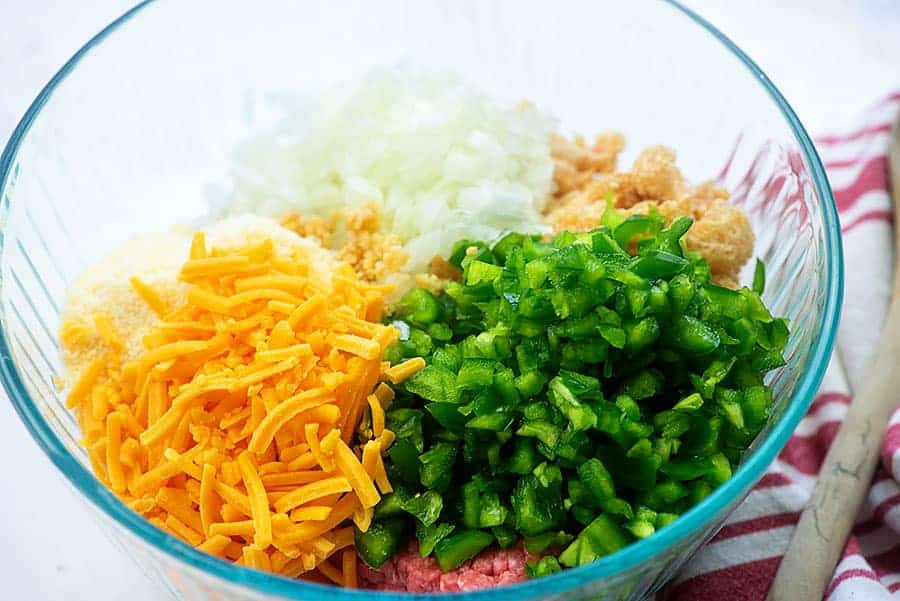 Meatloaf Mix – Mix together your beef with some minced bell pepper, onion, and garlic. Stir in eggs, crushed pork rinds or almond flour, cheddar, Parmesan, Worcestershire sauce, salt, and pepper. Mix that up real good with your hands to combine and then pat it out into a loaf shape on your baking sheet. This low carb meatloaf binder is what will help the loaf keep its shape!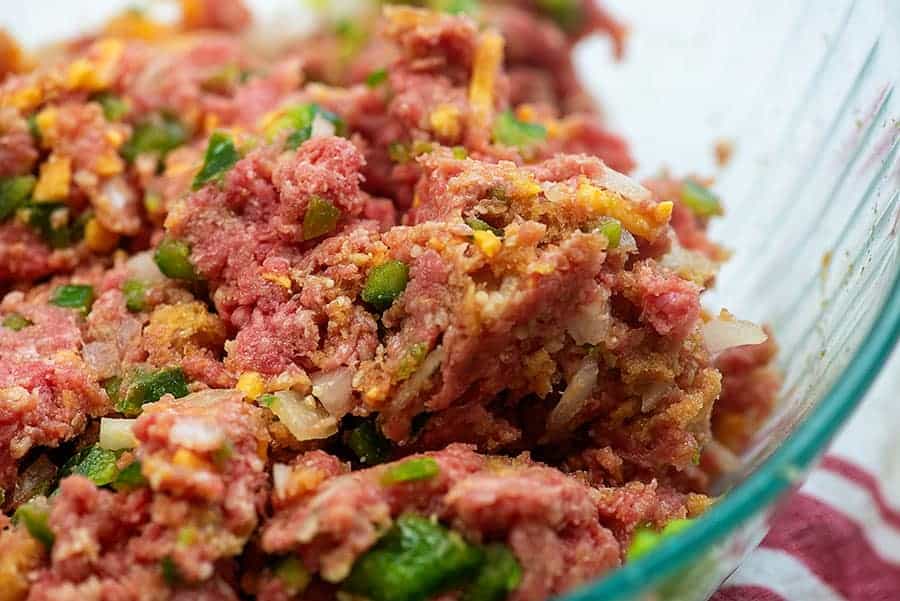 Bacon – This is such a simple but easy way to add even more flavor to the meatloaf and help keep it moist. Lay slices of bacon over the top of the shaped meatloaf mixture and pop it all in the oven. The sauce will come in after the meatloaf has baked a bit.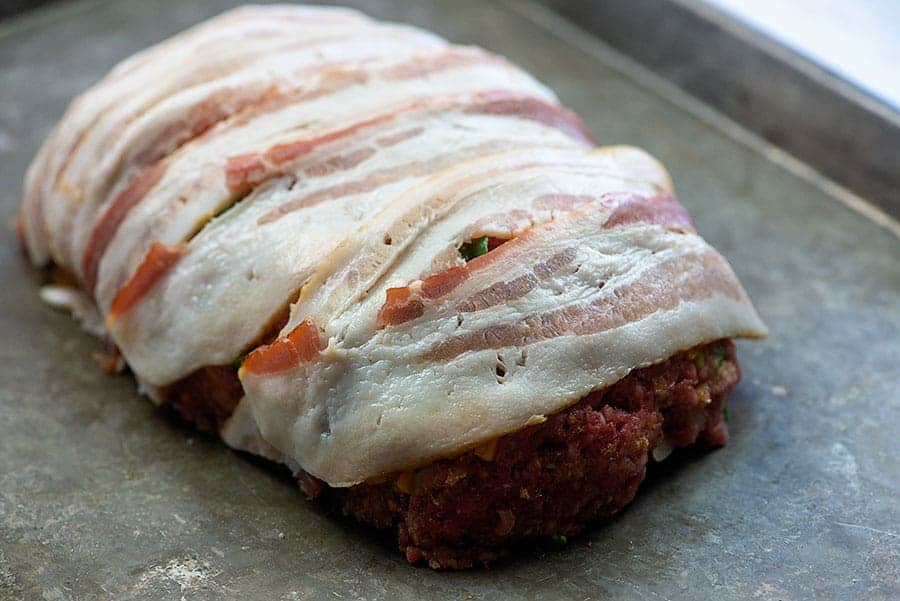 Meatloaf Topping – Once the meatloaf has baked for about 30 minutes, whisk together the meatloaf sauce and spoon it over the top. It's just a simple mix of sugar free ketchup and Italian dressing! I know Italian dressing seems like an odd choice but trust me, it works really well! I add a second layer of meatloaf sauce about 10 minutes before it's done. We like it saucy in our house! Serve it hot and see below for some suggestions on what to serve with meatloaf!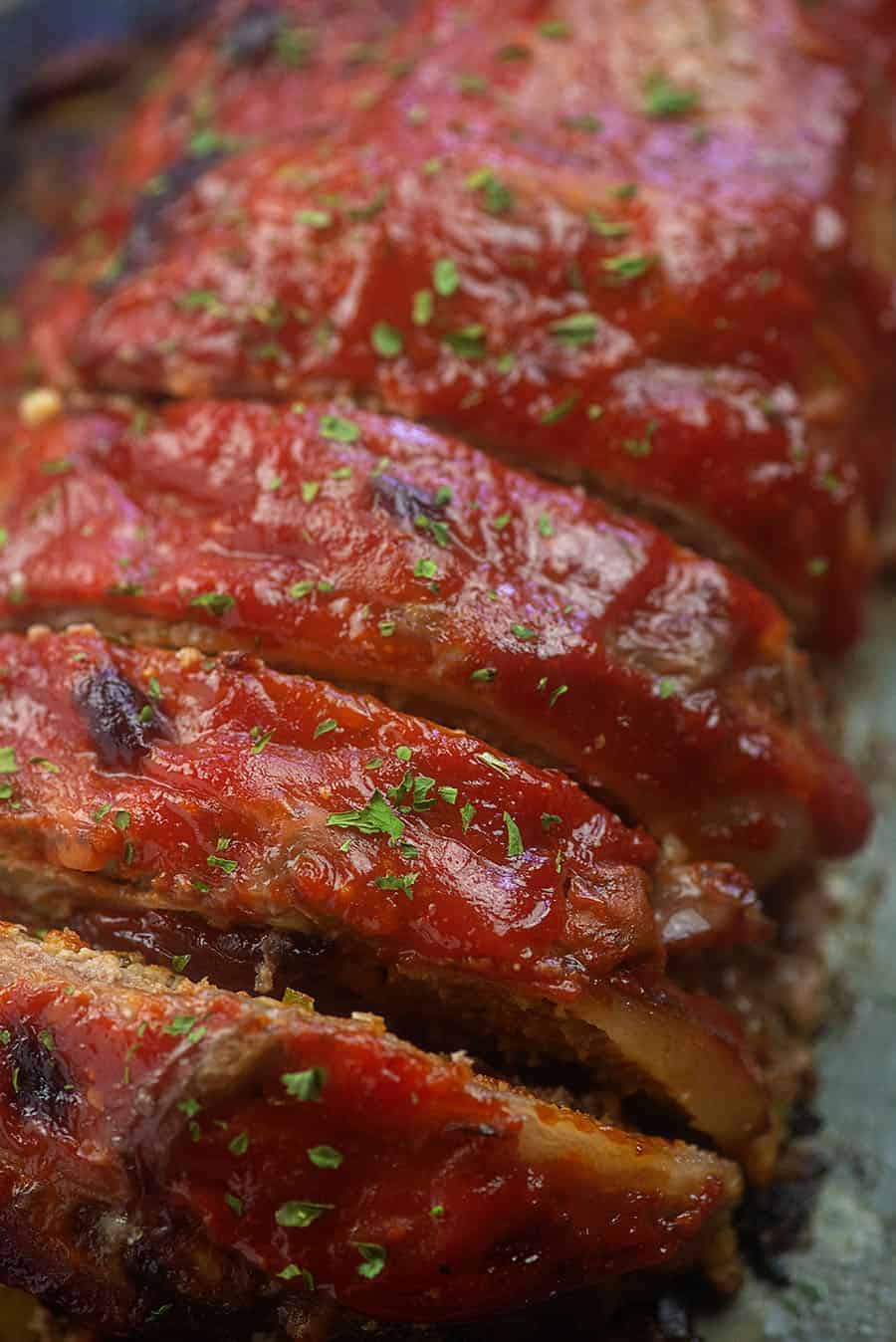 FAQs:
What is meatloaf?
Every kid has asked this question at some point in their life. My parents never made it, so I was always kind of skeptical about how it might taste. A loaf of meat? It just sounds weird. And then there was the stuff they served at our school that was called meatloaf but may or may not have contained actual meat of some origin.

A meatloaf is exactly what it sounds like, a mixture of meat and breading (low carb in this case!) and other good stuff in the shape of a loaf and covered in a savory sauce.
Do you cover meatloaf when baking?
Leave the meatloaf uncovered during baking. The bacon will provide a layer of fat that keeps the meatloaf from drying out, and you'll want the bacon to crisp up a bit as it cooks.
Do you have to use bacon?
I think it helps keep the meatloaf moist and it adds plenty of flavor, but it is not required. A few readers have commented that this low carb meatloaf recipe works just as well without the bacon!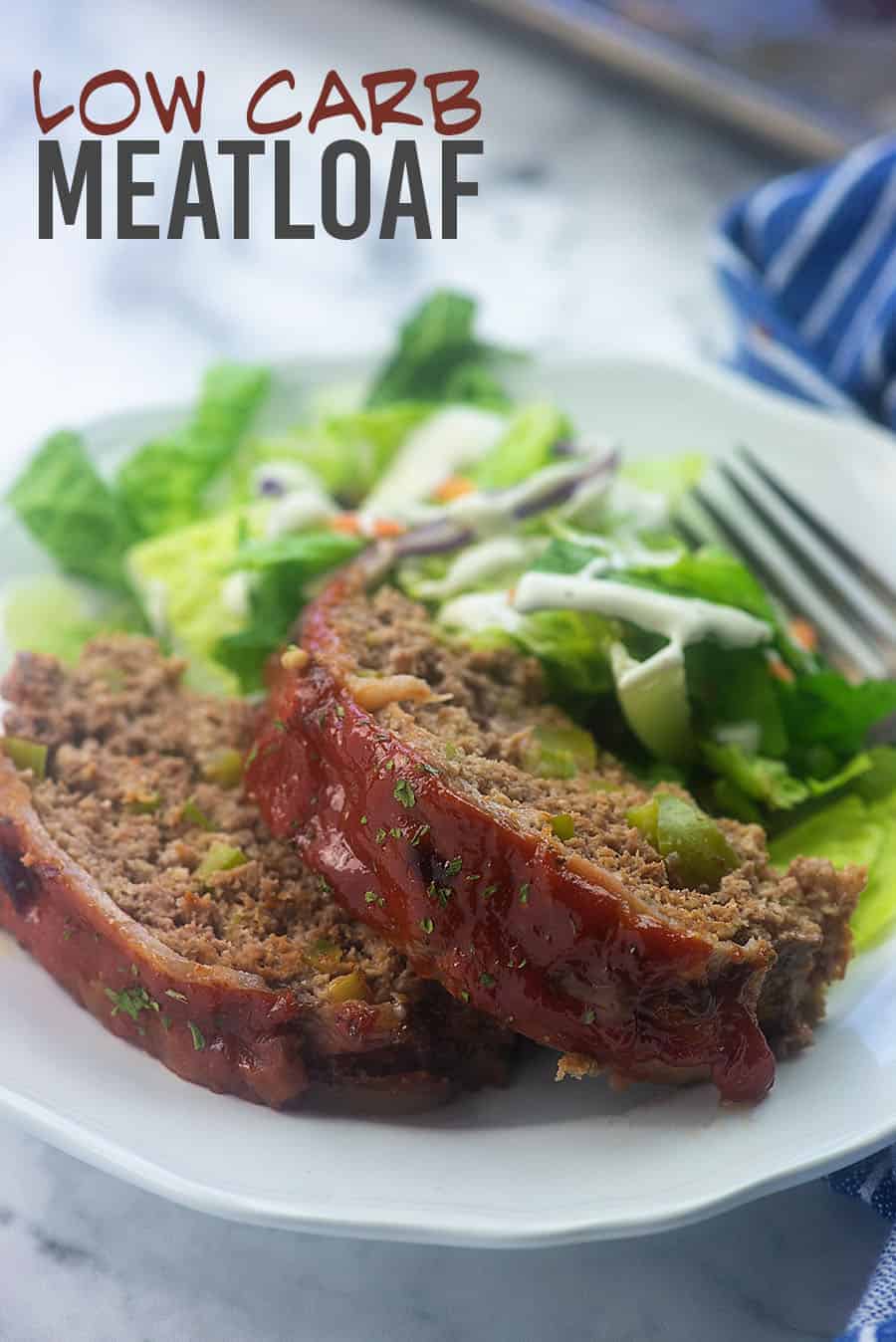 What to serve with this keto meatloaf:
Cauliflower Mac and Cheese: The perfect side for meatloaf!
Air Fryer Brussels Sprouts: Roasted to perfection.
Cauliflower Potato Salad: The texture isn't quite the same as regular potato salad, but the flavor is spot on!
Keto Mashed Cauliflower: The creamiest!
Keto Coleslaw: My mom's famous recipe.
Ranch Dressing: A side salad with my homemade ranch is always a win!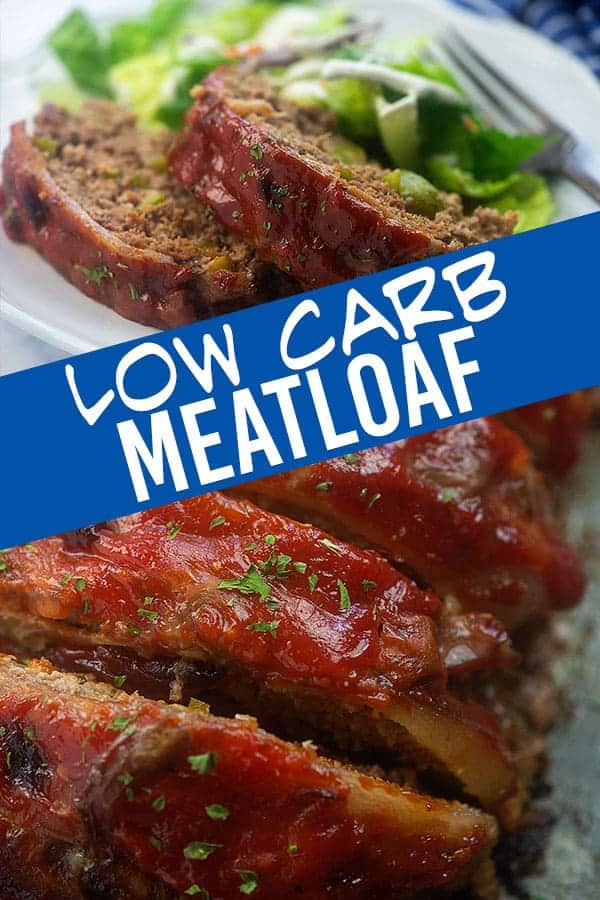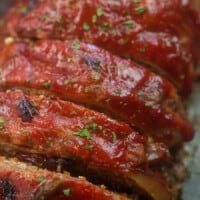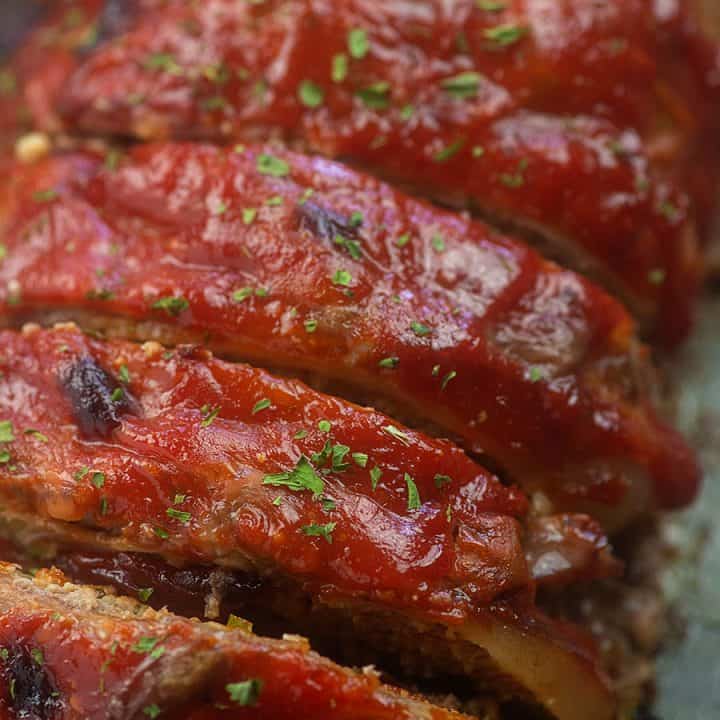 Low Carb Meatloaf
Total comfort food and it's low carb! That saucy topping is the perfect combo of sweet and tangy.
Ingredients
1 pound lean ground beef
1 green bell pepper
1/2 onion
1 clove garlic
2 large eggs
1/2 cup shredded cheddar
1/4 cup powdered Parmesan cheese
1 teaspoon salt
1 teaspoon ground black pepper
3 slices thin-cut bacon
Instructions
Preheat oven to 375 degrees.
Mince the green pepper, onion, and garlic.
Add to a large bowl with the ground beef, eggs, almond flour, cheddar, Parmesan cheese, Worcestershire sauce, salt, and pepper. Use your hands to combine.
Shape mixture into a loaf, about 7x4 inches, and place in a 9x13 baking dish.
Cut the bacon slices in half and drape over the meatloaf.
Bake for 25 minutes.
Whisk together the ketchup and Italian dressing. Spoon half of the mixture over the meatloaf.
Increase heat to 425 and bake an additional 10 minutes and then spread the remaining sauce over the meatloaf.
Continue baking for 10-15 minutes or until the internal temperature reaches 160 degrees.
Let rest 5 minutes before slicing and serving.
Notes
You may substitute crush pork rinds for the almond flour, though the meatloaf won't hold together quite as well. The carb count will reduce a bit if you use pork rinds - enter the ingredients into a nutrition calculator to see the total with your changes.
Recommended Products
As an Amazon Associate and member of other affiliate programs, I earn from qualifying purchases.
Nutrition Information:
Yield: 6
Serving Size: 1
Amount Per Serving:
Calories: 356
Total Fat: 22g
Saturated Fat: 8g
Trans Fat: 0g
Unsaturated Fat: 12g
Cholesterol: 148mg
Sodium: 798mg
Carbohydrates: 5g
Net Carbohydrates: 4g
Fiber: 1g
Sugar: 1g
Sugar Alcohols: 0g
Protein: 31g
All information and tools presented and written within this site are intended for informational purposes only. This information is provided as a courtesy and there is no guarantee that the information is accurate.