Our Low Carb Alfredo Sauce is rich, creamy, and oh so easy! It's perfect to drizzle over steamed broccoli and seasoned chicken. My kiddos devour this one and no one misses the pasta!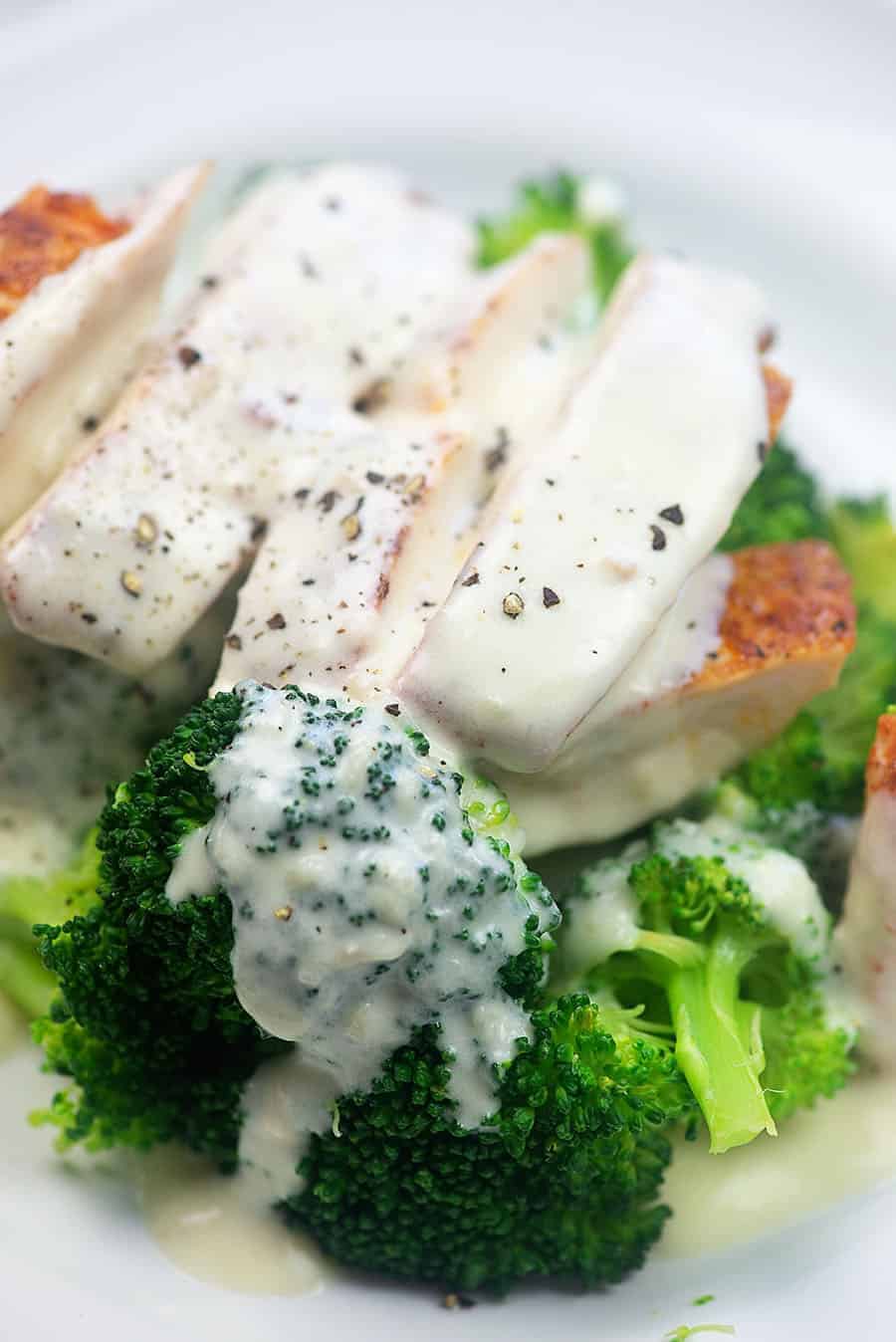 My husband is a total Chicken Alfredo fiend, you guys.
I swear, he would drink Alfredo sauce if he didn't think I'd judge him for it.
And, okay, let's be real. I'd drink it too. It's such a simple little sauce to make (don't be scared!!) but it packs such a creamy, flavorful punch!
Today, I'm sharing my keto Alfredo sauce recipe with you and I'm sharing my favorite way to serve it up: over broccoli!

Have you guys caught on that we're big fans of broccoli in this house?
I feel like most people assume low carbers eat cauliflower all day long and while I definitely do have some cauliflower tricks up my sleeve, it's broccoli that we come back to again and again. Especially when it's topped with chicken and drizzled in Alfredo.
Another favoreite way to enjoy our keto alfredo sauce is with spaghetti squash. Our spaghetti squash Alfredo is an easy recipe, and a fun way to get that pasta vibe!
Why We Love This Keto Alfredo Sauce:
Our keto Alfredo sauce is really just the same as traditional Alfredo sauce – there's no difference other than how we serve it up! This sauce is rich, creamy, smooth, and flavorful.rnrnTo make it keto, we skip the pasta and serve the sauce over steamed broccoli.
More Broccoli Favorites:
Ingredient Notes:
This post contains affiliate links. As an Amazon associate and member of other qualifying programs, I earn from qualifying purchases.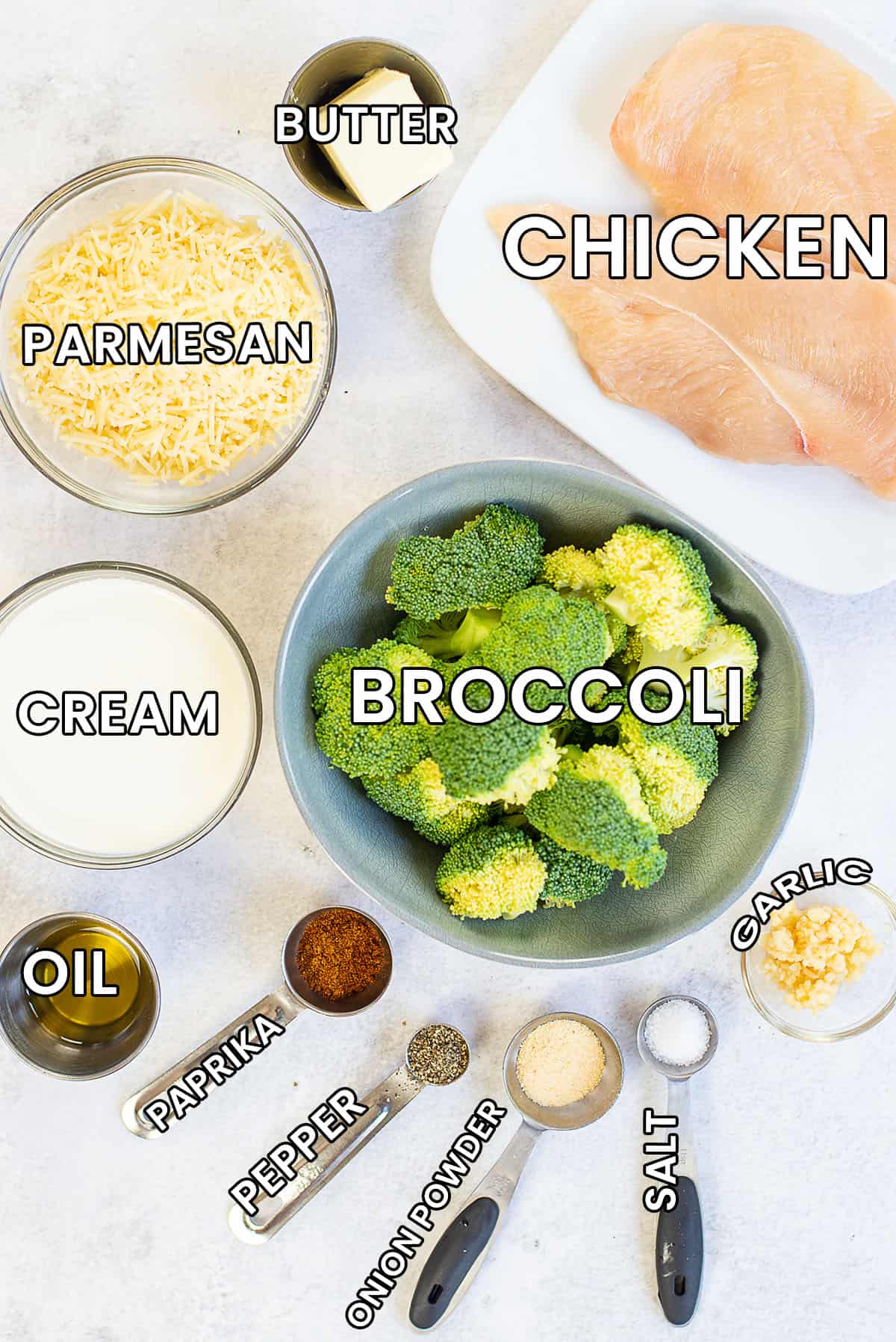 Low Carb Alfredo Sauce – The sauce is pretty simple to make but it is loaded with flavor! Heavy cream, butter, garlic, salt, pepper, and of course lots of shredded Parmesan are what make this homemade alfredo sauce taste so great. Be sure to use shredded Parmesan and not the grated powdery stuff in the green can!
Chicken & Broccoli – If you need something keto friendly to serve this sauce over then try fresh steamed broccoli and thin sliced seasoned chicken breasts. The perfect combo!
Cream Cheese
While authentic Alfredo sauce does not contain cream cheese, it's become quite popular to add it for extra creaminess and richness! I don't always add it, but if I have an extra bit of cream cheese that I need to use up, it really does amp up the sauce! Go ahead and try it – just stir up to 2 ounces of cream cheese into the hot butter and cream mixture and let it melt!
How To Make Keto Chicken Alfredo:
u003culu003ern tu003cliu003eu003cstrongu003eMake the Chicken:u003c/strongu003e Season up your chicken breasts with a mixture of paprika, garlic powder, salt, and pepper. Simple, but flavorful! u003cimg class=u0022aligncenter size-full wp-image-1293u0022 src=u0022https://thatlowcarblife.com/wp-content/uploads/2018/11/seasoning-for-chicken.jpgu0022 alt=u0022seasoned chicken on white plateu0022 width=u0022900u0022 height=u00221348u0022 data-pin-nopin=u0022trueu0022 /u003eu003c/liu003ern tu003cliu003eu003cspan style=u0022font-size: 16px;u0022u003eu003cstrongu003eCook the Chicken: u003c/strongu003eHeat a large skillet with a bit of oil and then drop in your chicken. Cook through.u003c/spanu003eu003cimg class=u0022aligncenter size-full wp-image-1289u0022 src=u0022https://thatlowcarblife.com/wp-content/uploads/2018/11/chicken-for-alfredo.jpgu0022 alt=u0022seared chicken in cast iron skilletu0022 width=u0022900u0022 height=u00221348u0022 data-pin-nopin=u0022trueu0022 /u003eu003c/liu003ern tu003cliu003eu003cstrongu003eSteam the Broccoli:u003c/strongu003e While the chicken is cooking, start the broccoli. You'll want to steam it until it's tender-crisp.u003c/liu003ern tu003cliu003eu003cstrongu003eMake the Alfredo Sauce: u003c/strongu003eHeat the cream, butter, and garlic in a small sauce pan until the butter has melted and the cream is hot. Turn off the heat and stir in the Parmesan. Keep stirring until the sauce is smooth and creamy.u003c/liu003ernu003c/ulu003e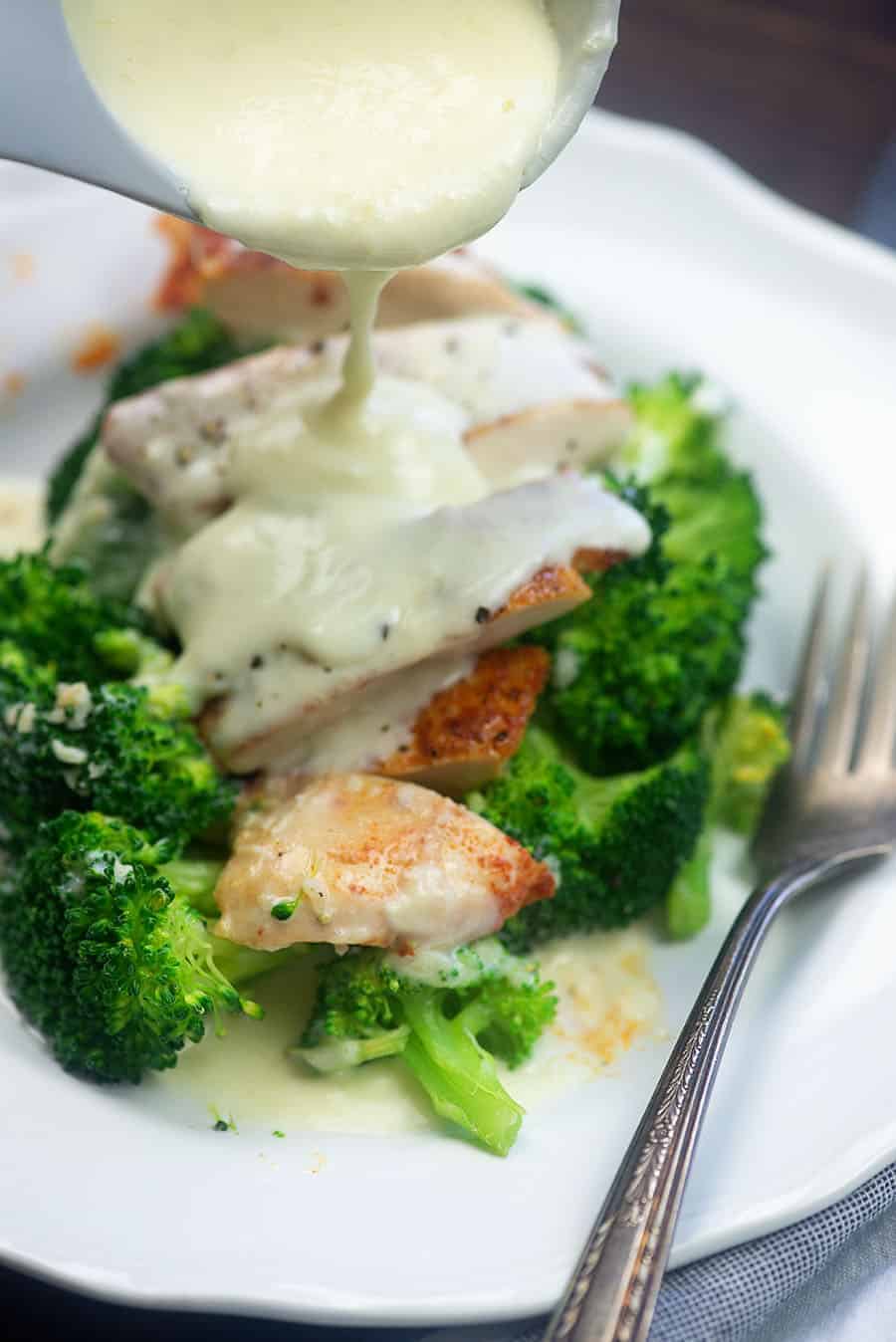 What Readers Are Saying:
u0022This was delicious! Added 1 T. of cream cheese to the sauce, but otherwise followed it exactly. 5/5 kids approved! (And want me to make it again!).u0022 – u003cstrongu003eKariu003c/strongu003e
FAQs:
Is Alfredo sauce keto?
Yes! Traditional Alfredo sauce is naturally low carb and keto friendly, because it's just a mixture of butter, cream, and Parmesan cheese. The sauce you'll find at most popular restaurants often do contain flour, so double check if you're not making it yourself.
Can I store this Alfredo sauce for later?
Alfredo Sauce is best served fresh. The sauce tends to separate as it sets and cools. If you must save this for later, store tightly covered in the fridge and reheat on the stove over low heat, whisking constantly. You may need to add additional cream to bring the mixture together as it reheats.
How many carbs are in Alfredo sauce?
One batch of our Alfredo sauce has 5 total carbs, breaking down to just over 1 carb per serving.
More low carb chicken recipes:
Lemon Chicken: Made with a simple creamy sauce and loads of garlic!
Chicken Stuffed Peppers: These have a chicken parmesan vibe going on!
Chicken Casserole: Low carb comfort food!
Chicken Drumsticks: Everyone's favorite chicken recipe and the kids love it!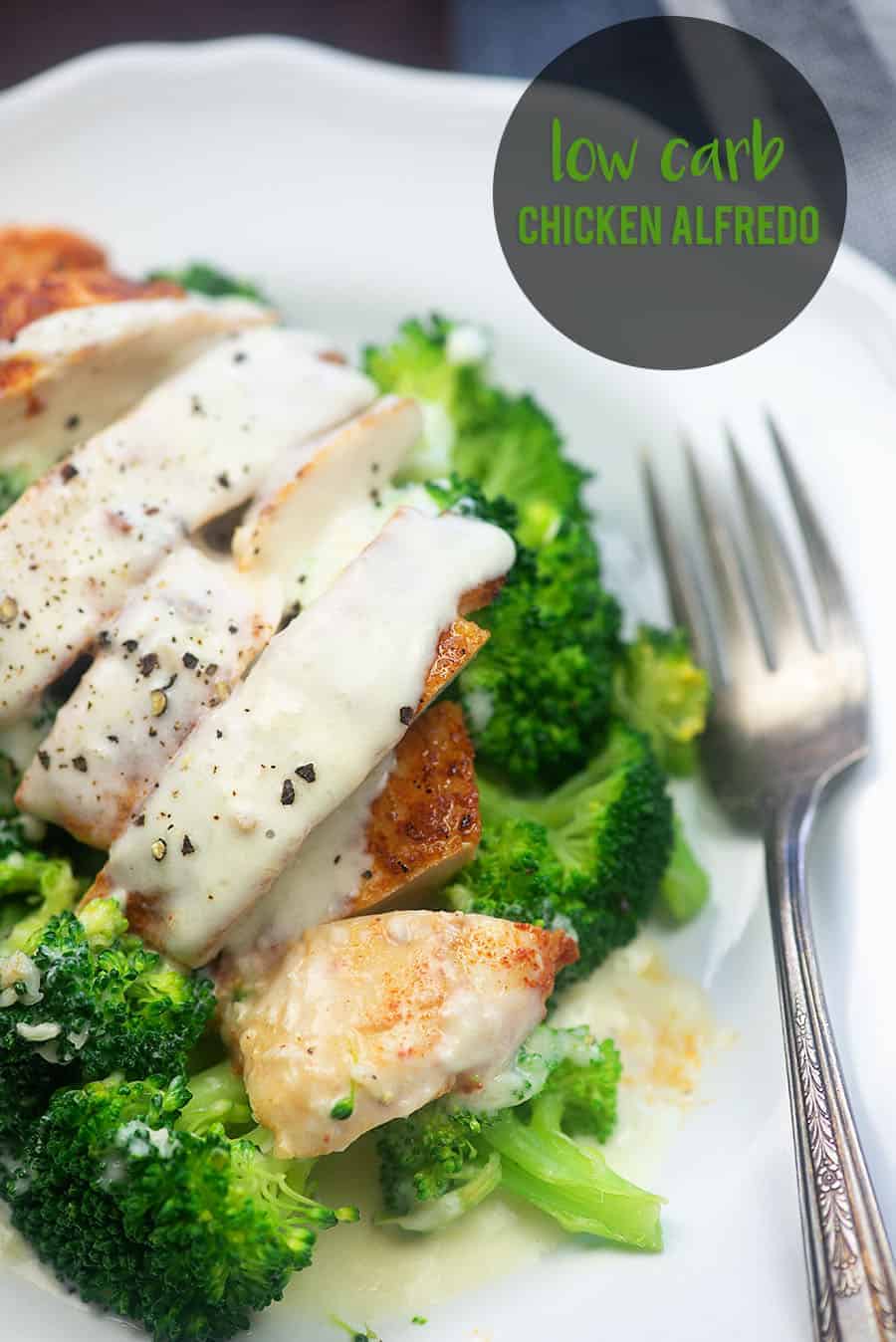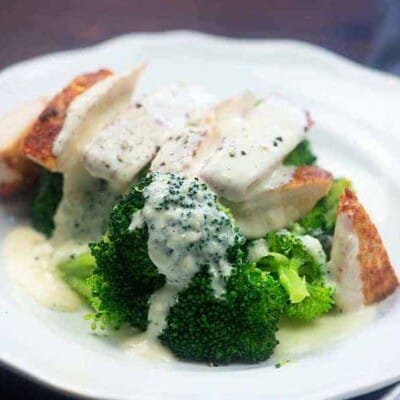 Keto Chicken Alfredo
Traditional Alfredo sauce served over chicken breasts and steamed broccoli! Who needs pasta?
Prep10 minutes
Cook20 minutes
Total30 minutes
Ingredients
For the chicken:
1 pound thin sliced chicken breasts
½ teaspoon salt
½ teaspoon ground pepper
½ teaspoon paprika
½ teaspoon garlic powder
1 tablespoon avocado oil
For the Alfredo sauce:
1/2 cup heavy whipping cream
1/4 cup butter
1 teaspoon minced garlic
1 cup shredded Parmesan
Instructions
To make the chicken:
Sprinkle the salt, pepper, paprika, and garlic powder evenly over both sides of the chicken.

Heat a large skillet over medium heat and add the oil.

When oil is hot, add the chicken breasts and cook 5 minutes on each side or until chicken is cooked through.
To make the broccoli:
While chicken is cooking, steam the broccoli on the stove or in the microwave until as tender as you'd like.
To make the sauce:
Heat a sauce pan over medium heat and add the cream, butter, garlic, salt, and pepper. Whisk constantly until the butter is melted and the mixture is hot.

Remove from the heat and stir in the shredded Parmesan. Whisk until the cheese melts fully and the sauce is smooth.

To serve, divide the broccoli between four plates and top with chicken. Drizzle with sauce.
Tips & Notes:
Alfredo sauce is best eaten right after preparation. It does not store or reheat well as it tends to separate a bit. If you'd like to add cream cheese to the sauce, stir up to 2 ounces of cream cheese in with the hot butter and cream until melted. Proceed with the Parmesan. Nutrition information is based on the sauce, broccoli, and chicken. The carb count on just the sauce will be much lower.
Nutrition Information:
Calories: 437kcal (22%)| Carbohydrates: 9g (3%)| Protein: 33g (66%)| Fat: 32g (49%)| Sodium: 672mg (29%)| Fiber: 3g (13%)| Sugar: 4g (4%)| Net Carbs: 6g (12%)