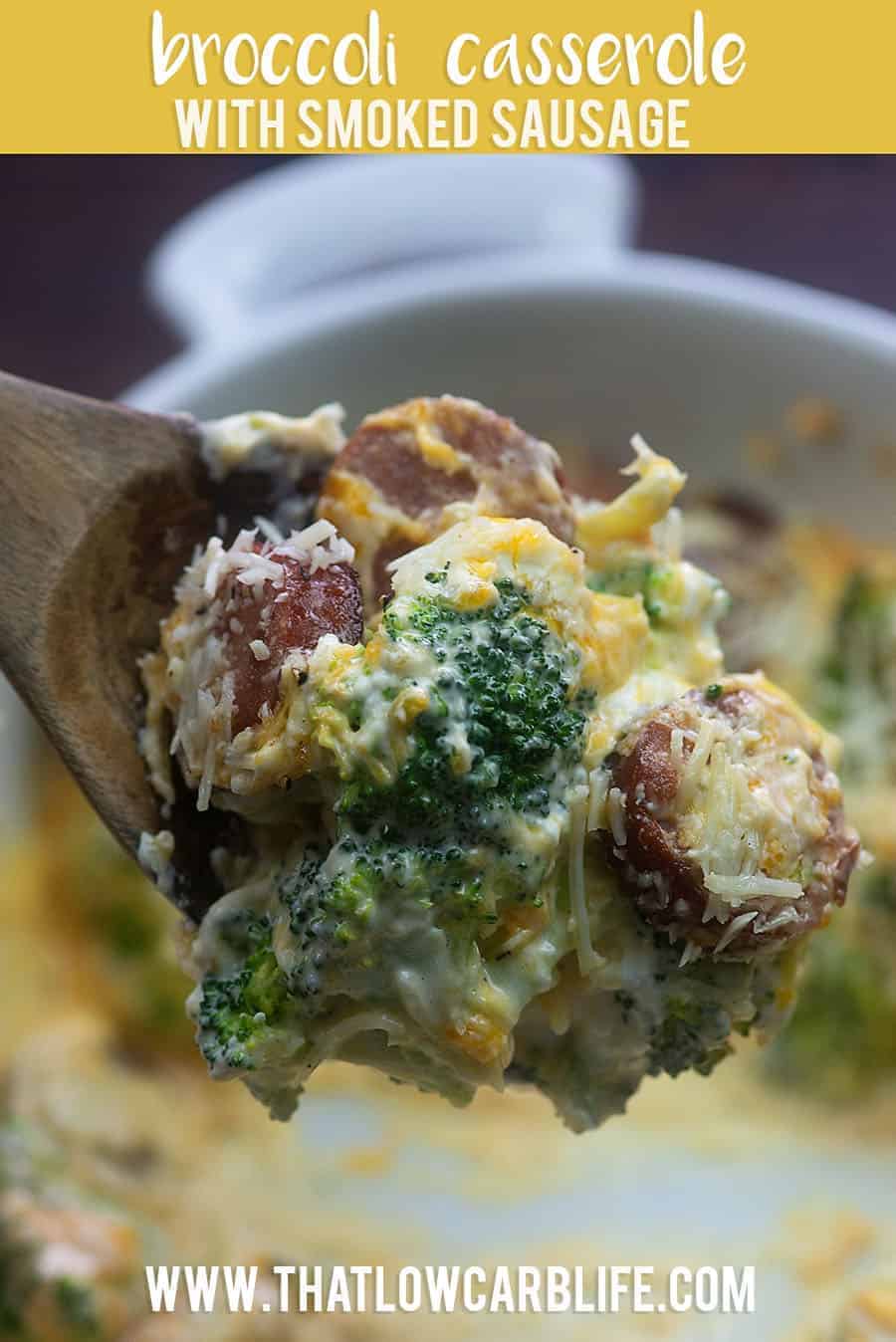 This broccoli cheddar casserole with smoked sausage is extra cheesy, bursting with flavor, and a quick way to get dinner on the table!

My dad was always a huge fan of smoked sausage when I was a kid and I was honestly just kind of weirded out by it.
Like, was it just an overgrown hot dog? Why are you slicing it up and putting it in things? What is even happening?
Then I grew up and decided that smoked sausage is one of my favorite things ever because a) it tastes good and b) it cooks in about 2 minutes and I'm a busy mom who's just trying to get dinner on the table as easily as possible.

So, today we've got this broccoli cheddar casserole situation loaded with browned smoked sausage. It's beyond easy and oh so delicious.
You ready for the step by step? But first, drool over that saucy goodness happening in the photo below…oh man.
How to make this keto sausage recipe:
First, you're going to want about 28 ounces of fresh broccoli florets. I just buy the bag of florets, but you can definitely by a head of broccoli and chop it up yourself.
I don't recommend frozen broccoli for this recipe. Fresh is best, always. It doesn't get nearly as mushy or weird as frozen broccoli does.
Add your broccoli to a large mixing bowl along with a couple tablespoons of water and cover it all tightly with plastic wrap. Microwave this for 2 minutes and then let it sit for 2 minutes to steam.
If you don't have a microwave or don't like using plastic wrap in the microwave, you can do this on a stove top steamer. You're looking for warm, barely cooked broccoli. We're going to finish this in the oven, so don't over do it.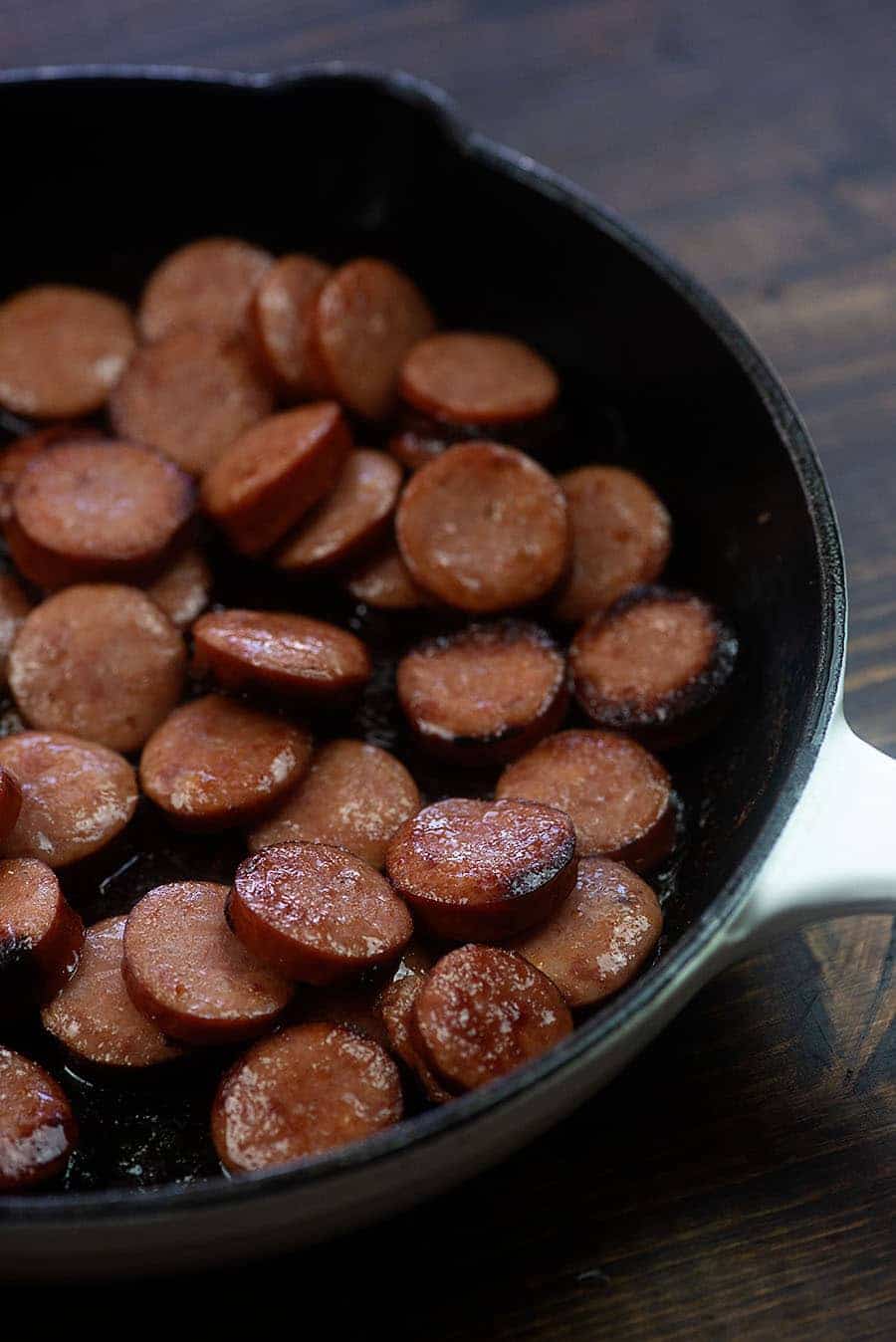 While the broccoli is doing it's thang, slice up some smoked sausage and toss it in a hot skillet to brown. I like to get mine really browned on the edges, because it amps the flavor up majorly.
Add some cream cheese, mayo, cheddar, garlic powder, and pepper to a mixing bowl and stir really well to combine.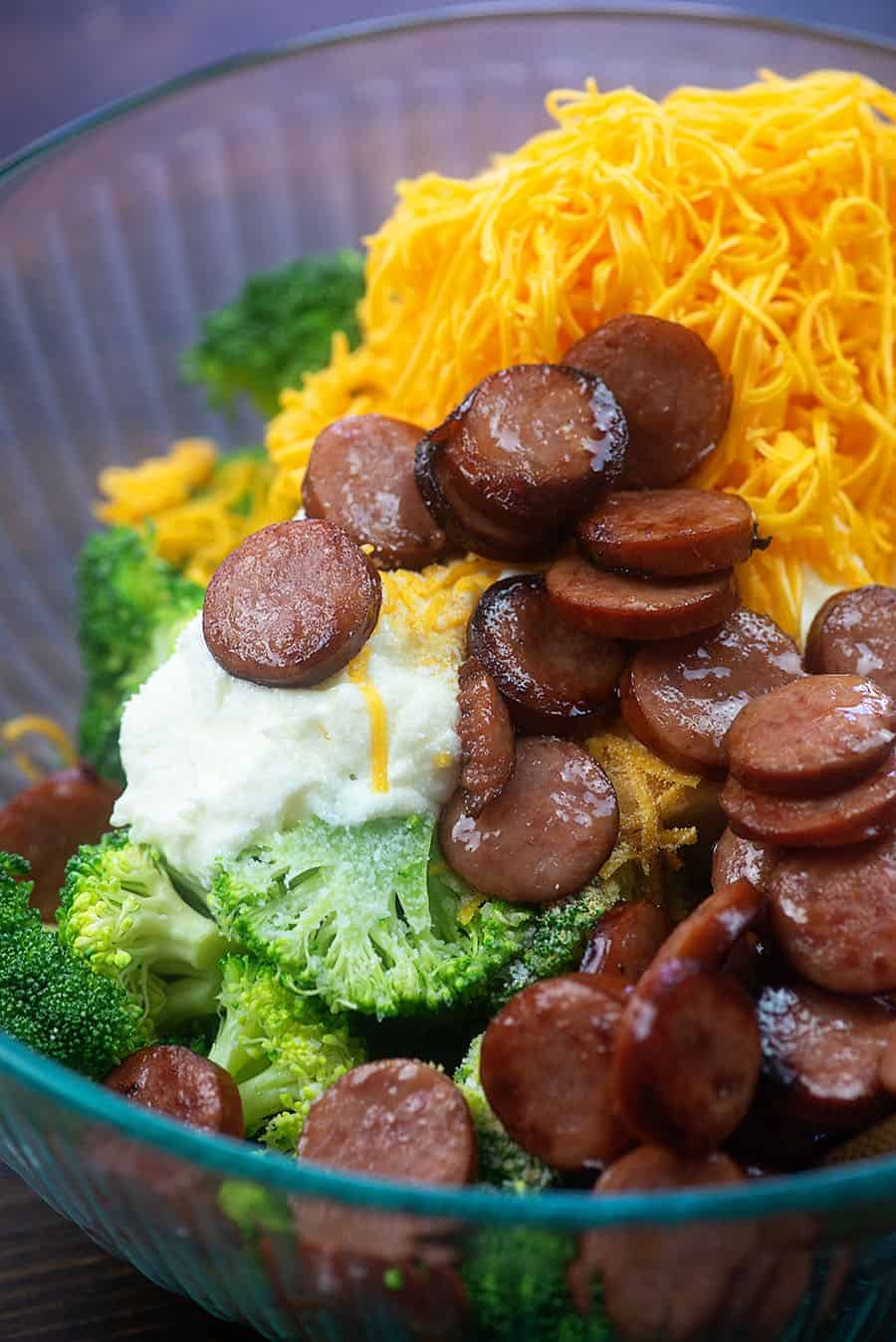 Dump that mixture over your hot broccoli and sausage and stir to coat. The cheese mixture is thick, but it should mix in pretty easily since the broccoli is hot.
Pop all that in a baking dish, top it off with a sprinkle of Parmesan, and bake it up!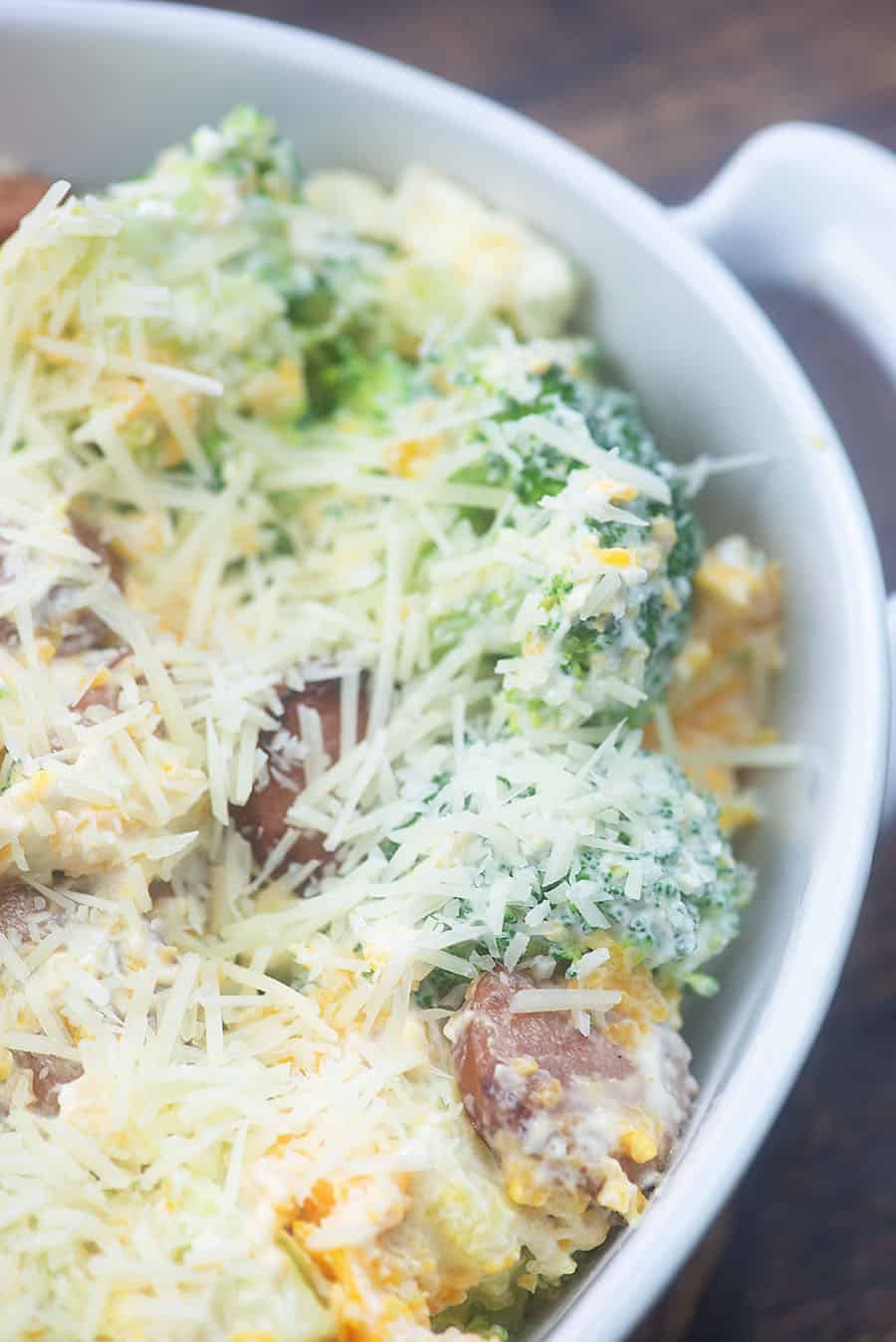 If you love my broccoli casserole, you might notice that this is a riff on that recipe!
What comes out of your oven is a seriously gooey, creamy broccoli cheddar casserole loaded with bits of browned smoked sausage.
I think I could eat this every day!
Side dish or main dish?
This recipe is pretty filling thanks to all of the cheese, broccoli, and sausage so you definitely could consider it a main dish. Just know that it also packs a lot of fat and is a bit carb heavy if you're keto.
We serve this as a side dish and the nutrition is based on this making 8 servings. If you'd like to serve as a main, double each portion to serve 4 people and be sure to double the nutrition info when tracking. 🙂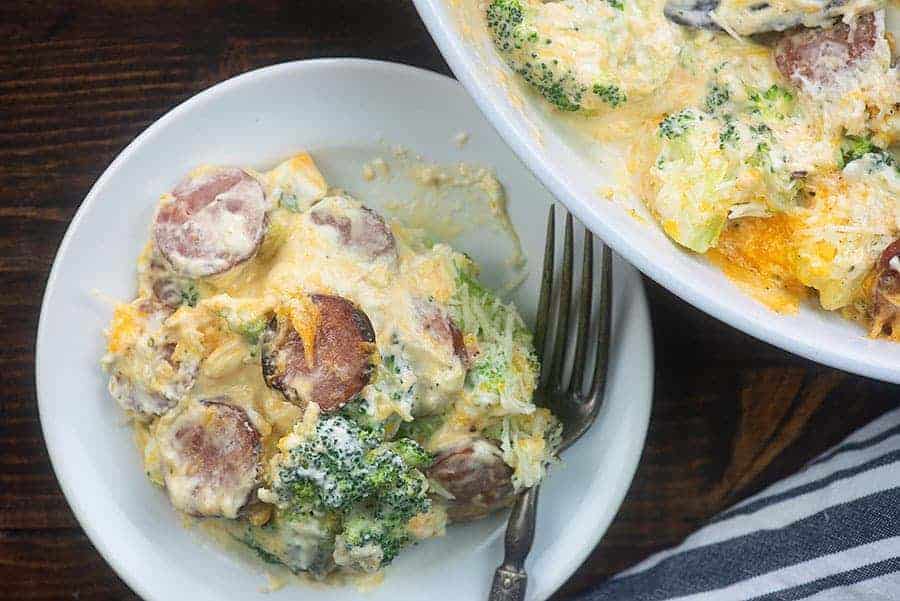 What kind of smoked sausage to use?
Smoked sausage comes in a variety of flavors and from many different brands. I was super surprised to see how many carbs are loaded in some of those sausages!
Hillshire Farm makes a smoked sausage with only 1 carb per 2 ounce serving and that's what I use and how I've calculated the nutrition info for this recipe. It's the lowest carb option I've seen and tastes great.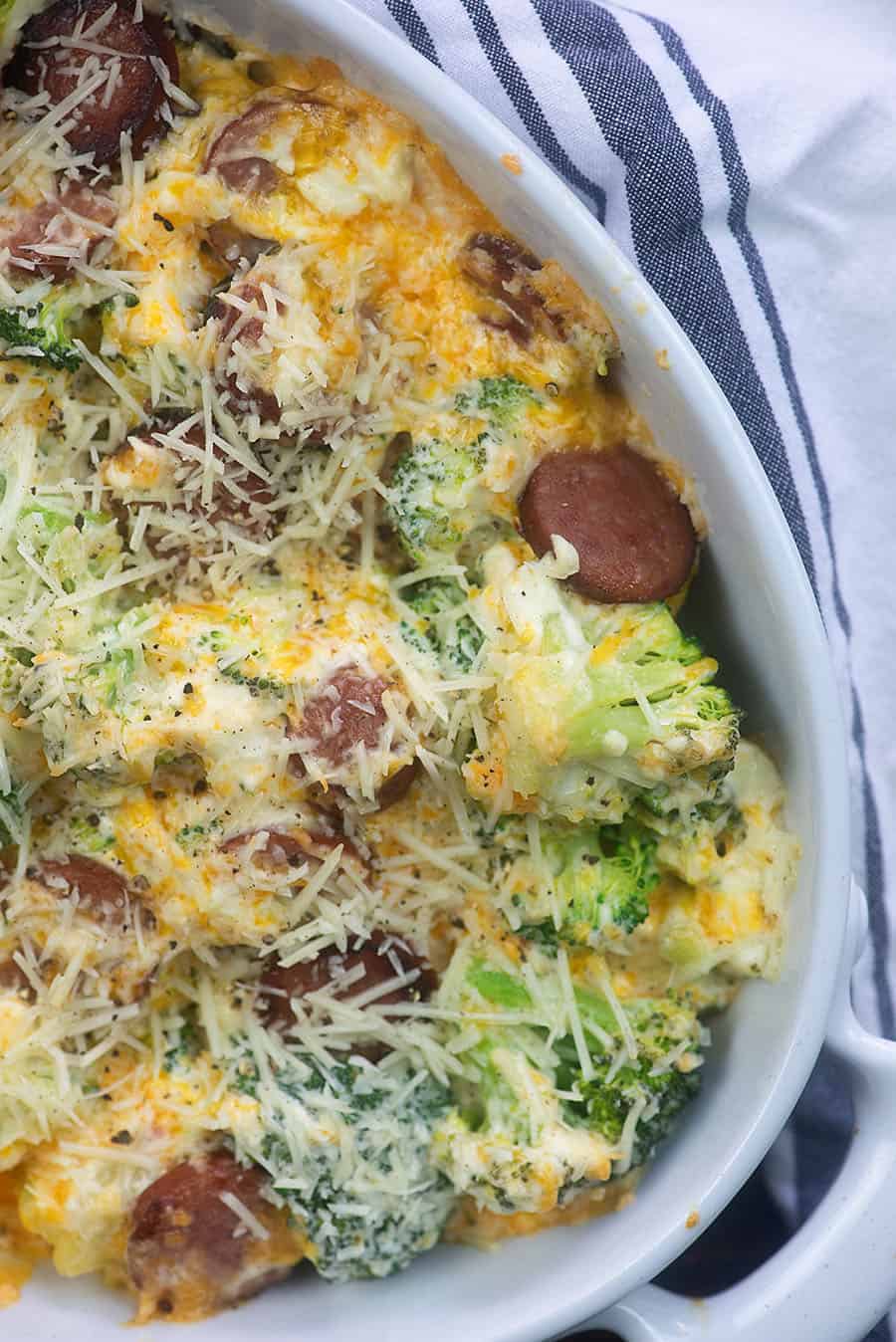 More low carb favorites to try:
Broccoli Salad: Broccoli is my favorite veggie, if you hadn't noticed! This broccoli salad is divine.
Pulled Pork: I love a good slow cooker recipe and the sauce on this one is amazing.
Lemon Chicken: Quick, easy, and so creamy and flavorful!
Fathead Pizza: I topped mine off with BLT goodness!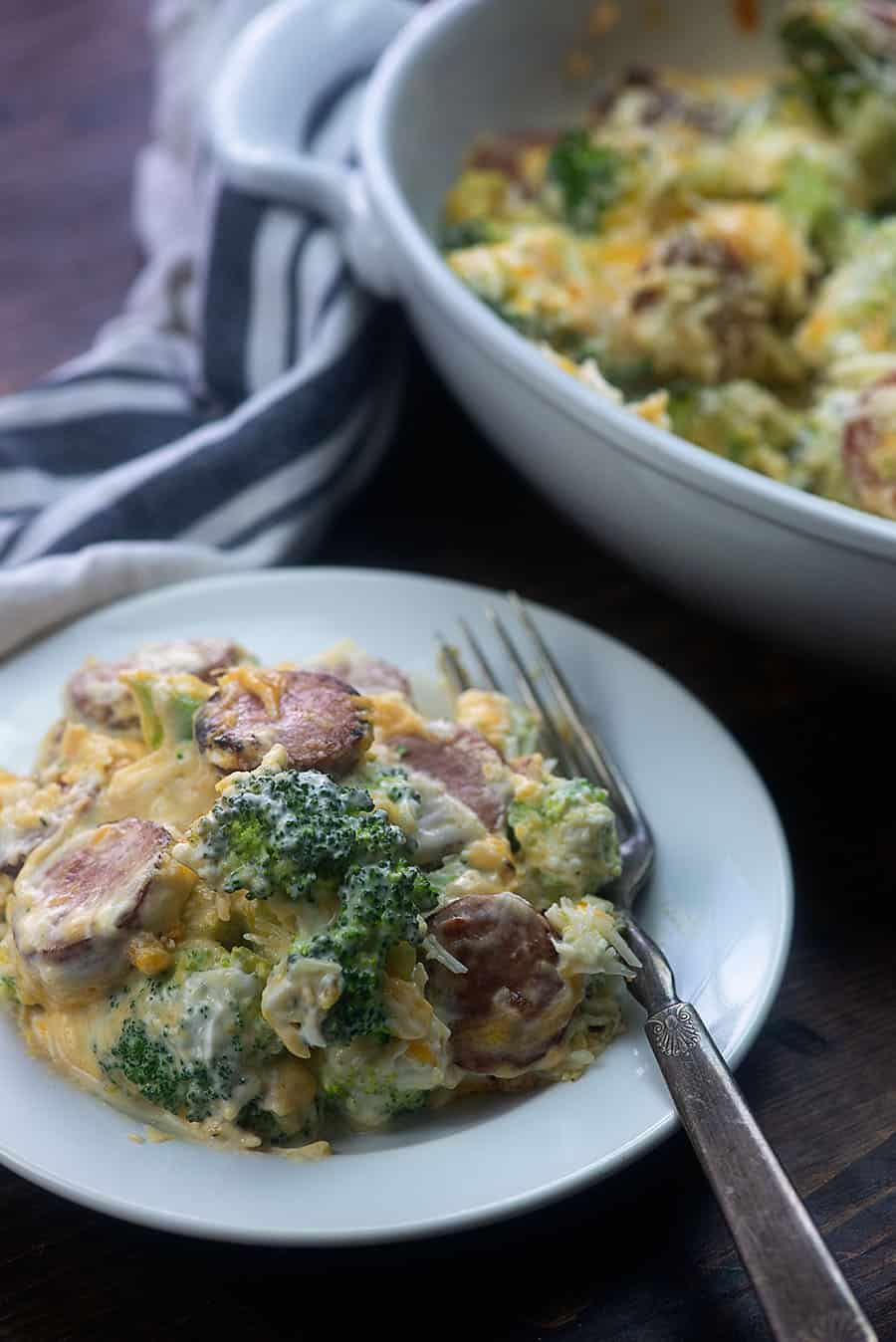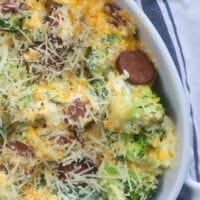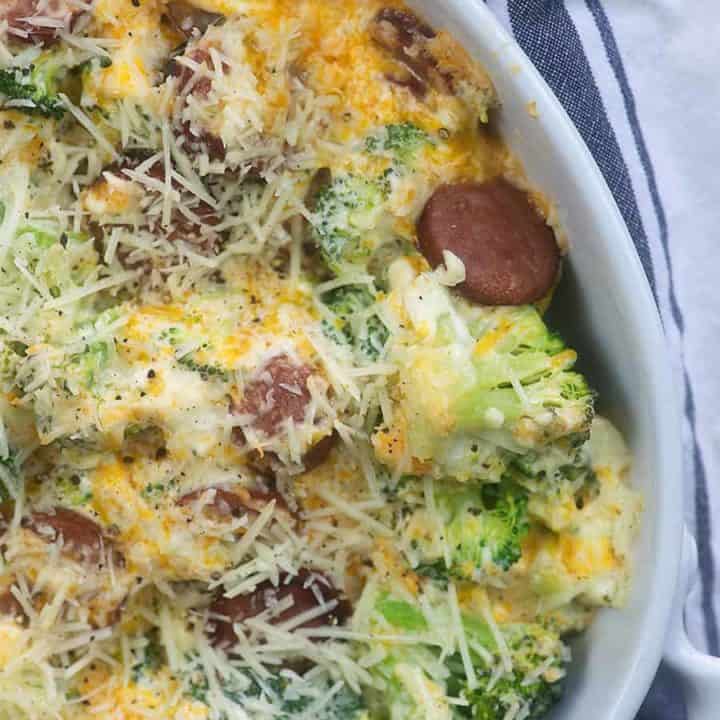 Cheesy Broccoli & Sausage Casserole
This broccoli casserole is extra creamy and cheesy and it's packed with flavor from browned smoked sausage.
Per serving: 533 calories, 46g fat, 20g protein, 8g carbs, 2g fiber = 6g net carbs
Ingredients
20 ounces fresh broccoli florets
16 ounces smoked sausage
8 ounces cream cheese, room temperature
1/2 cup mayonnaise
2 cups freshly grated cheddar cheese
2 teaspoons garlic powder
½ teaspoon ground black pepper
¼ teaspoon salt
¼ cup grated Parmesan
Instructions
Preheat oven to 350 degrees.
Add the broccoli to a large microwave safe bowl along with 2 tablespoons of water. Cover tightly with plastic wrap and microwave for 2 minutes. Let sit, covered, for 2 minutes.
While broccoli is steaming, slice the sausage into thin rounds and add to a hot skillet over medium heat. Cook, stirring occasionally, until sausage is browned on the outside.
Add the cream cheese, mayonnaise, cheddar, garlic powder, salt, and pepper to a small bowl and mix well to combine.
Stir the cream cheese mixture and browned sausage into the steamed broccoli until well combined.
Transfer broccoli to an 8x8 baking dish and sprinkle the Parmesan over the top.
Bake for 10 minutes.
Notes
Nutrition information is based on this serving 8 people as a side dish. If you'd like to serve this as a main dish, it should serve 4 people and you'll need to double the macros.
Nutrition Information:
Yield: 8
Serving Size: 8 Servings
Amount Per Serving:
Calories: 533
Total Fat: 46g
Saturated Fat: 18g
Trans Fat: 0g
Unsaturated Fat: 23g
Cholesterol: 100mg
Sodium: 982mg
Carbohydrates: 8g
Net Carbohydrates: 6g
Fiber: 2g
Sugar: 3g
Protein: 20g
All information and tools presented and written within this site are intended for informational purposes only. This information is provided as a courtesy and there is no guarantee that the information is accurate.