This SAUTEED BROCCOLI is a simple and quick 4-ingredient recipe that makes it easy to get broccoli on the table. The bacon adds loads of flavor and turns broccoli into something even the kids will want to eat!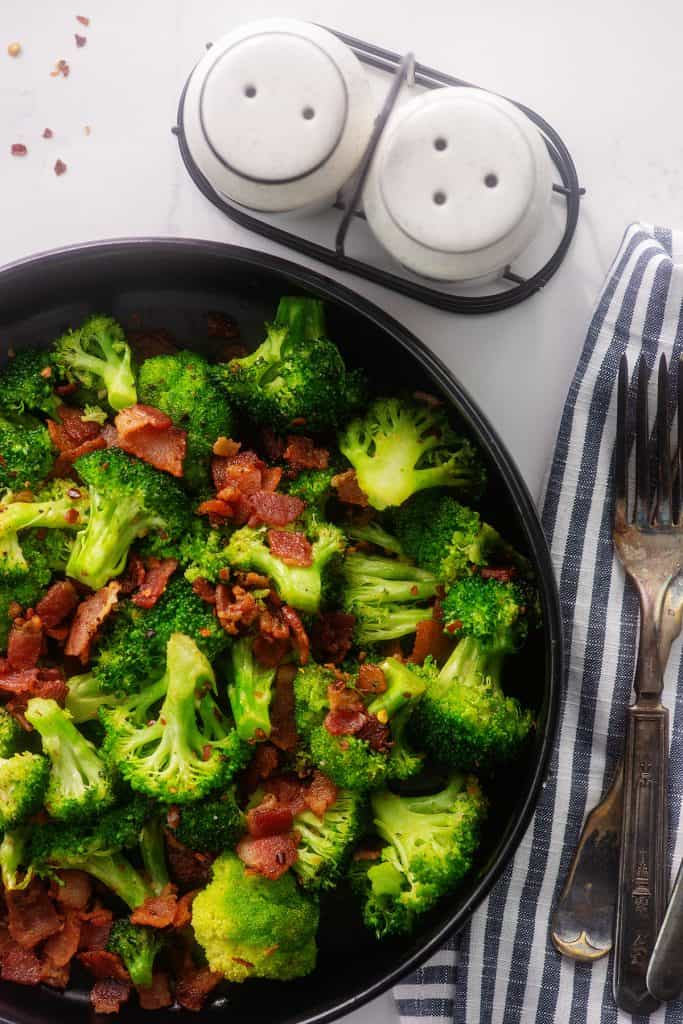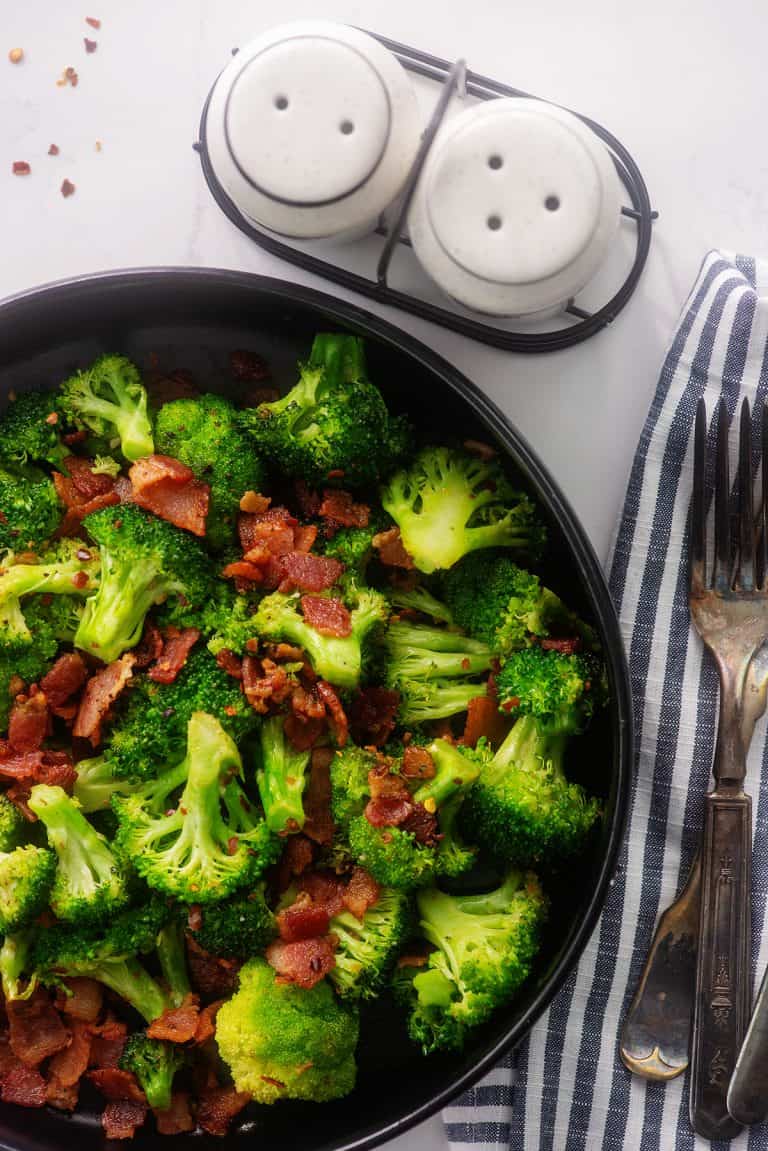 Got about 15 minutes and a love of bacon? I've got the recipe for you. 😉
As you may have noticed by now, I'm quite literally obsessed with broccoli. I make it just about every day.
I know that not everyone is happy to just eat plain steamed broccoli every night of the week, so I've basically come up with 13,000 ways to make it exciting. Gotta get my broccoli fix without making my family hate me somehow, ya know. 😉
This sautéed broccoli recipe is perfect for people that are on the fence about broccoli and I'll even give you my biggest tip for learning to like broccoli.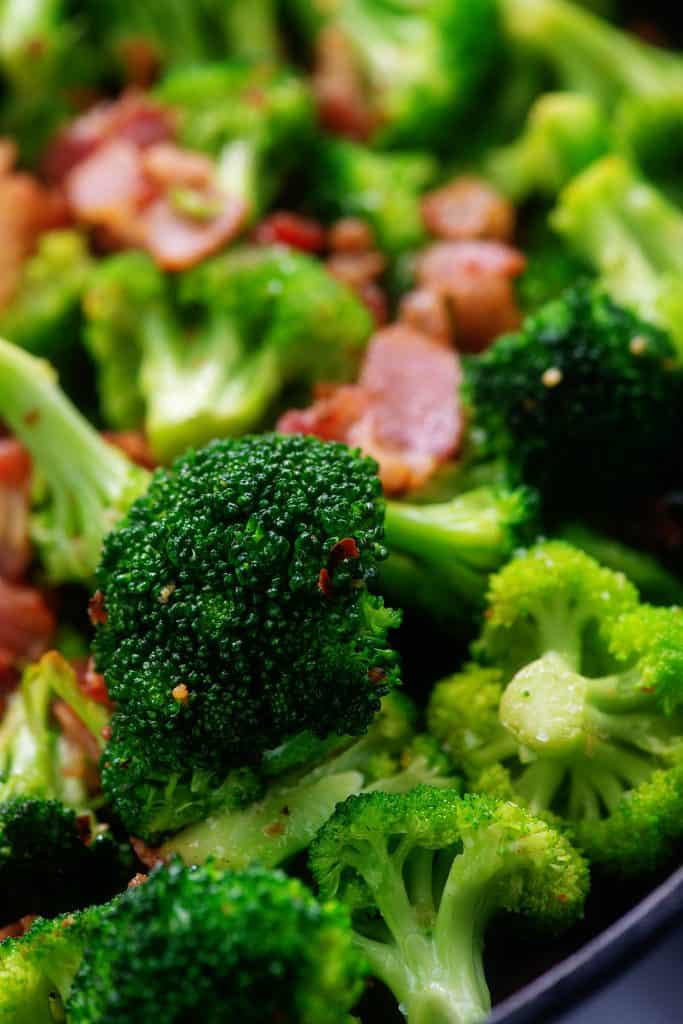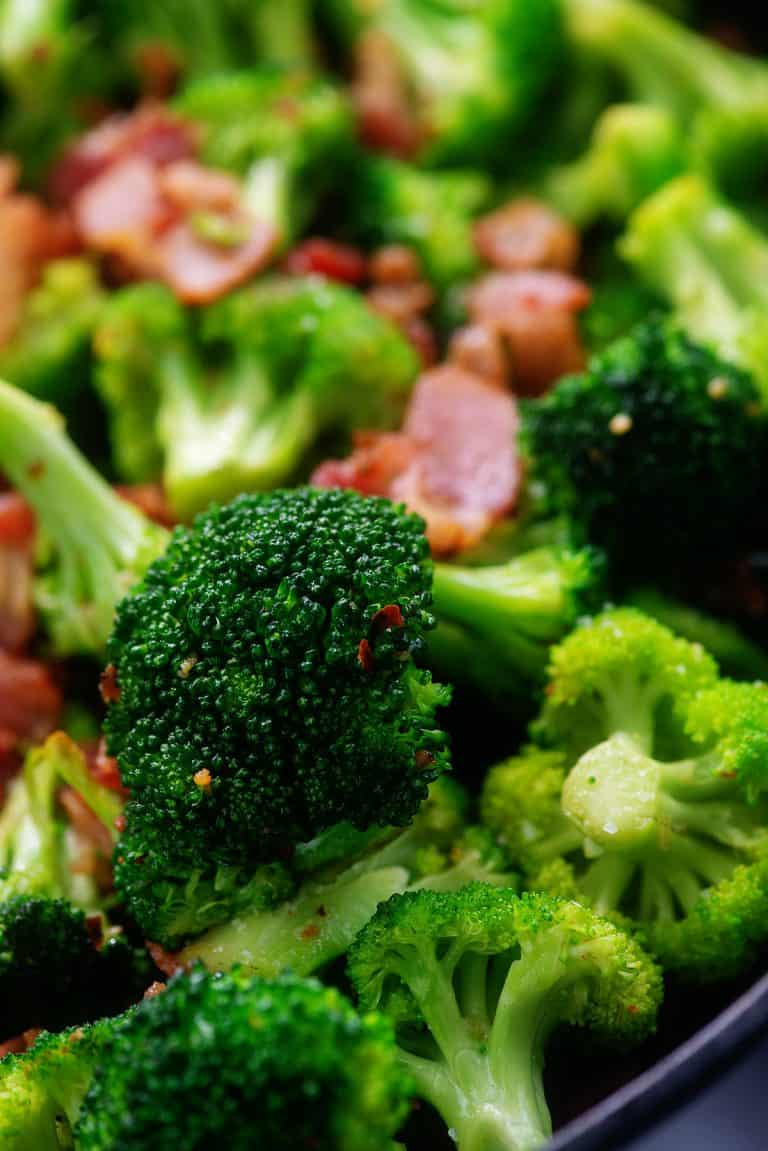 Ready for that tip?
Here it is: Use fresh broccoli. Quit buying the frozen mushy stuff. It's not the same. It's not even close.
I almost always buy the already chopped florets in the produce section. It's just as convenient as the frozen stuff, without the mushy texture.
You can also just buy a head of broccoli and chop it yourself. More budget friendly, but less convenient.
How to:
Chop your fresh broccoli into small florets. Set that aside and then chop up some bacon.
Fry the bacon until it's nearly crisp and then dump your broccoli and minced garlic right into the skillet.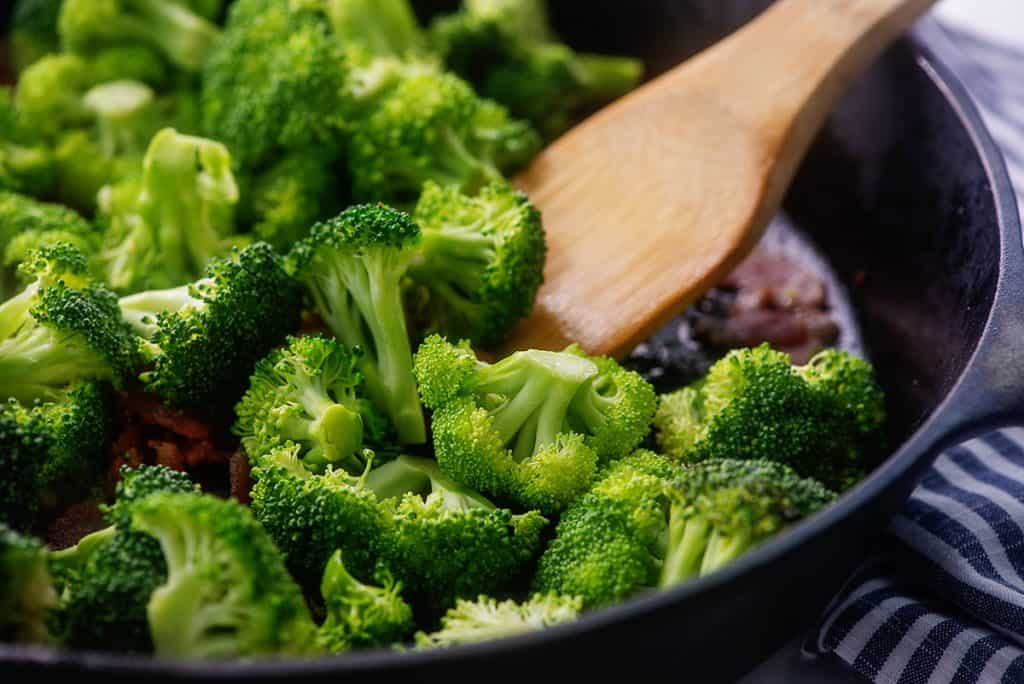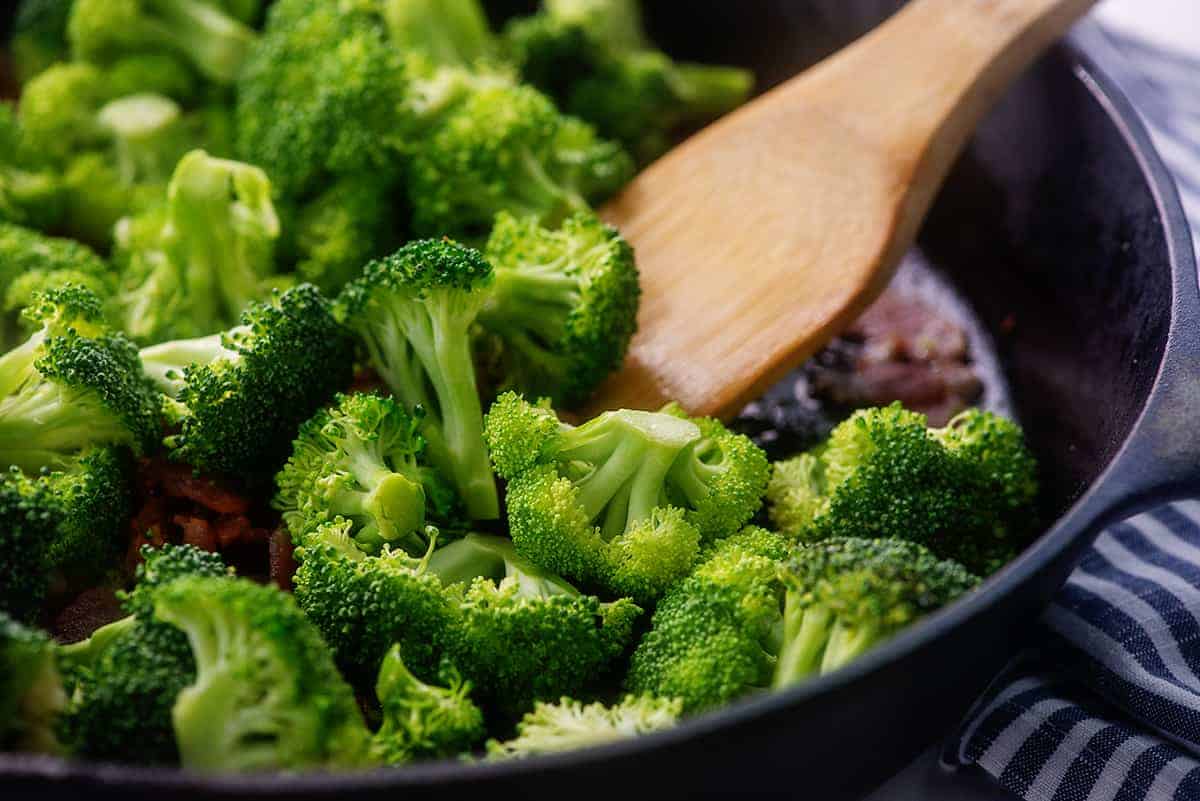 Don't drain the grease – it adds loads of flavor.
Stir the broccoli frequently while it cooks until it's as tender as you'd like. We usually go for about 8 minutes to get that tender-crisp texture.
We season this up with some red pepper flakes and salt, but you can skip the red pepper if you don't like that little kick.
That's it!
Go ahead and serve this to your kids – just watch them devour it.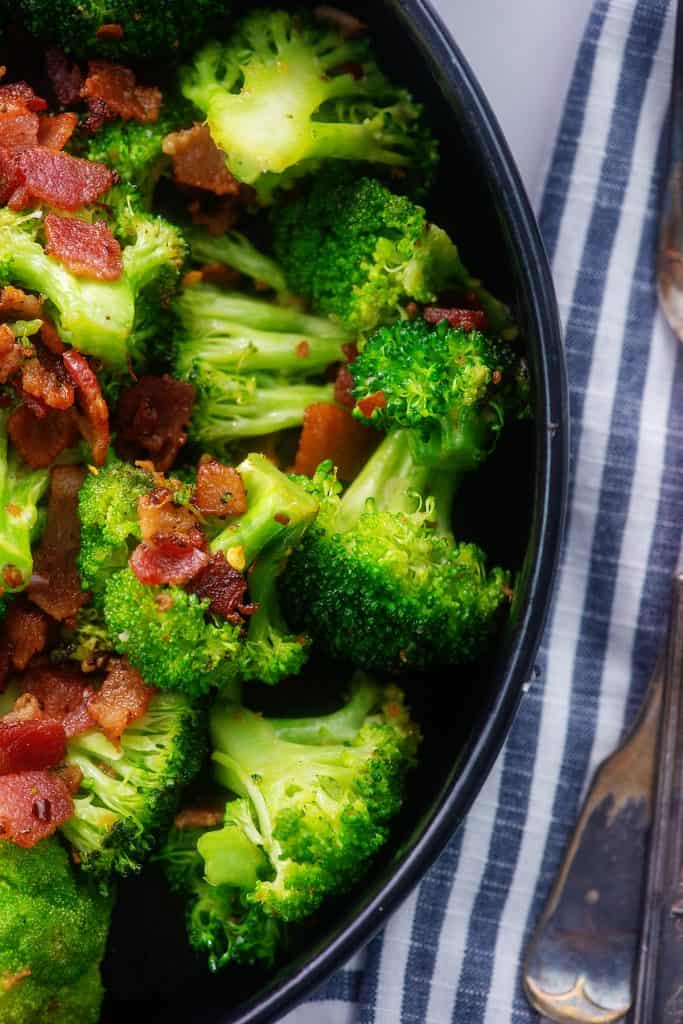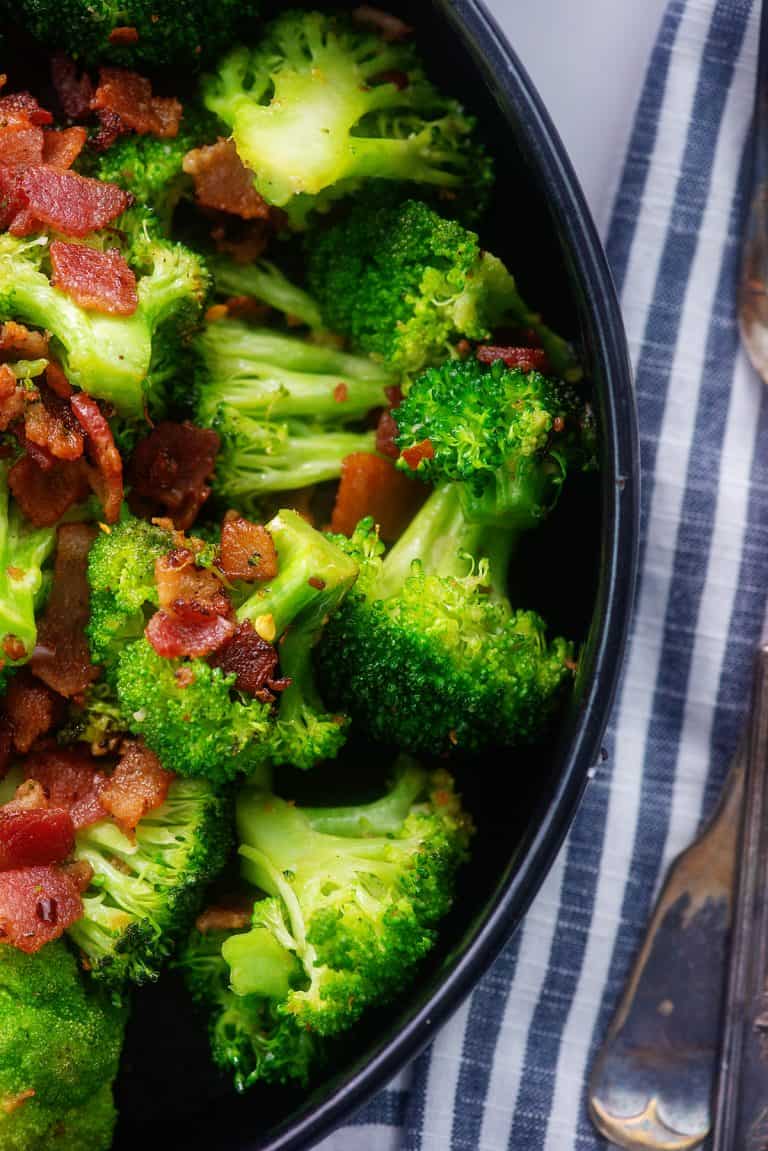 Will this work with frozen broccoli?
Just about every time I share a broccoli recipe, I emphasize that fresh broccoli is the best for taste and texture, but someone always ask if they can use frozen anyway. (Seriously, please just use fresh – it's better, I promise.)
I have never tried it, because we dislike frozen broccoli. I do imagine it will work, however be careful about tossing frozen food into hot bacon grease. You'll likely get some splatter from the ice crystals hitting the hot grease.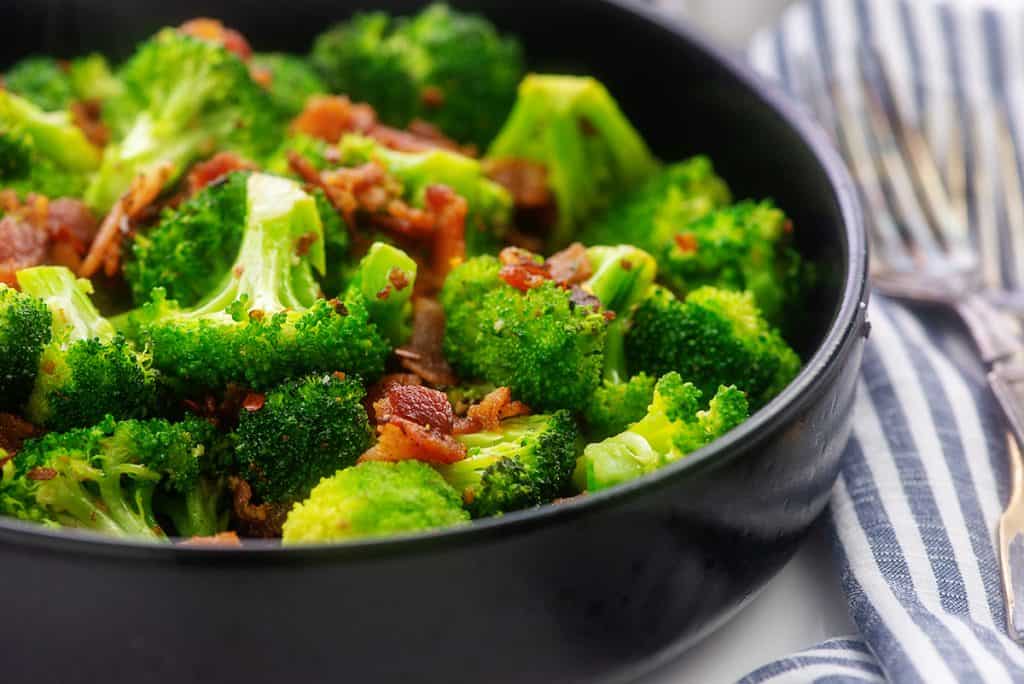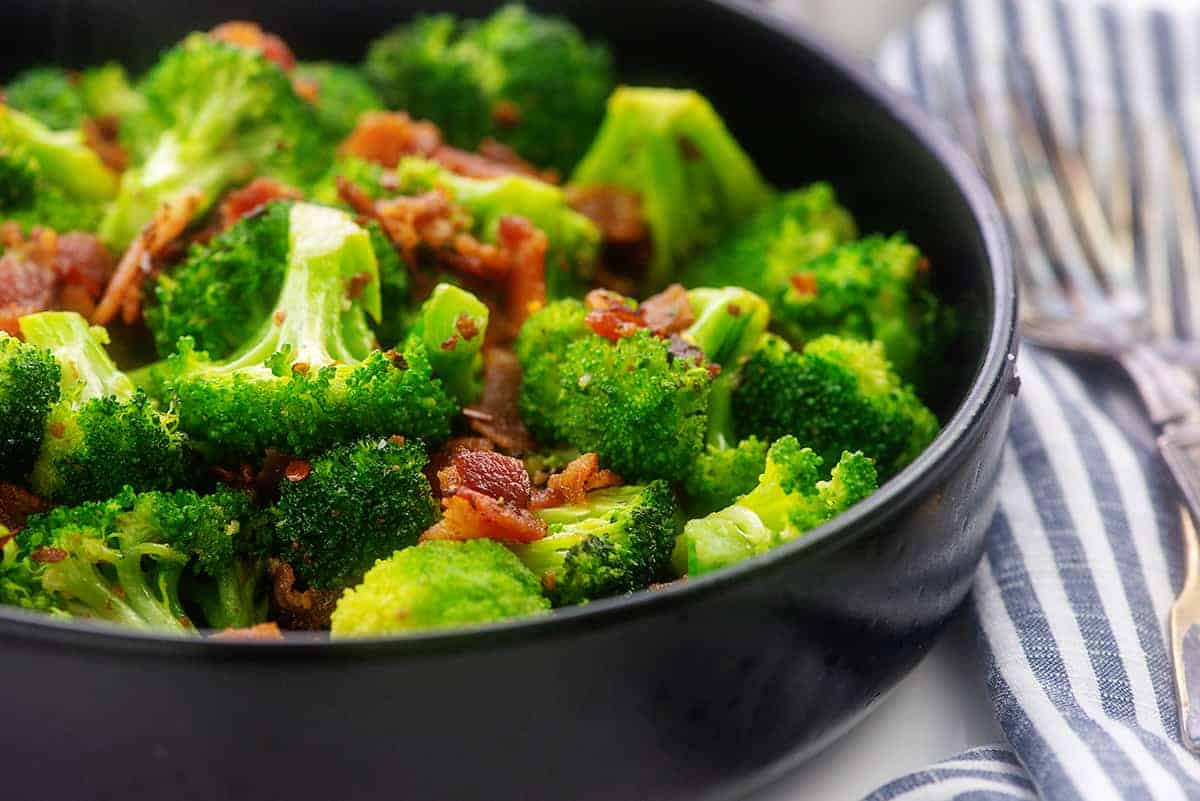 Swaps & Additions:
Red Pepper Flakes: Not a fan of spice? Skip the red pepper flakes and season your broccoli with an Italian seasoning blend instead.
Parmesan: We like this recipe just as it is, but a sprinkle of shredded Parmesan always goes over well.
Lemon Juice: I'm always shocked at what a little lemon does to a veggie. Sprinkle a bit on before serving and watch the flavors pop.
More broccoli recipes: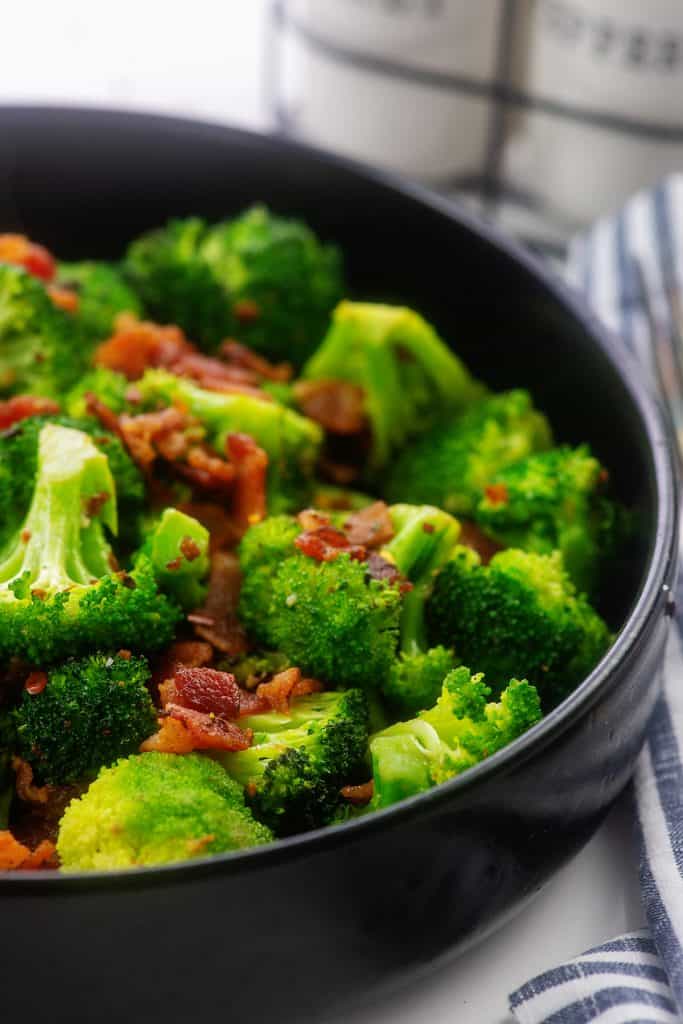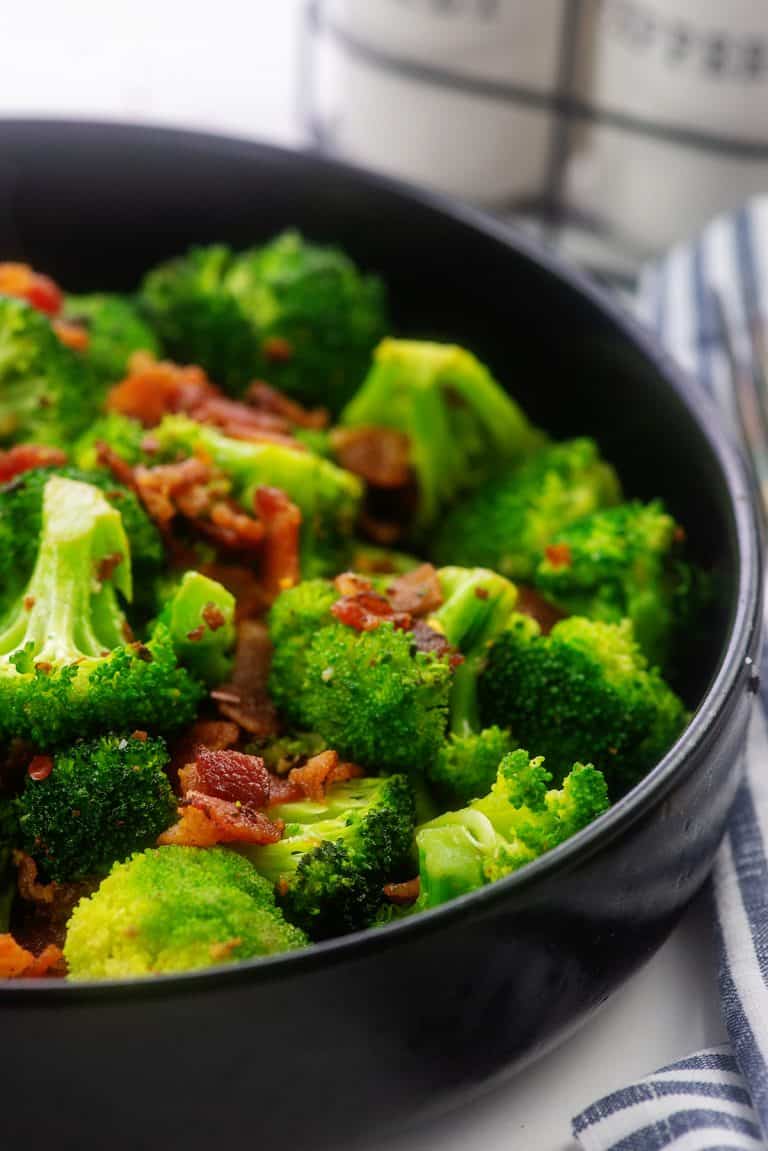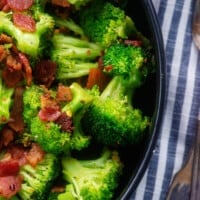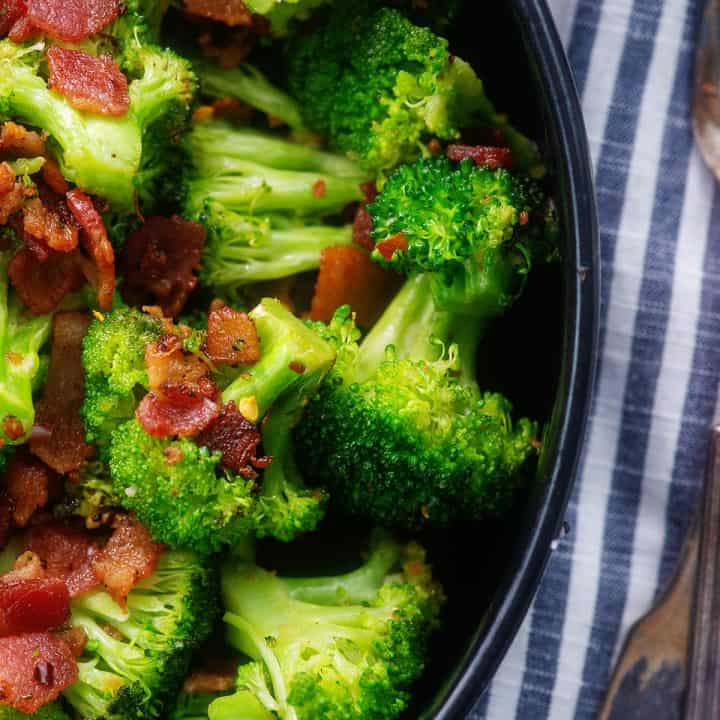 Sauteed Broccoli with Bacon and Garlic
This recipe for sauteed broccoli is so simple, but it has loads of flavor thanks to the bacon and garlic. This is an easy way for us to get the kids to eat broccoli, because bacon really does make everything better!
Ingredients
6 slices bacon
1 large head broccoli
2 cloves garlic, minced
½ teaspoon red pepper flakes
Salt, to taste
Instructions
Dice the bacon into bite-sized pieces and add it to a large skillet over medium heat.
Fry bacon until it's starting to crisp, about 5 minutes, stirring often.
While the bacon is cooking, chop the broccoli into small florets.
Add the broccoli and garlic to the skillet with the bacon (do not drain grease), stirring frequently, until the broccoli is tender, about 8 minutes.
Season with red pepper and salt and serve hot.
Notes
We do not drain the grease from the bacon in this recipe. If you're concerned, you may drain off some, but leave at least 2 tablespoons of fat in the skillet to cook the broccoli.
We highly recommend using fresh broccoli in this recipe. Frozen will not have the same texture or flavor.
Recommended Products
As an Amazon Associate and member of other affiliate programs, I earn from qualifying purchases.
Nutrition Information:
Yield: 4
Amount Per Serving:
Calories: 108
Total Fat: 6g
Saturated Fat: 2g
Trans Fat: 0g
Unsaturated Fat: 4g
Cholesterol: 17mg
Sodium: 465mg
Carbohydrates: 6g
Net Carbohydrates: 4g
Fiber: 2g
Sugar: 1g
Protein: 8g
All information and tools presented and written within this site are intended for informational purposes only. This information is provided as a courtesy and there is no guarantee that the information is accurate.