Our Broccoli Cauliflower Soup is creamy, comforting, and perfect for chilly nights! This healthy soup recipe is a hit with my entire family!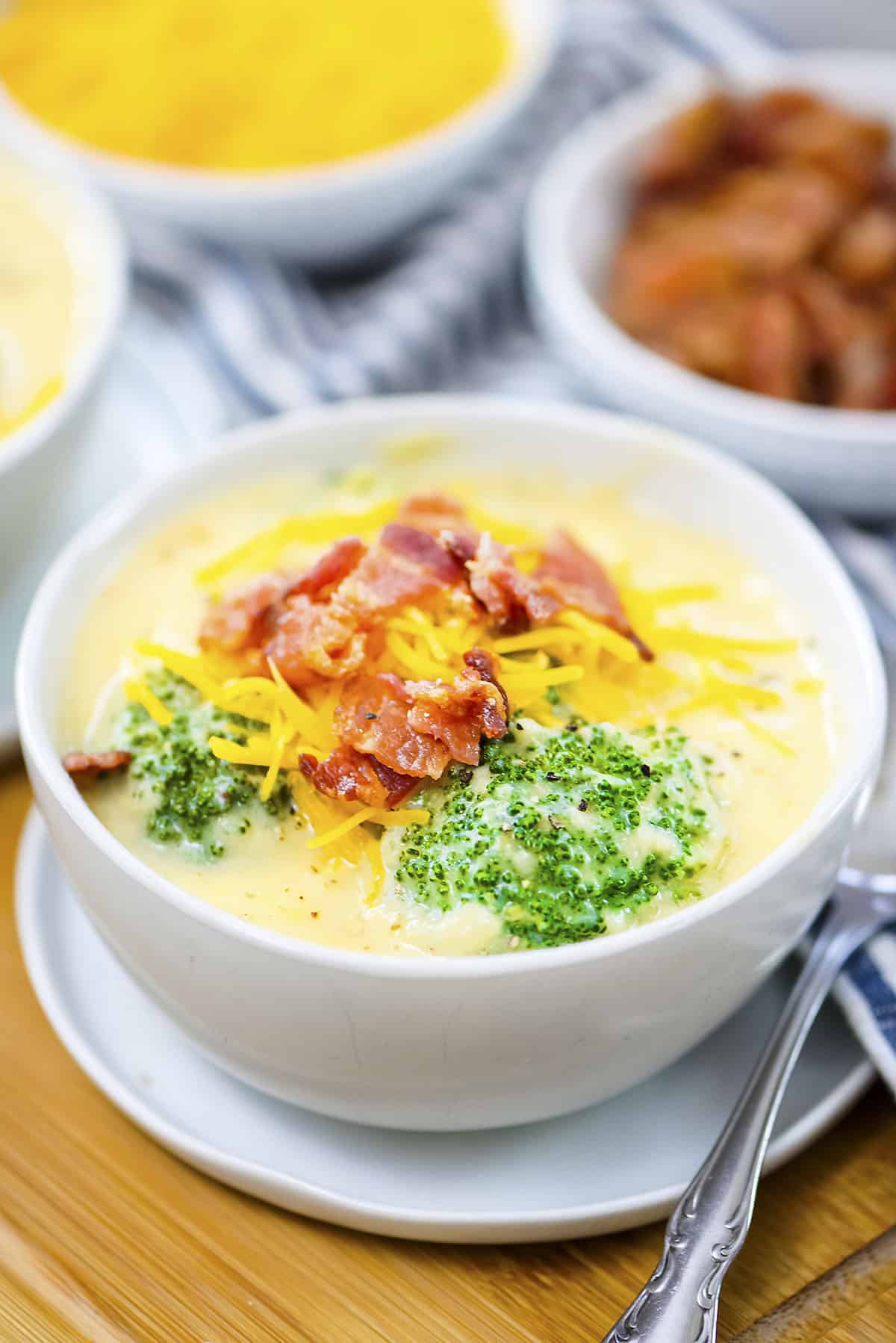 I've been seriously riding the struggle bus this past month or so.
It is so dang cold out there, I can not even handle it.
BRB, moving to Florida immediately.
Okay, not really – I'm stuck here in Illinois where the snow is a foot deep and the icicles dangling from my front porch could kill a person.
The only hope I have is soup. Lots and lots of hot soup.
I've made roasted cauliflower soup and I've made crockpot broccoli cheese soup. I figured I'd go ahead and marry the two and make this creamy broccoli cauliflower soup.
This soup is so flavorful, super creamy, topped with bacon and cheddar, and it's one of the easiest ways to get veggies in my kids!

Ingredient Notes: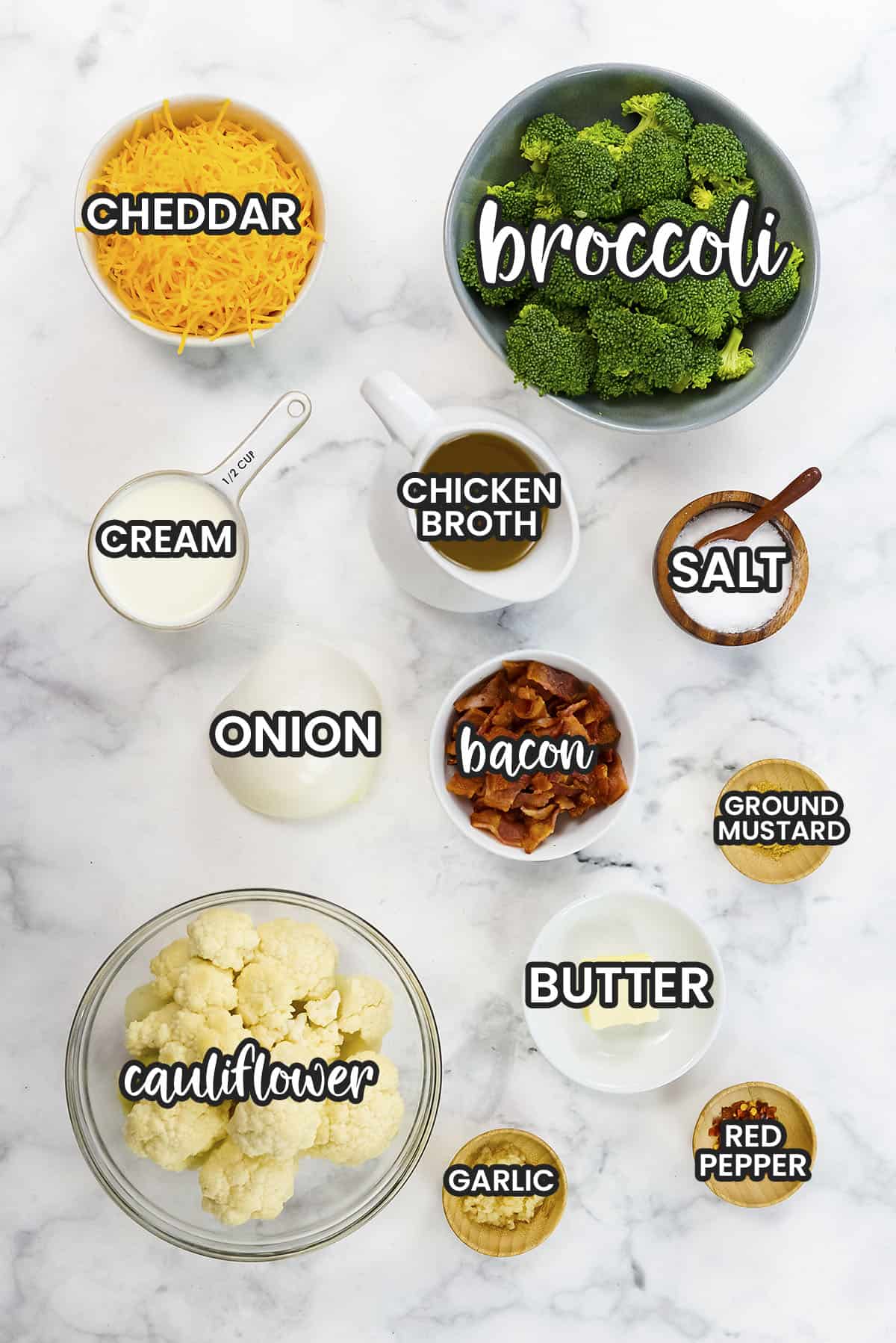 Broccoli & Cauliflower – You'll need some chopped broccoli and cauliflower florets for this creamy soup. I personally would recommend using fresh veggies for the best flavor, but frozen will work just fine too.
Garlic & Onion – The addition of some chopped onion and minced garlic will add plenty of great flavor to the broccoli cauliflower soup.
Chicken Broth – This will make up the base of the soup and it'll get mixed up with the cauliflower and seasoning before being blended into a smooth and creamy soup!
Dairy- You'll also add in plenty of shredded cheddar cheese and some heavy cream to ramp up the smooth, creamy flavors.
Seasoning – We're keeping this simple and just using some salt, mustard powder, and red pepper flakes. The red pepper adds just a tiny bit of kick, it's not enough to be too spicy!
Why We Love This Recipe:
u003culu003ern tu003cliu003eWarm, comforting, and easy!! Hard to go wrong with that combo!u003c/liu003ern tu003cliu003ePureeing the cauliflower makes for such a creamy soup base. It feels very rich and decadent.u003c/liu003ern tu003cliu003eThis soup can easily be made vegetarian by swapping the chicken broth for vegetable broth.u003c/liu003ern tu003cliu003eWant extra protein? Stir in some diced ham!u003c/liu003ernu003c/ulu003e
How To Make Broccoli Cauliflower Soup:
u003cimg class=u0022alignnone size-full wp-image-17191u0022 src=u0022https://thatlowcarblife.com/wp-content/uploads/2019/01/how-to-2023-01-05T103855.185.jpgu0022 alt=u0022Collage showing how to make broccoli cauliflower soup.u0022 width=u00221200u0022 height=u00221200u0022 data-pin-nopin=u0022trueu0022 /u003ernu003culu003ern tu003cliu003eu003cstrongu003eGarlic u0026amp; Onion – u003c/strongu003e First, we'll cook some onion and garlic in a little butter until soft and fragrant. Toss in your seasonings.u003c/liu003ern tu003cliu003eu003cstrongu003eCauliflower – u003c/strongu003e Add the cauliflower and chicken broth to the pot and bring it to a boil. Reduce the heat to a simmer and let cook until the cauliflower is nice and soft.u003c/liu003ern tu003cliu003eu003cstrongu003eBlend – u003c/strongu003eI like this broccoli cauliflower soup to be nice and creamy, so I used an immersion blender to blend the cauliflower after it has simmered and softened. u003ca href=u0022https://amzn.to/2W9jTqFu0022 target=u0022_blanku0022 rel=u0022noopener nofollow noreferreru0022u003eHere's the blender I useu003c/au003e. I think it's pretty fabulous, easy to store, and I use it at least weekly, which is way more often than I expected. You can also carefully transfer the soup to a traditional blender and puree it that way.u003c/liu003ern tu003cliu003eu003cstrongu003eBroccoli u0026amp; Cheese – u003c/strongu003eOnce your soup is the texture you'd like, go ahead and add in some heavy cream and shredded cheddar. Stir that altogether until smooth and creamy and then stir in your broccoli. Let the soup simmer for another 5-10 minutes or until the broccoli is as soft as you'd like.u003c/liu003ern tu003cliu003eu003cstrongu003eServe – u003c/strongu003eI like to serve this low carb broccoli and cauliflower soup with some crumbled bacon and grated cheddar on top. A little sour cream would be nice too!u003c/liu003ernu003c/ulu003ernu003cp style=u0022text-align: center;u0022u003eu003c/pu003e
FAQs:
How to store broccoli cauliflower soup?
You can keep this low carb broccoli and cauliflower soup stored in the refrigerator in a sealed container for about 3 to 4 days!
Can I freeze broccoli cauliflower soup?
Yes, you can freeze this soup recipe. Let it cool completely before transferring to a freezer safe bag or container. It should keep for at least a couple of months.
Can I use frozen broccoli or cauliflower?
Yes! I personally prefer to use fresh broccoli and cauliflower whenever possible, but if all you have is frozen it'll work fine.
More Low Carb Soup Recipes!
Keto Cheeseburger Soup: My new favorite way to enjoy a burger!
Keto Chili: No beans, but it's still super hearty and filling!
Keto Zuppa Toscana: Just like Olive Garden's!
Low Carb Taco Soup: You can make this in the Crockpot or Instant Pot!
Chicken Zoodle Soup: A warm and comforting dish perfect for Fall and Winter!
Broccoli Cauliflower Soup
Creamy and comforting! This soup is loaded with veggies.
Prep10 minutes
Cook25 minutes
Total35 minutes
Ingredients
1/2 onion
1 clove garlic
1 tablespoon butter
12 ounces cauliflower florets
1 teaspoon salt
1/2 teaspoon dry mustard powder
1/2 teaspoon red pepper flakes
4 cups chicken broth
½ cup heavy whipping cream
2 cups shredded cheddar
12 ounces broccoli florets chopped into bite-sized pieces
Instructions
Dice the onion and mince the garlic.

Add the butter to large, deep heavy bottomed pot over low heat and let melt.

Add the onion and garlic to the pot and cook, stirring often, for 5 minutes to soften.

Add the cauliflower, salt, mustard powder, red pepper flakes, and chicken broth to the pot and increase heat to medium.

Bring to a boil and reduce to a simmer, stirring occasionally.

Simmer for 15 minutes.

Use an immersion blender to blend the soup until smooth and creamy. Alternately, carefully transfer the hot soup to a blender and blend.

Add the cream and cheddar to the soup and stir well to combine.

When the cheese has fully melted, add the broccoli to the soup and cook for 5-10 minutes or until broccoli is as soft as you'd like, stirring occasionally.

Serve with additional grated cheddar and crumbled bacon, if desired.
Tips & Notes:
If you do not have a blender, use a potato masher to mash the cauliflower. The soup will have a chunkier texture, but the flavor will be the same.
Nutrition Information:
Serving: 1bowl| Calories: 312kcal (16%)| Carbohydrates: 10g (3%)| Protein: 15g (30%)| Fat: 25g (38%)| Saturated Fat: 14g (88%)| Polyunsaturated Fat: 8g| Trans Fat: 1g| Cholesterol: 74mg (25%)| Sodium: 1364mg (59%)| Fiber: 3g (13%)| Sugar: 4g (4%)| Net Carbs: 7g (14%)
This recipe was updated January 2023 with new photos. Original photos below.