Our Keto Zuppa Toscana tastes just like the famous soup from Olive Garden, but we've swapped the potatoes for turnips – don't worry, they soak up the flavors of the soup and taste just like potatoes would! This is one low carb recipe that tastes just like the real deal!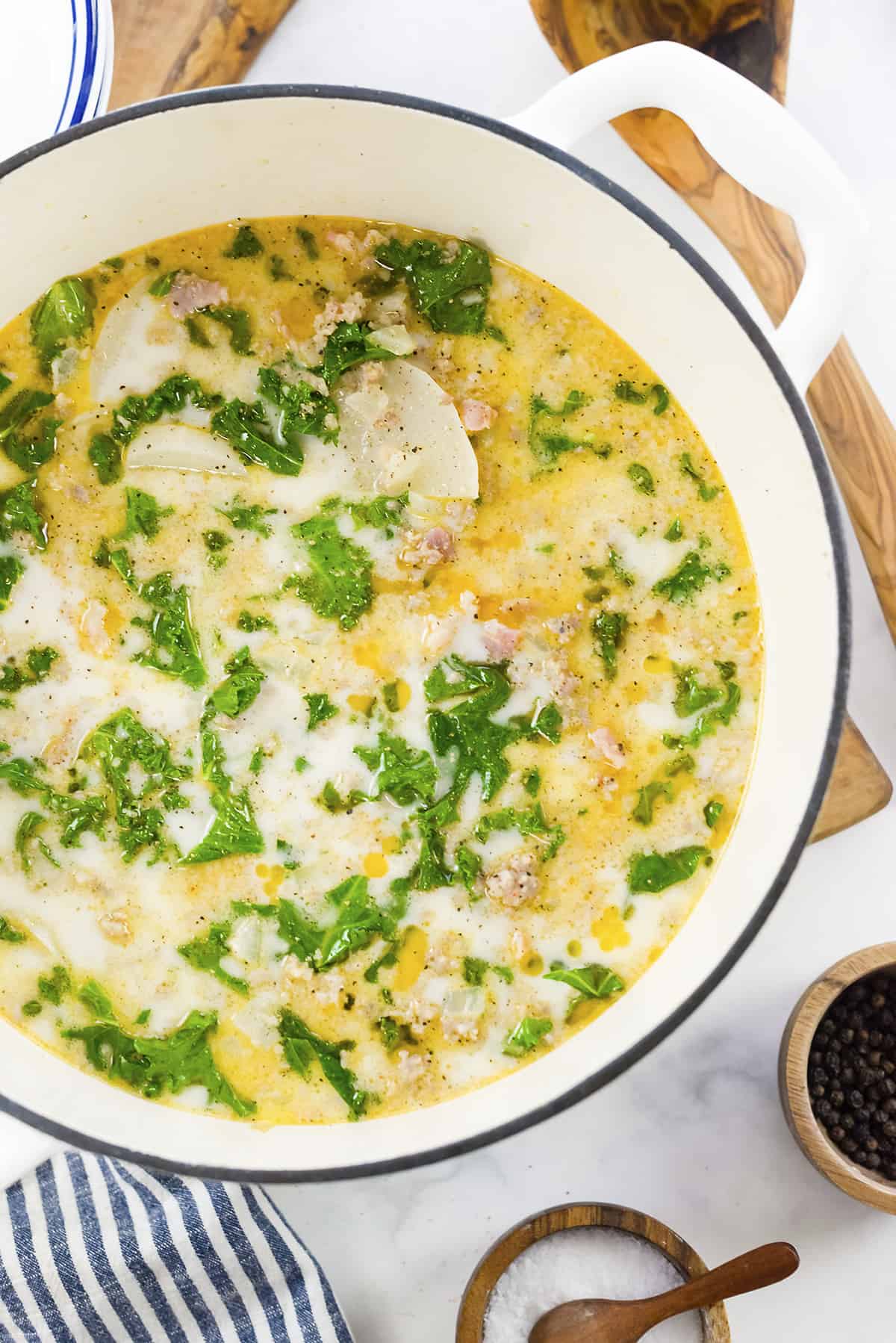 Would you believe that I was an adult the first time I ever ate at an Olive Garden? Why in the world did my parents shield me from all that deliciousness when I was a kid?!
Believe it or not, I still eat there every now and then. I usually go for a salad and chicken Alfredo – I just ask them to replace the pasta with steamed broccoli and they're happy to accommodate! It's just like how I serve my low carb alfredo sauce at home!
I totally miss the Olive Garden Zuppa Toscana recipe though. It's one of my favorite soups to eat at a restaurant.
Unfortunately, it's loaded with carbs thanks to the flour they use as a thickener and the thin slices of potatoes floating around.

This keto Zuppa Toscana recipe is a great copycat though!
I served this to my family and they had NO IDEA they were eating turnips instead of potatoes. That makes this one of the winners when it comes to keto soup recipes!
I hope you guys give this keto zuppa toscana with turnips a try. I know you're going to love it!
This soup goes great with our cauliflower breadsticks! I wont pretend they taste like Olive Garden's breadsticks, but they're still darn good.
What Is Zuppa Toscana?
It's Italian for "Tuscan Soup!" It's a creamy soup often prepared with beans and potatoes, but we're using turnips instead to keep things low carb. It's also loaded with spicy Italian sausage, bacon, and nutritious kale.
We made our Keto Zuppa Toscana to be a low carb copycat recipe of the popular Olive Garden soup. It's also easy to switch up with other ingredients. See the substitutions section below for some suggestions on different ways to prepare the soup!
How Many Net Carbs In Zuppa Toscana?
You can enjoy this Tuscan soup recipe without worry! There are only 7 net carbs per serving. This recipe makes enough for 8 servings.
Ingredient Notes: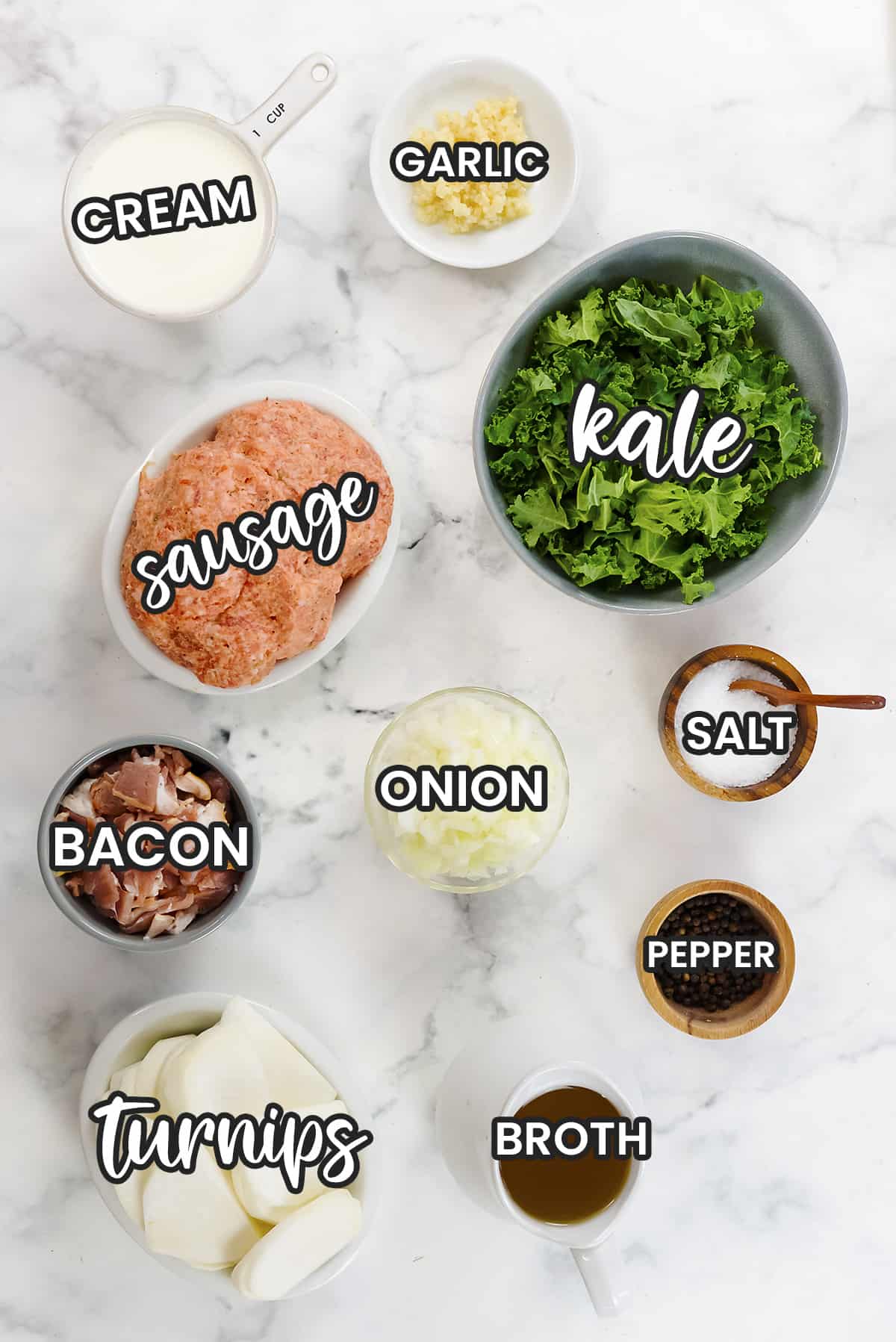 Spicy Italian Sausage – This classic Tuscan soup recipe tastes best when it is prepared with ground spicy Italian sausage, which blends nicely with the creamy flavors. You can use a mild Italian sausage instead, or even a sweet Italian sausage if you watch the carbs.
Bacon – You'll cook this up with the sausage for even more savory flavor. We dice it up and then fry it.
Garlic & Onion – A must in any good soup!
Chicken Broth – This is going to add most of the liquid for the low carb Zuppa Toscana, so make sure you use a good quality brand of chicken broth that has lots of flavor or start with homemade broth.
Turnips – They aren't quite potatoes, but the texture is pretty similar and when they've been simmered in this soup with the other ingredients you won't even notice the difference! I swear it's magic. A lot of other low carb zuppa toscana recipes call for cauliflower florets, but we really prefer the turnips here!
Kale – This bulks up the soup a bit. If you don't like kale, spinach would make a good substitute, but we think kale in soup is quite tasty.
Heavy Cream – Traditional zuppa Toscana soup is thickened with a roux, but we skipped that in favor of heavy cream. It adds a little body and creaminess.
Salt & Pepper – Just as much or as little as you like to taste.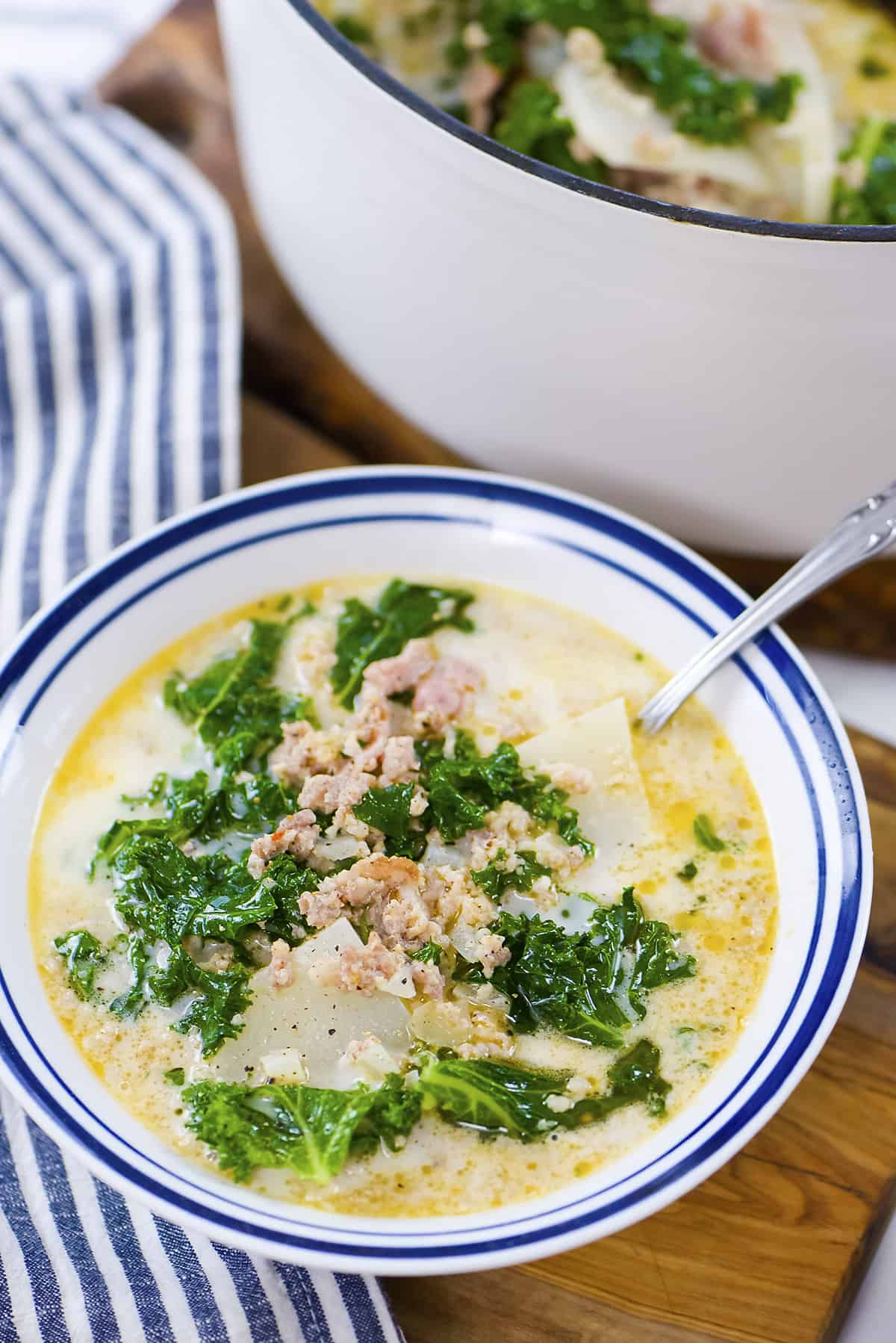 Why We Love This Recipe:
It's a lot like the popular soup served up at Olive Garden, but without all the carbs!
This homemade copycat recipe is just as good or better than what you'd get at the restaurant!
It's a great way to get some healthy veggies like turnips and kale into the kids without them complaining.
The turnips soak up the flavor of the soup and the texture is just like a potato. My family didn't even realize they were eating turnips.
How To Make Keto Zuppa Toscana Soup: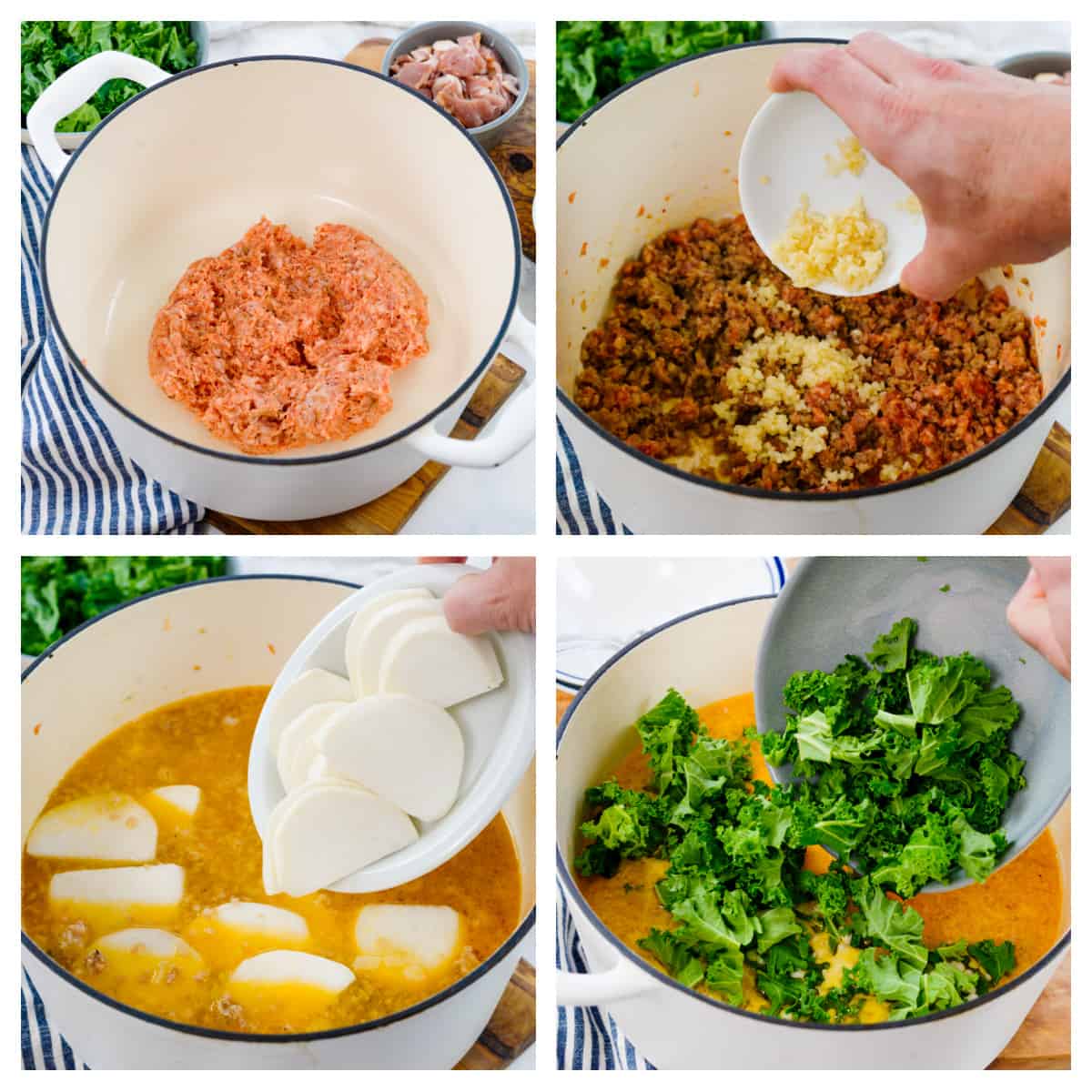 Meat- Add the Italian sausage and bacon to a pot. We like to use a dutch oven here. Brown the meat, stirring often to crumble up the sausage.
Onion & Garlic – Stir in the onion and garlic and let things get nice and fragrant.
Turnips – Drop in the sliced turnips and pour in the broth. You'll want to simmer this for about 10 minutes to let those turnips soften up.
Finish – Add the kale and continue cooking for about 5 minutes to wilt the kale and then stir in the cream. Season with salt and pepper and dig in!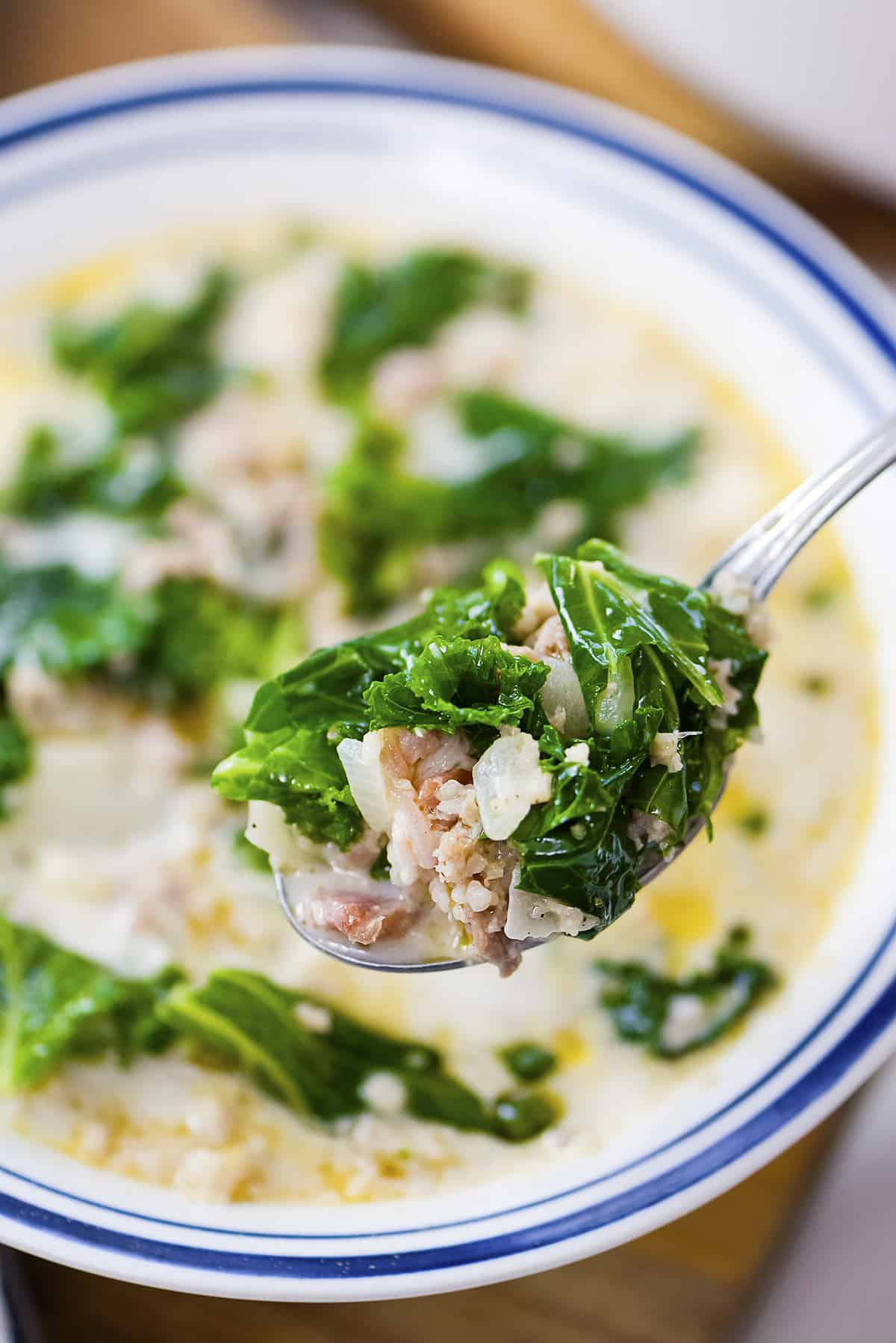 Serving Suggestions:
When serving keto zuppa Toscana there are plenty of good options for sides! Or you can serve this up as a side dish with a different main course. Here are some serving suggestions:
Main: What could be more classic than Spaghetti Squash and Meatballs? Well, probably real spaghetti. But it's close enough! My flavorful Salmon Bruschetta would also pair nicely with this Italian soup.
Sides: I'm pretty sure that these Caprese Stuffed Mushrooms would go nicely with this classic Italian soup. Roasted Cauliflower Rice and Creamy Brussels Sprouts are also great choices!
Dessert: I think my Keto Chocolate Mousse would be a great dessert to go with this soup. Or get fancy and try it with Keto Creme Brulee!
Swaps & Substitutions:
You can make this keto zuppa Toscana just the way you like by adding or swapping ingredients. Here are some popular Tuscan soup ingredients:
Veggies: Sun dried tomatoes are a flavorful addition and cauliflower makes a great substitute for the turnips, or use both! Spinach would work well in place of the kale. Zucchini, broccoli, or bell pepper are also good additions.
Protein: Italian sausage is the standard but you can use a different ground meat like chicken, pork, turkey, or beef – just be sure to add additional spices and herbs to season the soup if you use a different type of meat. The bacon could be swapped for pancetta.
Seasoning: I kept things simple with salt and pepper but you can use any combination of herbs, spices, and seasonings that you'd like. Italian seasoning, fresh thyme or rosemary, or red pepper flakes for a bit of heat!
Other: Some other possible additions are lemon juice. Just a bit to brighten the flavor and add a bit of zest to the zuppa Toscana. Or mix in some grated Parmesan cheese for more creamy flavor!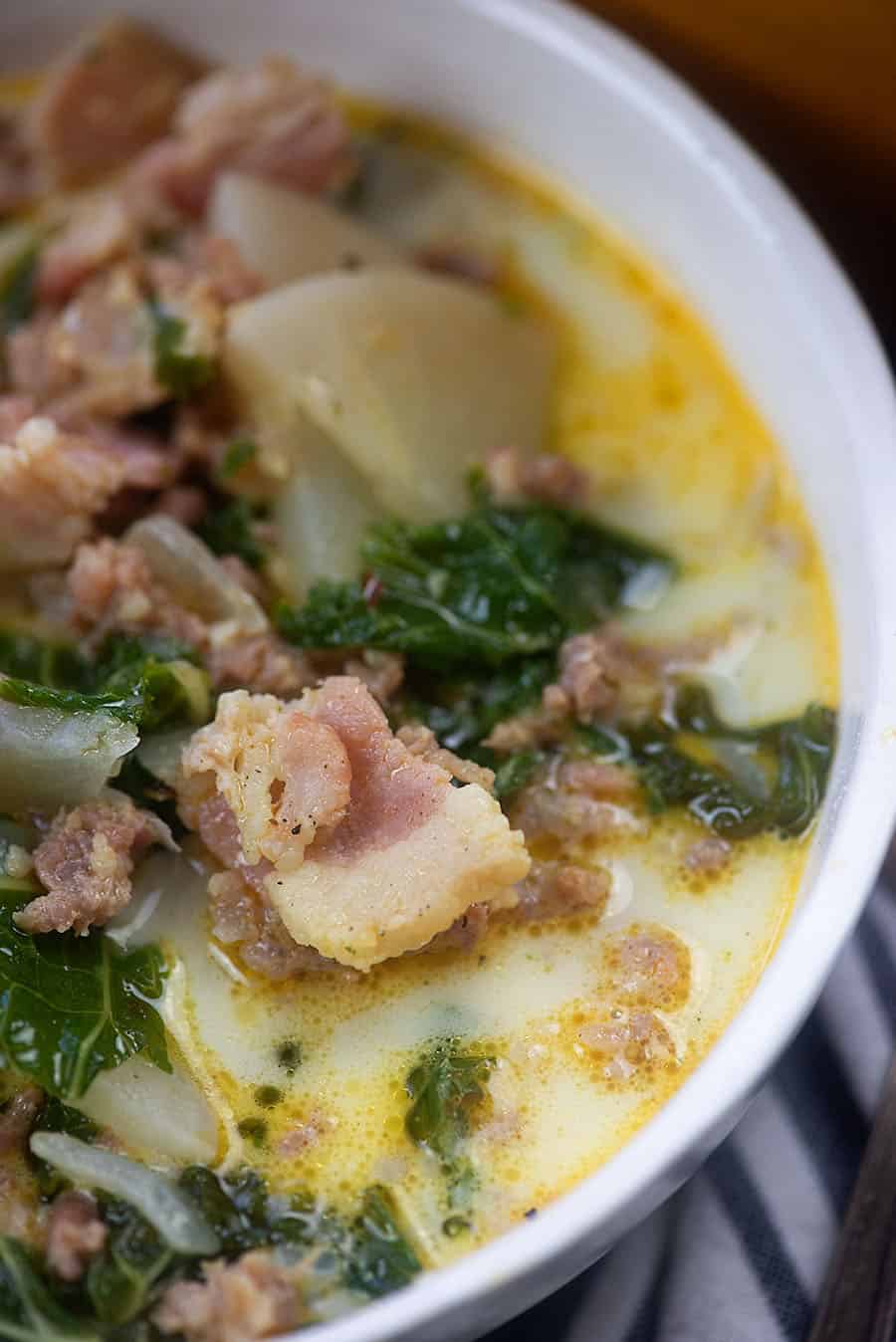 FAQs:
How to store Zuppa Toscana Soup?
If you have leftover soup you can keep it stored in the fridge in an airtight container for about 3 to 4 days! This soup is just as good when reheated so it's perfect for leftovers!
Can I freeze this soup?
Yes, you could freeze the soup in a freezer safe bag or container. It should be just as good after a few months!
More Low Carb Italian Recipes: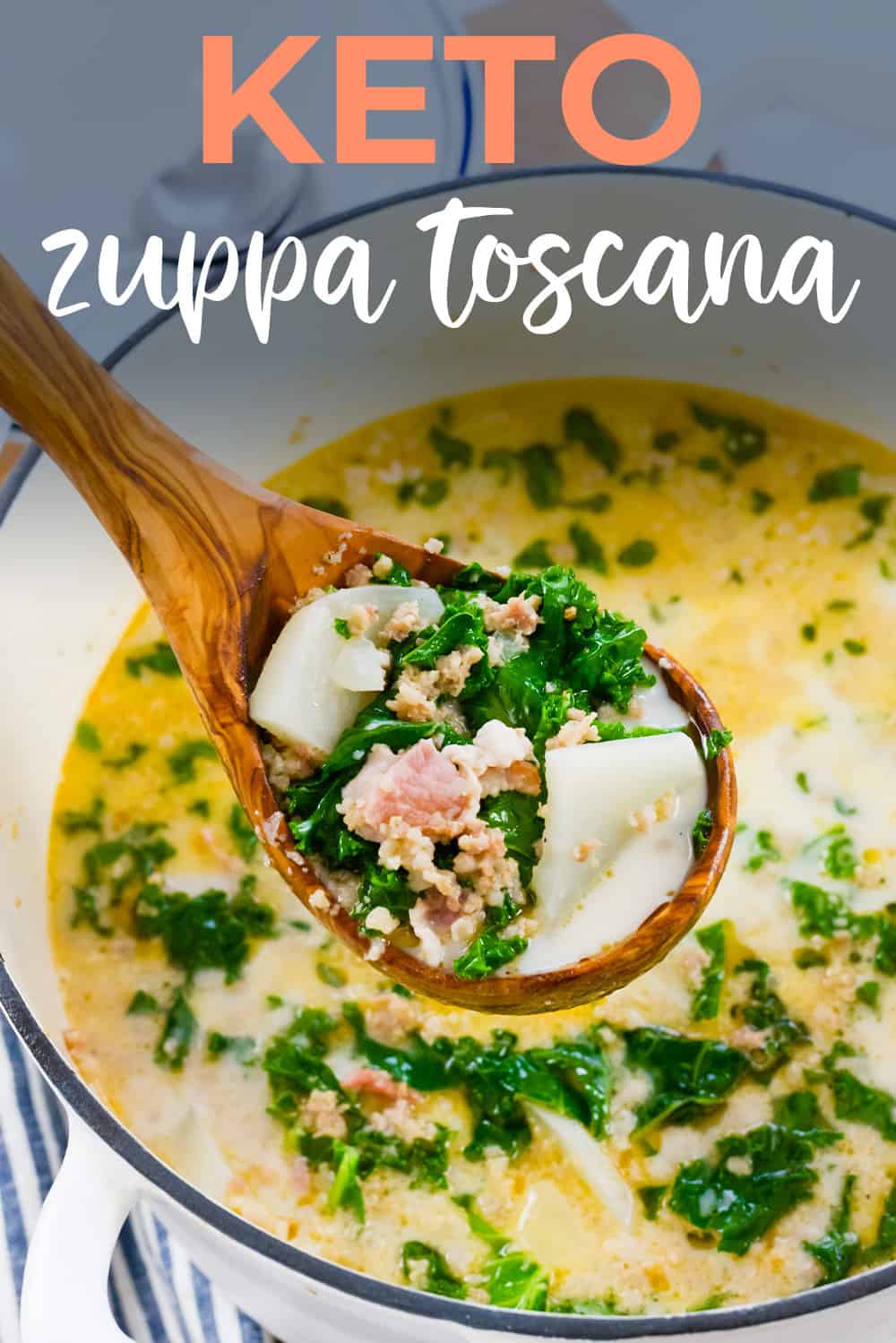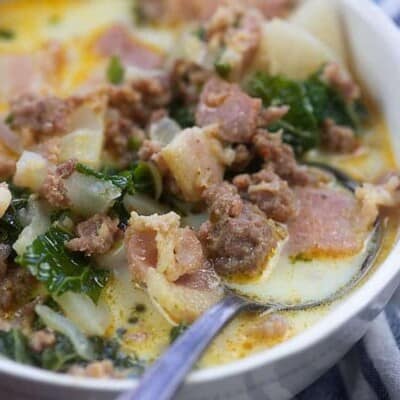 Low Carb Zuppa Toscana
Zuppa Toscana – just like at Olive Garden but without all the carbs. My family had no idea they were eating turnips instead of potatoes in this low carb soup recipe!
Prep10 minutes
Cook30 minutes
Total40 minutes
Ingredients
1 pound spicy Italian sausage
4 slices bacon diced
1 yellow onion diced
3 cloves garlic minced
6 cups chicken broth
2 turnips sliced, about 10 ounces total
4 cups chopped kale
1 cup heavy cream
Salt and pepper to taste
Instructions
Heat a large sauce pot or dutch oven over medium heat. Add the Italian sausage to the pot and begin to brown the meat, breaking it up as it cooks.

When the meat is about halfway browned, add the bacon, onion, and garlic and continue cooking and stirring until the sausage is fully cooked through.

Add the chicken broth and turnips and bring to a boil. Reduce heat to a simmer and cook for 10 minutes.

Add the kale and continue cooking for 5 minutes or until kale and turnips are both tender.

Remove from the heat and stir in the cream. Taste and add salt and pepper as needed.

Serve immediately.
Tips & Notes:
You may use spinach in place of kale if you prefer.
Nutrition Information:
Serving: 1bowl| Calories: 295kcal (15%)| Carbohydrates: 10g (3%)| Protein: 20g (40%)| Fat: 18g (28%)| Cholesterol: 91mg (30%)| Sodium: 599mg (26%)| Fiber: 3g (13%)| Sugar: 4g (4%)| Net Carbs: 7g (14%)
This recipe was originally published in December 2018. It was updated with new text and photos in March 2023. Original photos below: