This Roasted Cauliflower Rice recipe is incredibly easy to prepare and is ready to eat in no time. It's a simple low carb side dish that everyone in the family absolutely loves! We have to double this recipe or I end up fighting my kids for seconds. 😉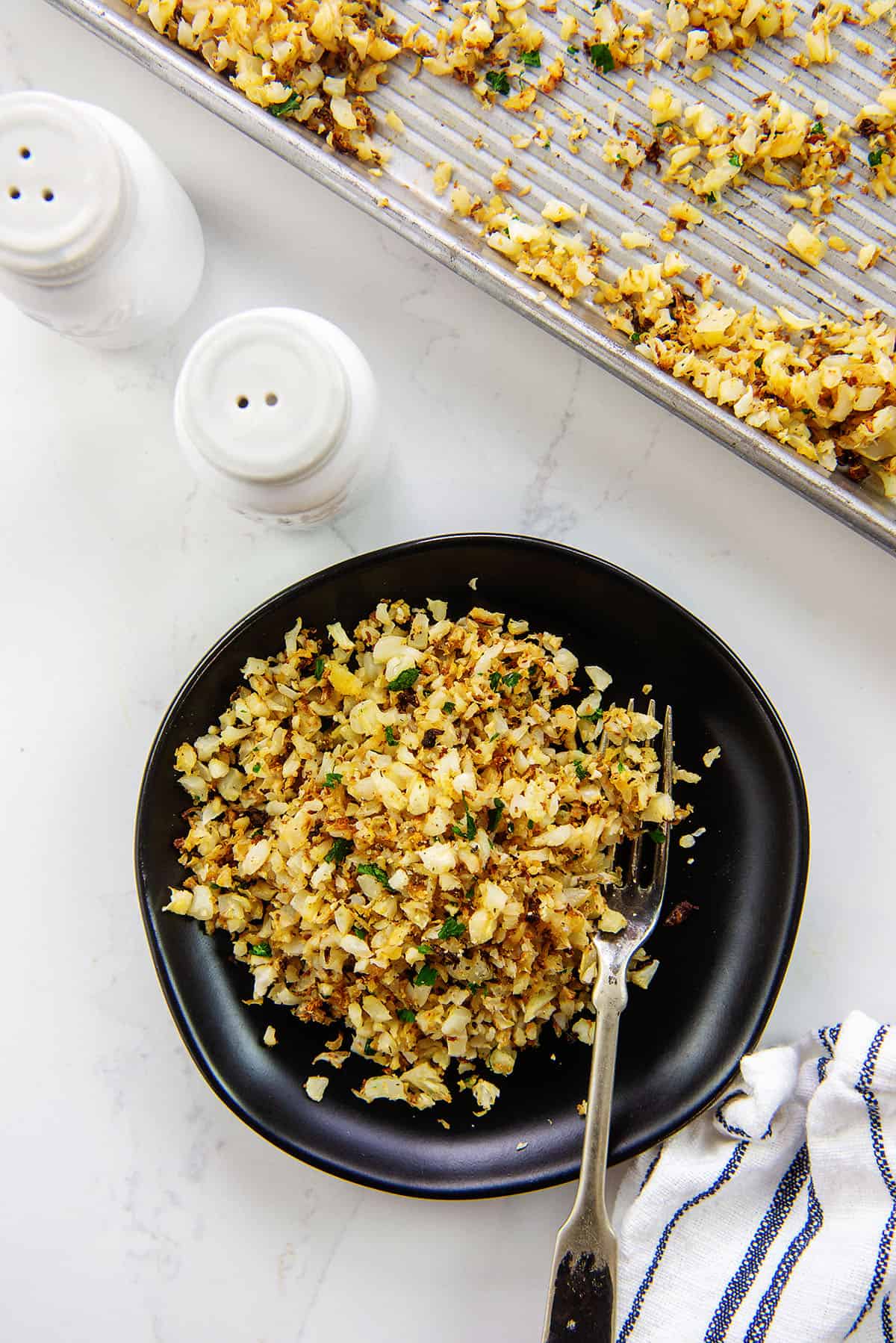 The first time I roasted cauliflower rice was also the first time I had ever made any sort of cauliflower rice that didn't come from a bag in the freezer section and let me tell you – I was SHOCKED by the results.
My kids had eaten plenty of cauliflower prior to that moment, but they'd never really loved it. We'd do the whole ' ew, cauliflower, I hate cauliflower' thing that every parent endures and that would be the sounds we enjoyed our dinner to. 😉
But then I riced a fresh head of cauliflower and roasted it and I am telling you, I nearly starved that night because my kids ate all the roasted cauliflower rice and left none for me.
This. Stuff. Is. Magic.
It's all roasty and nutty and has little crispy bits mixed in with the softness of the cauliflower and I promise you, you will want to double this recipe. Trust me on that.
Serve this next to our stuffed chicken breast, chicken drumsticks, or baked cod.
Ingredient Notes:
This post contains affiliate links. As an Amazon associate and member of other affiliate programs, I earn from qualifying purchases.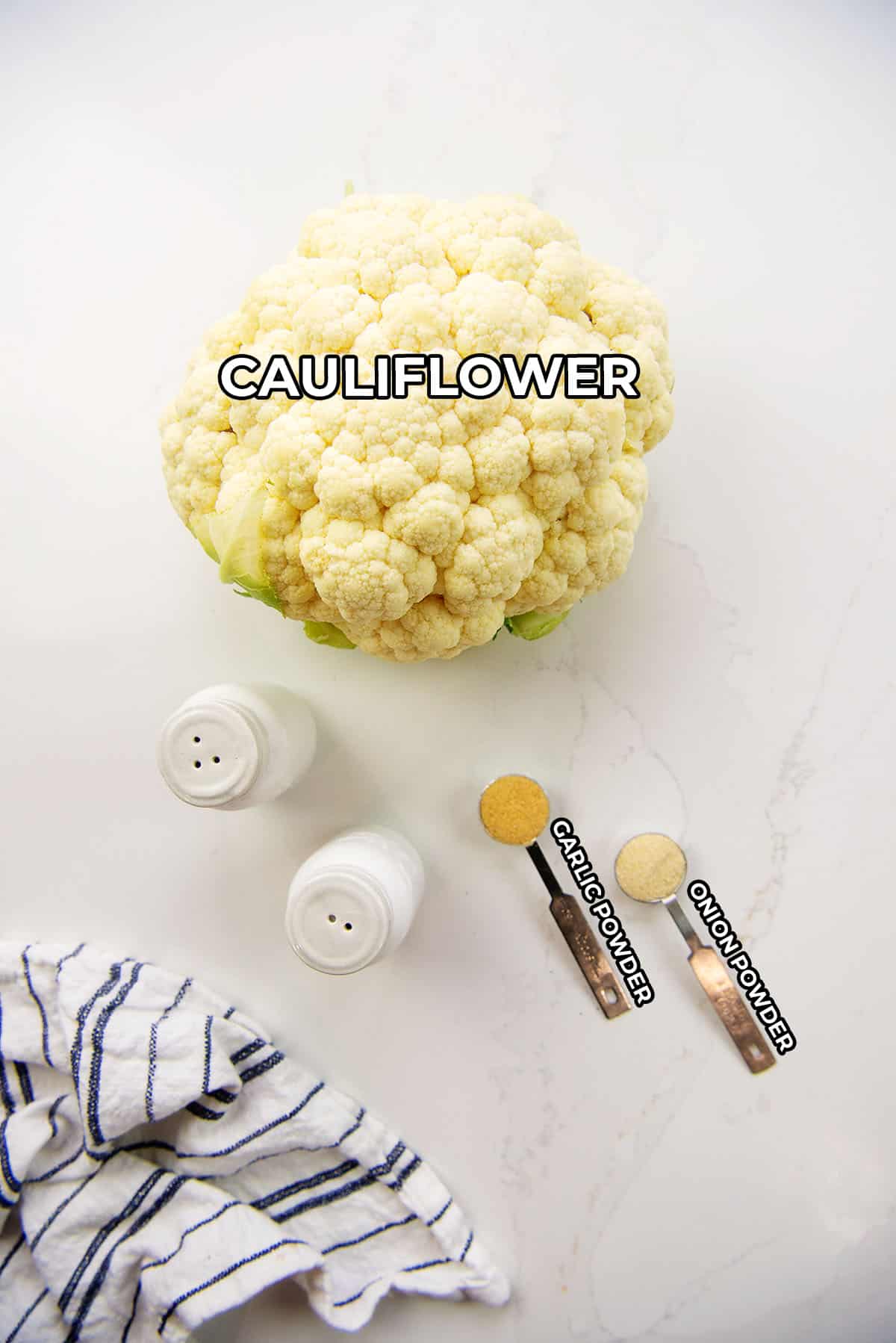 Cauliflower – You'll be turning a fresh head of cauliflower into cauliflower rice. It's not hard, see the FAQs below for more info. You can also purchase a bag of FRESH cauliflower rice in the produce section, if your store sells that. We have not tested this with frozen cauliflower.
Olive Oil – You'll mix the cauliflower rice up with some olive oil and the seasoning and it'll roast perfectly! Avocado Oil also works well.
Seasoning – We're keeping this recipe simple with a basic mix of seasonings: salt, pepper, garlic powder, and onion powder. This is an easy recipe to modify too if you want to add or change seasonings based on your taste.
Why We Love This Recipe:
The texture and flavor is just addictive. Very nutty and flavorful with a mix of crispy and soft bits.
This makes for a perfect low carb side dish that goes well with just about any meal.
This is a favorite with kids, which is always nice when it comes to veggies.
Super easy to make, especially if you buy your cauliflower already riced!
How To:
Rice the Cauliflower – Rice a head of cauliflower by using a sharp knife and chop chop chopping until it's in small rice-like pieces or buy a bag of already cauliflower in the fresh produce section.
Season the Cauliflower – Toss your rice onto a sheet pan and drizzle on olive oil. Sprinkle on the seasoning sand stir to coat.
Roast – Roast in a 425 degree oven for about 25 to 30 minutes. You'll want to give your rice a stir every 10 minutes.
FAQ's:
How to make cauliflower rice?
The simplest way is with a food processor. Start with a head of fresh cauliflower or a bag of fresh cauliflower florets. Frozen is not a good choice here. Add the chopped florets to your food processor and turn it into riced cauliflower. This is the food processor I use and it's one of my favorite tools in the kitchen. No food processor? Grab a knife and start chopping!
Can I prepare cauliflower rice ahead of time?
You can process the cauliflower ahead of time and refrigerate in a a sealed container for a couple of days before cooking.
Can I store cauliflower rice?
This roasted cauliflower rice will last for 3 to 4 days in the refrigerator if well sealed, and up to a few months in the freezer.
Helpful Tip
Your sheet pan will start off quite full, but the cauliflower rice will shrink quite a bit as it cooks down. What looks like tons of cauliflower rice, suddenly becomes not so much. Highly recommend doubling this recipe if you have big eaters.
If you do double this recipe, be sure to use two sheet pans so that there is room for the hot air to flow around all of the cauliflower and get it nice and toasty.
More Cauliflower Rice Recipes!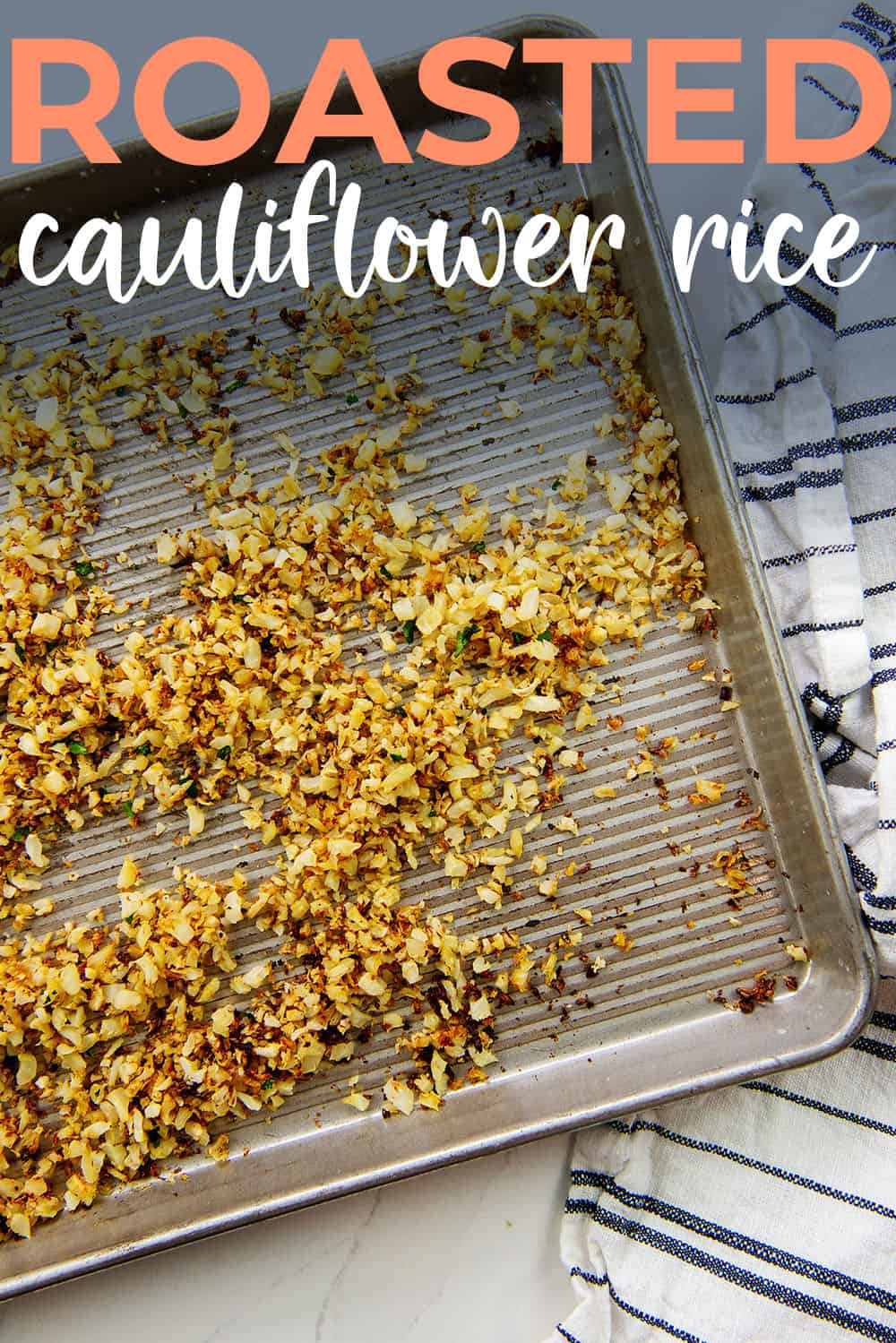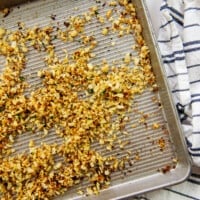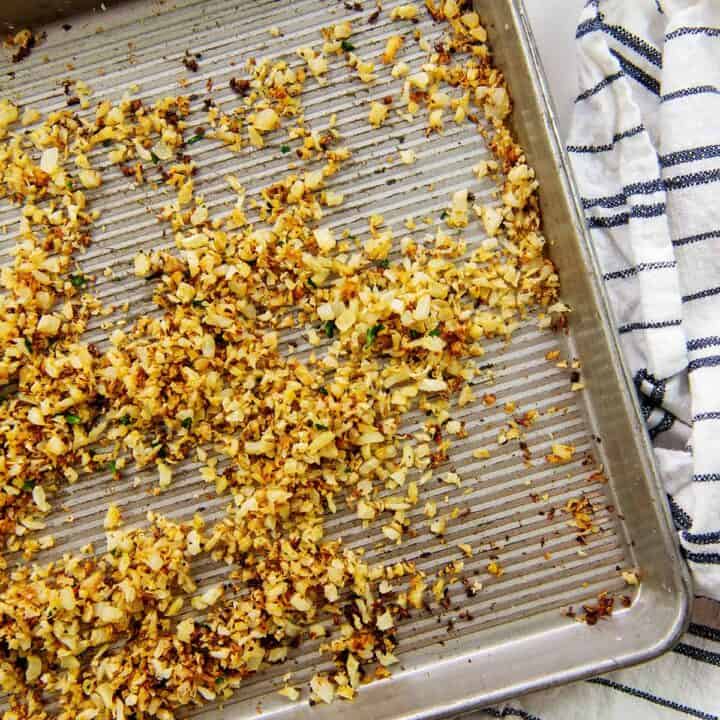 Roasted Cauliflower Rice
Starting with a fresh head of cauliflower makes all the difference when it comes to cauliflower rice! The texture and flavor are so much better than frozen. Then we roast the cauliflower and turn it into something nutty and golden brown with crispy bits scattered throughout. You'll want to double this one, as it's always a big hit!
Ingredients
1 medium head cauliflower, see note
2 tablespoons olive oil
1 teaspoon garlic powder
1 teaspoon onion powder
1 teaspoon salt
½ teaspoon cracked pepper
fresh herbs, for garnish
Instructions
Preheat oven to 425 degrees.
Add the cauliflower rice, oil, and seasonings to a large, rimmed sheet pan. Stir to coat the cauliflower in the oil and seasonings.
Spread the rice out into an even layer and bake for 25-30 minutes, stirring every 10 minutes, or until the cauliflower is as browned as you'd like.
Sprinkle with fresh herbs, such as parsley, dill, or basil before serving.
Notes
Some grocery stores sell fresh cauliflower rice in the produce section. This will work well in this recipe. You'll need about 20 ounces or 2 1/2 cups, but you can easily adjust the oil and seasoning as needed to fit the amount of caulilflower you're using.
If you double this recipe, which I highly recommend because it does shrink up a lot as it roasts and it's wildly popular with everyone I've served it to, you'll want to use 2 sheet pans so everything fits in a mostly even layer.
Nutrition Information:
Yield: 4
Amount Per Serving:
Calories: 100
Total Fat: 7g
Saturated Fat: 1g
Trans Fat: 0g
Unsaturated Fat: 6g
Cholesterol: 0mg
Sodium: 552mg
Carbohydrates: 7g
Net Carbohydrates: 3g
Fiber: 4g
Sugar: 3g
Protein: 3g
All information and tools presented and written within this site are intended for informational purposes only. This information is provided as a courtesy and there is no guarantee that the information is accurate.